5 Honda miniMOTO that will surely please you!
For several years now, Honda has been trying to attract new enthusiasts in the motorcycle industry. This is why this company continues to expand and improve its offer when it comes to minimotos.
Honda definitely is the leader in this category!
Minimotos are ideal for new users, but also for people who like to ride in the city. Light, easy to handle and above all affordable, these minimotos will seduce you for sure, and there's something for everyone!
Know that for Honda, the miniMOTO range includes two categories: motorcycles and scooters. In the first category, there are three models: the Grom, the Monkey and the Navi.
In the second one, there are the Ruckus and the Giorno that will be back in Canada in 2023 (previously named the Honda Metropolitan).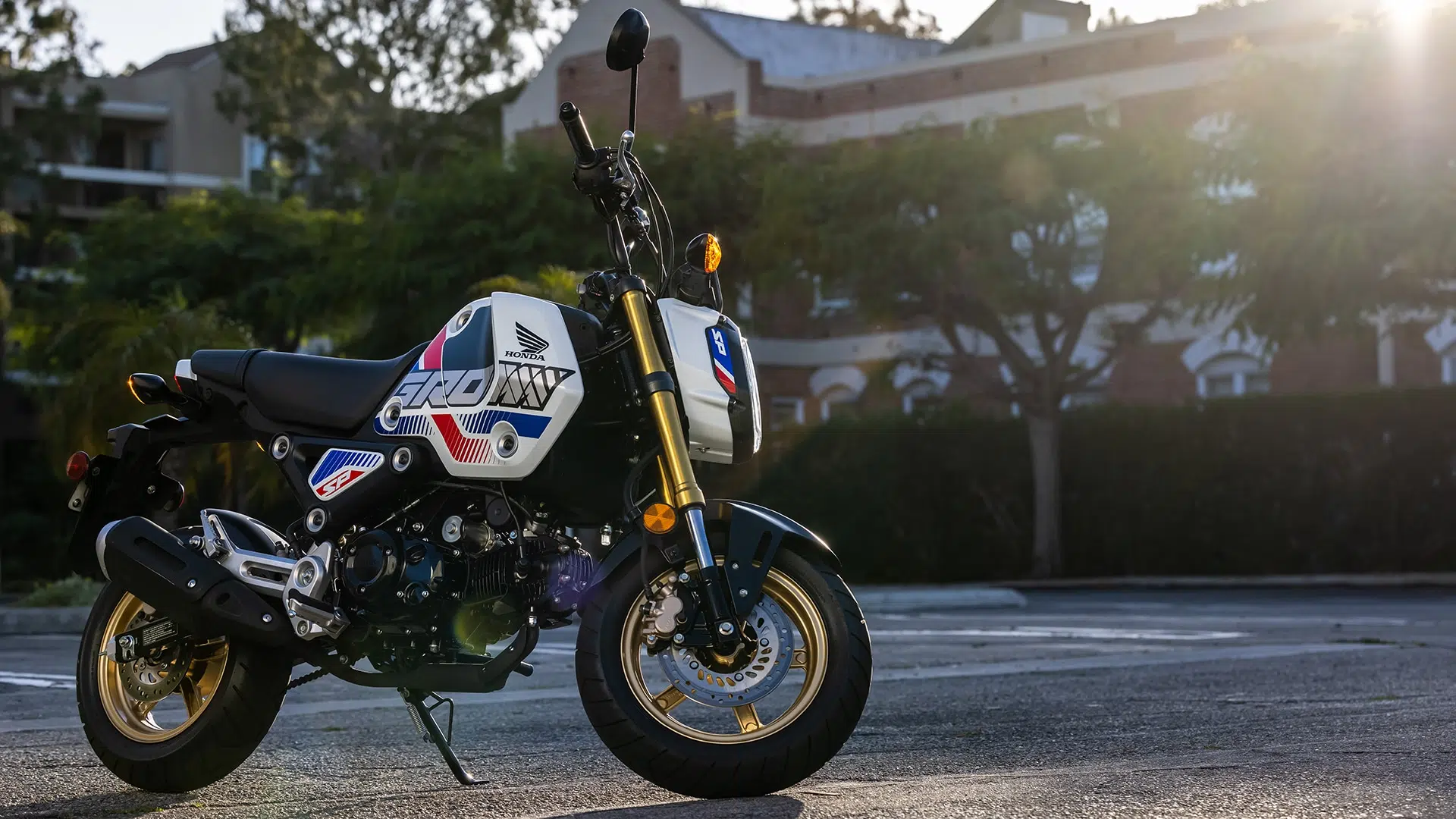 The Honda Grom no longer needs an introduction, for it has been the most popular motorcycle on Earth for several years now! You read that right!
A little getaway with this motorcycle will show you why. I've had the chance to ride my friend's Honda Grom and let me tell you this motorcycle will put a smile on your face.
With its 30-inch-tall seat, this motorcycle is not that intimidating and it is extremely easy to handle.
Its 125 CC engine with an electric starter and PGM-FI electronic fuel injection makes riding fun and easy. The Honda Grom is equipped with a five-speed manual transmission, just like the biggest motorcycles.
Honda added a fun function where you can easily and quickly remove the plastic panels on the outside to customize them more easily. The panels are attached with only 6 nuts and bolts that are clearly visible on the sides of the motorcycle.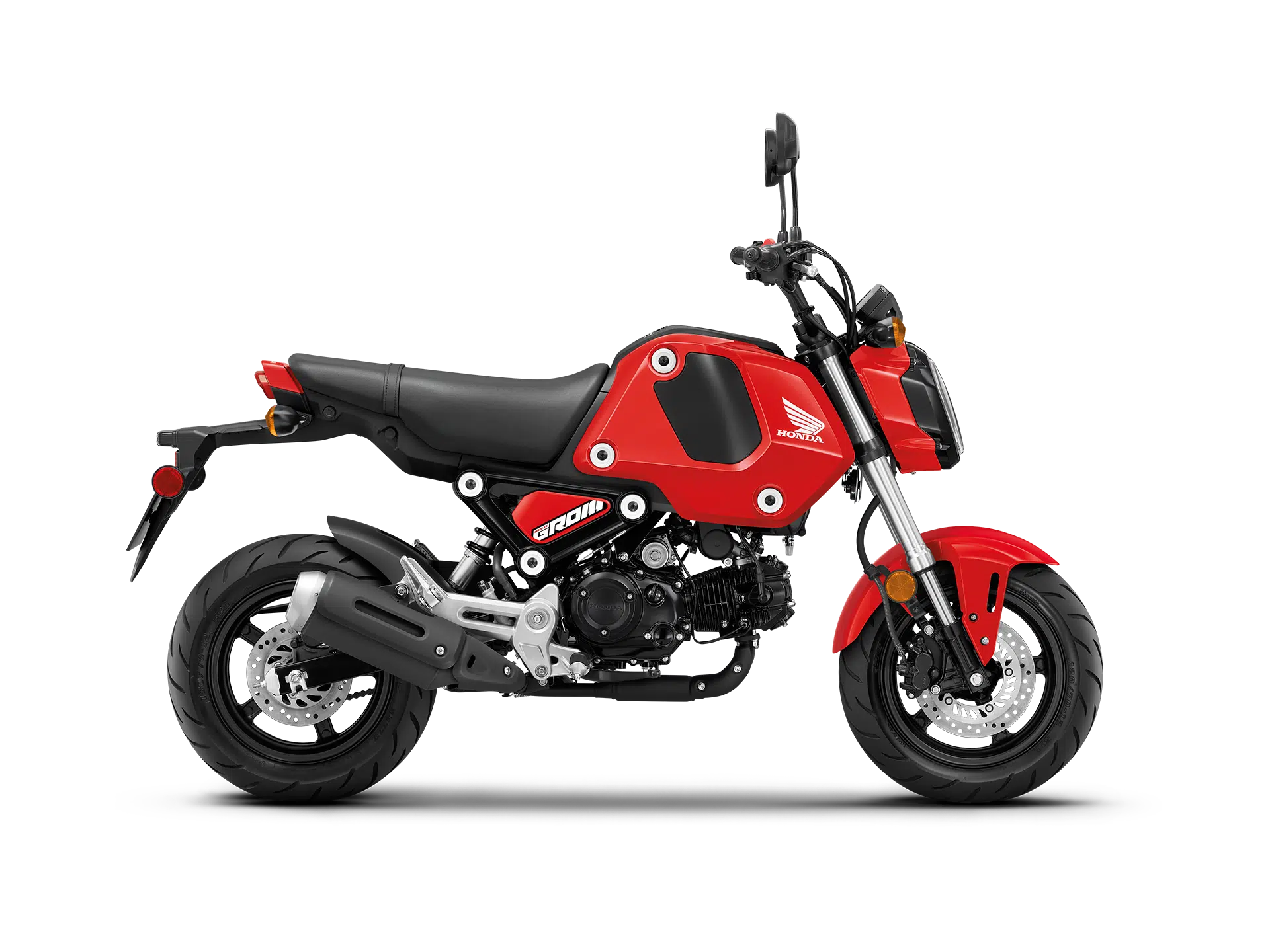 The Honda Grom is available in red or in tricolor (only available with anti-lock braking system).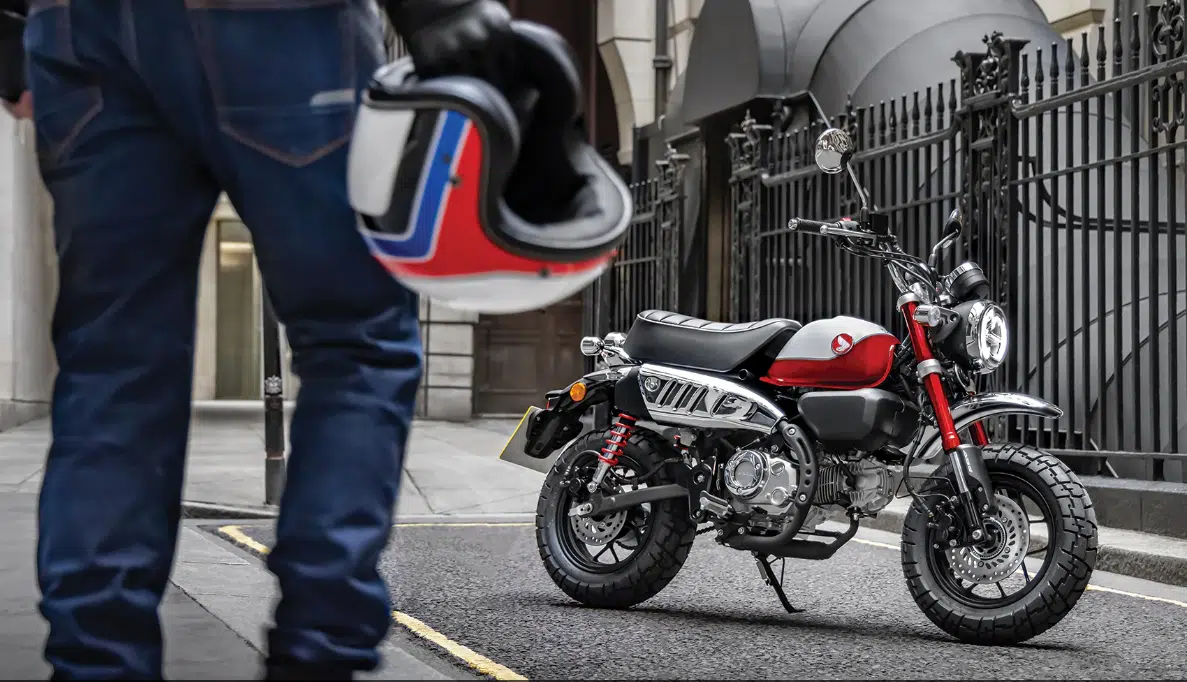 The Honda Monkey is derived from the Honda Grom, but with a retro look.
Inspired by the minimotos found in Japanese amusement parks in the beginning of the '60s, the Monkey managed to please the whole world.
With its fun look, this motorcycle pays tribute to the first generations of this model; it is equipped with a 124 CC engine, just as reliable as the Honda Grom's.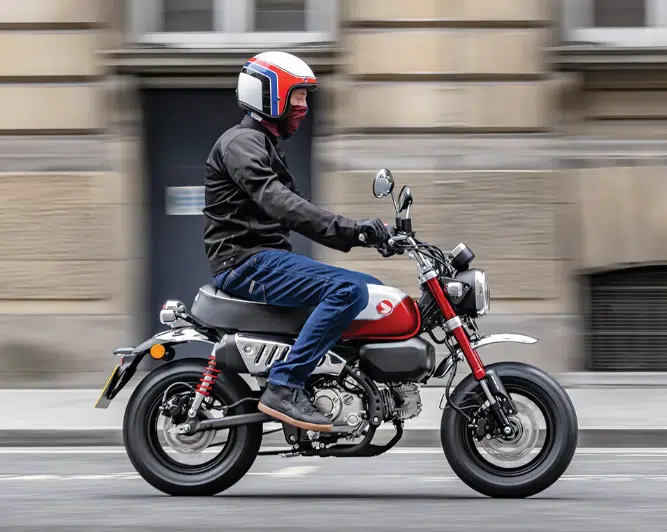 The Monkey offers the same five-speed transmission, the same suspension and the same brakes as the Grom.
Its wheelbase is a little shorter and its seat is slightly higher. Also note that the anti-lock braking system is not available on the Honda Monkey.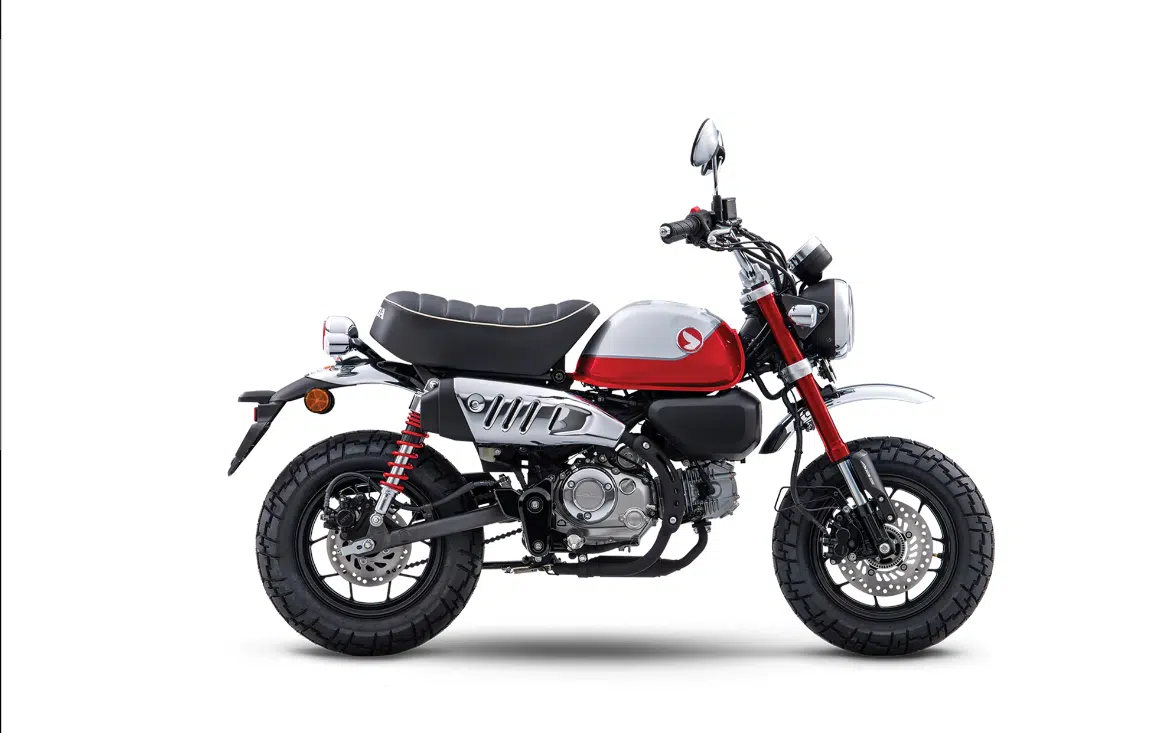 The suggested retail price of the Monkey is a little bit more expensive than the Honda Grom.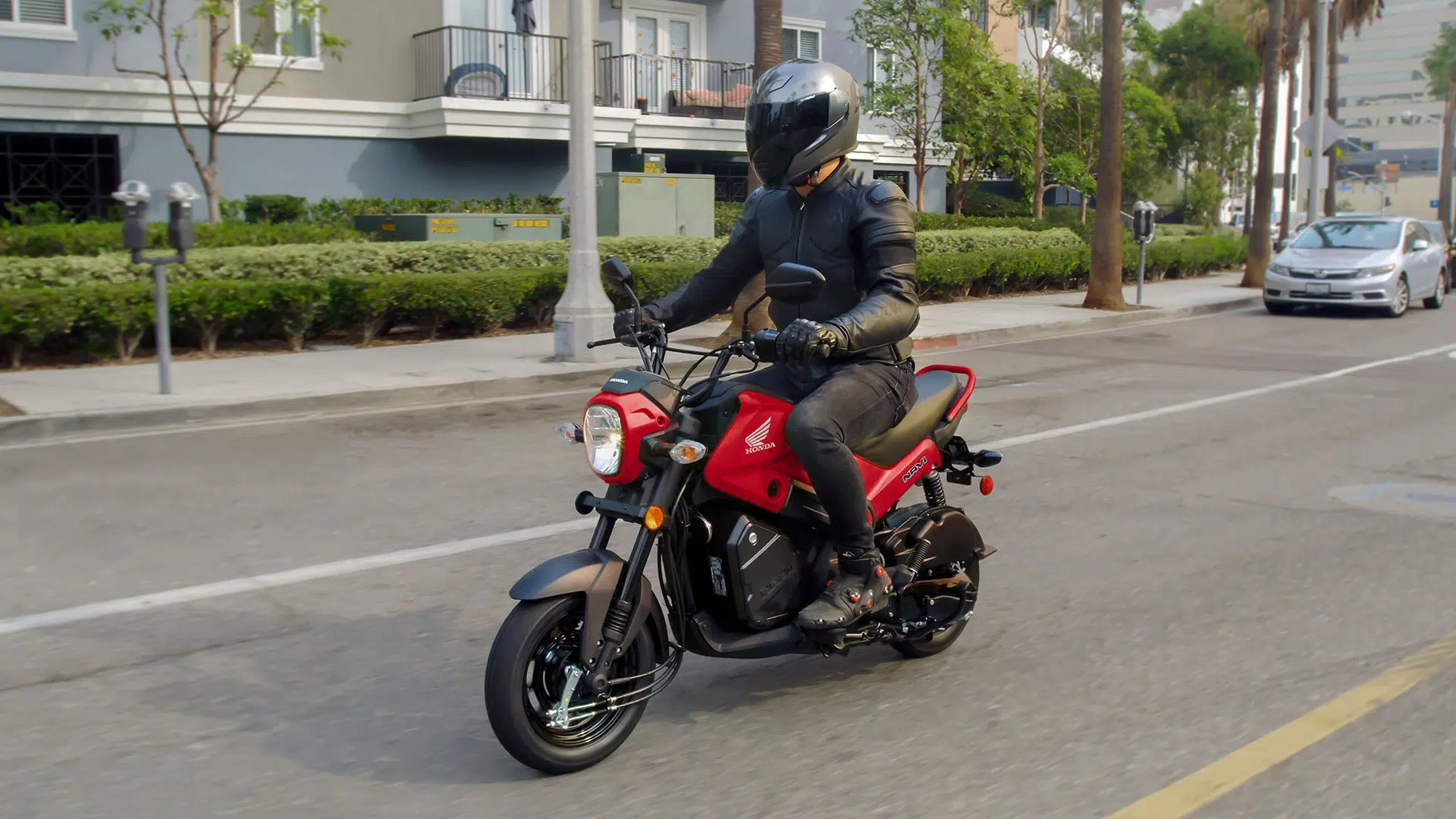 This motorcycle is one of the most recent ones in Honda's miniMOTO range.
It has all the features and the look of a bigger motorcycle, but with the advantages of a scooter.
It is even more pleasant than the Honda Grom and Monkey, since it has the Honda V-Matic transmission like a scooter. It means you don't even need to switch gears!
Just twist the handle and you're off and running!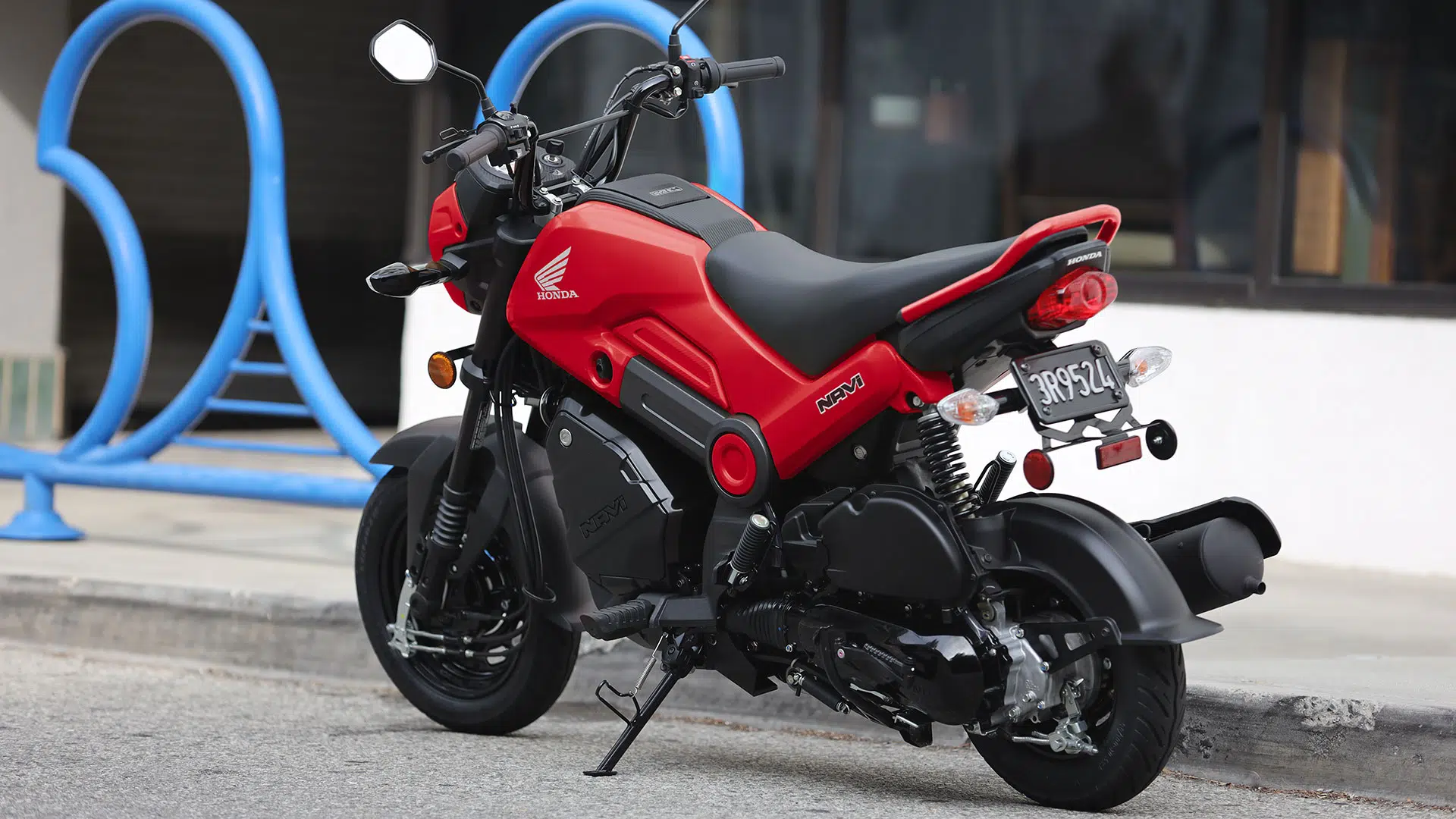 The Navi is equipped with a single-cylinder 109 CC engine, which is a lot more than what we can find on the famous Ruckus.
Located in the back like a scooter, the engine leaves a lot of room at the front of the frame. Thus, Honda's engineers had the idea of adding a storage box located below the fuel tank at the front of the frame.
This motorcycle only weights 107 kilos! So, it is very easy to handle and to drive.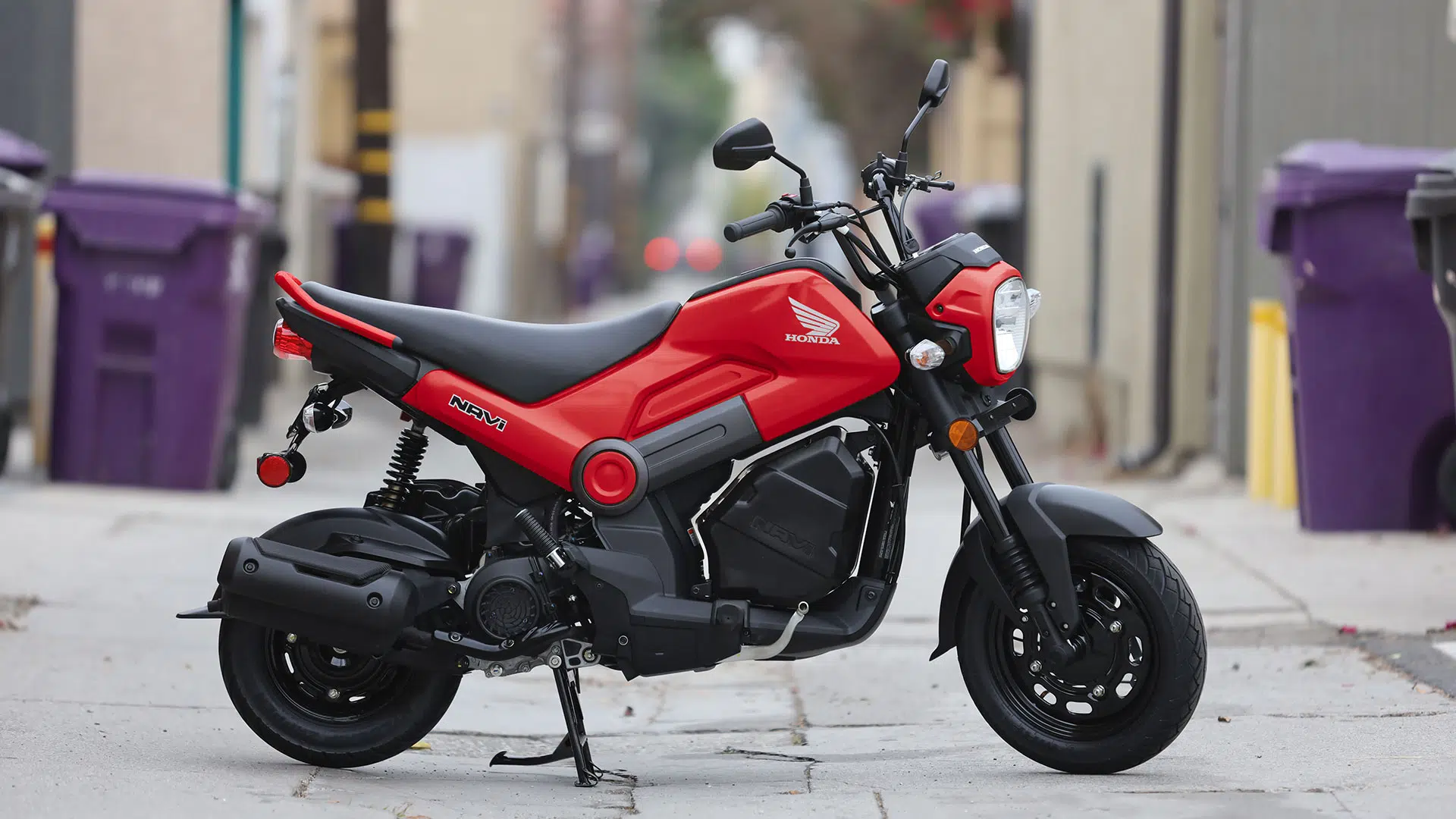 The best part of all of this: its price! This minimoto is the least expensive one from Honda's range!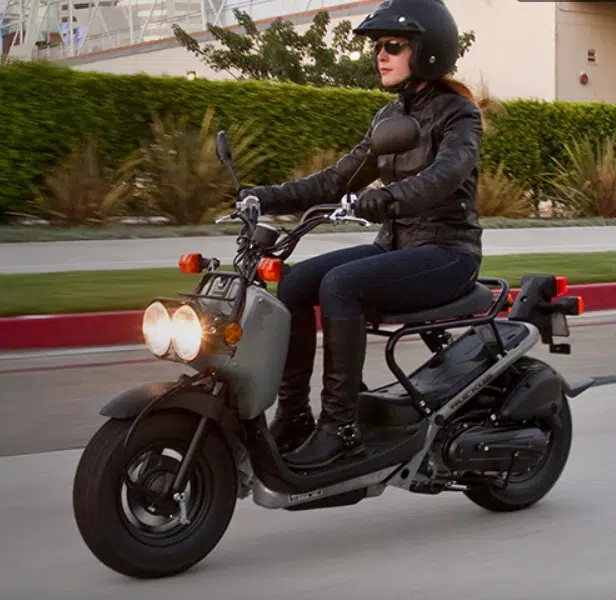 The Ruckus no longer needs an introduction.
It's been available in Canada since 2003 and its look has not changed over the years.
As a symbol of reliability, this scooter will drive you wherever you want with style. I've had one for a few years now and I love it!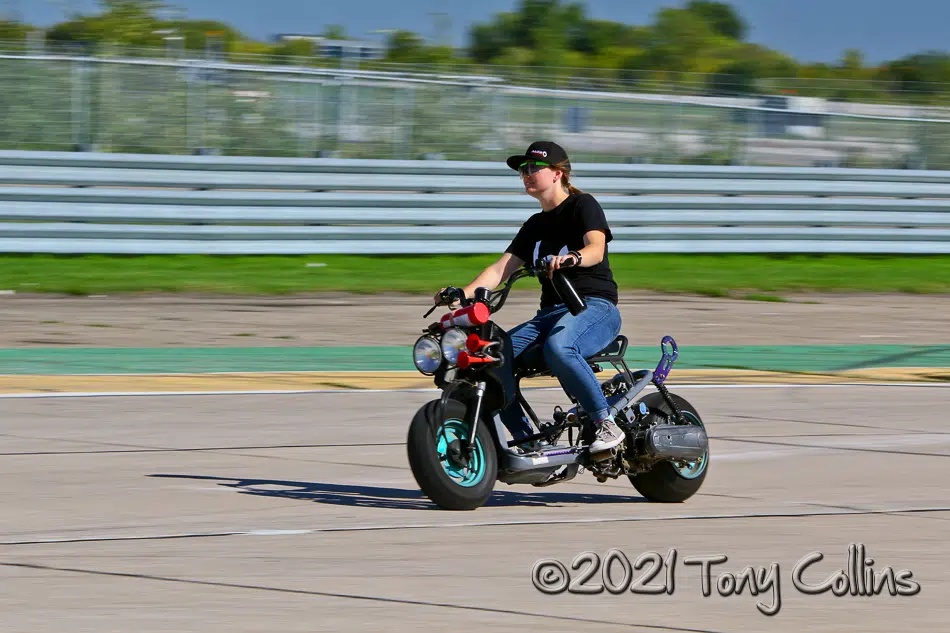 Its four-stroke 49 CC engine will drive you wherever you want, as long as it is not on the highway.
Its fuel economy is incredible.
The engine is equipped with a carburetor and an electric starter. It is air-chilled and is fitted with the same belt drive as the Honda Navi.
Once again, you don't have to switch gears with this V-Matic transmission.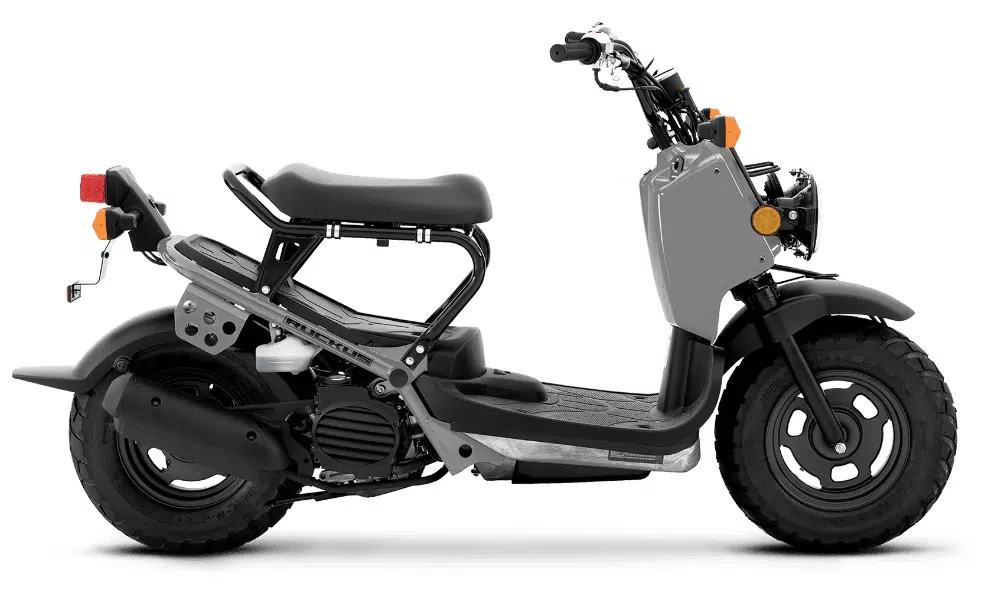 The only available color for the 2023 model is grey.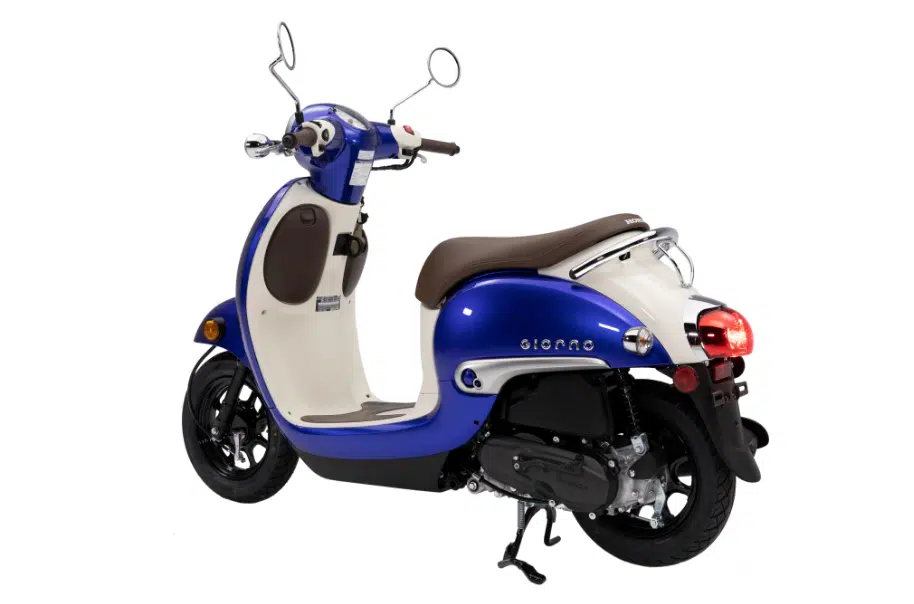 Lastly, if you're a fan of Honda's scooters, you'll probably be glad to hear that the Honda Giorno will make a major comeback in the fall of 2022!
Previously called the Honda Metropolitan here in Canada, the Giorno is a metallic and mat armored green metallic scooter.

The Honda Giorno uses exactly the same engine power as the Honda Ruckus.
It has a 22-liter storage space under the seat, which is very handy for a trip around the city.
It also has a very handy hook that allows you to hang bags and to keep them between your legs if you need more storage space.
It is a wonderful scooter which stands out by its looks!
Here is a table that summarizes Honda's miniMOTO range:
GIORNO
RUCKUS
NAVI
GROM
MONKEY
Classification
Scooter
Scooter
Motorcycle
Motorcycle
Motorcycle
Power
49 CC
49 CC
109 CC
125 CC
124 CC
Engine type
Single cylinder

Four-stroke Liquid-cooled

Carburetor

Single cylinder

Four-stroke Liquid-cooled

Carburetor

Single cylinder

Four-stroke Air-cooled Carburetor

Single cylinder

Four-stroke Air-cooled

PGM-FI

Single cylinder

Four-stroke Air-cooled PGM-FI

Transmission
Honda V-Matic Automatic
Honda V-Matic Automatic
Honda V-Matic Automatic
Five-speed
Five-speed
Final drive
Belt
Belt
Belt
Chain
Chain
Tires
Front: 80/100 – 10

Rear: 80/100 – 10

Front: 120/90-10
Rear: 130/90-10
Front: 90/90 – 12

Rear: 90/100-10

Front: 120/70-12
Rear: 130/70-12
Front: 120/80-12

Rear: 130/80-12

Brakes
Front: drum
Rear: drum
Front: drum
Rear: drum
Front: drum
Rear: drum
Front: Single 220 mm disc

Rear: Single 190 mm disc

Front: Single 220 mm hydraulic disc

Rear: Single 190 mm hydraulic disc

Seat height
719 mm
735 mm
765 mm
761 mm
776 mm
Weight
81 kg
88 kg
107 kg
102 kg
104 kg
Here's what wraps up our quick scan of Honda's miniMOTO range.
As you can see, Honda offers a more than extensive range of fun and easy to handle minimotos! With all these different looks, it is easy to find the minimoto that will suit you.
See you soon on the road.
Cyndie P.