The 2023 new releases from the BRP Club
For the first time since 2020, BRP gathered together as part of its famous club.
It is a biannual even to which are invited the leaders of the different BRP concessionaires all around the world so they can discover the new models that will be released the next year.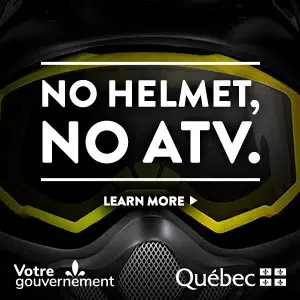 There is a club dedicated to the unveiling of marine vehicles, road vehicles and trail riders for the summer, and for winter, there is one for Ski-Doo.
This great mass took place in Salt Lake City on August 7th. I participated in it live from my living room and here is what the Quebec giant has to offer in a near future.
Hold on tight because that is pretty exciting!
A word from José Boisjoli
Obviously, the CEO was there to start the presentation. After greeting everyone in English, he took five minutes to speak to the French-speaking concessionaires of this world:
"Good evening, everybody. It is our first Sea-Doo, Can-Am and Marin in-person club in 3 years. I am happy to see you all again. So much happened since spring 2020. We went through a real reset in our industries. A high demand, the disposal of our stock of new and used products and the poor availability of products. It is not an easy situation for you and I thank you for your collaboration and your patience. I know you are just the intermediate between us and the customers, and that you do everything in your power to serve them well. As you'll be able to see tonight, BRP has worked hard for the last three years. We have a lot of new products, and we are well equipped to progress in the short, medium and long term. We will keep on aiming higher and become stronger, and you are an integral part of our strategy. Thank you for your ongoing support."
He continued in English, mentioning everything that BRP had implemented to try and provide its customers.
"Like all other industries, we had parts supply issues. You know that at BRP, we always find solutions even if we have to fall into extremes and I can tell you we found alternatives each crazier than the last so that the products can reach you. I've been working here for a while now and I had never seen anything like it. Our employees are on site working hand in hand with our suppliers, we have hired three consulting firms so that they can help us find alternative supplies all around the world, we pay up to 20 times the regular price of our pieces, we asked our office workers to come and help voluntarily on the production line and we brought 240 of our Mexican employees to Valcourt so that they can help assemble the 2023 Ski-Doo. We tried everything that was possible to deliver the merchandise. Despite all of this, we know we have disappointed our customers as well as the concessionaires since you have not received the vehicles in time for the season. So, it is on my behalf and on the behalf of the 20,000 employees of BRP that I present to you most sincere apologies."
With that being said, let the show begin!
Let's conquer the marine world!
4 years ago, BRP purchased three boat brands, namely Manitou, Alumacraft and Quintrex (only available on the other side of the planet).
Since this transaction, they have worked really hard to create modern products with a WOW factor. The new pontoons "Cruise" and "Explore" have a very modern look, more in-your-face than their competitors.
With a deck length up to 24 feet able to carry 13 people, they were designed to transform the customer's experience. In total, you can reach up to 38 square feet of living space, which is unprecedented.
They are fitted with a 150 CC Rotax engine, the most economical and clean of its category. It is hidden under the back of the boat so that you don't lose any space on the deck.
The seat layout can be changed as you think best and some of them are removable. In my opinion, these pontoons look like luxurious "Switch," which is not a bad thing, far from it! With prices between $60,000 and $90,000, it clearly is a luxurious pontoon signed BRP. The production is going to start this month for a launch in the summer of 2023.
For more details, visit this website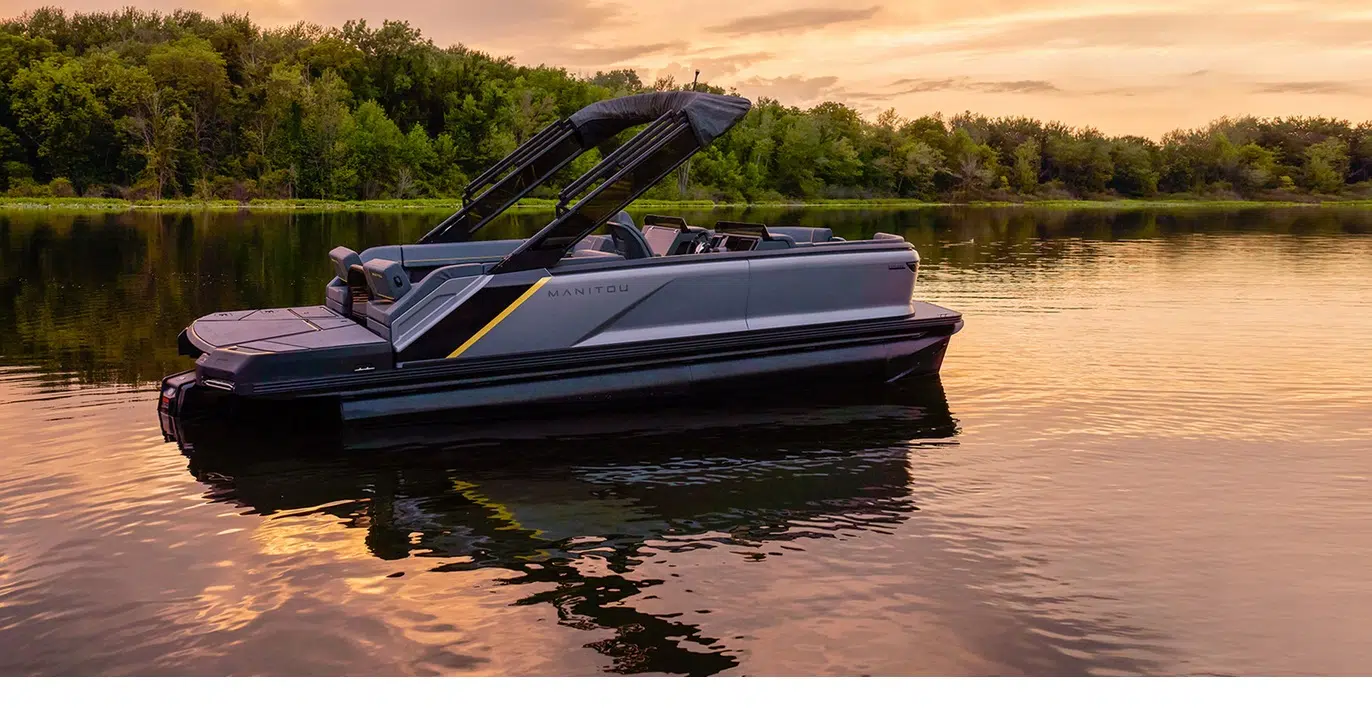 The same new looks can be found at Alumacraft on its models "Competitor" and "Trophy." These aluminum fishing boats now have a little James Bond look.
With their very pointy front and a more in-your-face look, it looks like a sporty craft rather than an old man's rowing boat.
Fitted with MAX Deck, you can enjoy 25 square feet of space, to perfect your fishing skills or to relax with your family.
Each millimeter of this craft has been thought to offer as much storage as possible. Just like the Manitou, many configurations are possible when it comes to the seats and storage, and it is easy and fast to install different options thanks to the FLEX technology well known at BRP.
Also equipped with a ROTAX Outboard 150 engine, these new models will make heads turn during your fishing session.
For more details, click here!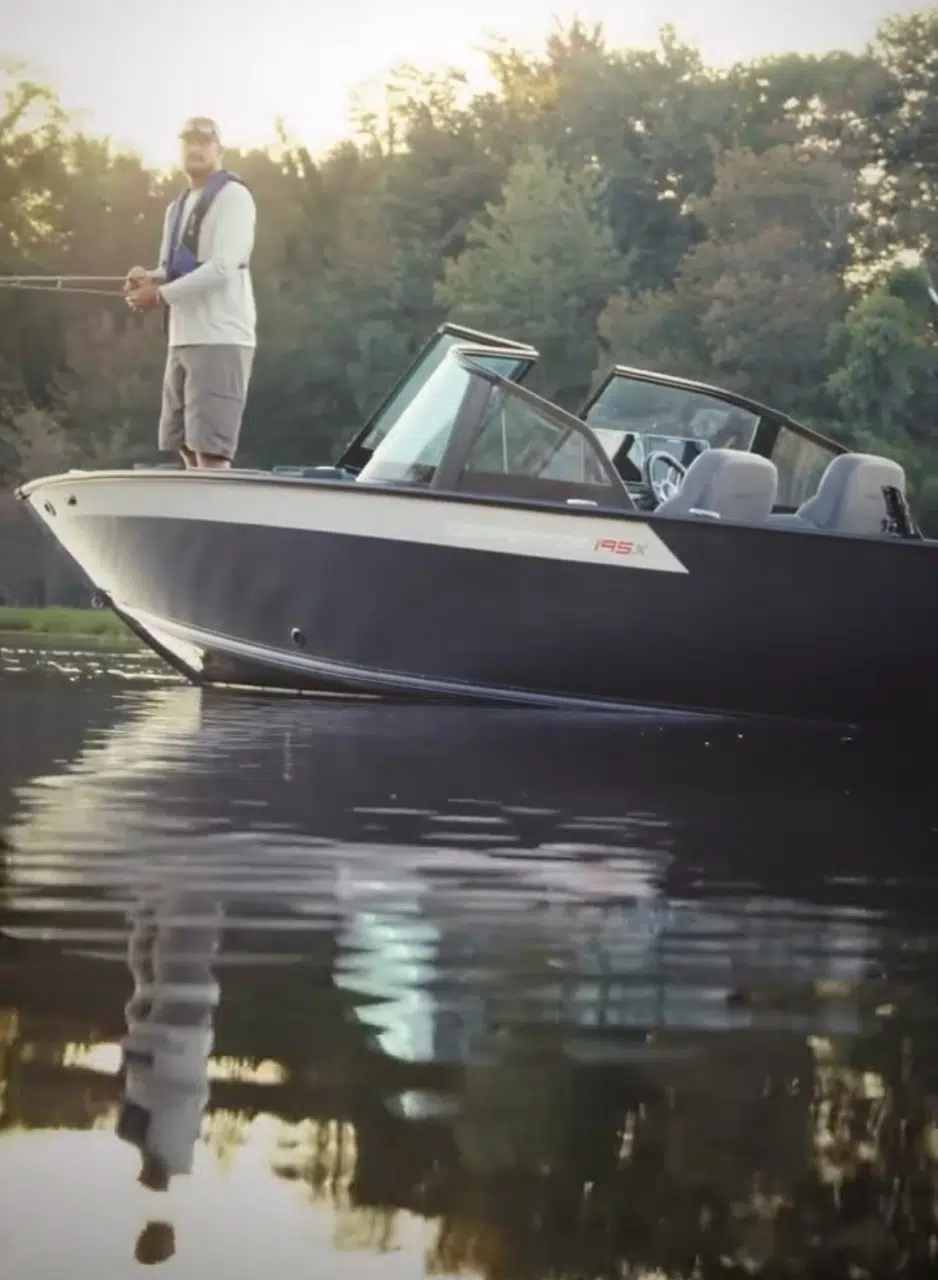 Sea-Doo life
On May 5th, BRP published a teaser of its next Sea-Doo big hit.
We could see the Formula 1 racing driver Daniel Ricciardo having fun on the water behind the handlebars of a personal watercraft. With this collaboration, we already knew that it was going to be a powerful vehicle, and we were not disappointed.
The new RXP-X Apex RS 300 has been revealed and it's already sold out in Australia, the racing driver's homeland. It is a high-performance vehicle designed for racing:
• 300 horsepower,
• Carbon fiber hood,
• A steering damper (the first one on the market),
• A more precise control compared to its predecessor,
• A hull designed for the tightest hairpins.
And a promise that your experience will be breathtaking.
Just like the RXP-X300, this vehicle can fit 2 passengers and after testing it last year, I can tell you it's very comfortable.
With hints of dark green and black, this vehicle is a dream come true for speed lovers. Of course, the availability of the RXP-X Apex RS300 is limited and you have until November 30, 2022, to place your order at a dealership.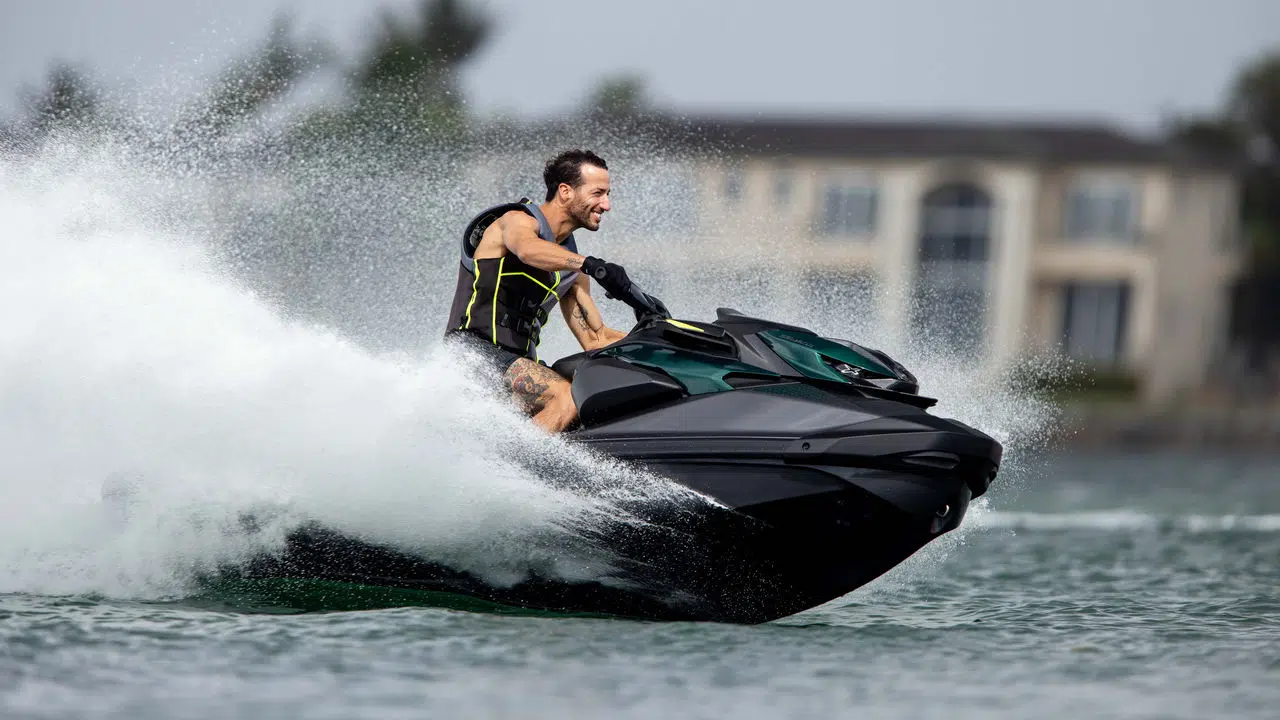 Then, we discovered that a new segment will make its appearance in the family.
Everybody knows the enthusiasm created by motorcycles over the last few years. Sea-Doo was inspired by this type of vehicle to create the "Adventure" branch with the brand-new Explorer Pro 170.
The first personal watercraft fitted with… a windshield!
It has been tested to offer an optimal protection against the wind, insects and bad weather, and it was designed to reduce the fatigue created by the air pressure and it is removable.
This 170 CC vehicle has a front bumper for more protection, a lot of storage space, it is way quieter than its fellows and it is perfect for longer drives.
You can add up to five LinQ accessories including the brand-new Explorer 100-liter waterproof bag that can turn into a backpack.
Designed to welcome up to three passengers, the Explorer Pro 170 is the perfect compromise for those who want power, a strong look and to take long trips on the water.
Click here for all the details.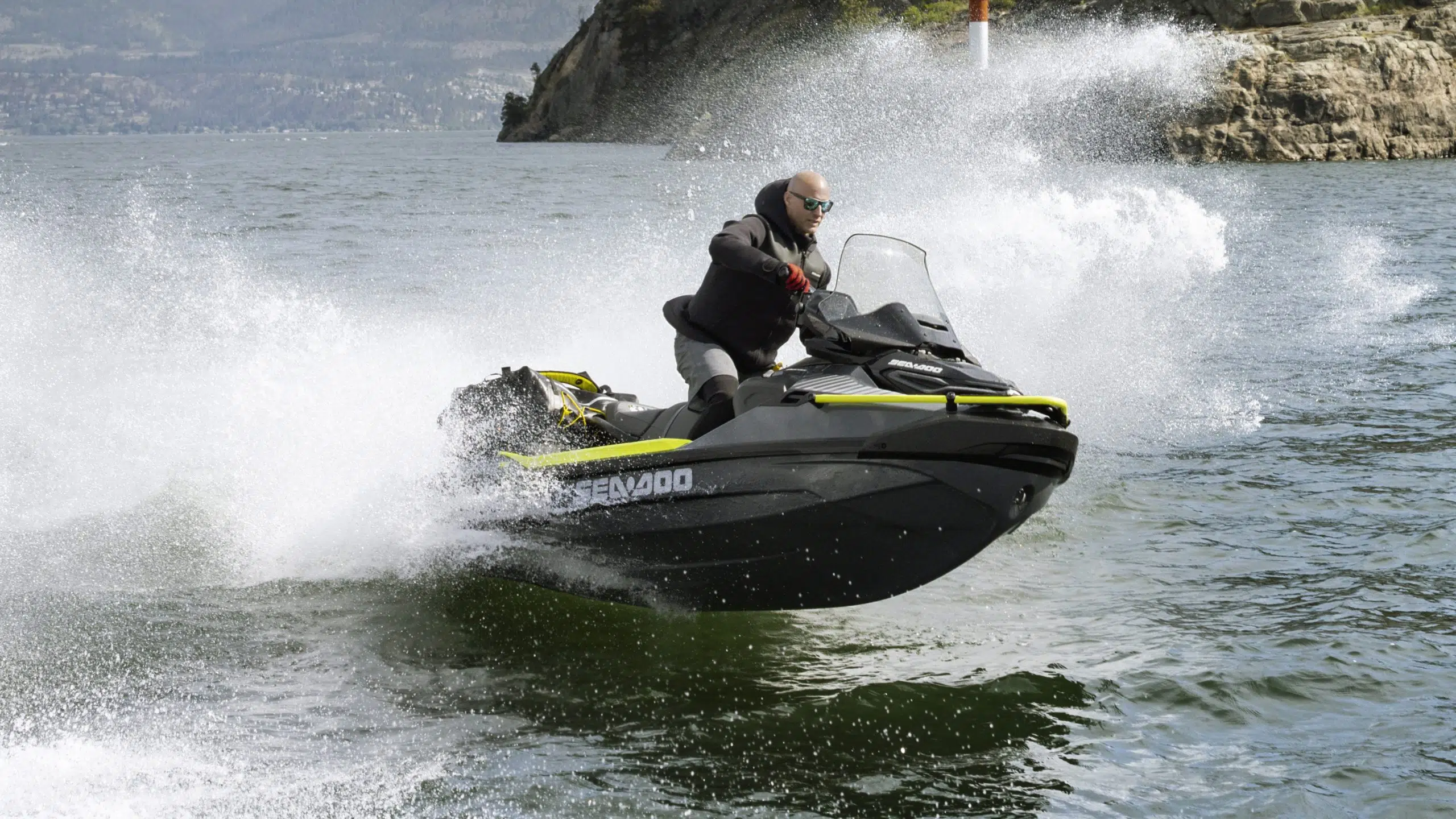 Off-road Can-Am
No major changes in the family of side-by-side vehicles except that the Maverick X3 Turbo goes from 120 to 135 CC, has new 20-inch suspensions and changes color.
The major innovation appears in the family of off-road vehicles with the Renegade 70 and 110 EFI created for young drivers over six years old. It literally is a mini version of the one for adults.
These small vehicles include an electronic fuel injection system, a push down button to get it started and a speed limiter to keep some control. A vehicle offering the same advantages as its older brother so that the whole family can enjoy it.
Still in the off-road range, the Renegade as well as the Outlander have new integrated LED headlights, a more modern look and new colors.
Here are all the details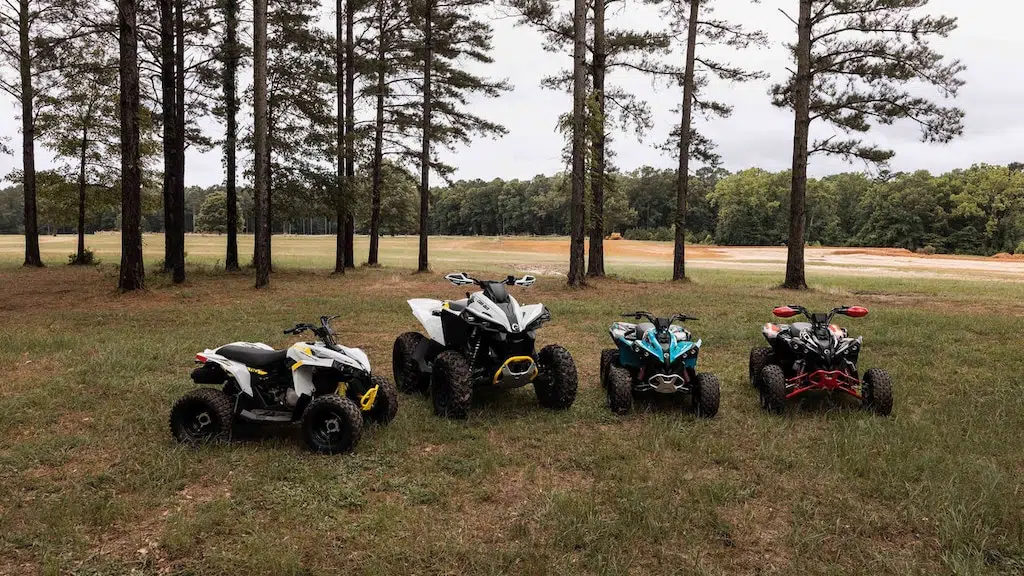 Can-Am on the road
Nothing significant regarding Ryker and Spyder. New equipment, new colors as well as a few changes when it comes to accessories.
For all the details, visit this website.
Can-Am's motorcycles are back
On March 25th, BRP announced that their motorcycles were back. Indeed, for those who didn't know, Can-Am launched its first motocross style motorcycle in 1973. They won many competitions.
Interesting fact: the first woman who professionally rode a dirt bike was riding a Can-Am! Unfortunately, the production was forced to cease operations in 1987.
It was thus with great pleasure that the worldwide giant announced its major comeback in the two-wheeler industry. Until now, we only had a few details, but here is the unveiling!
For the 2024 season, two main ranges are planned to be launched: on and off-road. That's not all! These new vehicles will be 100% electric.
It is during the club that were had the opportunity to discover these two models on the road, the "Pulse," a road motorcycle with an urban and sporty look, and the "Origin," a dual-use motorcycle which pays tribute to Can-Am's motocross.
They are both fitted with the new "Rotax E-Power" engine and offer a fast charge thanks to a level 2 station.
We've been assured that the motorcycles were fast and pleasant to drive.
No detail has been released regarding the battery life or other engine or price specifications. All the models will be presented during the 2023 Club. We can't wait to know more about it!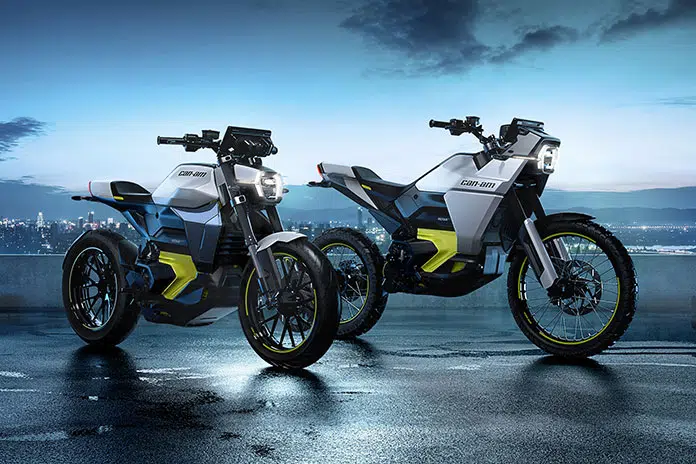 The icing on the cake!
Just when we thought the presentation was over, José Boisjoli asked us if we were ready for more… I was almost standing on my couch! The presentation starts and we see a woman on a surfboard sailing on the water.
Ladies and gentlemen, the Sea-Doo Rise!
An electric hydrofoil that looks like a surfboard, fitted with a propulsion system.
This vehicle allows to sail in many different ways on lakes. The board can change depending on the skill level of the passenger.
Handlebars are integrated for better control and a remote control allows to be in charge of the speed so that the whole family can make the most of it safely.
This new vehicle is said to be very quiet and easy to charge.
Very few details have been revealed, such as the battery life or the place of manufacture. All that we know is that it will be officially presented during the Club next year and that the launch is planned for summer 2024.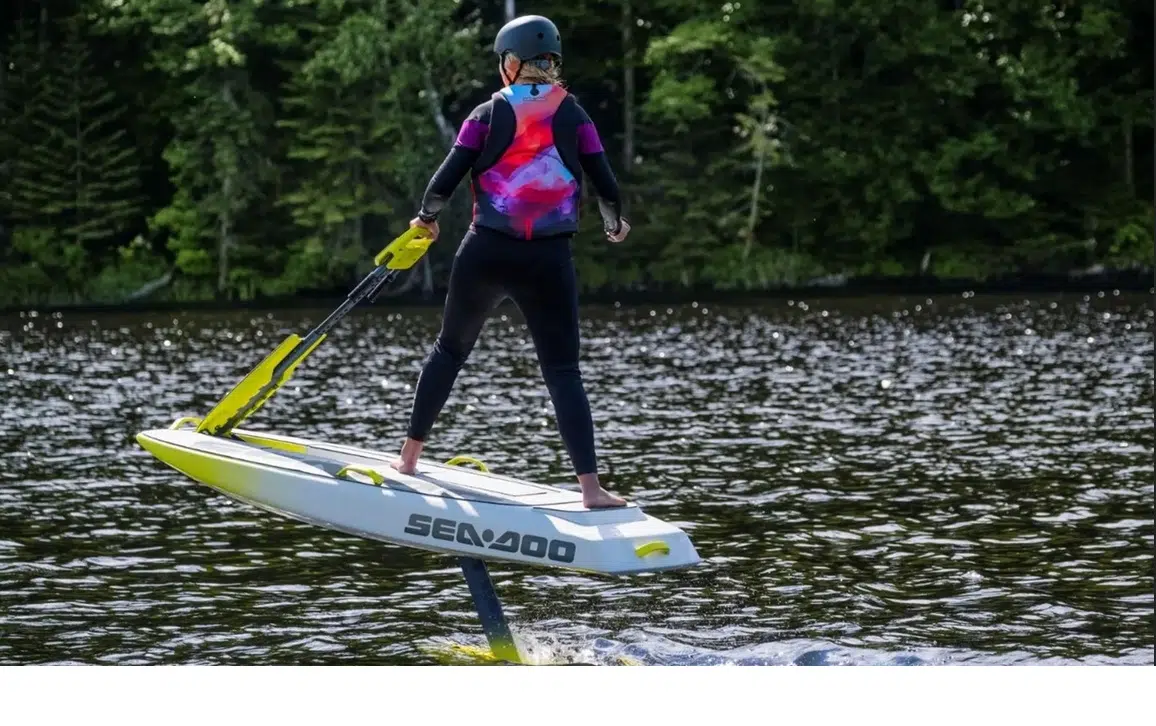 Clearly, BRP has worked a lot during these last years of pandemic. Once again, we have not been disappointed. No need to tell you I'm really looking forward to summer 2024! 😉
See you soon!
Gab xx