Olympia's Airglide 6 motorcycle kit: the Ultimate All-in-One !
There's no denying it: there are a lot of benefits to dressing well for riding. As the saying goes:
Prepare for the fall, not the ride
I always live by those words when I get on my bike. Feeling well protected in case of a fall, but also being sheltered from the various small projectiles we hit while riding – be it rocks, bugs or anything else – makes every ride much more enjoyable, in my opinion.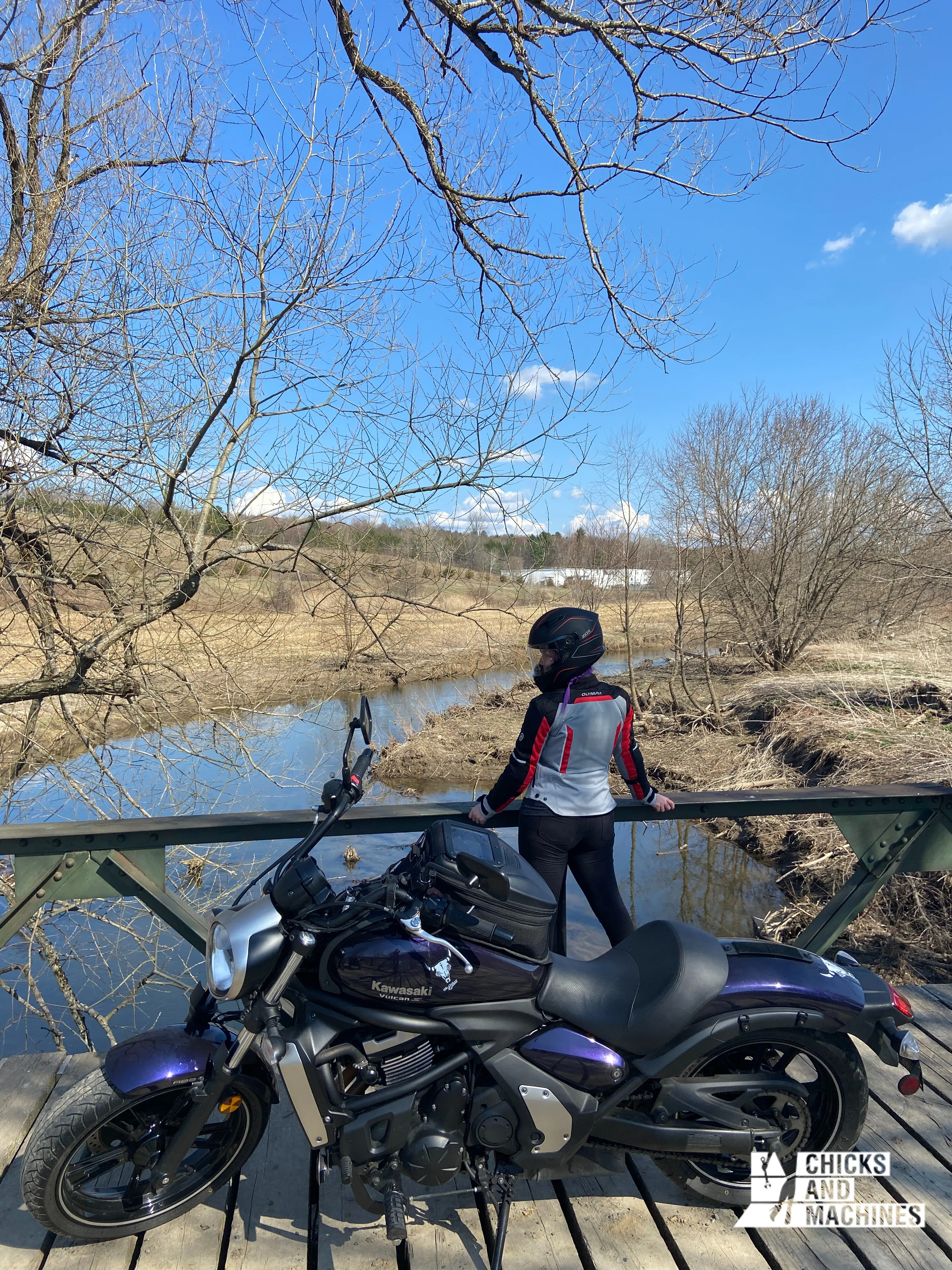 That being said, it's sometimes tempting to leave your motorcycle pants and/or jacket at home. We've all faced this dilemma before! Without all those extra layers, we typically feel freer and more comfortable. The temptation is even greater during heat waves like the one Quebec recently experienced.
However, for me, the days of wanting to ride in jeans and a t-shirt are behind me. I've finally found the perfect jacket and pant combo: one that offers protection without sacrificing comfort or the feeling of freedom. Here are my impressions of the Airglide 6 motorcycle kit by Olympia.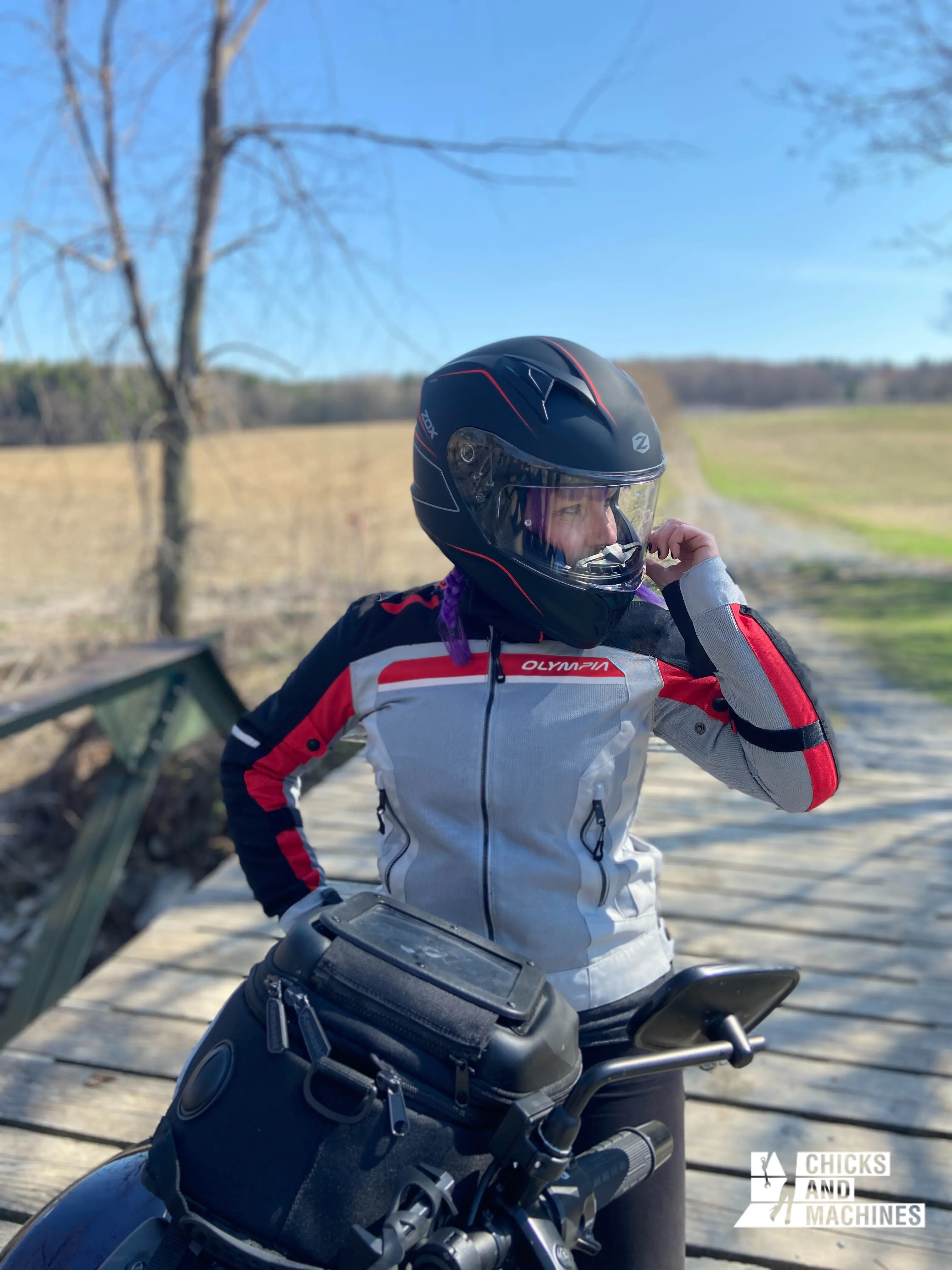 The Airglide 6 Jacket: truly designed for women
The first thing that jumped out at me when I unpacked my Olympia jacket was the design and colors. I felt like a champion racer when I put it on; it's so gorgeous!
As soon as you touch the fabric, you just know that this is a high-quality garment. The fabric is sturdy, and it's stretchy in all the right places. The designers added fasteners in several strategic places so that you can adjust the jacket to your preferences and body proportions.
Speaking of proportions: of all the motorcycle jackets I've tried on (and I've tried on a whole lot), this is definitely the one that hugs my figure the best. The waist is cinched to perfection, and the bottom of the jacket is flared just enough to leave space for my hips. Finally, a jacket with room for my curves! Thanks, Olympia!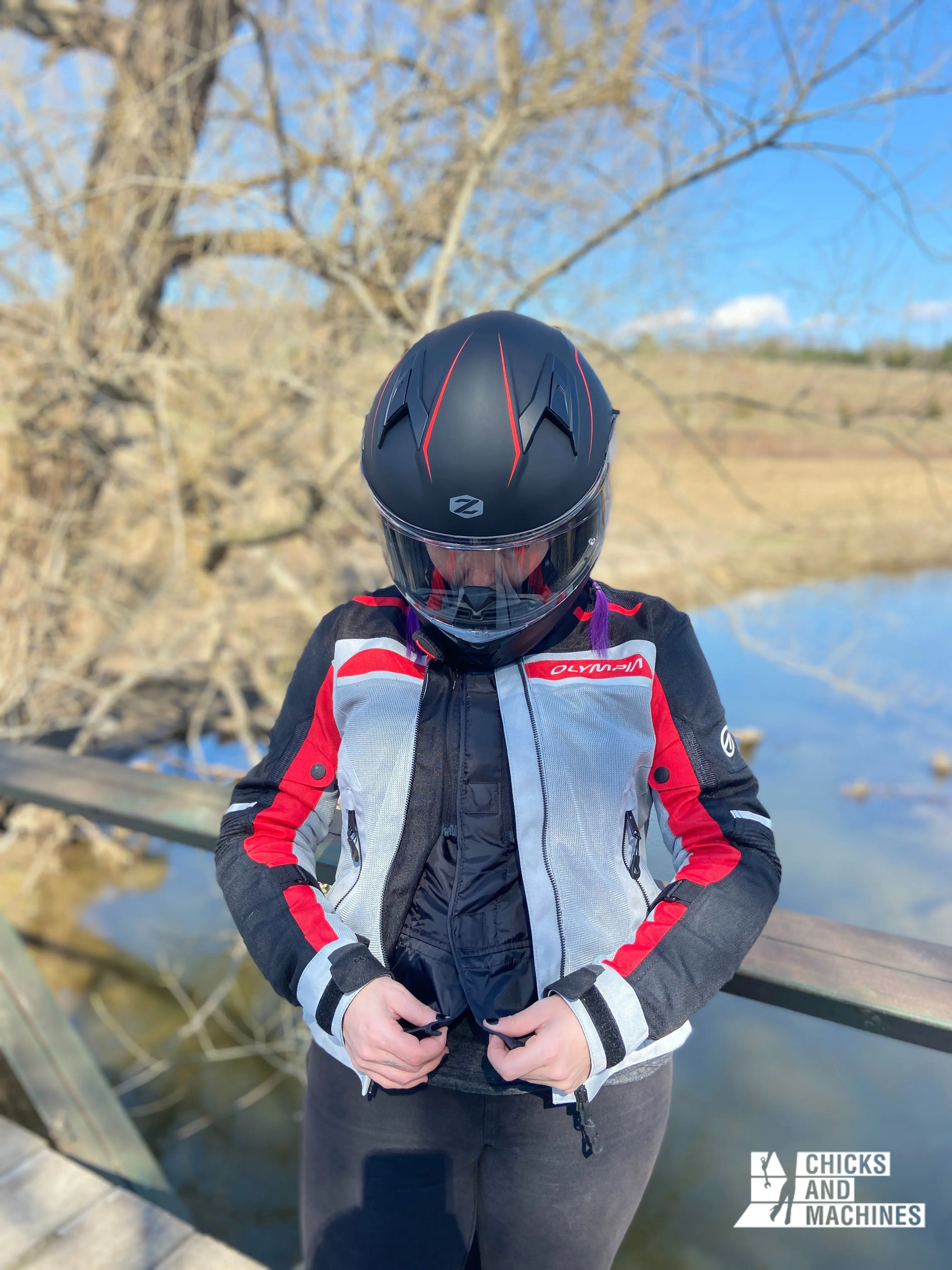 Not just pretty; practical too!
In addition to the truly beautiful and original look of this jacket, Olympia added reflective strips in strategic places so that they don't show up too much during the day, while maximizing the safety of the rider at night.
There are six storage pockets, including one on the inside of the jacket for your cell phone or other precious items, like your wallet. A zipper at the bottom of the back allows the jacket to be attached to the pants.
Velcro closures at the sleeve ends and neck add great structure to the jacket, as well as protection from wind and debris on the road.
Here's my favourite detail: the inner lining is very easy to install and take off, and closes by itself with magnets, which is much easier than a zipper or snaps like we see in most other jackets on the market. What a nice touch! By the way, this liner is made of Thermolite Insulation for extra warmth, and can be worn over or under the rain jacket.
The versatility of this jacket is truly impressive.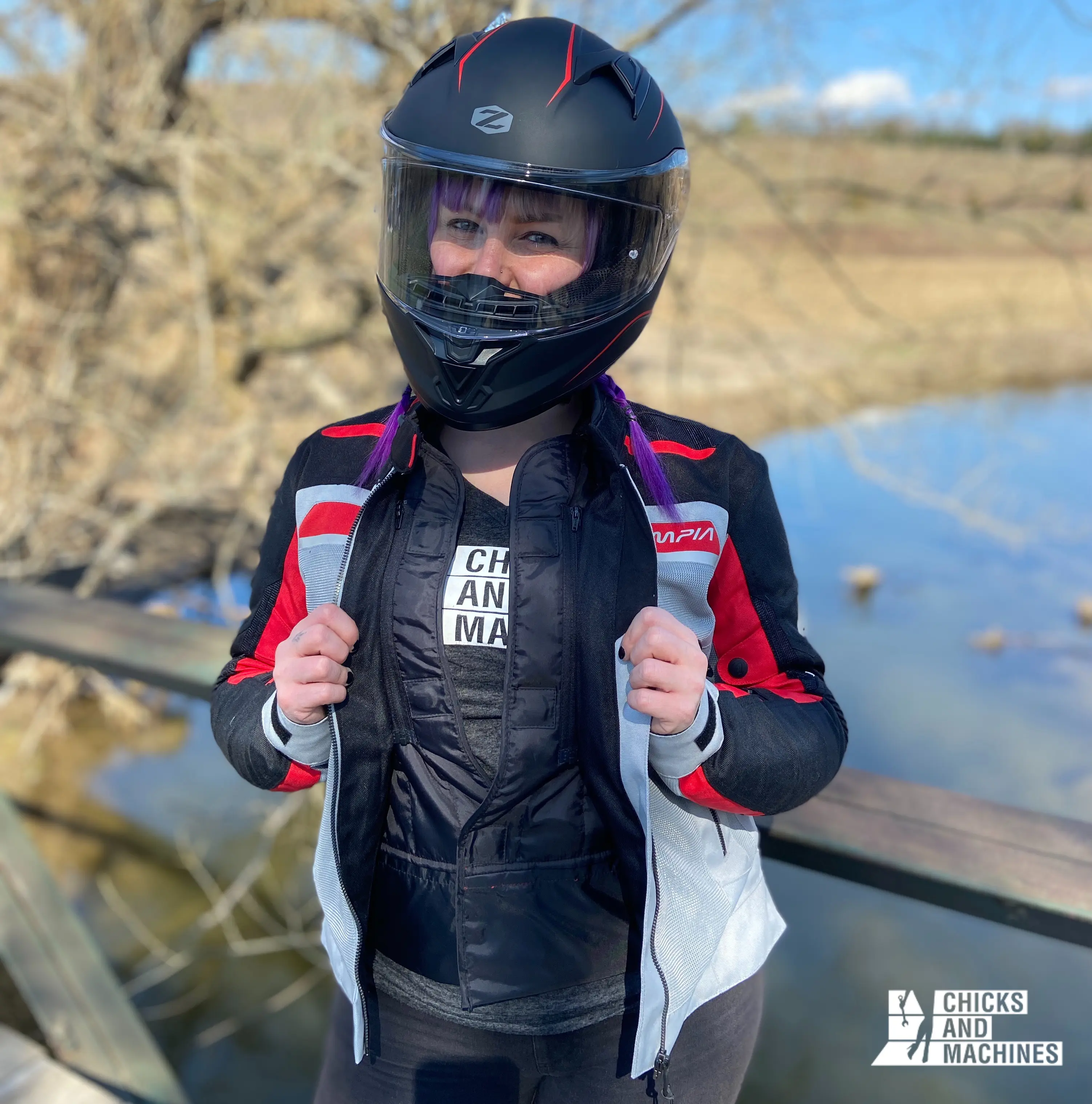 In addition, the jacket comes with a waterproof shell, which can be worn over or under the jacket. By the way, this rain jacket comes in its own little storage bag, which is a nice touch on Olympia's part.
As a fan of motorcycle camping trips, I really appreciate this detail: when you go on an adventure, you need to be able to pack efficiently and in a well-organized manner, while also being prepared for all kinds of weather. It seems to me that Olympia really kept all of this in mind when designing this product.
Another advantage: the raincoat can be worn alone (it looks good, too!). I was just in need of one… lucky me!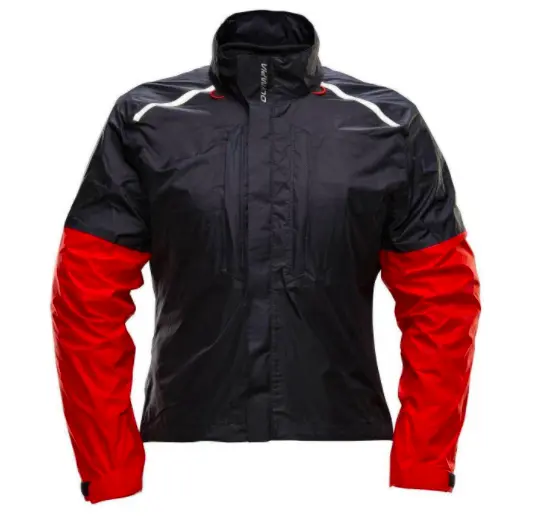 The Airglide 6 pants: efficiency in simplicity
While Olympia went all out to create a head-turner coat, they kept it simple for the pants. They're all black, with nice detailing at the seams and mesh accents. I think this is a very tasteful decision, as a pair of pants with busier details would probably have been too much when worn with the jacket. This allows the jacket to be the pièce de résistance of the kit, and that's the way it should be!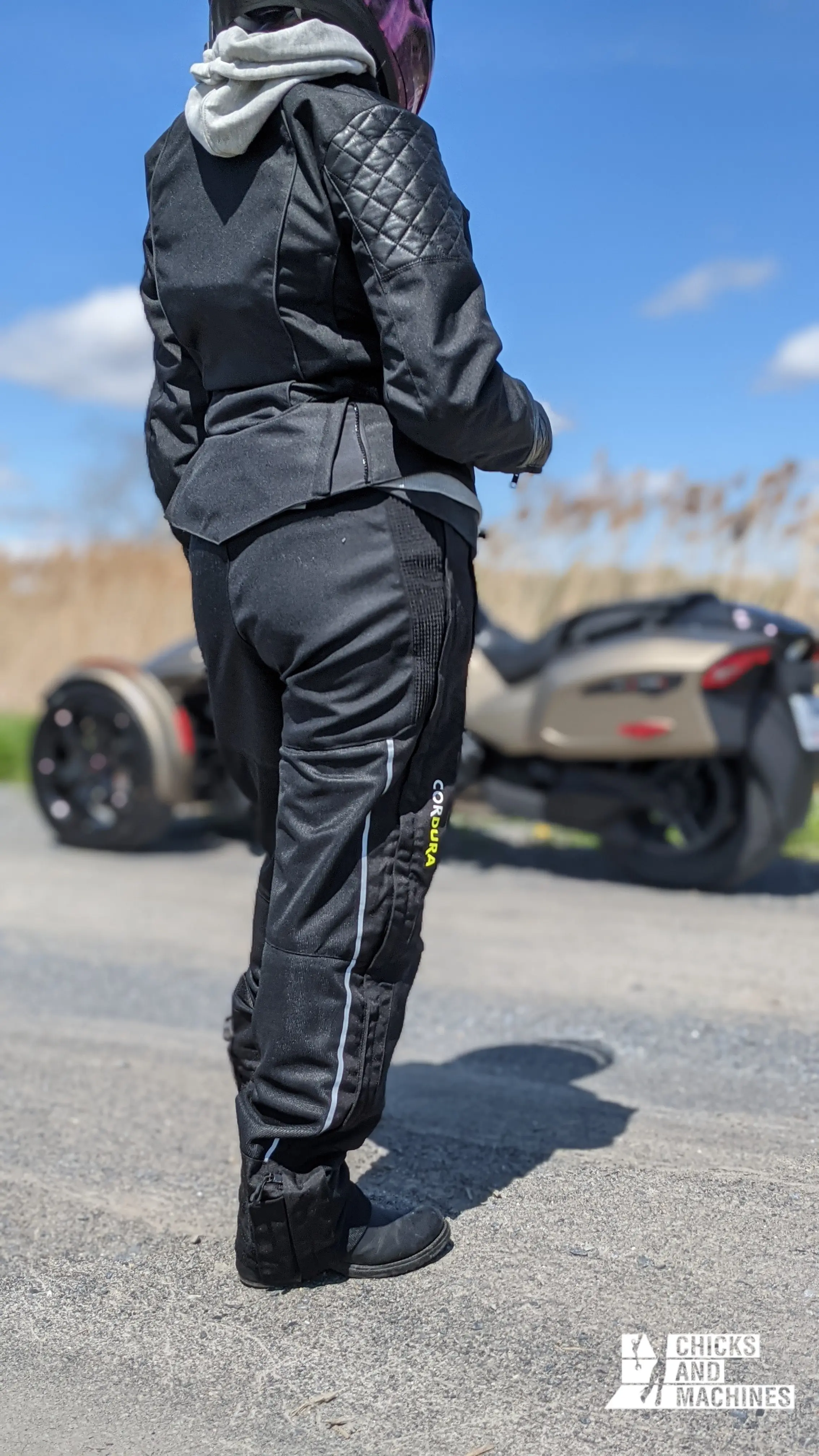 Like the coat, the pants have a removable inner lining. This liner is waterproof, and can be worn over or under the pants (or even alone).
Again, Olympia opted for magnets instead of zippers, which I really appreciate, especially since I quickly lose patience when I have to assemble the layers of my motorcycle kits. The Airglide set assembles quickly and effortlessly thanks to the strategically placed magnets. I say: bravo!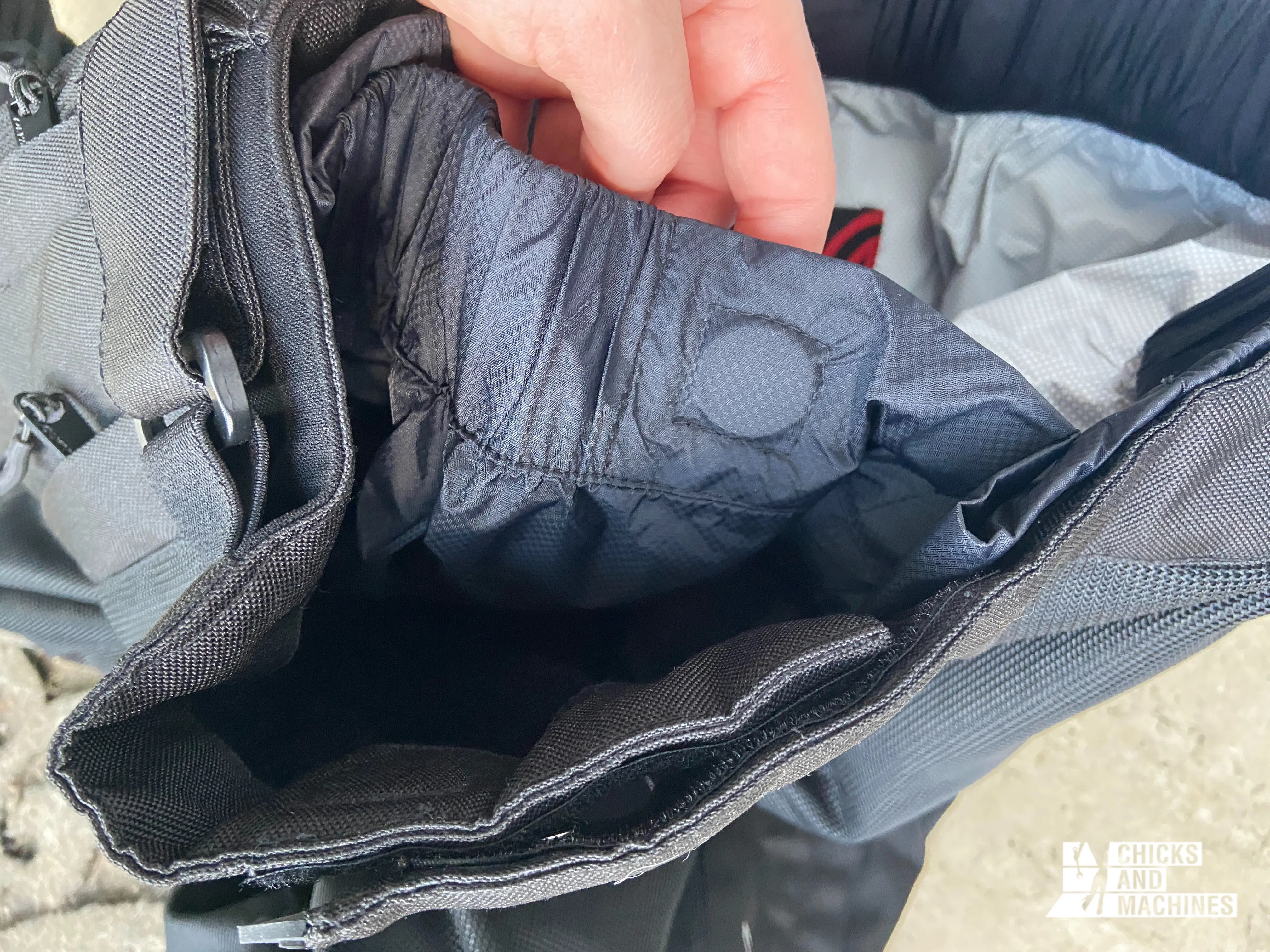 Attention to detail
As with the jacket, Olympia has put their mind to designing pants that will provide an optimal level of comfort and protection. The pants feature reflective strips for increased visibility, especially in the dark. Removable foam panels are located at the hips.
In addition, there are zippers on the side of the legs that allow the pants to be opened all the way down the leg from the waist. The waist closes with a velcro, which I find pleasant and easy to use.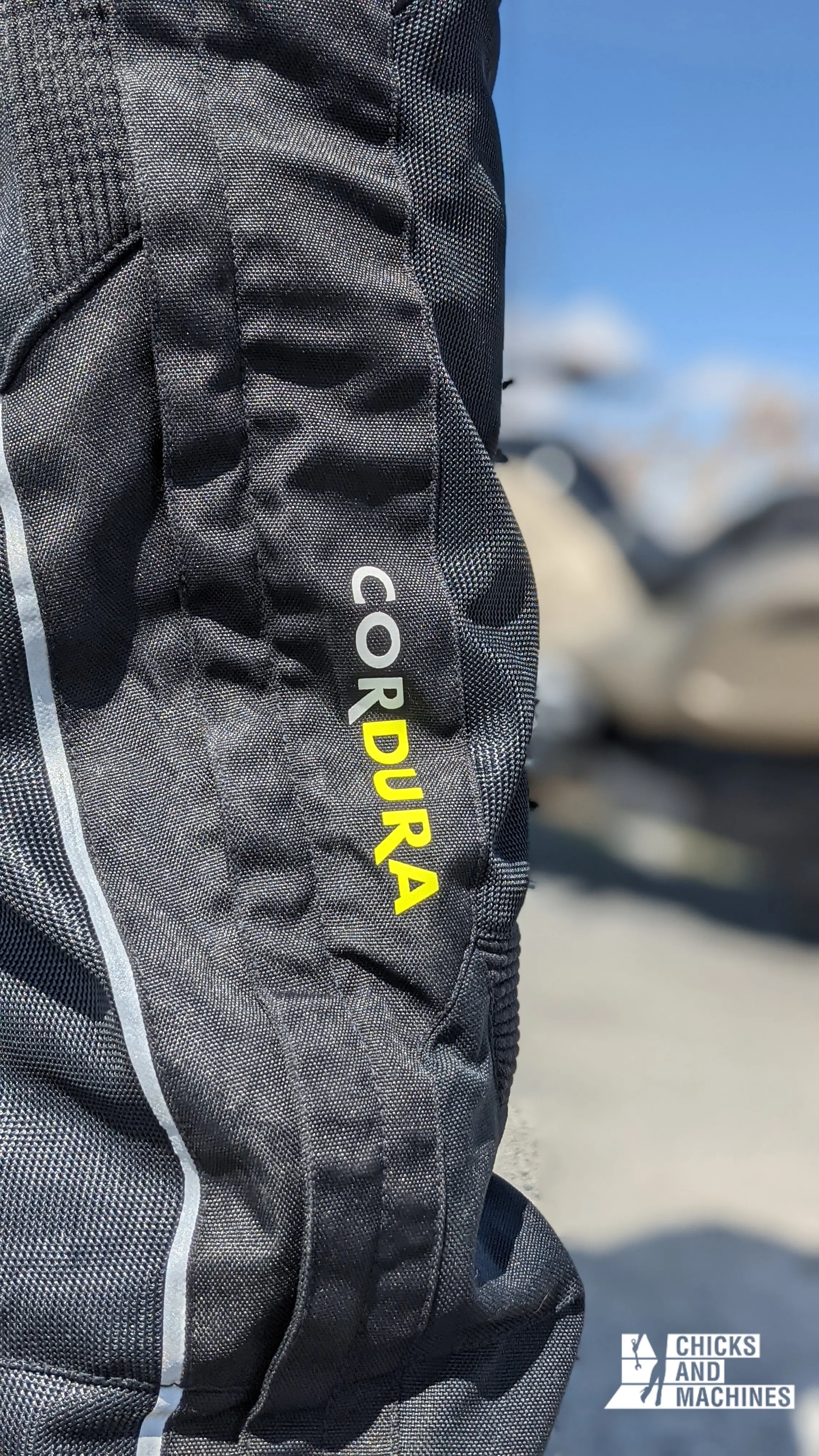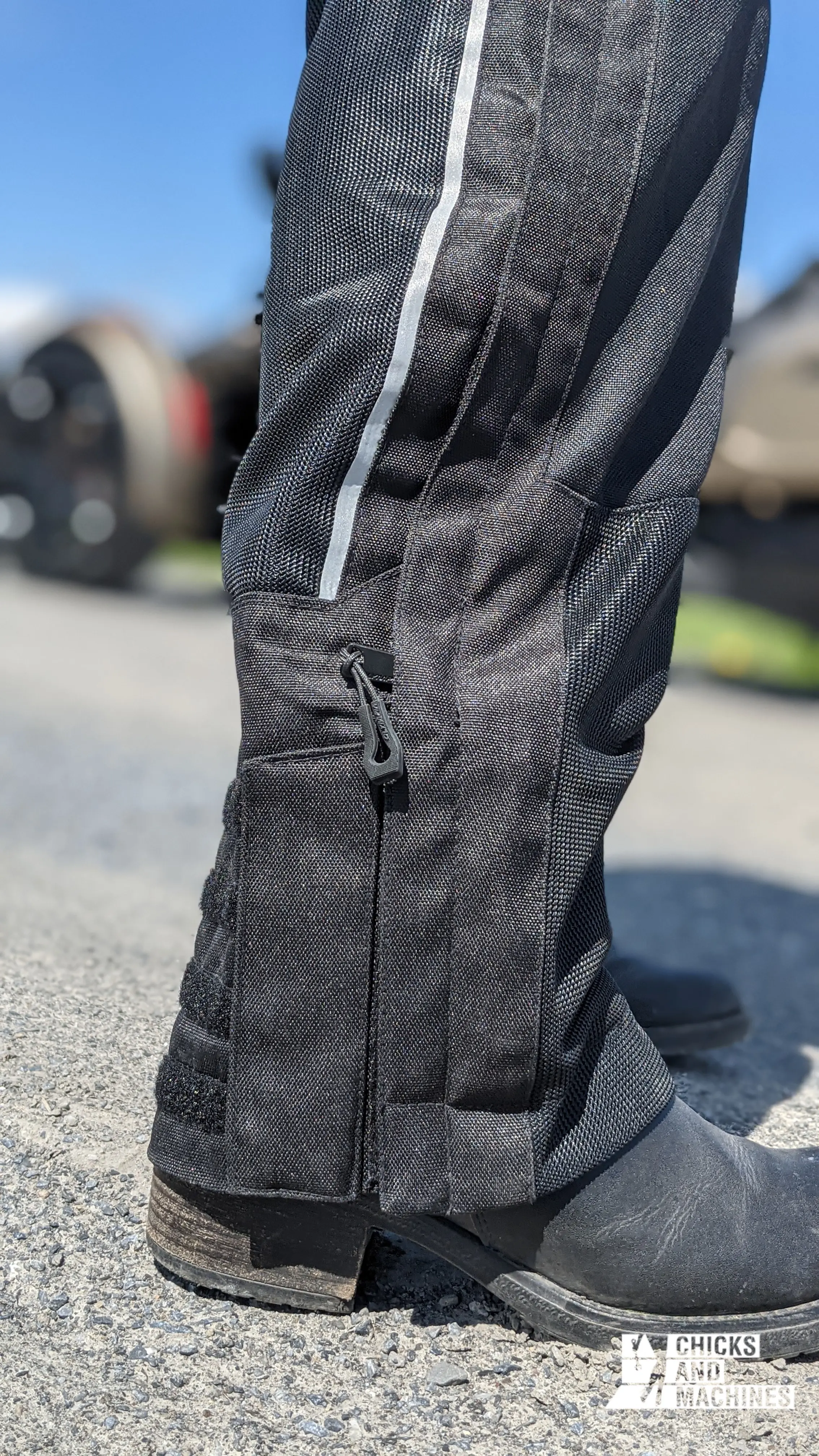 Only one aspect to improve
Of all this kit, only one point could be improved upon, in my opinion: the pants run too large. To give you an idea, my waist circumference is 78 cm and my hips have a circumference of 101 cm. I usually wear medium-sized pants (approximately size 6).
However, I unfortunately quite literally float in these pants, which are a size 8. They seem to correspond more to a size 10, or even 12. It's not just at the waist that they're too big: from the waist to the bottom of the legs, the pants measure 110 centimeters, which means that they reach just below my neck!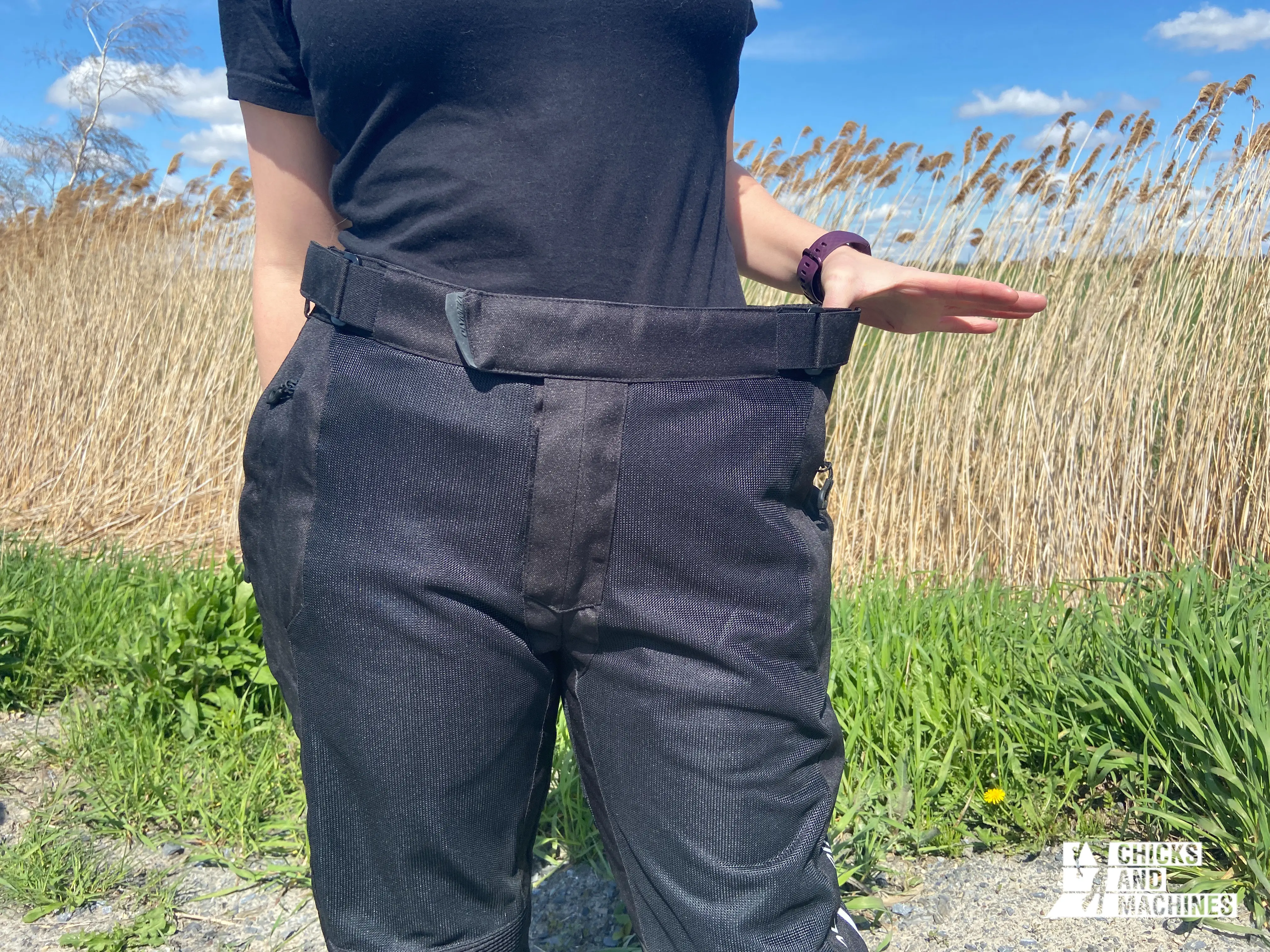 Total freedom
Earlier, I told you that this set offered me a great level of comfort and freedom. The main reason for this is that the vast majority of the outer shell of the Airglide 6 motorcycle set is made of mesh. This means that the jacket and pants allow for maximum airflow, while providing the rider with protection at the elbow, shoulders, back, and knees.
The cherry on top of this all-in-one kit
All in all, with the Airglide 6 collection, Olympia has designed an incredibly versatile kit. With this jacket and pants, riders will be ready for any weather conditions.
Whether it's a rainy day, a sunny heat wave, or a cold fall evening, the Airglide 6  kit alone meets every possible need.
This is truly the all-in-one kit I needed for my motorcycle camping trips!
The icing on the cake: everything is machine washable (in cold water). If you've ever come back from a motorcycle trip, covered in sand, bugs and dirt, only to find out that your kit is hand wash only, you know the pain of having to scrub everything by hand in the bathtub.
When I discovered that my Airglide kit could simply be put in the washer, I was like a kid at Christmas!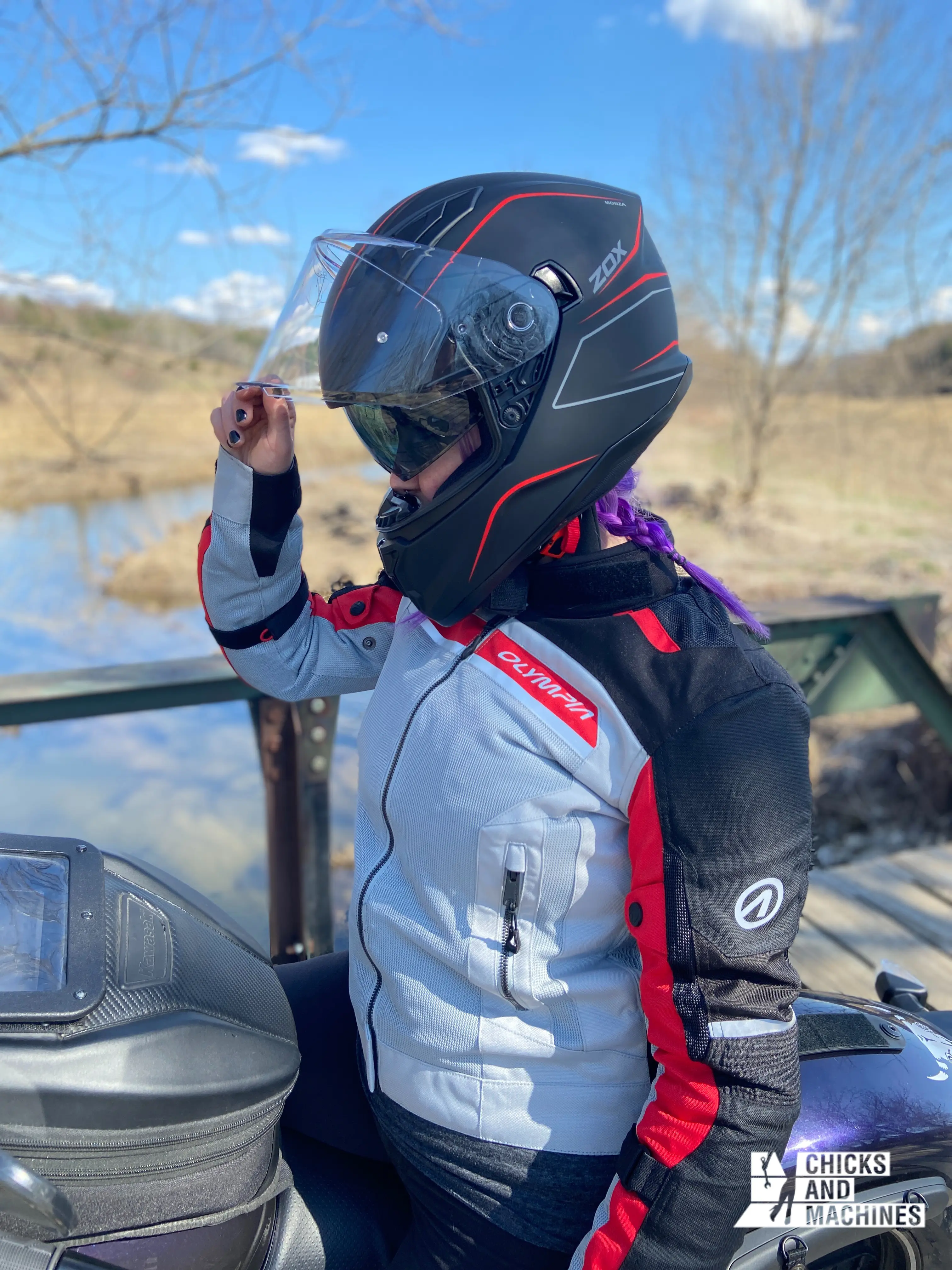 If you're looking into buying a motorcycle kit, the Olympia Airglide 6 motorcycle kit is definitely worth considering. Whether or not you're an adventure motorcyclist, I'm sure you'll appreciate having a single kit that can meet all your needs as a rider. Just remember to size down in the pants!
Thank you from the bottom of my heart to Olympia for allowing me to discover my new favorite kit!
If you'd like to read more on the subject :
- Em