For me to give up my Harley for another bike, it has to be worth it!
Being a loyal woman to my bike, I must admit that when I was offered a test ride the brand-new 2021 Yamaha MT-07, I thought about it twice. But I can honestly say that this bike amazed me! I was getting myself on a whole new adventure, a totally different ride than what I am used to and I was very impressed! So I present you my sincere impressions of this beautiful discovery.
An amazing bike!
I recently had the opportunity to step out of my comfort zone to test ride the superb 2021 Yamaha MT-07. It was nothing like my usual bike. I was a bit nervous but I would say very excited to try something else. Let's face it, something new is good and it opens new horizons!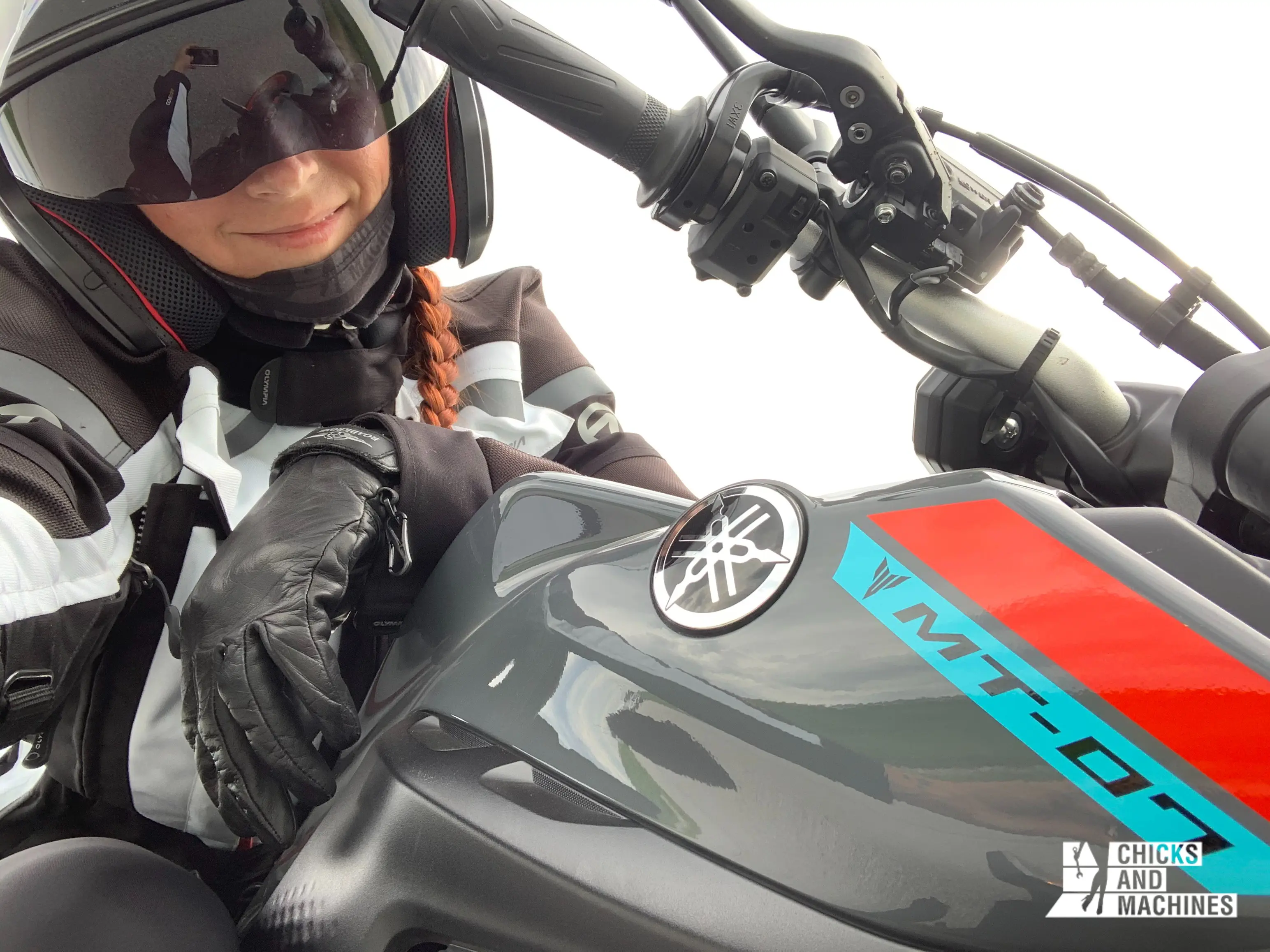 The first word that came to my mind when I saw this machine was : WOW!
I said to myself: "really?" The MT-07 is really outstanding to my eyes! I didn't expect this. The model I tried is the "Fluorescent Storm " and what can I say about those bright red rims! It looks amazing. It turned some heads. This bike known to be very naked projects a little aggressive side that I really liked. The constant evolution of the MT family is evident, giving it a more refined look.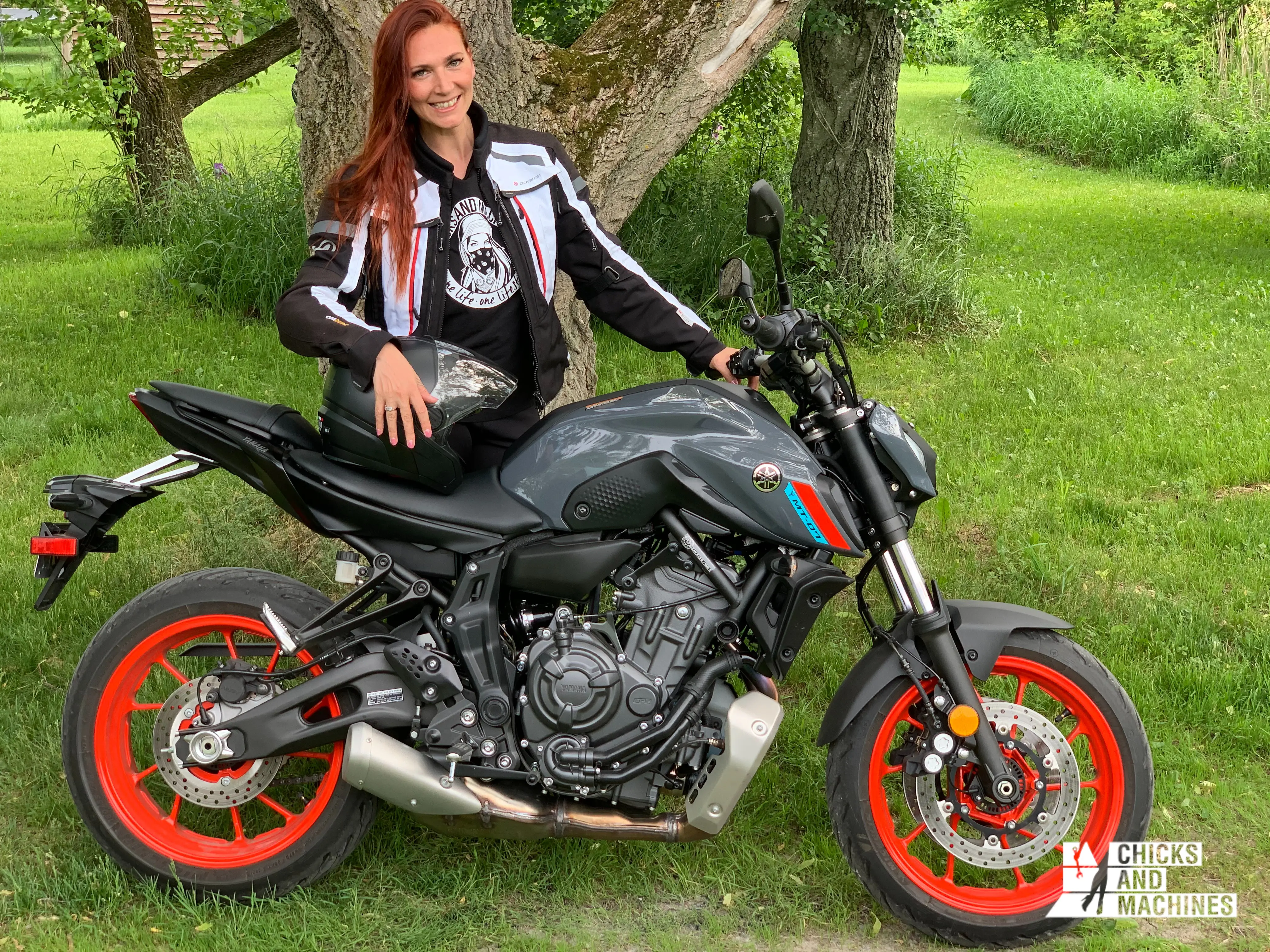 Equipped with a Y-shaped LED headlight, it lights up like a charm and its futuristic shape leaves no one indifferent. The turn signals and the rear light are also LED, offering good visibility to other road users when braking and using the turn signals.
The curves of this bike allow it to be aerodynamic in all simplicity. In fact, this is a strong point that I particularly liked. Its simplicity and its sexiness! The redesigned shape of the tank is also equipped with sculpted air ducts that are a nice finishing touch. In addition, these good-sized mirrors provide an excellent visibility.
Then, the 2021 MT-07 offers a complete digital display providing many options. I particularly appreciated knowing the ambient temperature. A not necessary tool but still nice to have!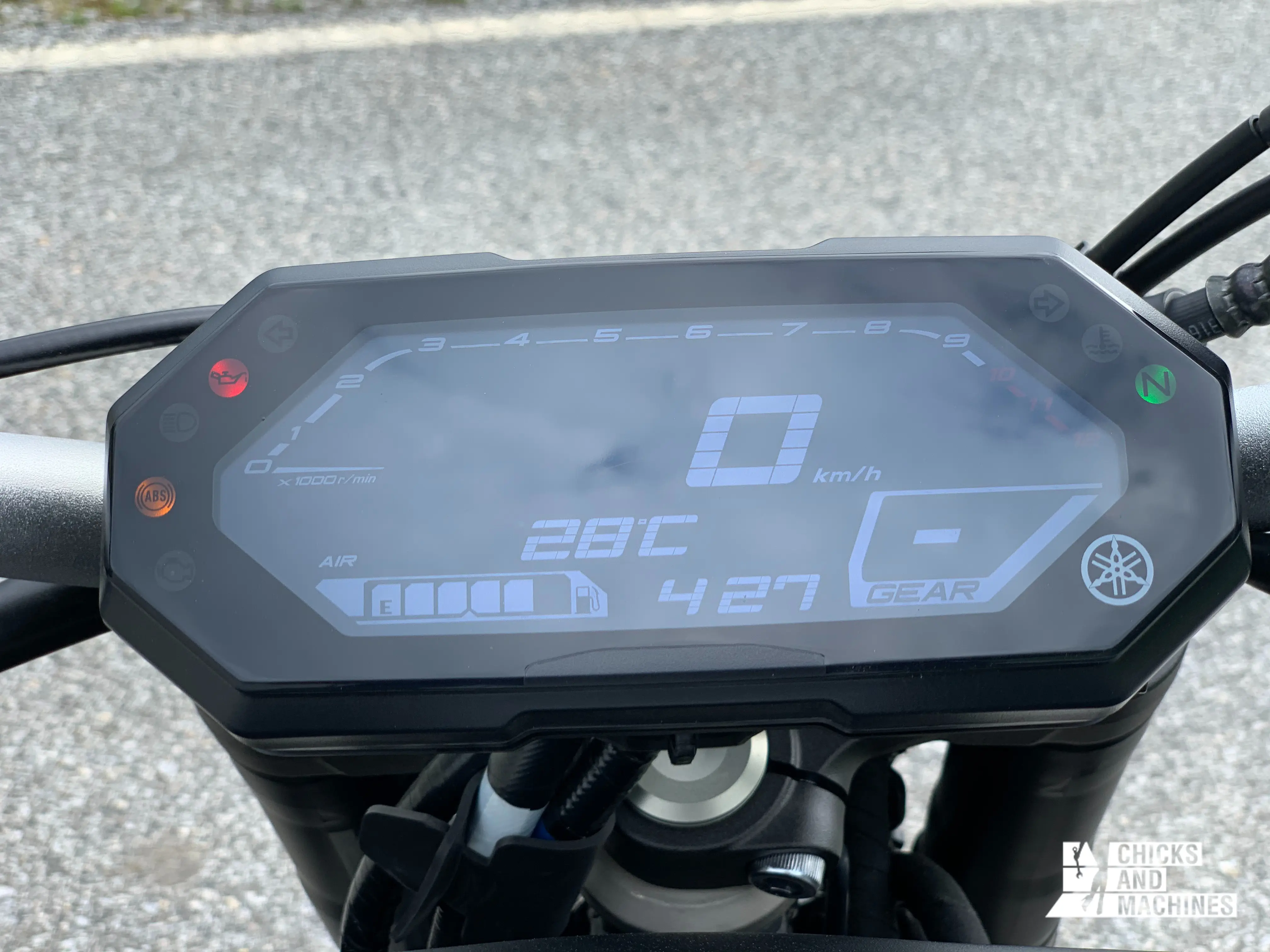 Fun guaranteed!
As soon as I sat on the bike, I quickly noticed how light it was. Something I am not used to. In total, with a full tank, it weighs 184 kg or 406 lb. The bike has a height of 1090 mm and a seat height of 805 mm which was very good for my height.
I think that a smaller person can find a good fit with this bike. I am 5'7″ and had both feet flat on the ground. In the end, this bike may be a little small for me! But I'm not complaining because I had a lot of fun doing my riding maneuvers! And once the bike is in motion, I can do whatever I want with it.
As for the riding position, I found it very comfortable. I had my legs at 90 degrees and tight to the tank which gave me a feeling of security and control. No limitation of movement.
An acceleration that gives you butterflies in your stomach
Second word; awesome! I don't know about you, but riding a motorcycle is a real passion for me. I must admit that when I ride, I have bright eyes and a smile on my face! Luckily I have a closed helmet so I don't get bugs in my teeth! Haha! This habit did not change during my test ride.
The acceleration of the MT-07 is striking. Twist the handle and it eats up asphalt! But be careful, twist the throttle too much and you'll go off on a wheelie even in second or third gear, guaranteed! Caution is always required, let's not forget it! This bike has an excellent handling, it is stable and as I mentioned above, it is very maneuverable. This is a big strength of the MT family.
During my test ride, I was caught off guard by a storm that I would describe as quite violent. I was not afraid at all because it holds the road well. The only drawback is that due to its lightness, I was a bit windy. But we get along, it doesn't happen every day and we adapt. All in all, the bike reacted very well to the violence of mother nature.
As far as braking is concerned, strap on your hat because this bike brakes like no one. Not only when I decelerate by letting go of the throttle but especially when braking. Be sure to hold the handles! I was very surprised by the reaction of the bike when braking. The brake lever is very sensitive and as an advice, take it easy the first time you try it.
On the comfort side…
The seat is quite comfortable and the riding position helps a lot. Having ridden 300 km, I can tell you that I was not in pain anywhere. On the other hand, on longer distances such as 600 km and more, I am not quite convinced that I would say the same thing. To be taken with a grain of salt as we don't all have the same endurance!
Here are the specifications more detailed
Specifications of 2021 Yamaha MT-07
Engine
Liquid cooled
Displacement
689 cm3
Fuel
 injection Dual Mikuni 38mm intake manifold
Fuel consumption
4,08L/100km
Gearbox
6 speeds
Front suspension
41 mm fork / 130 mm travel
Rear Suspension
Adjustable monocross linkage / 130 mm travel
Front brakes
Dual 298 mm discs / 4 piston calipers / ABS
Rear Brakes
245 mm disc / single piston caliper / ABS
Front tire
170/70ZR17
Rear tire
180/55ZR17
Length
2085 mm
Width
745 mm
Height
1090 mm
Ground clearance
140 mm
Seat height
805 mm
Fuel tank capacity
14 L
Total weight with full tank
184 kg (406 lbs)
Colors
Available in 3 choices: Racing Blue, Fluorescent Storm, Techno Black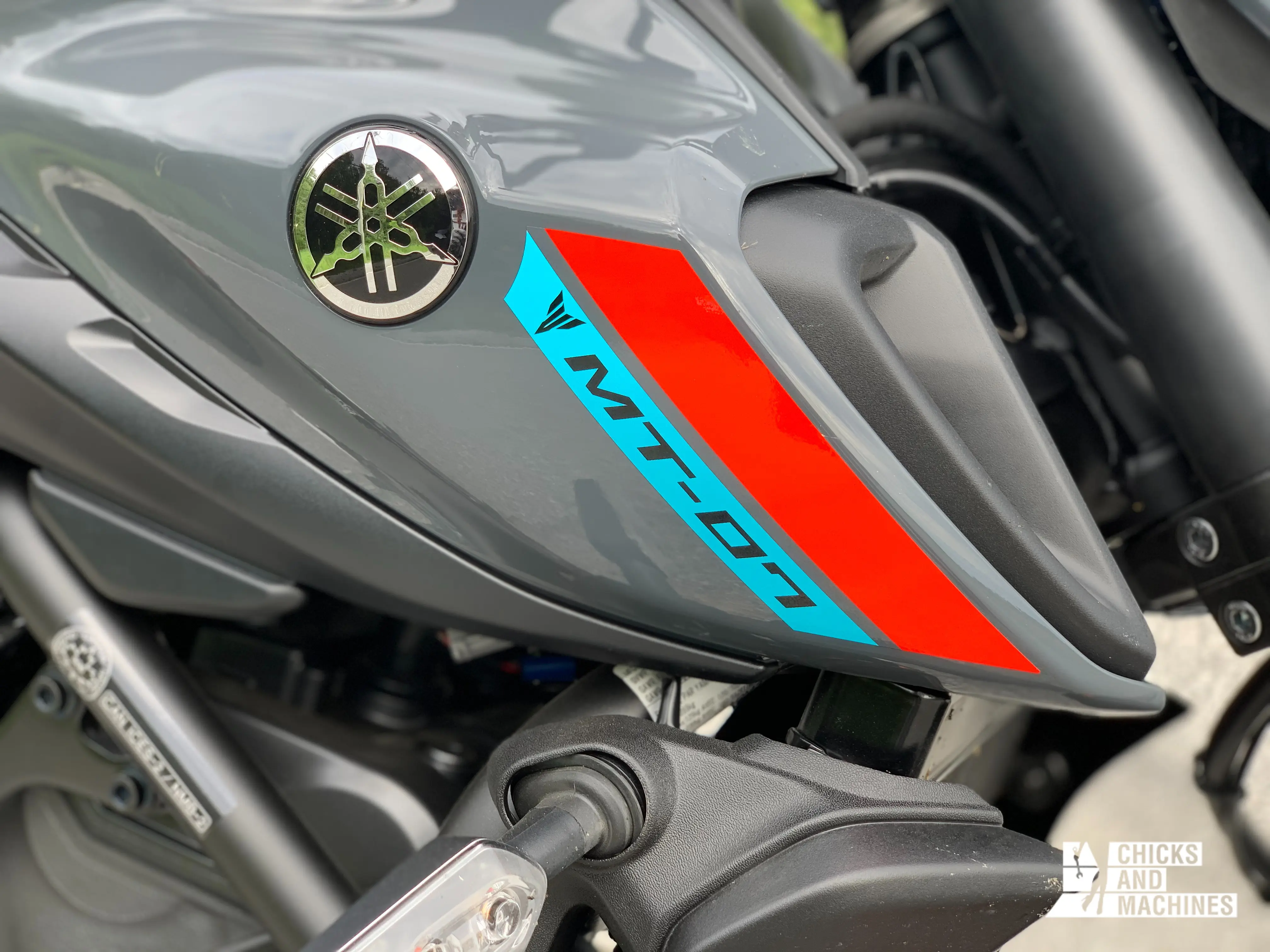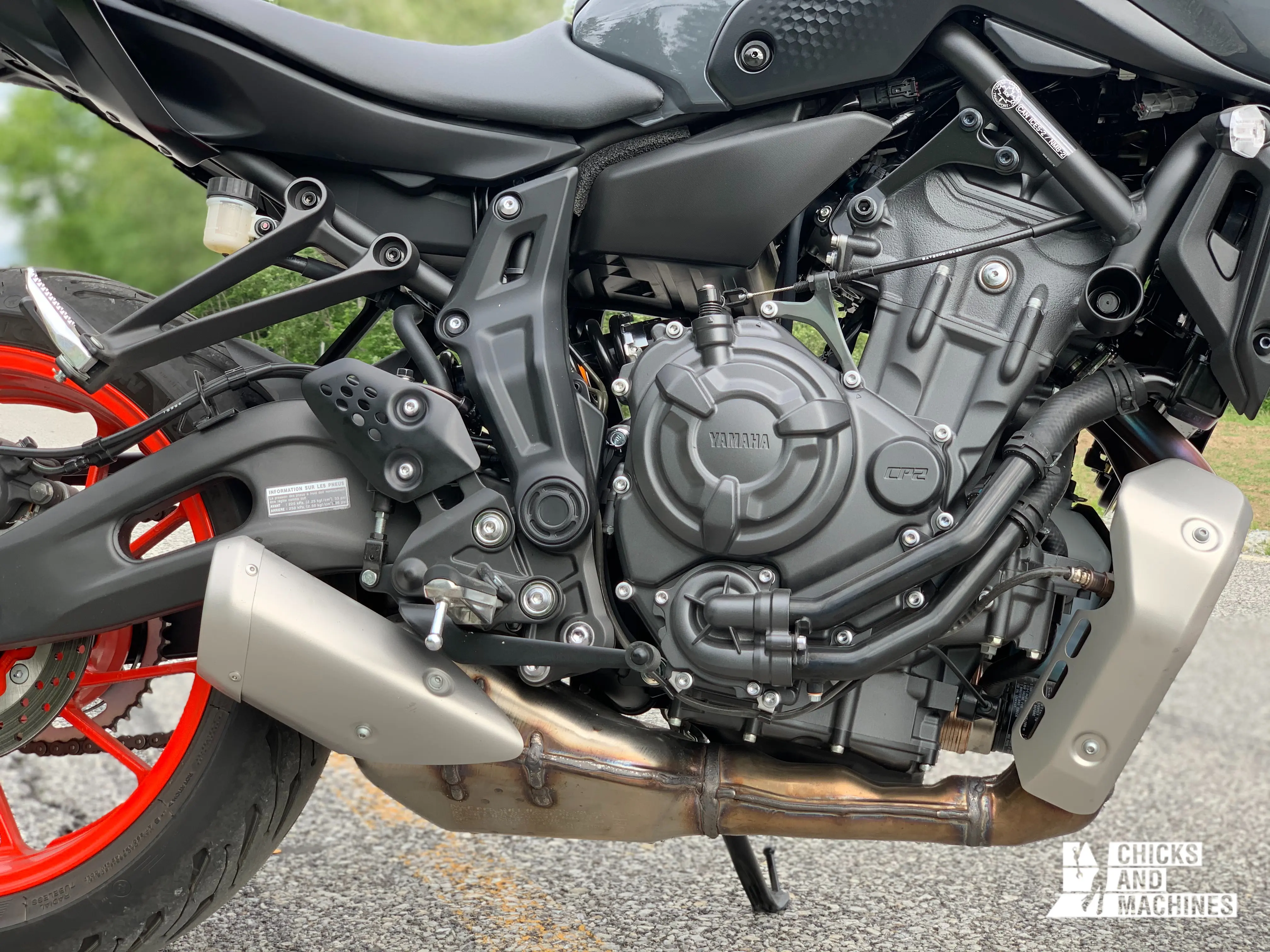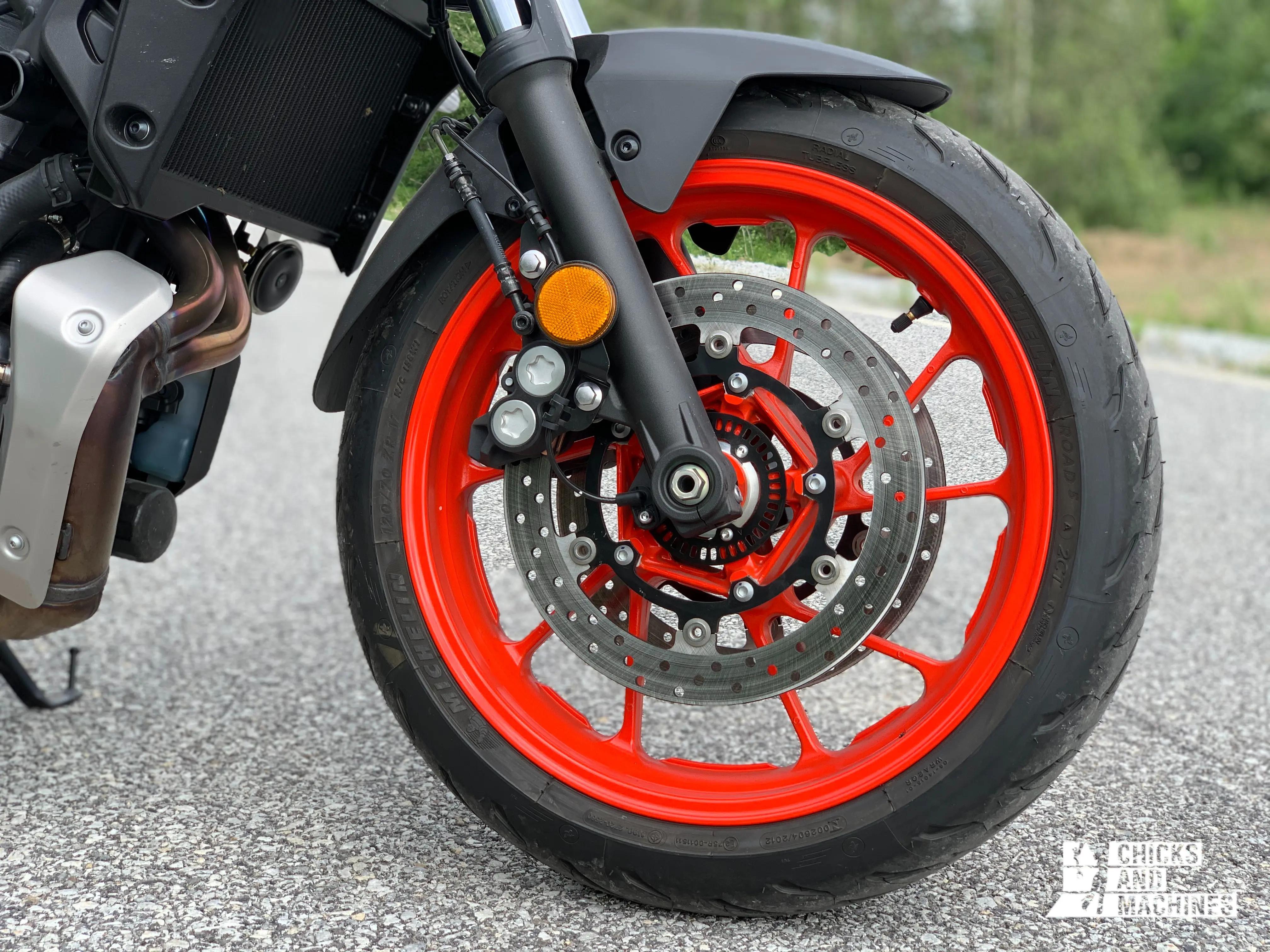 Points to improve
Over all, I have nothing negative to say about the 2021 Yamaha MT-07. I have some personal points that I would improve as follows:
The turn signals a bit chambering… I repositioned the turn signals a few times which were a bit soft for my taste. Sometimes, there was one that I had to put back in place.
The saddle: as mentioned before, I don't recommend this saddle for long road trips because it is a bit hard and more adapted to short rides.
It's not that bad though, is it?
Last but not least
I really enjoyed my riding experience with the brand-new 2021 Yamaha MT-07 ! It's a high-performance bike, fun to ride, sporty and with a look that I really appreciated. I would even go so far as to say that this type of bike makes me think twice!
Would I change my own bike for an MT-07? I don't know! But in all sincerity, I really liked the confidence I had on it and the ease of riding! I talk about it and I still have butterflies in my stomach.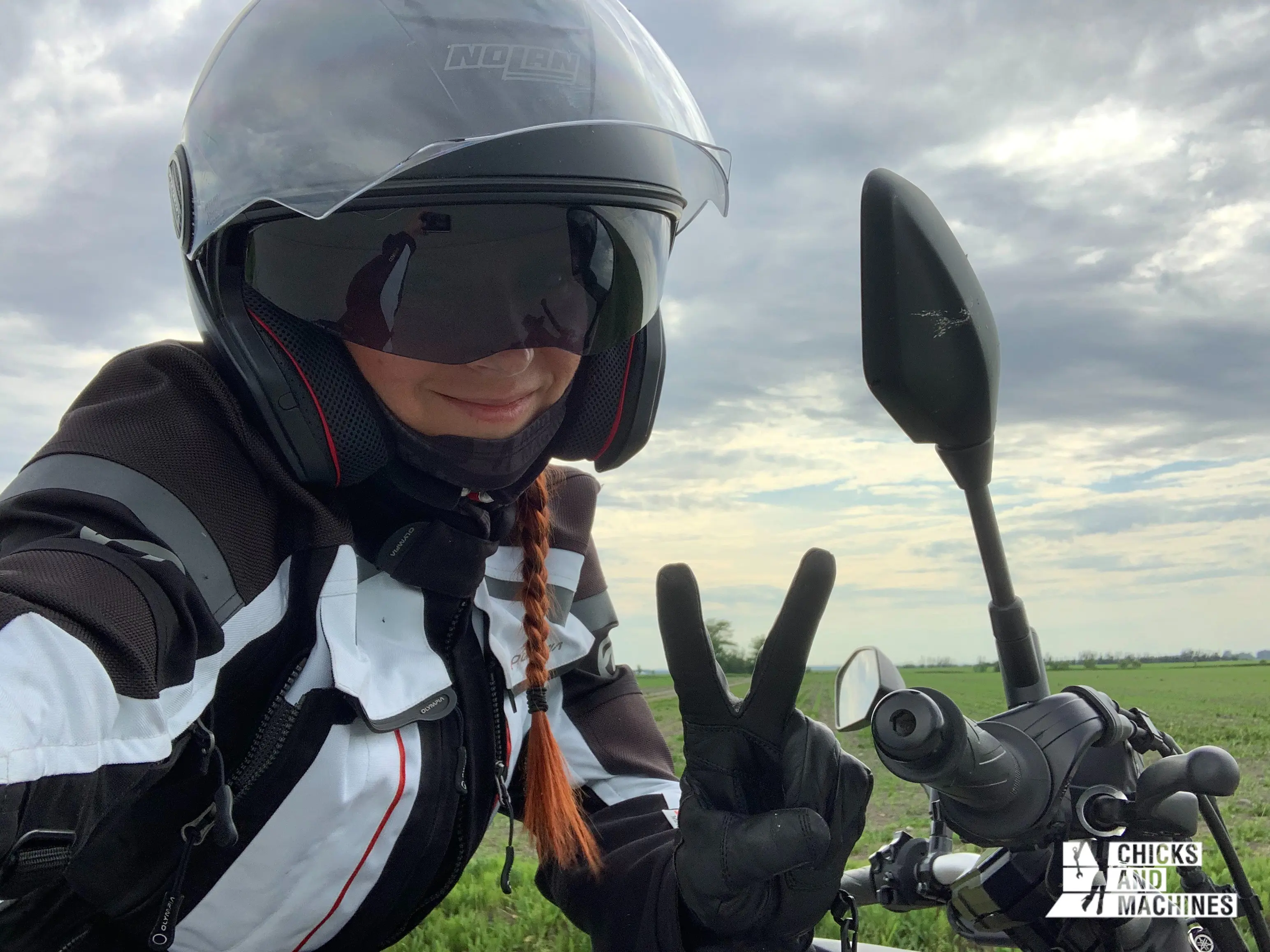 Thanks to Chicks And Machines and Yamaha Motor Canada for their trust and especially for this great opportunity!
You might also like this article :
Caro G. -xx-