The New Ski-Doo and Lynx 2022 Snowmobiles
On February 17, 2021, Ski-Doo held its grand unveiling of its 2022 range. Several Internet users attended and witnessed the announcement of the new Ski-Doo snowmobiles.
Offtrail snowmobiles
In terms of backcountry sleds, more specifically in the Summit line, the Expert Package has evolved even further with a narrower ski stance, which is adjustable between 33.7″ and 35.4″. This modification gives this already agile snowmobile greater maneuverability on more technical terrain.  With this new feature, the Summit X is easier to ride and more precise than ever. You'll be able to explore the most extreme terrain with greater ease. There's also a tank protector, and like all Summit 2022 snowmobiles, this snowmobile is equipped with an ultra-lightweight, one-piece hood.
The new Summit Edge, which will be available in season, is located between the Summit SP and Summit X models. It has a shorter tunnel, a Shot starter, a lightweight seat, and a narrow, adjustable ski stance.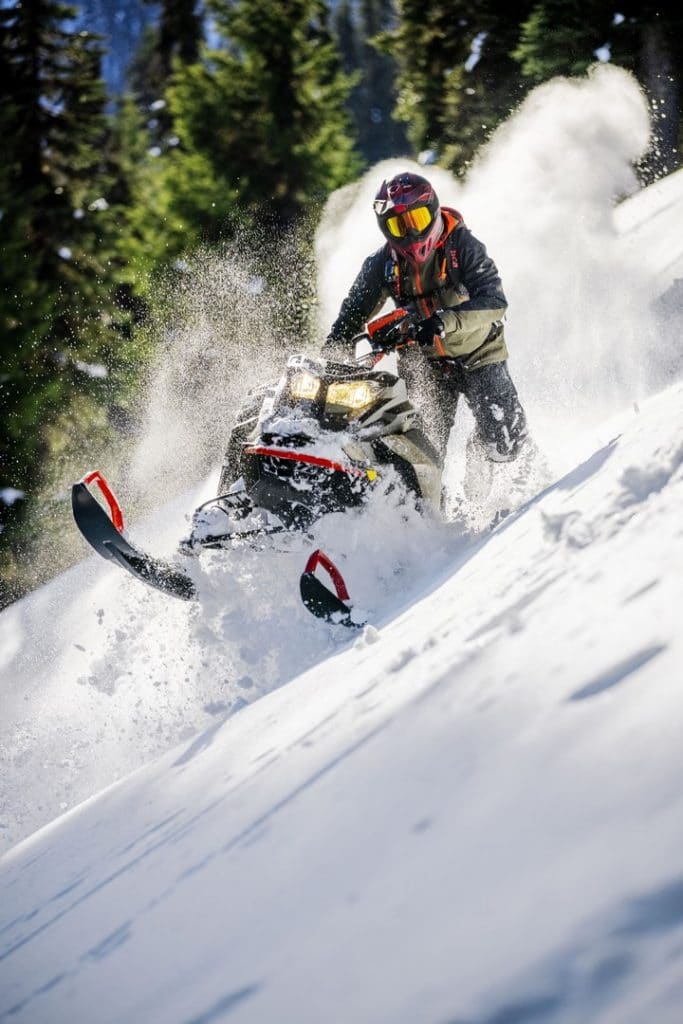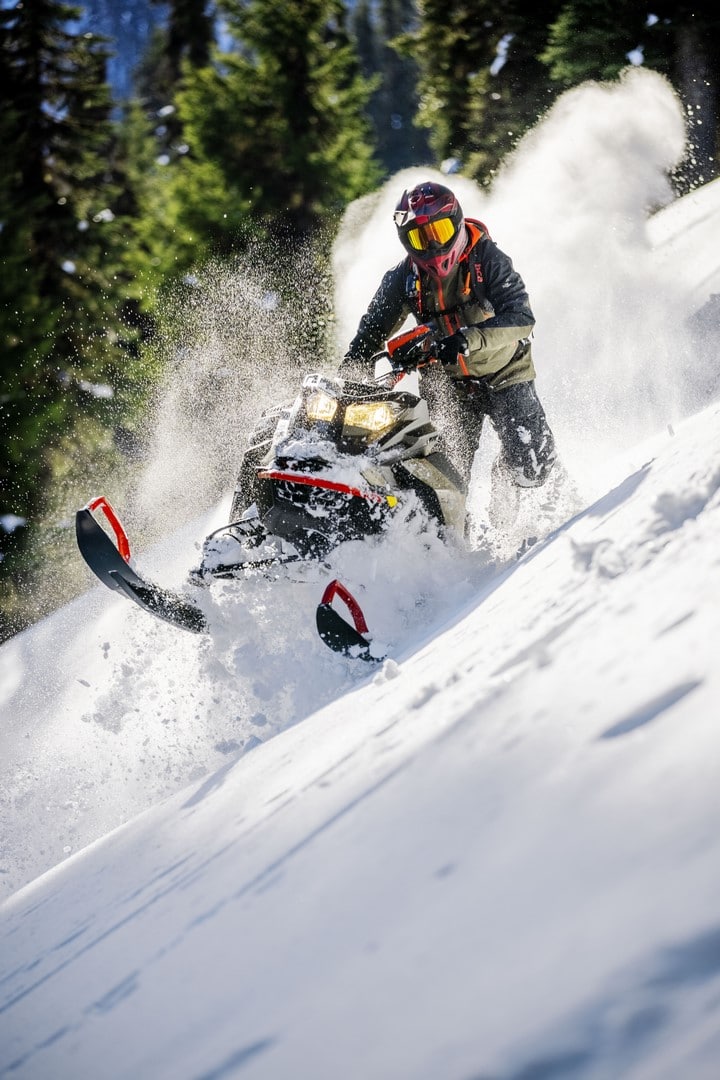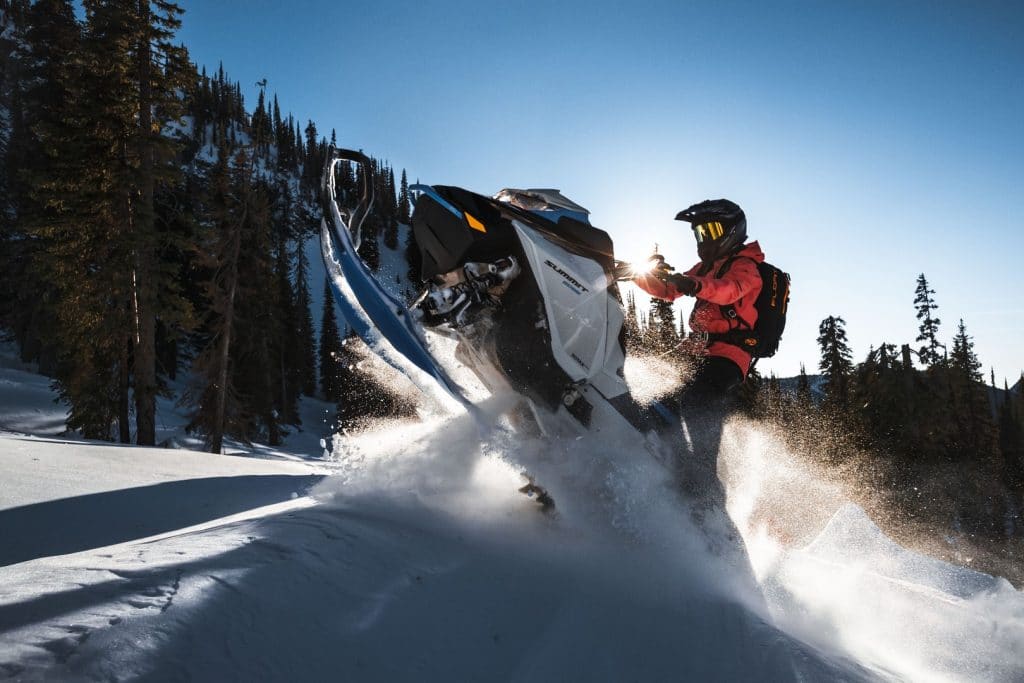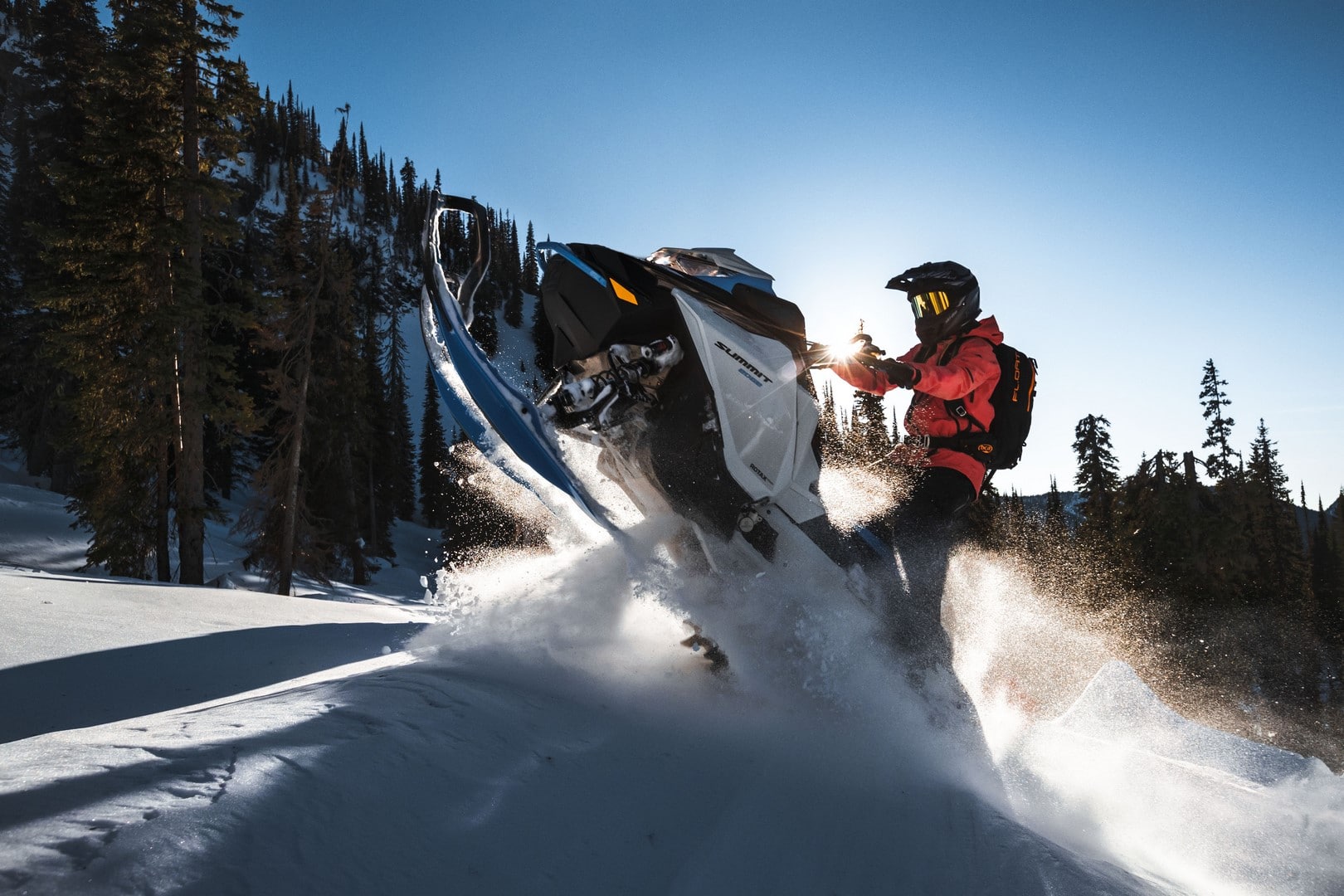 Trail snowmobiles
Almost all 2022 models will be equipped with the rMotion X rear suspension system, Ras X front suspension, and Pilot X or TX skis for a completely tried-and-tested trail experience.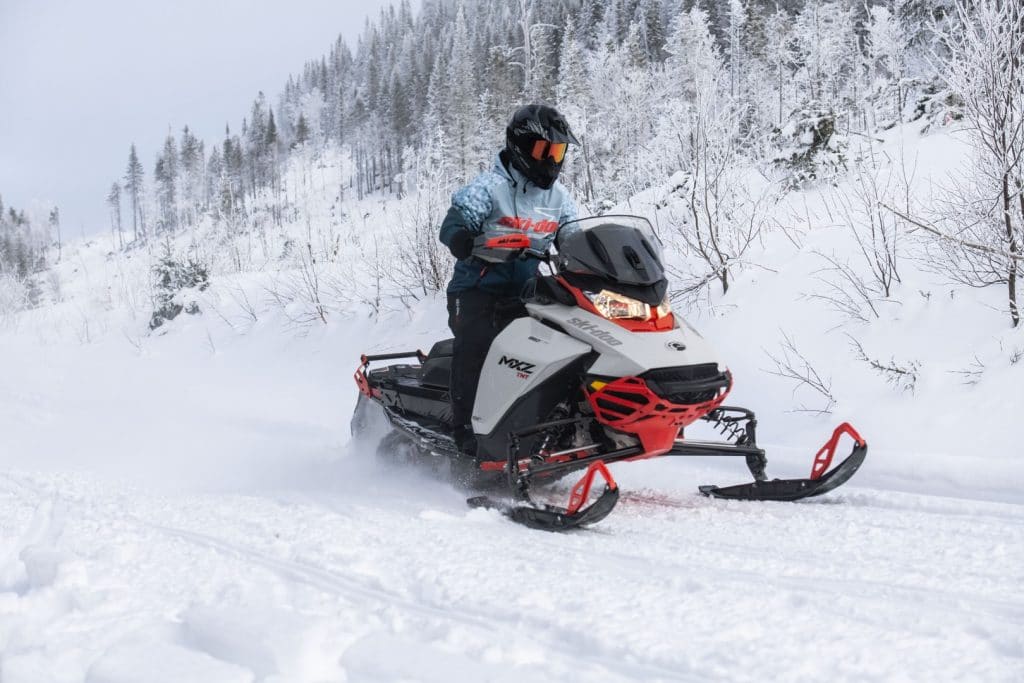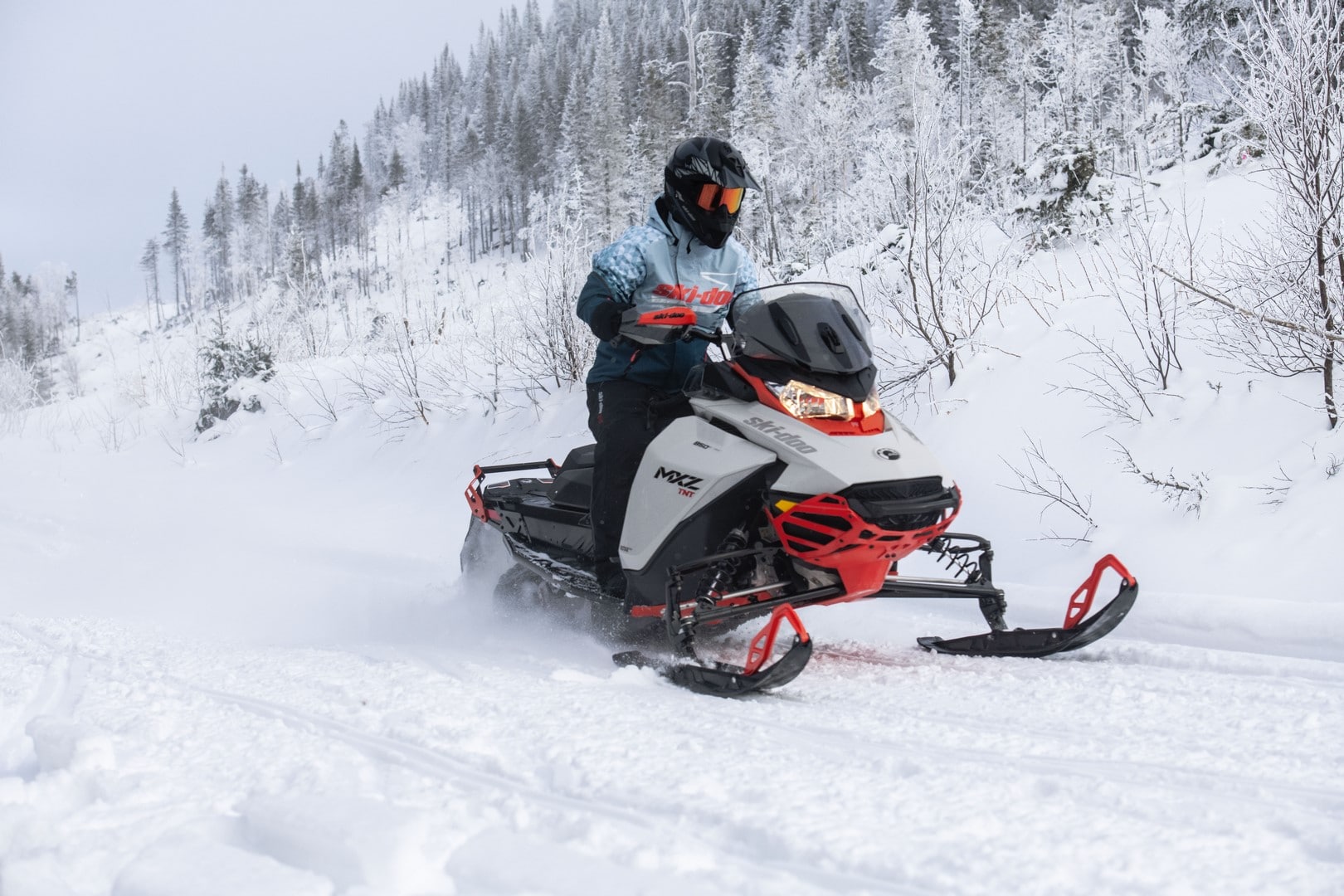 The Mach Z Legend Is Back for One Year Only.
Many of us are pleased to know that the legendary Mach Z snowmobile has made a comeback, powered by the Rotax 900 ACE Turbo R engine with electronically controlled iTC and exclusive acceleration optimization system.
Two choices of tracks will be available; the snowmobile will be equipped with the SMART-SHOX and Pilot X Skis, among others.
Another innovation, available only on the Mach Z, is the "Launch Mode": this technology will allow you to go from 0-100 km in 2.4 seconds. We have chills just thinking about it! To launch the beast, simply press the sport button for about 2-3 seconds to activate the Launch Mode, apply the brake, and fully engage the accelerator. The engine will reach 3,200 rpm with the turbo performing at around 9 PSI.
Some things to remember:
Rotax 900 ACE Turbo R with electronically controlled iTC and exclusive Acceleration Optimization System.
Smart-Shox
rMotion X rear suspension
RAS X front suspension
Choice of two tracks
Double pivot steering
Suspension height lowered by 1.5 inches
Pilot X skis
Large 7.8″ wide colour LCD widescreen display
Exclusive carbon black colouring with liquid titanium accents, black smoke-coloured windshield and handguards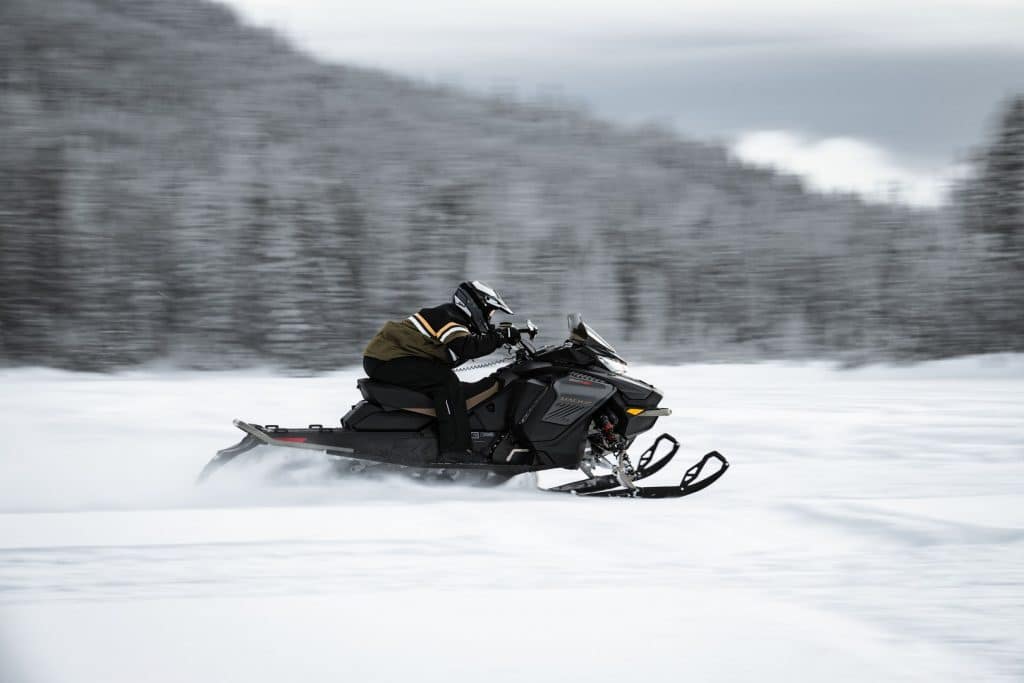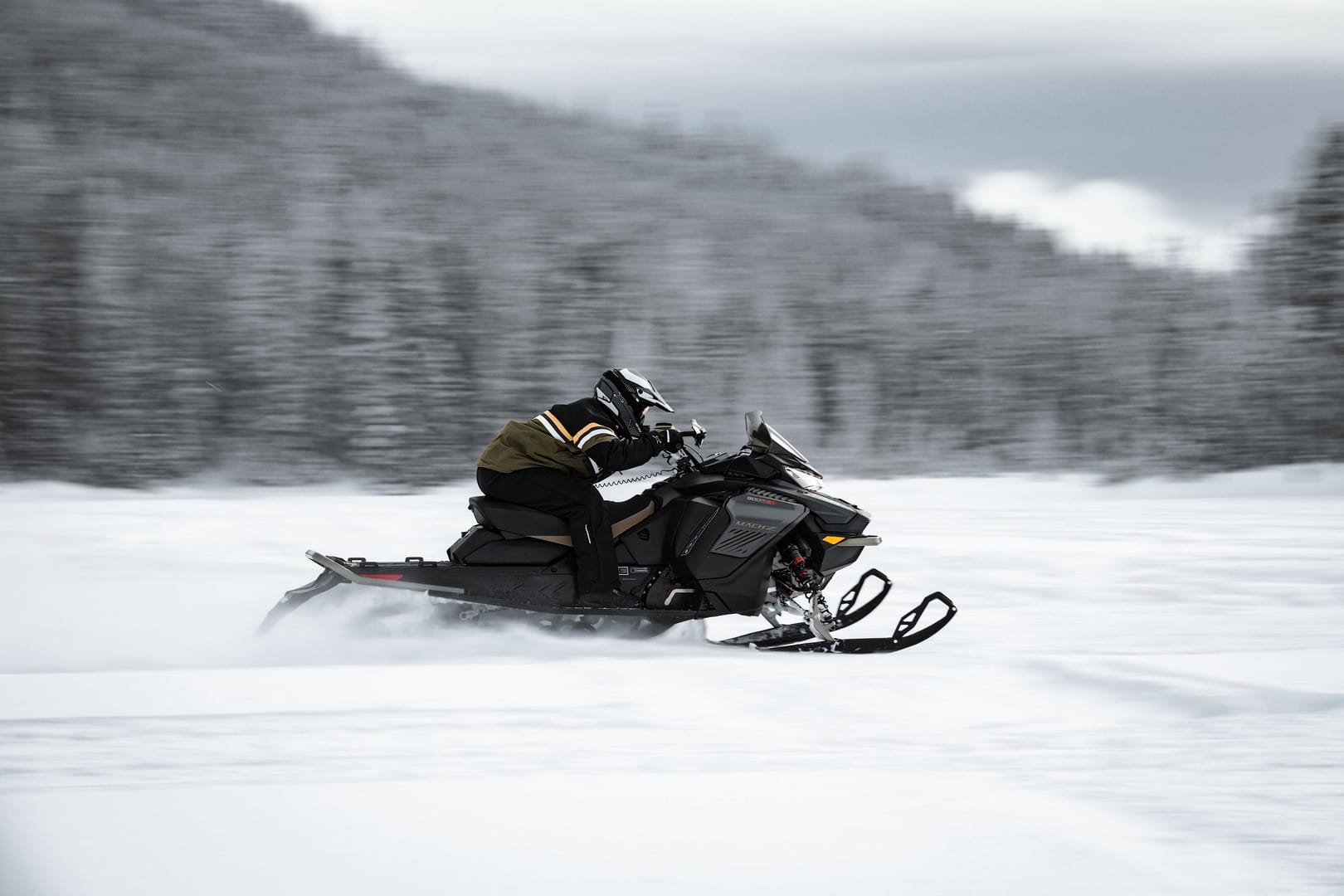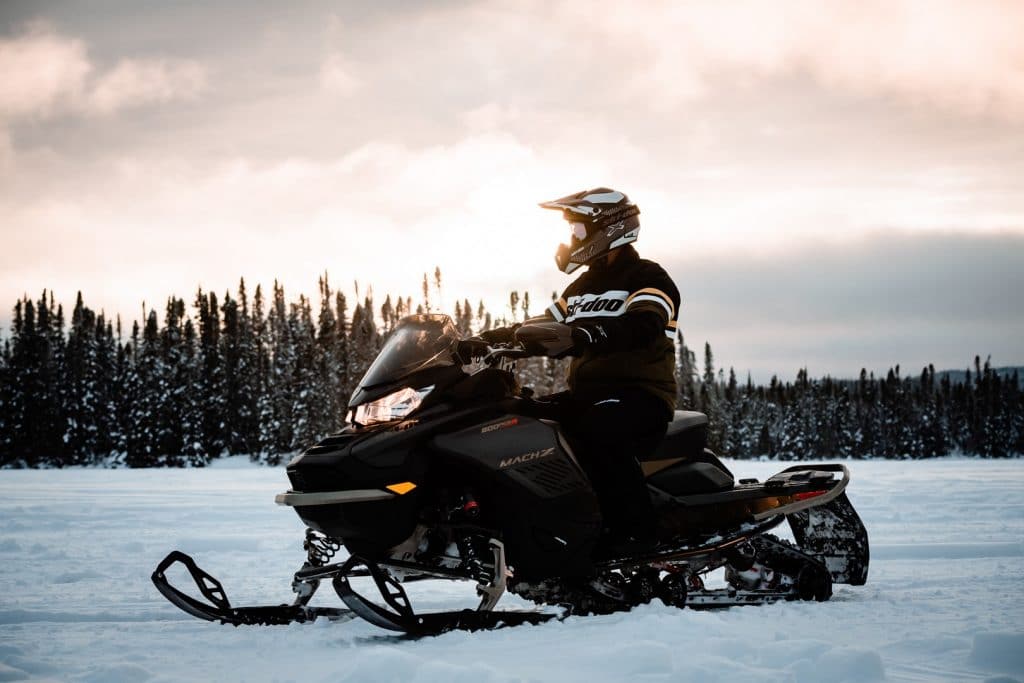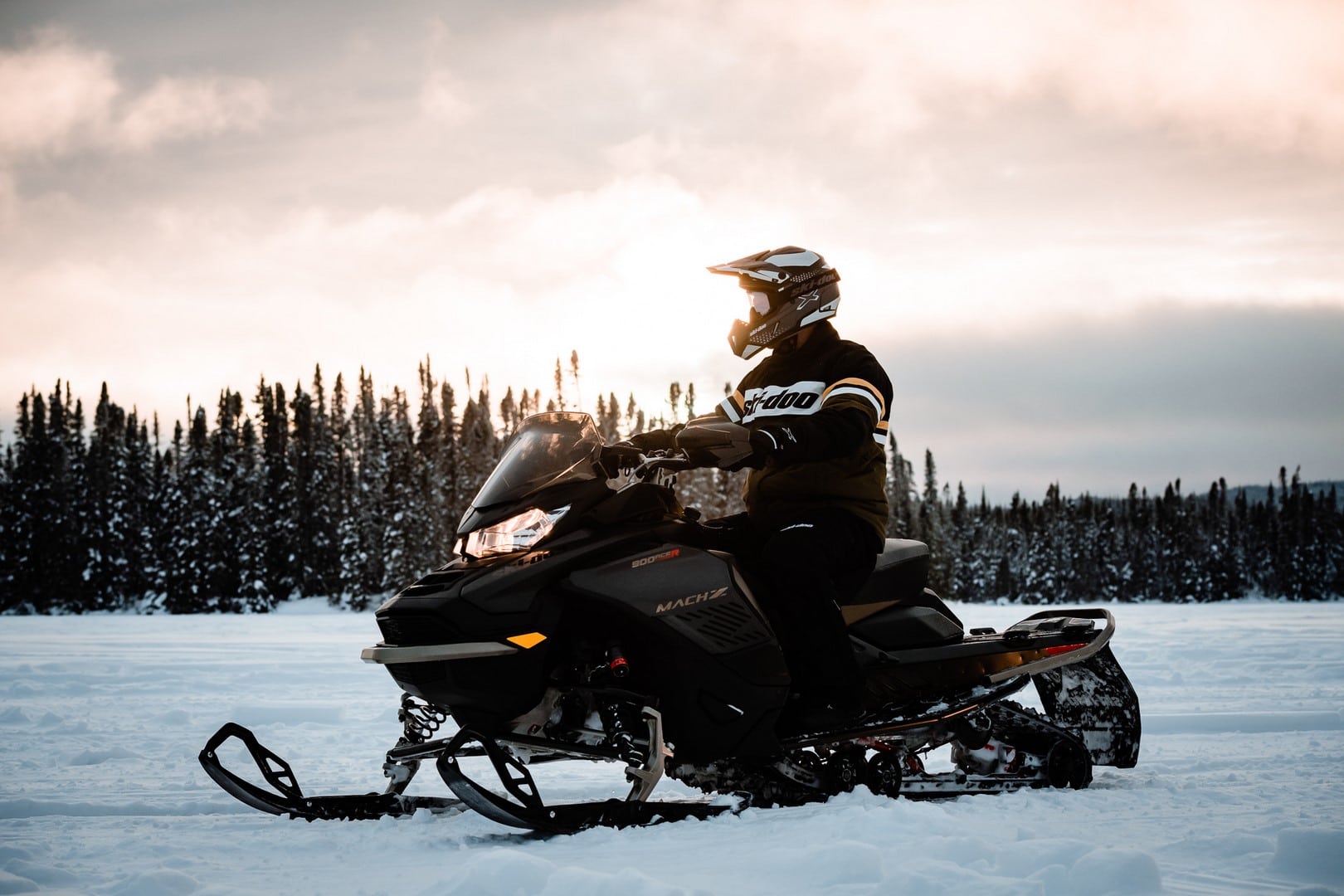 Accessories
There are also new additions to the LinQ line of accessories: a universal rack, a specialized "Trail Pro" bag, a ski and snowboard rack, and the LinQ lock.
SMART-SHOX
Ski-Doo has once again innovated with the all-new, semi-active SMART-SHOX suspension that adjusts the compression and rebound of each shock independently, automatically, and in real time. There are 5 sensors that adjust the position and speed of the suspension and the direction of the handlebar; each of these sensors takes a reading every millisecond and transmits it to the on-board computer, and precise instructions are sent to each shock absorber. This suspension innovation measures, calculates, and adjusts up to 50 times per second. We've never seen anything like it! You'll get all the benefits of smart riding, such as incredible bump absorption, superior comfort, and improved cornering.
The Rotax is More Powerful Than Ever!
The new Rotax 900 Ace Turbo R is now the most powerful Ski-Doo engine, at 180 HP. It is based on the same technology, but its power has been greatly increased in order to bring smiles under the helmets. With this engine, snowmobiles will be equipped with the new, electronically-controlled throttle. It promises more control and will be less sensitive.
The 900 Ace Turbo has been revamped to give its riders a solid 130 HP, which is also guaranteed to bring a lot of fun.
LYNX
BRP has announced that a new line of snowmobiles will be introduced to North America in 2022. The Lynx line is designed in Finland and is only available in Europe. Three models will be available here, and will only on sale this spring. It should be noted that these snowmobiles are designed for the extreme conditions of Finland: this makes them particularly resistant and reliable. We are all very eager to try them; this is huge news!
Built to the highest racing standards, the 2022 Rave Re 850 E-TEC is a cross-country snowmobile with the most powerful two-stroke engine in its class, and will take its rider through the most demanding terrain. Its high performance suspension and KYB performance shocks make it a snowmobile that performs extremely well on trails.
Key features of the Lynx Rave RE :
Radien platform
PPS3 3500 rear suspension
LFS+ front suspension with 42.2″ / 1,072 mm adjustable ski stance
Blade XC+ skis
PPS3 3500 Gas Shock Absorbers, with quick adjust.
Ice Ripper XT track with 137 x 15 x 1.5 in. / 3,487 x 381 x 38 mm studs
Rotax 850 E-TEC engine with pDrive pulley
Electric starter and standard manual starter
LinQ racks (two pairs) for a wide range of accessories
7.2″ multifunction digital display
Ultra-low windshield with handguards
Dual pivot steering system
Ergonomics of the feet position designed for active driving: flatter footboards, side plates and fixed foot restraints
High performance handles
12 V socket in the glove box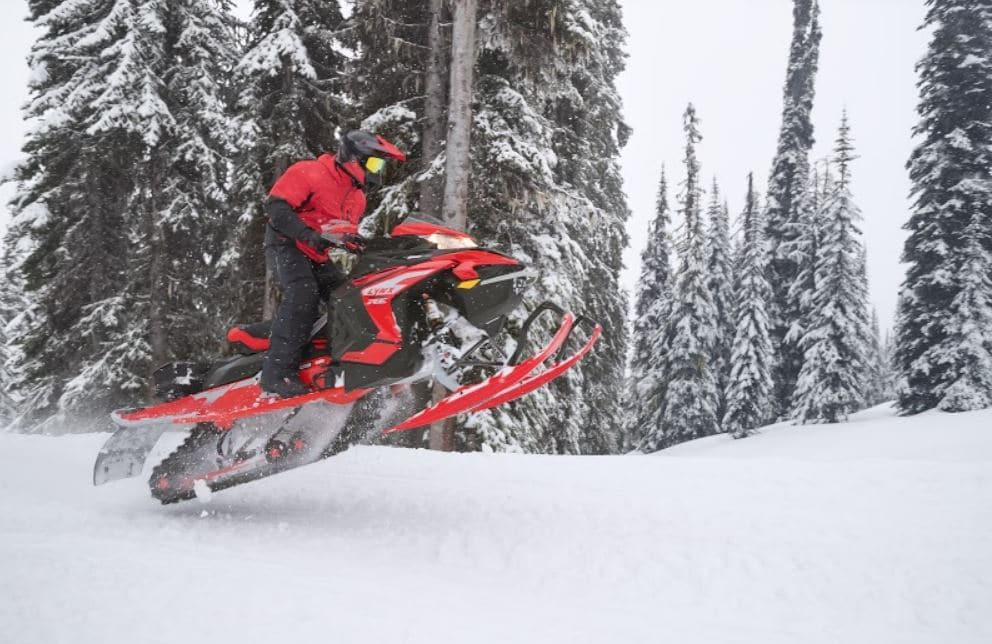 The BoonDocker 3900 and BoonDocker 4100 are backcountry snowmobiles, which are equipped with the powerful Rotax 850 E-TEC engine. They are extremely maneuverable snowmobiles that perform in deep snow as well as in less favourable conditions. They are equipped with the lightweight PPS2 DS+ rear suspension and Blade DS+ skis. The latter provide a predictable and precise ride, no matter your backcountry driving style.
Main features of the Lynx BoonDocker DS :
Radien DS platform with short tunnel
PPS2 DS+ rear suspension with snow shield on rear axle
Blade DS+ skis
LFS front suspension with KYB 36 Kashima shocks
Adjustable ski stance from 907 to 950 mm (35.7 to 37.4 in.) (921 mm / 36.3 in. standard)
PowderMax Light tracks with FlexEdge of 400 x 3,912 x 76 mm (16 x 154 x 2.5 in.) or 400 x 4,178 x 76 mm (16 x 165 x 3 in.)
Rotax 850 E-TEC engine with pDrive pulley
SHOT starter
Brake fluid reservoir protector
LinQ racks (two pairs) for a wide range of accessories
Molded low grip handle
High performance handles
12 V socket in the glove box