Review of the GOGO Gear Kevlar Leggings
Must Have
Winter is time for me to research and find new items to add to my bike gear. While doing several searches to find protective pants, I noticed the interest of many women around the world for  the GoGo Gear Kevlar Leggings.
As you might already know, finding good, protective and fashionable riding pants is not an easy task. But after reading all the positive comments on these Gogo Gear Leggings, I knew that I had to try them ASAP!
I must admit that I am really not an online shopper; I am always afraid to receive my purchase and realize that the size or the cut does not fit me at all.  But with Gogo Gear, I give you my word, the online shopping experience is very different and they provide a size chart and measurement instructions on their website. https://www.facebook.com/GoGoGearLA/
Are you still insecure about the right size?
Do as I did: send a small private message on Facebook or an email with your measurements based on their instructions. I received a response very quickly from the Gogo Gear team with a confirmation on the ideal size I should purchase. Very clever!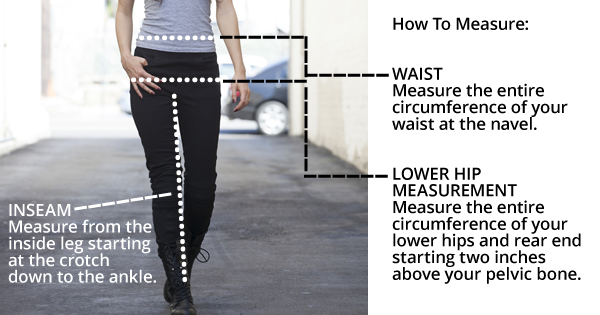 Once my order was done, I received my confirmation email with my tracking number and I got a fast delivery! Now, it is time to test these kevlar pants on the road! http://www.gogogearla.com/kevlar-leggings/
My impressions
First of all, I should specify that even if Gogo Gear uses the term "leggings",  the product is indeed regular pants.  They are made of a thick fabric, comfortable and stretchy.  They provide a comfortable wear, even in a driving position.  You would almost believe you are wearing every day pants, which is a huge plus.
Secondly, I did several tests at different outside temperatures, in cool weather and in humid weather. My impressions? One word: comfort.  The pants have a very good thickness, which allows you to wear it without any additional base lawyer.  However, I haven't tried the pants in warmer weather yet (over 20 degrees Celsius) so I will get back to you with an update later this summer.
Thirdly, what I like about these leggings is the overall look. Sober but classic, it can be worn on all occasions while not cramping your style. You can easily wear it at the restaurant, movie theater, etc. The pants also have two hollow pockets at the front and loops to wear a belt.
In addition, a big advantage for these pants is that they have a model specifically designed for women taller than 5'8" and also a high waist model!!!
Finally, they are designed to look like regular fashion leggings but offer the protection of Dupont™ Kevlar® abrasion resistant fibers and CE-approved removable and adjustable knee protectors.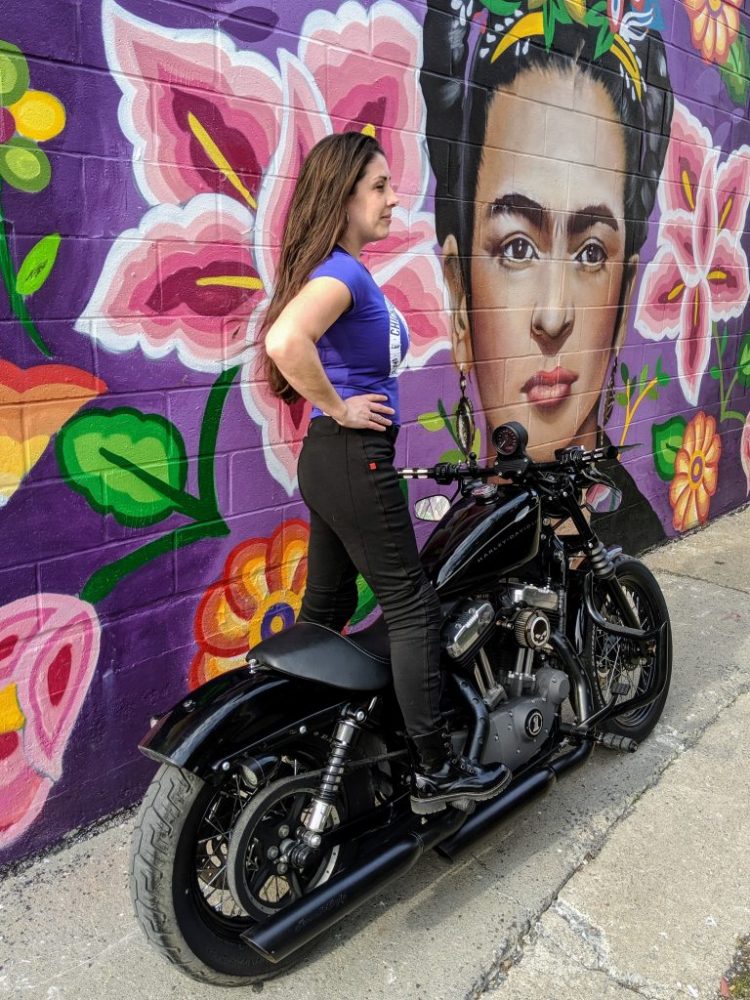 GoGo Gear President Arlene Battishill is a biker herself and it really shows in the design of these pants, and all other GoGo Gear items for that matter. Every detail is well thought of. Finally, pants designed for our women rider's needs!!!
To sum it up, I really appreciated the thickness of the pants' fabrics, its comfort, protections and look. Definitely a purchase you will not regret!
FEATURES
Fabric: Outer Layer: 100% Abrasion Resistant Polyester Cotton Fabric with 5% Spandex.  Inner Layer: 100% Made Of DuPont™ Kevlar® Fibers, 275gsm Weight, 95% Kevlar with 5% Spandex.  Inside Protector Pockets: Polyester Cotton Jersey.
Protection: CE-Approved Removable, Adjustable Knee Protector Pads (Level 1).  Inside Pockets for Hip Protectors (protectors not included).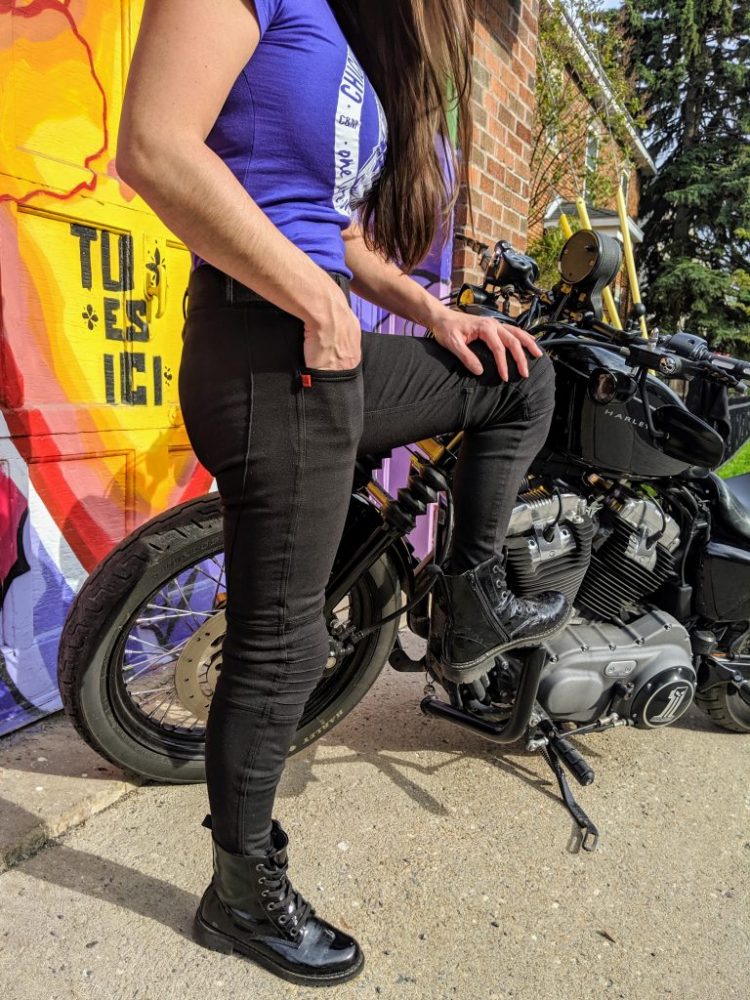 Sizes: Available from US2 to US26.  Model for 5'8″ and taller also available from size Us2 to US18.
Color: Black.
Pockets: 2 in front.
Machine Washable.
Please note: that these pants are not waterproof.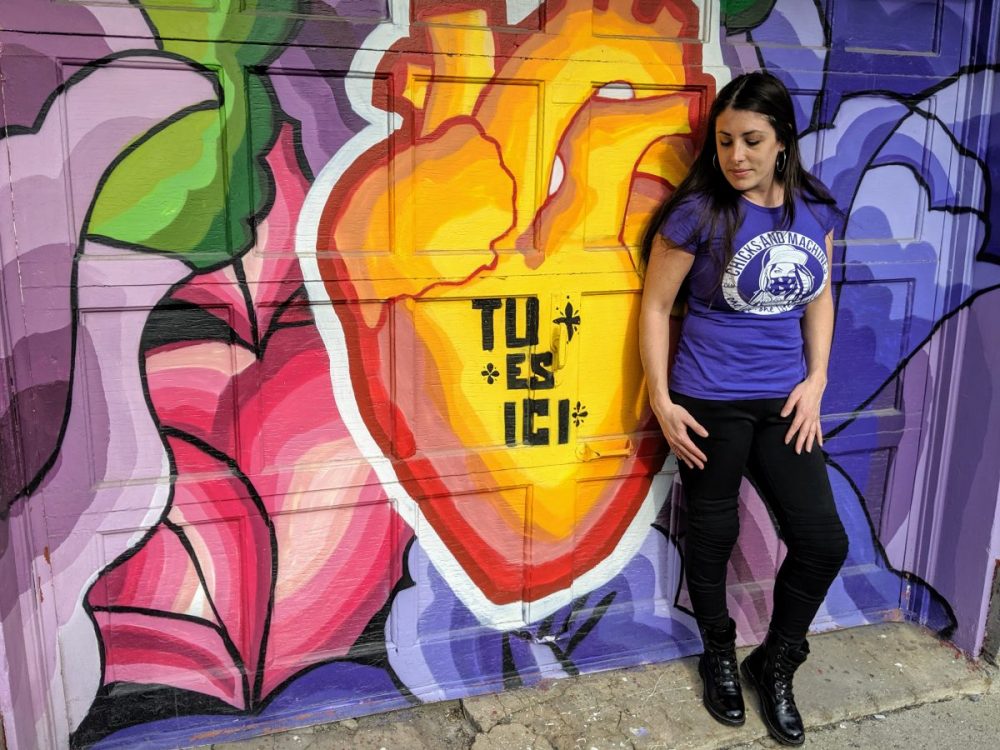 [Notes – Faire un visuel avec Bar Chart]
Comfort: 9 / 10
Look: 8 / 10
Protection: 9 / 10
Price: 8 / 10
Durability: 9 / 10
% Final Note
For further details, go take a look at their website:  http://www.gogogearla.com/
Felicia D