Motor Maids: The amazing story
Today I want to offer you to jump in the past in 1940 to find the first and oldest women's motorcycle organization, The Motor Maids !!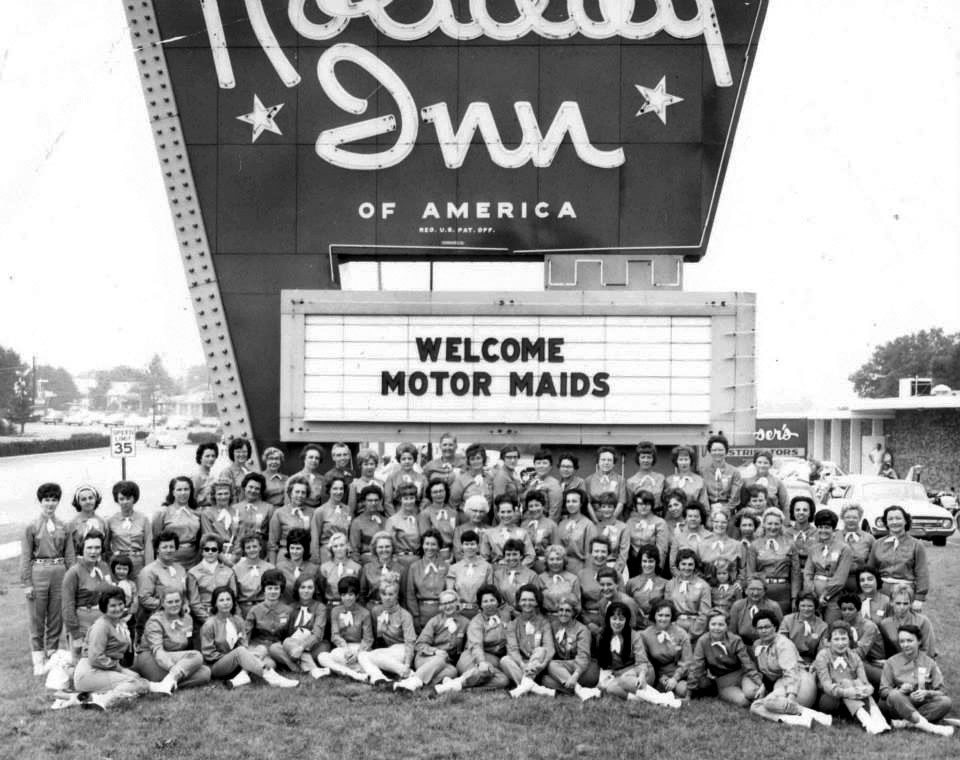 We can try to imagine what could represent and imply as judgments to be a woman rider then.  In the late 30s, when a woman wanted to get her driver's license for a motorcycle, after passing the written test, she must bring her lawyer in order to get the opportunity to take the riding portion to obtain her license.
In those years, women didn't really had a voice in society and were stereotyped to stay in the household, be a good wife, and raise the children.  But in the 1940s all this began to be quietly different, women's lives were booming, men were at war and some of them had to take the place of men in the workplace.
The founders
Linda Dugeau and Dot Robinson, both Americans, where the founders of The Motor Maids motorcycle club.  They were part of that handful of ladies who lived outside of the preconceived mold of society. And let's face it, very few women were riding motorcycles at that time.
Linda Dugeau started to learn how to ride a motorcycle at 19 years old thanks to her future husband who had a Harley Davidson. Reading on Linda I soon realized that she was one hell of a biker and that she was really passionate about tourism.  For example, one summer, she made a trip of 3,500 miles (about 5,600 km) in two weeks !!! On another solo trip, she even visited our beautiful wilderness Canada on almost impassable roads (after all these years things have not changed so much on the state of our roads lol).
It was when Linda learned that there was an association of female pilots that already existed, the Ninety-Nine Club, whose great Amelia Earhart was a member of, that she had the idea of founding a similar organization for women who ride motorcycles.
It is in 1938 that Linda started to write to dealers, racers and anyone she thought could be interested in starting a motorcycle organization of females. That's when she met Dot Robinson.
Dot and her husband were both involved in several endurance motorcycle races.  After making a record transcontinental race, Harley-Davidson contacted them in 1935 to offer them to open a dealership.  The couple moved to Detroit to sell Harleys and did it until 1971.
Recruitment and Organization
It took more than three years for Linda and Dot to bring together 51 women wanting to be part of this association.  The Motor Maids was officially chartered with the American Motorcycle Association in 1941.  Dot was elected the first president of the club and remained it for more than 25 years.  The new organization grew quickly and became very visible when club members were invited to parade at various AMA national races in the 1940s.  Arthur Davidson, one of the founders of Harley-Davidson Motor Company, publicly supported The Motor Maids, which benefited the group a lot.
The Motor Maids, like many women's motorcycle clubs, aimed to unite women wanting to promote the passion of motorcycles.  Of course, every woman had to own or drive her own motorcycle, or of a family member, and behave like a "lady".
Ladies of the White Gloves
In 1944, at the first official convention, it was decided that the royal blue and the silver gray would constitute the official colors of the club and that a shield would represent the logo.  Even before the uniform was chosen, the members of the Motor Maids always wore white gloves, and this, since a parade in 1941.  From that moment, they were recognized thanks to this distinctive piece and were often called "Ladies of the White Gloves ".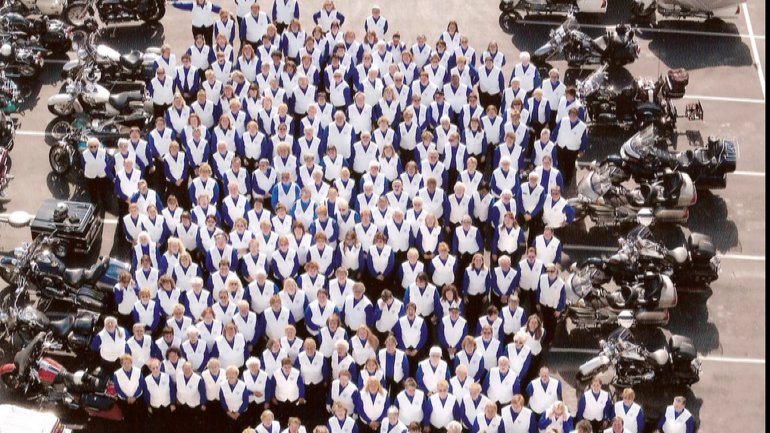 They were and still are very involved in helping people in need either in their community, charities or other groups such as breast cancer awareness.  On their website you can see a list of all their upcoming events like dinner/shows, conventions, rides, etc.
To become a member of The Motor Maids, admission requirements are every bit as simple and straightforward as the club's mission.  The prospect must have access to a two or three-wheeler and of course a willingness to ride.  Unlike some clubs, they don't discriminate against brand or type and all kinds of bikes are welcome, including trikes.
Today
Today, more than 78 years later, The Motor Maids are one of the oldest motorcycle organizations still active in North America and have more than 1,300 members across the United States and Canada.  For those who were at the Salon de la moto in Montréal last February, you may have even seen some of their members with their royal blue turtleneck and white vest.
Féli
xxx