Discover the latest Olympia Backcountry suit!
The winter season rhymes with cold, pure happiness, few "braap brapp …" and finally snowmobiling. A new season comes with these new products and new brands. Even if we are gagging on the engines, we are women and yes, we love clothes. Every year, each clothing and accessories companies make improvements to their collections, change styles and colors to please us even more. These brands allow us to practice our favorite sports in warmth and comfort!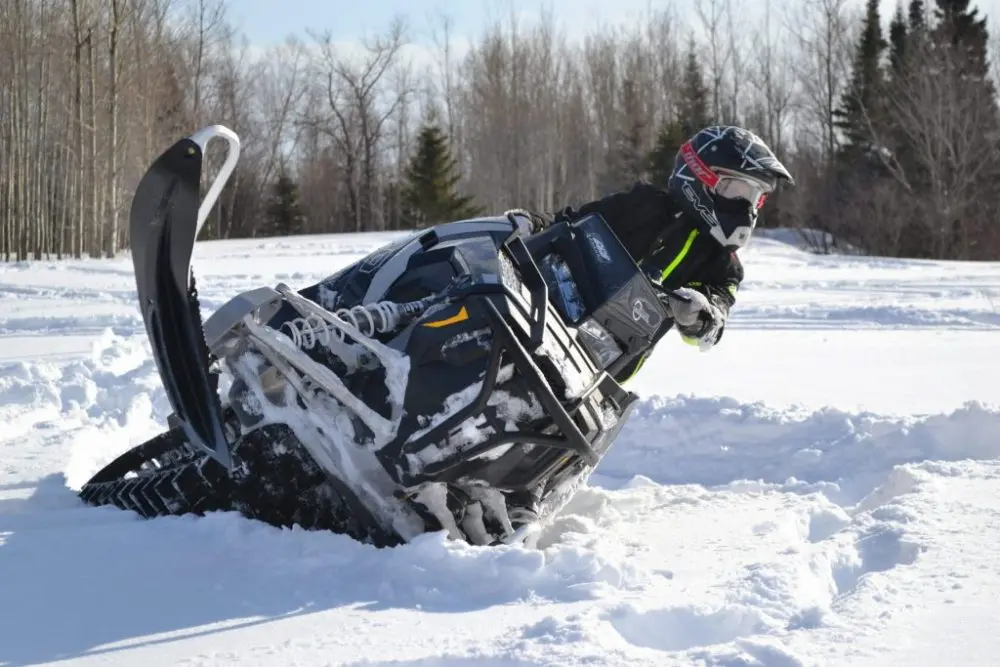 This year, Chicks And Machines discovered the new brand Olympia. I was fortunate as a snowmobile collaborator to receive one of their off-road kit; the wonderful Alma. I knew that Olympia had been famous for about 15 years for its great motorcycle clothing line. This year, they decided to explore the cold world. I was excited to test this new brand. Olympia offers a beautiful selection of winter gear. I took the opportunity to venture off-road to test my super Alma kit. Straight from the beginning, I found it great, comfortable and especially adapted to my taste!
Olympia offers 3 distinct groups of clothing. The Synergy, the Adventure and the Heating series. The Synergy series is made for active snowmobilers with exceptional technologies and features. It is airy, waterproof, flexible and designed with high quality materials. While the adventure series is made for comfort and style. No matter how the weather is; Nordic or spring, you'll be warm and comfortable in it. Last but not least, the Heating series is where heat rhymes with styles. Whether it's the jacket or the pants, there are heating surfaces. Dedicated to all types of activity and personality; so there is one waiting for you!
I proudly wear my Olympia suit!
Discovering this new brand, I had the chance to try the Alma kit "Off-track" Synergy series. The Olympia brand wins to be known! In my opinion, you will be more than happy with your Olympia suit. Whether for off-road hikes, sliding with children or walks with friends, Olympia will live up to your expectations. For a first year in the field of the winter season, they fare well. I think with a first collection so successful, it promises for the following years!
Composition of Alma jacket and pants
The Jacket:
The insulation is composed of 180g thermolite removable and padded. While the shell is made of oxford stretch nylon: 95% nylon / 5% spandex / cordura 96% / 4% spandex / 100% nylon rip stop wax. It is waterproof, stain proof treated material and extremely breathable. There is 4 practical pockets and reflective tape 3m which is perfect for our safety. The zippers are reliable and water resistant. Hem and cuffs are adjustable. The wrists are equipped with elastic buckle thumb and a comfortable neoprene collar.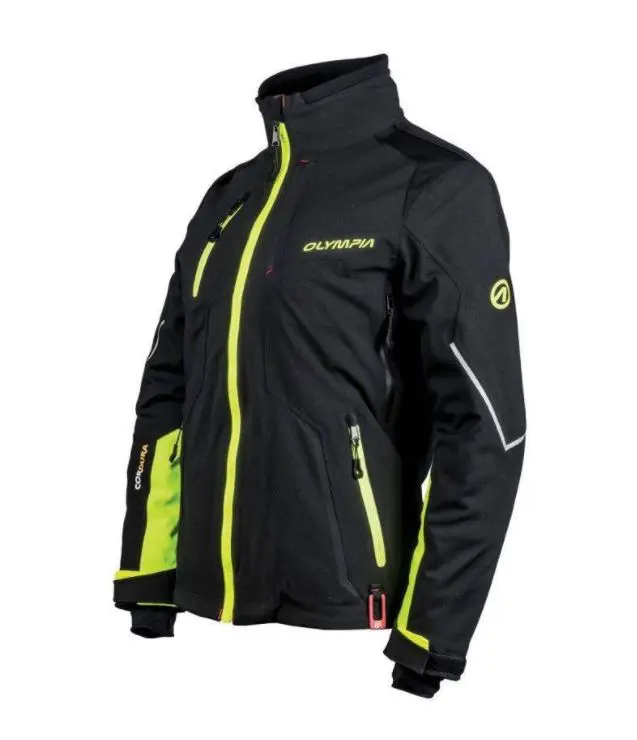 The pants
The insulation of the pants is made of the same components of the jacket in "semi-long". The shell is also made of the same products as the jacket while adding 100% nylon coated carbon lining 100% polyester taffeta. It is composed of 2 layers with 3 pockets and 3m tape for good visibility with cordura panels on critical areas. The snow skirt is equipped with a silicone elastic gripping. The waist size is also adjustable with an elastic velcro. Olympia thought of everything while adding kneepads for comfort and protection. The top of the pants is made of a very comfortable stretch fabric with adjustable straps.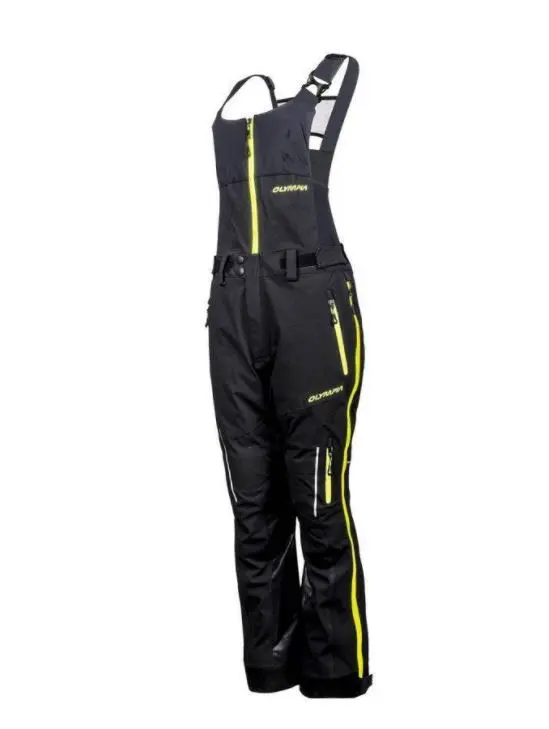 And for those who are septic; let me tell you about my experience!
To try this new brand has been more than a pleasure. The quality of the Alma suit is excellent with the 180g thermo lite multi layers. I was able to wear this suit without being afraid of being too hot or too cold while riding. By removing the underlayment, we fall to a perfect temperature for the snowmobiler who likes to have fun in the snow. For snowmobilers who are not afraid to ride, this brand is for you.
Basically, I loved my Alma suit. I let you consult my notes following my test. Since no product is perfect, if you are the type of person to stand still or long breaks without moving, I suggest you bring a little wool. The clothes are designed to move so it will be chilly if you do not move. For more information, visit Olympia's website or their Facebook page.
Any questions about my test?
Comment down here.
Thanks to my friend Jeff St-Gelais for the photos!
Audrey: la crinkée du nord!