The OGIO Mach 3S LE backpack: comfortable, practical and perfectly suited for motorcycle!
A few weeks ago, Chicks and Machines, in collaboration with Mathias Sports, asked me to test the OGIO No Drag Mach 3S LE motorcycle backpack. I was super excited, as when it comes to motorcycle backpacks, I had come a long way.
Since I've been riding, I've always thought that a bag was just a bag and that no matter how much you paid, it didn't make a difference in comfort. That was BEFORE I tried this backpack!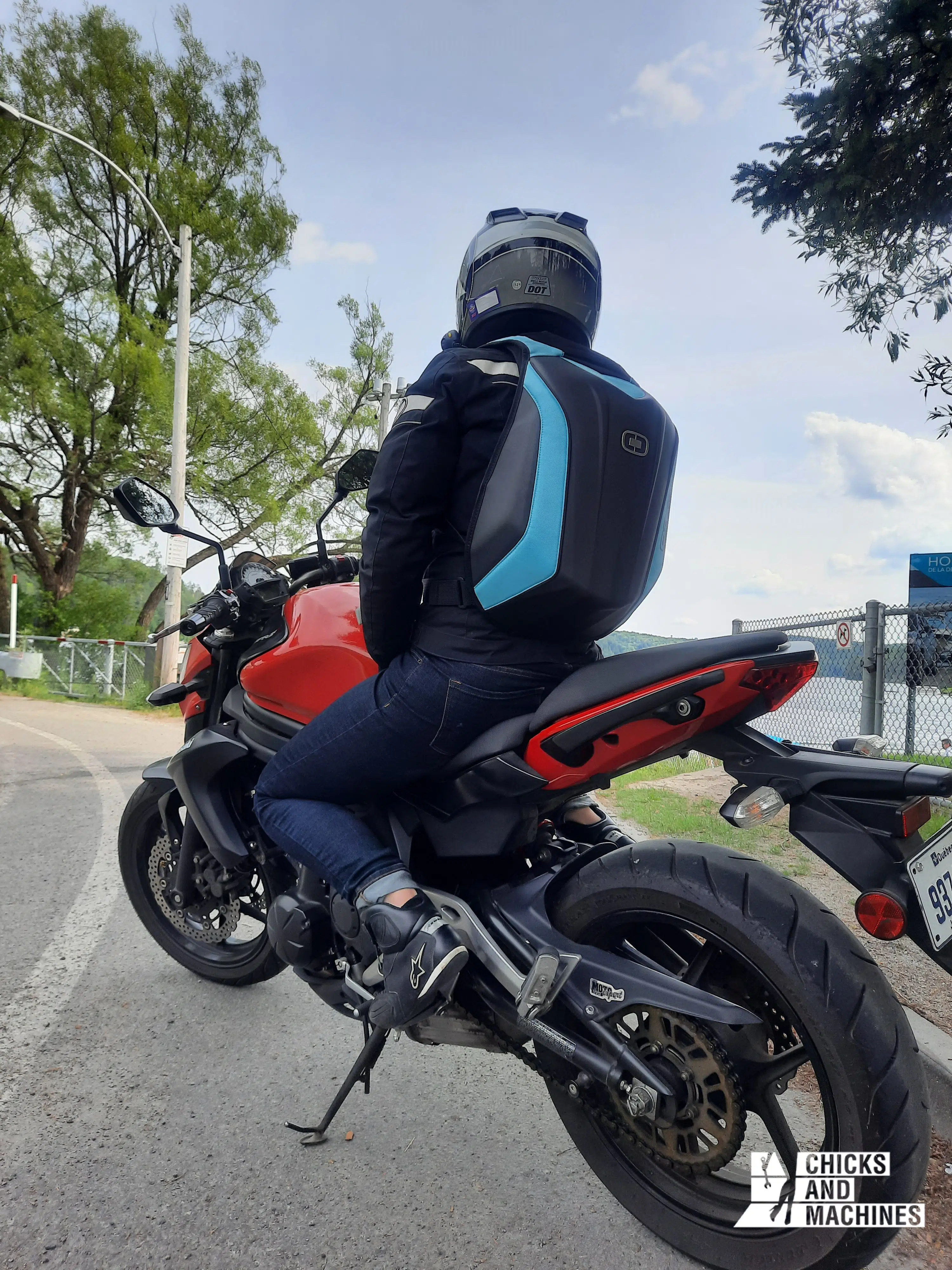 OGIO
OGIO is a company now based in California, founded in 1987, by Michael J. Pratt. The company specializes in many types of bags: luggage, motorcycle bags, totes, golf bags, etc.
Their designers work with many athletes to create unique designs that specifically address the storage issues that athletes face. These bags are super well organized and offer a multitude of pockets and elastics inside to keep their contents organized.
Besides, the acronym "OGIO" stands for "Our Gear Is Organized".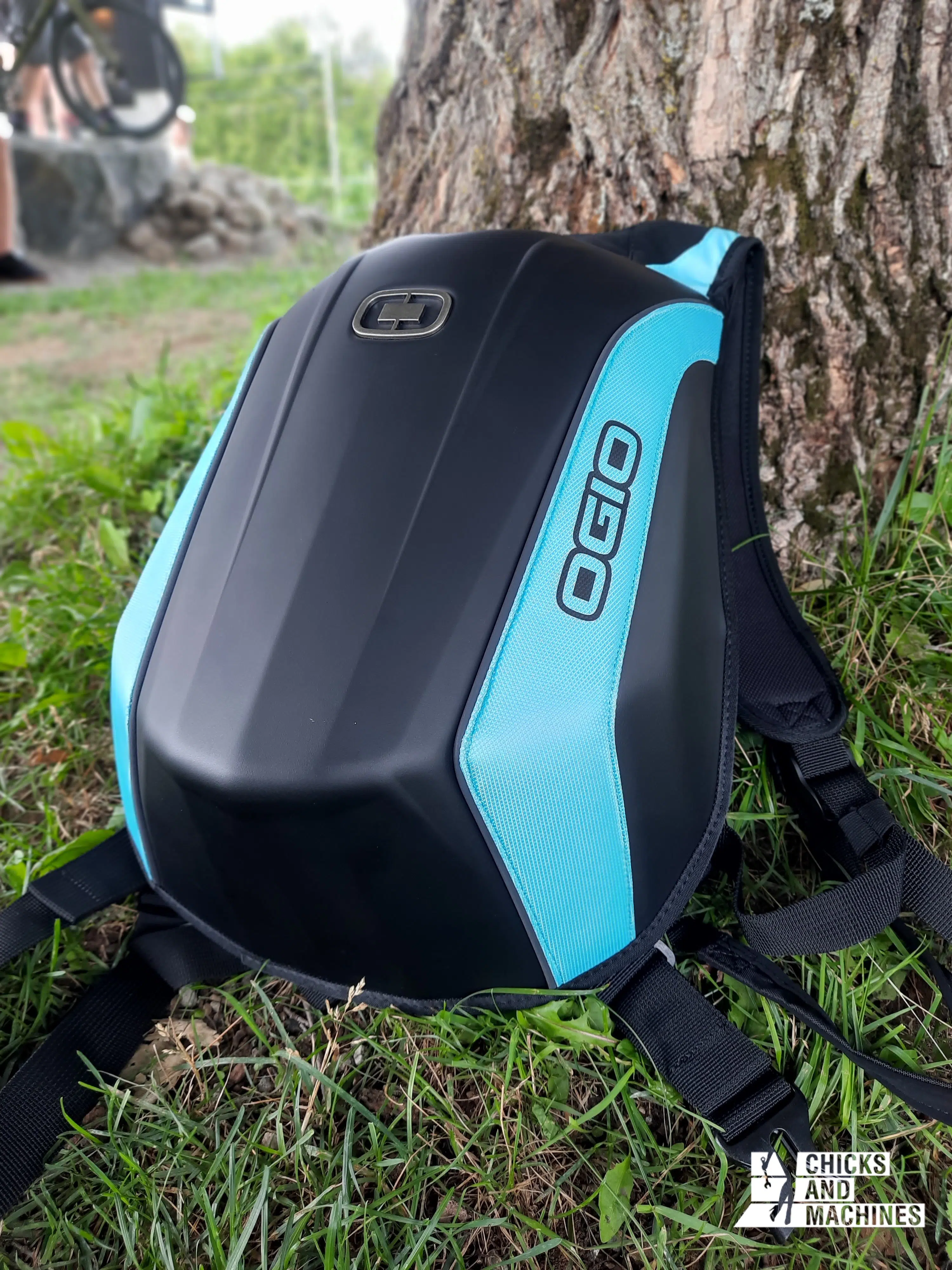 The OGIO Mach 3S LE backpack
The OGIO Mach 3S LE model, which I had the chance to try, is the latest addition to the MACH series of bags. This series includes the Mach 5, Mach 3 and Mach 1 models.
The MACH 3S LE bag is practically the twin of the MACH 5 model, but in a slightly smaller and more stylish format. It's 15% smaller, to be precise.
It has a capacity of 14.5 liters. I just liked the fact that it is a little less wide and less high than the other bags in the MACH series, because it fits better to female proportions.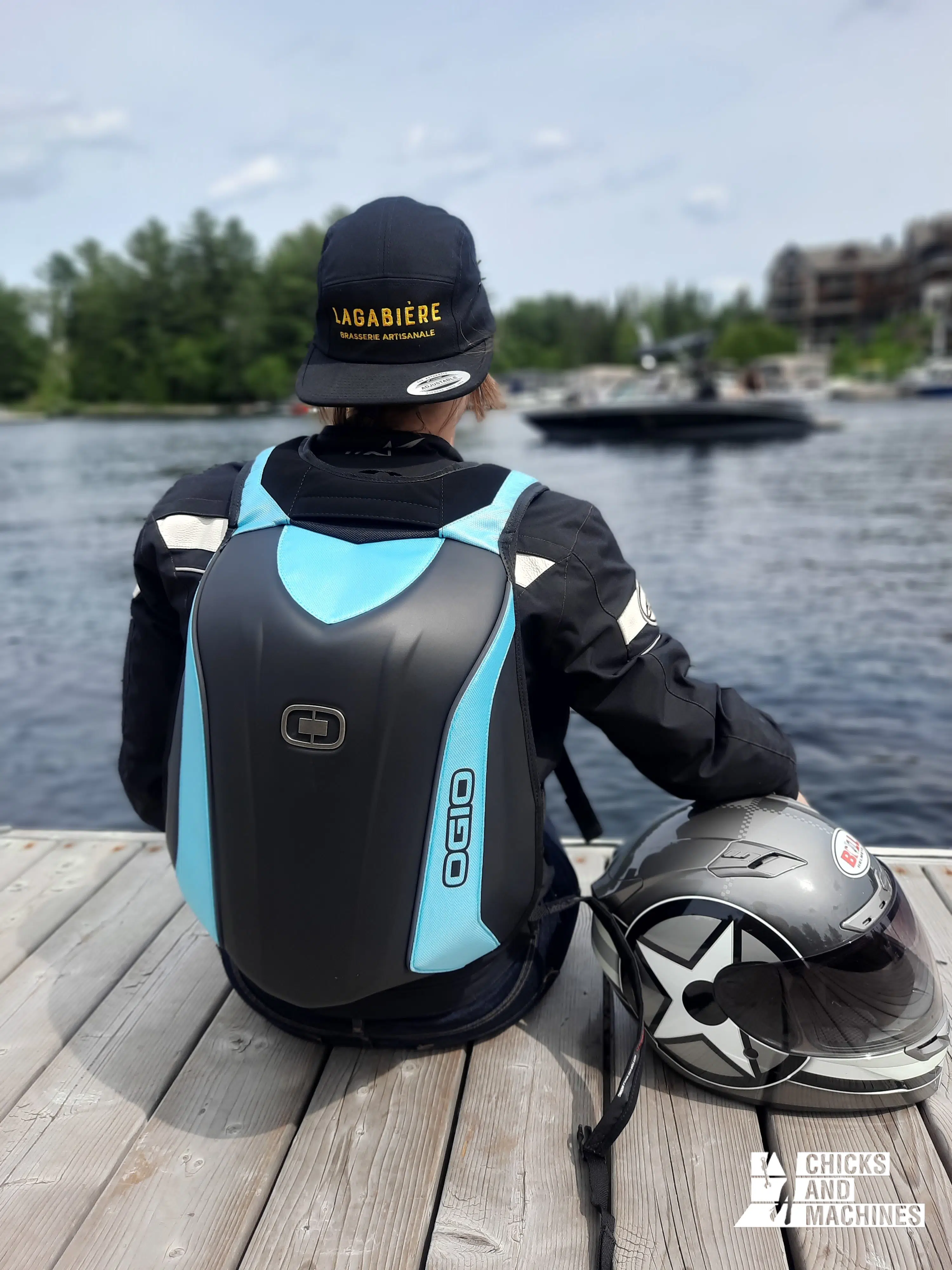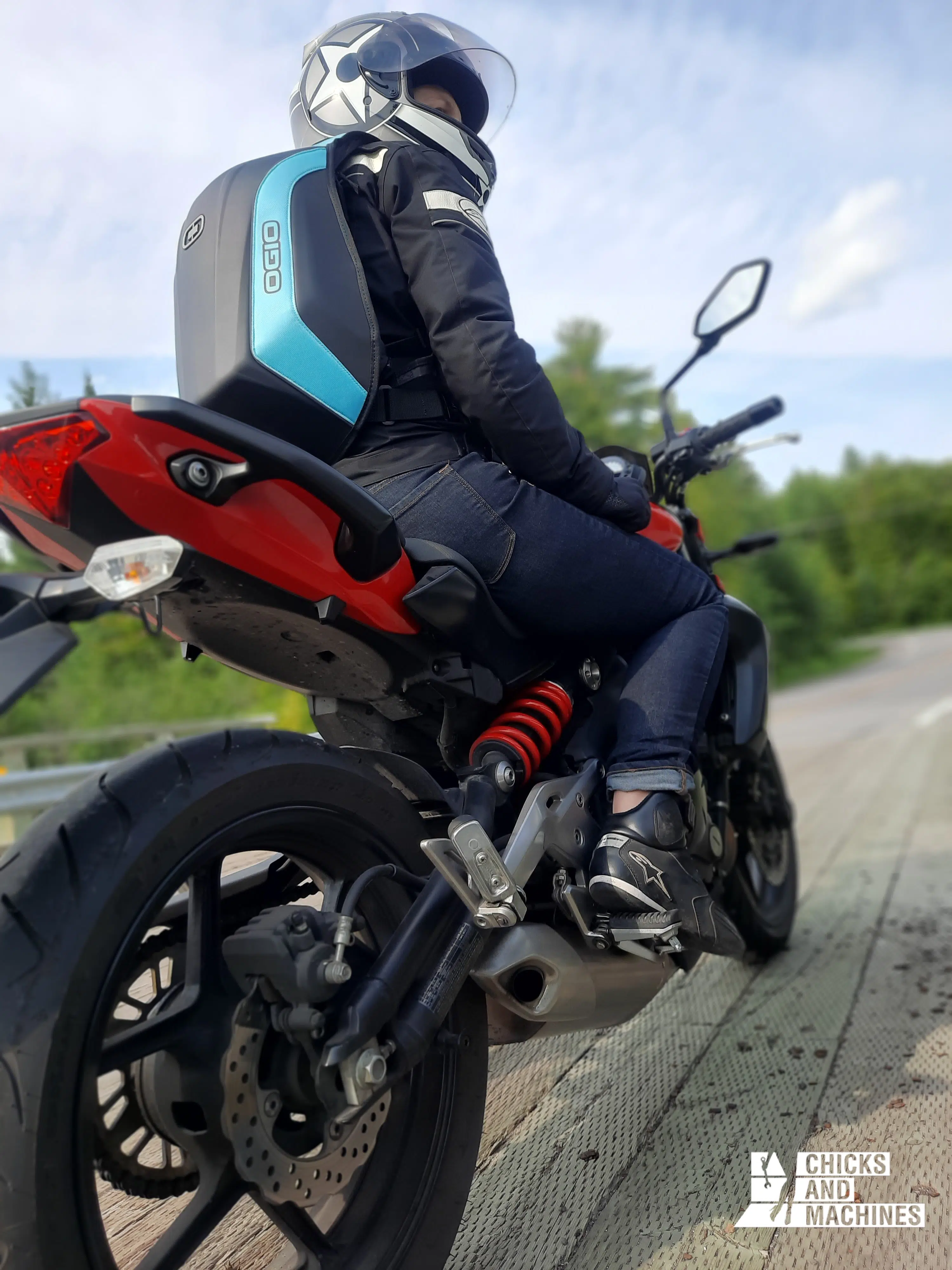 The weight
Also, this bag is incredibly light. That was the first thing that struck me! It weights only 2.6 pounds when empty (about 1.2 kg). Its molded, rigid, water-resistant shell is designed to be very aerodynamic and prevents the bag from deforming due to wind shear, even at very high speeds.
I tested it several times on the highway and even when moving and changing positions on my bike, this bag never had the "parachute" effect that most bags would have. It takes a lot of weight off your shoulders and back and you hardly feel the bag on your back while riding.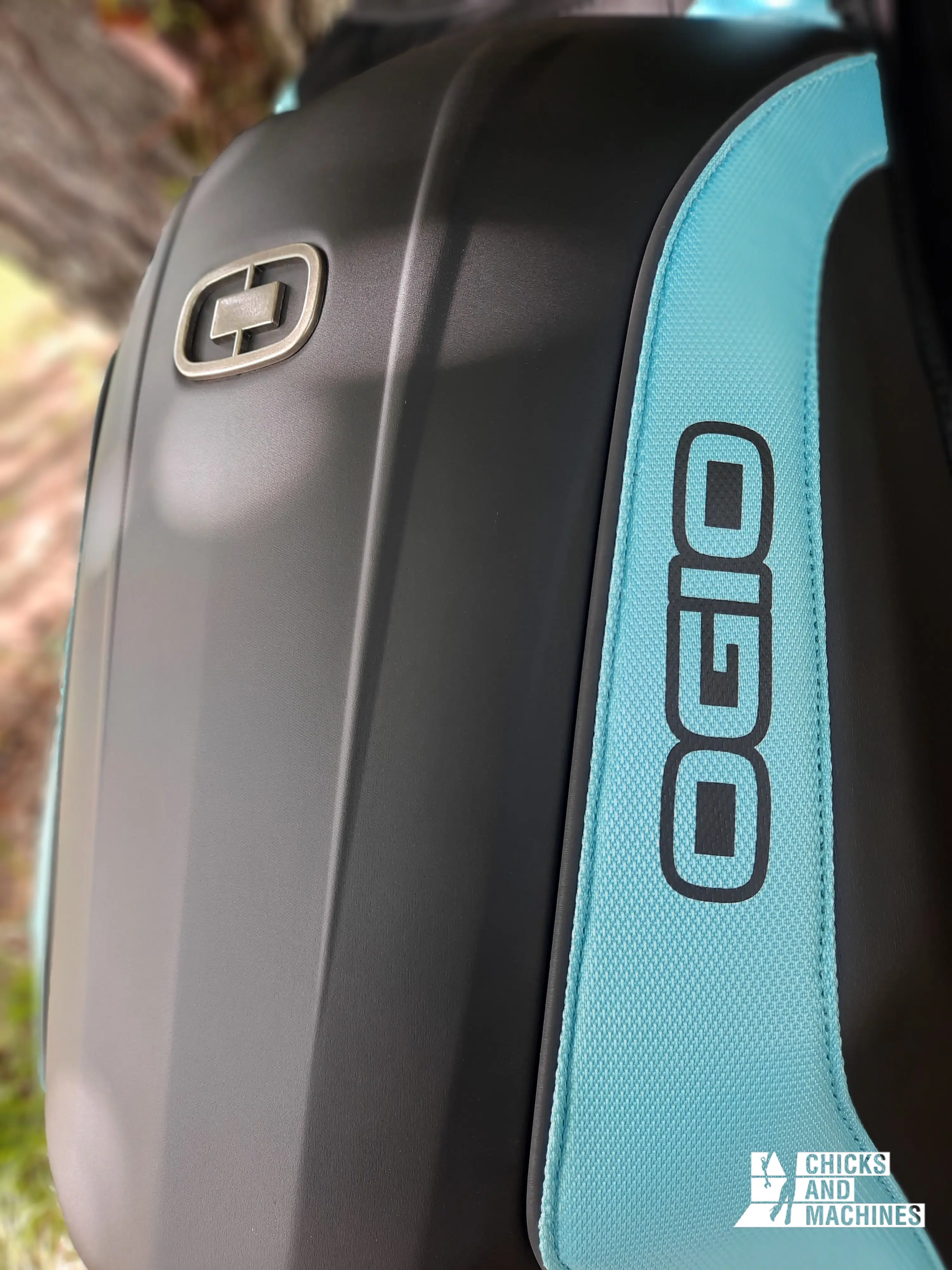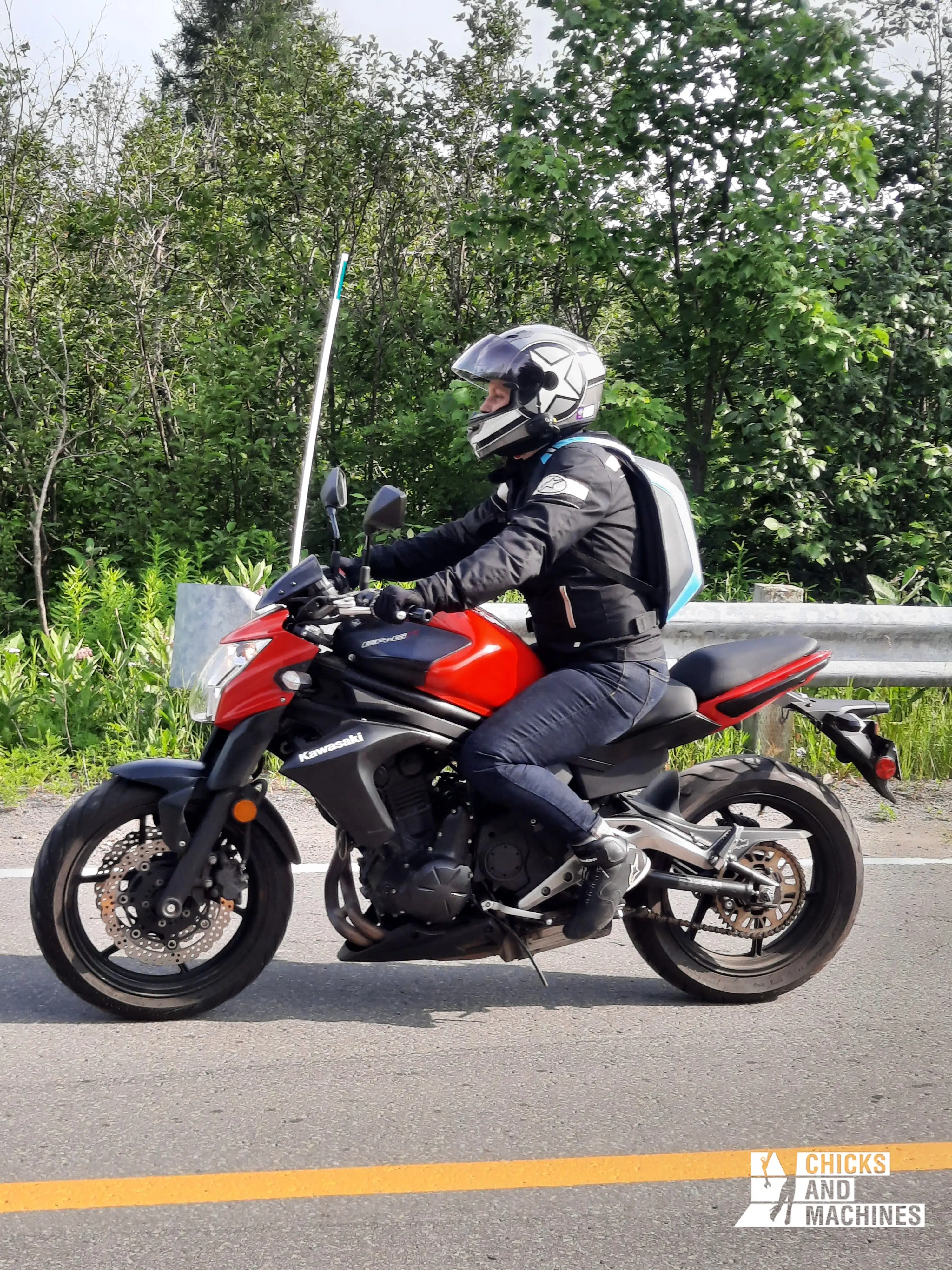 The straps
The chest straps are adjustable to several heights and lengths for a perfect fit and more comfort. What I appreciated a little less is the strap at the hips. This one is adjustable, but it's not very long, especially if you wear it over a coat.
Also, it attaches on the right side and not in the center of your body. When you're wearing your helmet and safety gear, it becomes quite difficult to fasten. It requires a bit of contortion effort that I didn't like at first, but you get used to it over time.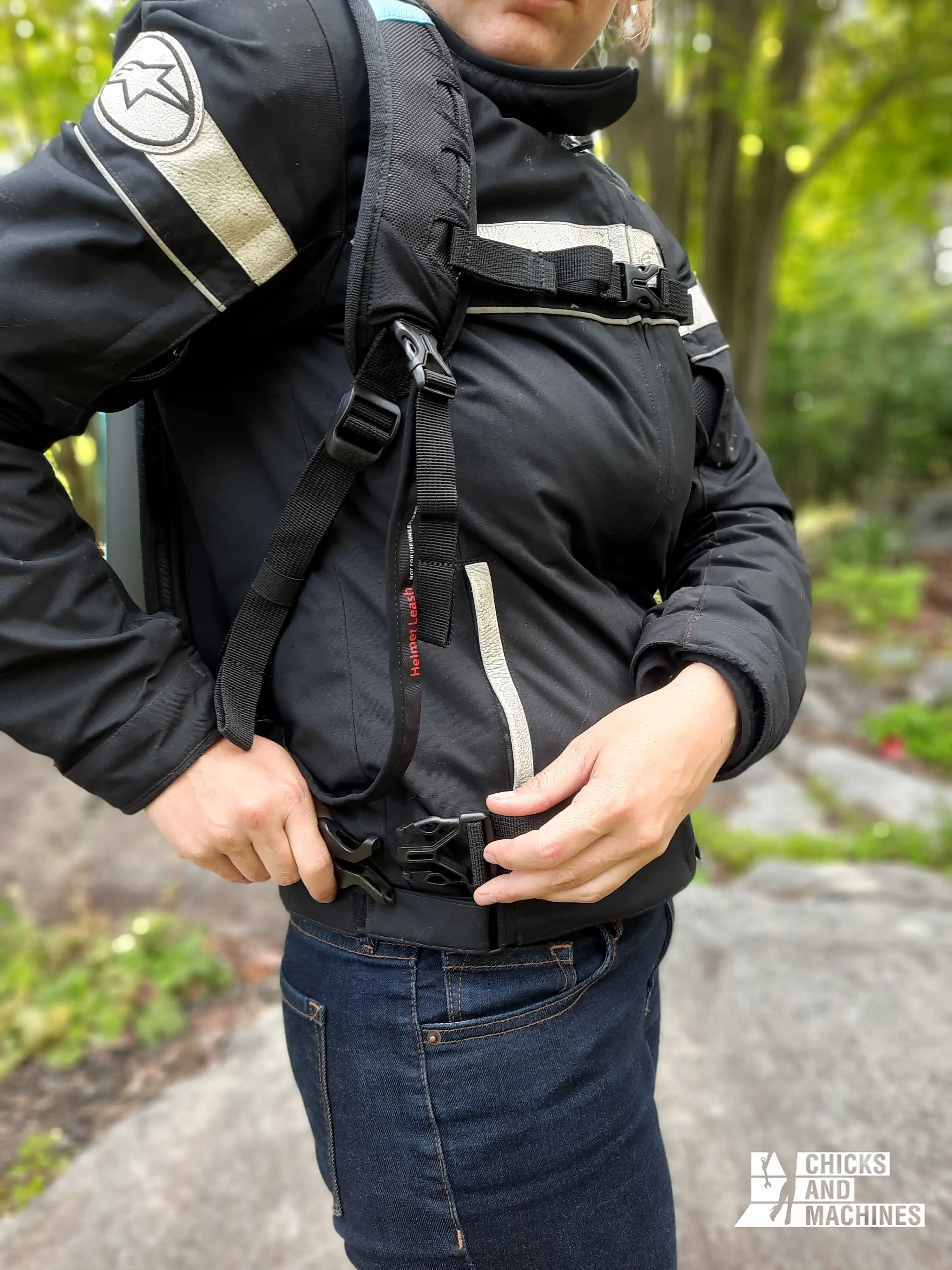 On the back, the OGIO Mach 3S LE bag is really well padded, which makes it very comfortable. A tunnel in the center lets air through and cools the back at the same time.
I thought this was very well thought out, because even on very hot days, I never had a wet back! You can even slip in a hydration pack to keep you hydrated while riding!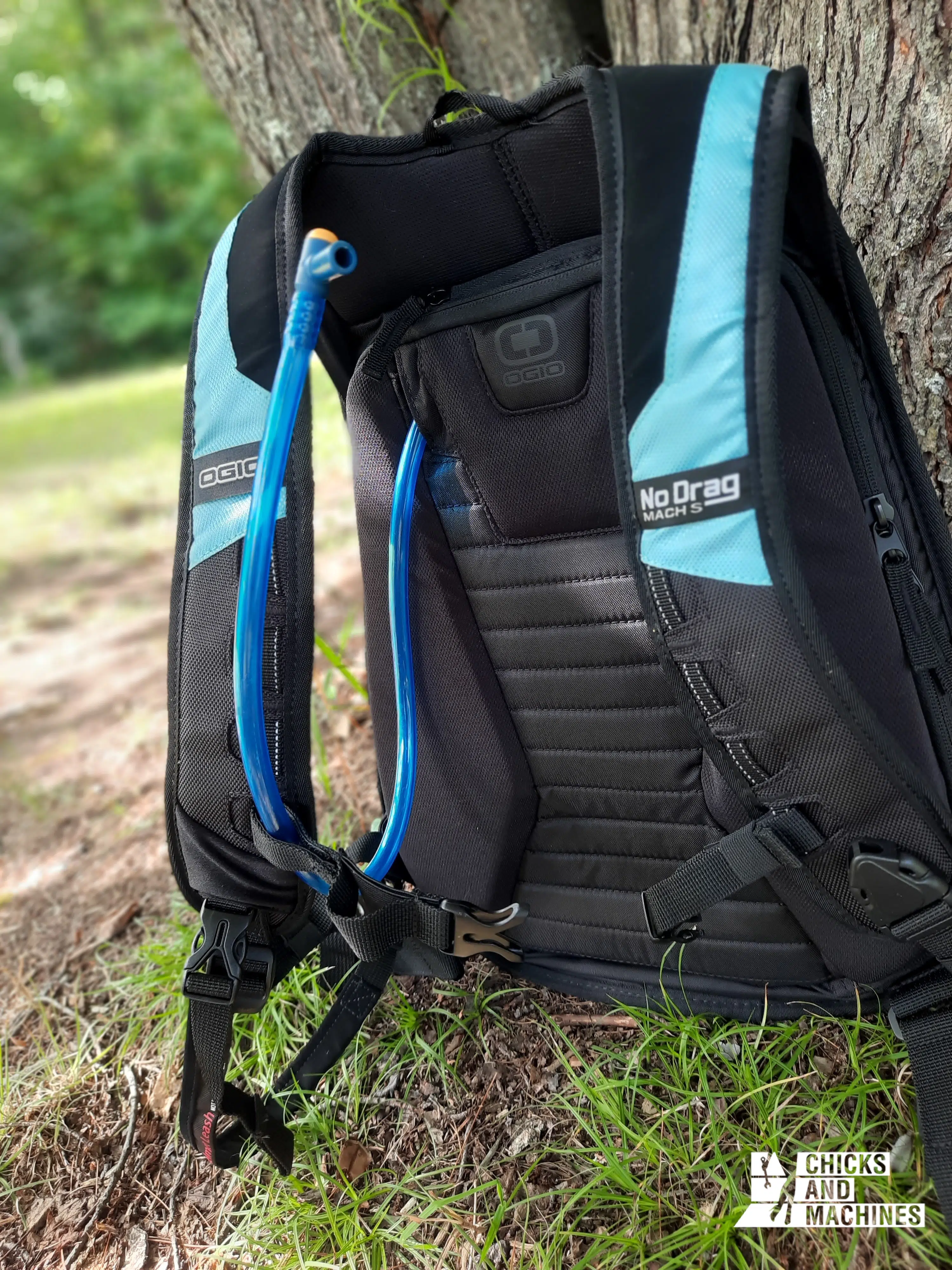 The shoulder straps
The shoulder straps are also well padded. They have a softer fabric around the neck and shoulders, which makes them very comfortable and prevents damage to your helmet.
The straps also have a seal at the shoulders and back that keeps the wind from blowing in and out of your back. This also helps reduce bag movement and the "parachute" effect.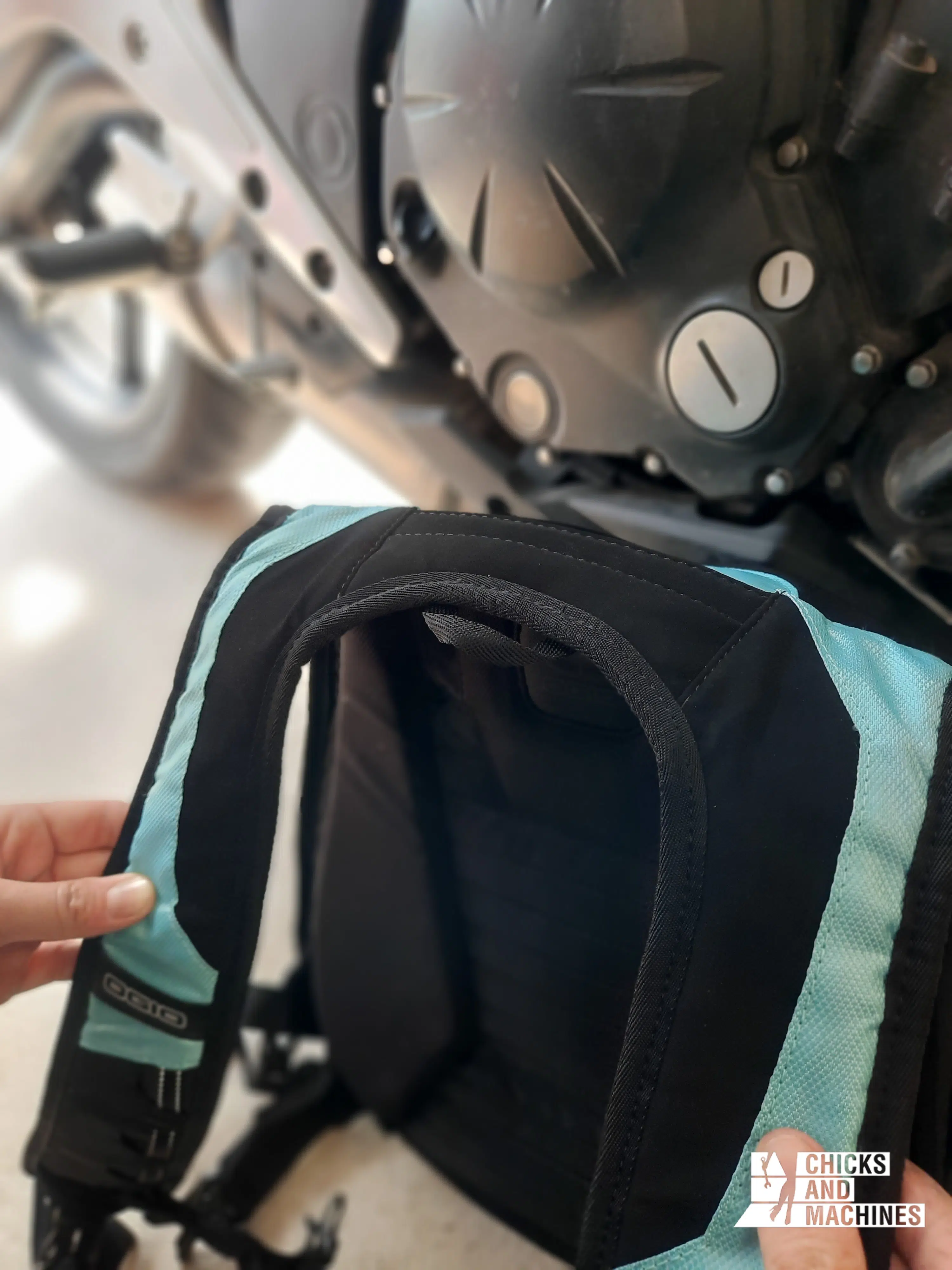 There is also a removable strap that is used to support the helmet! This is a great idea. So you have your hands free when you stop to walk, do shopping, etc.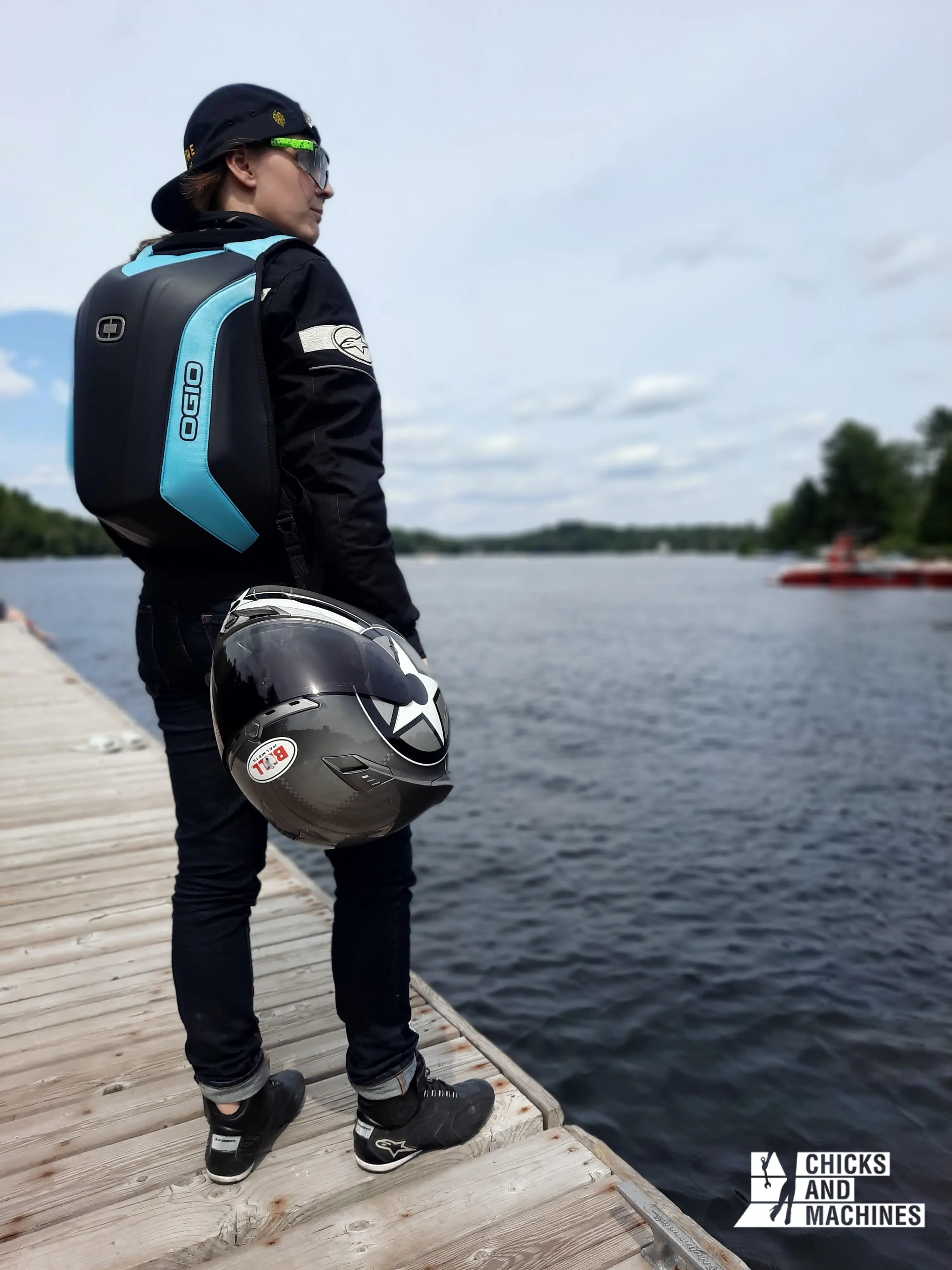 OGIO, a synonym for storage and organization!
Inside, you'll find the features for which OGIO is known. There are plenty of storage pockets. Everything is masterfully organized!
There is a large opening for a laptop up to 13 inches, storage for a tablet, pencils, and so on. There are even custom pockets for shoes!
This is what I found very practical, since I always wear my motorcycle boots and they are not very comfortable for long walks or for going to work.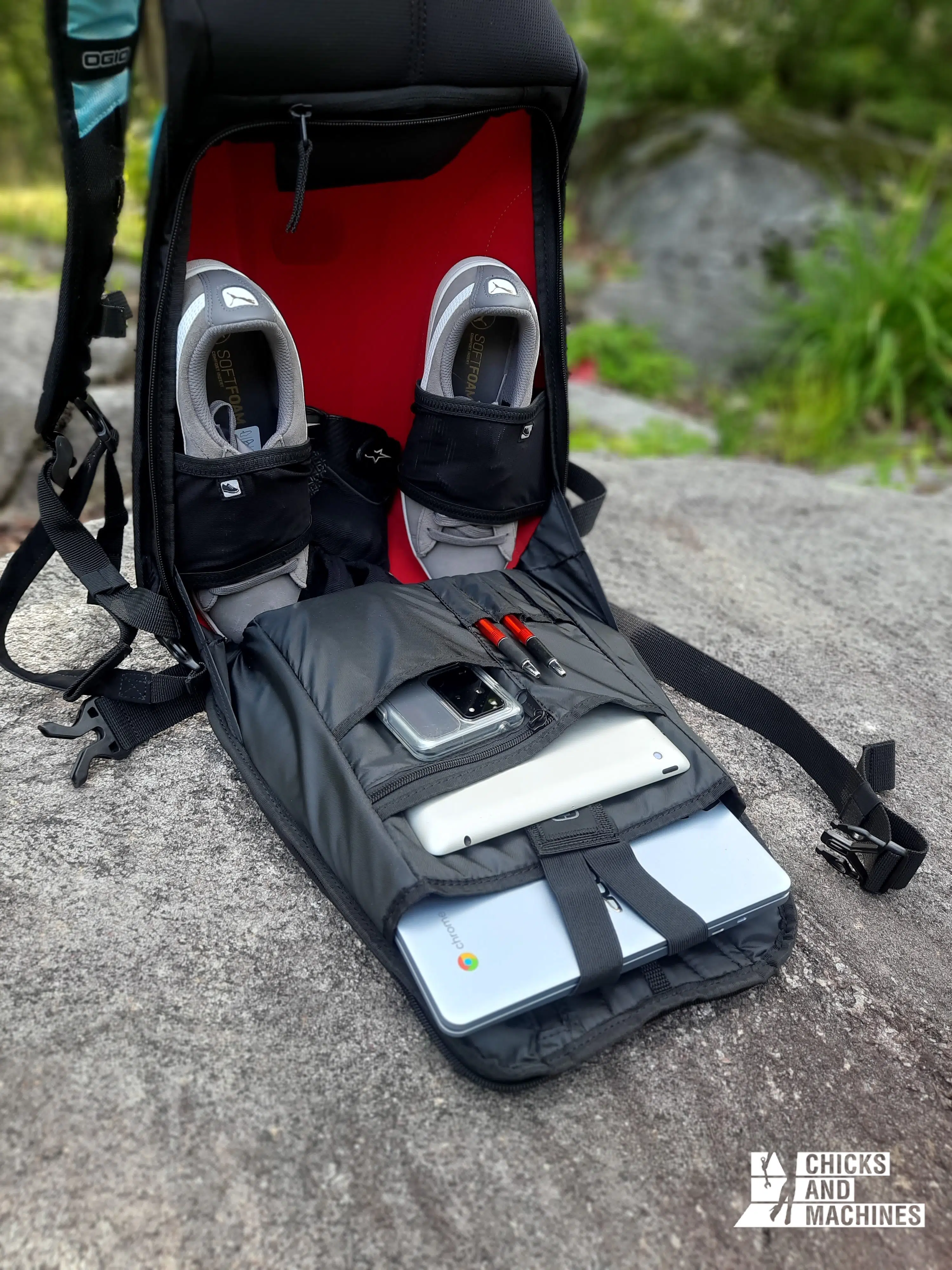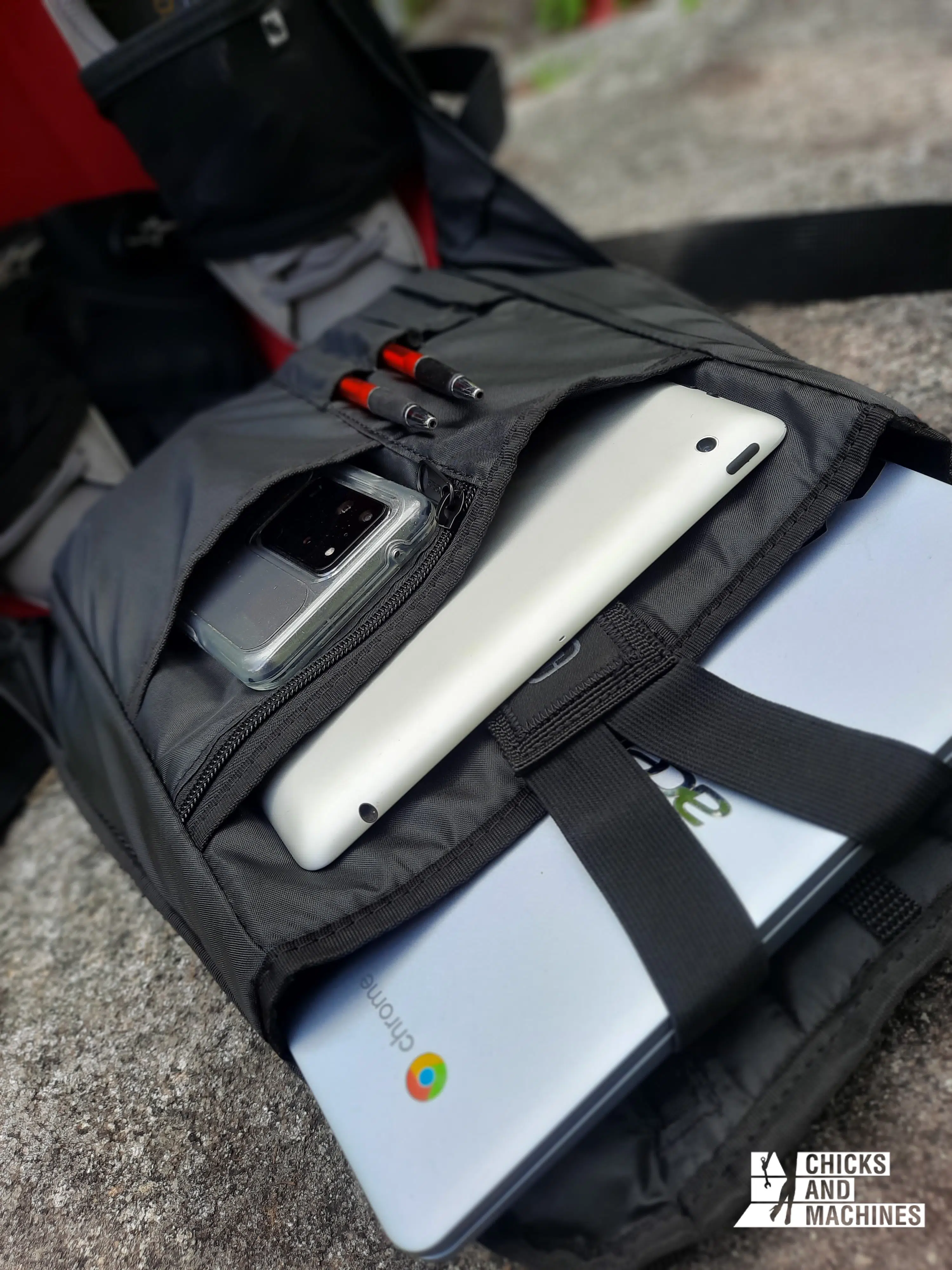 There is also a small hidden pocket on the outside of the bag in which you can put your valuables and which is quickly accessible without opening the main bag pocket. However, this could have been slightly larger to at least hold a cell phone or a small wallet.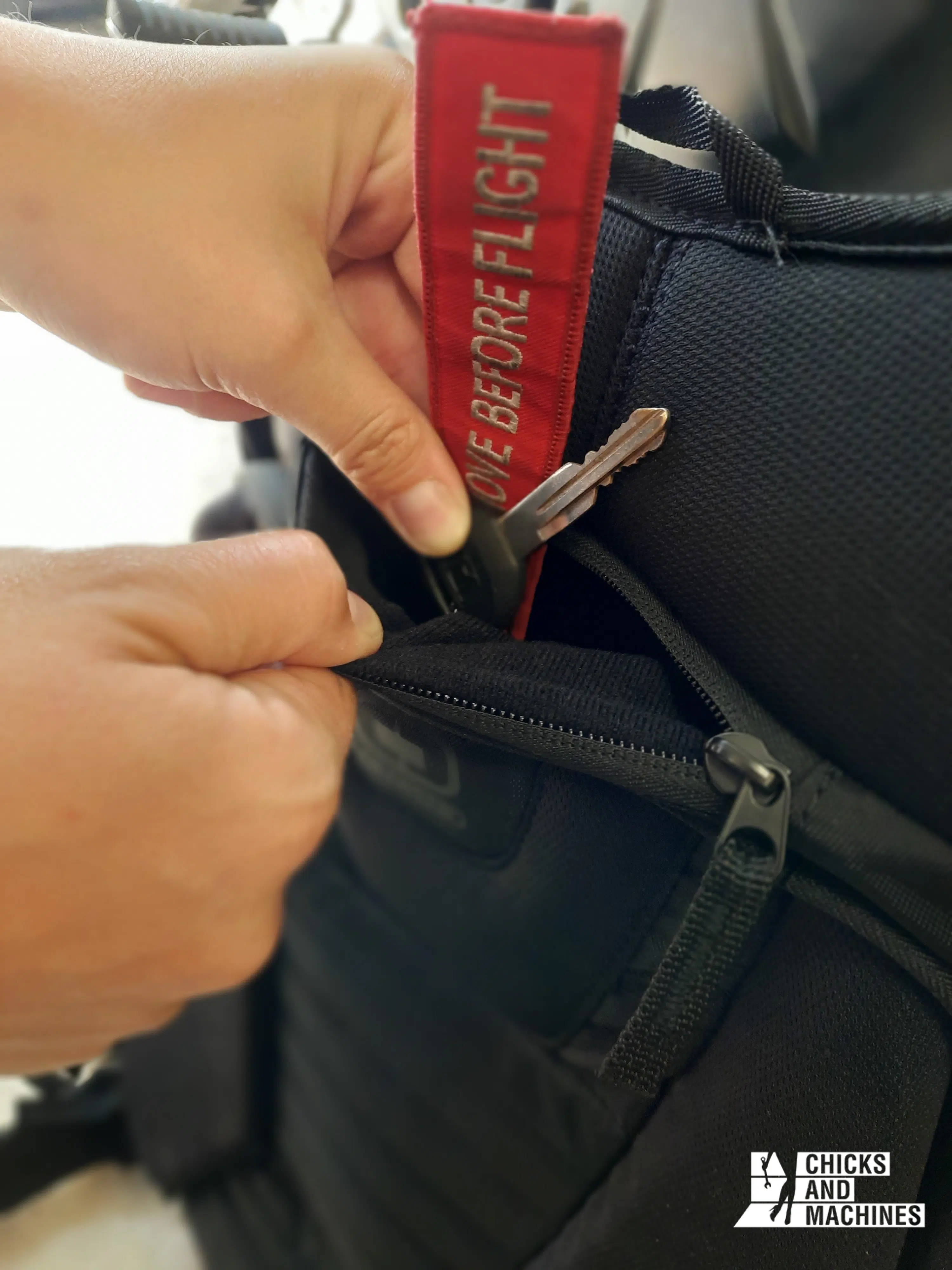 In conclusion, I really loved the stylish design and functionality of this bag. It looks great and is VERY comfortable. The multiple storage pockets are a really big plus, as I like things to be organized and easily accessible. Plus, it is very good quality and sturdy.
This is the type of backpack I would choose for short trips, going to work or one or two day motorcycle trips. It's light and practical due to its small size.
If you are planning to go on multi-day rides and need to bring a lot of stuff, I would choose the MACH 5 model which can hold a larger volume.
That being said, I recommend the OGIO MACH 3S LE bag without hesitation! You won't be disappointed!
Thanks to Mathias Sports for the test.
Have a great trip!
To continue reading on similar topics:
Don't forget to listen to the new episode of our podcast:
- Cyndie