Many of us dream of being able to ride your motorcycle all year round.
Did you know it's possible?
Of course, we can't make winter disappear, especially in Québec. However, you could modify your Harley-Davidson motorcycle in order to slide – rather than roll – this winter!
Riding on snowmobile trails or off-roading on a Harley: what could possibly be better than that?
Indeed, Harley-Davidson Banská Bystrica in Slovakia unveiled this marvel in 2017. We were able to admire the Harley-Davidson snow bike built on a Roadster 1200 frame during the "Battle of the Kings" competition.
Beware! It's important to know that snow bike-type vehicles are illegal on federated trails in Québec.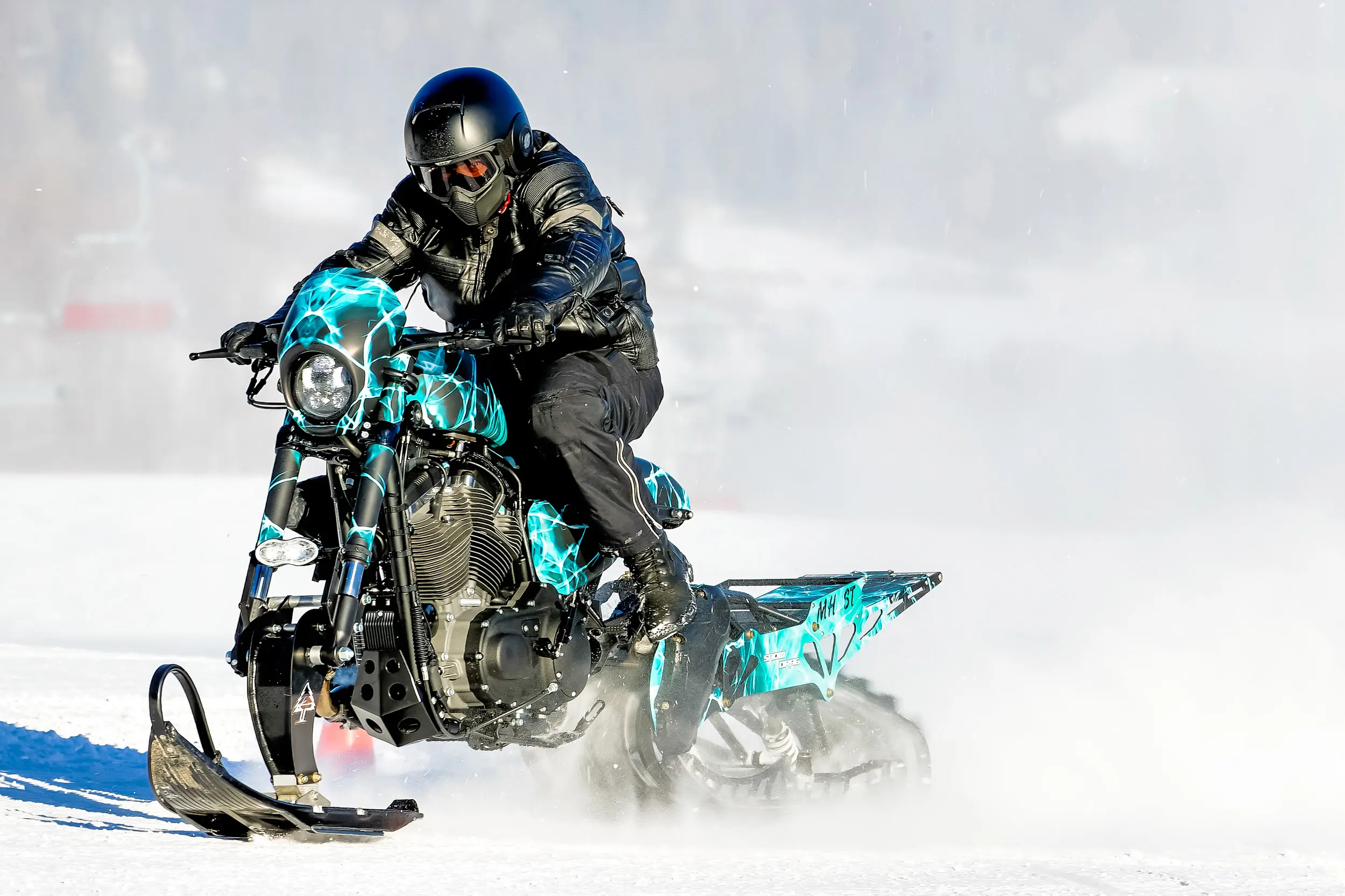 Innovation and Resourcefulness
From imagination to Ingenuity
For the Slovakian team, getting a front ski meant creating a set of adapters. However, the assembly of the rear part was a much more complex task. The Harley's transmission is on the right side of the bike, while the track system is on the left side. Therefore, the design team had to connect the two sets. The original brakes and ABS also needed to be eliminated: the snow system's brake had to be connected to the original front brake lever.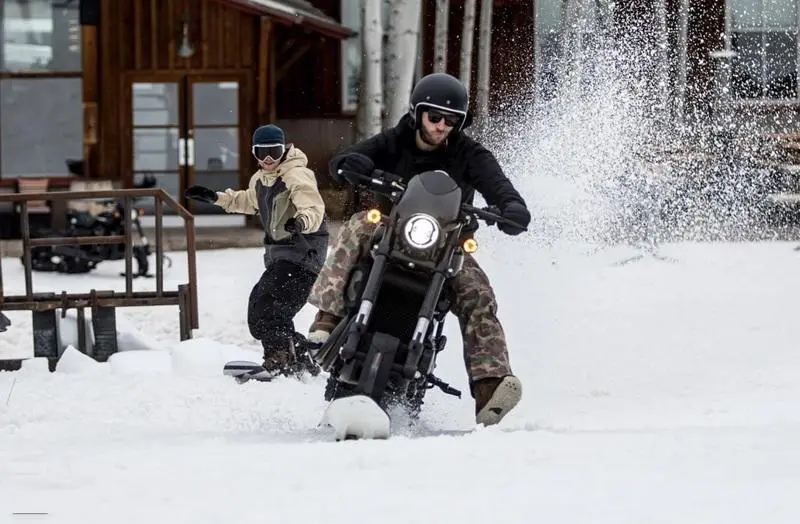 In 2018, during the X-Games in Aspen, Harley had an innovative idea. They decided to partner with Aaron and Shaun Guardado of the Suicide Machine Company, in order to build two snow bikes with skis and tracks, using a 750 Street Rod. These machines served as safety vehicles during the competition, and provided transportation for the athletes between events.
What About Performance?
The Guardado brothers chose to give the bike a lighter look and new clutches. Each bike got a professional Screamin' Eagle tuner, a Screamin' Eagle intake and a Screamin' Eagle exhaust. Minor adjustments were needed, because the original brackets were removed when the track was installed.
Then, in order to improve power distribution and to make these bikes easier to handle, the brothers replaced the original clutches with the Radius X with automatic clutch from Rekluse. These consist of a set of automatic clutches and a custom clutch package. All of these tools allow a pilot to start, stop and change gears without ever touching the clutch lever.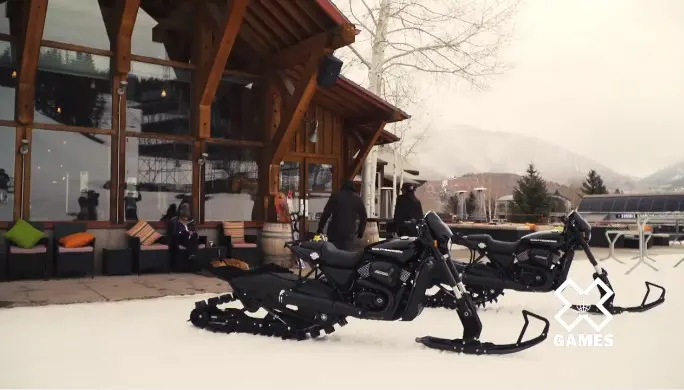 Winter X-Games
Then, Harley partnered with the X-Games organizers to introduce a new event: the Snow Hill Climb. This is a competitive event where racers ride modified Harley-Davidson Sportsters and climb a snow-covered hill in a drag race style competition.
Closer to Home…
The RPM Harley-Davidson team from Saguenay Lac-St-Jean (i.e. a kingdom of snow) has also built its own Harley-Davidson Snow Bike. They used a 750 Street Rod, and the track system they chose is a CAMSO: the same one used by the Guardado brothers.
According to Hans Leclerc of RPM Harley-Davidson, their first snow bike took about 30 hours to build.  Obviously, the first time is more difficult and certainly longer to design and built, because you have to proceed by trial and error.
The Camso kit can easily be removed, so that the bike can return to its two-wheeled state for the summer. Hans also mentioned that if you want to convert your Harley into a snow bike, his team is up to the challenge!  You can also get a demo one in the store for about 20 000$.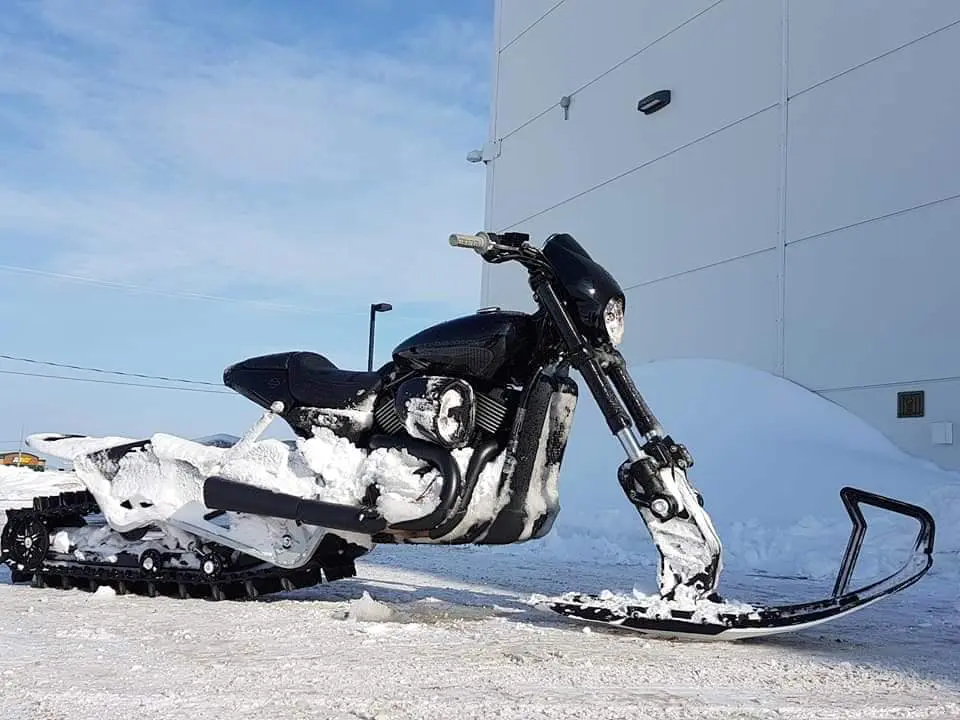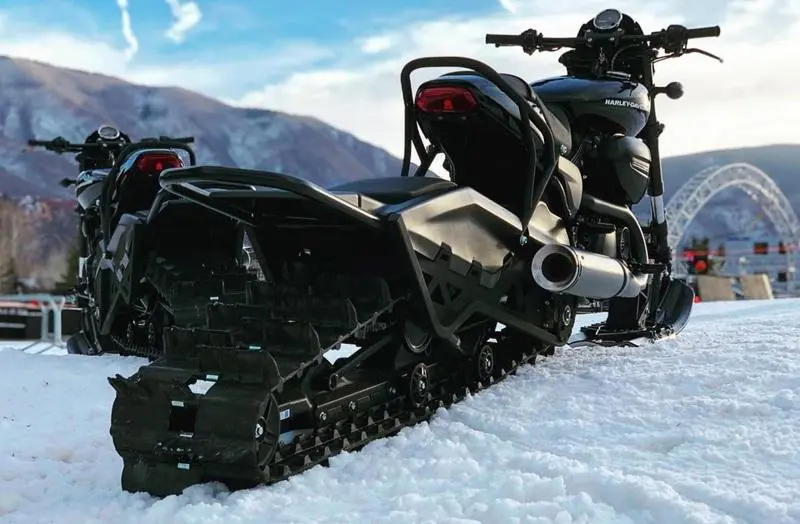 A Cool Machine, but not an Exclusive One!
It goes without saying that Harley-Davidson are not the only ones who can modify a motorcycle into a snow bike. Many other companies do it as well.  For entertainment at its best, check out the latest X-Games competition below.
How Much Does it Cost?
If you're looking for thrills, you can buy this type of motorcycle at different resale sites.  For a used motorcycle of this type, prices vary between $7,000 and $15,000.
To get the track kit to install it yourself on your motorcycle, you're looking at a price tag or about 3 000$ to 10 000$.
Important Note
No permanent modifications are required to convert your motorcycle. You can switch between dust and snow as you wish!
According to many experts in the field, the best kit to convert your motorcycle into a snow bike would be the Timbersled (now owned by Polaris).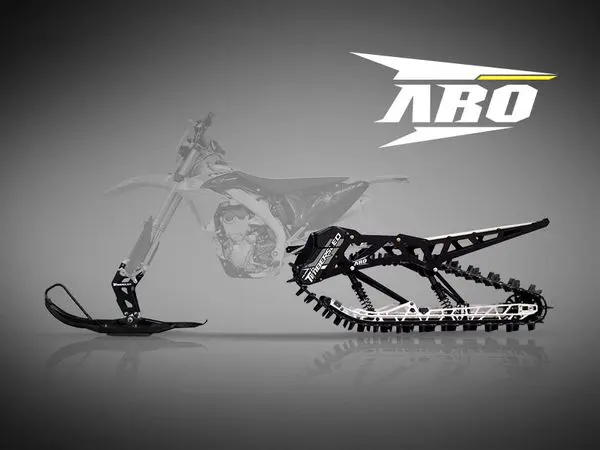 Be Careful: You Can't Ride Your Snow Bike Everywhere
Many snowmobile trails do not allow snow bikes, so check with your snowmobile club before you ride on their trails.
Trails are not the best places to ride these types of machines anyway. Snocross or supercross races on snow are ideal for adrenaline junkies, and are much better suited for snow bikes!
Keep in Mind
Be sure to ask your dealer whether the manufacturer's warranty is still valid after such a modification is made to your motorcycle, and don't forget to notify your insurance company!
Don't Miss Future Competitions!
Be sure to keep an eye on your Harley-Davidson dealership's Facebook page so that you don't miss any broadcasts of future Hill Climb competitions!