The best way to combine family and passion : include your children into your motorsports activities by choosing the best protections !
As an adventurous individual who spends a lot of time cruising the trails on the weekends, it is important for me to include my children in my activities. Not only to teach them how to have fun, but to be safe and respectful doing so to ensure that as they grow they know how to keep safe when travelling on an ATV/ UTV.
Now don't get me wrong, riding is a lot of fun – however we are the ones who set the examples for our children. Sure their little eyes see the dare devils and the mischievous riders on all of our favorite social media outlets, but we the adults are responsible for enforcing the rules for not only their safety but the safety of all riders we encounter along our adventures.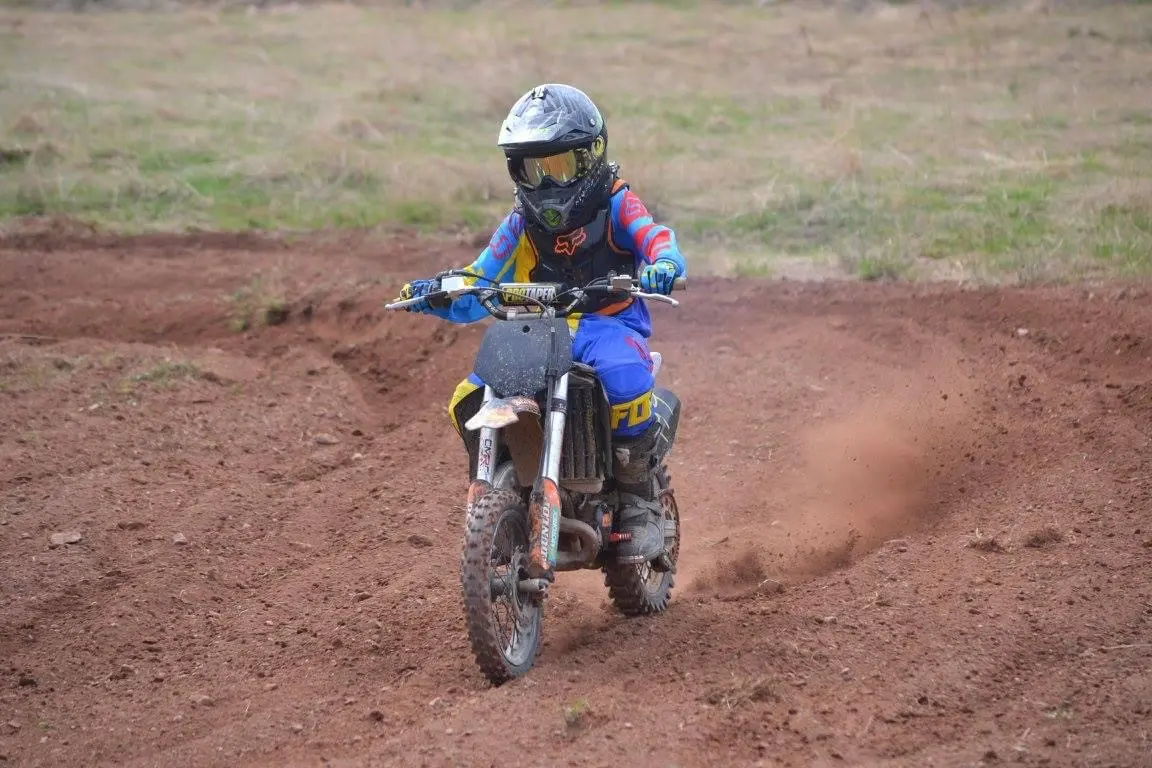 As a parent, it is my ultimate goal to keep my children safe while riding – whether it be an ATV, UTV or Dirt bike- safety will always be the number one goal. When it comes to safety, protective gear is going to be their new best friend. It is important to teach them from a young age that safety is first and that they are to wear specific, well fitted items of protective gear to ensure their safety – Wearing the right safety gear and clothing is essential to protecting riders from injury and outdoor elements while on the trail or track.
What should Parents consider for Protection?
Depending on what kind of riding your child is doing, the articles of clothing and protective gear is likely to change. If your child is into motocross and begins riding at a competitive level at a young age, then you will want to have your child protected from head to toe when it comes to gear. If you are taking a leisurely ride on a trail, or an open space in your area, you may not have to consider head to toe protection.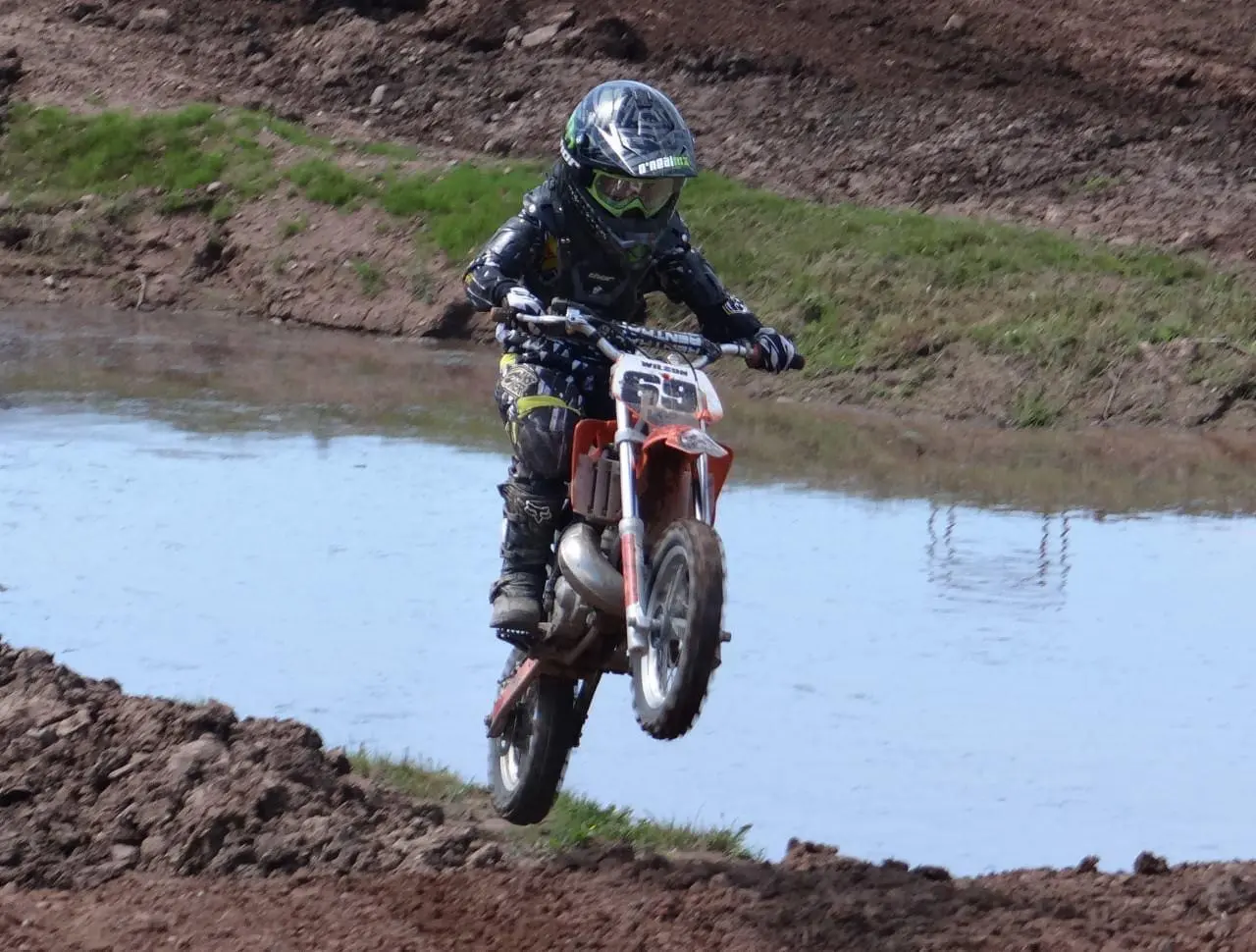 Head Protection
Every rider should wear a helmet on any type of ride, there is no exception to that- you have to expect the unexpected – even the most cautious and experienced riders have faced unexpected roll overs and accidents. The fit of the helmet is key, you do not want a helmet that is too tight or too loose on the Childs head. Finding the right helmet can be tough depending on the age of the child, so in best practice what I suggest is to have your child place the helmet on without the chin strap buckled and get them to shake their head back and forth – if it stays in place with little to no movement– it most likely is a great fit for the child.
When buying a helmet, cheaper isn't always the way to go. If you are going to invest in your Childs safety then please consider a good quality helmet. Children only have one head, so please protect it.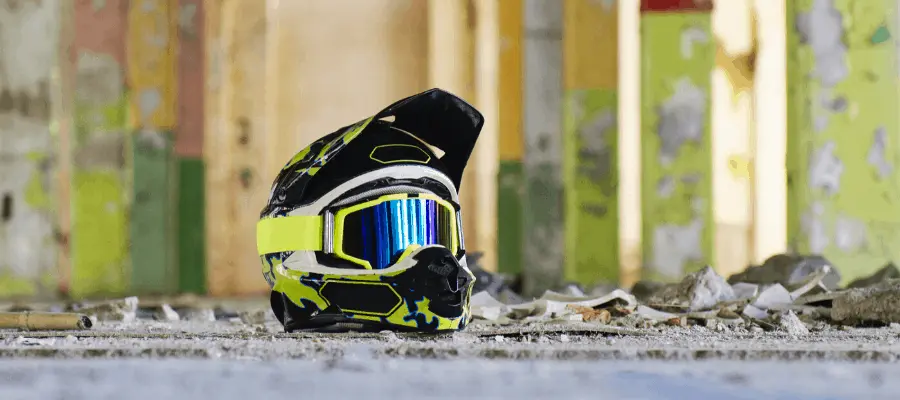 Eye Protection
Eye protection is another must have! You would not want dust, debris or flies hitting your eyes so please consider a good fitting pair of goggles for your little one. I have purchased fox and 100% goggles for my toddler and they are a great fit, adjustable and comfortable on his face. These protective items are inexpensive and are very important when it comes to avoiding irritation to the eye, to ensure a good fit make sure there is little to no skin exposed between the helmet and the goggles frame – If the helmet does not allow your goggles to sit on your face, you will need to consider a smaller pair of goggles.
Neck Protection
Another suggested piece of protective gear is a neck brace – most people think that a neck brace is only useful for those on the competitive side of power sports, however they provide much needed support to keep your smaller childs head from bouncing all over the place and also prevents straining of their necks as they are not as strong as ours. These are a must have for the smaller riders that we take along with us.
Chest Protection
If your Child is into Motocross and Sport riding, a Chest protector is a must have! These are also inexpensive and there are many brands to choose from. When track riding it is a requirement to have this piece of protective equipment.
Elbow pads/ Knee Pads
With motocross, it is almost a guarantee that your child may not always stay on the bike. There have been lots of times at the Motocross track that we have seen our children miss a turn, or take a turn too sharp and Bam they are on the ground. Elbow pads and knee pads do not have to be an expensive article of protective gear, however you want something that will fit the elbow and the knee correctly. When trying these on your child, you do not want a super tight fit nor do you want a fit that will slide up and down. Luckily a lot of these pads are adjustable with Velcro and give you the option to adjust them.
If you have an older child who is a competitive motocross rider, a lot of parents will have knee braces professionally made to fit their child.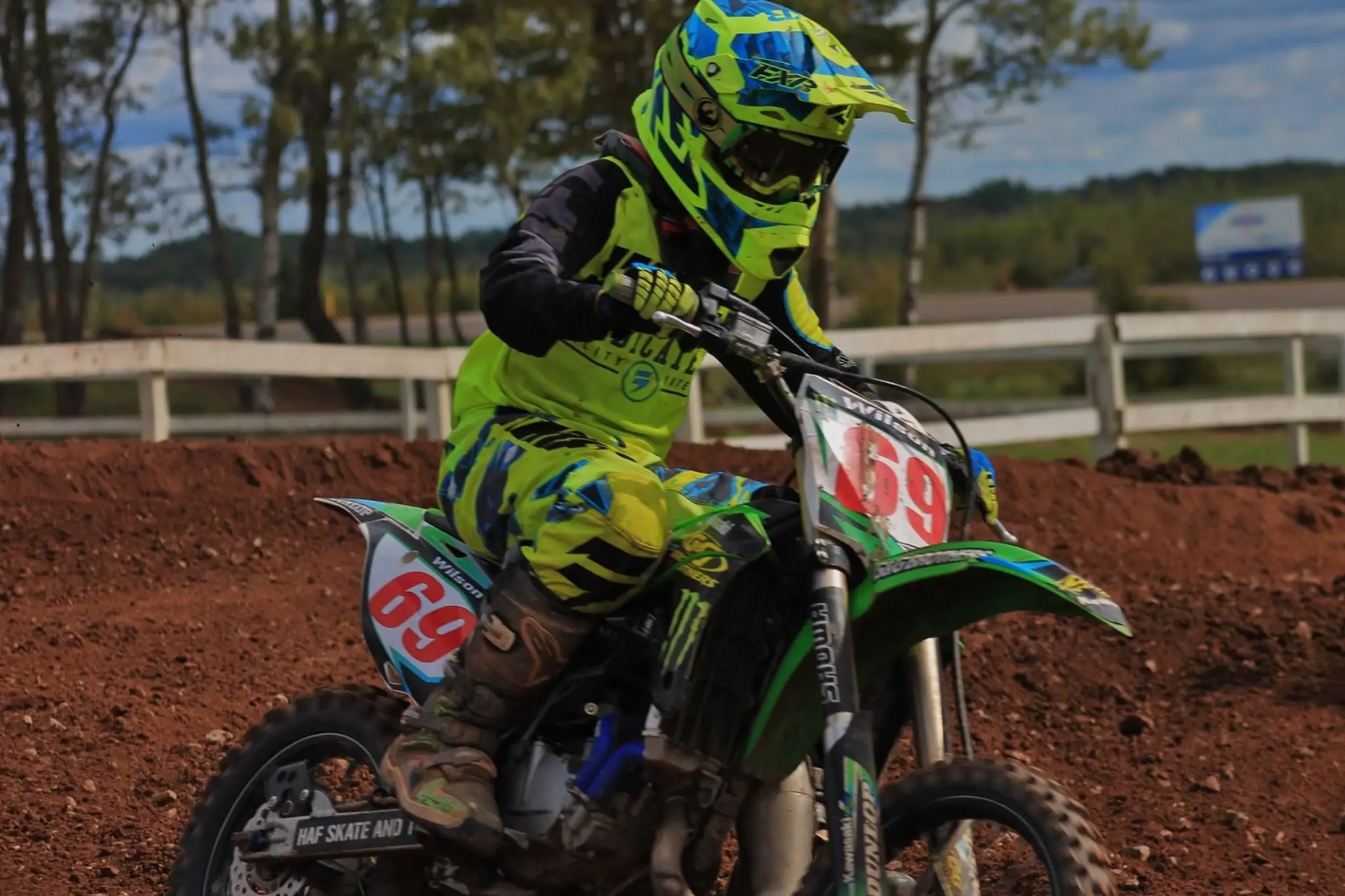 Motocross Boots
Foot protection is another must have while riding, and I do not recommend to go cheap when purchasing a boot for your child. The more expensive motocross boots flex much better when shifting, and the rider is able to feel the gear shift lever much easier. Boots provide ankle support, and protection that extends from the very tip toe of your foot all the way to the shin. Not only are these boots for motocross riders, but every day ATV/ UTV riders as well.
I know the bigger brands tend to be more expensive, and our children's feet tend to grow at an unreal rate – so another option would be to look around to see what is on the market for good used condition children's motocross boots. I know firsthand that one pair of motocross boots last maybe one year with our motocross rider, and he is in need of a bigger size the next summer of racing.
Gloves
Kids fall off their rides all the time! To prevent cuts and scratches, a pair of gloves will come in handy to prevent these minor injuries. Not only do kids wear them for protection, but they also provide a good grip to their machines. Most kids enjoy wearing the gloves for protection as they come in various colors and they complete the "look" as the teens say!
When purchasing gloves, do not size up so that your child will "grow into them" this may cause more harm than good as their hands tend to slide if the gloves are not a snug fit.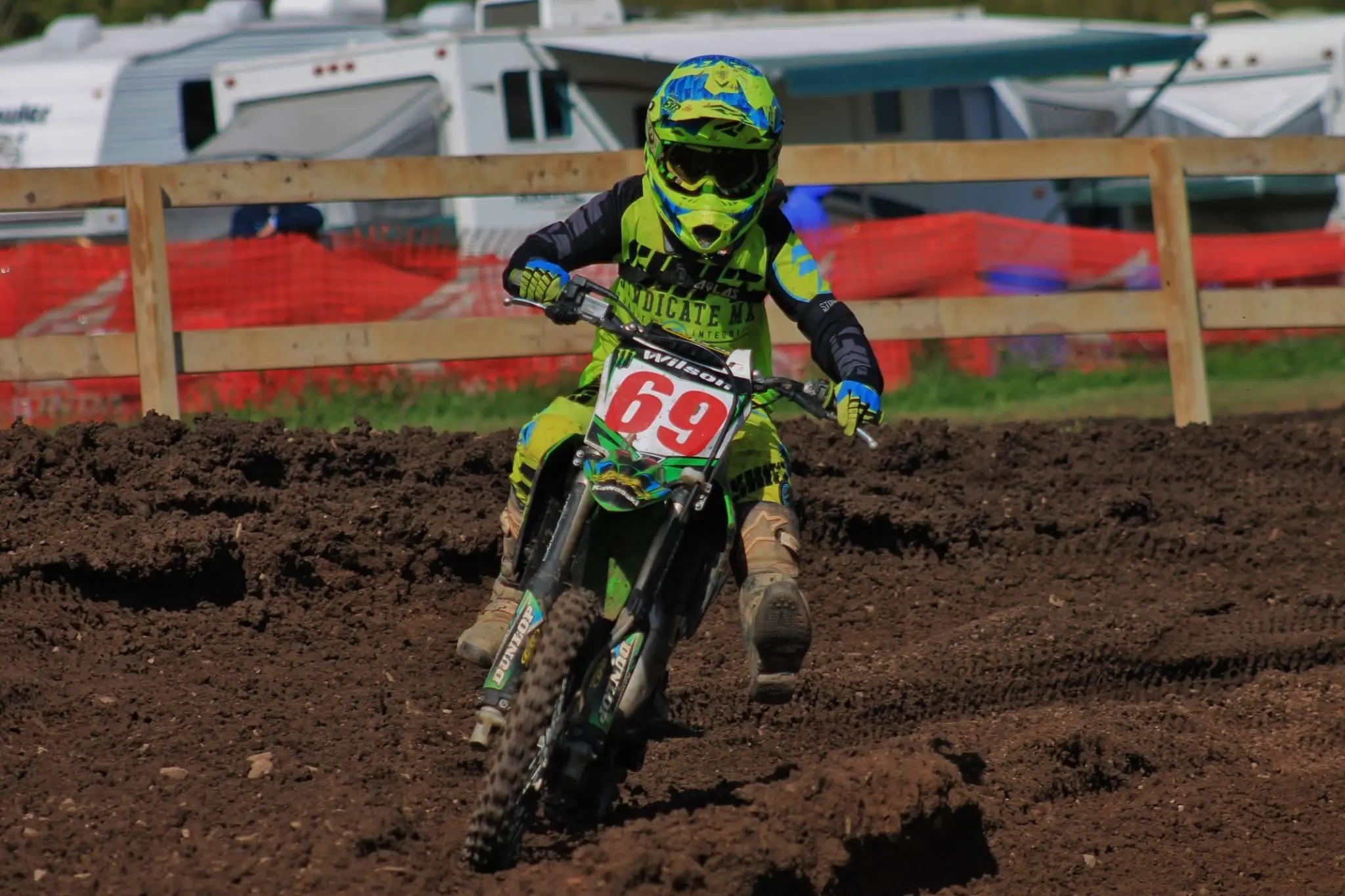 Jersey and Pants
It depends on if your child is into riding a track for motocross, or just putting miles on an ATV in the field in your back yard when it comes to jerseys and pants for child. I am not saying that it is a must have, however I believe that wearing a long shirt and full pants when riding serves a great deal of protection if your child was to upset or if their legs are close to the engine it will prevent potential burns.
For motocross riders, it is a requirement to have a jersey and pants however if you are not competing you may not need to invest in this gear but please ensure your child has a longer pant and shirt on while riding- if they were to upset it will help with cuts and scratches and they will thank you for being a stickler!
Jerseys provide airflow in all the right places, are inexpensive and look nice! Pants provide protection with extra padding in the hip and tailbone area, and also vent in all the right places as well. When investing in jerseys and pants I would suggest sizing up as your child will need to place their protective equipment such as neck & chest protection, and knee and elbow pads under the articles of clothing.
Get your kids excited about protective gear!
As a parent, I know it is hard to get a child to cooperate with us sometimes, however I know that if you make it exciting and fun – they are more apt to comply with your rules and wear the protective gear. It's all about looking cool to the kids ! If their gear matches their helmets and goggles this will be a parenting " win"– so when shopping for protective equipment – involve your child – let them choose the color scheme and make it fun!