Passionate - and a master - of his craft
Being a Chicks and Machines Contributor means having the chance to meet different people over time and through our articles. Of all the people I have met, none was as passionate as the man I am introducing to you today. Meet Pierre Tardif, the only Quebecer living entirely from his ancestral profession: hand letterer.
Since 1988…
Now with more than thirty years of experience, Pierre initially opened his workshop at the age of 18, but he had already been painting for his own personal pleasure for several years. He developed his passion on his own, practicing on his little soapboxes. As a youngster, he enjoyed recreating on his own car the lettering he had seen on the race cars at the Val-Bélair racetrack. His love of painting comes from stock cars!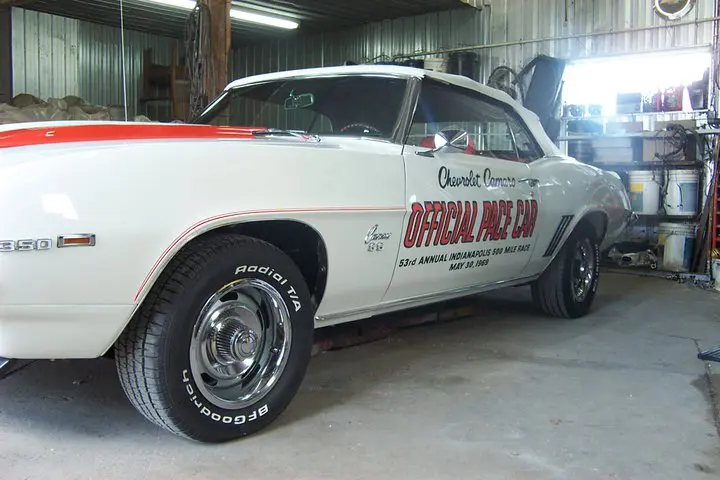 To this day, he still works from his workshop, but he also regularly travels to his clients' homes to complete the projects that require him to be on-site. He drives all over the place, sometimes even up to 5 hours away from his home. This is one of the parts of his job that he loves the most: it's a change of scenery and and keeps the routine at bay!
In addition to enjoying the road, the business side of things really suits him. Being self-employed gives him a significant level of autonomy, especially for an artist. All these things make him love his job, but his favorite part is still the smell of the paint and the pleasure of feeling the brush in his hand.
Vehicles instead of canvases
Why is he so passionate about hand lettering on vehicles? First of all, it brings him a wide variety of projects, since our lettering friend touches all kinds of cars: motorcycles, trucks, hot rods, antique cars… so bring on the projects! But also, he likes vehicles since they don't require much preparation. The surfaces are mostly already smooth and beautiful, which makes them ready to paint without much manipulation beforehand.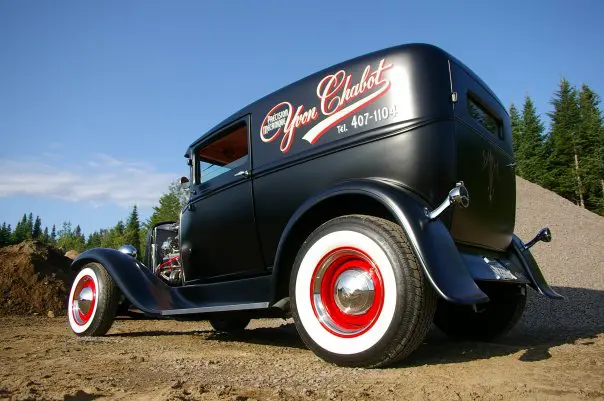 Recently, Pierre created a Facebook page dedicated to his lettering and pinstriping projects on trucks. Truckers have been a big part of his clientele for a few years now. The artist particularly appreciates them, since the majority are, like him, great enthusiasts.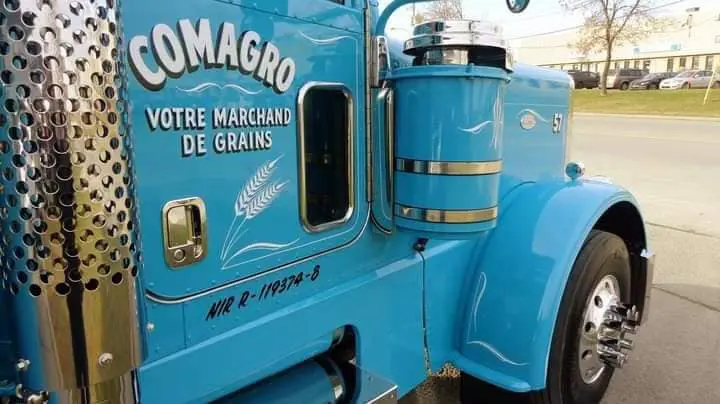 What makes him a master of his trade is certainly the fact that he is the only one in Quebec to work entirely by hand. Digitally drawing strips for a heavy truck and then installing them can represent about an hour or two of work. Doing it all by hand can take up to 15 hours! It takes at least four different cleanings to make sure the paint sticks. It's a lot more work, but the result is well worth it! The old school style it brings is unmatched.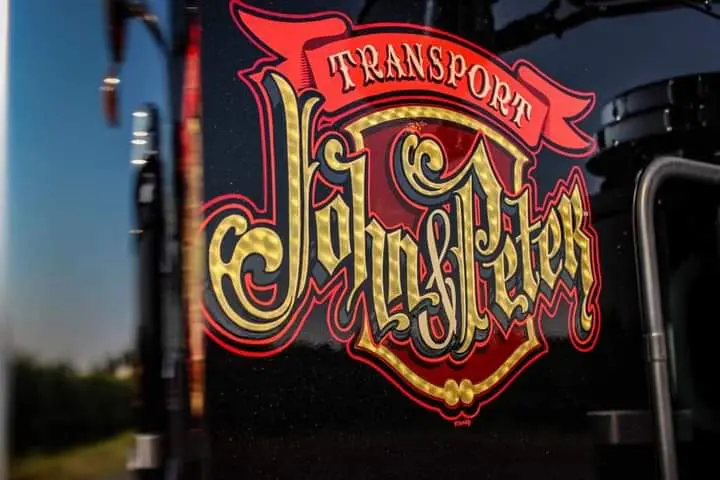 No plan is a good plan!
Mr. Tardif has a very singular way of working: he has no precise plan or sketch that he follows. In short, he works freehand! The client is warned from the start that they will not have a clear idea of the result of the work until it is finished. Not reliable, you say? On the contrary! This is where we see all of Pierre's talent shine bright (and this is also where his excellent reputation makes his job easier). The client gives the instructions pertaining to colours, style, and sometimes photos that they particularly like, and it is on this information that the Pierre relies to realize the project.
He has a knack for finding exactly the right combination of colors and patterns to make it look good. That's real talent!
Don't worry: the first draft is not always the right one. If you don't like it, he cleans it up and starts over until you are completely satisfied. However, he doesn't have to start over very often. The phrase he hears most often from his clients is: "I never imagined it like this, but it's really beautiful! "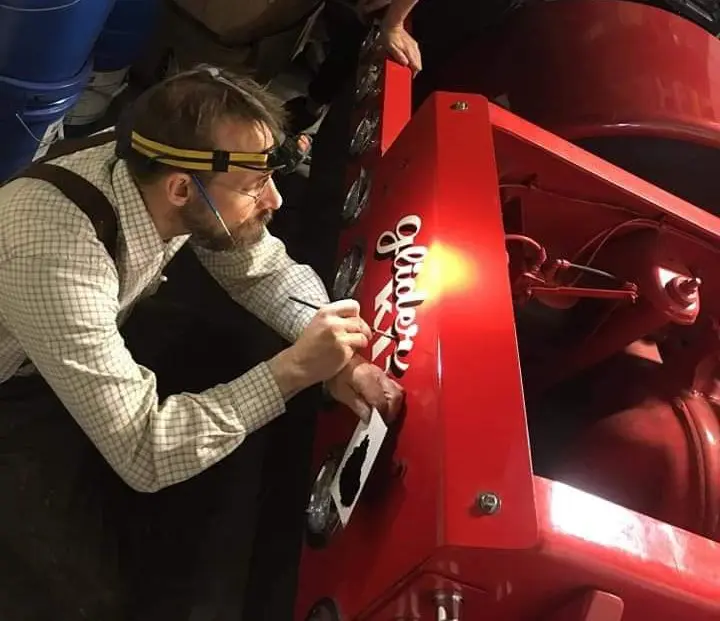 Large-scale projects
Vehicles are not his only work surface. When asked about the biggest project he has worked on, Pierre immediately mentions Saint-Jean-sur-Richelieu and the fire chief of that municipality. The fire chief asked Pierre to restore a steam fire pump dating back to 1876, so that it could be put on display. He reproduced the original gold leaf decorations that were on the pump: an undertaking that took him no less than 250 hours! These gold leaves (yes, they are real 23 carat gold!) represent a lot of work, but the result is incredible, no matter the surface they're placed on.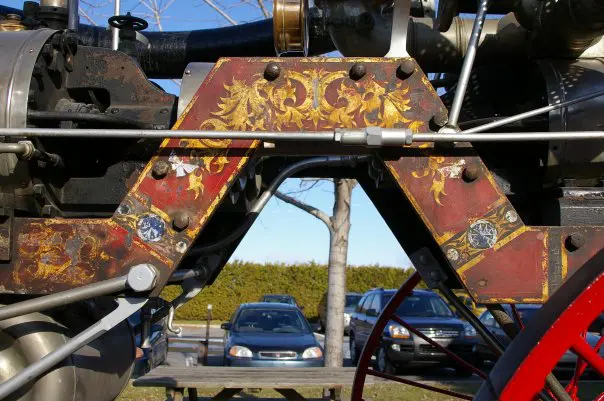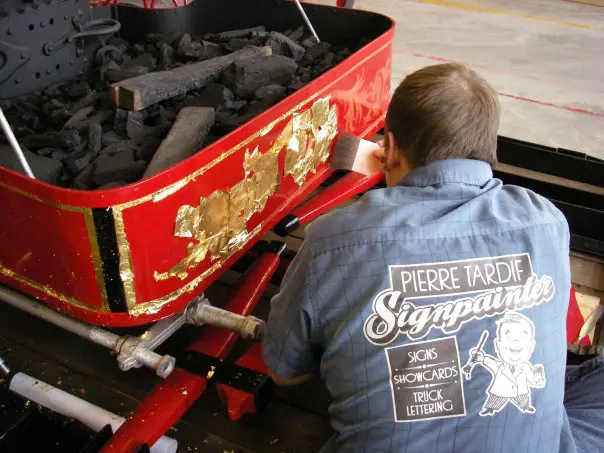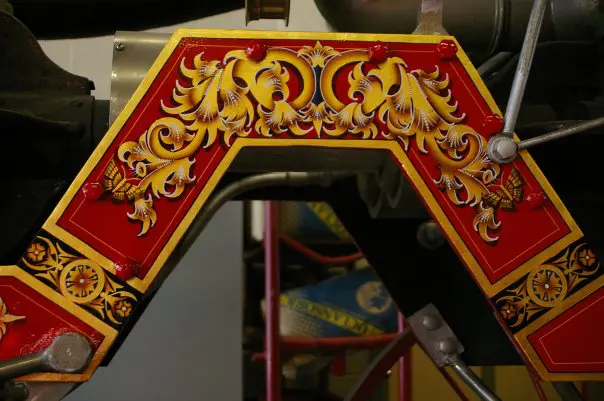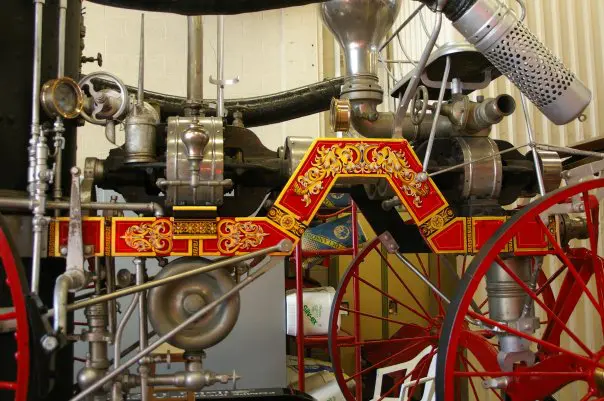 Other large projects of his include the mural of the general store in Deschambault-Grondines, and the sundial on the wall of the Ursuline Monastery in Trois-Rivières, which dates back to the 1860s. He has also painted for films and TV recordings, has made banners and window displays, among many other projects that are all unique but too numerous to mention in detail.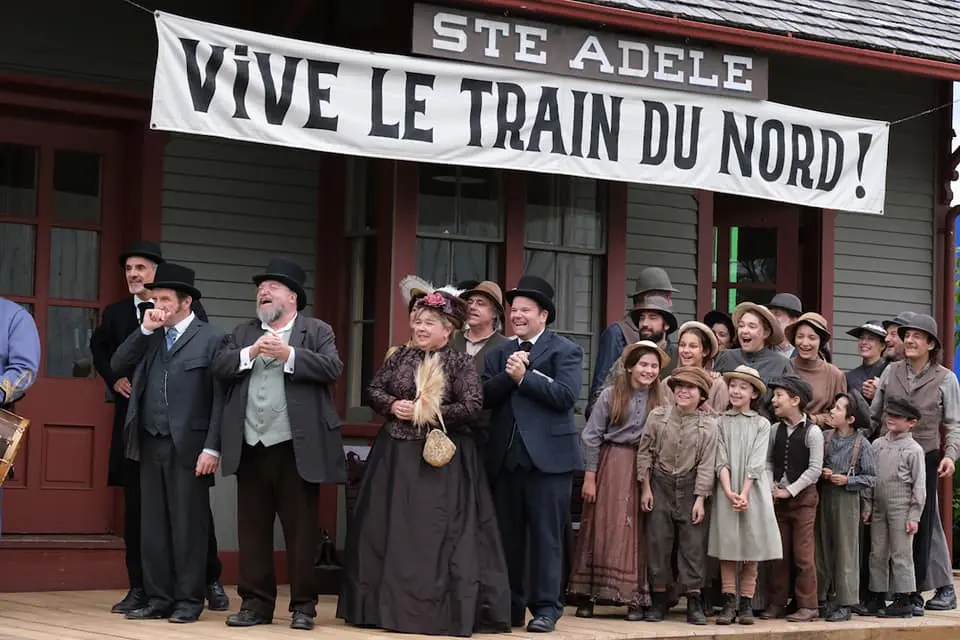 What if I want to be a hand letterer, too?
Pierre never took any formal training to become a letterer. He did start an adult course in advertising design (graphic art) in 1987, after finishing high school, but he never finished it. Funny story: he missed the module on hand lettering with a brush! It was the arrival of computers and technology in the program that made him quit. So he learned on his own, through experience, by practicing and visiting lettering events around the world. These events, called Letterheads, gather the most passionate people of this art.
There are also workshops that enable participants to learn a little more. Pierre has given a few of these, notably in Italy, France, England and the United States. He also offers a lettering "course" in the form of three DVDs, in which he talks about the three main styles one needs to know to be a letterer, the material, basic techniques, and other complements. The DVDs are available in English only, and you can contact Pierre on his page to get them.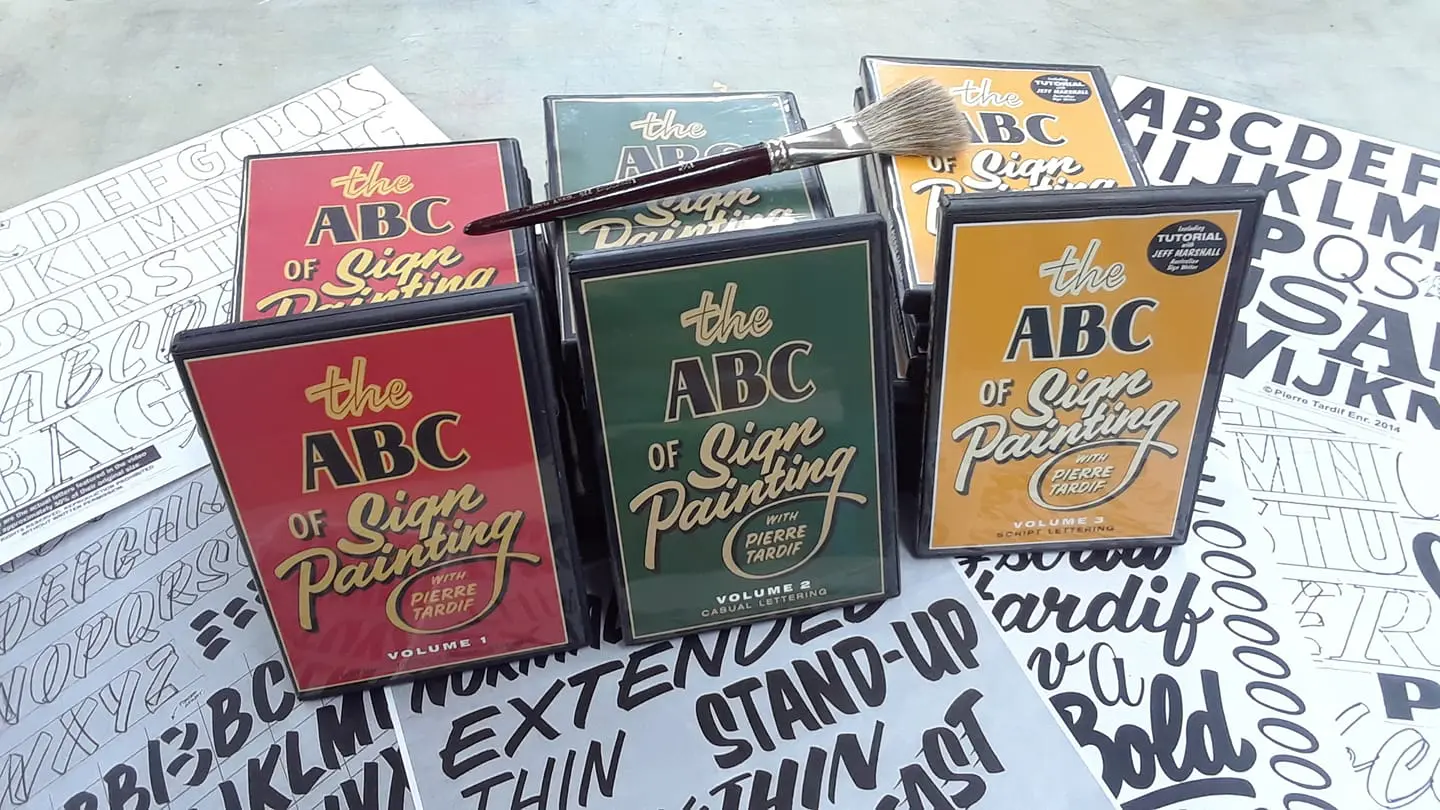 Patience, pratique, passion
In the end, according to Pierre:
Any monkey can do lettering, but if you really want to break into the business, it takes a lot of PATIENCE, years of PRACTICE and most of all, PASSION.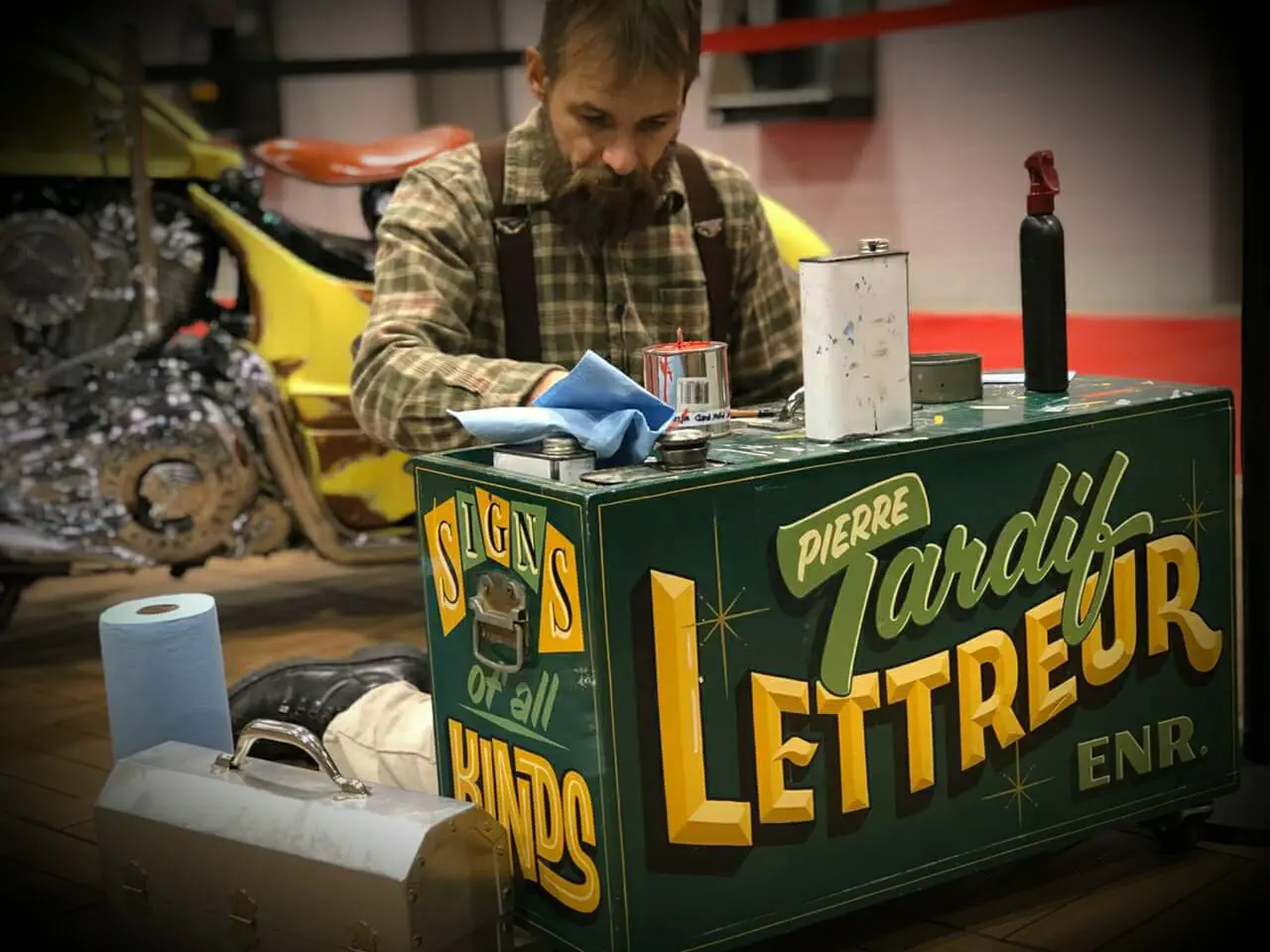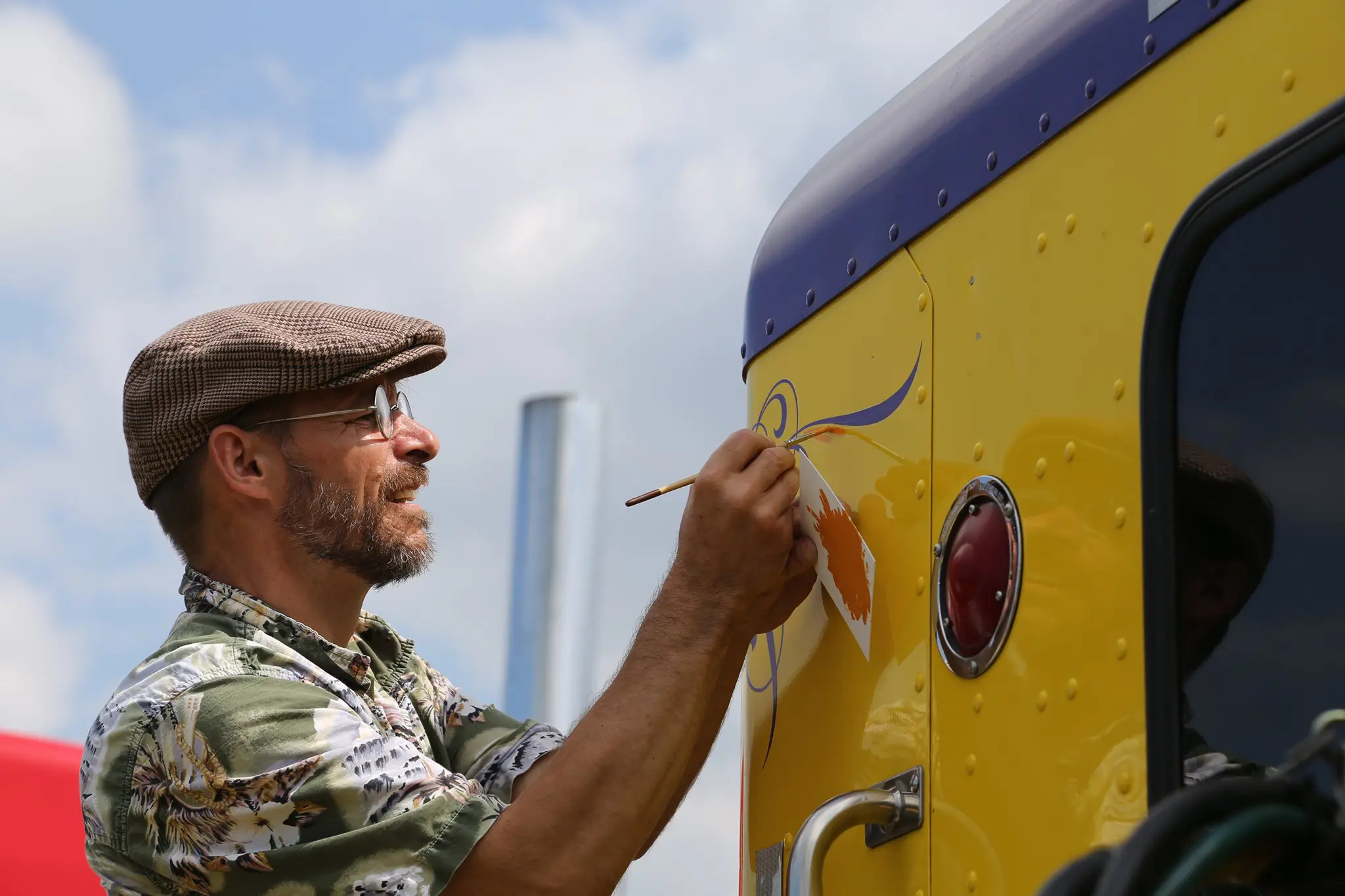 I think this sentence represents well this profession, which is little known yet so interesting!
Pierre Tardif is a fascinating man who is deeply passionate about his craft and his art. He's an accomplished artist who speaks of his work with incredible enthusiasm and love. He has a style all his own, very old school and charming. I hope that learning a little about him has given you some insight into the craft of hand lettering, and into the man behind the art.
Thanks again to you, Pierre, for allowing me to write about you. Good luck in your projects, and have fun!
What about you, dear reader? Tell us what you thought about this article. Did you know the profession of letterer?