I want an off-road motorcycle, but which one to choose?
It's your most burning desire! 🔥 You want to buy your first off-road motorcycle or you want to change the one you already own.
How can you make the right choice among all the models available? Buying an off-road motorcycle is a significant investment and most of all, a little affordable luxury that we gift to ourselves. The options are countless: it's easy to get lost and to be scared to make the wrong purchase.
The current context is particular, which makes the availability of these motorcycles more and more complex.
It certainly is not helping for anyone who wants to get started in this sport and choose a motorcycle, and we most certainly don't want to regret it.
In this article, I will show you the features to take into account, the points to compare and I'll give you advice to make a choice. Moreover, in order to make your life easier, I made you a comprehensive list of all 2022 models according to their category and for every manufacturer.
Here is a list of manufacturer: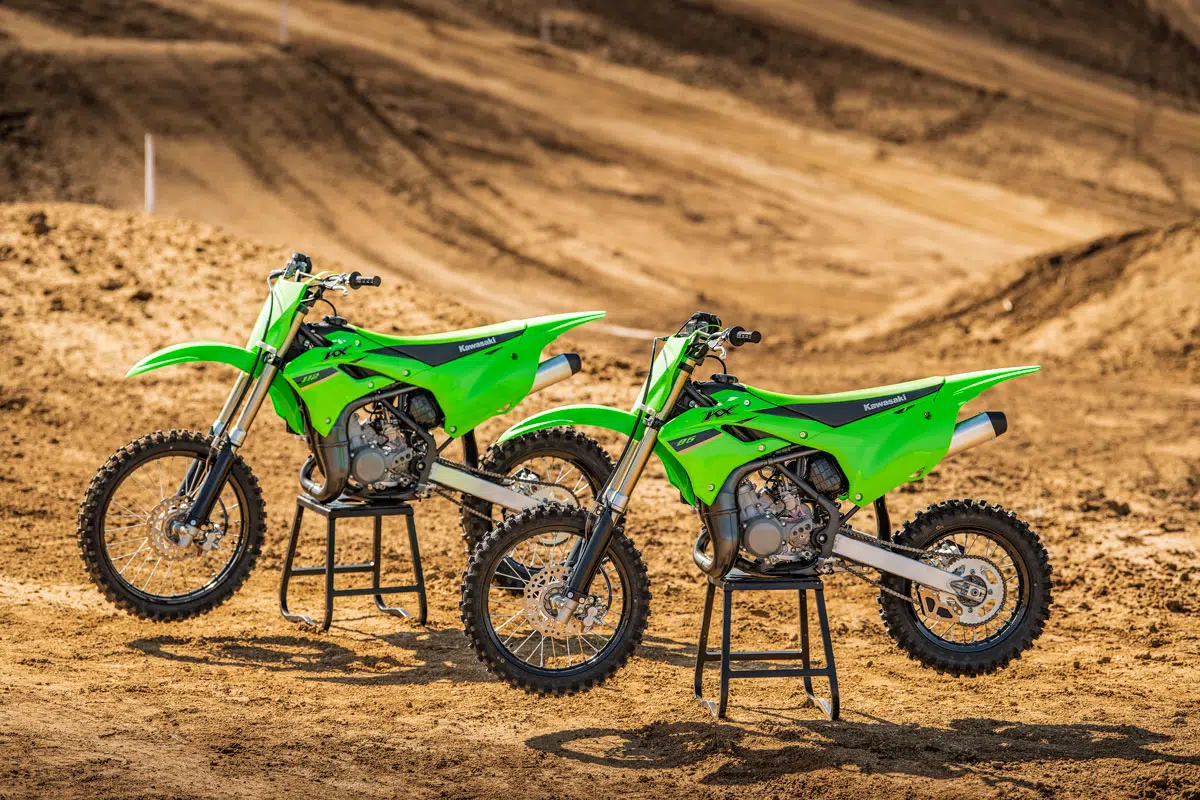 Where to start?
First of all, the first question to ask yourself to choose the right motorcycle model that fits you best is to identify what you want to do with it, in what conditions and for what use.
There are three main families of off-road motorcycles
• Motocross: focused on performance, these motorcycles are mainly made to drive in the upper rpm registers and to jump on circuits.
• Cross-country (enduro): these motorcycles are usually made to drive a little bit slower; they are less responsive and more appropriate for hikes or trail competition.
• Dual use: heavier, more impressive, this type of motorcycle allows you to go both on the road and on trails (requires a class 6 licence).
However, some motorcycles are more polyvalent and have properties that are the same for motocross and enduro. Your choice should be made based on a model that will fit the main activity for which you will use your motorcycle.
Be careful, the size is not the most important…
Most of the people who seem to hesitate when choosing mainly consider the height of the seat of the motorcycles rather than their physical height. Of course, your height is an important factor that you need to take into account to choose the motorcycle that will fit you, but other important points are to be considered.
Off-road models can be divided into three height categories:
Junior: small motorcycles suitable for children and preteens.
Intermediate: a medium motorcycle generally suitable for apprentices, teens and shorter women.
Standard: large-format motorcycles used by the majority of adults.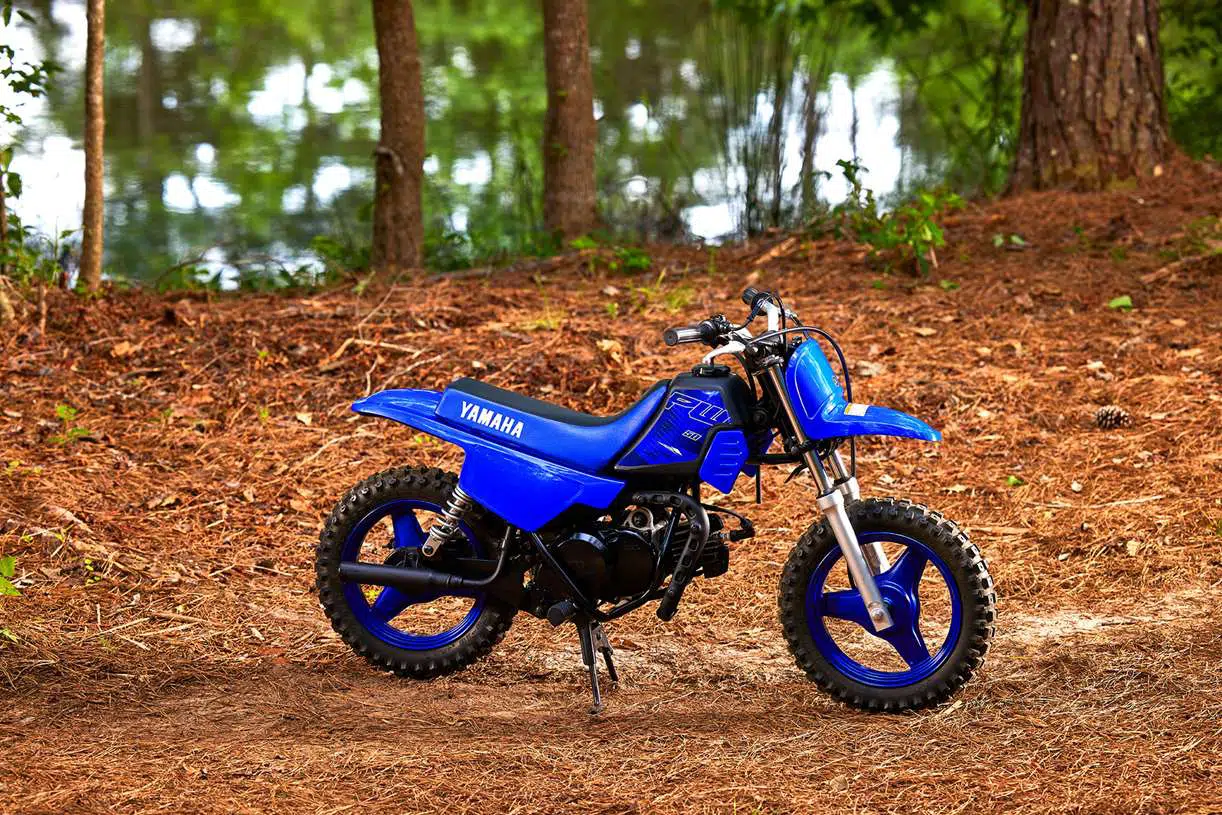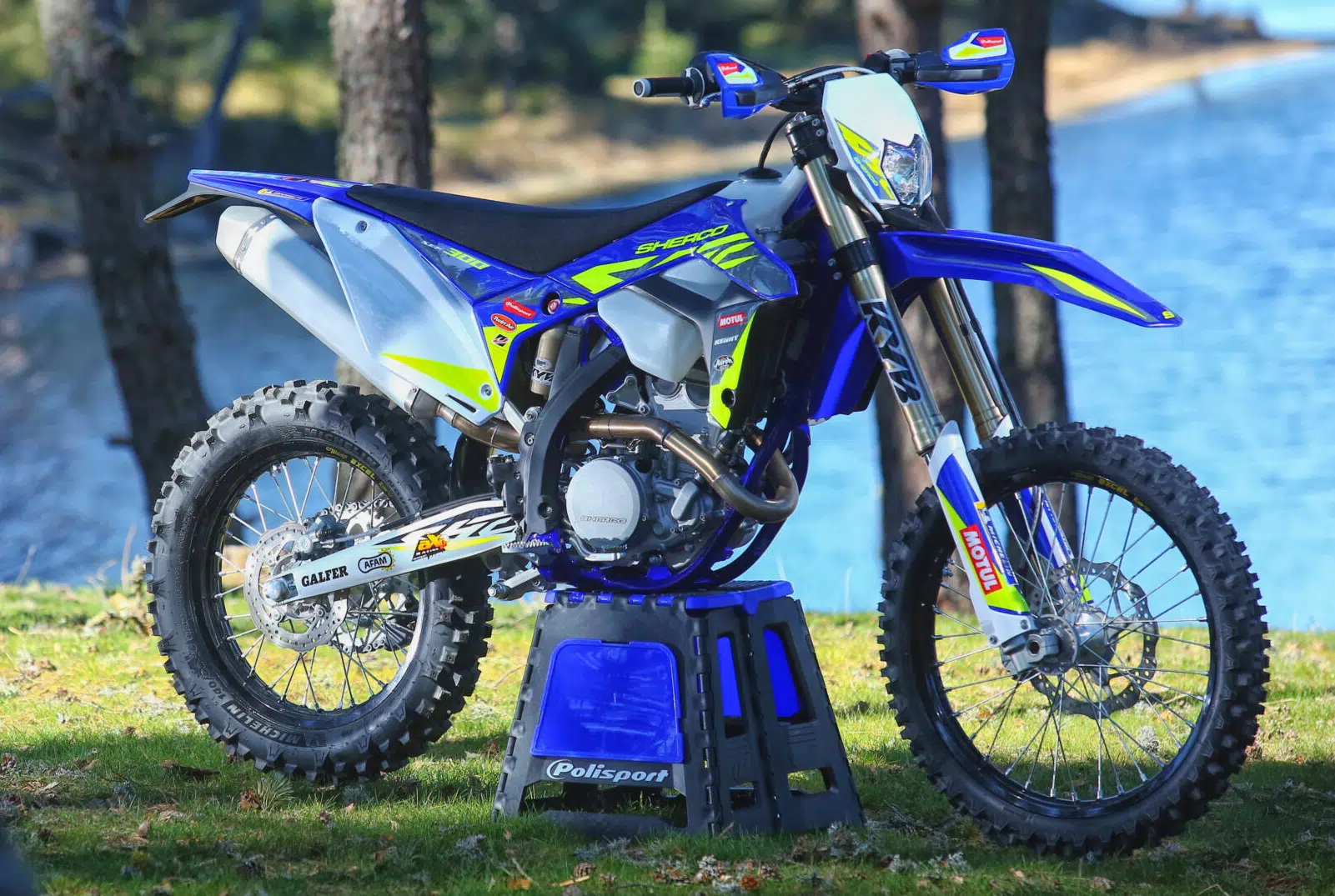 Common misconception…
Off-road motorcycles are way lighter than road motorcycles. The need to stop is way less frequent than on the road; it is then wrong to believe that you absolutely need to touch the ground with both feet.
Depending on your height, sometimes, the perfectly sized motorcycle may not exist for you, and you might be in an in between situation (either the motorcycle is too small or too big). I can understand that you feel safer on a smaller motorcycle, and thus, have the feeling to be more in control.
But let's be rational and let's think on a merely physical point of view. The bigger the motorcycle's wheels are, the more stability and comfort they offer you to drive over obstacles, holes, roots and bumps… In other words, big wheels – and thus a big motorcycle – make the job easier for off-road: you'll have more traction, especially in the sand.
A mouse would have more stability balancing on a beach ball compared to an elephant, right?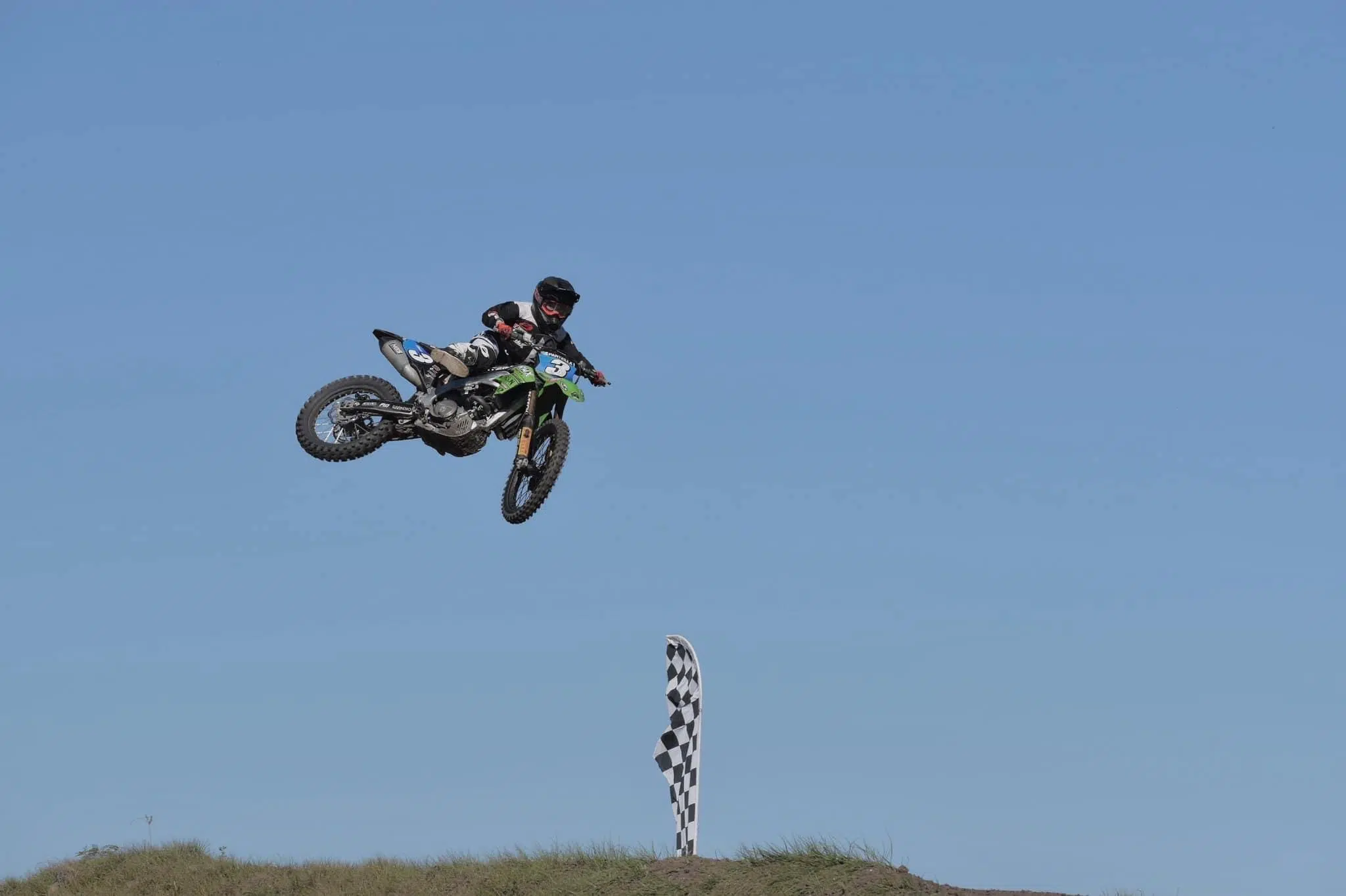 The famous debate: 2-stroke versus 4-stroke
Once you've determined your needs, most of the time, you'll have to face the debate between 2-stroke and 4-stroke engines. I will try to explain this. Let's first see what the characteristics of these two types of engines are.
ADHD behaviour
2-stroke engine
It definitely is an ADHD motorcycle: with its hyperactive behaviour on the ground, it is fast and must not remain still. Spry and quick, the main characteristic of a motorcycle fitted with a 2-stroke engine is its lightness.
Indeed, we're talking here about around 30 pounds of difference, compared to a similar powered 4-stroke motorcycle of the same size. The weight different is obviously different depending on the height categories of motorcycles.
The 2-stroke motorcycle shows a more responsive behaviour. You need to keep a higher speed to gain speed and performance. Well, let me reassure you: the 2-stroke motorcycle is still suitable for drivers who don't want to go crazy on turns.
If you talk about competitiveness, the driver needs to be aggressive and active on the engine throttle as much as on the clutch. You can't expect a quick start with a 2-stroke motorcycle, it is unforgiving. You always need to keep a fluid movement on the right gear to be efficient and fast on a 2-stroke motorcycle. It can quickly become lazy if you're not on the right gear: you thus need to focus your energy on your left foot.
It is obviously possible to modify this type of motorcycle to calm it down and to make it more accessible, softer and more linear. Some easy modifications can soften the power and the edginess of the engine, which will allow a better traction and a more progressive acceleration.
For example, changing the number of teeth on the front and/or back cog or adding weight to the flywheel. Also, some manufacturers offer models that are enduro, which clutch ratio allows for more torque, freedom, and to maintain the engine on slower speeds.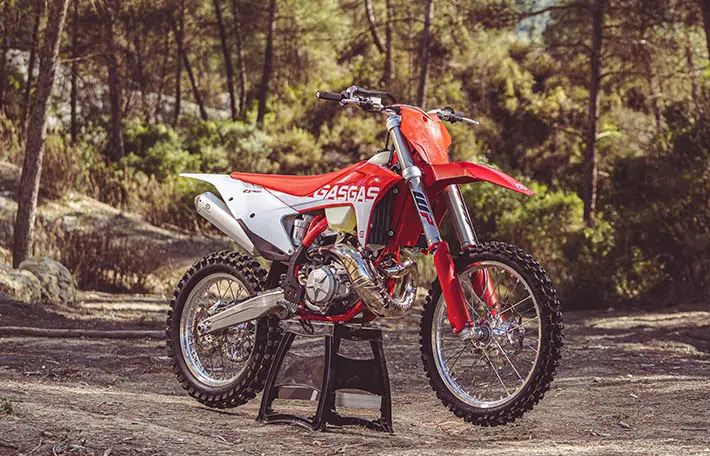 Simple mechanism, but be careful…
A 2-stroke motorcycle is fitted with a way simpler mechanism that is easy to repair. The engine reparation costs are significantly less expensive than the ones for a 4-stroke engine. However, it requires a closer and more vigilant maintenance.
Just to give you an idea: to repair a 2-stroke engine, it could cost around 500 and $800, compared to over $2,000 for a 4-stroke engine. The simplicity of the 2-stroke engine makes it easy and quick to repair; it does not have many pieces to replace. However, it is a more fragile mechanism which wears out quicker.
Vigilance goes with 2-stroke… why?
The majority of 2-stroke models still have carburetor technology, and require a mix of gas and oil.
Let's take this opportunity to debunk some myths and explain some important particularities to understand and know better this technology.
The basic principle is simple: the colder it is, the more oil your engine needs not to be damaged. A common misconception is that in this situation, the solution is to add more oil in the gas. Don't be fooled: the gas-oil mix should always be as indicated in the instruction manual of your motorcycle, most of the time 32:1 or 40:1.
Actually, it is the carburetor jets (jetting) that you need to worry about and to adjust according to the temperature. It can seem complicated, but once you have the right information, it is rather easy to adjust and modify. Once again, everything is written in the instruction manual.
Take the time to read about it and to make the right modifications to your carburetor before driving in cold weather: a 2-stroke engine with not enough gas/oil won't last long. Note that some manufacturers start to offer models equipped with an injunction technology on 2-stroke engines.
Even if it is recent, this system needs to gain more reliability and efficiency. For now, many people find difficulties with their TPI (Transfer Port Injection) frame.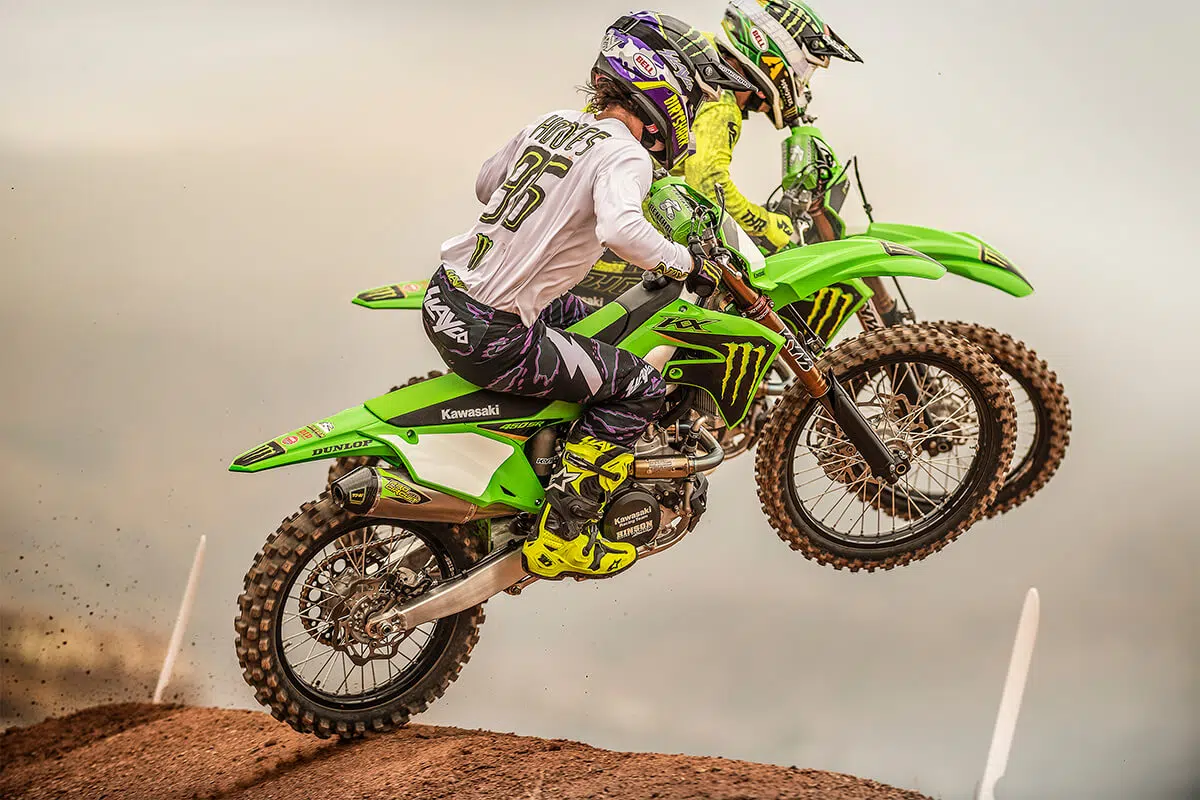 Robust tractor
4-stroke engine
Let's say it definitely is a strong guy, with a more than progressive behavior focused on traction. Powerful and hardworking, the main characteristic of a motorcycle equipped with a 4-stroke engine is its ease of use. No matter your skill level, you put gas in it, you turn the handlebar and you have fun under all circumstances.
Heavier, its mechanism, however, is much more complex than the 2-stroke and is thus considerably more expensive to repair. Today's models are fitted with an injunction technology, making them more reliable and easier to maintain.
The principle of a 4-stroke engine is different, especially the fact that the oil is directly and solely located in the motor base with the clutch (transmission), and it is the injunction system that calculates the amount of gas to send to the engine.
Thus, a 4-stroke motorcycle will not lack gas and oil despite the contingencies of mother nature, contrary to the carburetor system of 2-stroke engines.
Two types of 4-stroke engines
Let's arrange the 4-stroke engines into 2 types.
 4-stroke power engine focused on front-wheel drive, which is better for competition and motocross tracks.
More linear and sustainable engine, designed to maintain smooth engine running, for example on paths. This type of engine offers a softer and calmer drive and is not focused on performance.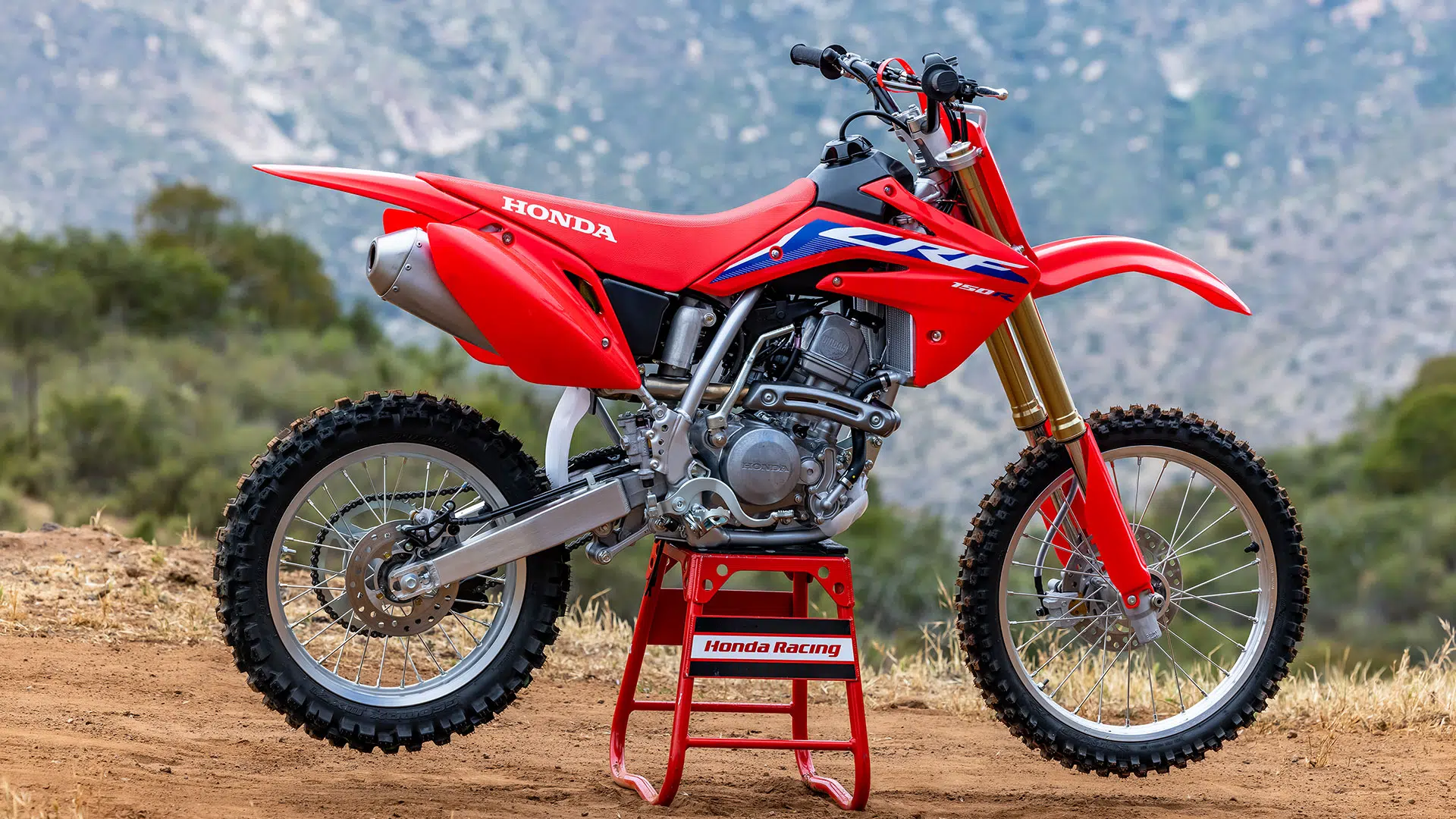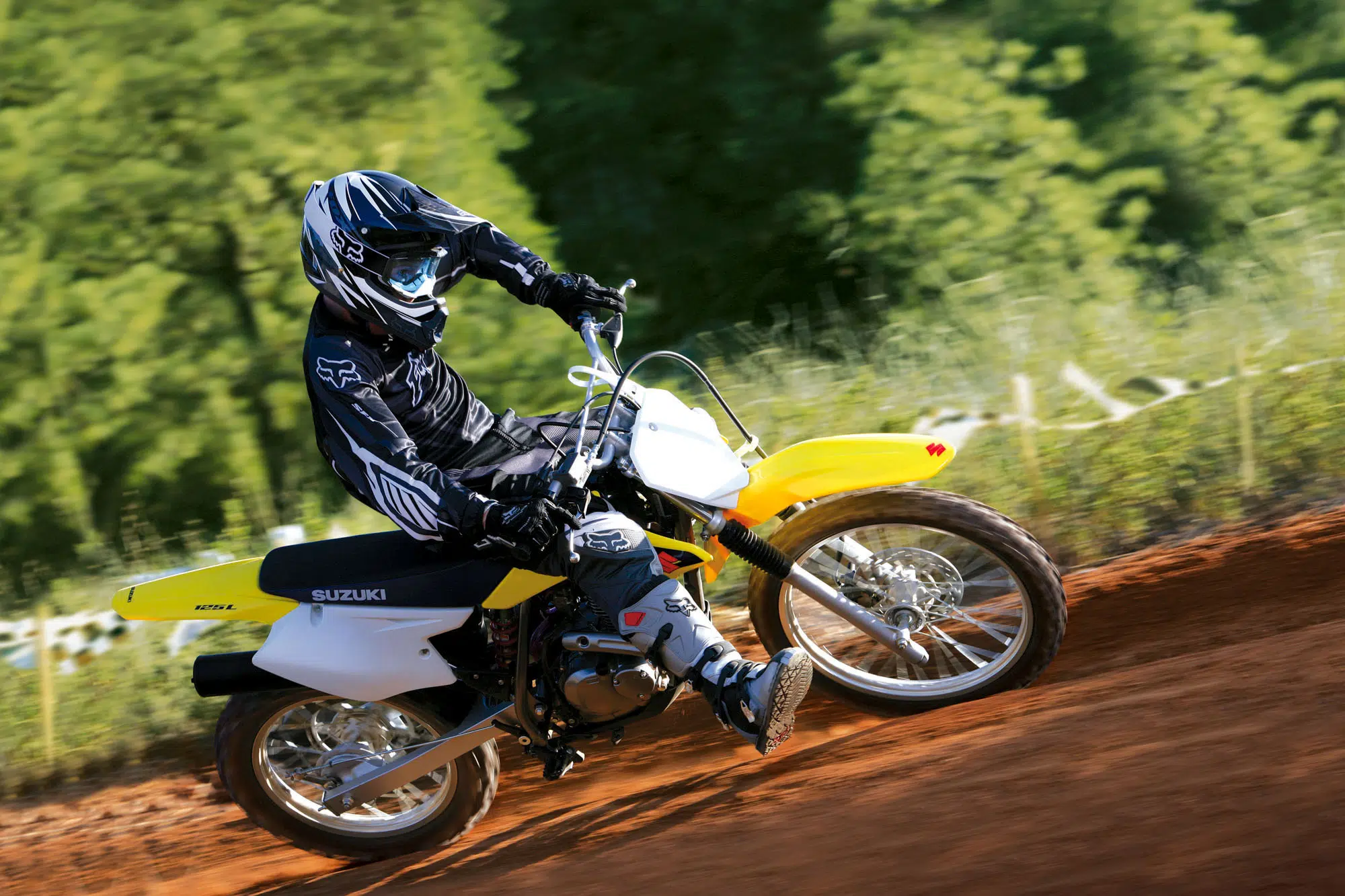 The beginning of electric motorcycles
Whether you want it or not, even if you love the roaring of engines and the smell of gasoline, the future of off-road motorcycles is electric.
The noise definitely is a harmful element to our sport, it's hard to keep our trails open and to find places where we can ride. Manufacturers are well aware of the need to transition towards electric, and they all work accordingly. We can already see some electric off-road motorcycles, but the battery life needs to be improved, as well as the weight of the motorcycle.
Now, only KTM offer a full-size model, the Freeride E-XC Enduro. Soon, the Stark Varg will be launched in Québec: the model seems promising, interesting and powerful. So, keep an eye out…
There are also companies that offer motorcycles for children, such as Honda, GasGas, KTM and Husqvarna.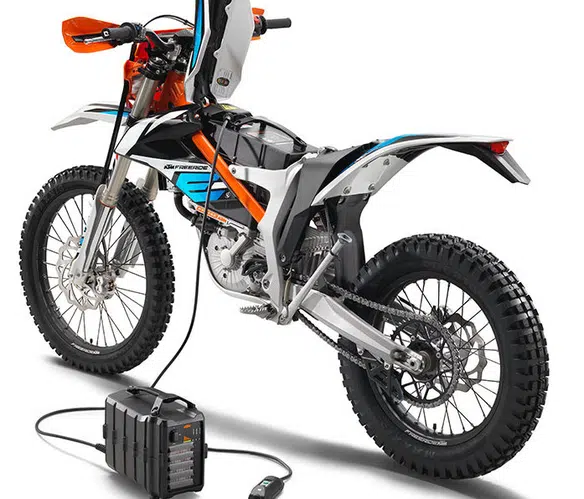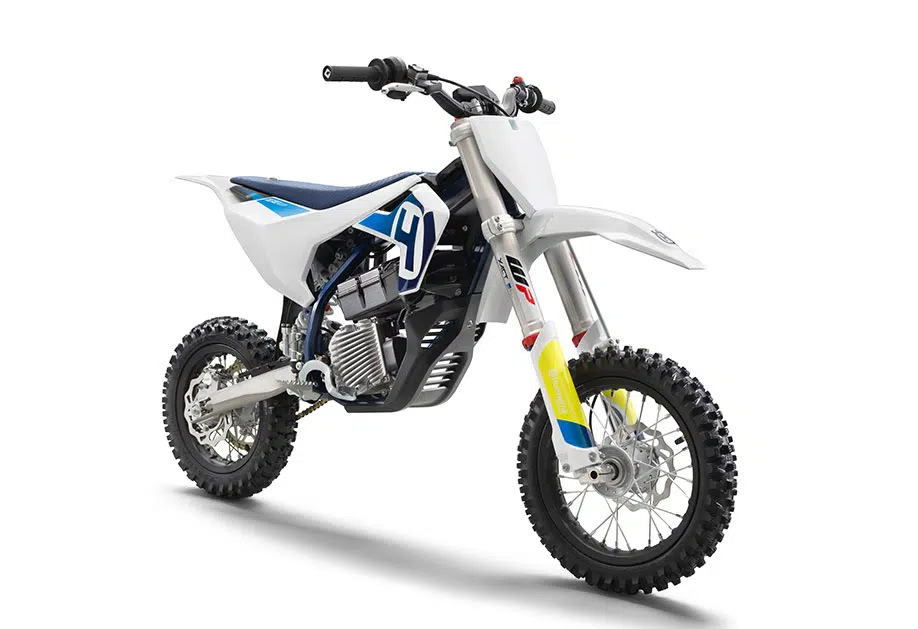 Logic over emotions
Many manufacturers offer off-road motorcycles. Some motorcycle ranges have more choices, when other models are only offered by some of them. Honda,
Kawasaki, Suzuki and Yamaha are all manufacturers that have been established for a long time and KTM took a larger share in the industry in the last fifteen years. More recently, companies like Husqvarna, GasGas, Sherco and Beta try to join the North American off-road ranks.
Nowadays, all motorcycles are reliable. Some are more popular thanks to good marketing and product placement. However, your choice should not be influenced by trends, fashion nor advertising. You should rather take into account some important elements.
The cost of replacement parts and maintenance. It changes a lot from a manufacturer to another.
The availability of original parts but also replacement parts. The off-road season is notably short, and it is annoying to wait for a piece.
A good concessionaire with an experienced adviser that will know how to inform you. First and foremost, he must consider your needs over his need to sell the motorcycle he has in store.
I invite you to check the table below to guide you through all the off-road motorcycle choices. I gathered all of 2022 off-road motorcycles for each manufacturer, and I've ranked them by category and size.
Motocross (2 TEMPS / 4 TEMPS)
760 mm (29,9 in)
830 mm (32,7 in)
866 mm (34,1 in)
866 mm (34,1 in)
950 mm (37,4 in)
955 mm (37,6 in)
250 SX-F
350 SX-F
450 SX-F
950 mm (37,4 in)
950 mm (37,4 in)
950 mm (37,4 in)
2 STROKES
2 STROKES
2 STROKES
CRF250R
CRF250RX
CRF450R
CRF450RX
CRF450RWE
957 mm (37,7in)
961 mm (37,8 in)
965 mm (38 in)
965 mm (38 in)
965 mm (38 in)
2 STROKES
2 STROKES
2 STROKES
2 STROKES
4 STROKES
940 mm (37 in)
940 mm (37 in)
940 mm (37 in)
2 STROKES
2 STROKES
2 STROKES
960 mm (37.8 in)
960 mm (37.8 in)
970 mm (38,2 in)
965 mm (38 in)
950 mm (37,4 in)
950 mm (37,4 in)
950 mm (37,4 in)
2 STROKES
2 STROKES
4 STROKES
Motocross (ÉLECTRIQUE)
SX-E
50SX
65SX
85SX 17-14
665 mm
665 mm
670mm
865mm
950 mm (37,4 in)
950 mm (37,4 in)
950 mm (37,4 in)
940 mm (37 in)
940 mm (37 in)
950 mm (37,4 in)
950 mm (37,4 in)
Enduro (2 TEMPS / 4 TEMPS / ÉLECTRIQUE)
KLX110R
KLX110R L
KLX140R
KLX140R L
KLX140R F
680 mm (26.8 in)
730 mm (28.7 in)
780 mm (30.7 in)
800 mm (31.5 in)
860 mm (33.9 in)
4 STROKES
4 STROKES
4 STROKES
4 STROKES
4 STROKES
CRF50F
CRF110F
CRF125F
CRF125FB
548 mm (21,6 in)
658 mm (25,9 in)
738 mm (29,1 in)
785 mm (30,9 in)
4 STROKES
4 STROKES
4 STROKES
4 STROKES
PW50
TT-R50E
TT-R110E
TT-T125LE
475 mm (18.7 in)
555mm (21.9 in)
670 mm (26.4 in)
805 mm (31.7 in)
4 STROKES
4 STROKES
4 STROKES
4 STROKES
560 mm (22.0 in)
805 mm (32.0 in)
775 mm (30.5 in)
4 STROKES
4 STROKES
4 STROKES
KLX230R
KLX230R S
KLX300R
925 mm (36.4 in)
900 mm (35.4 in)
925 mm (36.4 in)
4 STROKES
4 STROKES
4 STROKES
945 mm (37,2 in)
950 mm (37,4 in)
freeride e-xc
125xc
150xc
250xc
300xc
250xc
350xc
450xc
500xcf
910mm (35,8 in)
950 mm (37,4 in)
950 mm (37,4 in)
950 mm (37,4 in)
950 mm (37,4 in)
950 mm (37,4 in)
950 mm (37,4 in)
950 mm (37,4 in)
960 mm (37,8 in)
ELECTRIC
2 STROKES
2 STROKES
2 STROKES
2 STROKES
4 STROKES
4 STROKES
4 STROKES
4 STROKES
TE 150i
TE 250i
TE 300i
TX 300i
FE 350
FX 350
FX450
FE 501
950 mm (37,4 in)
950 mm (37,4 in)
950 mm (37,4 in)
950 mm (37,4 in)
950 mm (37,4 in)
950 mm (37,4 in)
950 mm (37,4 in)
950 mm (37,4 in)
2 STROKES
2 STROKES
2 STROKES
2 STROKES
4 STROKES
4 STROKES
4 STROKES
4 STROKES
EC 250
EC 300
EX 250
EX 300
EX 250F
EX 350F
EX 450F
960 mm (37,8 in)
960 mm (37,8 in)
960 mm (37,8 in)
960 mm (37,8 in)
960 mm (37,8 in)
960 mm (37,8 in)
960 mm (37,8 in)
2 STROKES
2 STROKES
2 STROKES
2 STROKES
4 STROKES
4 STROKES
4 STROKES
WR250F
WR450F
YZ 250FX
YZ 450FX
955 mm (37.6 in)
955 mm (37.6 in)
955 mm (37.6 in)
955 mm (37.6 in)
4 STROKES
4 STROKES
4 STROKES
4 STROKES
125SE
250SE
300SE
250SEF
300SEF
450SEF
500SEF
950mm (37,4 in)
950mm (37,4 in)
950mm (37,4 in)
950mm (37,4 in)
950mm (37,4 in)
950mm (37,4 in)
950mm (37,4 in)
2 STROKES
2 STROKES
2 STROKES
4 STROKES
4 STROKES
4 STROKES
4 STROKES
Duel (4 TEMPS)
885 mm (34.8 in)
830 mm (32.7 in)
890 mm (35.0 in)
4 STROKES
4 STROKES
4 STROKES
895 mm (35.2 in)
870 mm (34.3 in)
CRF300L
CRF300L RALLY
CRF450RL
880 mm (34,6 in)
885 mm (34,8 in)
940 mm (37 in)
4 STROKES
4 STROKES
4 STROKES
390 aventure
690 aventure
890 aventure
1290 aventure
855 mm (33.7 in)
910mm (35,8 in)
850 mm (33.5 poin
849 mm à 869 mm (33.4 in to 34.2 in)
4 STROKES
4 STROKES
4 STROKES
4 STROKES
854 mm (33.6 in)
920 mm (36.2 in)
TENERE 700
SUPER TENERE ES
875 mm (34.4 in)
845 mm or 870 mm (33.2 in or 34.2 in)
845 mm or 885 mm ( 33.2 in or 34.8 in)
935 mm (36.8 in)
Maintenance rhymes with reliability
Don't be fooled: an off-road motorcycle is not like a car to which you just need to add gas, change oil from time to time or wait until you've reached 50,000 km before thinking about checking the mechanism.
An off-road motorcycle requires a thorough and regular maintenance. These are performance motorcycles. If you neglect the mechanism, then you will have serious breakage and you won't be able to blame the motorcycle, but the mechanic!
This is precisely why manufacturers do not offer warranty on off-road motorcycles.
They trust their product, but not as much the owners who ignore how to properly use their two-wheel vehicle and how to decently look after it as recommended by manufacturers.
"Lemon" motorcycles do not exist anymore, they are all reliable now. It's your responsibility to properly follow up! My best advice: please, read the maintenance manual, everything is written inside.
In a nutshell
2-stroke engine: easy mechanics, less expensive but more fragile, requires a specific attention to the carburetor system.
4-stroke engine: complex and expensive mechanics, but more reliable and sustainable.
Motorcycles format: consider your height to make a choice, but don't forget it's better to have a motorcycle that is too big rather than too small. I'm 5′10″, I know it's easy to say for someone like me who can touch the ground with both feet.
But I'd be happy to introduce you to my kids and my friends who found out, and most of all understood, that having one foot on the ground is more than enough for off-road motorcycles.
Now, which off-road motorcycle will you choose?
2-stroke or 4-stroke?
Both these types of engines are good. You just need to be familiar with their particularities and to know how to maintain them well. Do not look over the need to take off-road motorcycle lessons to learn all the basic information to drive your motorcycle safely.
Lastly, I'd advise you to set a budget and to consider the importance of having your suspensions adjusted according to your weight, your age and your size. They will be of great influence on your comfort and safety, and will compensate for your height as well.
I can't wait to see you on the tracks or on the trails!
Cindy 818