Who says motorcycle ride, also says motorcycle maintenance...
It's a pleasure to ride on a beautiful summer day! However, we all know that we depend a lot on Mother Nature. And even if it's a beautiful day outside, maintaining your bike also means cleaning it!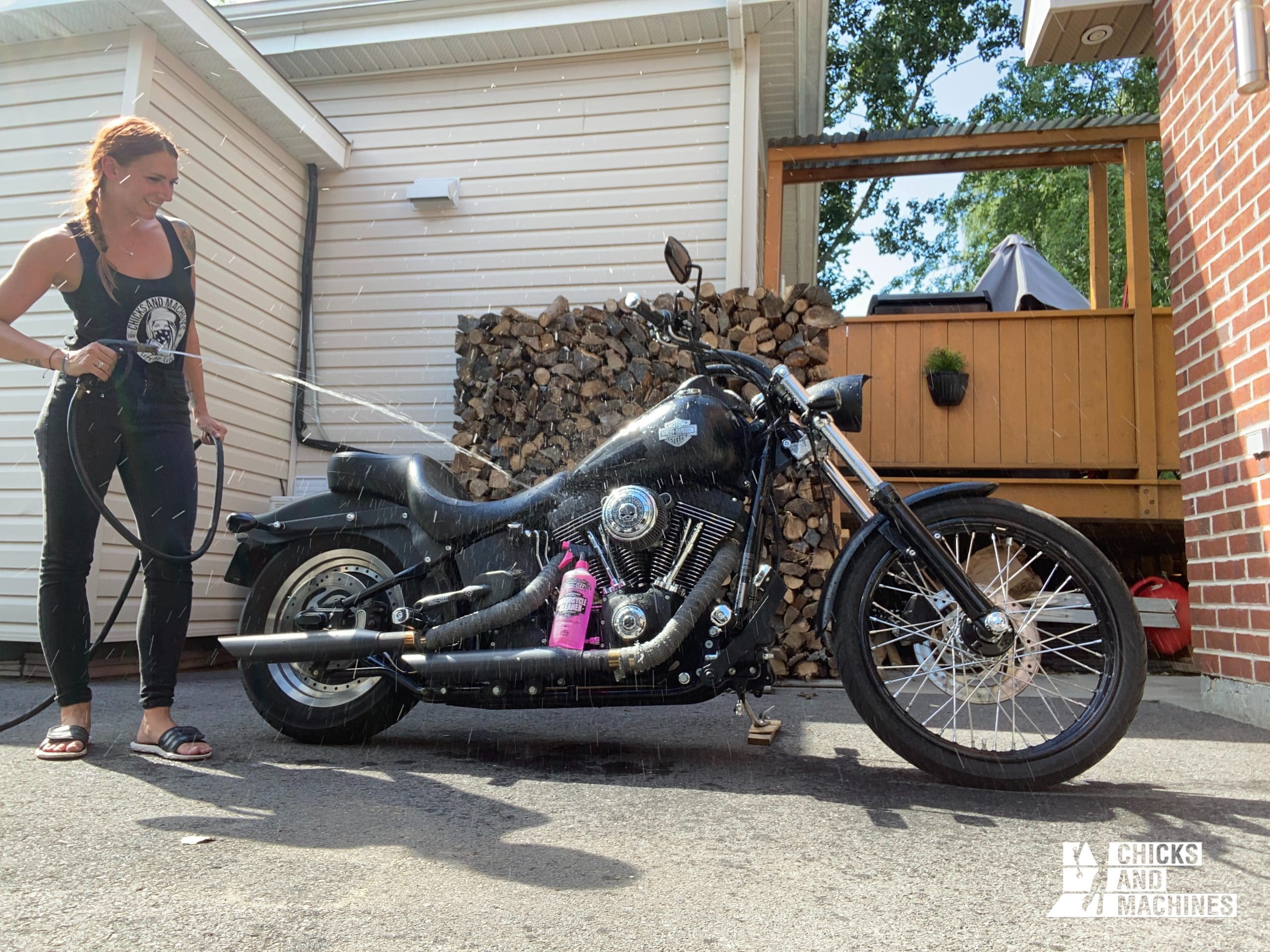 So I recently discovered Muc-Off motorcycle cleaning products!
Some of us clean our vehicles before we ride and some after. No matter what your habits are, it's very important to clean your bike from top to bottom to keep it nice and clean for as long as possible.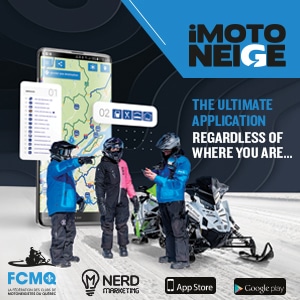 And I can tell you that even if you park your bike in the garage without riding, there is always an accumulation of dust that settles on it. So why not use some good products to make your bike shine!
Introducing Muc-Off motorcycle cleaning products!
In just a few simple steps, you'll have a clean bike that looks great!
First step: the motorcycle cleaning soap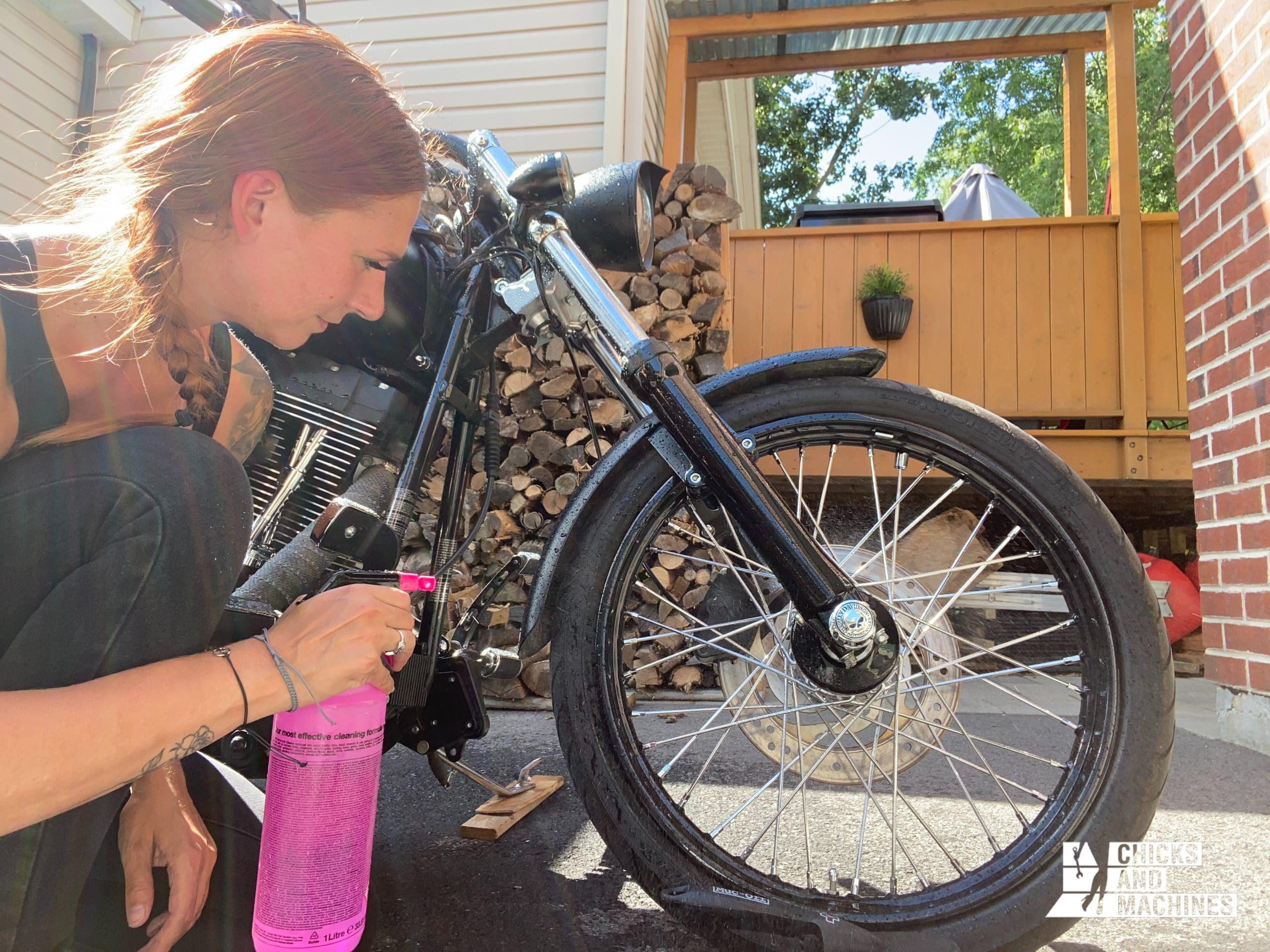 A biodegradable cleaner 
From the motorcycle cleaning products series, Muc-Off spray soap is biodegradable! It is considered the most effective cleaner on the market. This motorcycle cleaner is free of acids, CFCs and solvents.
It is made with an alkaline base, so you can clean your motorcycle without worrying about it being safe for all types of surfaces, brake discs and pads. It is also safe for all parts of your bike, cables, seals, carbon fiber and anodized metal.
This detail is very important to me as knowing that I am using a biodegradable cleaner that is safe for the environment adds value to this product and aligns with my environmental values. Doing a little more for the planet is important to me!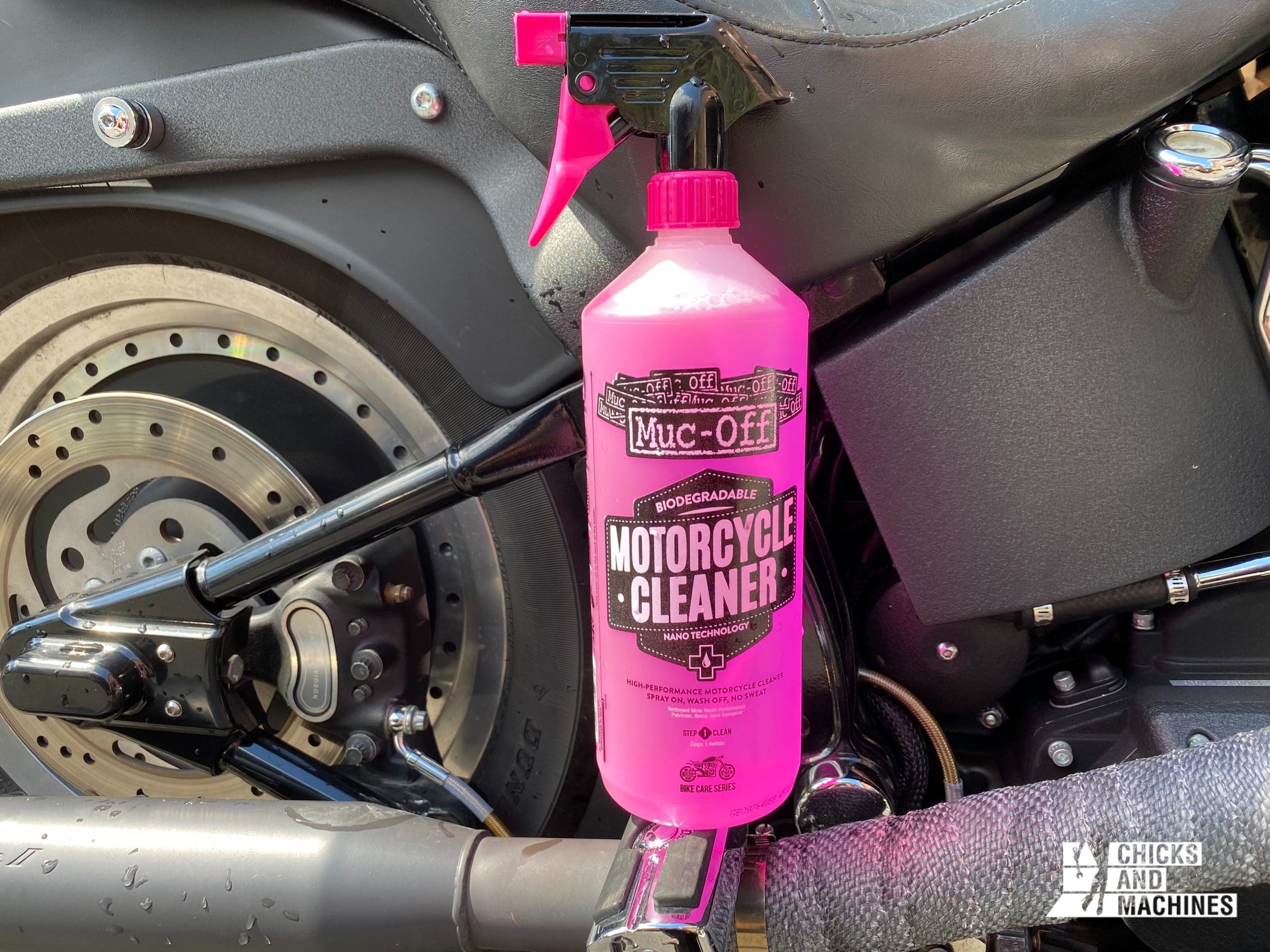 Nano Technology
This product uses nano technology, which is a state of the art dirt removal technology. You won't have time to blink and your bike will be degreased!
This classic pink motorcycle cleaner has incredible cleaning power because it contains revolutionary nanotechnology that breaks down dirt and grime to microscopic levels, while providing a delicate finish to your bike.
Muc-Off uses the finest ingredients and surfactants, but their magic formula is a closely guarded trade secret.
*It is still important to read the instructions before using this product.
The expanding pink sponge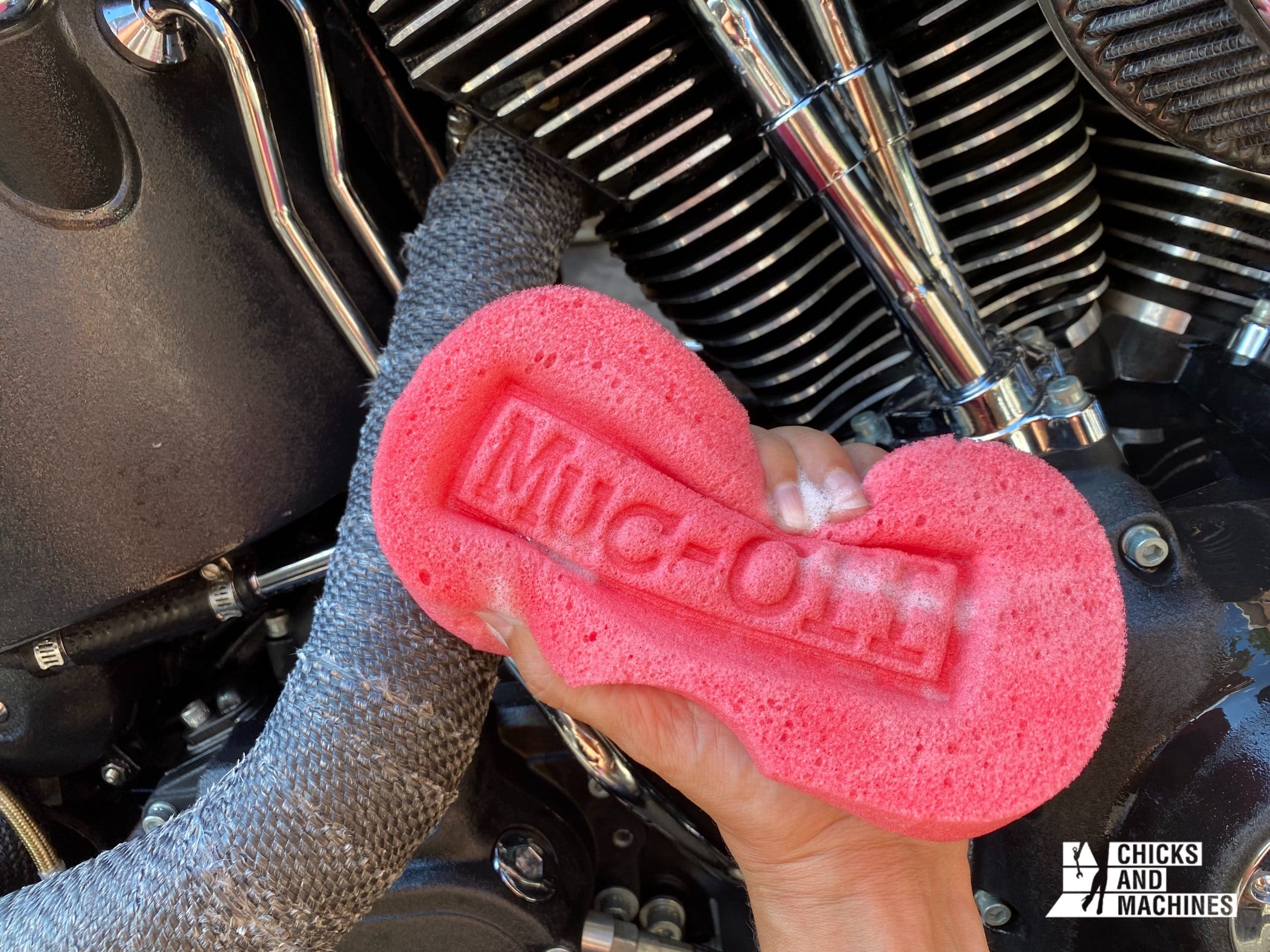 For maximum cleaning without the risk of scratching, I strongly recommend using the Muc-Off expanding microcell sponge.
As the saying goes: 
in little pots the best ointments.
This sponge is vacuum packed to minimize the use of plastic in the packaging. Once you open the package, you'll be impressed to see it expand in water!
It offers microcell technology that traps dirt and combines cleaning power for a long-lasting finish that helps remove every particle of dirt. It's soft to the touch and perfect for caring for your frame without scratching.
I really liked the pink color, the softness and the cleaning efficiency it offers. Once you are done cleaning, just let it dry for your next use!
The wheel and component brush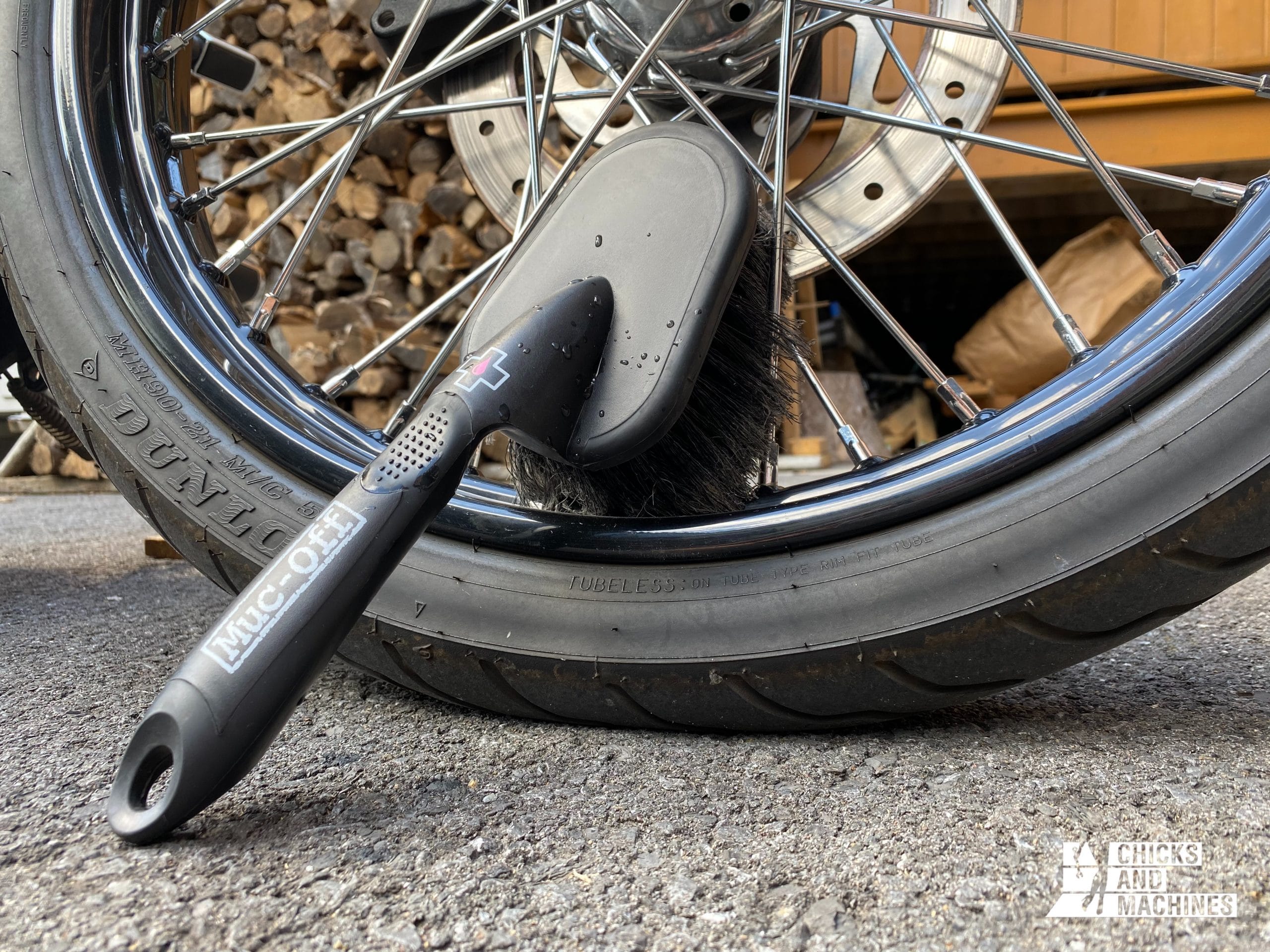 Need to clean a delicate surface? The Muc-Off cleaning brush is what you need! Not only are its fibers soft enough to clean more delicate surfaces, but it is also ideal for cleaning wheels and rims.
Its unique design features a dual density, impact resistant handle that won't slip when wet. It features an oversized head for quick cleaning of large surfaces and rubberized impact zones for maximum protection.
It is very durable, allowing you to use it safely and effectively. Trust me, it won't break!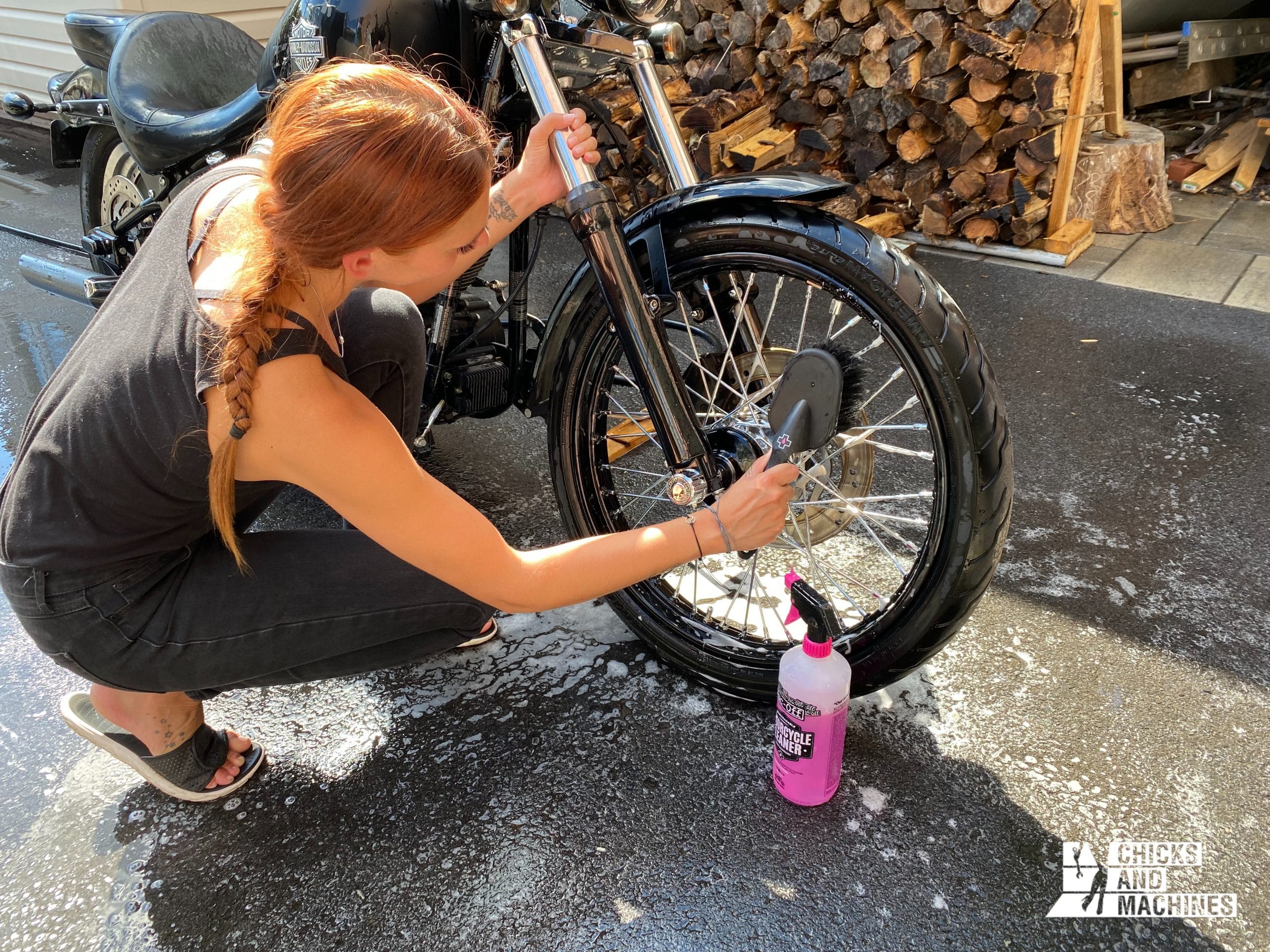 Thanks to its soft bristles, it will leave your bike spotless without damaging metal parts. The brush has a very large surface area to make it easy to clean your bike and reach hard-to-reach areas.
I also liked its rubber edges, which will prevent any scratches on your bike. You never know, sometimes the brush might rub on your bike… But with its rubber composition, you will be able to clean without worries!
Second step: the motorcycle protector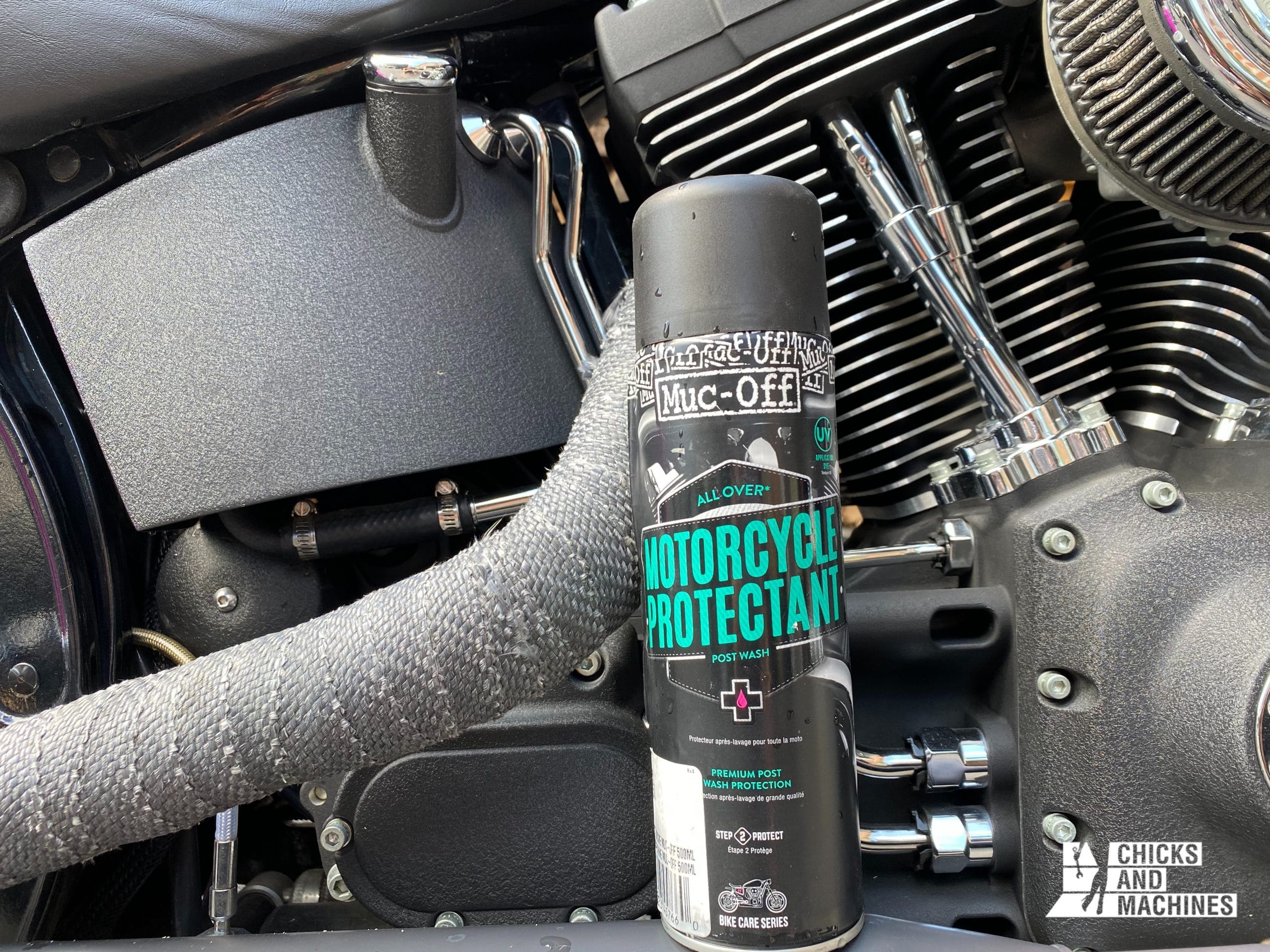 Muc-Off's motorcycle protector offers premium protection. It is a versatile product that helps prevent dirt from sticking to your bike between washes. It can be used on all types of motorcycles and contains a corrosion inhibitor.
Its high performance formula leaves a protective layer on the surfaces and is non-sticky. You must use the protector after washing. It also repels moisture and excess water.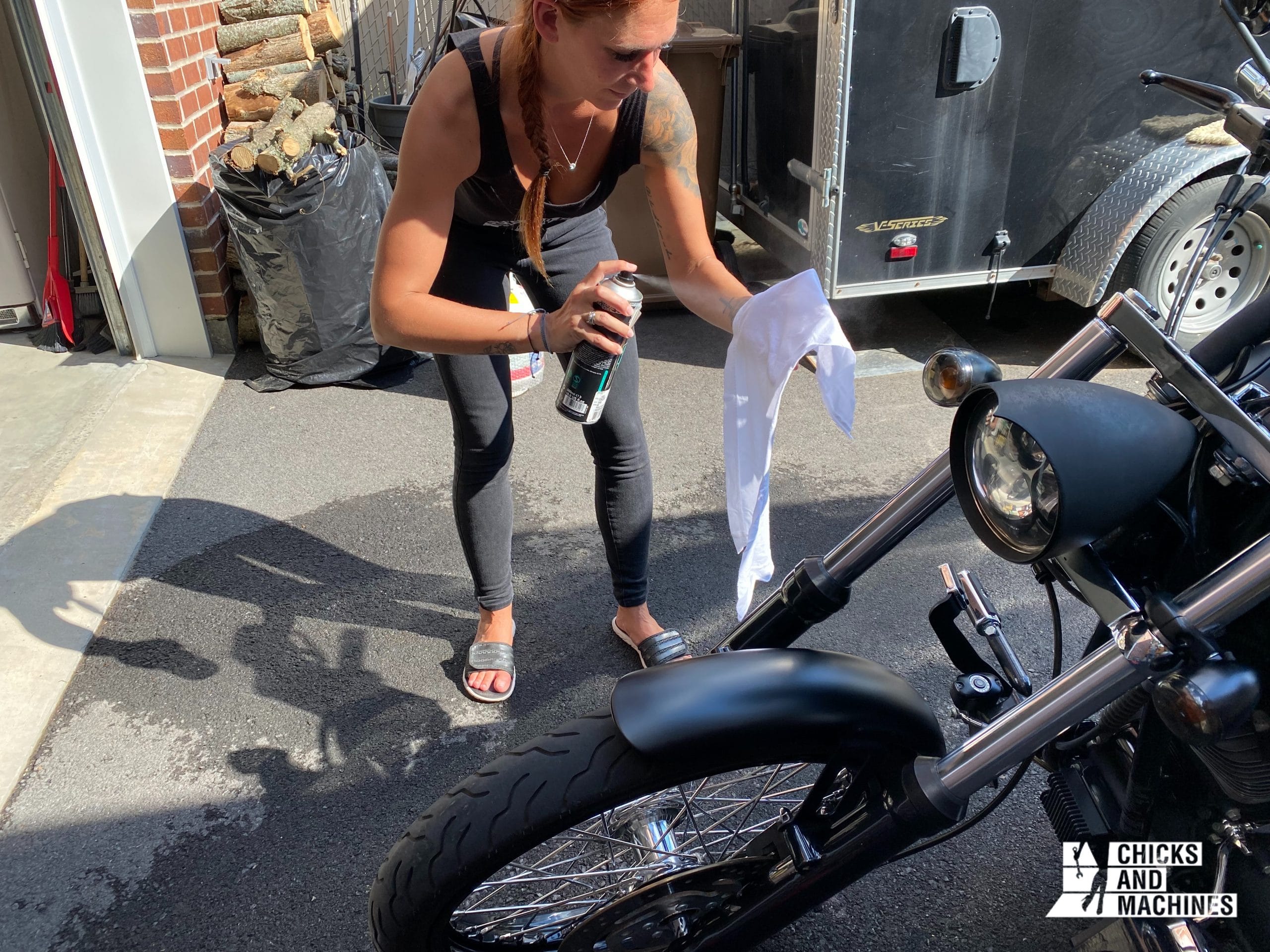 The protector can be used safely on the frame, chain, metal parts, plastic, rubbers and on your paint! It is quick and easy to use. A little point I liked is its fresh vanilla smell which is very pleasant for your nose!
*It is still important to read the instructions before using this product
Third step: metal polishing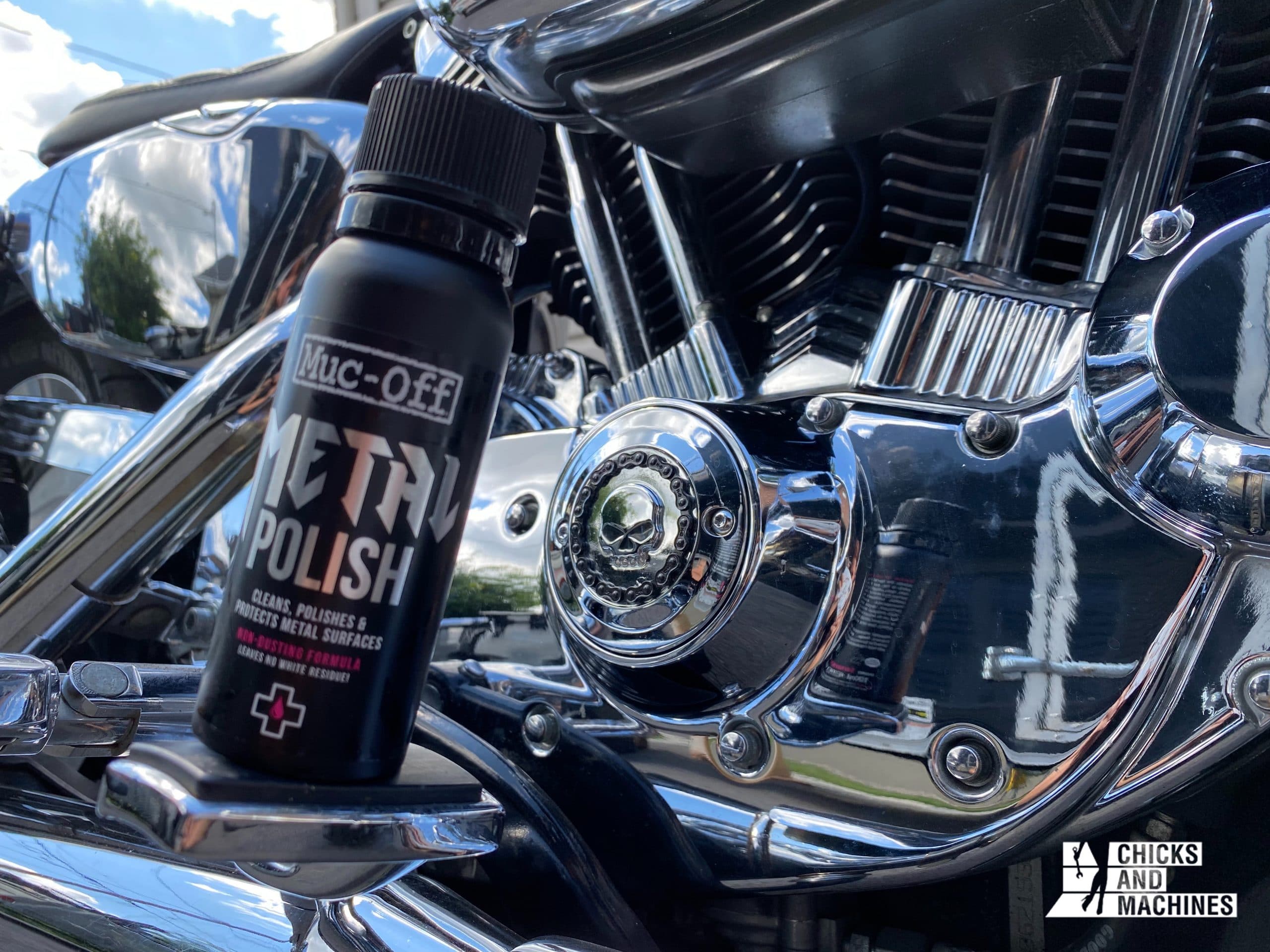 Muc-Off metal polish is not only a polishing product but also a waxing product. This all-in-one motorcycle formula is quick and easy to use. It leaves no whitish residue. Just put a drop at a time and rub with a microfiber cloth and you're done!
It is formulated with a solvent base to polish tarnished metals and provide a shiny look while protecting metal surfaces. It is capable of removing dirt, grime and oxidized paint. It restores, cleans, polishes and protects chrome, brass, copper, aluminum and steel surfaces. It does not contain flammable solvents, acids or ammonia.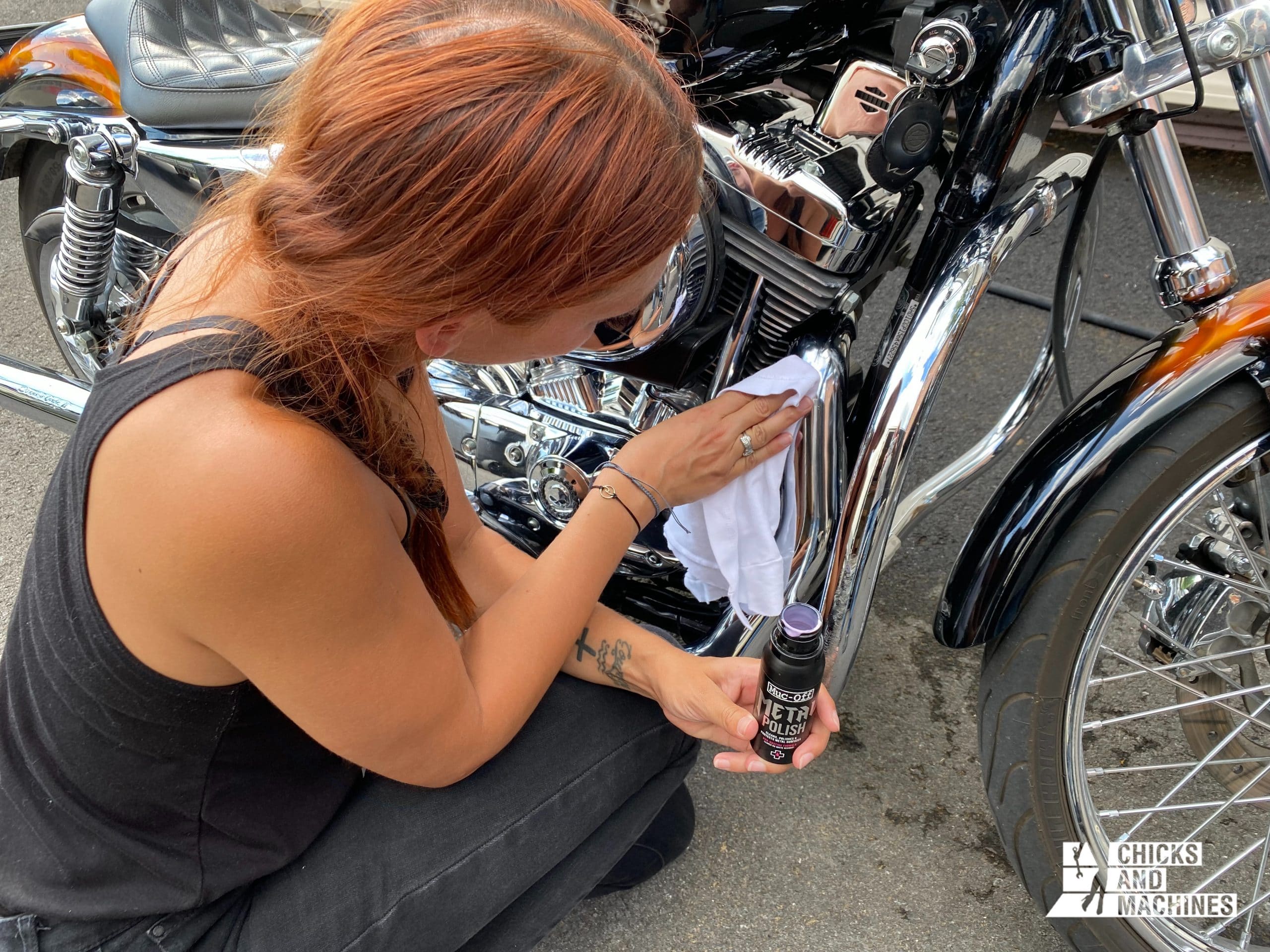 I have an all chrome motorcycle and I can assure you that this product works great! It is easy to use and requires much less scrubbing than a regular polish. I loved polishing my bike, something I normally enjoy doing the least!
However, it is very important to know that you should not use the polisher on chrome-plated plastic and metal-finished mirrors. This product could damage these surfaces.
My verdict
Cleaning my bike is a really important step. If I want to keep my bike in good cosmetic condition, this step is not to be neglected! My trial of the Muc-Off products was a great success and I loved them. They are easy to use and very effective.
What is normally a chore for me was a pure pleasure to do. I also liked the pink color of these products. Maybe a little cliché, but I especially love this color! I highly recommend using Muc-Off products on your bike and always read the instructions before use.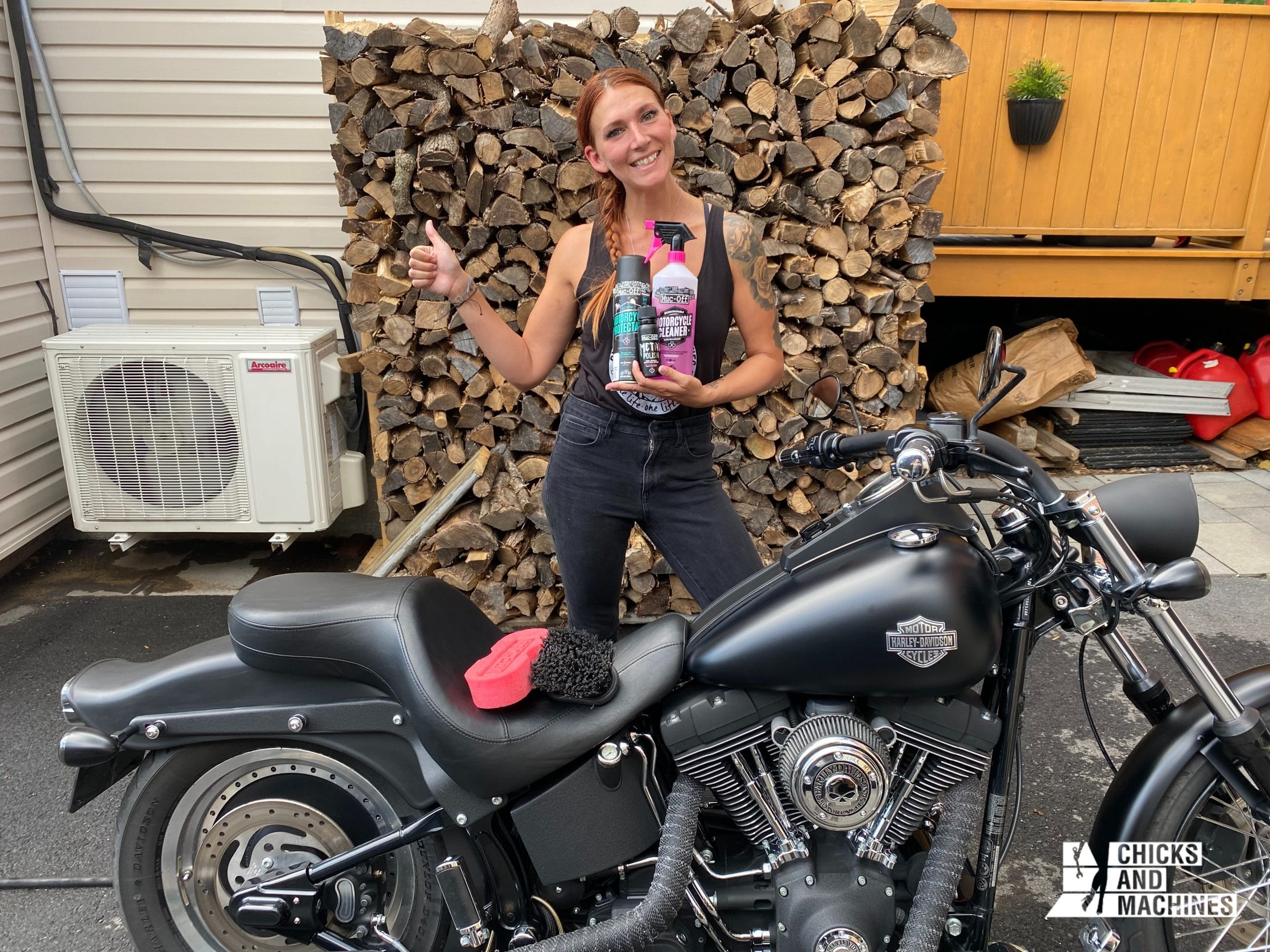 I would like to thank Mathias Sport for their trust and for discovering the fantastic Muc-Off cleaning products.
To give you a good reason to clean your bike ? :
- Caro G. ✌️