Hello from the heart of New Brunswick!
Where you may ask? A little place in the middle of the province known as "God's Country" or the "Miramichi" – a place you must see for yourself. It's small town living at its best, but most importantly, the best part of the province for all of your off roading adventures!
My Name is Karla. I am a 90's chick who wears her heart on her sleeve, and isn't afraid to voice opinions when needed! I am a mother of one little dude, and a step mom to a motocross racing teen – these two keep me on my toes, and keep me striving to be the best I can be.
I am a woman who is always up for an adventure, on or off the grid! If you're looking for me, you will find me cruising through the many trails of New Brunswick in a Side by Side, making tracks off or on trail, navigating the snowy forest on a Ski-Doo, or sitting pretty in a Jet canoe or a Bass boat with a fishing rod in hand.
Every day is an adventure if you set your mind to it!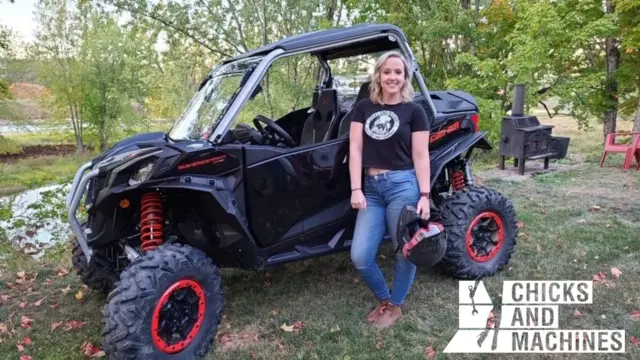 A bit of Background
Born and raised in the small rural community of Doaktown New Brunswick, it is in my blood to be adventurous. There was never much to do in our community besides getting lost on a dirt road in a mud-covered 4×4 with some buddies, inhaling the crisp fall air on the back of a quad or bouncing up and down in a Jeep Wrangler. There is no better feeling then that of FREEDOM!
From a very young age, my father introduced me to motorsports… so thank you, Dad, for introducing me to something so exciting! My very first experience on two wheels was with him: I remember cruising through our rural community together on his motorcycle. You would think I would follow in his footsteps with a two wheeled ride. Maybe someday I'll become a bad ass biker or motocross chick! For now, however, I am more of a four-wheeled or track rider. As I got a little older, I was introduced to quads and snowmobiles. He always loved having multiple toys in the garage, and I am certainly not complaining about that! I began riding a quad on local "Mud Runs." Maybe that wasn't my niche at the time (I hated getting dirty back then), but I loved getting out with a group of people and navigating the forest, especially in the fall: the leaves are BEAUTIFUL!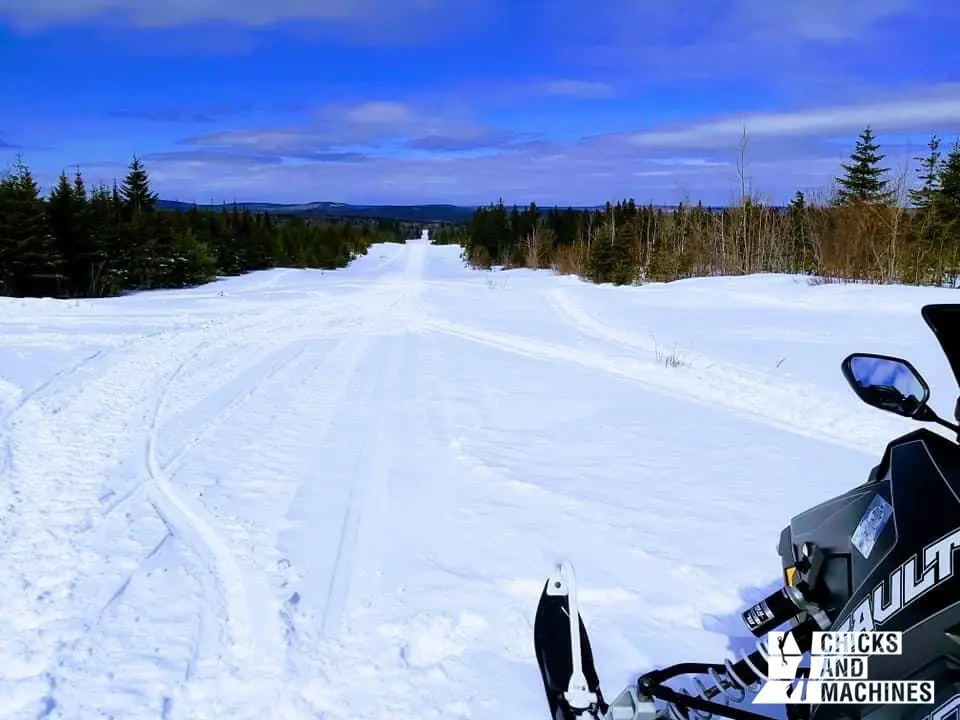 Into my teen and adult years, I loved getting a little mud on the tires. The feeling of hitting puddles going full tilt was such a rush! A rush that I started longing for, rain or shine.
When you take off your helmet and your hair is the only thing that is dry – you now you did something right!
In my mid-twenties, I decided to trade in all my off-road toys for something that was comfortable on the road as well. It was the one thing I had dreamed of owning since I was a little girl playing Barbies in the sand box – something that made my heart and soul happy – A JEEP! From then on, I took my two-door Green Machine everywhere. I had a true love of all things Jeep-related. With a growing family, however, it wasn't the ideal vehicle, so I had to kiss it goodbye; but as soon as my little guy is old enough, I intend on having a Wrangler again.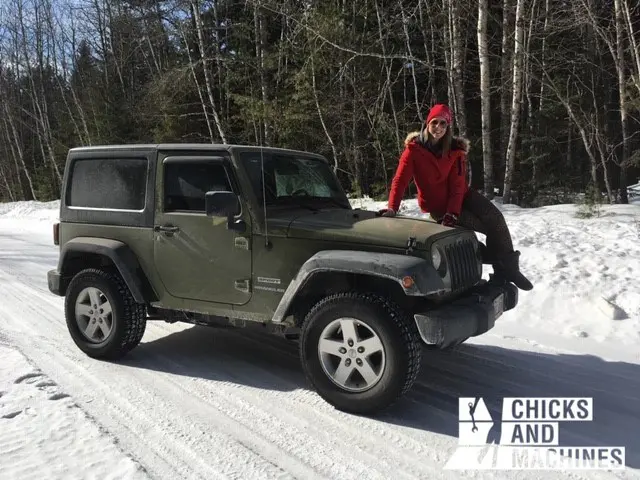 My Inner Child Runs Wild!
Since leaving my beloved Wrangler behind, you can now find me navigating the NB trails in a Side by Side. It truly brings out my inner child: every mud puddle hit still brings a smile to my face, and you can hear little squeals of excitement when the water and mud fly over me! Once December arrives, however, we take out the snowmobile!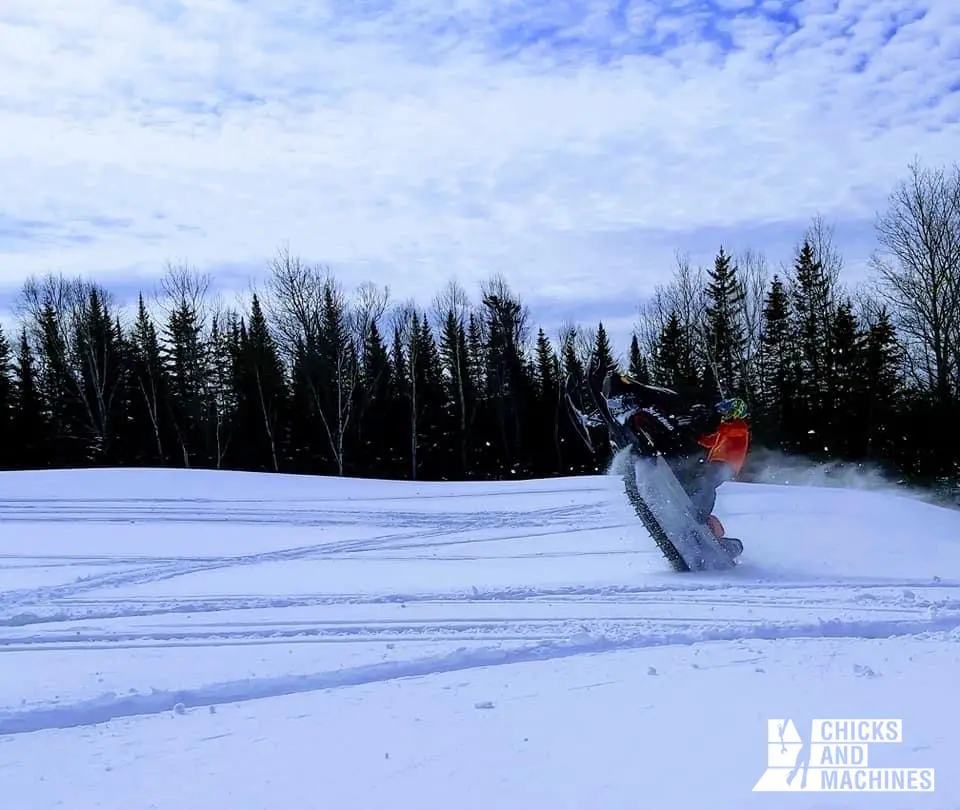 Winter Fun
Dig out your monosuit and mittens: New Brunswick has the best winters for snowmobiling! I hadn't been on a snowmobile for many years prior to dating my boyfriend, Karl; however, that quickly changed in the winter of 2017.
Karl has been an avid rider, along with my stepson Gage. They are very big adrenaline seekers when it comes to this sport. I have often felt my heart flutter while watching Gage carve the side hills or wheeling on a straight stretch in snowy fields. I'm not ready to pull stunts like that, but it looks like so much fun!
Snowmobiling trips have been a favorite family adventure for us. If you are ever interested in back country snowmobiling or guided snowmobile tours, come visit us at Wilson's Sporting Camps for your next adventure. We pray for 50cm of snow starting in December so we can hit the trails as soon as possible!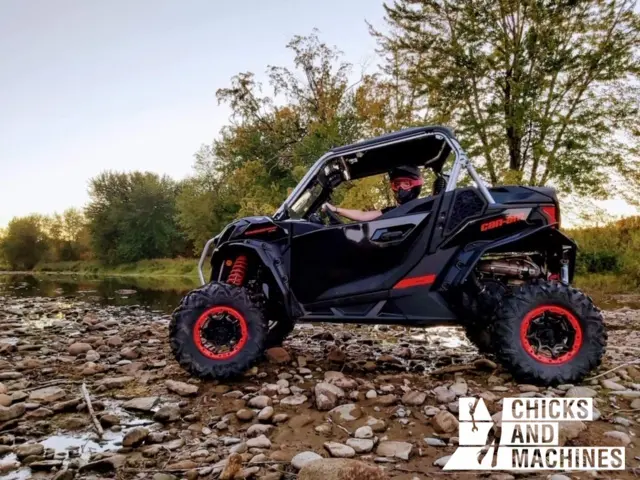 As a mother, I cannot wait to have my toddler ride along side of me. It is so important to teach the little ones to have fun safely! We all know he will follow into his big brother's footsteps and join the motocross world within the next two years. After all, his first word was "Brappp!"
Ladies, if you love anything that runs on gas or diesel and gives you that rush, embrace it! Motorsports are not just for the guys – so move over men, The Chicks are coming! If you haven't yet had the pleasure of experiencing any of these things, I encourage you to try: you may just discover a new passion! As a woman, I believe it is important to embrace what you love, to try new things, and to test your limits!
If you put your mind to it, you can do it!
Chicks And Machines, welcome to New Brunswick: where your next adrenaline rush awaits!
xx
- Karla