My very first day on a snowmobile in video
We all have a bucket list: that grocery list of experiences we absolutely want to live, places to visit, food to eat… and sports to try. For me, I've always wanted to see Komodo dragons (done!), see the Northern Lights in Norway (done!), live abroad (done!), and try snowmobiling (done!).
As a motorcyclist and winter lover, it goes without saying that I've always been attracted to these machines that allow riders to ride through the winter mountains and snowy trails.
This past winter, thanks to Ski-Doo and Chicks And Machines, I was finally able to try this sport that has fascinated me for so long, and I'm not about to forget this great experience!
I was very lucky for my very first snowmobile experience. The weather was perfect, Ski-Doo generously lent us some great models of the year, and I was accompanied by an experienced snowmobiler and Chicks And Machines contributor, my dear Sisi, who kindly took me under her wing.
The video of my first snowmobile adventure!
A little 101 course
First of all, Sisi explained the basic rules of the trail: that you always keep the right side, with a good distance with the snowmobile in front.
When we pass a group, we hold up our fingers to show the others how many people are behind us. And everyone is responsible for the person immediately behind them, so if that person slows down, for example, it's up to the person in front to slow down and wait.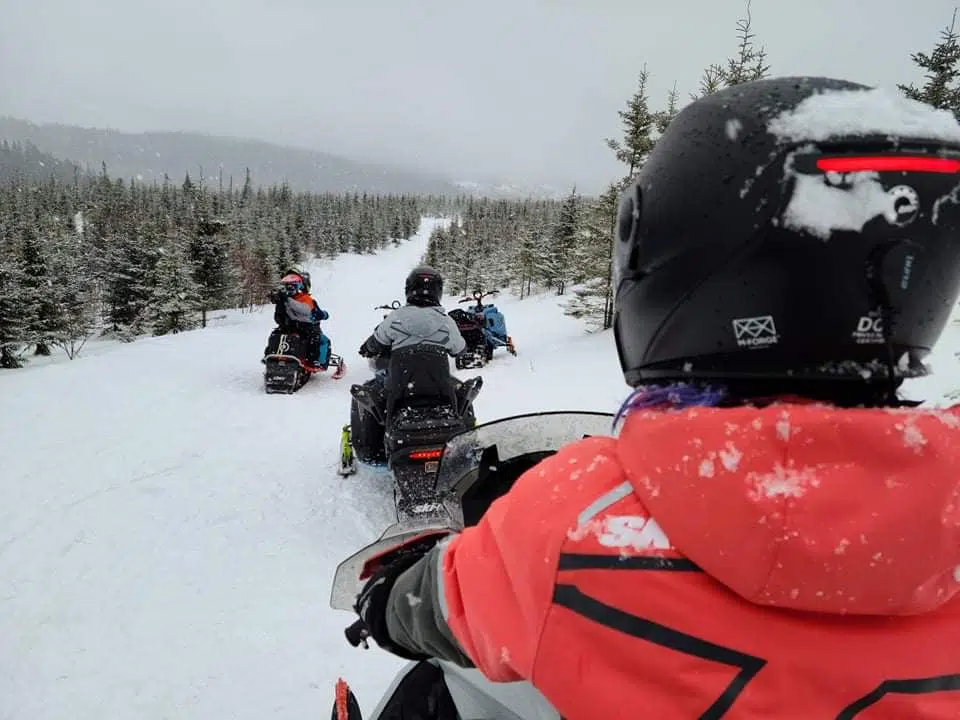 2 days of snowmobiling
My snowmobile expedition lasted two days. The first day, we did trail snowmobiling; the next day, it was off-trail. I was so lucky to be able to live this experience from top to bottom and to discover both styles of snowmobiling!
Day 1: the first moments
Riding the snowmobile for the first time, the first thing that surprised me was the size of the machine. It was intimidating at first, to think that a little human like me could drive this monster of a vehicle. However, once I sat on it, it only took a few seconds before I found a certain feeling of comfort.
At first, the hardest thing to get used to was the throttle. As a motorcyclist, I am used to being able to rest my hand, thereby putting some of my weight on the handle when I need a little break, and for me, the natural motion to accelerate is to turn the handle. So I had to adapt quickly to master the throttle button and avoid accidentally pushing it.
We took it very slowly at first, allowing me to adapt to the riding techniques and the new sensations in complete safety. Sisi gave me advice and encouragement, which was very reassuring.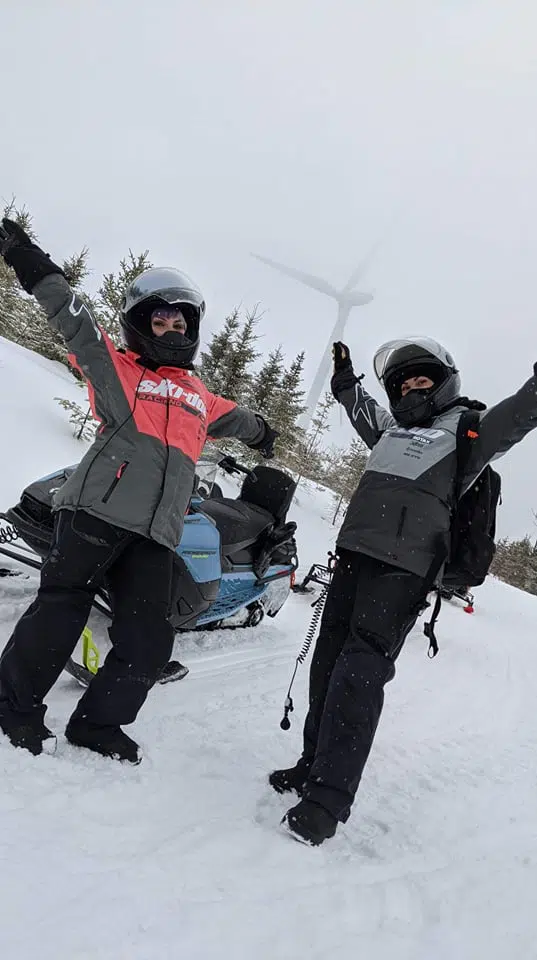 Soon, my confidence grew, and I could start to really enjoy the scenery I was riding through. As I raced down the snowy hills of the Bas Saint-Laurent, I was overcome with a sense of awe and gratitude for the moments I was experiencing. Finally, I found the feeling of freedom that I feel when riding a motorcycle; but this time, it was in the winter landscapes that I love so much.
That night, I slept soundly, completely exhausted but happy about my memorable day on the snowmobile trail. I was already looking forward to the next day!
Stay tuned for my off trail riding day!
For more information visit the Ski-Doo website.