Avoid the Pressures of Salespersons
Saving money to buy your first car? Or maybe for some it is their very own snowmobile or ATV, because they are tired of missing out on adventures with their friends.
Buying your first vehicle is an exciting time like many "firsts" of life; first day of university, first job, or first love. Now, for some their first love may be their first vehicle.
You may already be dreaming up excursions and tearing up the trails with the engine that you paid for with your own money.
This big moment should not be ruined by an aggressive salespersons, so build your game plan.
Understanding your financial health before you begin shopping around allows you to understand what you can afford.
You do not want to exhaust your finances in a vehicle payment and then not be able to put fuel in it. For a new vehicle payment, your payments should not be more than 15% of your monthly net pay and 10% for a secondhand vehicle.
Dealerships often adjust numbers on financing applications to ensure the purchaser is approved for the financing. It does not mean that you can actually afford to make a purchase.
The salesperson is looking out for number one and two, them and the dealership. They do not care if you can afford the monthly payments in the long run.
Do not max out your purchasing ability.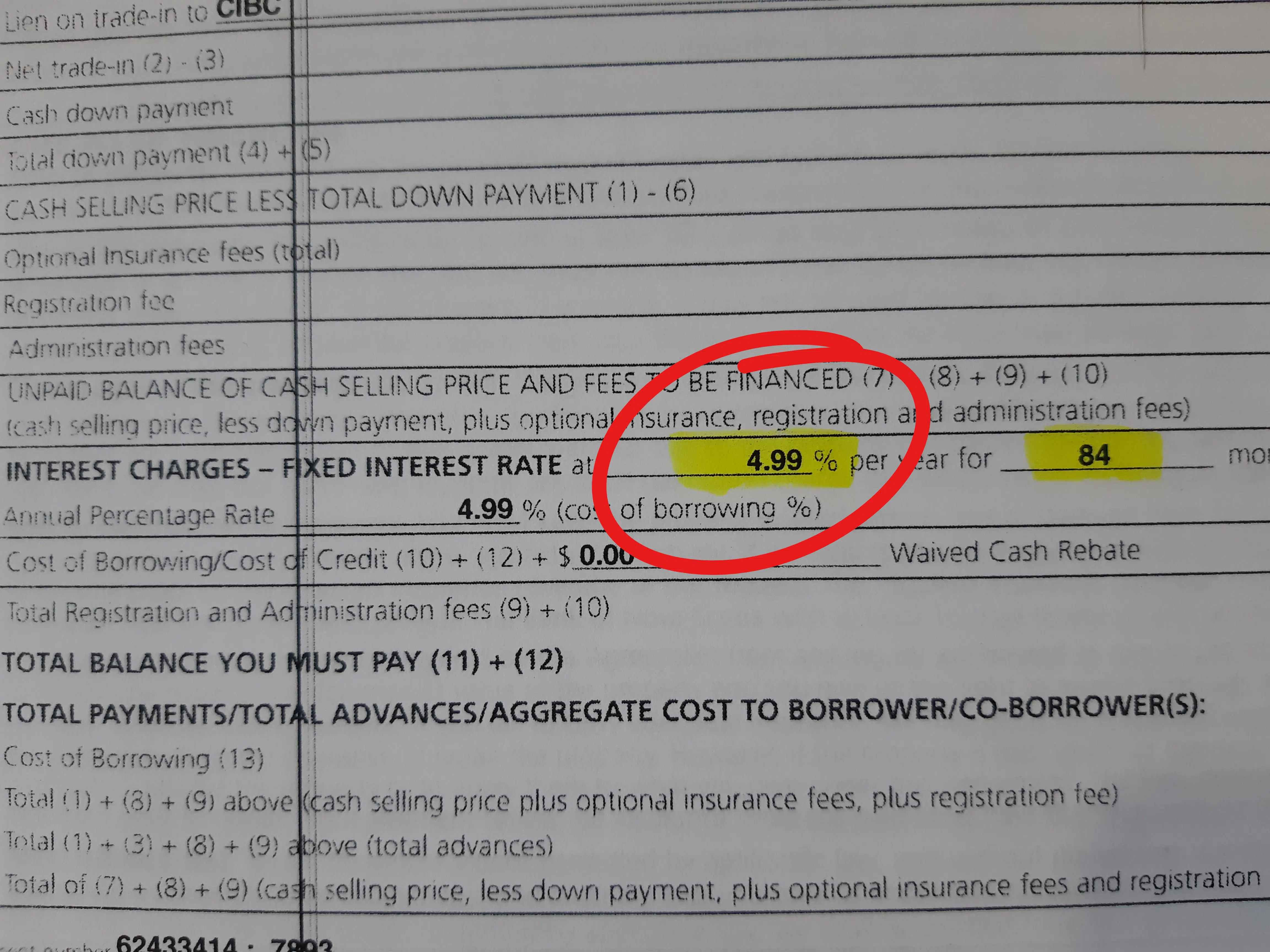 But the interest rate is at 4.99% ?!
In the business of sales there is plenty of marketing strategies to catch the attention of potential customers.
The 0% interest sign flashing along the highway is a marketing tactic to entice customers to roll into the dealership. You pick out the vehicle of your dreams, they process the purchase documents, but the interest rate is at 4.99%.
Where did the 0% interest go?
This can happen if you are buying a secondhand vehicle or if your credit rating is not healthy. Avoid being taken back by the disappointing news and read the fine print of the current sales.
Their strategy is to get customers into the dealership and create an emotional attachment to a vehicle to make the sale. If you develop an emotional attachment to a vehicle, you're less likely to care about the interest rate as long as your monthly payments are affordable.
Do Your Homework!
There are so many options on the market, how can you decide on just one. The internet is full of vehicle critics and bloggers who offer their advice on specific models or side by side comparisons.
One site you can check out for the top 5 vehicles per category is www.edmunds.com/car-reviews. Narrow down your list of options and schedule a test drive.
No decisions should be made until you have tested each of those that made your short list.
Now remember, the salesperson will put on the pressure to close a deal on a sale. Stick to the plan, this is just a test drive. Dealerships offer free test drives to help entice the customers and you owe them nothing.
Wait….Do Not Sign Until Your Sure
Before you head into a dealership you need to prepare for the pressures that the salesperson is going to put on you. A common sales tactic that the dealership may use, if you are looking to trade in your current vehicle, is to have you hand over the keys to your current vehicle.
We would like to have a mechanic check over your current vehicle to verify value for trade-in. We will need the keys.
Then they may offer you to take the vehicle you test drove home for the weekend while they hold on to your vehicle. This is another way to create an emotional attachment to the vehicle.
What you need to remember is to never sign anything until you are sure of your purchase intent. They may ask you to sign documents which outlines that you are trading in your vehicle. Anything you sign is considered a legally binding contract.
That contract should not take place until you are sure of your purchase intent. I cannot say this enough!
Remember, you're in control!
The salesperson will start with the usual questions, "What style vehicle interests you?" "What features you want?"
The big question, "What's your budget?".
You throw out a number and before you know it, they are putting papers in front of you with offers and numbers. Suddenly, you're feeling overwhelmed and unsure of what it all means or if that's the vehicle for you.
The salespersons number one goal is to make a sale. This is their livelihood after all. You must be prepared to defend your best interests and look out for you.
If there are too many numbers and options being displayed to you, it can become difficult to decipher the information and lose focus of what you want. Step back! Take a breather and do not be afraid to walk out the door.
This exciting moment should not be destroyed by the pressures of marketing strategies and sales tactics.
"This is a smokin' deal you cannot walk away from." "This deal expires today."
Is it really that good of a deal?
You need to be ready to break down the cost. The MRSP (Manufacturers Recommended Sales Price) will be listed, but what does that price include?
Ask for a breakdown of what is included in the MRSP. This should be done before you start negotiating extras.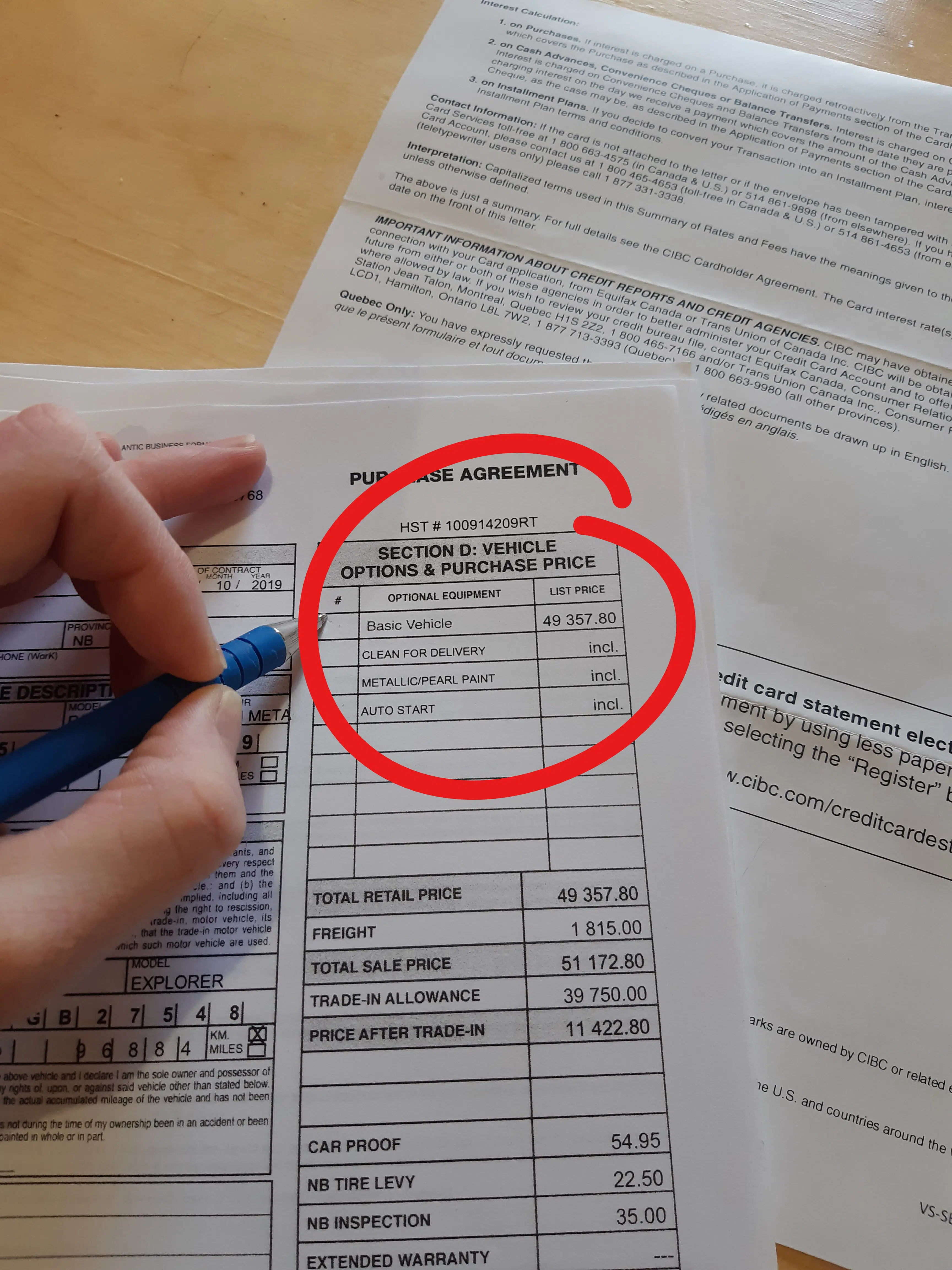 Before you sign anything
Check with your insurance company to verify the cost of insurance. If you sign a purchase agreement and find out from your insurance company that your insurance is way beyond your income abilities, you could find yourself drowning in debt.
Once you sign the purchase agreement the vehicle is now your responsibility. If you cannot afford the insurance, you probably won't be able to afford to buy gas to drive it off the lot.
When you are happy with your intended purchase, don't be afraid to ask for more.
What's the worst thing they will say, "No!"
You had to deal with the pressures of the salesperson, though you knew what you wanted, now make them sweat a little. The dealership on the other side of town offered a set of winter tires and molded floor mats.
Are they willing to match it? The salesperson wants a sale, and they are permitted some wiggle room to offer extras to help solidify a deal. Recall asking to see the breakdown of the MRSP, now you know if you're really getting something for free.
The secret is the accessories that we buy after the fact are marked up significantly. A set of tires, bug deflector or molded floor mats are minor impacts to their profit range, but boosting sales rates are a huge deal.
Once the salesperson has confirmed your purchase intent, they will hand you over to the finance personnel. Just like the salesperson, their job is to make a sale.
They will make you offers of extended warranty, tire warranty, rust coverage and more. Once again you need to do your homework ahead of time to understand the benefits and fine details of the offers.
Take the time to weigh out the upfront cost of any repairs or replacements you may experience versus if you added it into your loan.
Do not forget, interest is added on to these items over the term of your loan. Keep on budget and do not max out your available funds.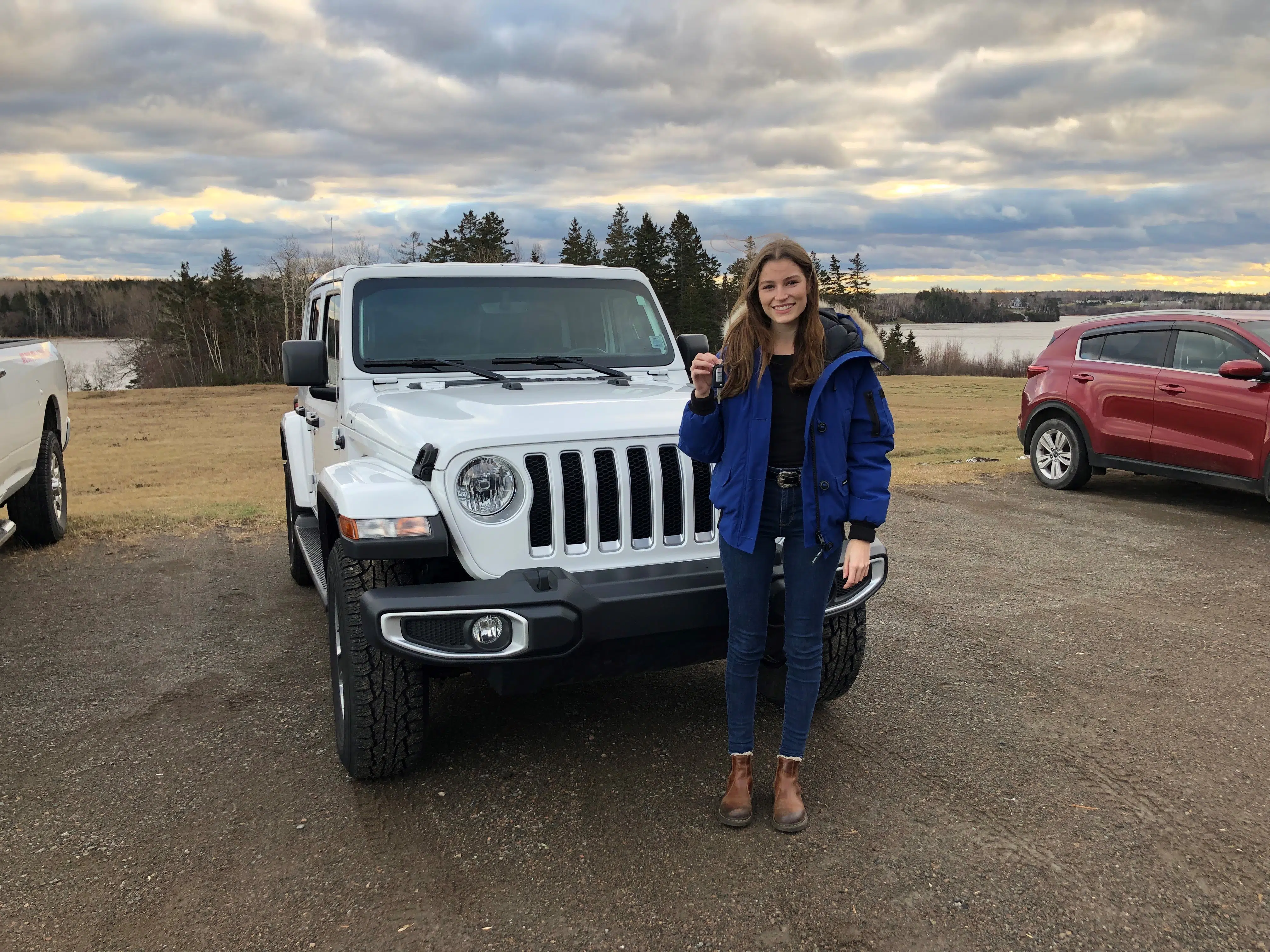 Too many times ladies walk into a dealership and display themselves as prey.
Its time to change things up and put the pressure on the salespersons.
Boost your confidence so your purchase experience can be a stress-free happy moment.
Most importantly, settle for nothing less then what you wanted, but keep it on budget.
Coreen