My test of the Sena 30k communication system
The world of communication systems is no longer adopted only by technology enthusiasts. We are seeing more and more of them, of all genres and for all budgets. However, the biggest player remains Sena Technologies.
Since the release of their very first Bluetooth communication system for motorcyclists in 2010, they have only pushed the boundaries with each new model. That's why, when Royal Distributing asked me if I wanted to try this little gem of technology, I was very excited.
Now in my 4th season of motorcycle riding, I have always ridden with headphones so I can have my music and GPS when needed. I don't need to tell you how uncomfortable and unpleasant it can be, especially when putting on and taking off the helmet and I won't even mention that it is dangerous… Anyway, I was more than ready to take it to the next level!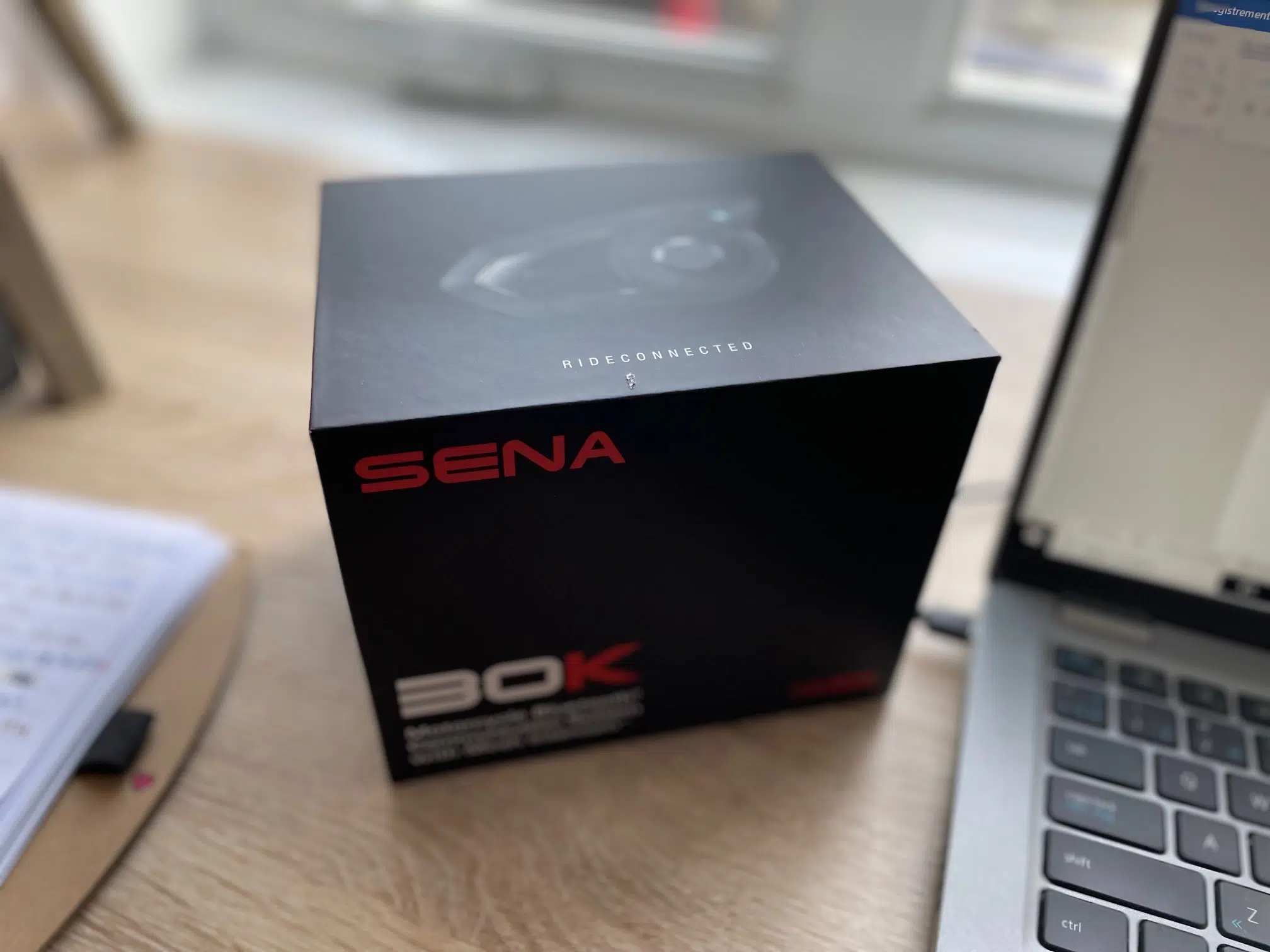 Installation 101
I, who had never installed this type of system, was dreading this moment (I don't have much patience with electronics 😅 ). When I opened the little box and saw all the pieces inside, I thought my fears were justified.
A look at the little booklet calmed me down! Yes, there are a lot of spare parts, but they are either replacement parts or parts specially designed for mounting on a full face helmet, a three-quarter helmet and a half helmet.
Once you have selected the appropriate parts for your type of helmet, you download the "Sena Motorcycles" application to your phone to access the installation guide. No more big manuals in 14 different languages! Everything is now at your fingertips.
The app is really easy to use and you get used to it straight away. Simply choose the model of your communication system and select "Help and Support" to access the user manual. Every aspect of the Sena is covered in the 85-page guide.
Fortunately, the first pages are devoted to the installation of the product and thanks to the images and simple explanations, everything is finished 15 minutes later. I then suggest that you navigate through the rest of the sections in order to tame your new toy.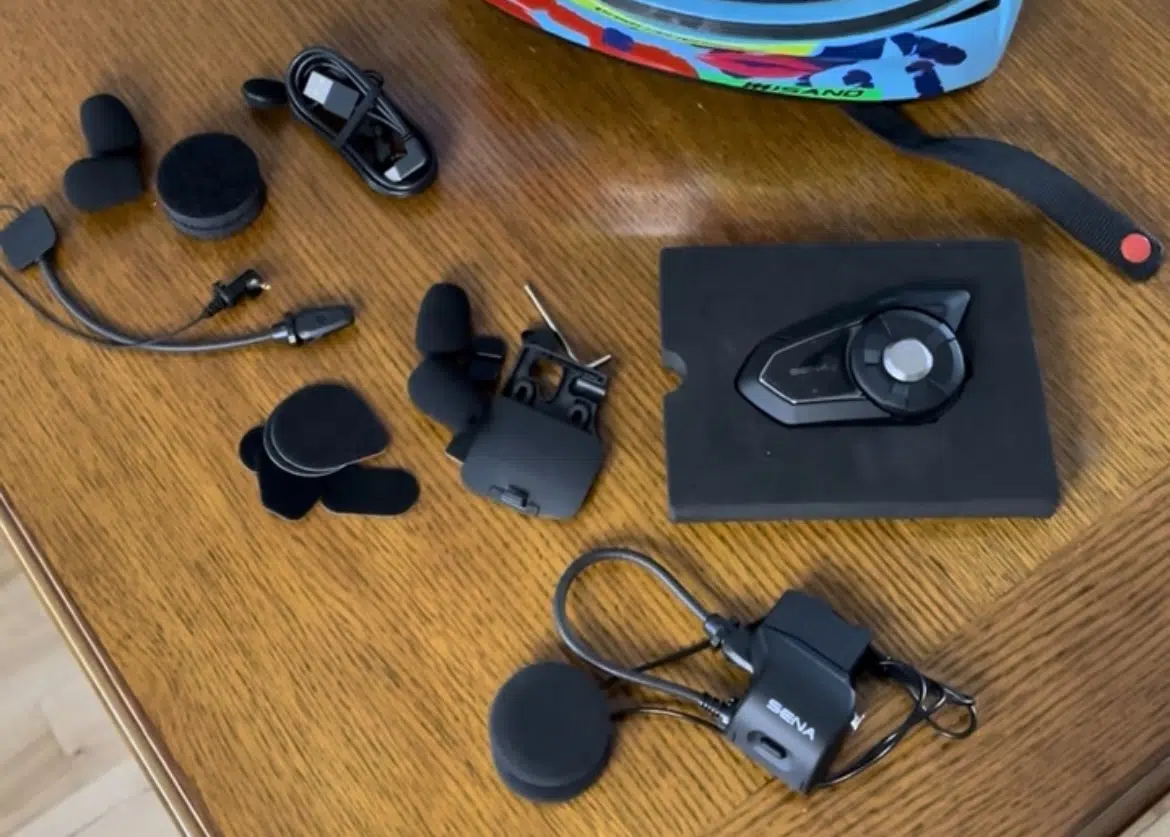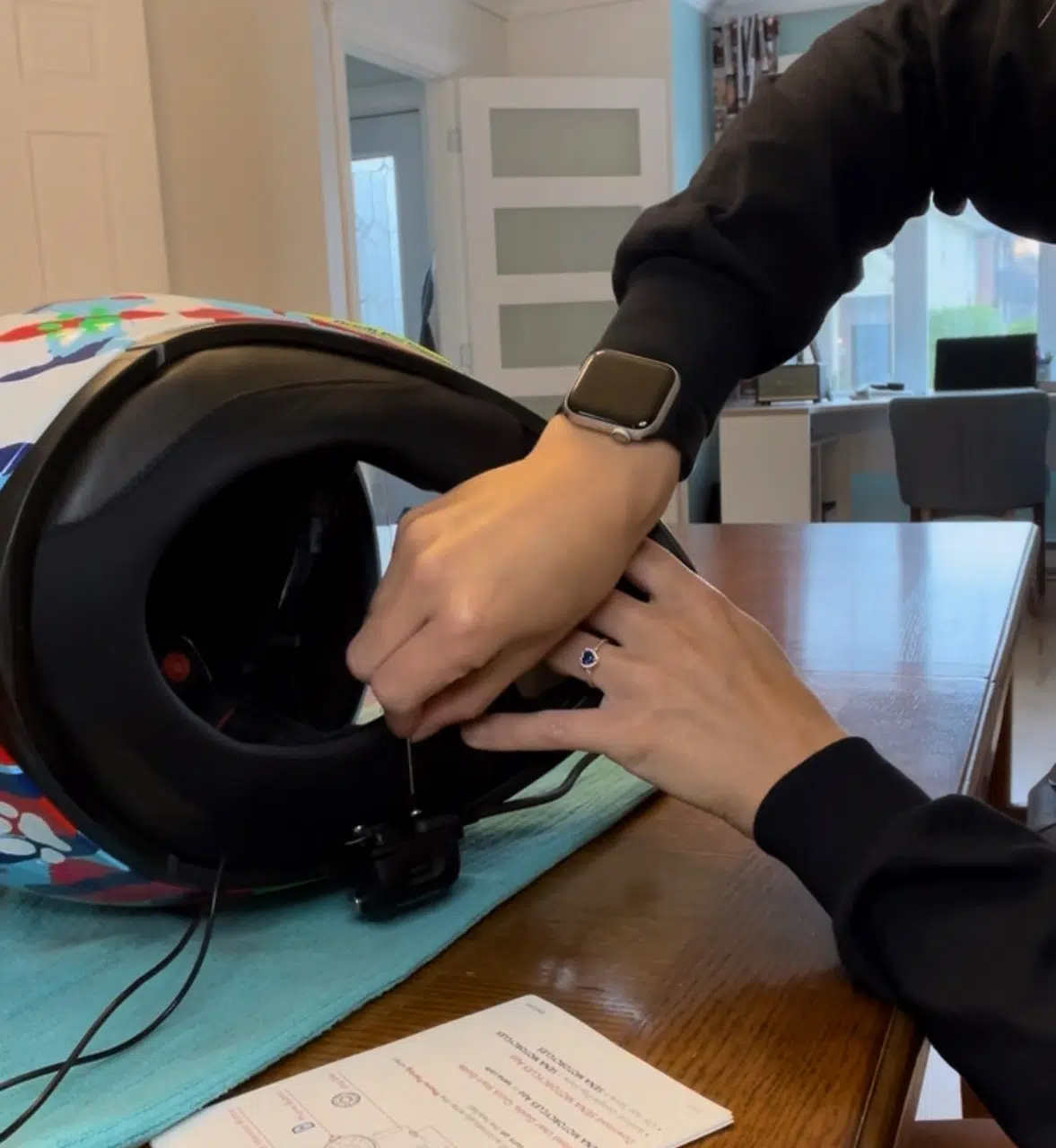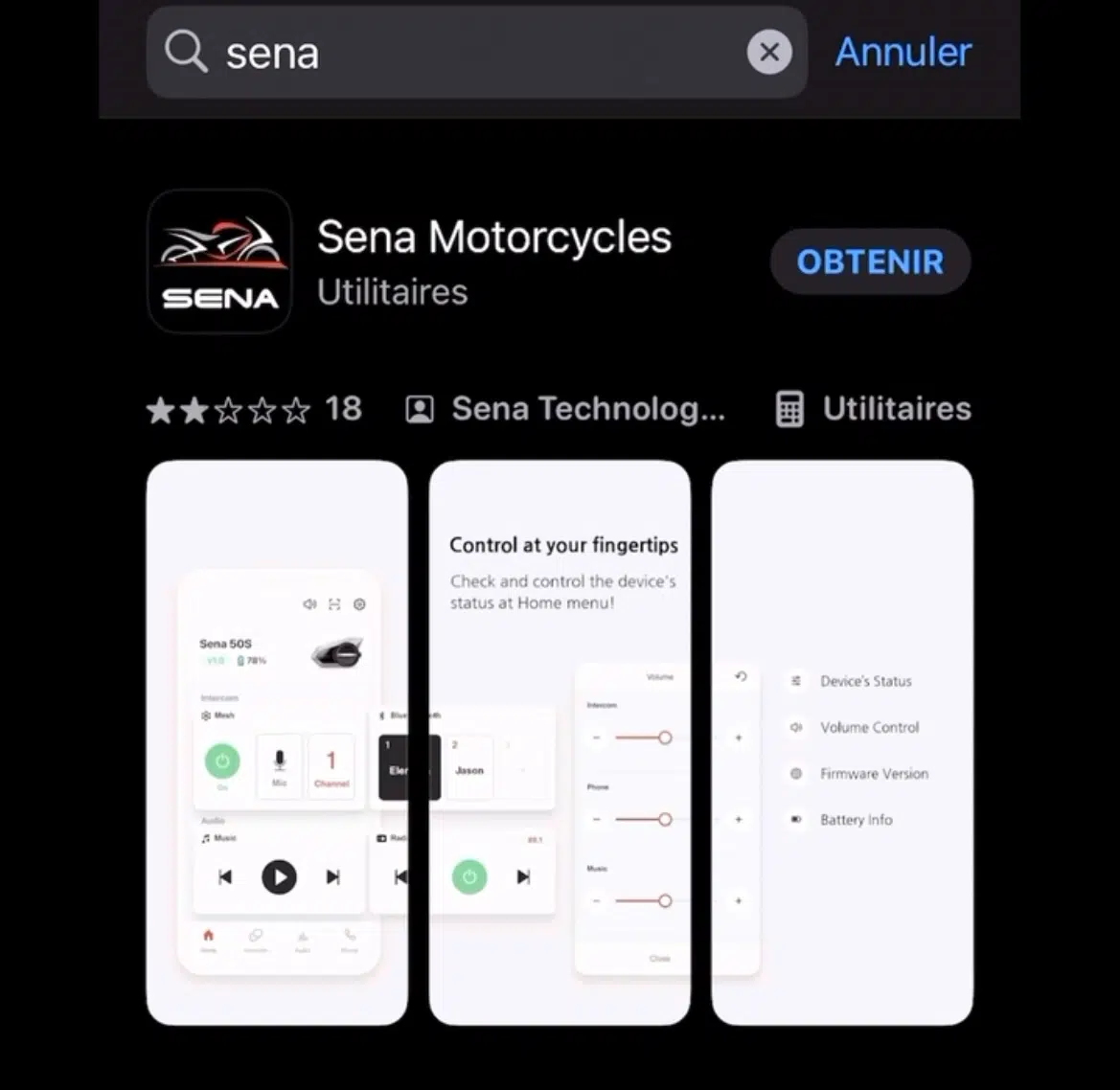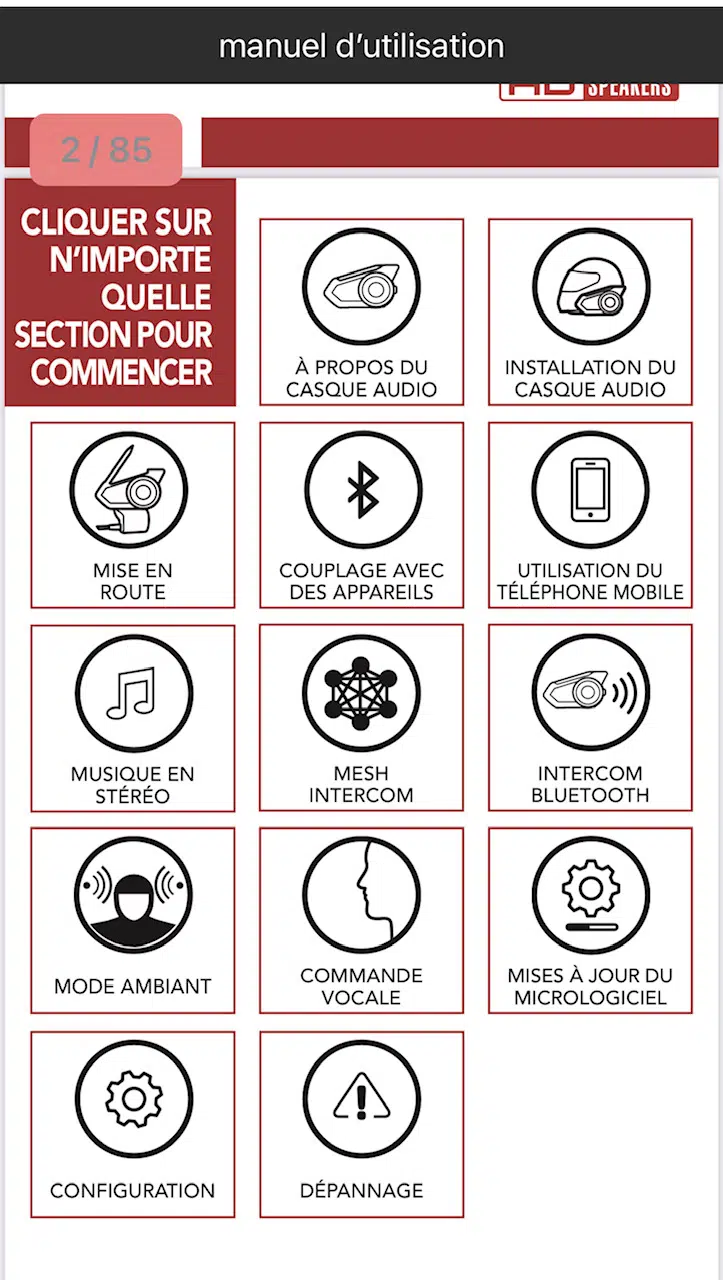 The advantage of a communication system
I love listening to music while riding, it relaxes me. I also tend to get lost, but I don't like looking at my phone screen when I'm driving, so using my headphones was necessary.
As I often ride alone I didn't feel the need to pay for a communication system.
However, in Quebec, driving with an earphone in each ear is prohibited by law.
It is true that this can be dangerous since you can no longer hear ambient sounds and we all know that we need all our senses when we drive our vehicles (well, maybe not the taste that much, but you see what I mean!).
This is why such a system is an excellent alternative. You can listen to your music and/or the instructions from your GPS while having your ears clear and your eyes on the road.
Since the audio system is easily accessible from the side of your headset, it's easy to play with the volume, change songs, or pause everything. You can also receive your calls just like in your car.
Will the sound be perfect? It all depends on the quality of the module you choose. In my case I found that the sound of the music could have been better. You can add pads that reduce the space between your ear and the speakers stuck in your helmet, it improves a little.
The best part is being able to connect with other users when riding in a group. Once again, it's so easy to connect using the "Sena Motorcycles" app. I only had to scan the QR code in my friend's app and her device was immediately detected by mine.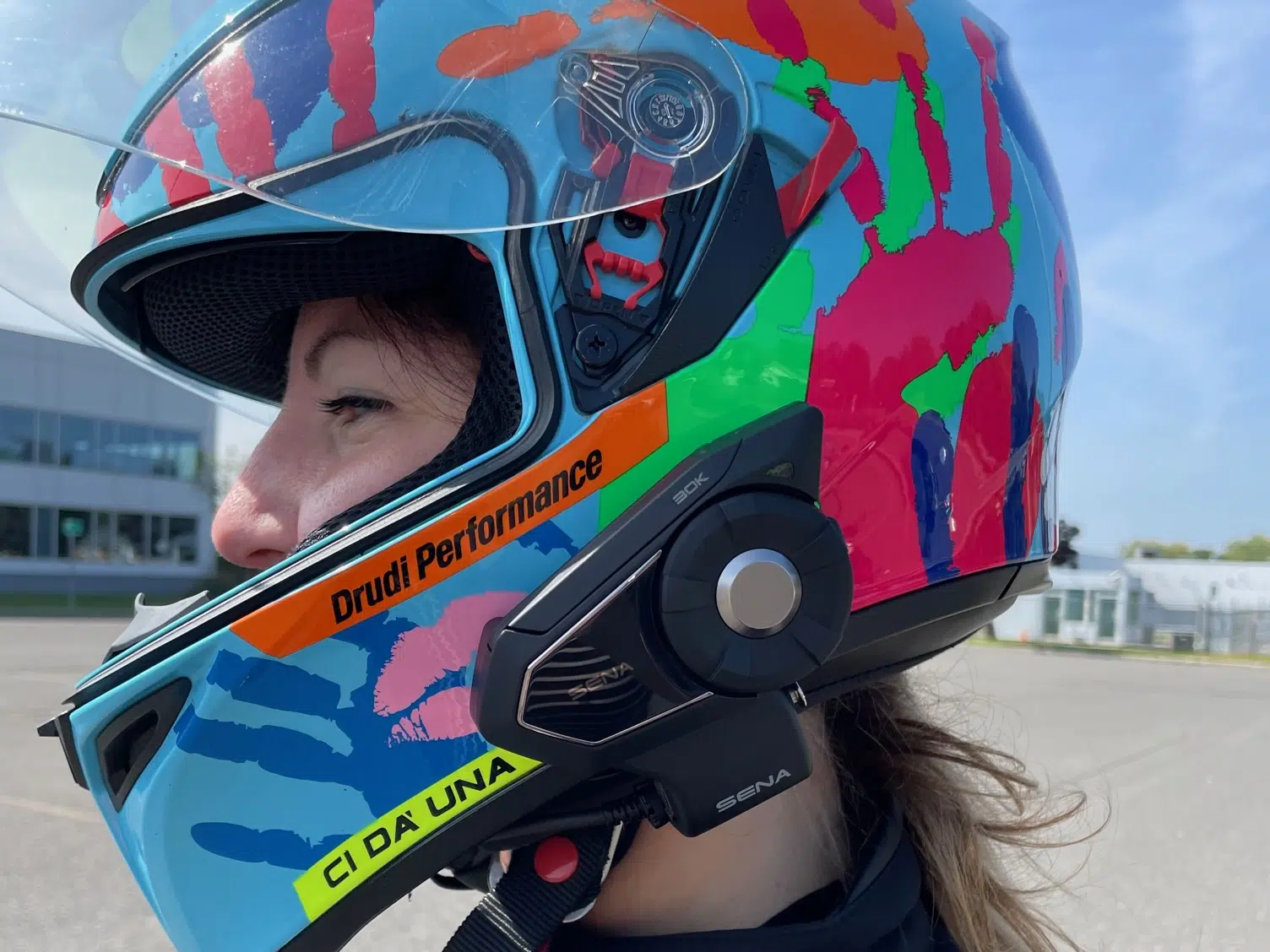 Here are some features of the SENA 30K communication system:
You can use two different modes to connect other systems to yours: "Intercom Mesh" mode which can connect up to 24 people within a two kilometer radius and "Bluetooth" mode which can connect up to 4 people always within a radius of two kilometers.
Battery life according to Sena is 12 hours in "Bluetooth" mode and 10 hours in "Intercom Mesh" mode. Obviously, if you use it in cold temperatures such as when snowmobiling, the battery may discharge more quickly.
If you unfortunately run out of battery, know that a simple 20-minute recharge can give you up to five hours of battery life and for a full charge you should allow 2 hours 30 minutes.
You can track the complete status of your system in the app!
It is possible to activate "Ambient Mode" so that you can always hear what is happening outside your headset. This will have the effect of automatically lowering the sound of your music when you speak into the microphone and as soon as there is a little too much wind.
The audio system is designed for outdoor temperatures down to -10 degrees. It can therefore be used during winter activities, but not in extreme cold.
It's possible to share your music with your friends when you ride together. So everyone is on the same beat!
For more information, I invite you to visit the site https://www.sena.com/us-en to learn more about their different communication systems.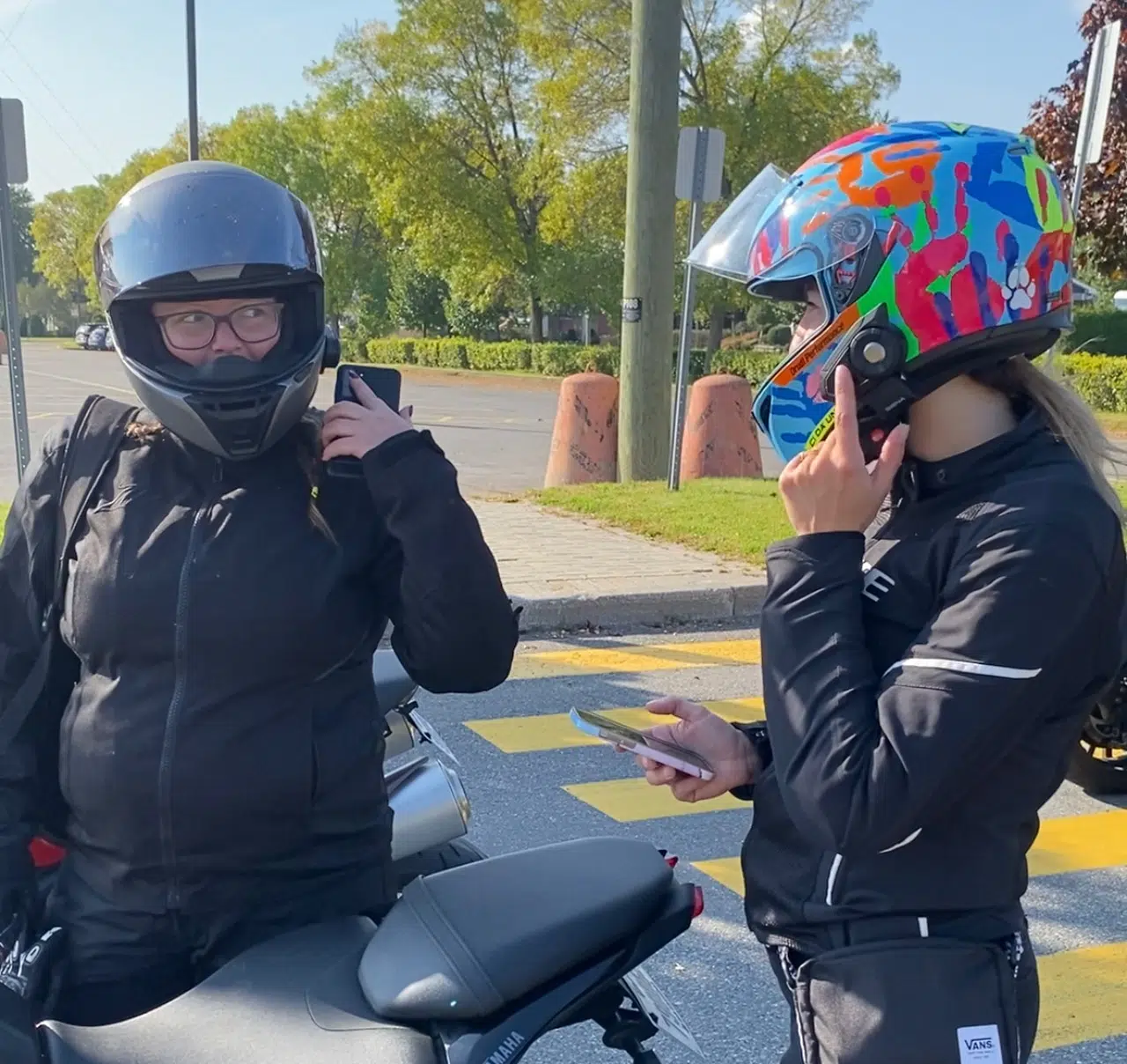 In summary
I loved my experience with my new communication system and I don't understand how I managed without it all these years.
It's so easy to use and super practical! I can now concentrate on the road and enjoy my present moment while being careful.
No more tearing my ears off every time I take off my helmet because my headphones are stuck, no more trying to replace them constantly and no need to always have an eye on the dashboard or my cell phone to help me find my way on the road.
The only weak point is the sound quality which could be better, but nothing is perfect!
A big thank you to Royal Distributing for this opportunity and I invite you to visit their site https://www.royaldistributing.com/ to order your next Sena communication system. You will also find everything you need all year round to practice your favorite motorized sport!
See you next time!
Gab xx