The Chicks take you to the Lower St-Lawrence on snowmobile, part 2
We've had the chance to discover some great places so far.
If you haven't read it yet, check out the article by our lovely Nadine: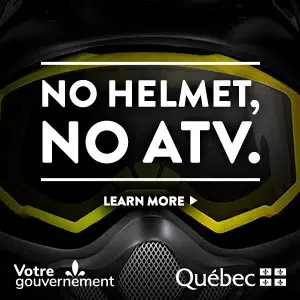 https://chicksandmachines.com/motoneige/bsl-motoneige-partie-1/.
However, the expedition in the Lower St. Lawrence for the four Chicks is far from over. We are now at day 2 of our journey.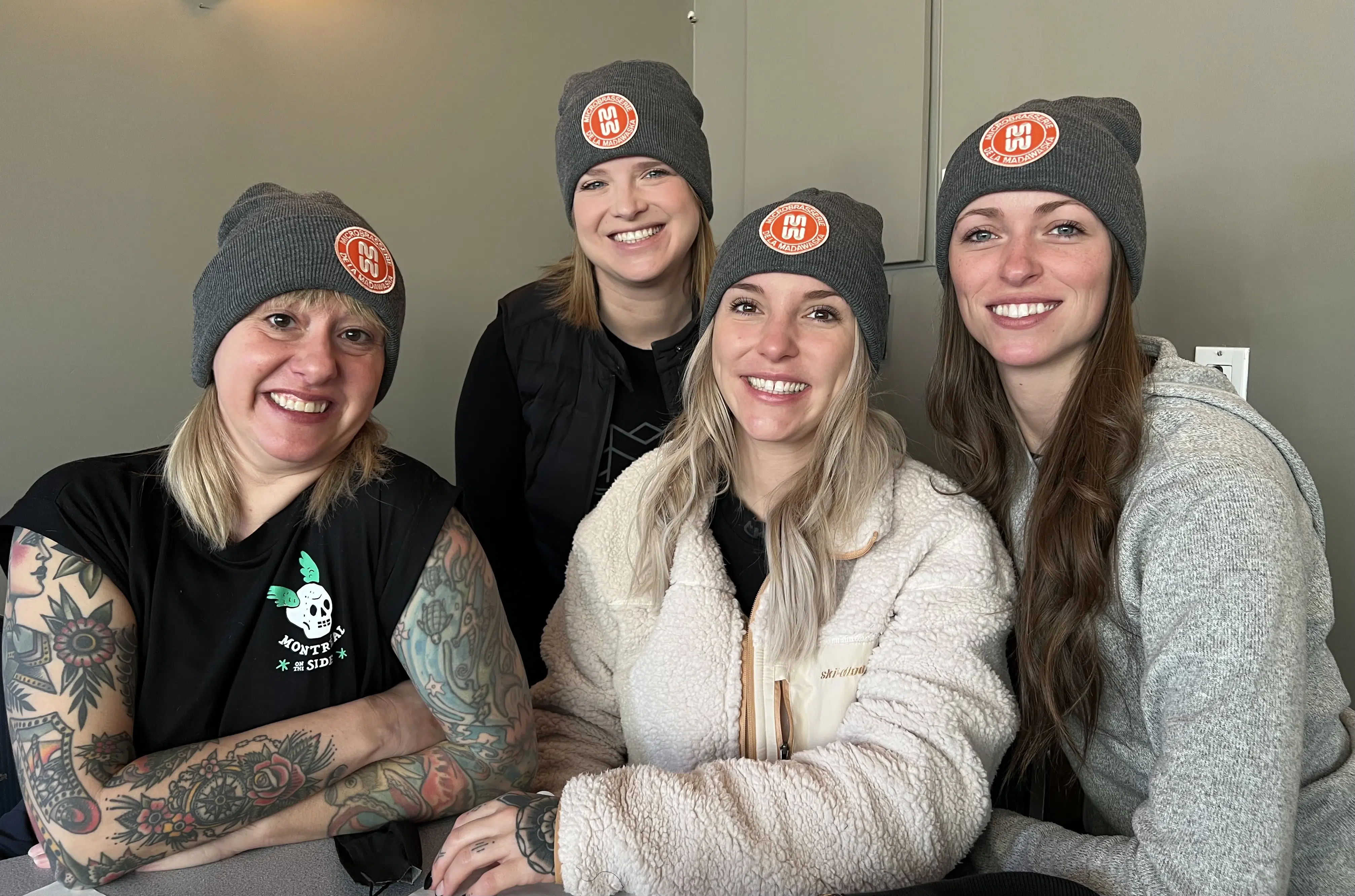 After a nice and relaxing night at the Hotel 1212, which was very welcoming, we were treated to the famous breakfasts, courtesy of the owner. We were extremely spoiled, since it was THE day of the return of breakfasts at the hotel restaurant since the beginning of the pandemic. There was something for everyone: classic, brunch and sweet.
I was more than satisfied! Moreover, I admit that it was a good time, since we had a big day ahead of us. So, we took the opportunity to fill up on energy before starting this beautiful day.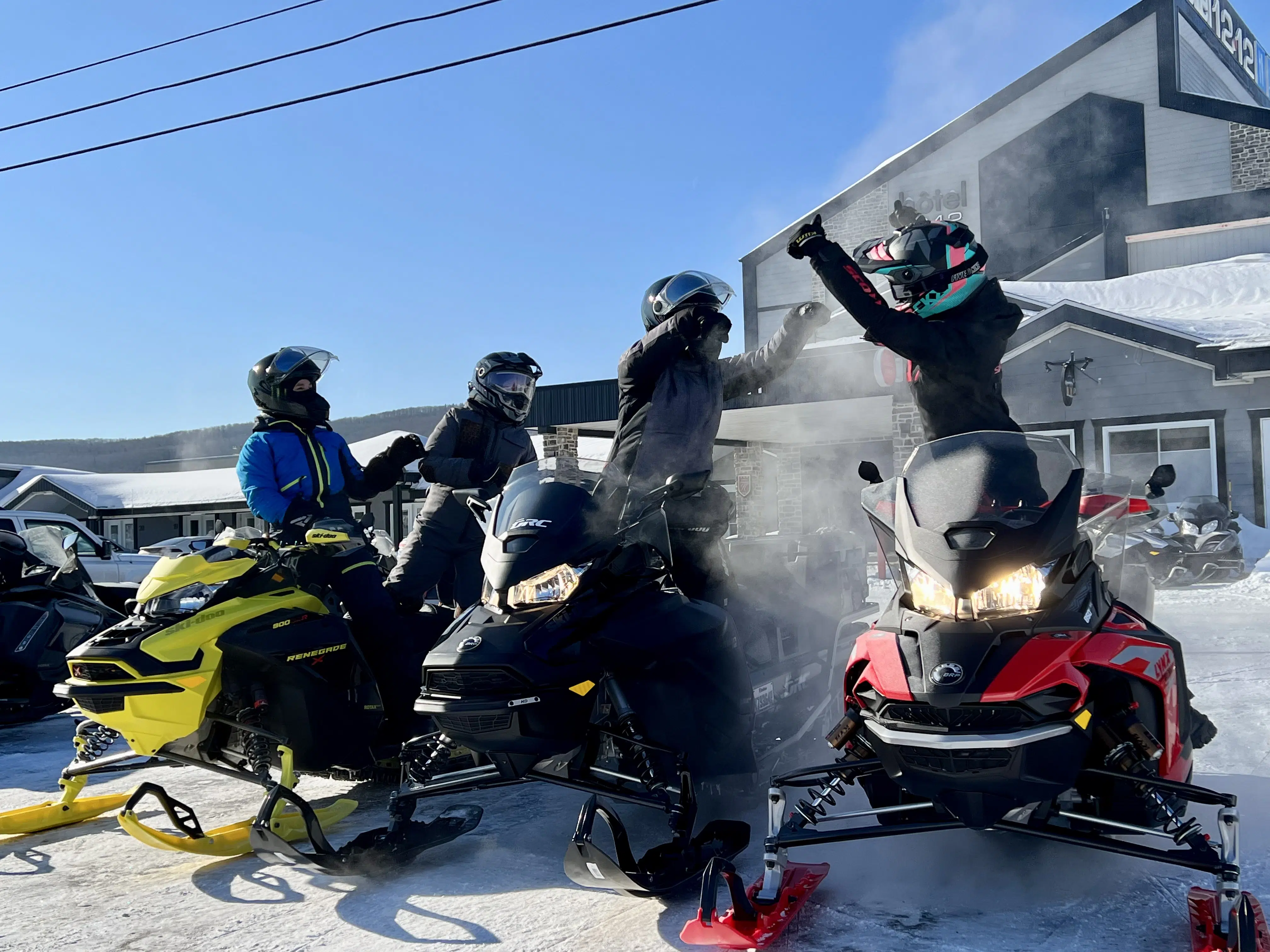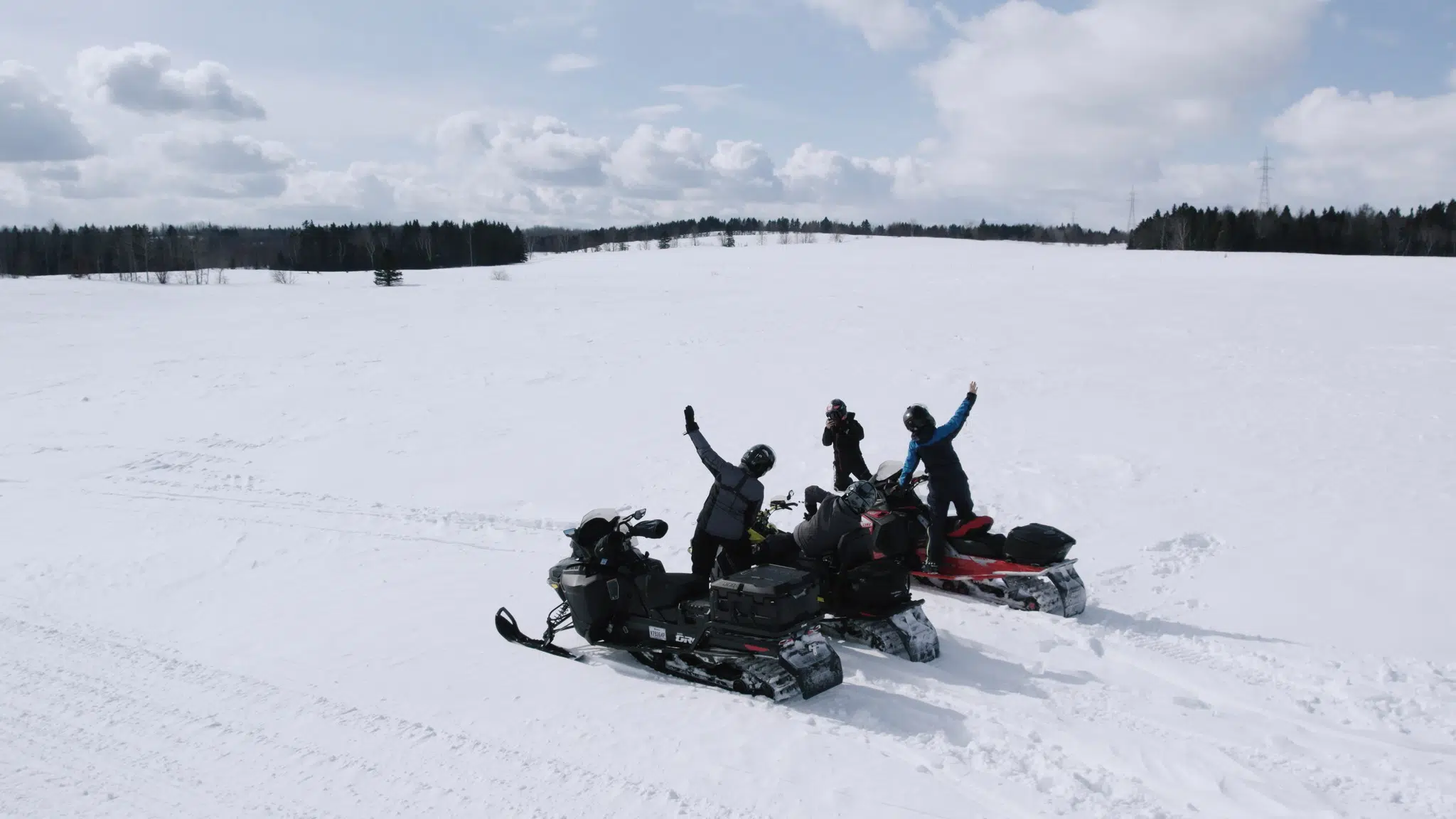 The journey continues…
For our second day, Tourisme Bas St-Laurent has planned a superb ride: 164 km to Rimouski, 164 km of magnificent landscapes to admire, beautiful moments to share and memories to capture. Moreover, the day is sunny, which will undoubtedly enhance this beautiful route. What more could you ask for? Despite the cold, all the conditions were met to live an exceptional day of snowmobiling.
It was a departure for Mont Biencourt, a ski club in the Témiscouata MRC, in Biencourt. To get there, we took the magnificent trail #571, a beautiful large shared road marked for snowmobiling. We crossed a multitude of maple groves, each one as charming as the next. Once we arrived, there were many snowmobilers and skiers on site.
The Mont Biencourt ski resort offers the possibility of skiing, sliding, but it also serves as a relay for snowmobilers. The ski club has all the necessary services to eat and warm up before continuing your journey.
For those who wish to extend their stay at this place, the rental of chalets is possible. Many activities are offered during the season, including a snowmobile acceleration race in January, followed by a dance in the chalet. To find out about all the activities available, please visit their website: https://montbiencourt.com/
We stopped at the resort for lunch and to warm up a bit before continuing our journey. The mountains were beautiful and looked very skier-friendly. As a snowboarder, I found them very attractive.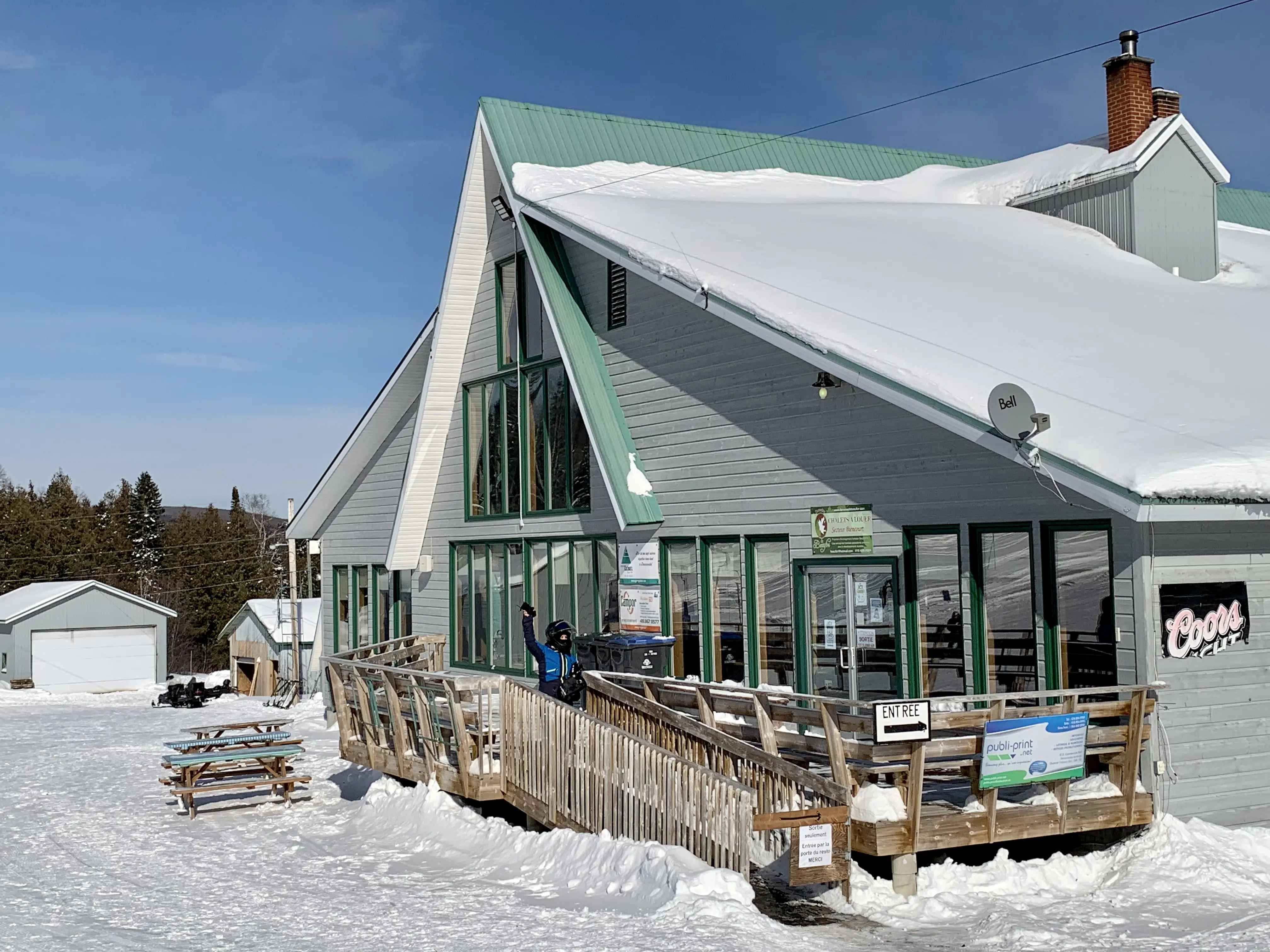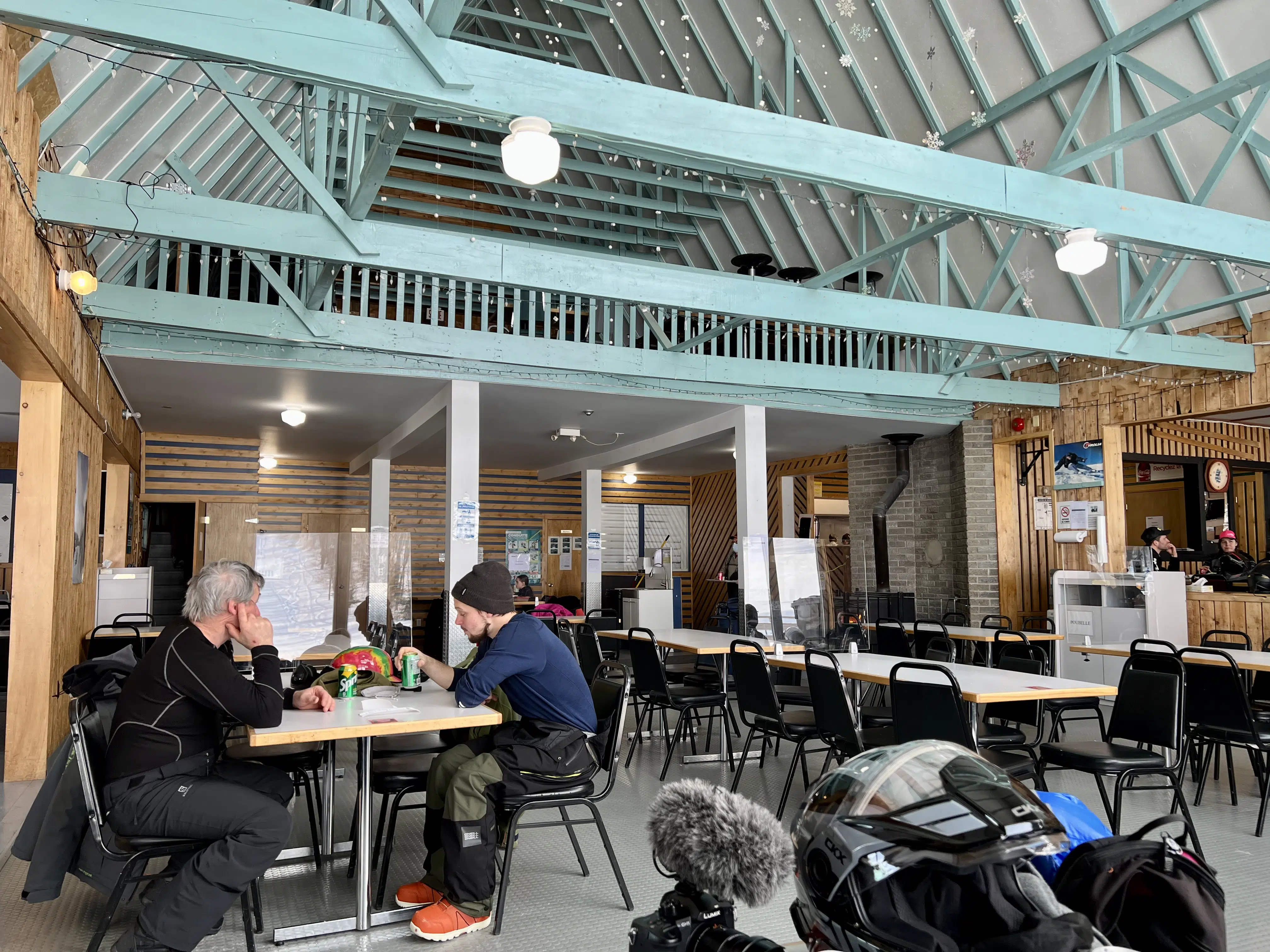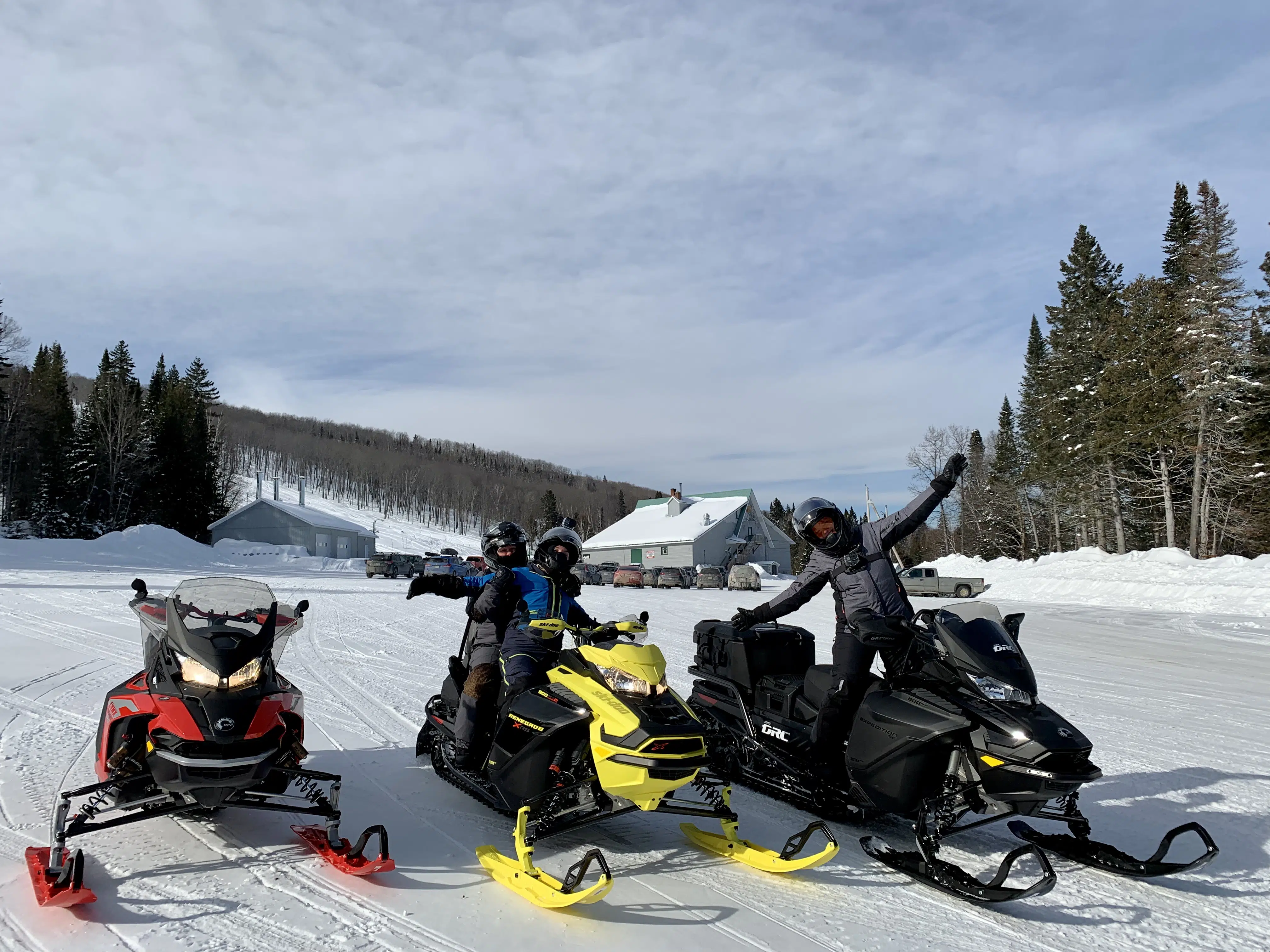 It is now time to continue our journey, towards Hotel Le Navigateur in Rimouski. Once again, the trails in the Lower St. Lawrence region were very well maintained and wide: beautiful, winding, bucolic trails. The signposts are well visible. Gas stations are well marked and there are even mini-mechanic services available everywhere.
Throughout our hike, we took the time to stop several times and admire the beautiful scenery. The amount of snow was incredible.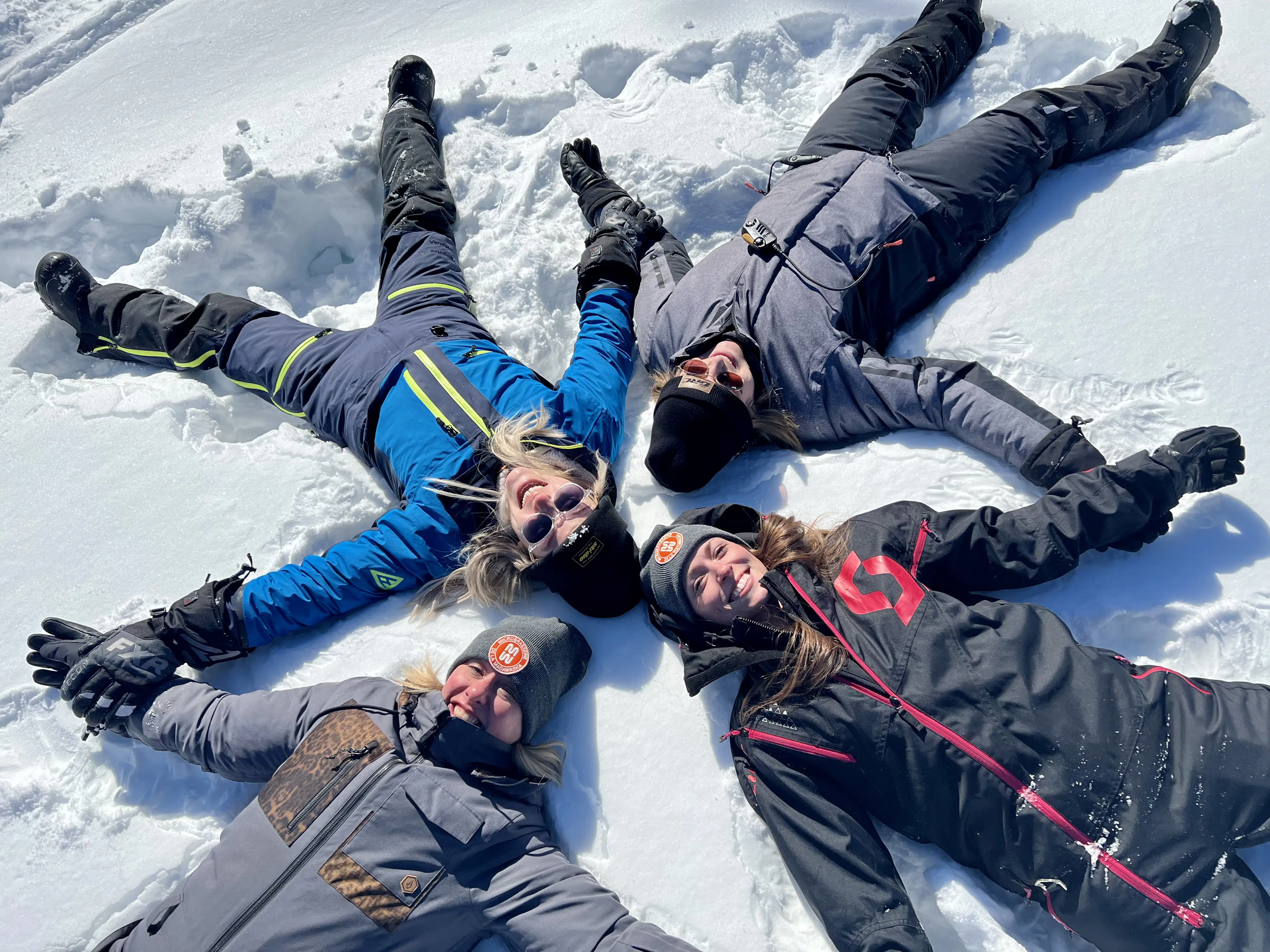 We even had the chance to chat with several snowmobilers. There was much respect between snowmobilers, whether it was to chat between two bites in the clubs or in the trails.
To get to the Hôtel Le Navigateur, we headed east on trail #35: a wooded trail, plenty of snow and breathtaking views. Beware, nature lovers, whether in the beautiful region of Pohénégamook or along the Rimouski River, there are significant deer ravages. If you have the chance to observe them, it makes the trip more pleasant. However, always remain vigilant on the trails.
Also, still heading east, we followed trail #5 and #578, then the local trail. Although the indications were clear, once we arrived in the city of Rimouski, we had to improvise a bit. The last five kilometers to get to downtown are not so easy.
And to finish the day in beauty, we were able to admire a majestic sunset and a superb view on the river, which put a big balm on our hearts.❤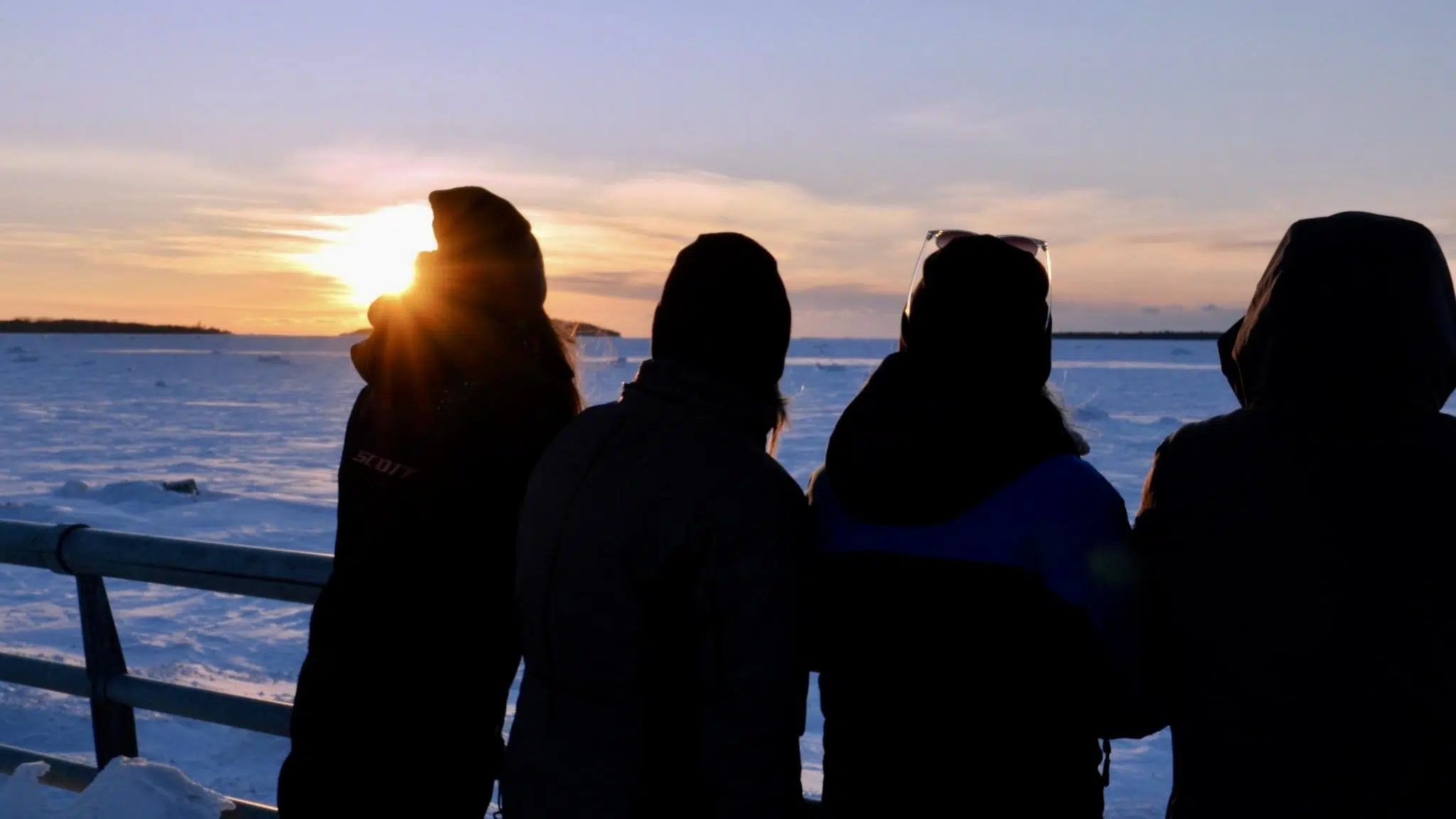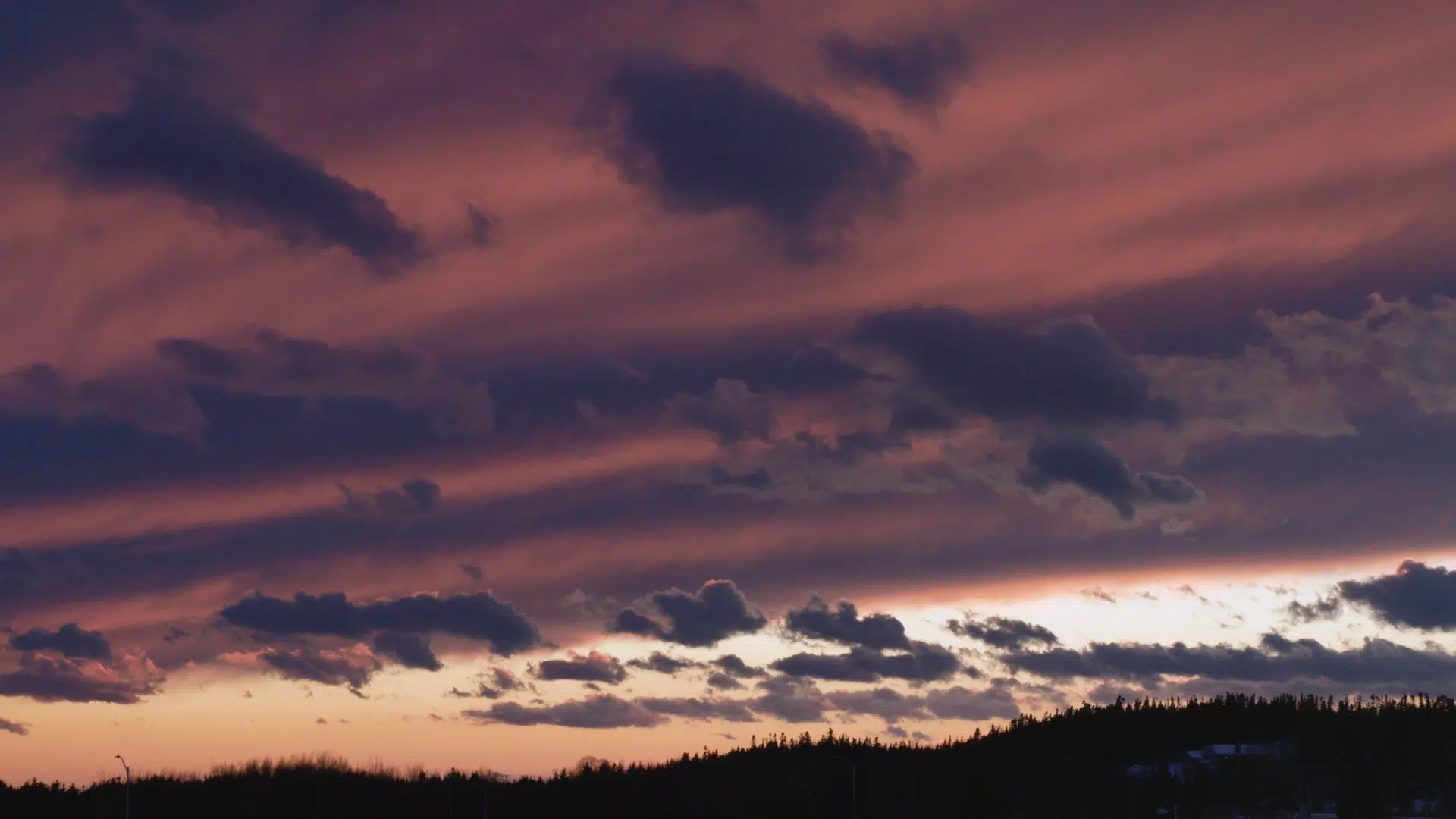 Finally, after these few kilometers, we were looking forward to our next stop because Tourisme Bas St-Laurent had thought of everything. We were expected at the Noah Spa, across the street from our hotel, to warm up and relax.
The manager of the Noah Spa was very welcoming and proud to receive us. The Noah Spa is unique. It has a large pool of water with several massage stations, each with its own particular benefits. Several other services are available, including dry sauna and spas, as well as a charming little bistro.
But the clock was ticking and we were feeling a little peckish. We made a reservation at La Maison du Spaghetti (Rimouski). Only a 5-minute walk and here we are!
La Maison du Spaghetti was a must for us. The setting: a century-old heritage building that used to house a blacksmith shop. Wow! Even though our reservation was made a little last minute, we had THE place to be.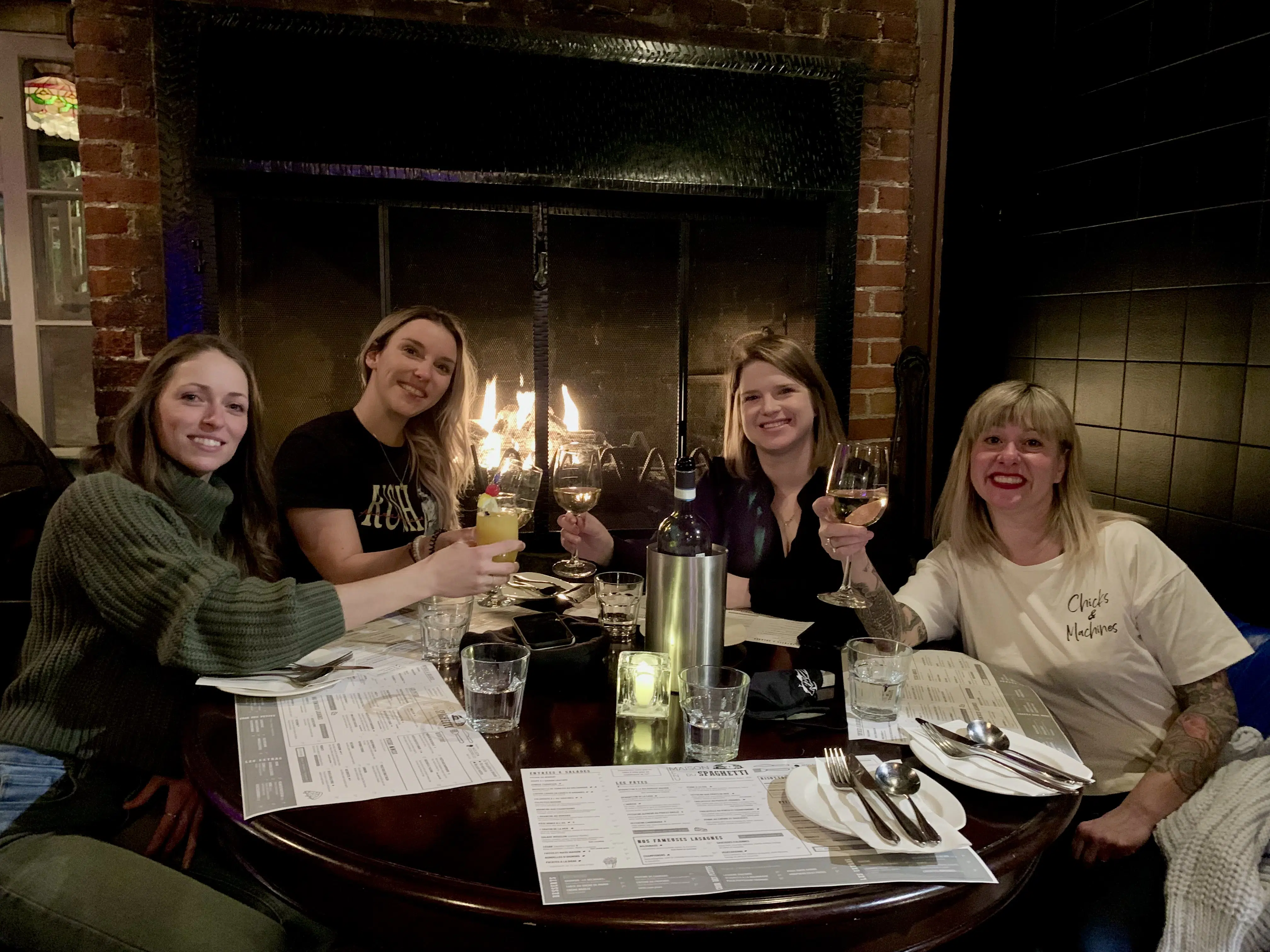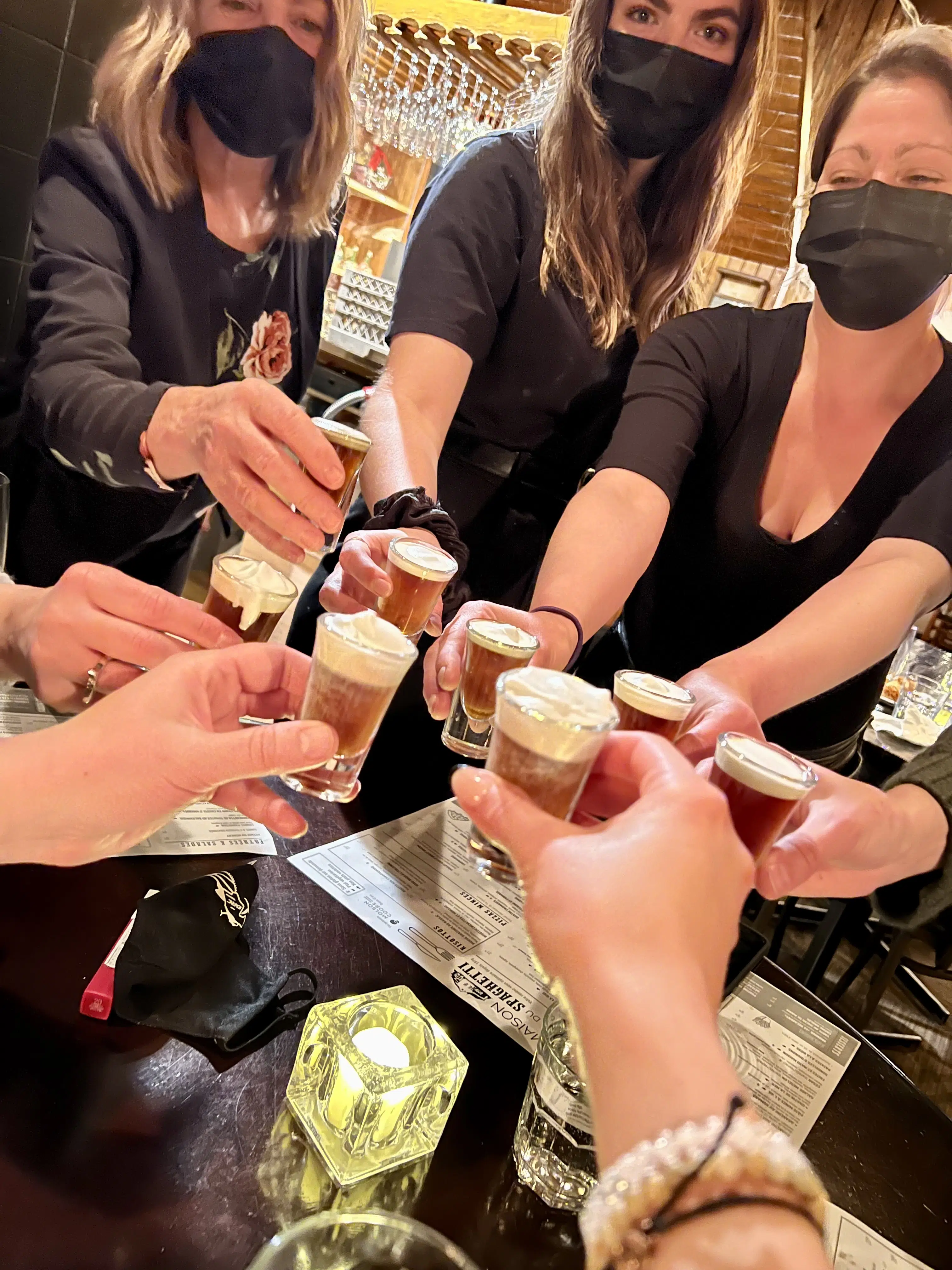 We had the warmest of welcomes. The service was simply incredible. The employees were all smiling and happy to receive us. We ate like queens. The meals were succulent. To our great pleasure, we were given a little history of the building, a digestif and many thanks for our visit. We were also charmed by the good selection of wines. Believe me, it's unanimous, we tell them: see you soon!
Once the meal is over, it is time for us to rest. We are expected at the Hotel Le Navigateur, where we were also very well received: nothing less than two junior suites were waiting for us with a view on the river. The rooms were very spacious, well equipped, intimate and really comfortable. There was even a small Nespresso coffee maker, just to get up on the right foot.☕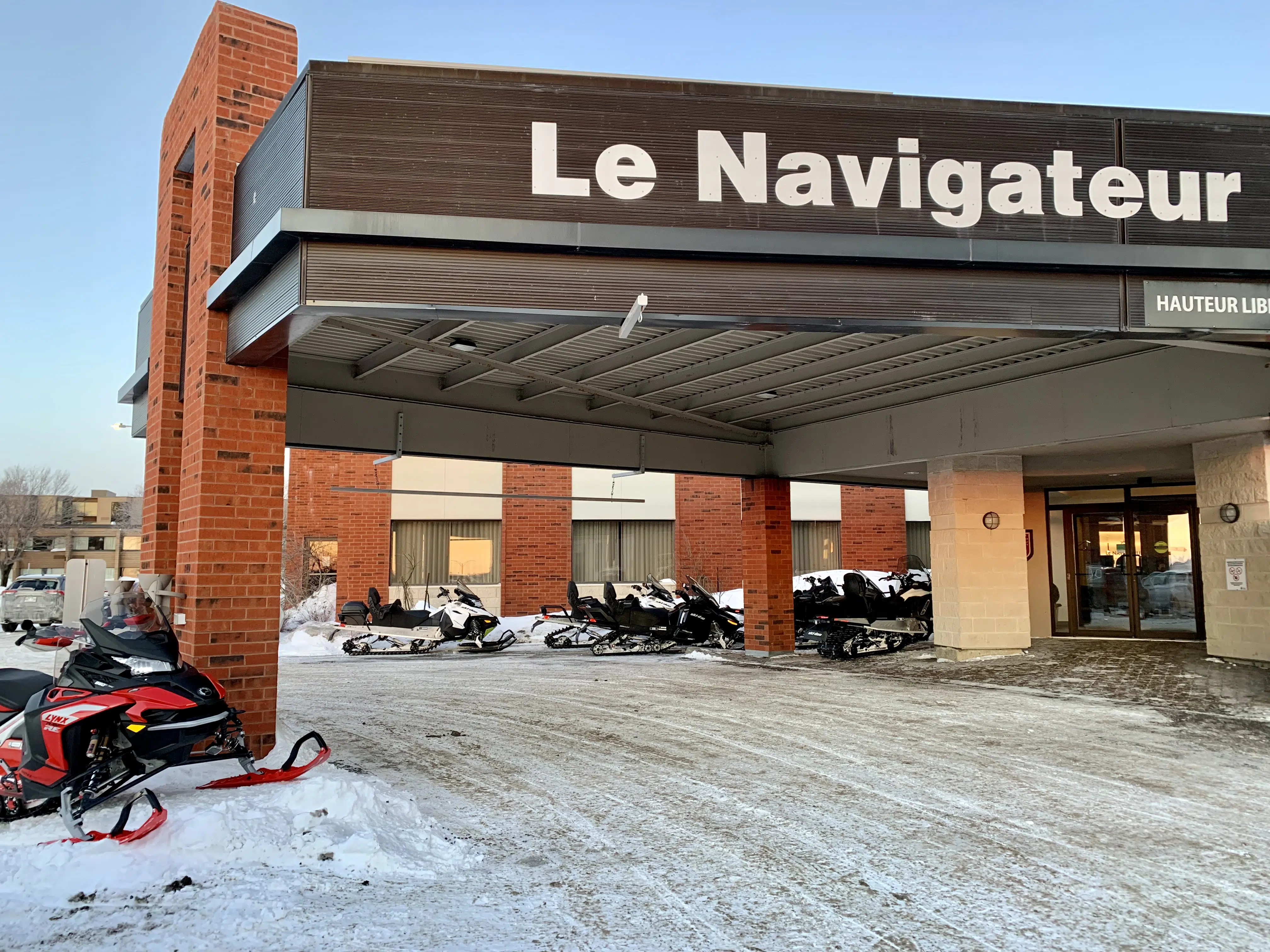 Day 3: More challenges await!
After a good night's sleep, what could be better than to wake up dazzled by the magnificent sun rays that penetrate our room? We get up, we drink coffee while getting ready. We are waited in Pacini for the breakfast.
Once again, the choices were incredible. Our beautiful Nadine could not resist the famous bread bar. Conversations were flowing and laughter was present. The atmosphere was perfect.
For this last day of snowmobiling, we had an itinerary of 190 km in order to reach our initial destination: Rivière-du-Loup. We put on our snowmobile clothes and we leave. The machines are ready and so are we.
Tourisme Bas-St-Laurent offered us a beautiful itinerary for the return trip. We had the chance to stop in St-Fabien-sur-mer to admire the magnificent panoramas. Unfortunately, we had to decline this offer due to lack of time, given the shooting.
On the other hand, if time permits, it's apparently an extra 30 km on your journey that is really worth it.
So we leave the Hotel Le Navigateur in the direction of Trois-Pistoles.
During our trip, we stopped at a gas station in Saint-Eugène-de-Ladrière, a small municipality of Rimouski-Neigette.
Only 10 minutes later, we came across a beautiful little snowmobile relay: the snowmobile club L'Étang du Moulin. The trails to get there are well maintained. Congratulations again to all the volunteers and to all these beautiful clubs for their commitment!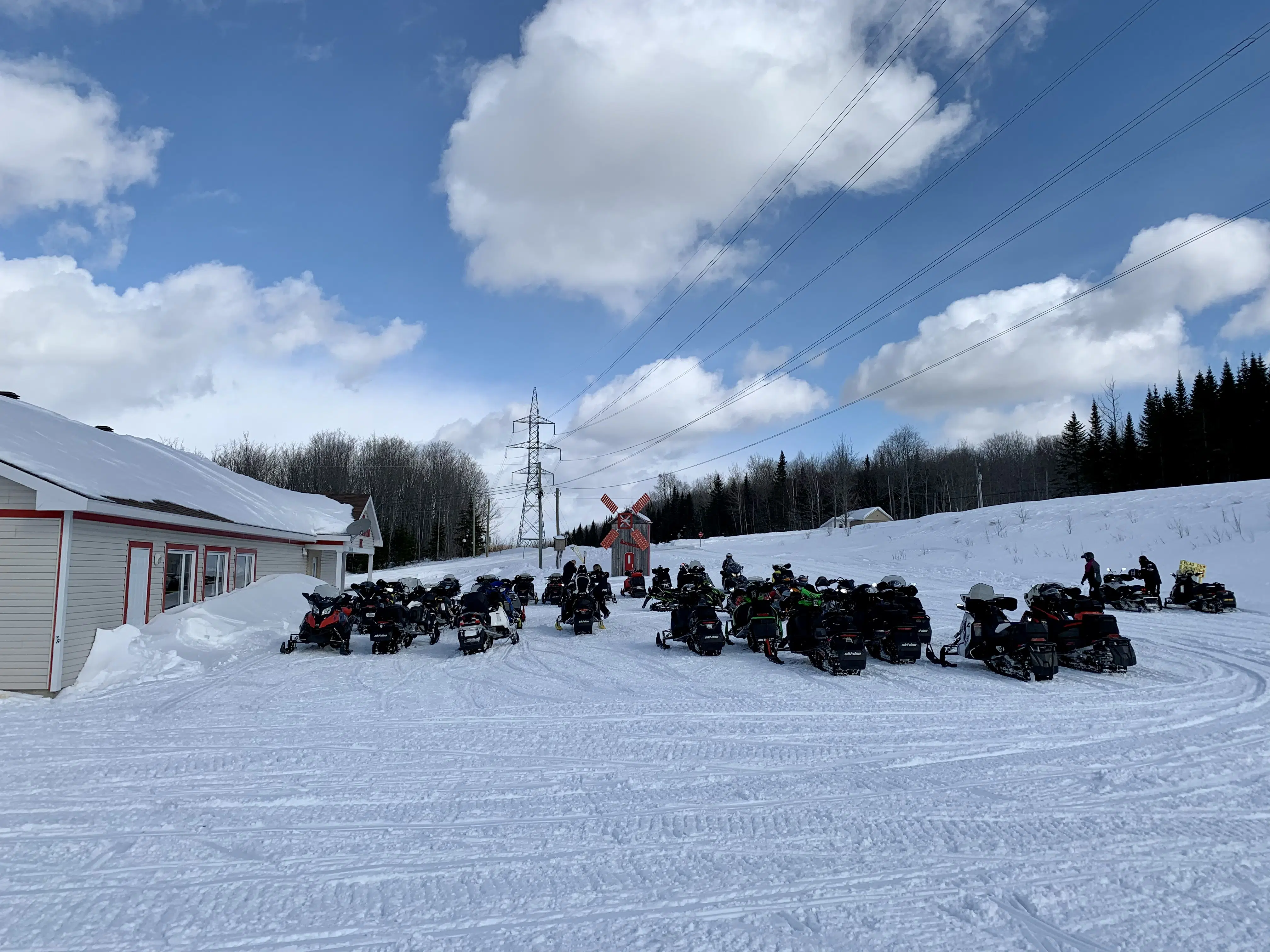 Our journey is just beginning… We continue our ride towards the snowmobile club Les Pistolets de Trois-Pistoles. We made a few kilometers in the intense blowing snow, for a little while.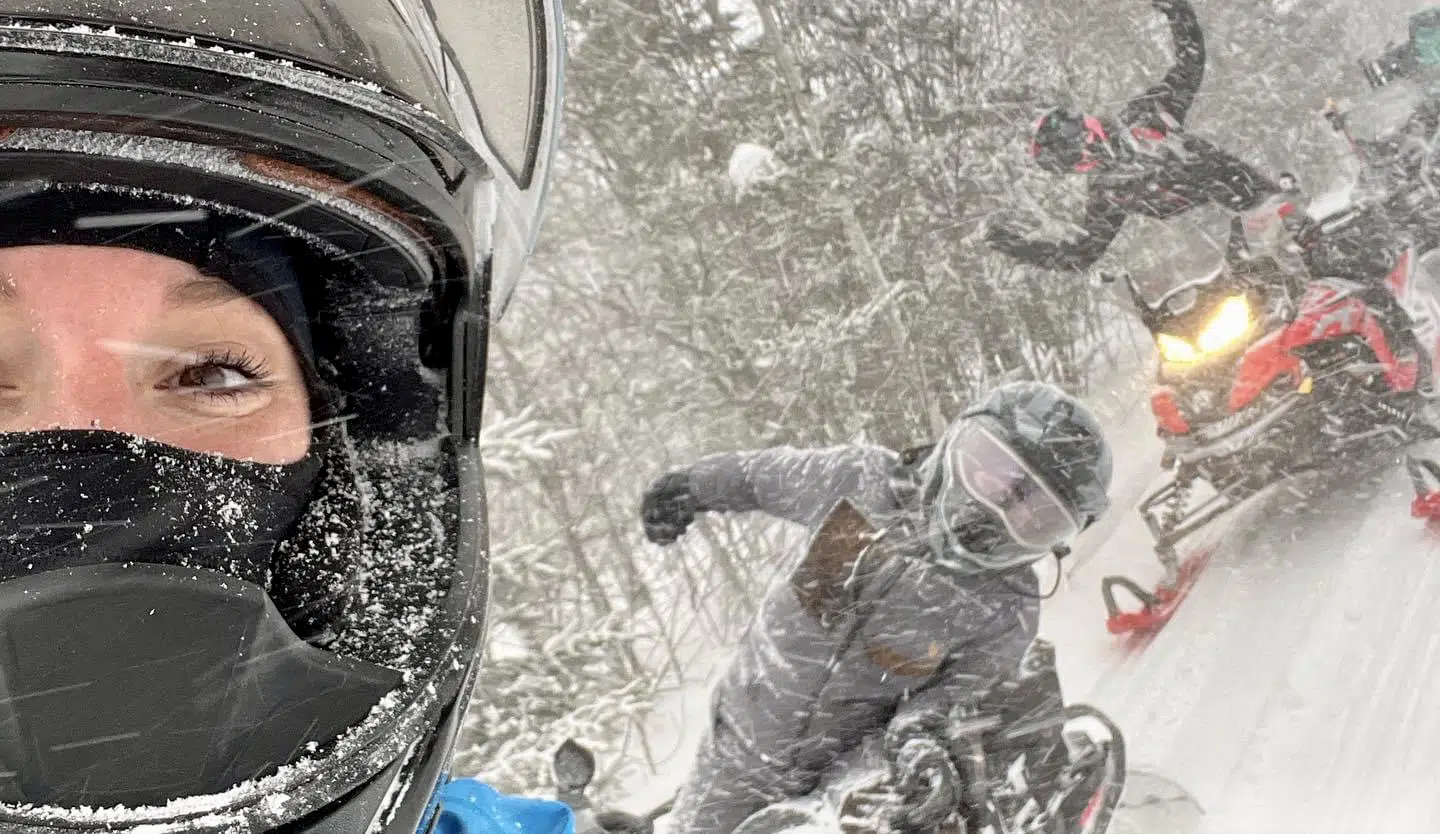 We were thrilled to arrive at Les Pistolets Snowmobile Club.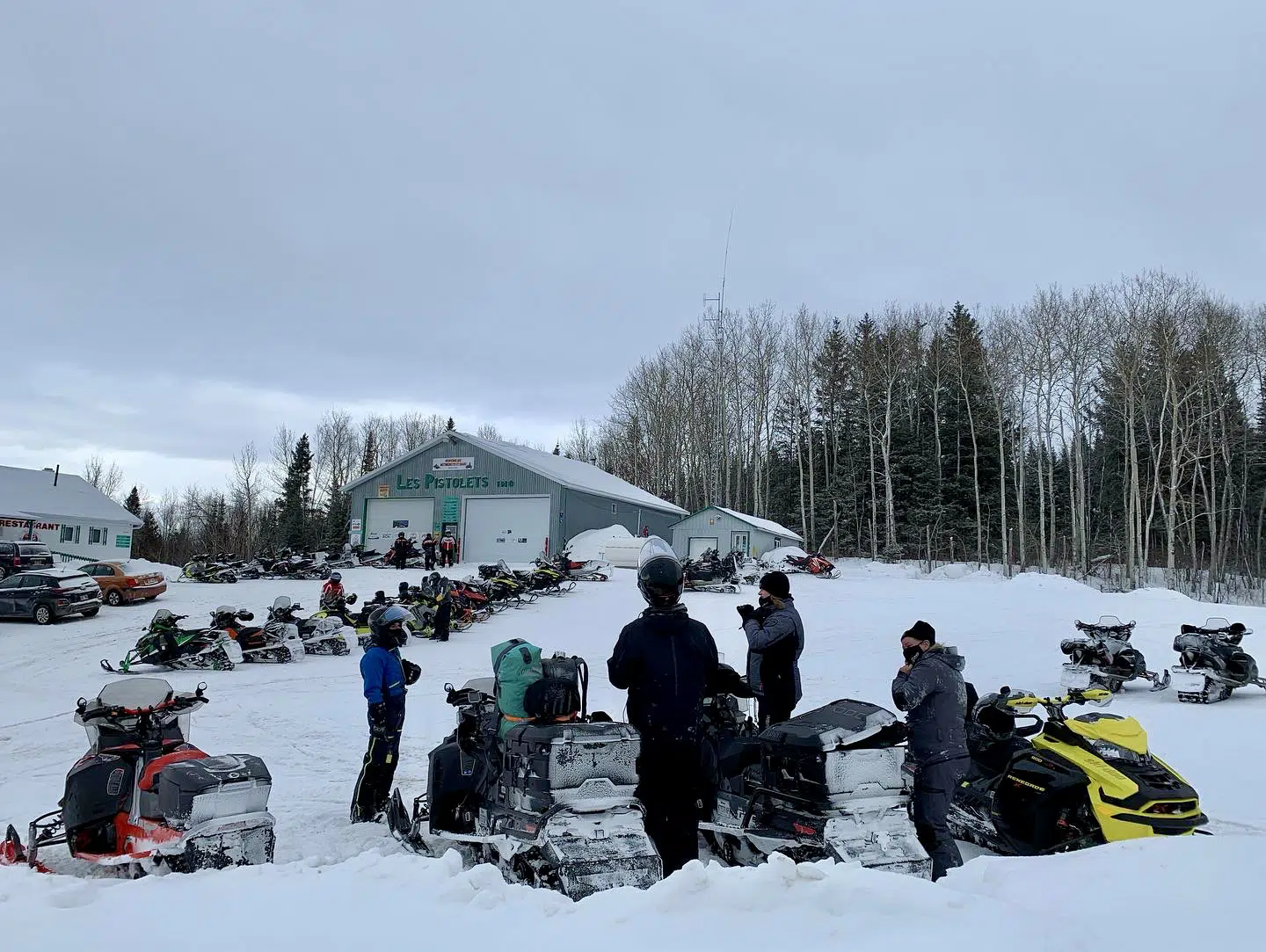 We were delighted by the beautiful atmosphere and decor inside the club: a restaurant-bar, a large dining room and even a section reserved for dropping off clothes. It is the ideal place to recharge your batteries and meet new people.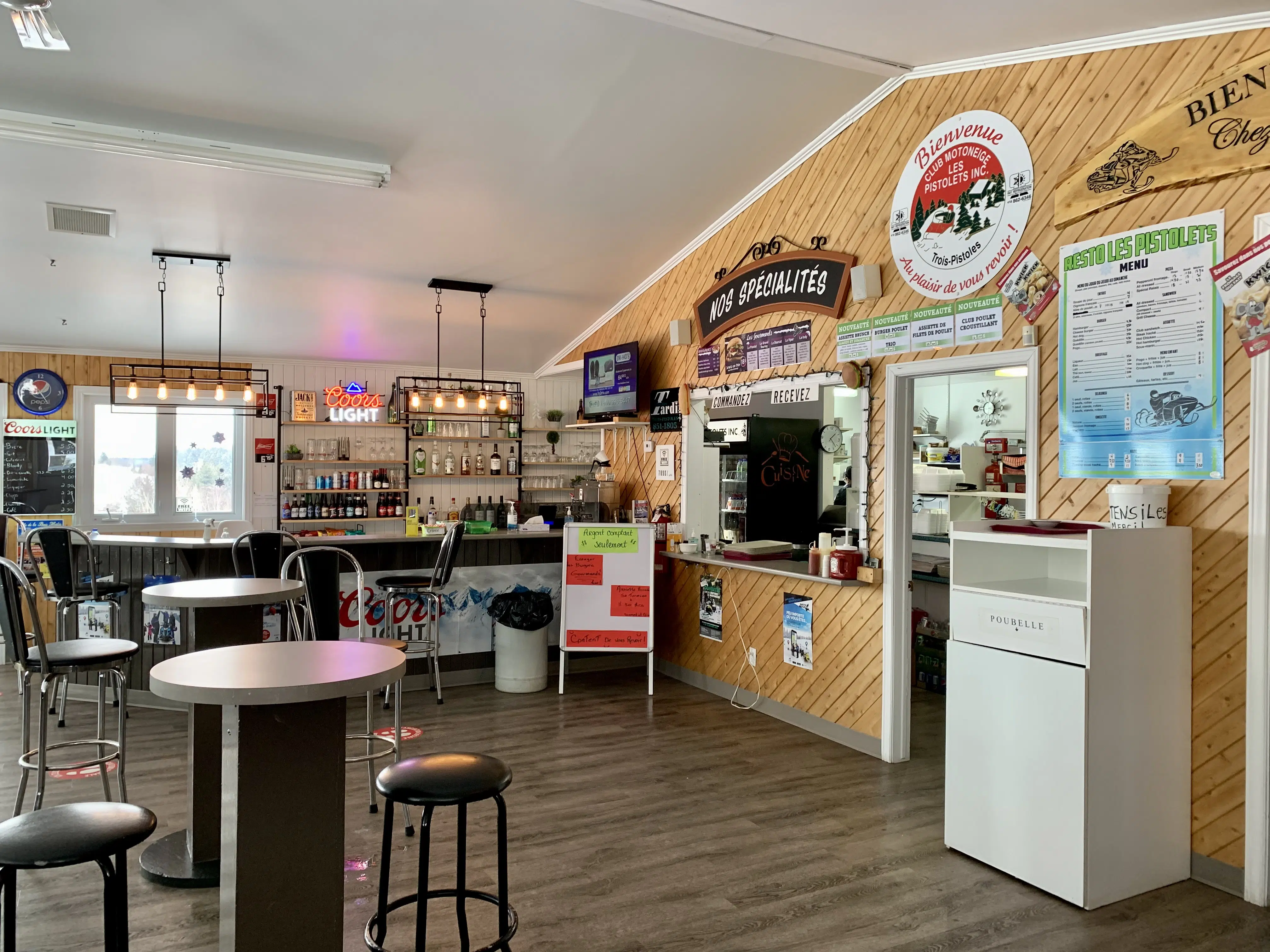 Warmed up and ready to leave, we greet some snowmobilers on the spot and we take the road again.
The first steps of Nadine
During our trip, we stopped in a safe place to explain to Nadine the basics of snowmobiling in the trails: it is her very first experience. Emilie took the opportunity to review with her the safety points and the operation of the snowmobile she was about to try.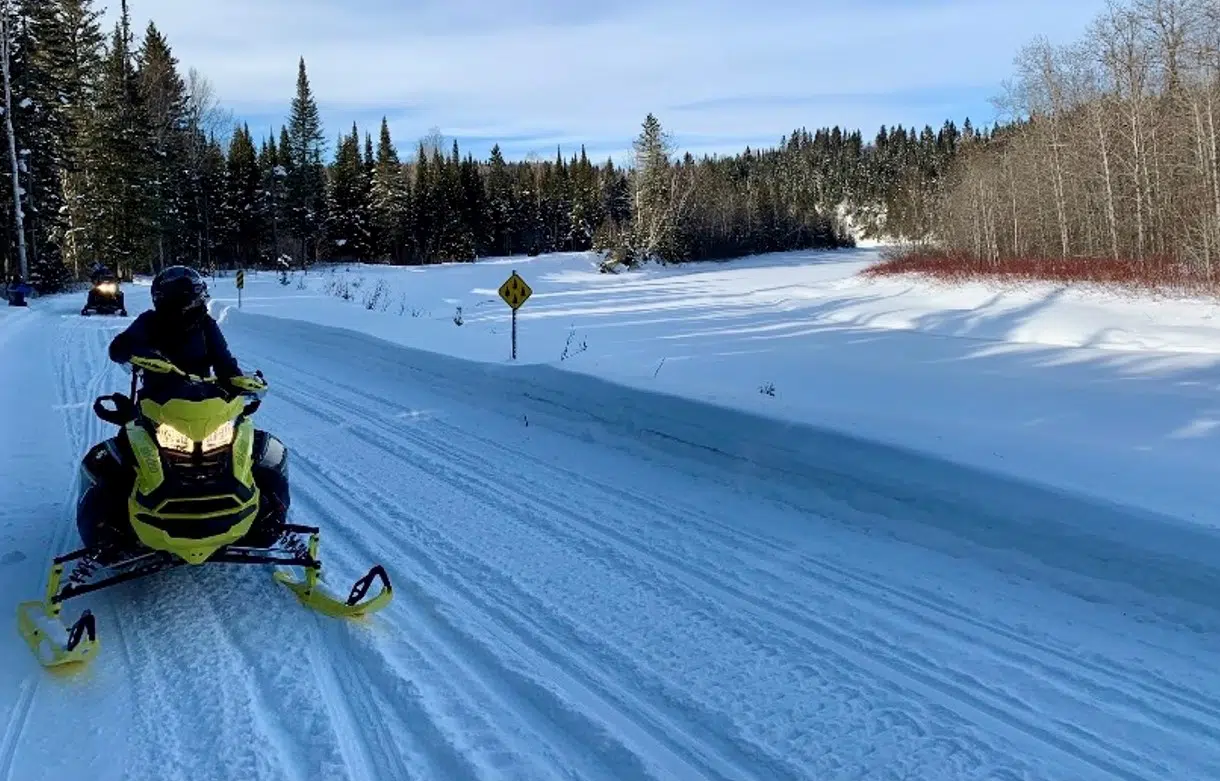 Nadine's reaction, after a few kilometers, was not surprising at all. She loved her experience. Maybe she will write an article to share her first experience driving a snowmobile?
Who knows? On our next outing, Nadine will probably drive a snowmobile too. Once again, our goal has been achieved, to give women a chance to take their place.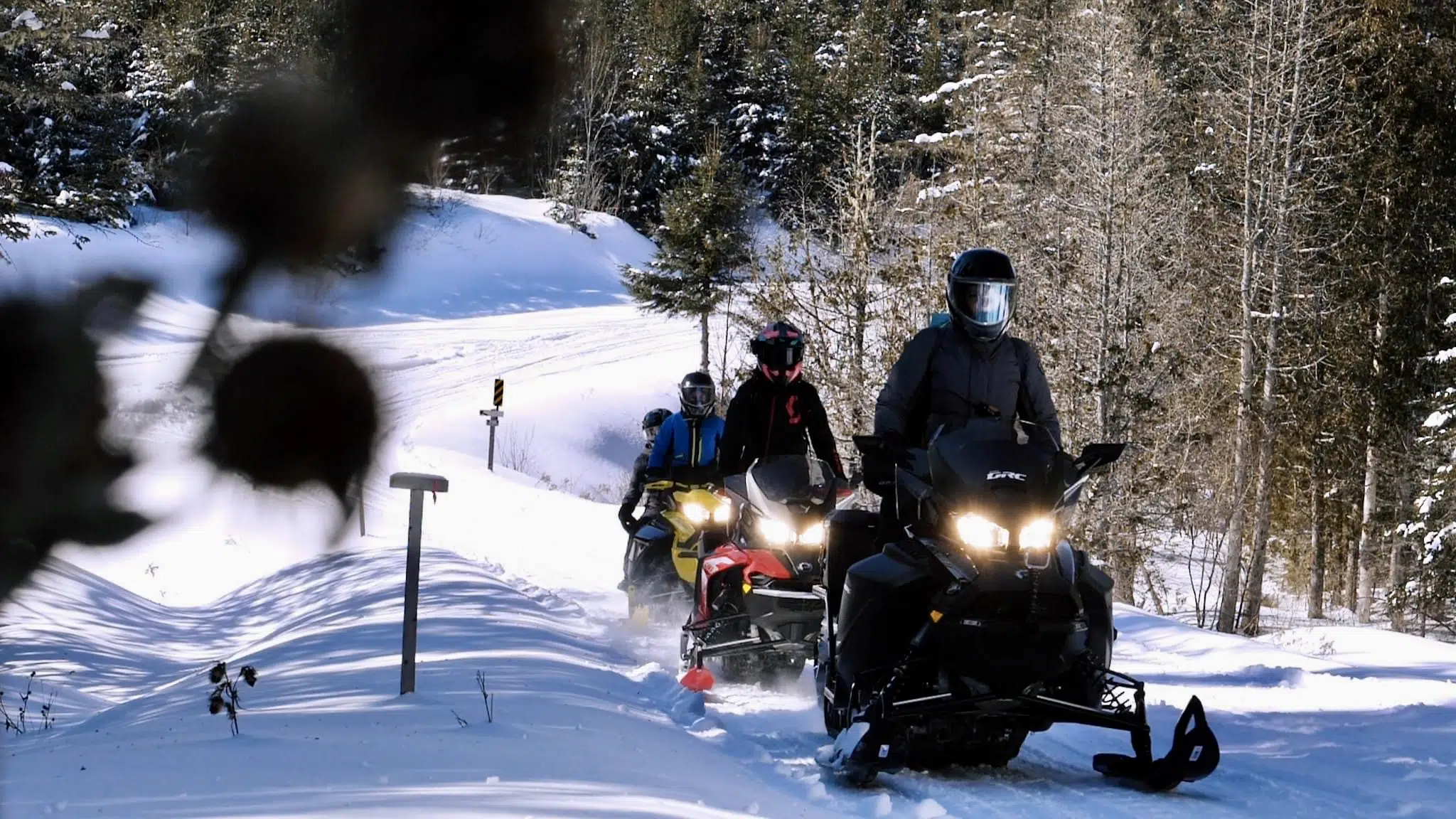 Here we are. It's 4:30 p.m., we have arrived at our final destination. The journey is coming to an end. We take the time to stretch our legs a little and, hop, we embark the machines in our trucks, ready to take the road again.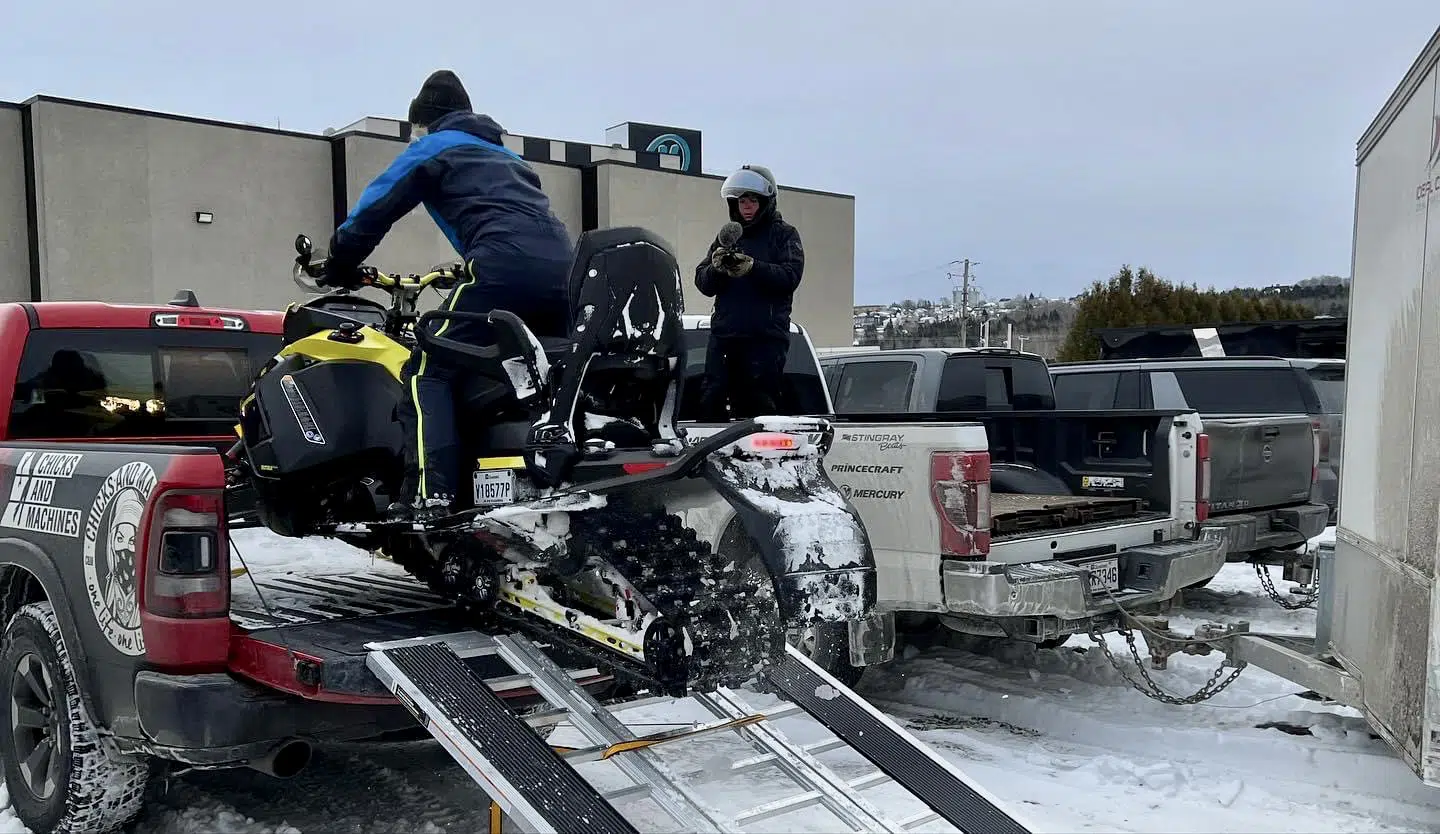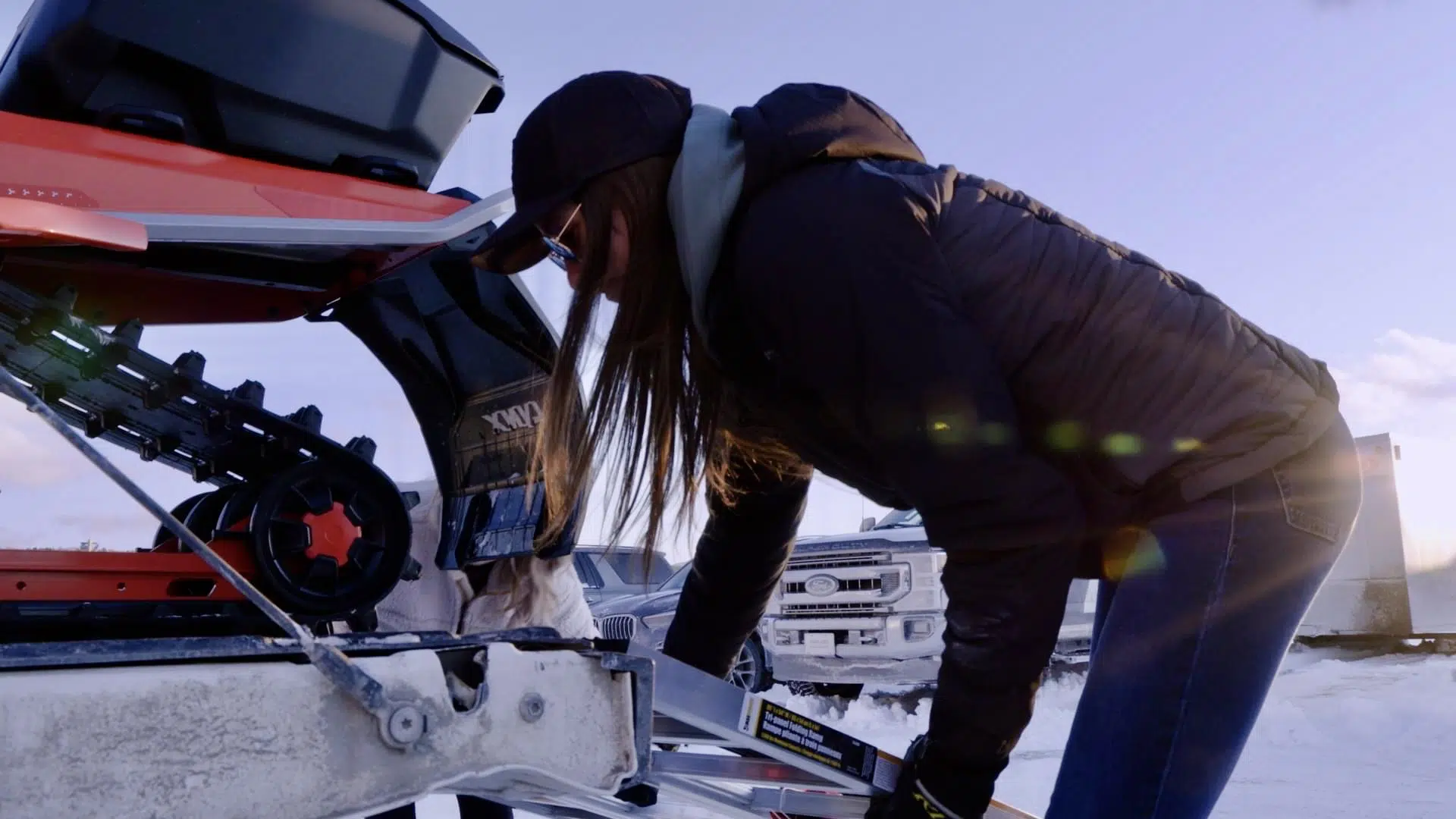 Once again, we received a very warm welcome at the Hotel Universel in Rivière-du-Loup. The employees are warm and professional. Thank you very much for having received us.
Don't hesitate to book your weekend! You won't be disappointed by the atmosphere and the warm welcome: www.hoteluniverselrdl.com
In order to discover the Rivière-du-Loup hinterland, we decided to end the evening at the Resto-Pub L'Estaminet. The trendy and unique atmosphere of the restaurant fulfilled all the expectations one could have for a perfect evening.
Their highlights? EVERYTHING: the excellent service, the pub menu, the delicious meals, more than 200 kinds of beers, and so on.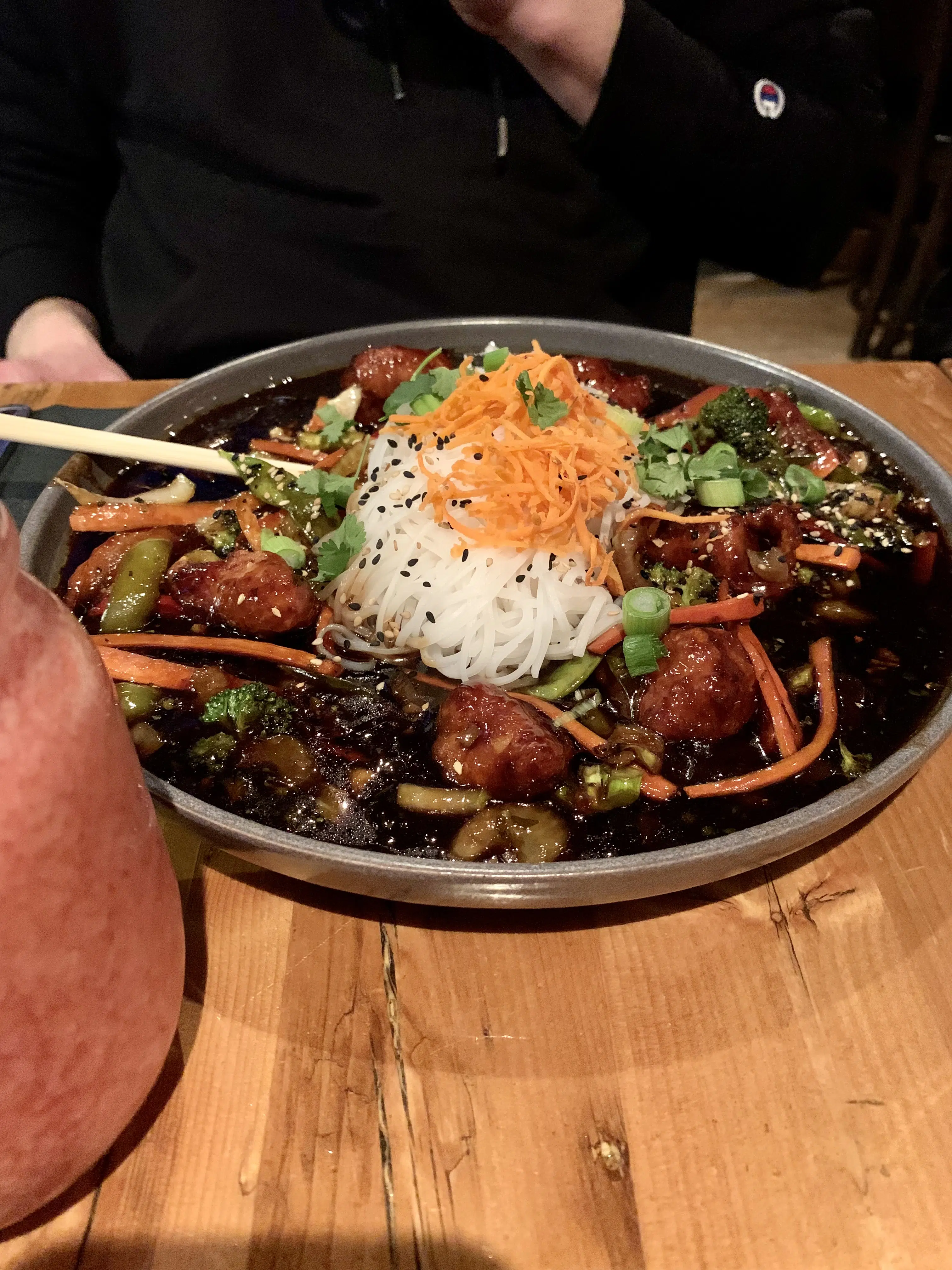 Day 4. Back to reality
After yet another beautiful night spent at the Hotel Universel, it is now time to say goodbye and go our separate ways. Finally, even if we had wanted to spend one more day in this region, our little aching bodies were not too disappointed to come back home.
For me, it was a very nice experience. I met three simply beautiful girls with whom I had a lot of fun. We exchanged with snowmobilers and people from all over the province.
We discovered the Lower St. Lawrence from a completely different angle, by snowmobile. We visited magnificent places that we didn't know existed.
I must say that everything was very well organized. Everything was simply perfect. Thank you very much to Karine Lebel of Tourisme Bas-Saint-Laurent for the invitation, her availability and the wonderful planning.
It was a hike that I will never forget. Thank you to André Hallé et Fils of Rimouski for allowing me to try the beautiful Lynx Rave for the weekend and for the good services when renting my snowmobile.