Girls' off-trail snowmobile camp, 2022 edition
Last February 27th, a Girls' Camp for off-trail snowmobiling was held in my beautiful region, in Gaspésie. Many women were looking forward to this event in order to perfect their techniques for this type of practice. This day was under the supervision of the talented Vanessa Belley.
As an off-road snowmobile enthusiast, this is an event I absolutely wanted to attend. I couldn't pass up the opportunity to learn from a woman who excels in this wonderful world.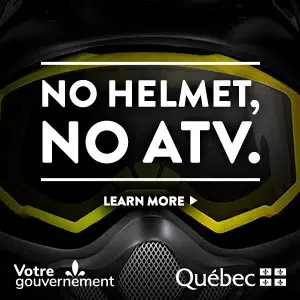 We are so lucky to have an event like this in our beautiful region. It is a day that brings together women who share the same passion.
In this article, I will outline a typical Girls' Camp day and my impressions from my experience.
Vanessa Belley, the founder of Girls' Camp
Let's start with a little introduction of the woman behind this event. Vanessa is well known to off-trail snowmobile enthusiasts. She is a girl from Lac-Saint-Jean who had a difficult start in the wonderful world of snowmobiling. She mostly learned alongside men, which she found rather difficult and stressful.
In 2018, she won an uphill race in the women's category, the "Sled Peak" in Charlevoix. That same year, Vanessa decided to create Girls Camp. She collaborated with a Ski-Doo dealer in Alma, "Sports DRC", to make this great event possible across the province.
Something that is very important to her is the independence and autonomy of women. Whether it is through her work or at the Girls' Camps, Vanessa promotes women and shows that they have a place in a man's world. She loves to break down stereotypes.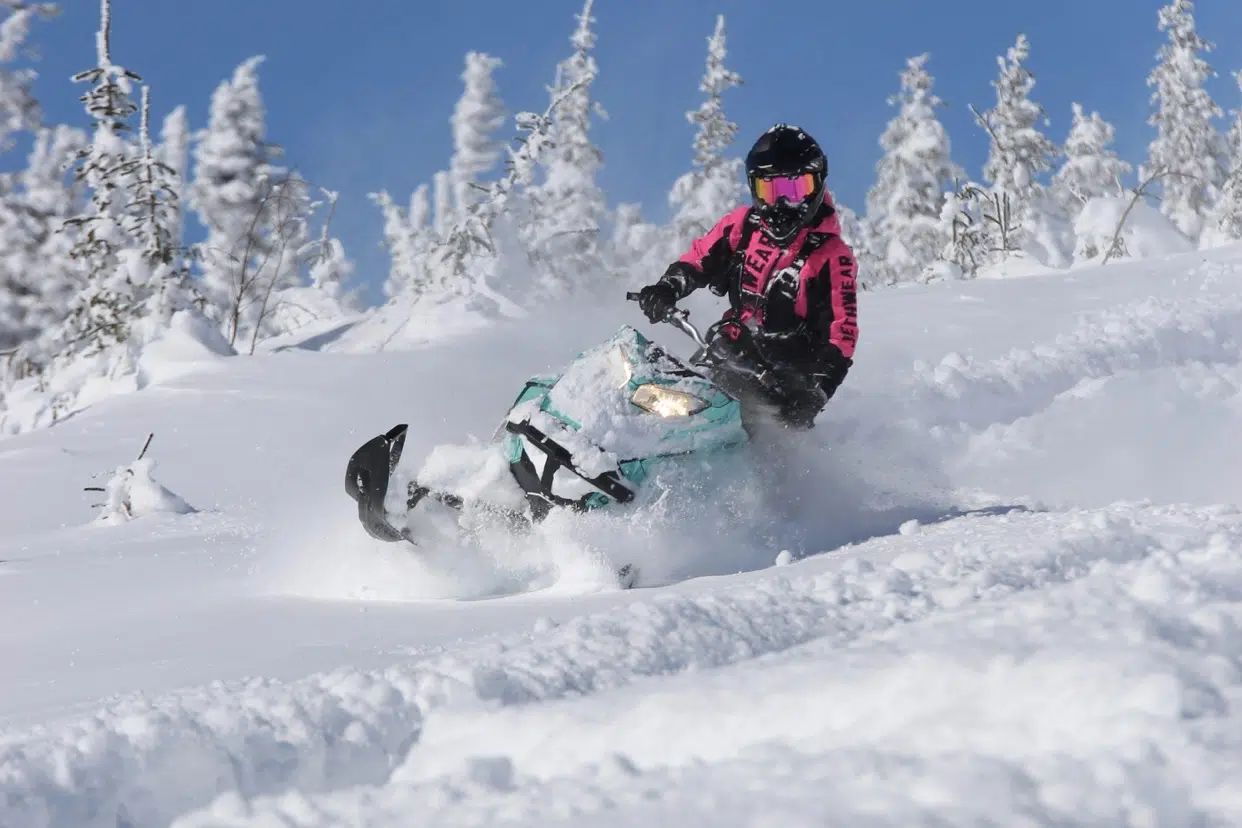 What is a Girls' Camp?
Girls' Camp is a day dedicated to off-trail snowmobiling, and it is only for women. It is a day where we take the time to learn more about our snowmobile, to better understand the limits of our snowmobile and to know our own limits as an off-road snowmobile operator.
In addition, Vanessa teaches women to troubleshoot on their own and to have confidence in themselves. She takes us out of our comfort zone, while respecting our limits. This camp is for beginners as well as for those who are more experienced.
In addition, it brings together a large number of women around the same passion. It also allows the participants to meet new people and to have new partners to practice snowmobiling off-piste.
How a day at Girls' Camp unfolds
First of all, a Girls' Camp always takes place under the supervision of Vanessa Belley, assisted by guides.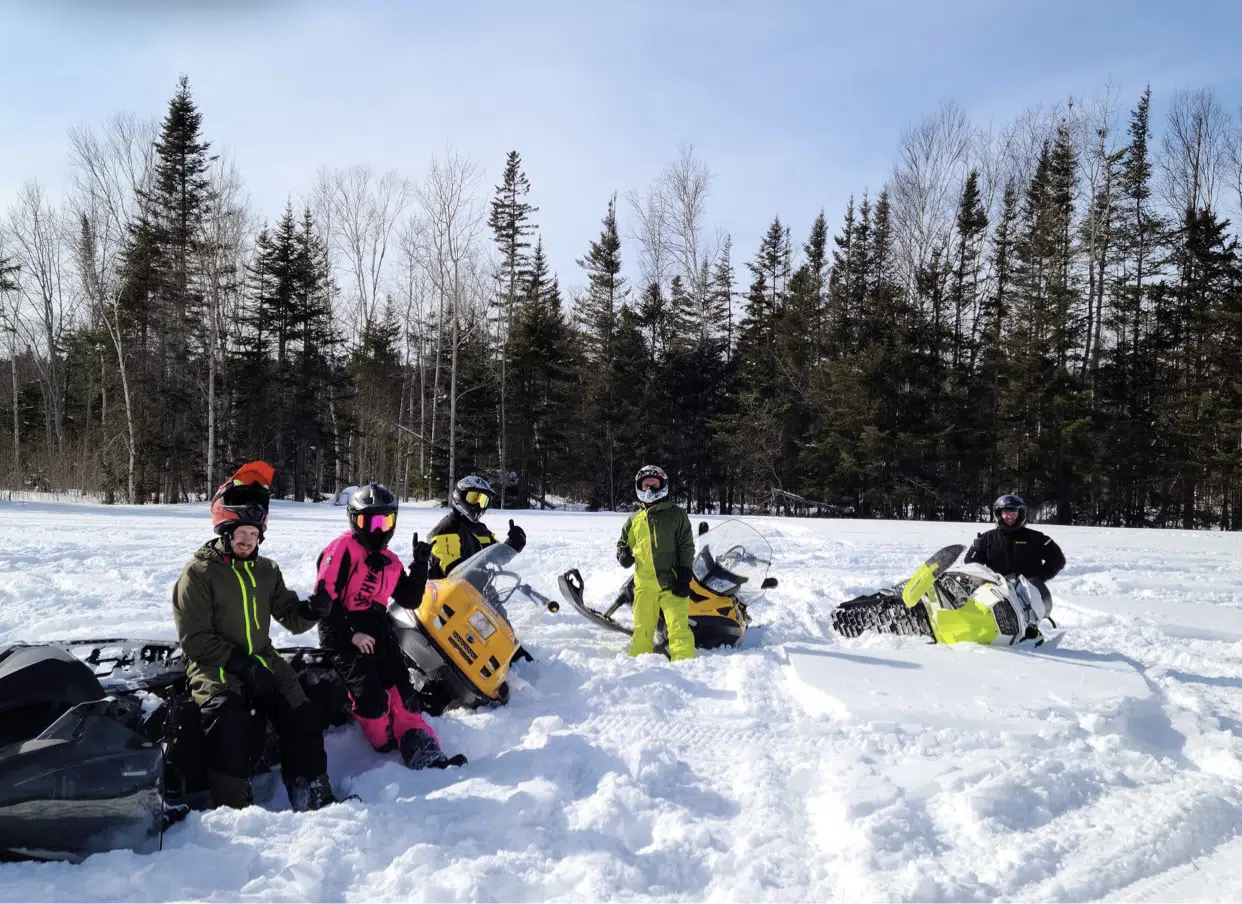 The day starts with a gathering around Vanessa. She explains the day's activities and the safety instructions. She shows us how to work with our machine in off-piste. She explains to us that we are the ones who drive our snowmobile and that it is, in a way, a continuation of our body.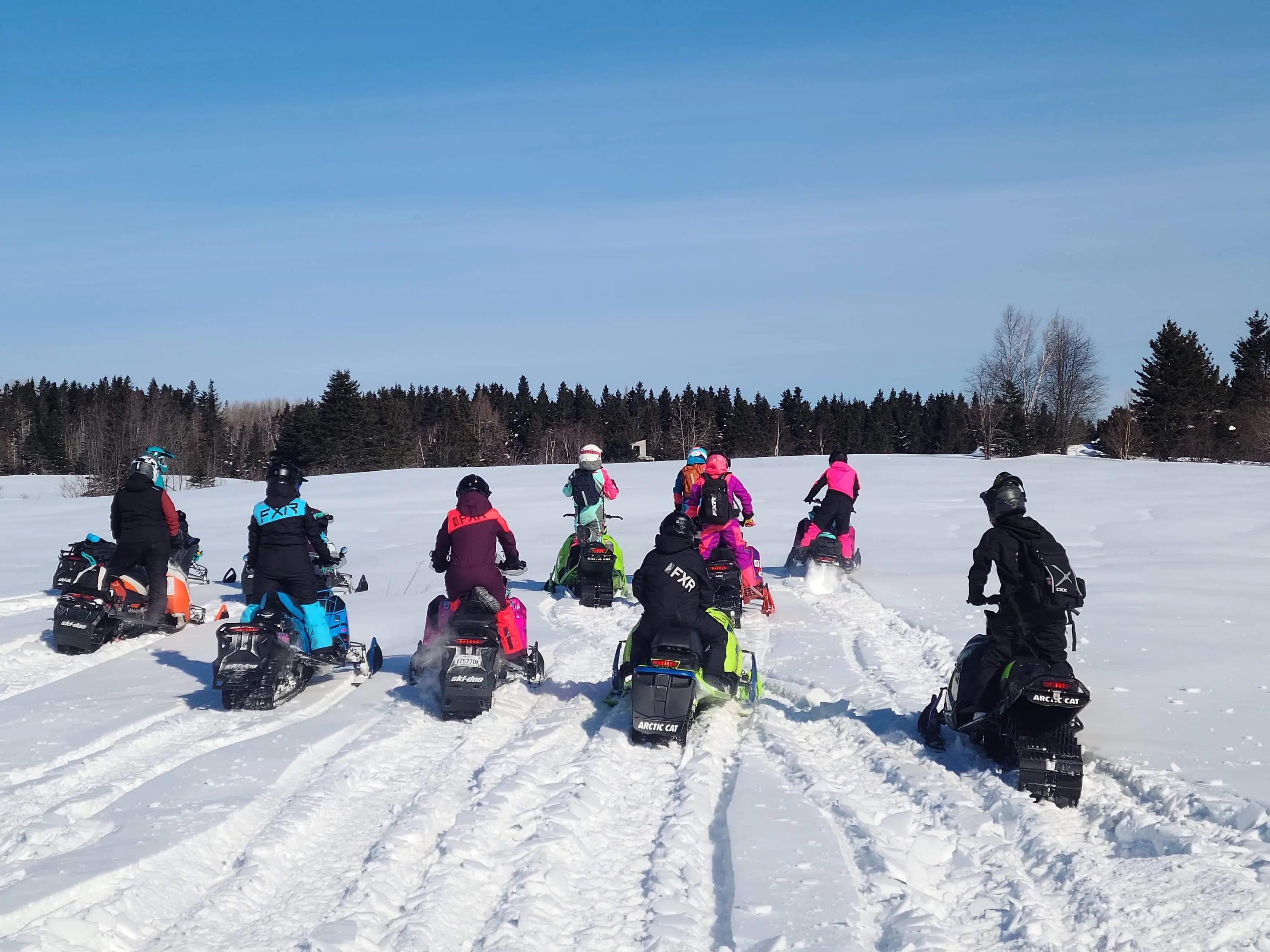 She teaches us different techniques that are very useful in off-trail and that allow women not to force too much (for example, how to lay the snowmobile on its side, or how to make circles in the snow).
She then explains to the women the importance of vision: to always have the view directed in the desired direction and not directly on the skis of the snowmobile.
She also explains the weight shift and how to position yourself on the snowmobile to better steer it.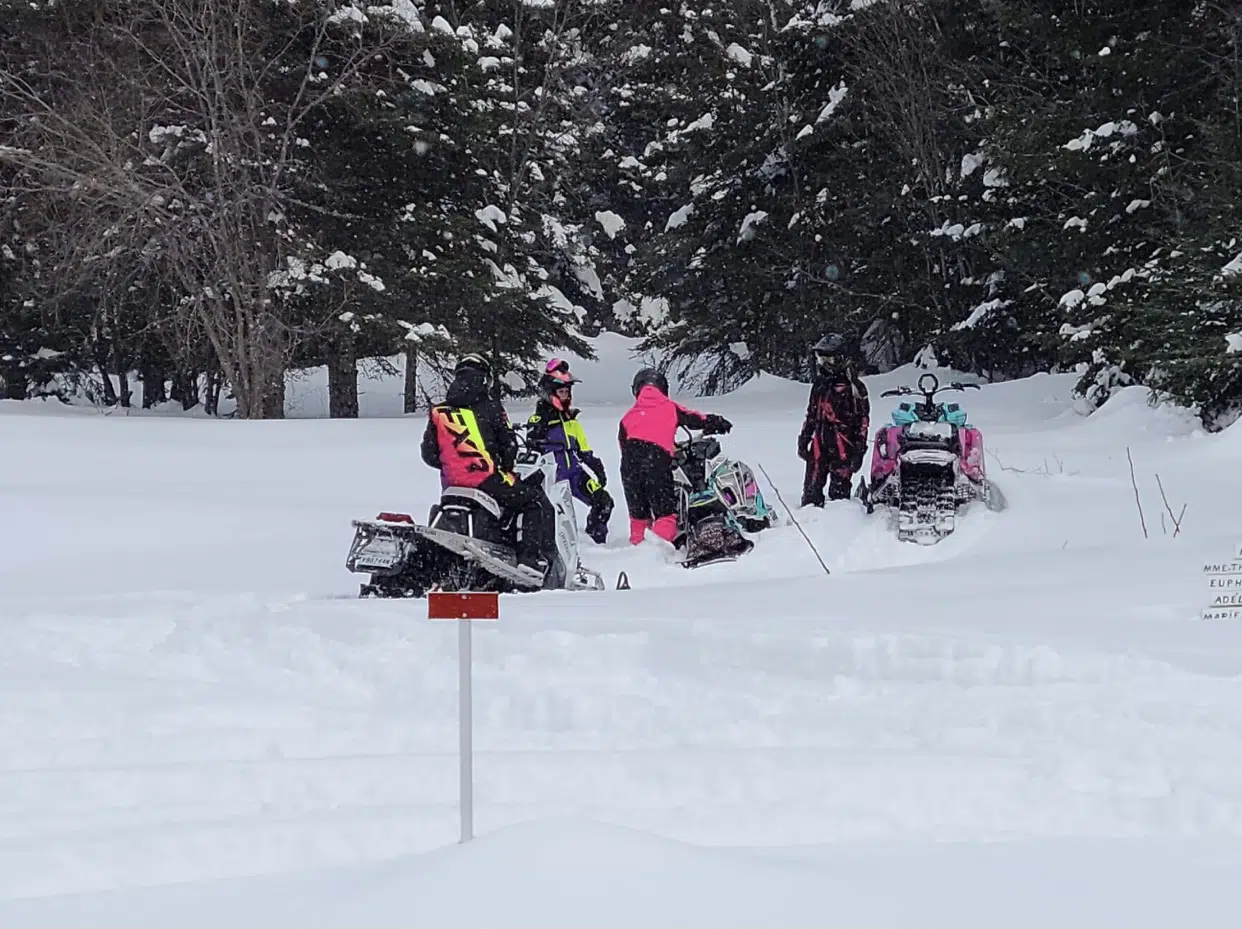 Afterwards, we go to put into practice the techniques taught by Vanessa. Throughout the day, she supervises and gives further advice according to the level of learning of each woman. This way, everyone can improve their techniques.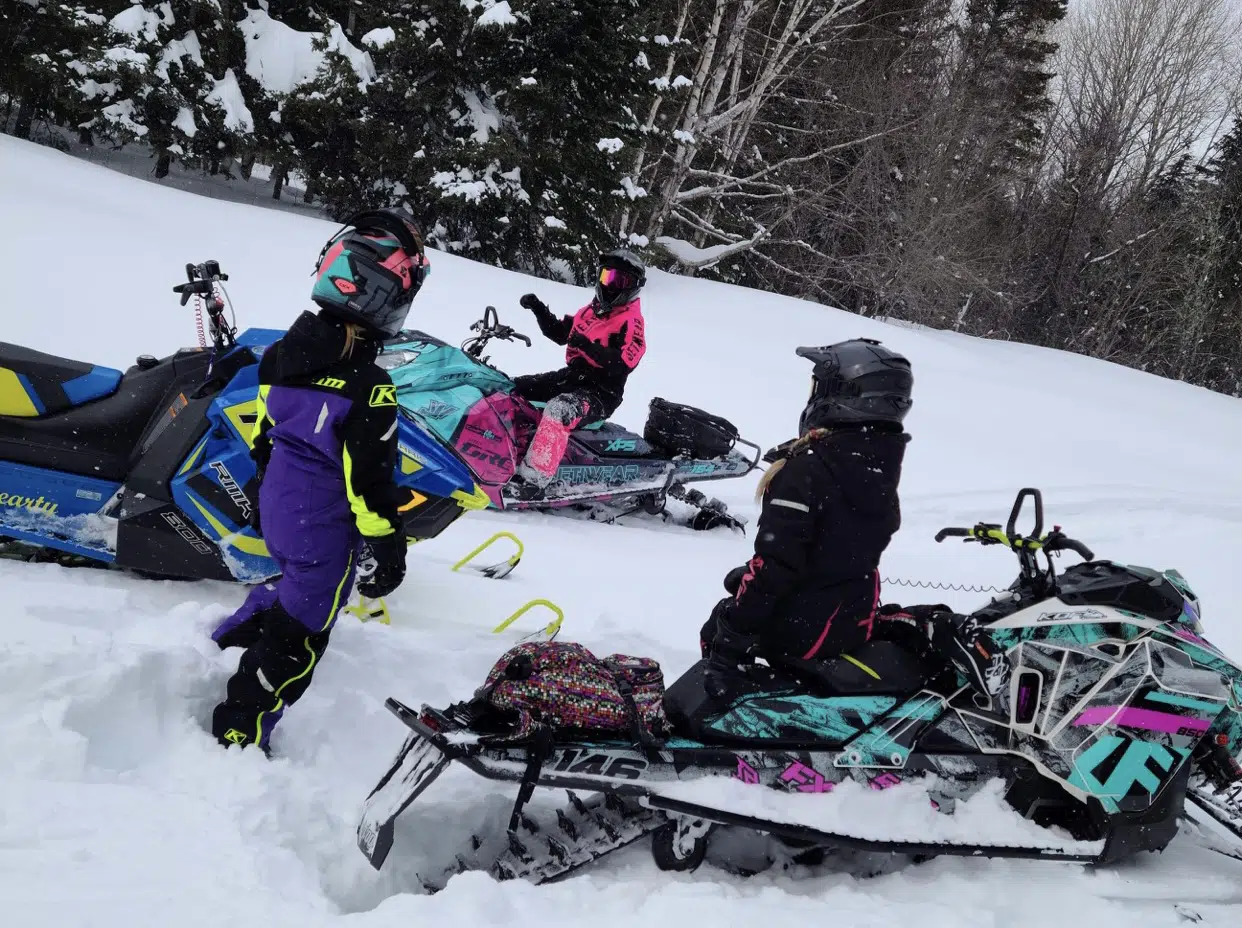 In addition, when she gives a tip to a woman and it is useful to everyone, she brings us together to explain it.
For example, when one of us got stuck in the snow, she explained how to get the snowmobile out of the snow and what tool to use without forcing it. The important thing to remember when stuck in the snow is to always clear the front and running boards of the machine.
When a participant needs additional advice or wants to make sure her technique is correct, Vanessa is always there to help, explain and give additional tips.
My experience following my participation in the Girls' Camp
Participating in such an event was on my wishlist as an off-road snowmobile enthusiast. To be able to put into practice the tips and techniques of an experienced woman in the field is simply magical. Many mountain snowmobilers who know Vanessa want to be able to ride with her one day.
Attending this camp allowed me to learn a lot of techniques for off-roading and to put all of Vanessa's advice into practice. She took the time to explain techniques to each of us that we could make our own.
This day allowed me to develop additional confidence in my machine. Since I fell on my snowmobile last winter, I had been extremely fearful when I went out. I did not want to try too many new techniques in off-trail, such as wheelies, for fear of getting hurt again.
After the camp, I gained more confidence in myself and I try new techniques every time I go out without being hyper-fearful like before. I am continually practicing the techniques and tips given by Vanessa, such as wheelies, snow circles and jumps.
I am also more used to driving my snowmobile and I know its limits better. I now know a technique to help myself without the help of a man. Wow, independent women, talk about that! This camp also allowed me to get out of my comfort zone and I am very grateful to Vanessa for that.
Learning alongside women is always easier than learning alongside men because the techniques are more tailored to us, our abilities and strength. We learned a lot working with the Mountain Lab Gear ski traction strap, which is a great help for women. With this tool, we don't have to strain as much to get our snowmobiles out of the snow.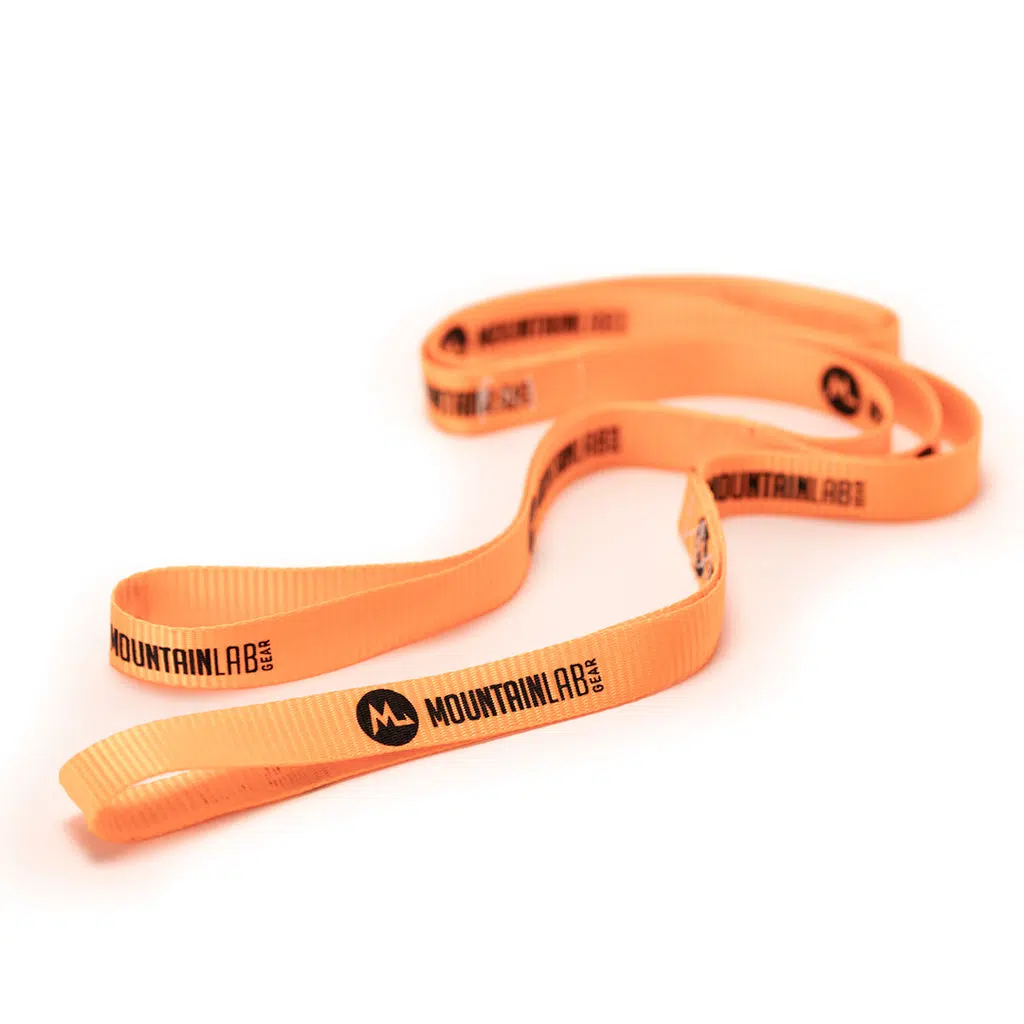 If a similar event presents itself to me again, I will jump at the opportunity again without hesitation.
In summary
Participating in a Girls' Snowmobile Camp has nothing but benefits for both experienced women and beginners. It is a day of learning and practicing new skills as well as perfecting them.
At the end of a Girls' Camp day, you are a better rider, an accomplished and independent woman. As a bonus, you get to meet other women like you who love motorsports.
We can't forget the trainer, Vanessa Belley, who is such an inspiring woman for all those who practice motorsports in this man's world.
A Girls' Camp is all about the positives. I loved my day and came out of it with more confidence in my snowmobile and in my off-trail abilities.
A big thank you to Vanessa for all her advice.