The basics of off-trail snowmobiling with Ski-Doo
Once again, my heart and head are filled with precious memories. All this thanks to the immense generosity of Ski-Doo. In collaboration with Chicks and Machines, Ski-Doo allowed us to try out two beautiful 2022 off-trail machines. Yes, I had the chance to discover the exciting world of Syncia, the off-trail. It is in the Gaspesian mountains that we were able to try two beautiful snowmobiles.
A day that I will not forget, be assured. Girls, I hope this will persuade you to try it too. Believe me, it's a very exciting adventure. You won't regret it!
The basics of backcountry snowmobiling with Ski-Doo
The two 2022 off-trail prototypes being tested seem similar. These machines both feature an 850cc 2-stroke engine, but with a few things of their own.
The first snowmobile is the Summit X 850 E-TEC. A light, powerful snowmobile that gives the desire to go even further. The other one is the Summit SP 850 E-TEC. A snowmobile that also gives excellent performance in deep snow.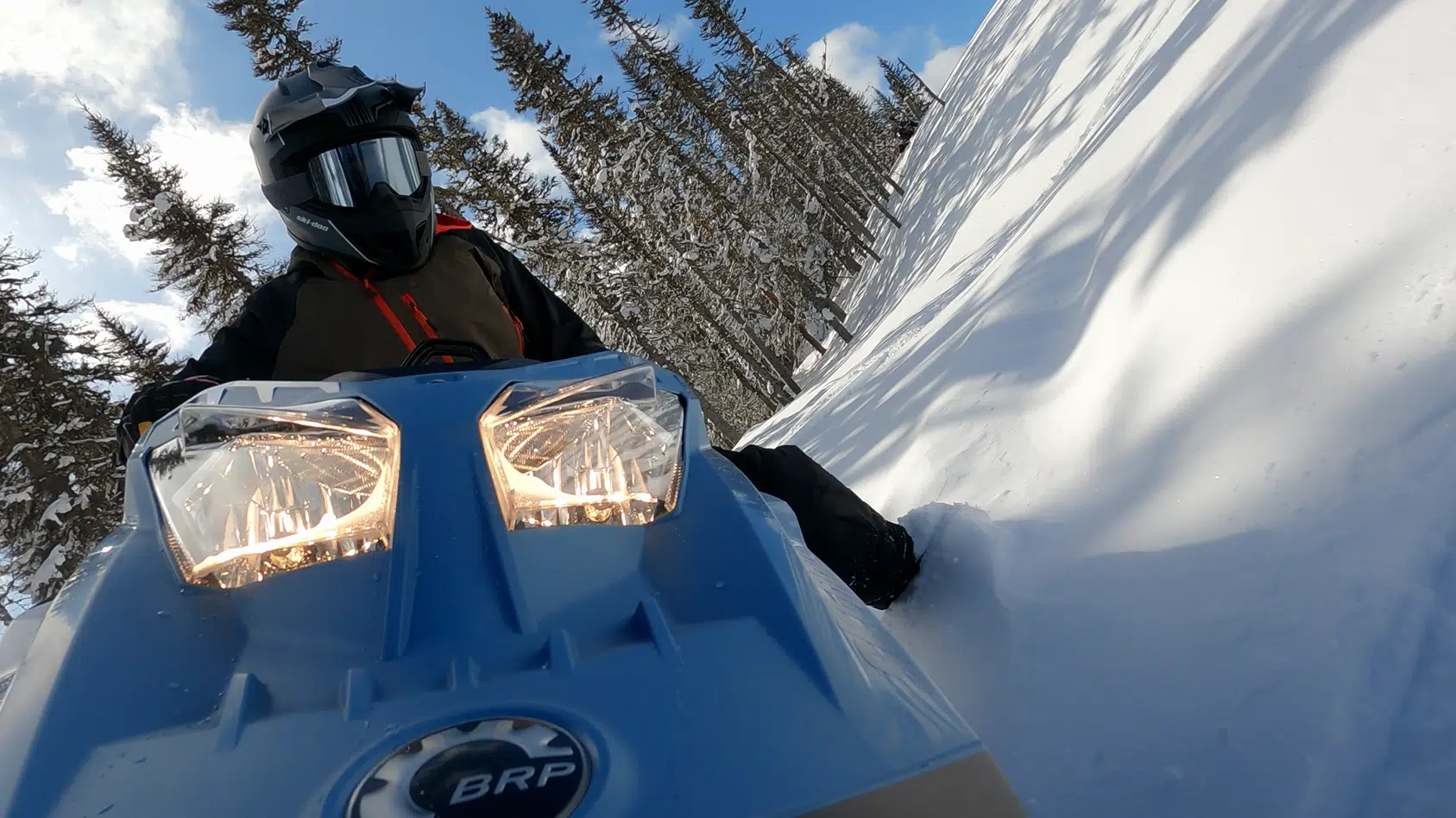 Surprising backcountry snowmobiles
First, let's talk about the Ski-doo Summit X 850 E-TEC snowmobile. This snowmobile also comes with the option of a turbocharged engine for high-altitude enthusiasts. It offers the same power as a standard 850 E-TEC engine, which is 165hp. However, the turbo guarantees this power up to an altitude of 8000 feet.
The Summit X is also equipped with a HPG plus shock absorber system, which provides a better suspension than other sled in its category.
In addition, what distinguishes the Summit X from the Summit SP is its shorter tunnel, without snow guards, which reduces its weight and increases its agility in deep snow. Speaking of weight, like all other backcountry Ski-Doo, the Summit X has a  one-piece lightweight hood. This optimizes ventilation while dispersing heat, reduces noise, and gives a weight advantage of 2.8kg. This gives the Summit X a total weight of 198kg (435lbs).
Next, the Ski-doo Summit SP 850 E-TEC snowmobile is an equally versatile and very affordable snowmobile. The Summit SP offers all the benefits of an off-trail snowmobile. It is also available with a 600 R E-TEC 2-stroke engine, offering 125hp.
The Summit SP features off-trail running boards with large openings for easy snow evacuation. It is equipped with a 4.5″ digital display and a 4L storage space.
The Summit SP comes standard with a 146″ PowderMax II track with FlexEdge or the PowderMax light in 154″ and 165″ sizes. Other track options and additional features are also available to customize the Summit SP.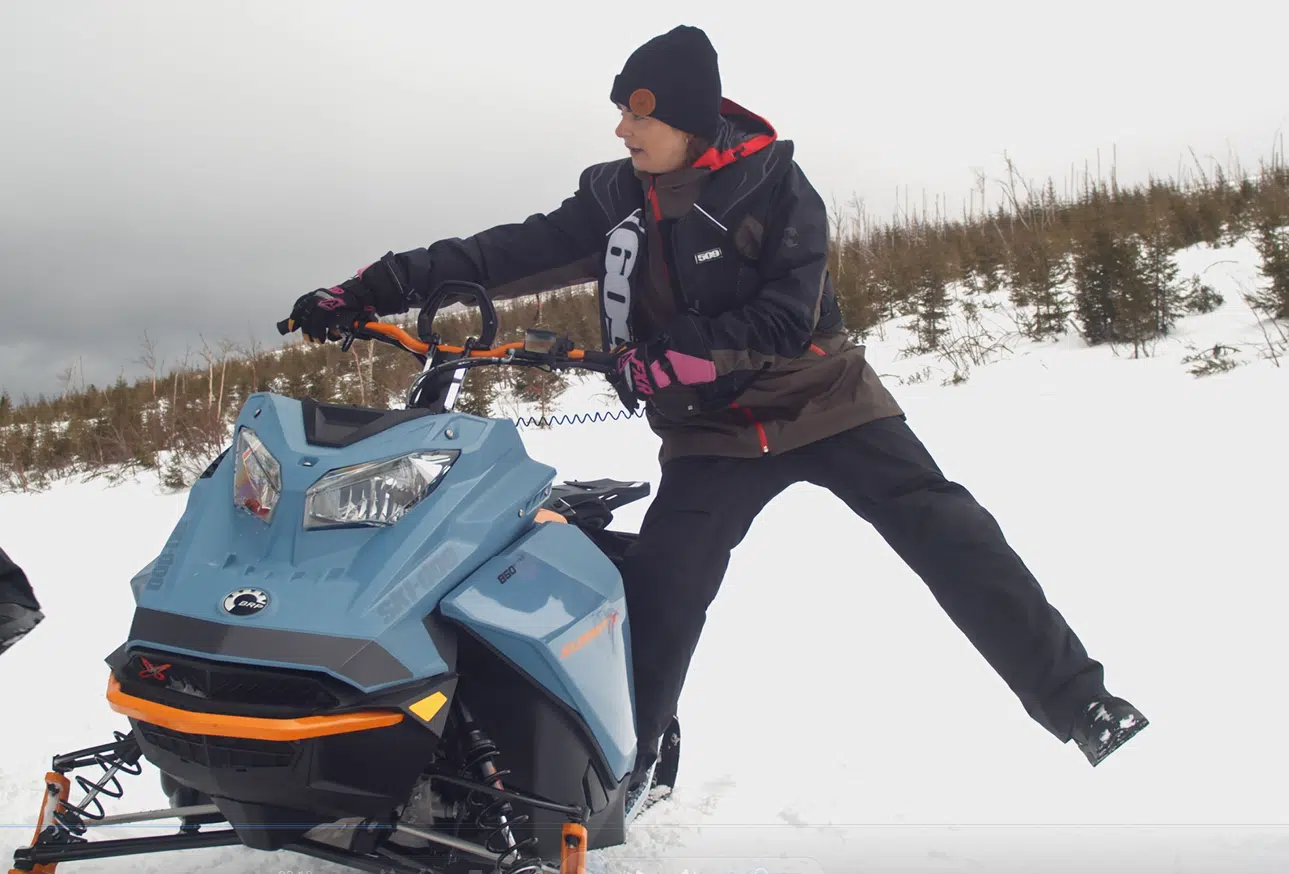 A satisfying experience, but clearly not enough!
The Summit X surprised me more than once with its lively acceleration. This snowmobile also allowed us to push our technical limits on every run. The Summit X responded instantly. If I haven't said it already, it is extremely maneuverable, both in tree-riding and in sidehill. Agile and powerful at the same time, this machine allowed us to have more precise control and thus obtain better results in each of our techniques.
As for the Summit SP, its 165″ track allowed for better stability. It is much more forgiving in deep snow, so less effort and just as much fun. The Summit SP is, in my opinion, the machine with the most capacity for the price, all brands combined.
Two happy women!
I am speaking on behalf of Syncia and myself. The two off-trail snowmobiles fulfilled us perfectly during this test day. It was an incredible experience. It's not every day that we have the chance to try two snowmobiles that are as impressive.
Thank you Ski-doo for giving us the chance to try two 2022 prototypes before anyone else.  Thank you Chicks and Machines for allowing us to prove to people that women can take their place in this impressive but exciting world. Check out our website to learn more about our mission: www.ChicksAndMachines.com
To see our beautiful partnership with Ski-doo, go here: https://www.ski-doo.com/ca/fr/chez-nous-cest-ski-doo/blog/chicks-and-machines.html