My road test of a 2021 100% electric MINI Cooper SE was the perfect opportunity for a nice family outing to discover the best cheese factories in Québec!
One of my fondest childhood memories is definitely when my parents used to take me to local dairy farms. It was a family activity in which my grandparents regularly participated. Often on Sundays, we would go to the Boivin cheese factory, located in La Baie. Each time we went, I would systematically take my little bag of cheese curds (fromage en crottes) for $1, my cream soda (the little glass bottle) and my little bag of ketchup chips. That was pure happiness for me! Even today, when I return to the Saguenay region, I love to visit the cheese factory.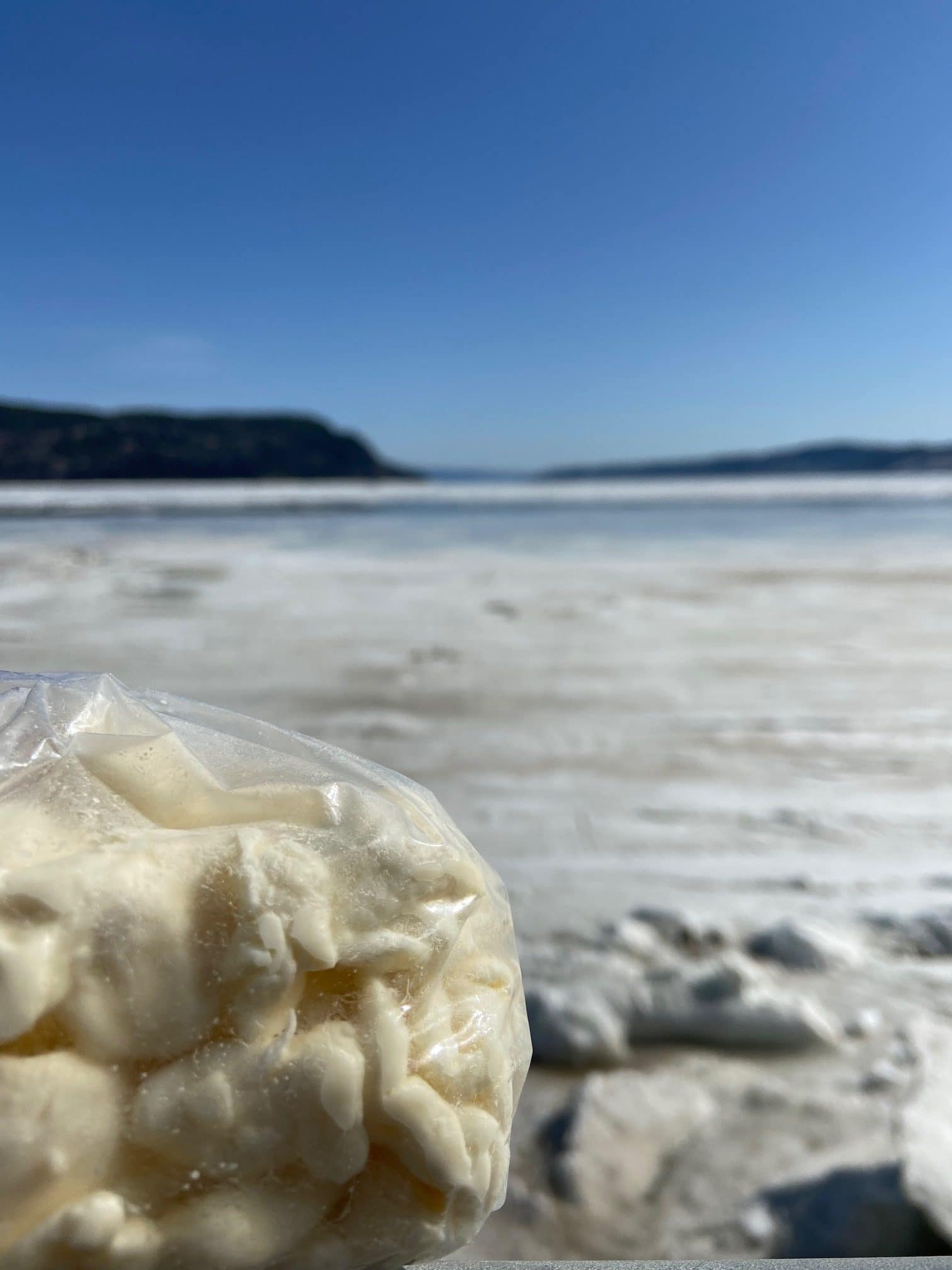 Therefore, I was inspired by this childhood memory to write about my top 10 cheese factories to discover this summer by motorcycle or car. When I learned that I'd be testing the Mini SE 2021 100% electric, it seemed like a perfect opportunity to explore the dairy farms on board this special vehicle.
When I was a little girl enjoying her cheese curds and cream soda, I had no idea that, 30 years later, I would return in an electric car. I would like to thank the team of Mini Brossard, located on Taschereau Boulevard, member of the Groupe Park Avenue family, for having so kindly lent me this MINI, which I renamed for a weekend: "Mini Annie."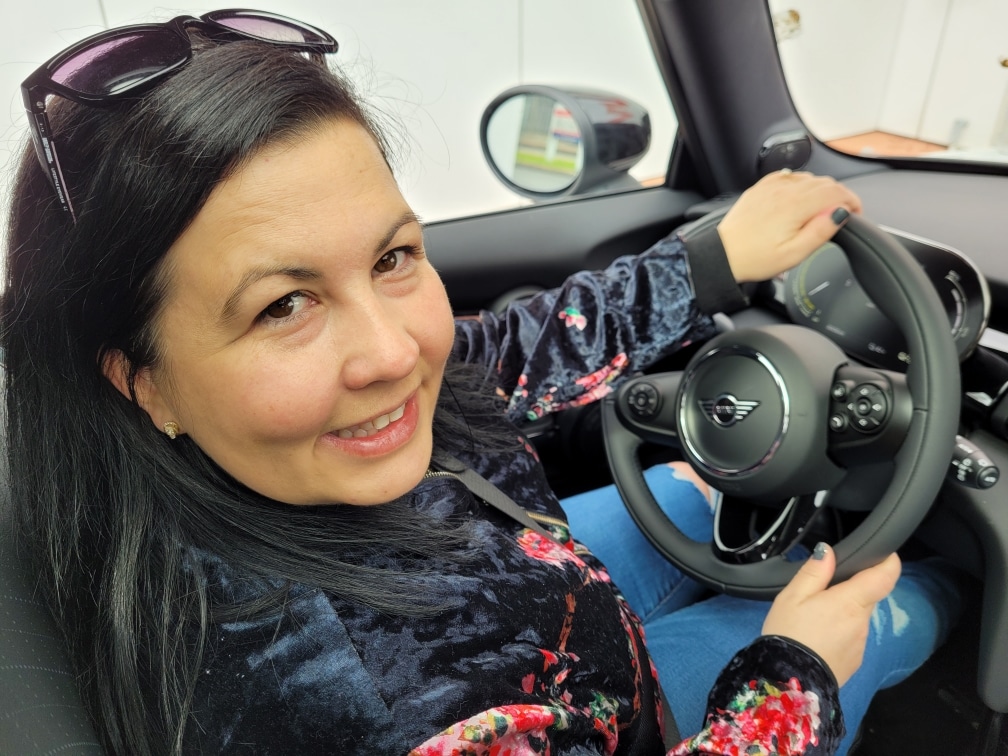 My plan to discover the 2021 electric MINI Cooper SE
In all honesty, I had never experienced an electric car or a hybrid vehicle before. True to form, before I took possession of my electric MINI, I had planned my weekend to a T.  However, I soon learned the hard way that my plans were unrealistic.
The MINI Cooper SE electric has a range of about 177 kilometres on a full charge. In order to take full advantage of this range, you have to drive in a completely different way. I quickly realized that an electric MINI Cooper SE does not drive like my Toyota Sport! It's true that the MINI is very sporty and quiet, which is what I really appreciated.  The acceleration is impressive: when overtaking, the car really adheres to the road. The MINI is agile in corners and is certainly very stable.  On paper, the car goes from 0 to 60 km/h in 3.9 seconds. On Highway 10, I pushed the car's limits a bit and in no time, I realized I was doing close to 140 km/h; it felt like I was going 100. Once you put your foot on the pedal, keep your foot down because if you let go, the car decelerates pretty quickly.  I hardly touched the brake pedal at all this weekend: everything is direct, which is quite striking.  Driving the MINI, I imagined I was in the movie The Italian Job, starring Mark Wahlberg!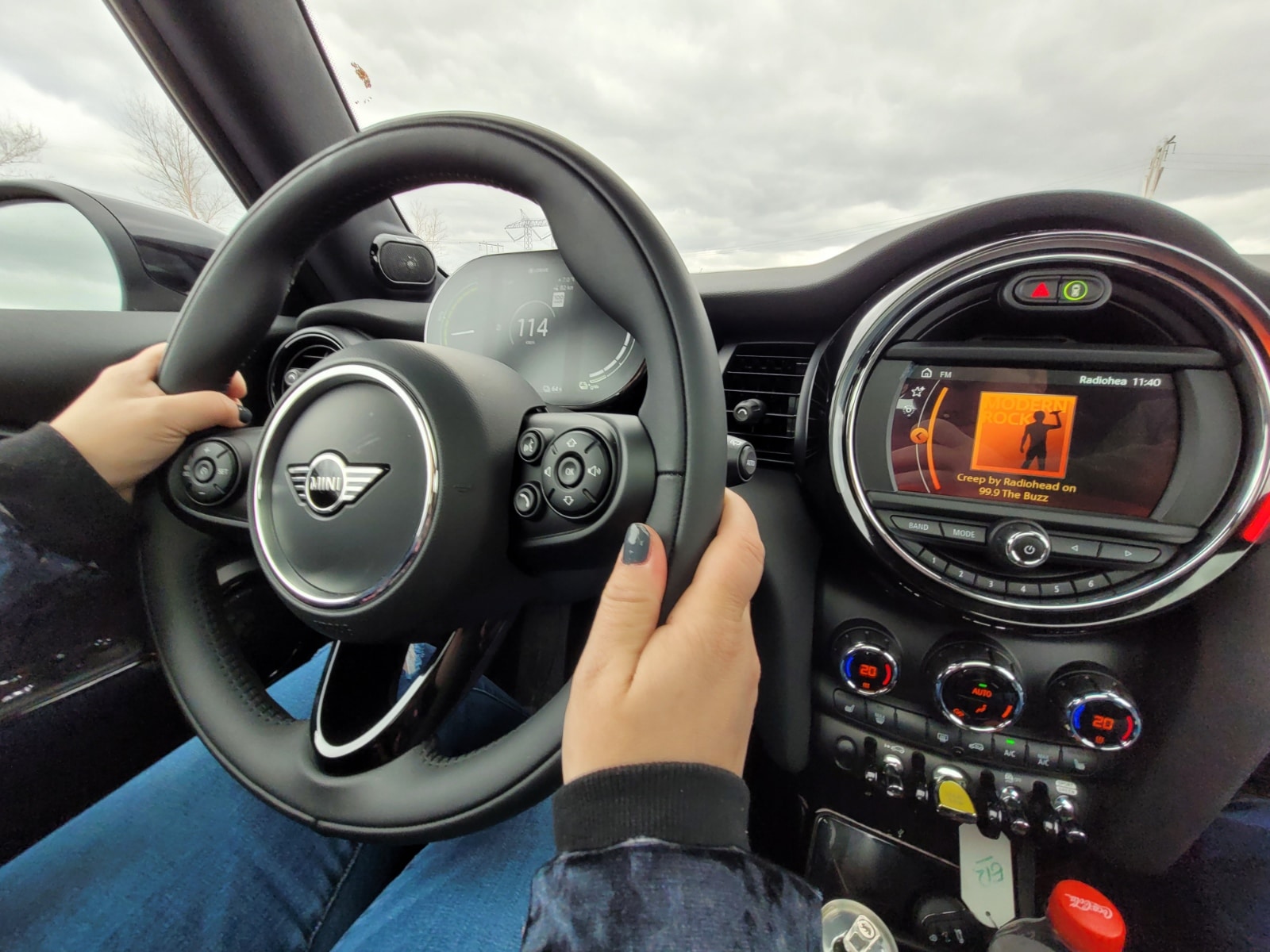 During my weekend, I learned to tame this beast; after 24 hours, I understood how to take full advantage of the vehicle. The first day of our cheese expedition, we did a lot of highway driving, so we had less autonomy: about 140 kilometres.
The EV charging station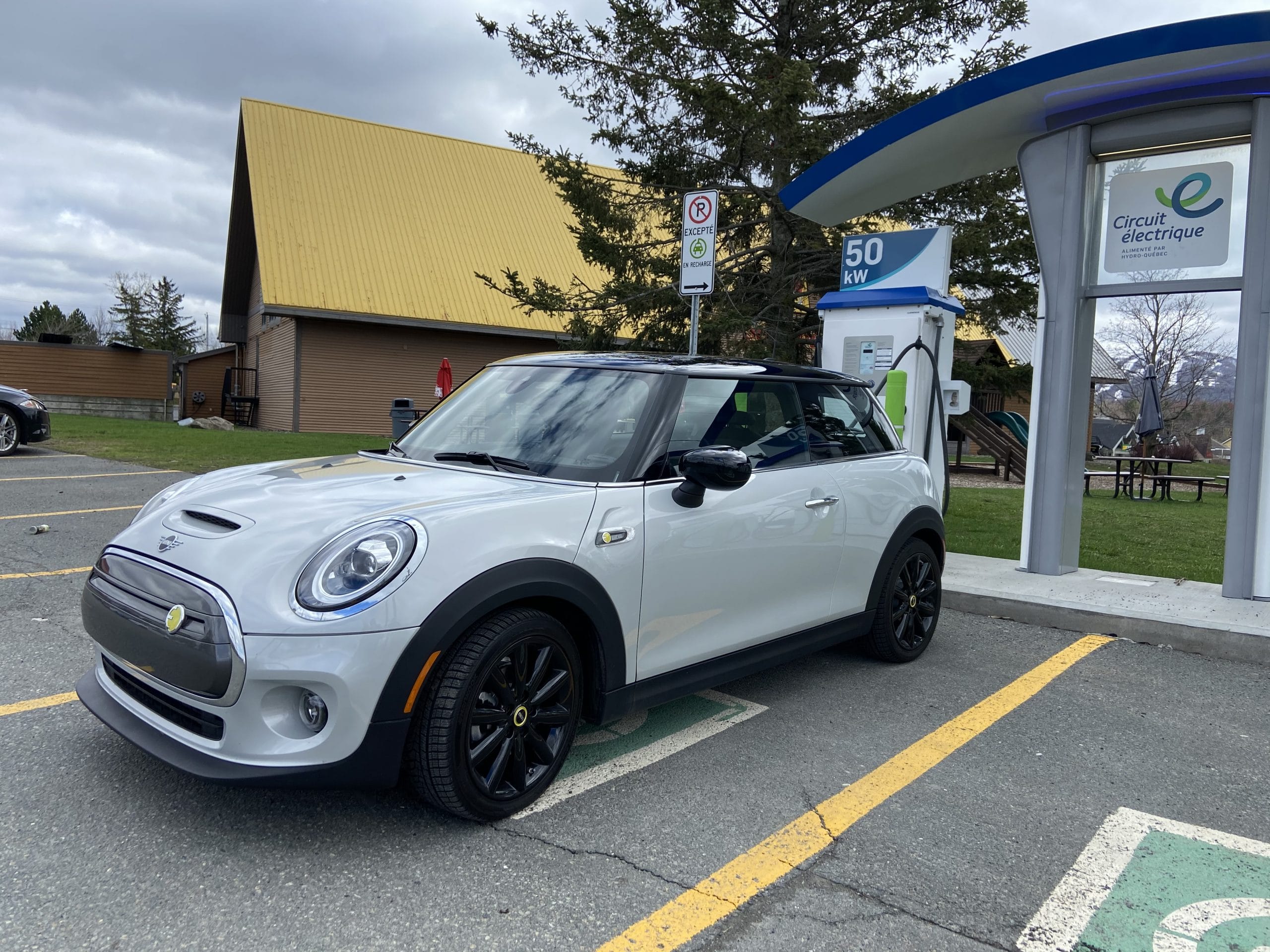 Once I got to the charging station, I realized that I wasn't prepared: I should have downloaded the Electric Circuit application beforehand to access the charge. Beware, there are different charges: 100W, 50W and other charges that are much slower. Make sure that the charging power you choose is compatible with your vehicle.
The application is extremely well designed; while your car is charging, you can follow its progress in real time from your phone.
Via a fast charging terminal, the car reached 95% of charge in just 30 minutes. In this same application, you can also locate the charging stations that are nearby. For 35 minutes of charge, the price is about 9 to 12$.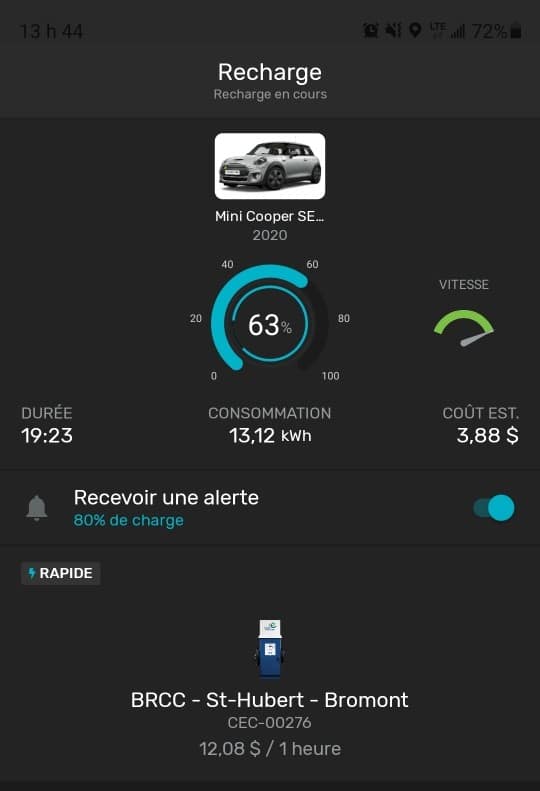 The electric MINI can also be charged at home in a normal outdoor socket. It takes longer, but it works. On Saturday, when I charged the car at home, it went from 46% to 78% overnight, after charging for approximately 12 hours. I can now better understand when people with electric cars decide to have a fast charging station installed at home. If you're worried about the battery warranty, MINI offers an 8 year / 160,000 km warranty.
Customize your 2021 electric MINI Cooper SE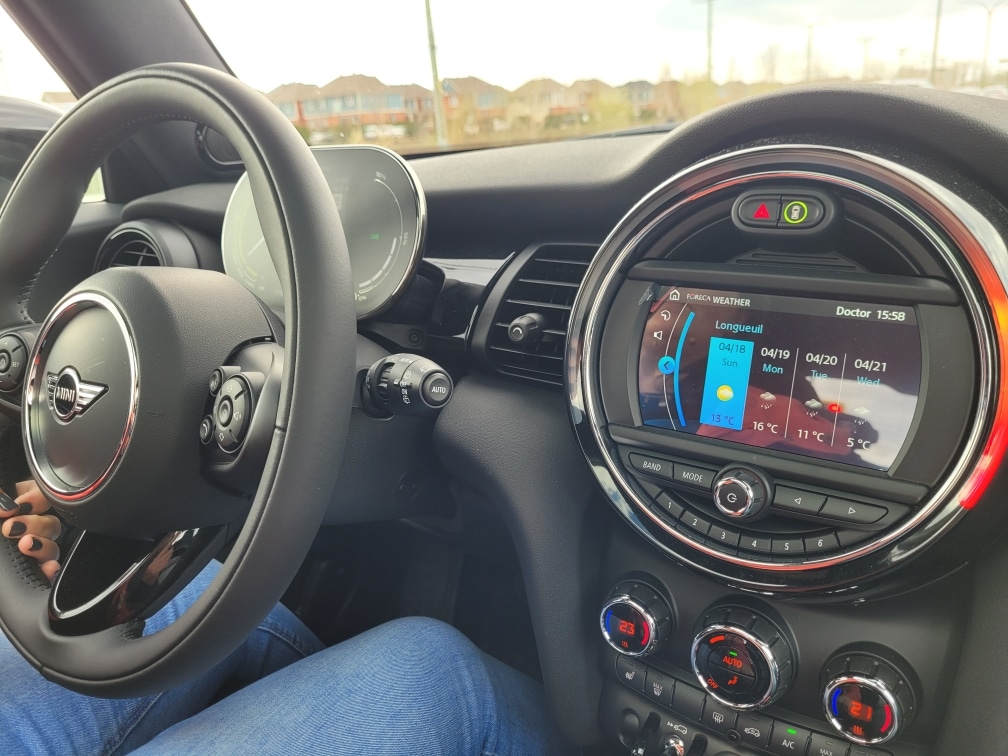 All weekend long, I had the chance to discover the classic, 100% electric MINI, which has several options including access to the weather forecast via the dashboard, as well as different driving modes, including the SPORT mode. You can customize your MINI for a few dollars. The classic MINI retails for $42,736 and the "PREMIER" model is $47,736. The top-of-the-line model, including front and rear parking distance control and parallel parking assistance, is $50,736. Of course, since it's an electric vehicle, you're eligible for government subsidies for the acquisition of this type of vehicle (up to $13,000). And if the price is a bit of a deterrent, don't forget that the MINI Cooper SE will save you $1,000 to $2,000 a year on gas, so in the long run it's very interesting, financially speaking. And don't forget, you produce ZERO CO2 emissions, and that's priceless!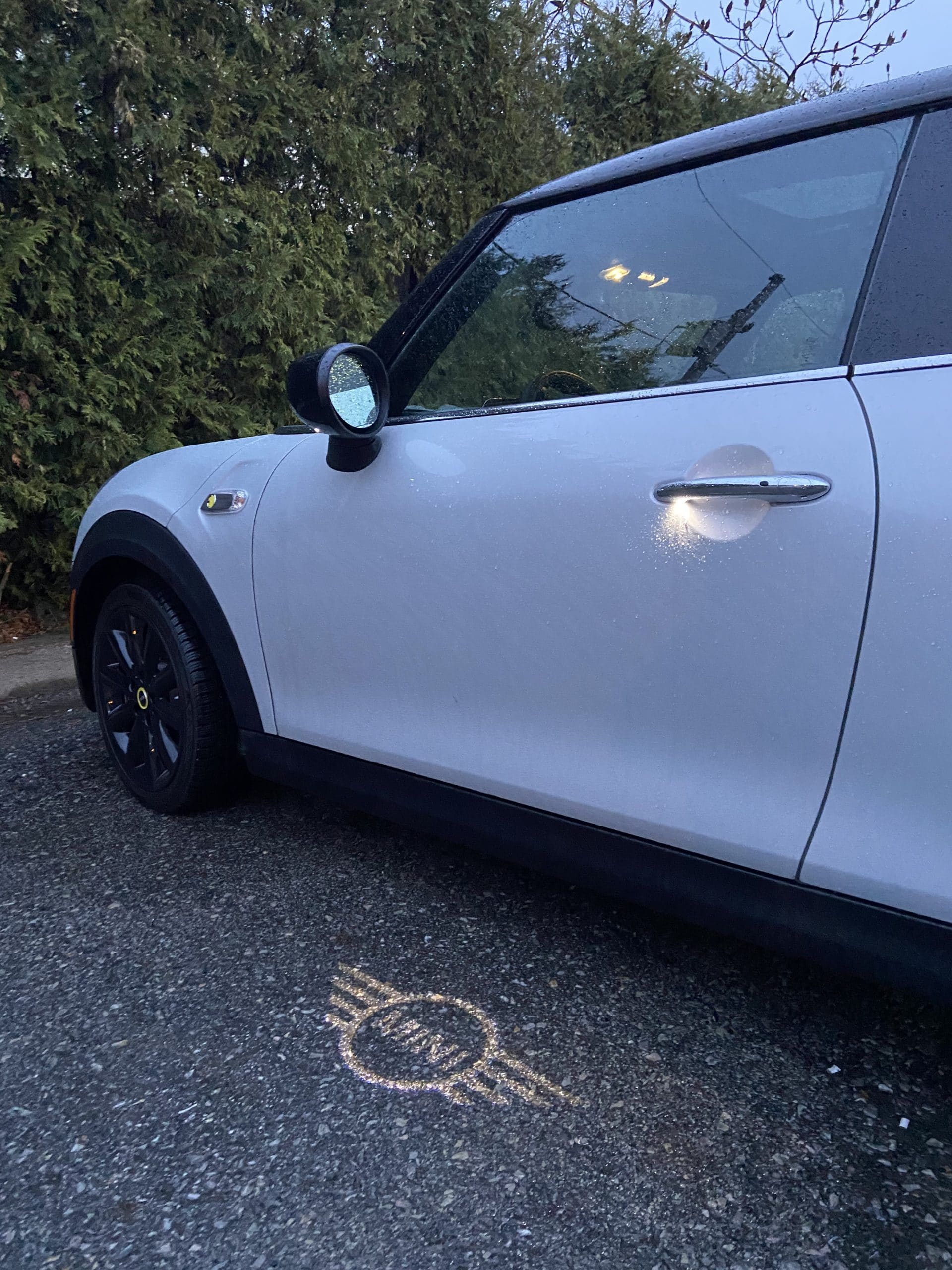 This 2021 electric MINI Cooper SE has a lot of style!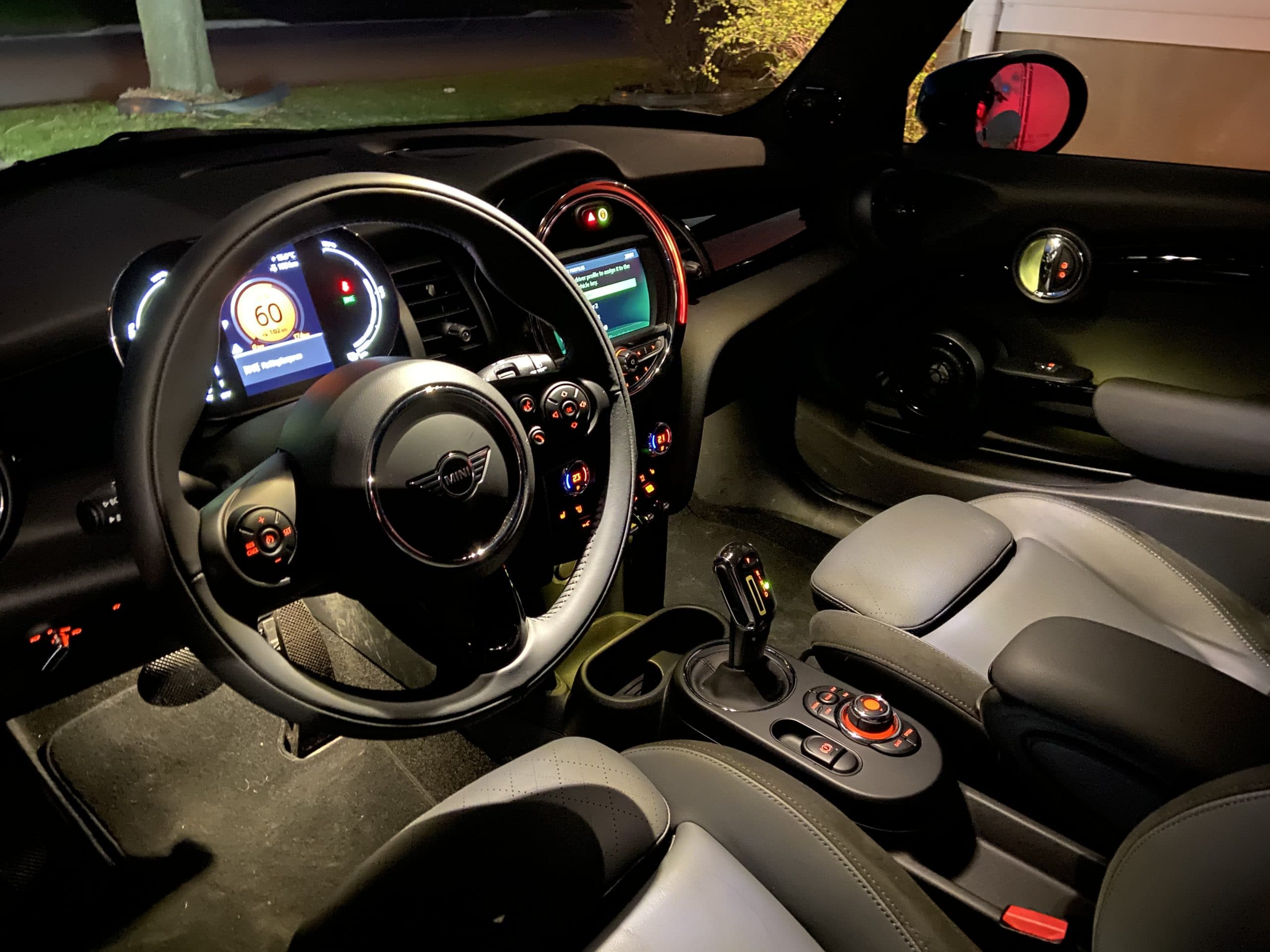 The MINI Cooper 3-door offers many options. At night, the interior really looks like a dance floor! Everything is very bright, the lighting changes and it gives a really nice look! The vehicle is equipped with a touch screen, but also a control button for the options between the two seats to keep your eyes on the road. The Union Jack taillights are a nice nod to the British inspiration of the model.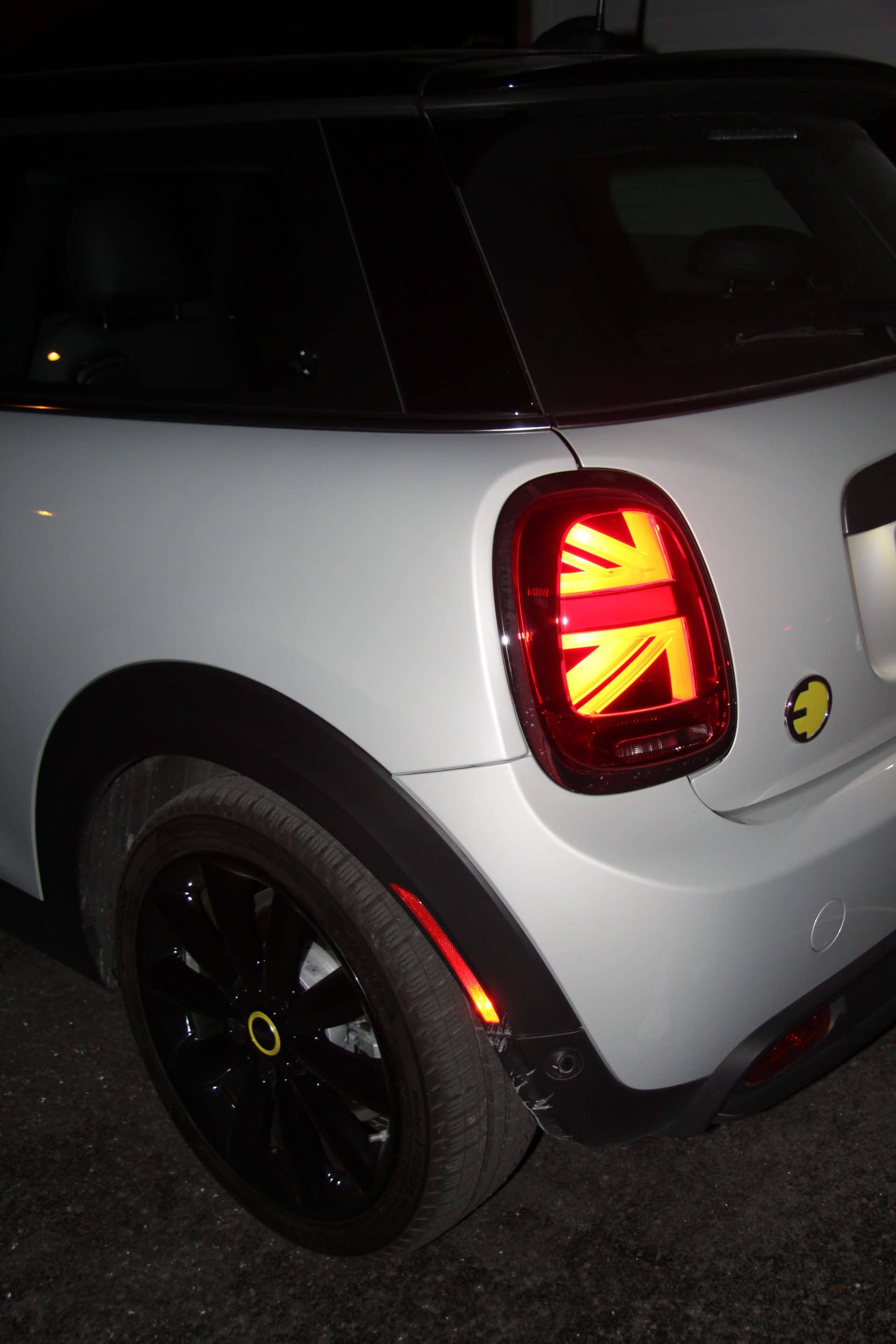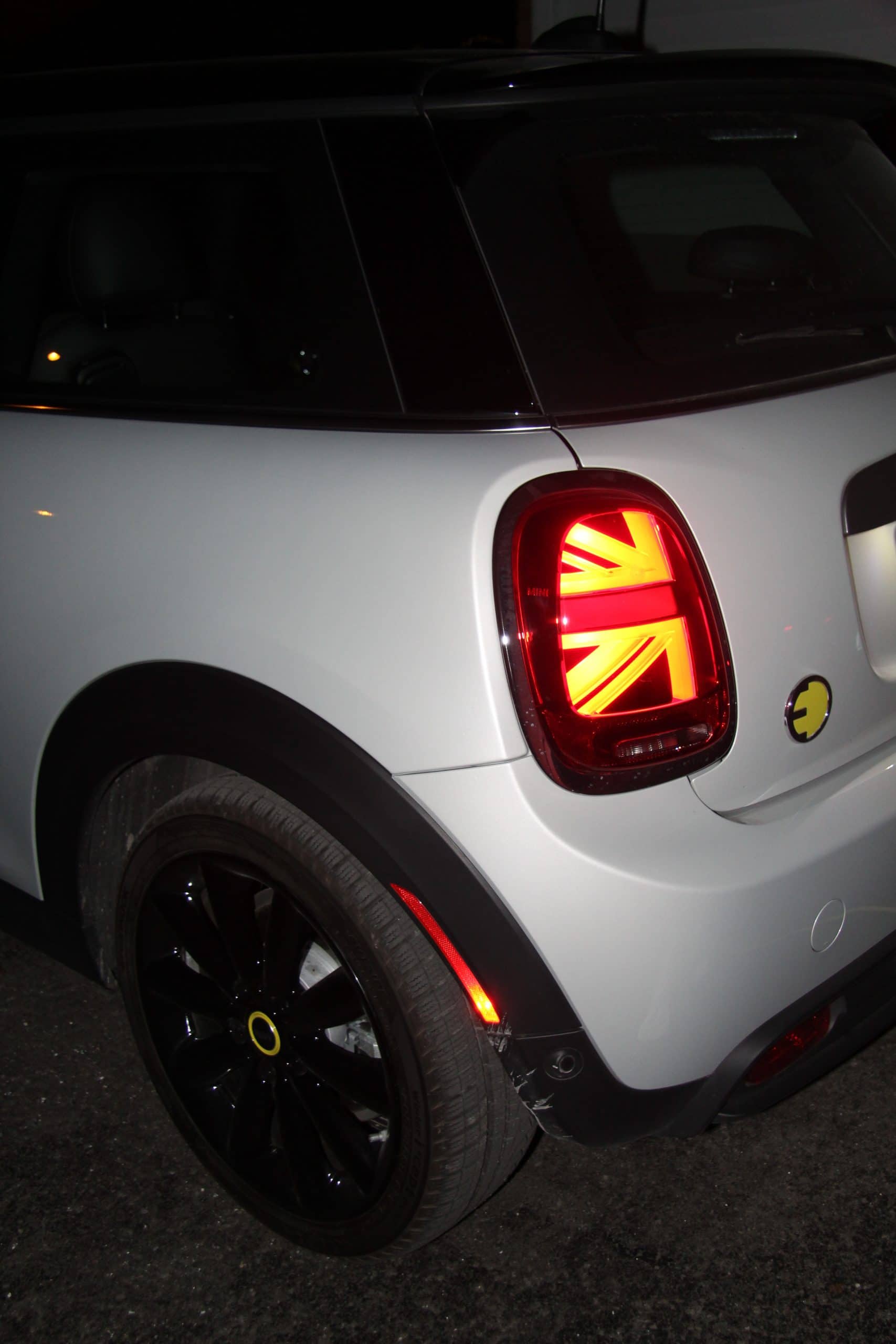 From your home using your smartphone, you can program the temperature of your vehicle. What a great option for winter or summer!
The kids really liked the MINI: the backseat space was great for accommodating two young girls, aged 7 and 12.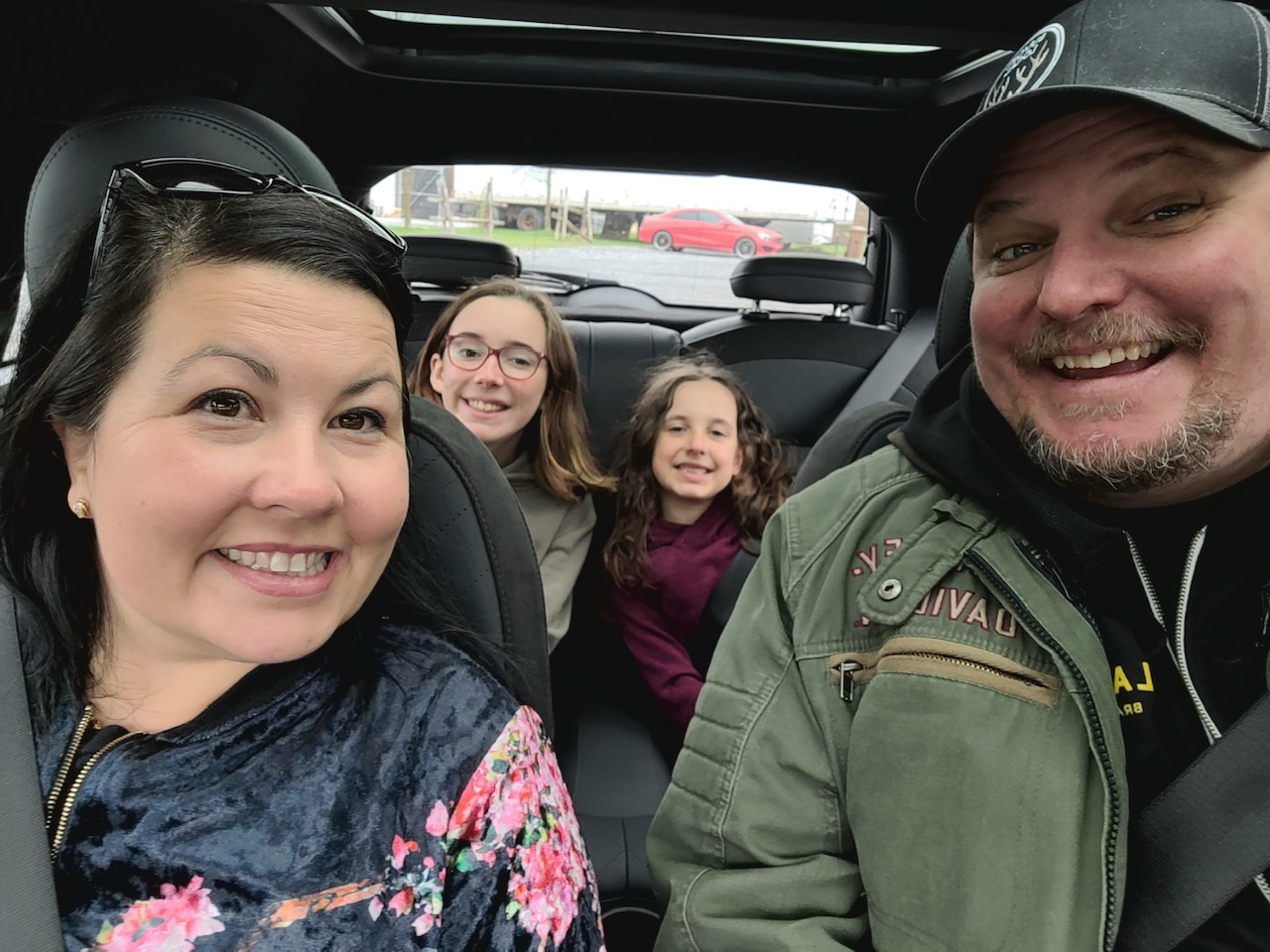 Kids these days are extremely aware of the importance of taking care of the environment. The girls thought it was really cool to drive around in an electric car.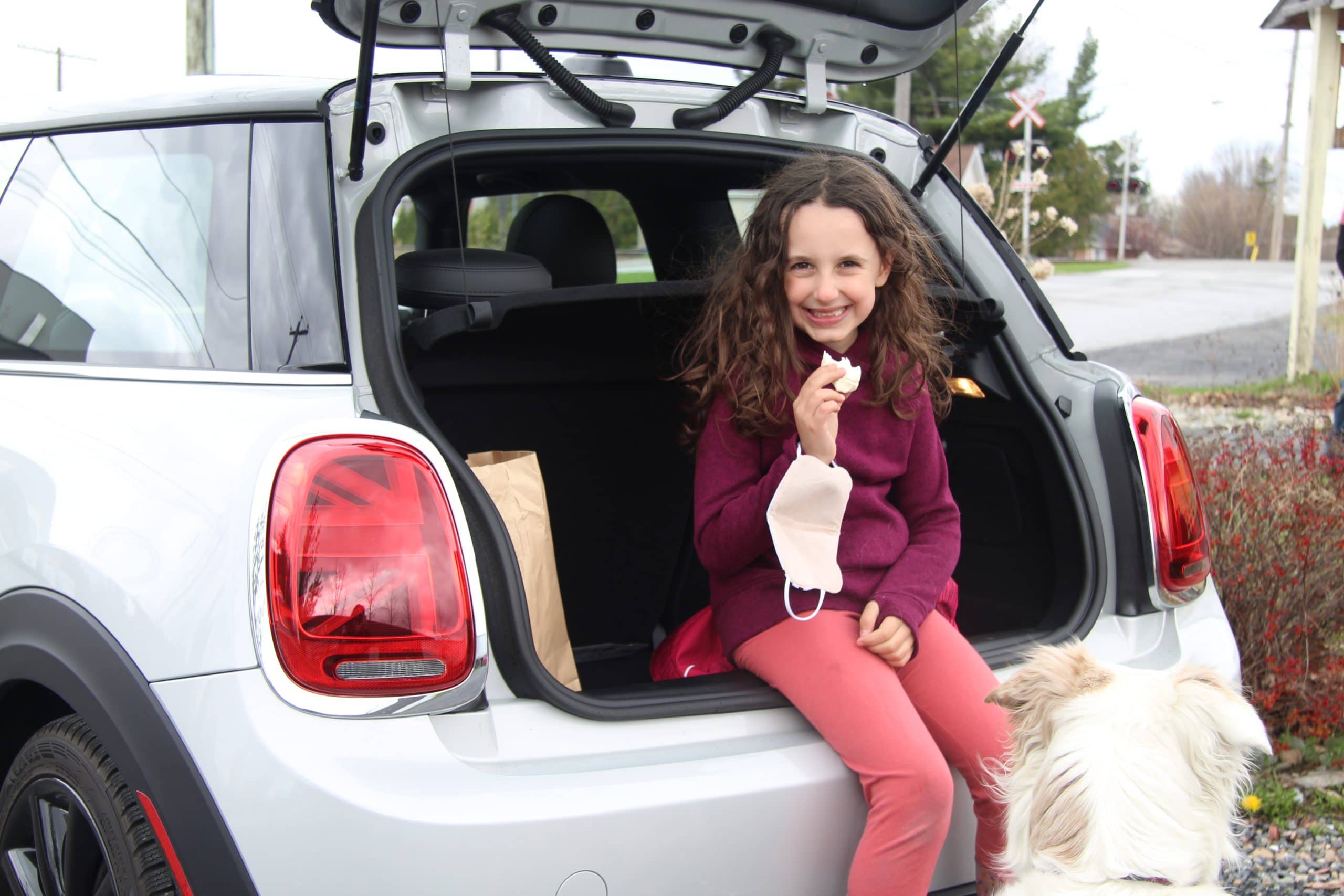 MINI Cooper fellowship
We often talk about the sense of fellowship in the motorcycle world. I found that same camaraderie with the electric car.  Everywhere we stopped, other people with electric cars were chatting with each other. The first question was always the same: "What is the car's range?"
People are proud of their electric car and I was also very proud to discover how fun it is to drive one.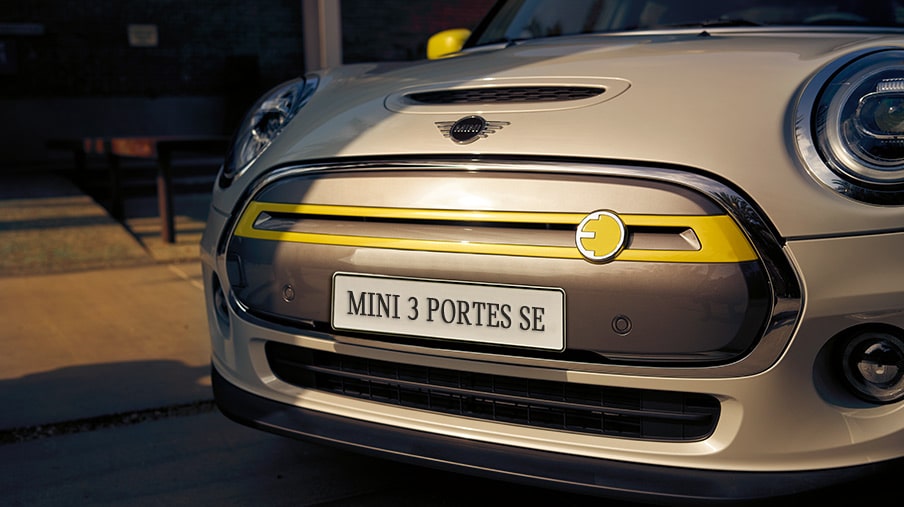 As you can imagine, given the size of our province, it was impossible for me to visit all of the following cheese factories in a single weekend, but if you have the opportunity this summer to travel by motorcycle, car, or (even better!) in an electric MINI, I invite you to discover a few cheese factories that are some of my family's favourites.
The following are Martel-Audet approved!
Top 10 cheese factories to visit
1 – Fromagerie Boivin – Saguenay (La Baie sector)
I admit it's an emotional choice, but their cheese curds are truly among the best! The BBQ cheese curds are also very decadent. Plus, just a few minutes away, you can enjoy your cheese on the shore of the Saguenay Fjord and admire all its splendour. There is even a snack bar called Fromagerie Boivin. Try their cheese bites; they're amazing!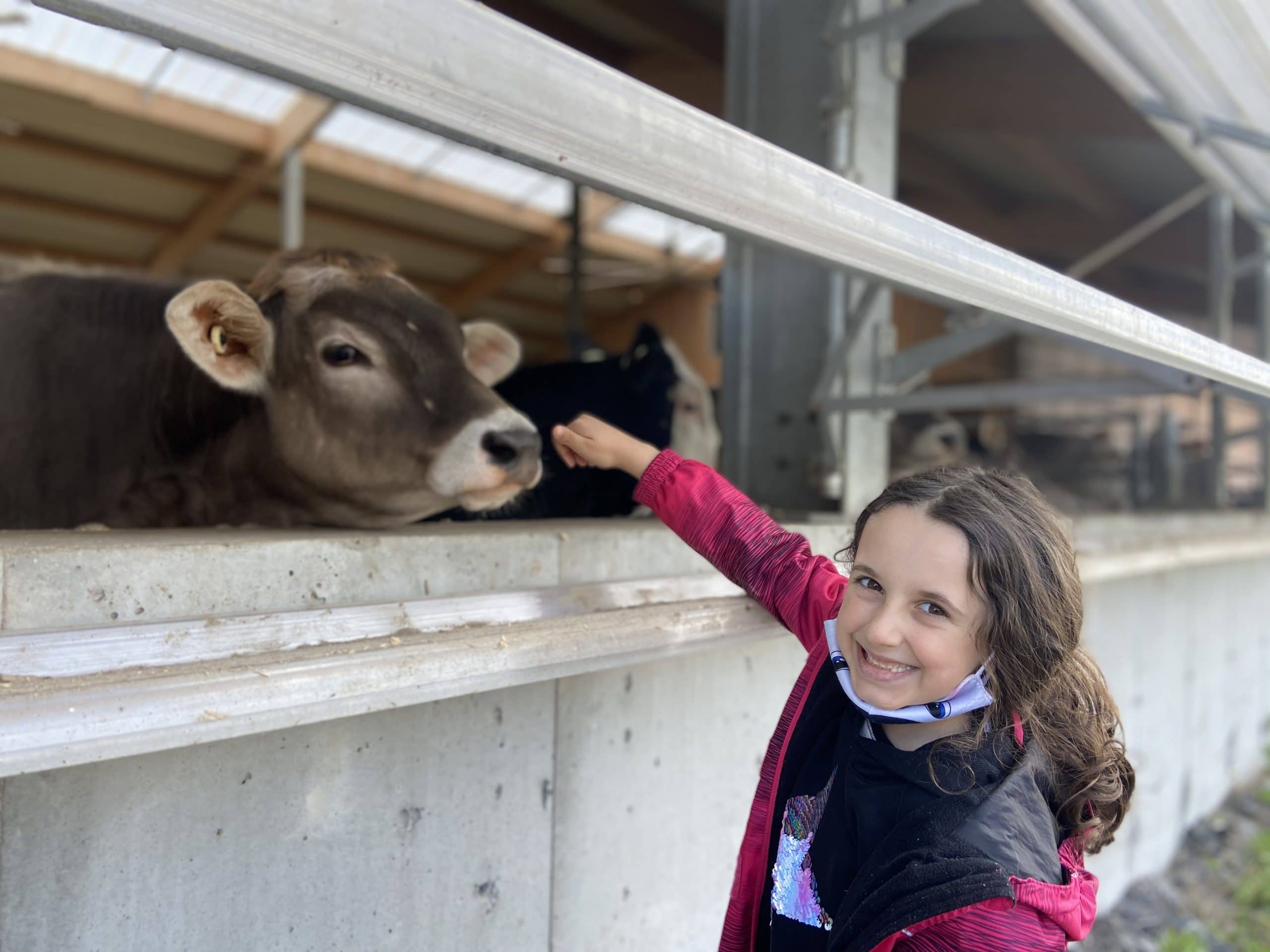 2 – fromagerie au Gré des champs – Saint-Jean-sur-Richelieu
During your visit, you should definitely try the following cheeses: D'Iberville and Gré des champs, made from raw milk. If you go with the kids, go see the cows, it's always fun.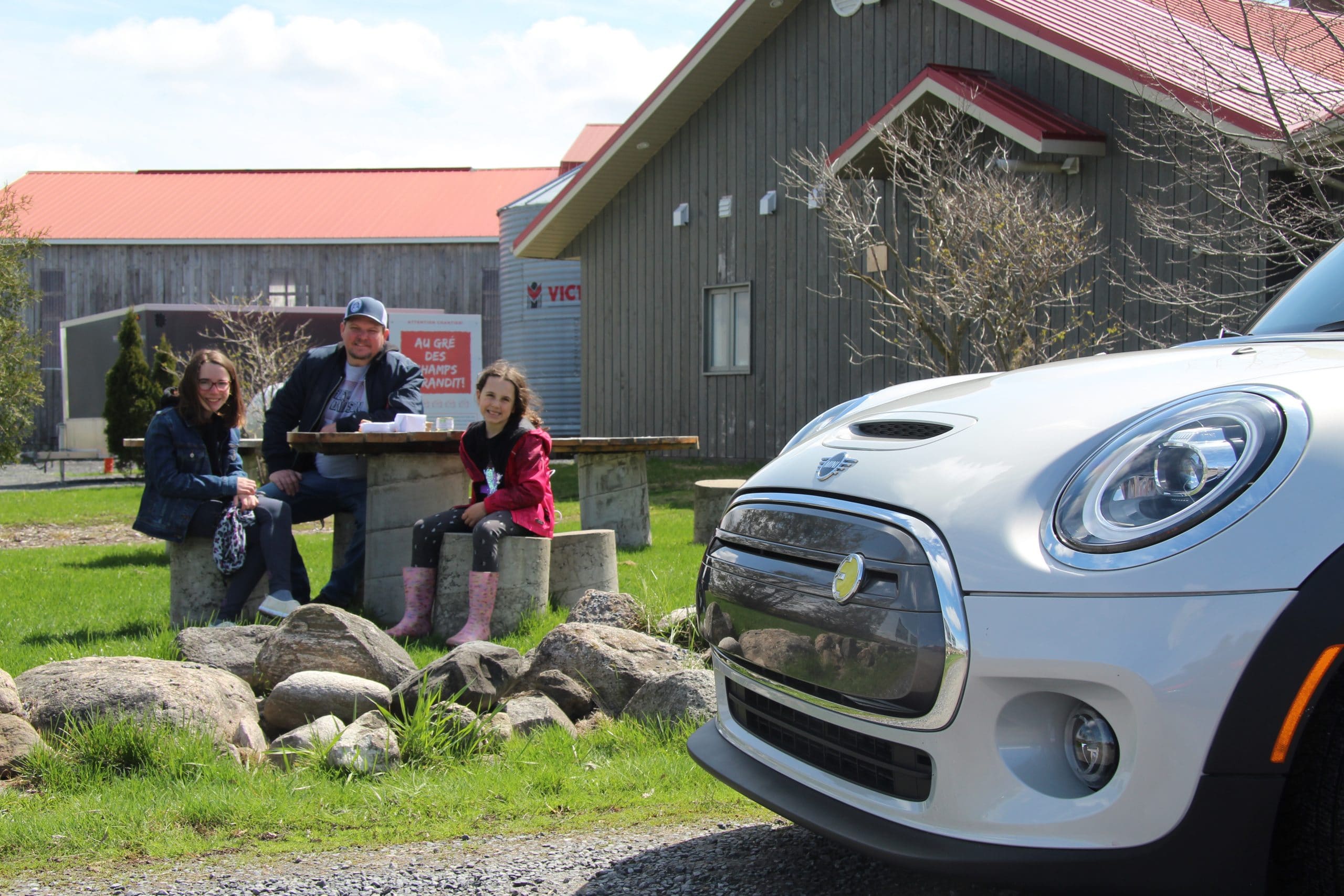 3 – fromagerie Perron – Saint-Prime, Lac-Saint-Jean
Their cheeses are available everywhere in Québec grocery stores, but nothing beats a visit to the actual factory. Discover their Perron cheddar with Port or the Perron cheddar with La Criminelle stout (from Voie Maltée).
4 – fromagerie des Cantons – Farnham
If you have the chance to visit the place, the owner Hugues will be happy to tell you about his cheeses. Discover the Anglais des Cantons, a cheese aged for at least 12 months, or the El Nino which has been macerated in the red wine of the l'Orpailleur winery.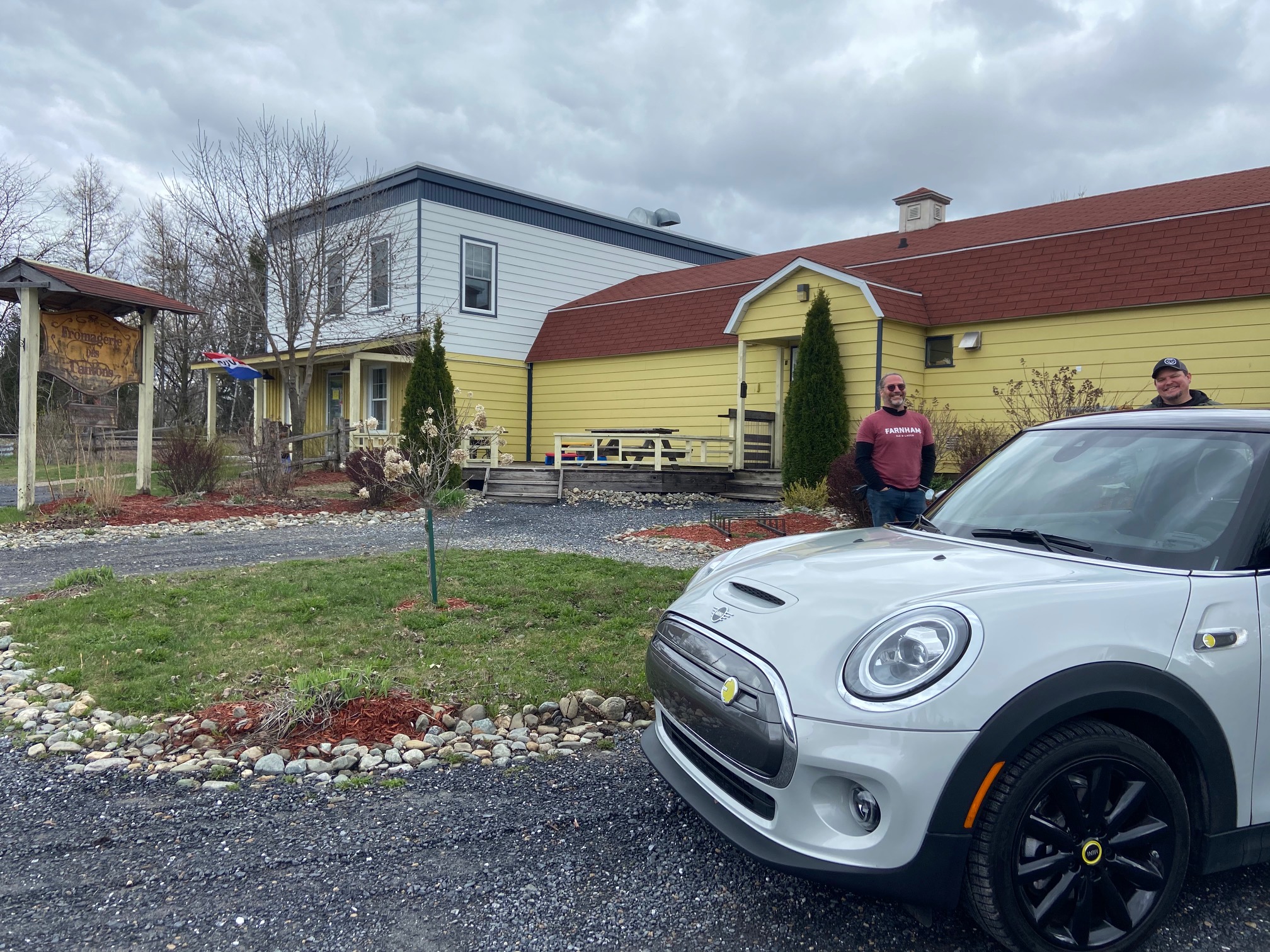 5 – fromagerie de l'Île-aux-Grues – Îles-aux-Grues, near Montmagny
What a beautiful destination for a summer stroll! At the cheese factory, be daring! Try the Cheval Noir de l'Isle, a semi-firm cheese with a bloomy and ashy rind, or opt for the Riopelle de l'Isle, a triple cream cheese. Just picture it: a small baguette, a bottle of wine and cheese by the water…this is definitely a perfect destination for lovers.
6 – Le Migneron de Charlevoix – Baie-Saint-Paul
If my father had made this top 10, he would have definitely placed Le Migneron in first place. If you haven't already done so, discover the Migneron de Charlevoix, their first cheese, but not the least! You should also discover the Ciel de Charlevoix, a blue-veined cheese that's ripened for 60 days.
7 – fromagerie de L'abbaye Saint-Benoît-du-Lac – Saint-Benoît-du-Lac
This is one of the most beautiful churches in Québec to discover. I recommend having a picnic when you visit the place. Cheeses, ciders, chocolate… you will find everything to make an epicurean picnic. Try the smoked blue cheese and the Ermite cheese which has been around since 1943.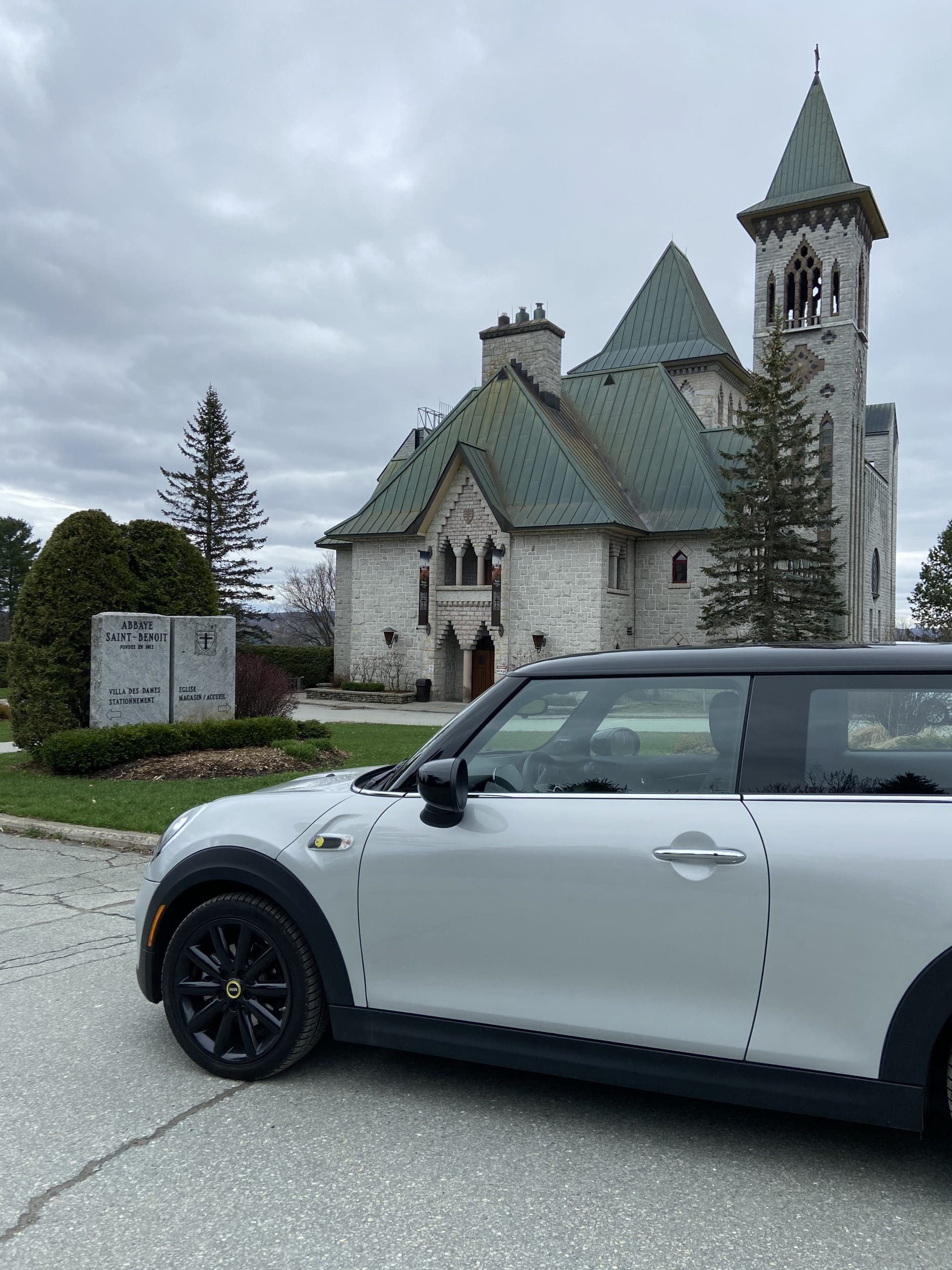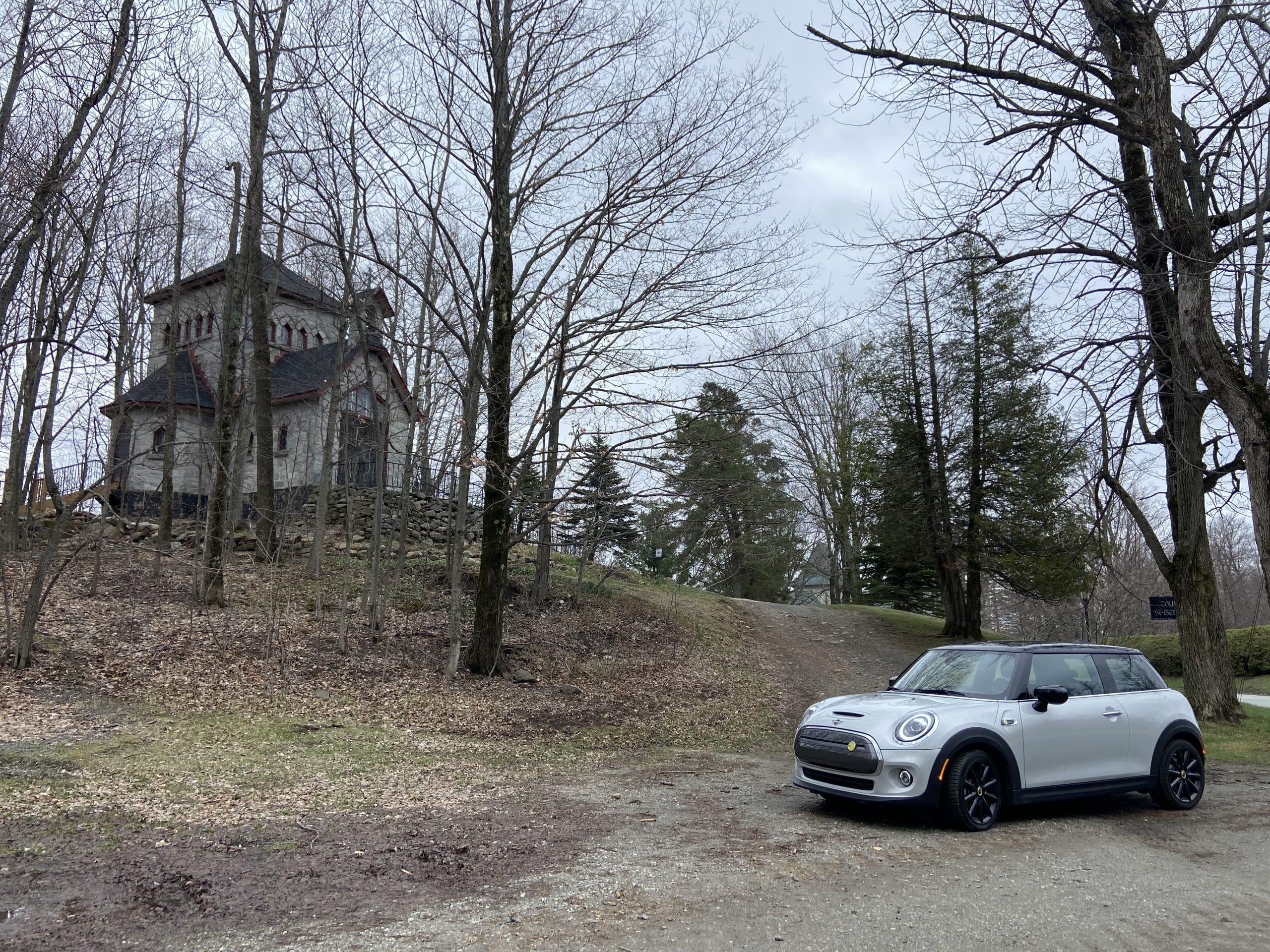 8 – fromagerie La Chaudière – Lac-Mégantic
I think I would walk miles to eat the "Déguédine" salted cheese twists from the La Chaudière cheese factory. And you can't leave the place without trying their soft serve ice cream! Again, take your cheese to go and enjoy it by the lake in Veterans Park.
9 – La tête sur le bio – Sainte-Luce-sur-mer
This is a beautiful destination for many reasons, but head to this cheese shop to try their L'Affine-Bouche, a cheese made from unpasteurized organic cow's milk and aged with sea salt; also grab a good piece of their Lune de Miel cheese, a semi-firm cheese with a mead-washed rind, made from unpasteurized organic cow's milk, aged 60 days or more.
10 – Cornes et Sabots – Notre-Dame-de-Stanbridge
This place was really a fun discovery for us: it's a modest, small cabin in the back of a yard, and that's where the magic happens. Go off the beaten path with their artisanal and eco-friendly cheeses made from raw goat's milk. Two suggestions: The Stanbridgeois and the Feta: you will be delighted!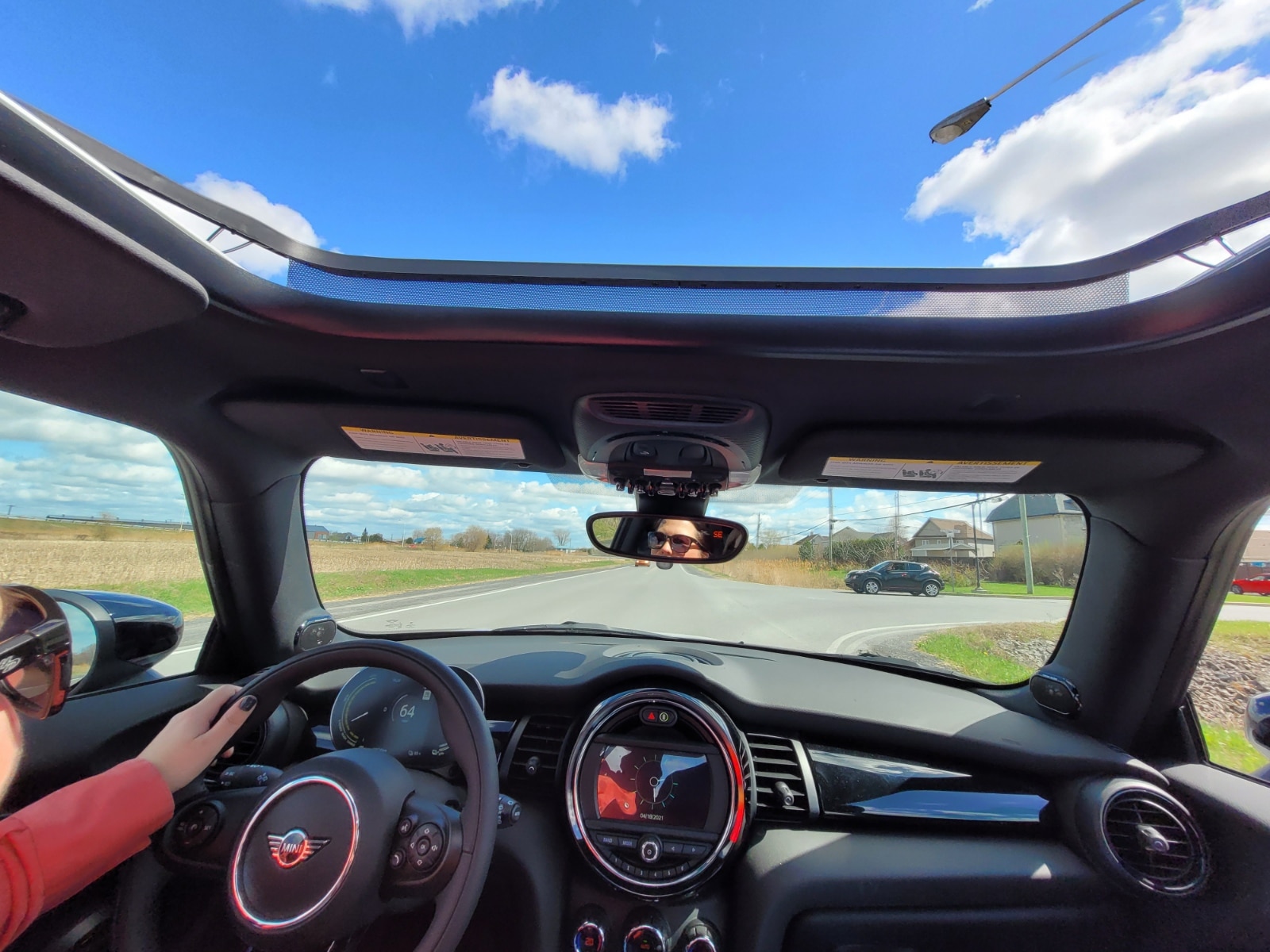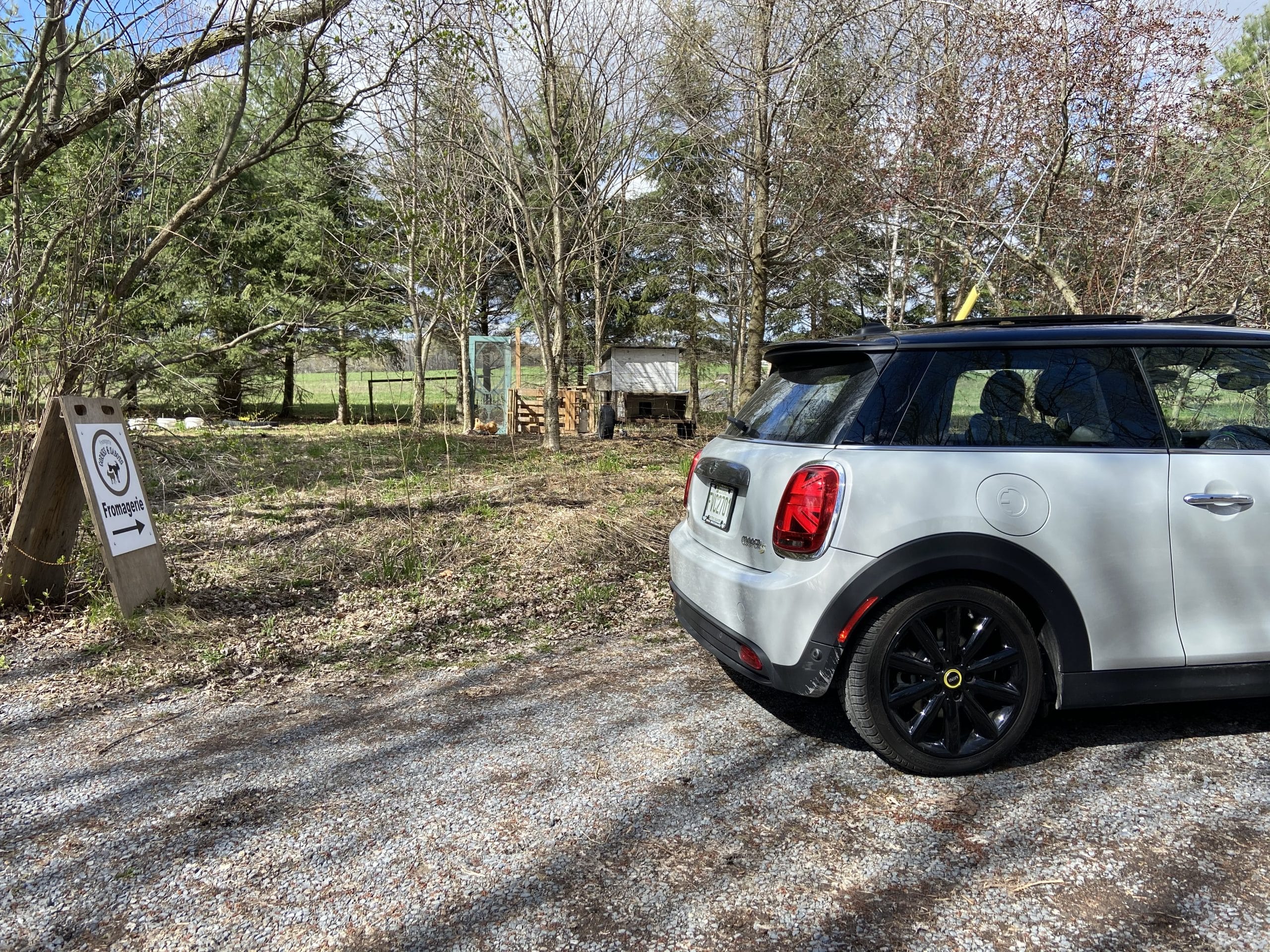 My experience with the 2021 electric MINI Cooper SE
Monday morning, I had to part with my go-kart…my MINI!  Honestly, I loved the experience and it was a real pleasure to drive despite some constraints. However, I must admit that a 100% electric car is not currently the best option for me, because of my lifestyle. The idea is still simmering, but as a second family vehicle. The breaks we took from driving in order to charge the vehicle allowed us to spend some quality time together as a family and to enjoy some down time in our fast-paced world. One thing is for sure, before making the switch to a 100% electric vehicle, you need to assess your needs: don't just fall for the MINI's charm! If you live in the city, or if you travel short distances, I strongly recommend the electric MINI. The reviews are excellent for this mythical model.
Dare to distinguish yourself with an electric MINI! 
And if you want more details on the electric MINI Cooper or on the other MINI models, the team at Mini Brossard will be happy to answer your questions!
Thank you once again to the team at MINI Brossard. Thanks to you, I was able to relive one of my best childhood memories!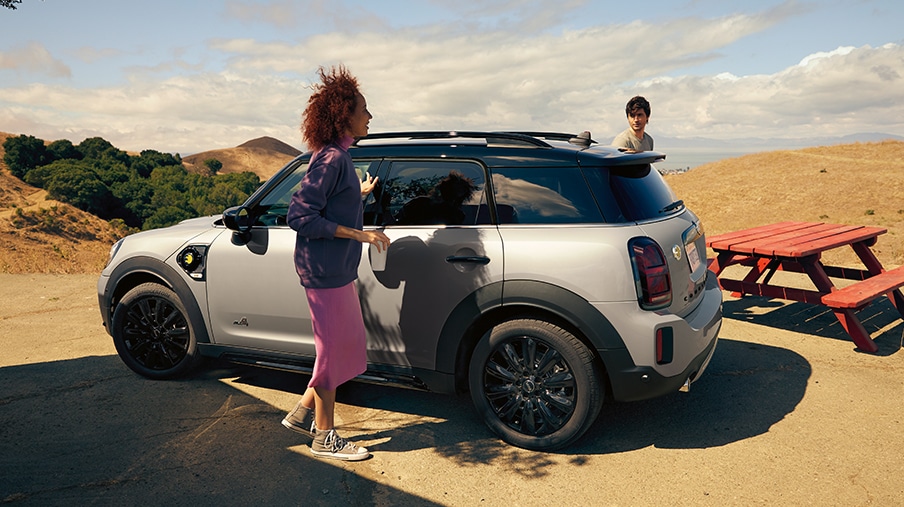 Finally, while talking with the people from Mini Brossard, I discovered an excellent option for me: the MINI Countryman Hybrid, which can reach up to 479 kilometres (gas and electric). Will I give in? To be continued…