I am a technician at a Harley-Davidson dealership. In this article, I will explain 1) why it is preferable to go to a dealer rather than a general mechanicfor your Harley; 2) what is important to know in order to ensure a good maintenance of your H-D motorcycle.
First of all, it is essential to always respect the bike's maintenance schedule. Indeed, there is a specific schedule for Harleys! The first inspection is done at 1,600 km (1,000 miles). The three oils are changed at this time: the primary, transmission and engine oils. We verify certain points that are specified by the manufacturer, such as torque tightening, fluids, and air filter, not to mention the air in the tires, brake wear and clutch adjustment. A second service is performed at 8,000 km (5,000 miles), at which point the engine oil and filter are replaced. Depending on the model, a thorough verification of 15 to 40 elements is done. Depending on mileage, there will always be specific maintenance that matches the model and year of your Harley-Davidson.
The Harley-Davidson Maintenance Calendar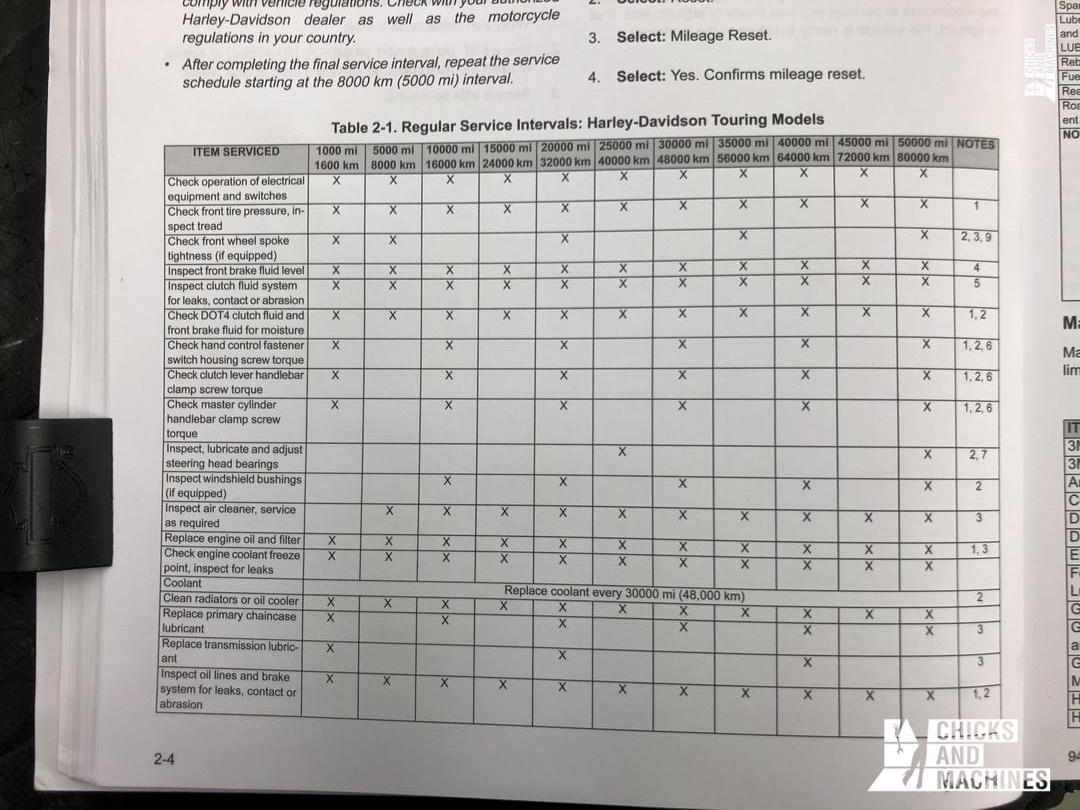 Second important point: the manufacturer has its own oils, designed exclusively for the engine and transmission of your motorcycle. They have been tested and certified by Harley-Davidson. Motor oil protects your bike against corrosion, has superior oxidation stability, keeps internal components clean, and offers proven protection in high temperatures.
Your Harley-Davidson's transmission and primary (the housing that contains the clutch and starter) share the same oil. This oil has been formulated to provide lubrication that meets the wear requirements of the transmission components, and to maintain the ideal friction coefficient. This ensures optimal clutch operation and lubricates the primary chain case.
Here are some important maintenance reminders: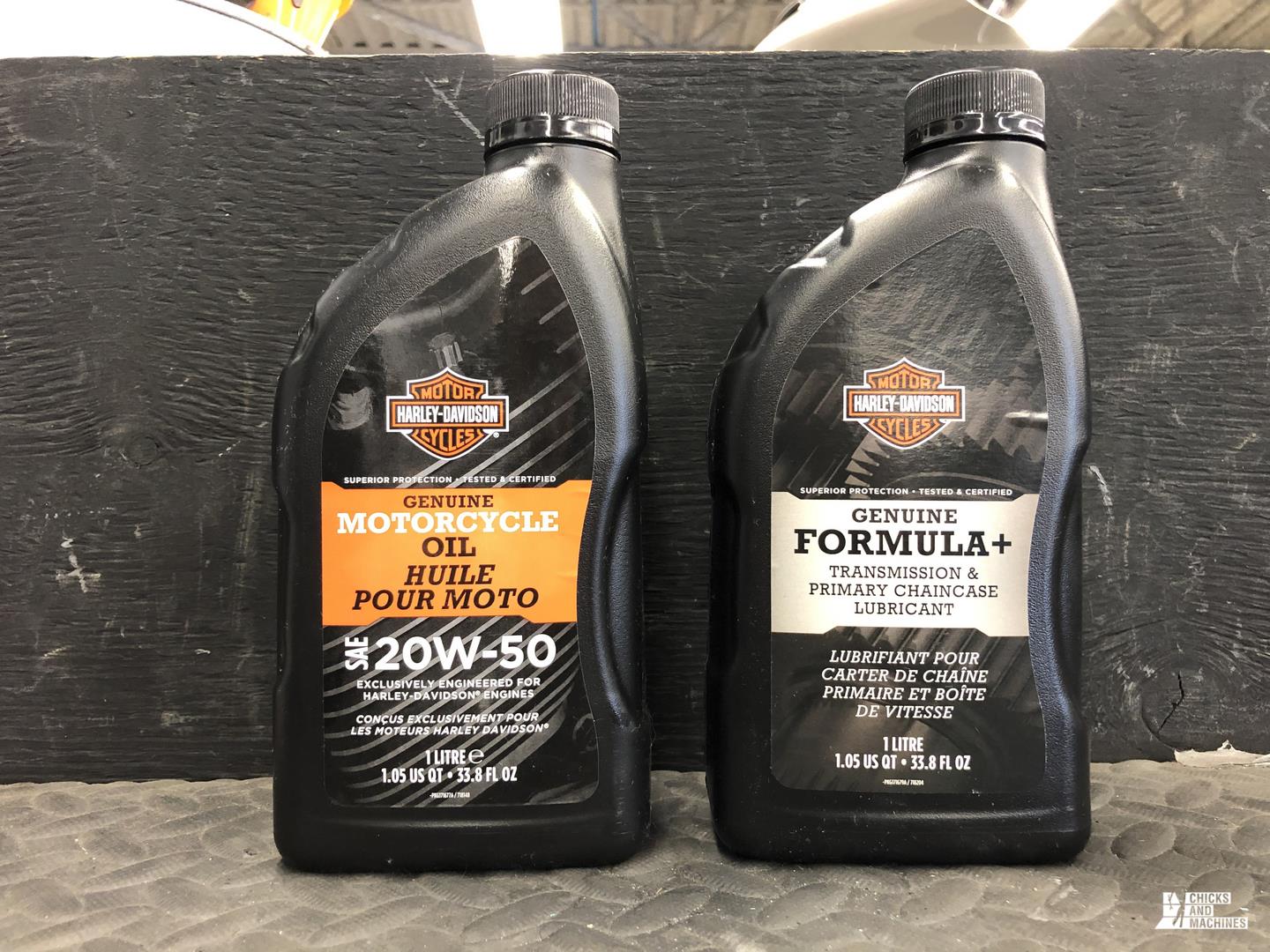 Change your fork oil every 80,000 km; this oil becomes less effective after a certain period of time, which affects the anti-foaming, anti-wear and moisture stabilizer additives it contains. If the lubricant is old, moisture can build up in your forks and could cause problems such as poor shock response and diminished road control.
Service the coolant every 48,000 km. This will ensure that the cooling properties of the formula remain intact, and will prevent overheating problems that can have a negative impact on your engine.
Replace spark plugs every two years or 48,000 km. This will ensure optimum spark performance in your cylinders, resulting in better explosion and engine response. They're quite cheap to replace, so it's definitely worth it!
Change the brake fluid every two years or 48,000 km. When brake fluid absorbs moisture, it becomes gelatinous, and doesn't circulate well because it's too thick. If there is no more fluid circulating, there are no brakes… and having no brakes is not recommended!
Fork Oil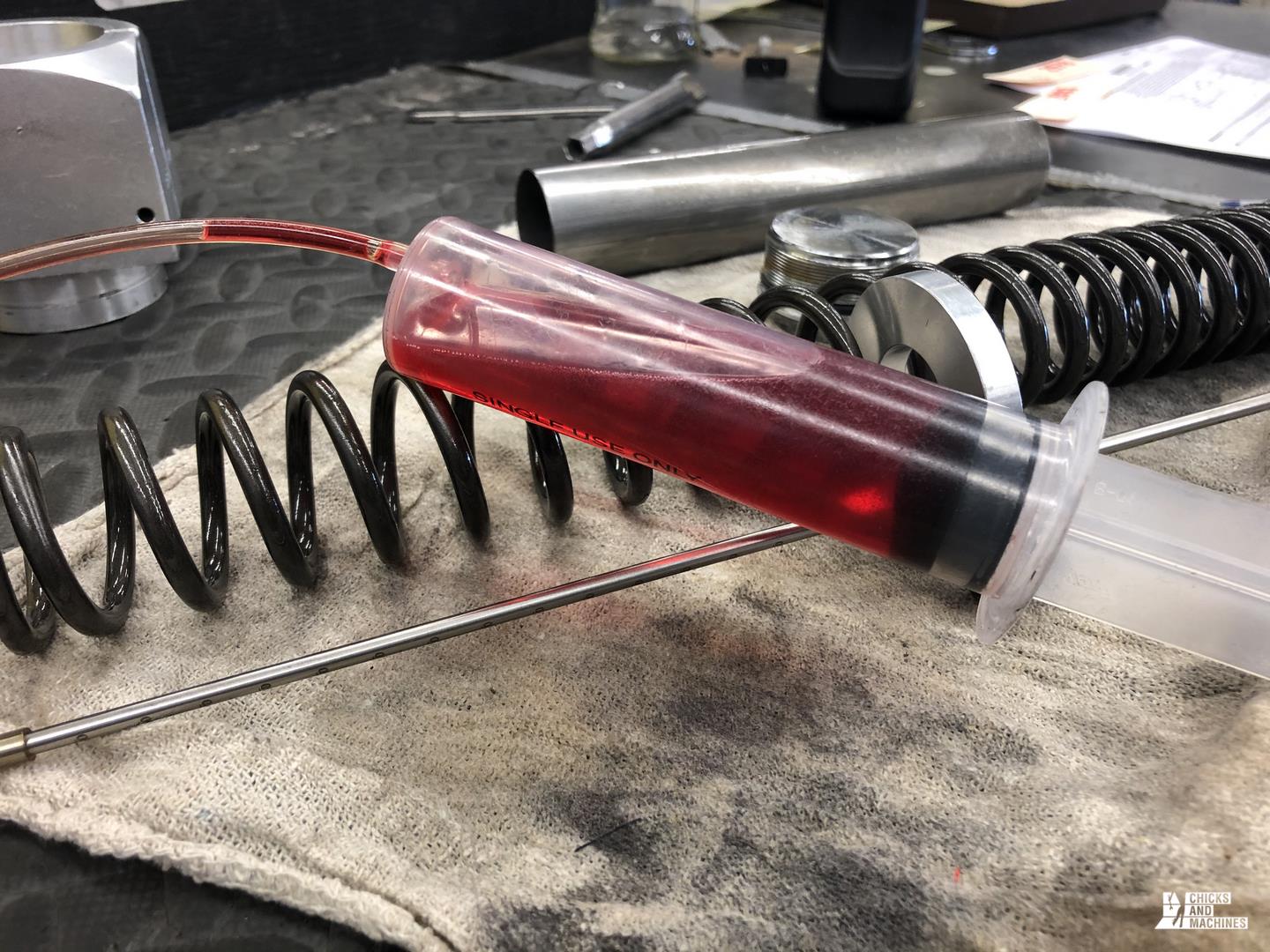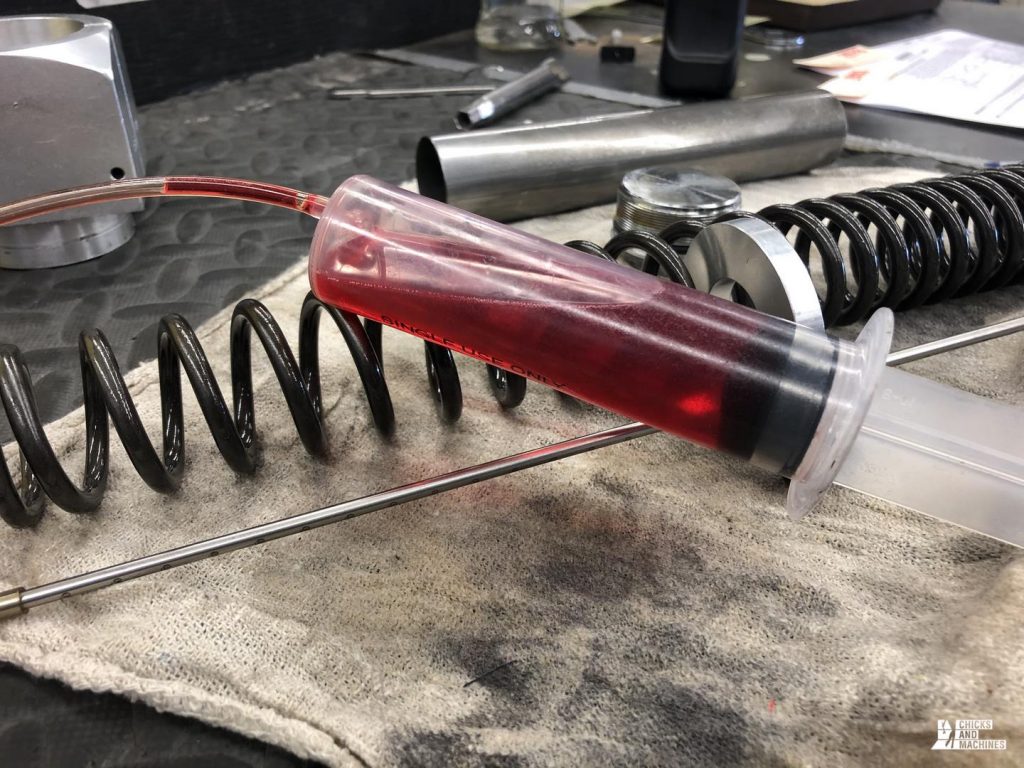 Don't forget to do some quick checks before and after you ride. Check the air in your tires. The recommended pressure is written on the forks.
The oil in your engine is also important! It needs to be checked when the engine is hot, and the motorcycle should be on its side stand. The oil level should be between ½ and ¾ on the dipstick.
WARNING : not all dipsticks are the same. Pay close attention to what's written on yours! For older SPORTSTER models (1988 and older) and V-RODs, check the engine oil when the motorcycle is upright. Finally, perform a quick check of your brakes by making sure there is still some thickness on your brake pads.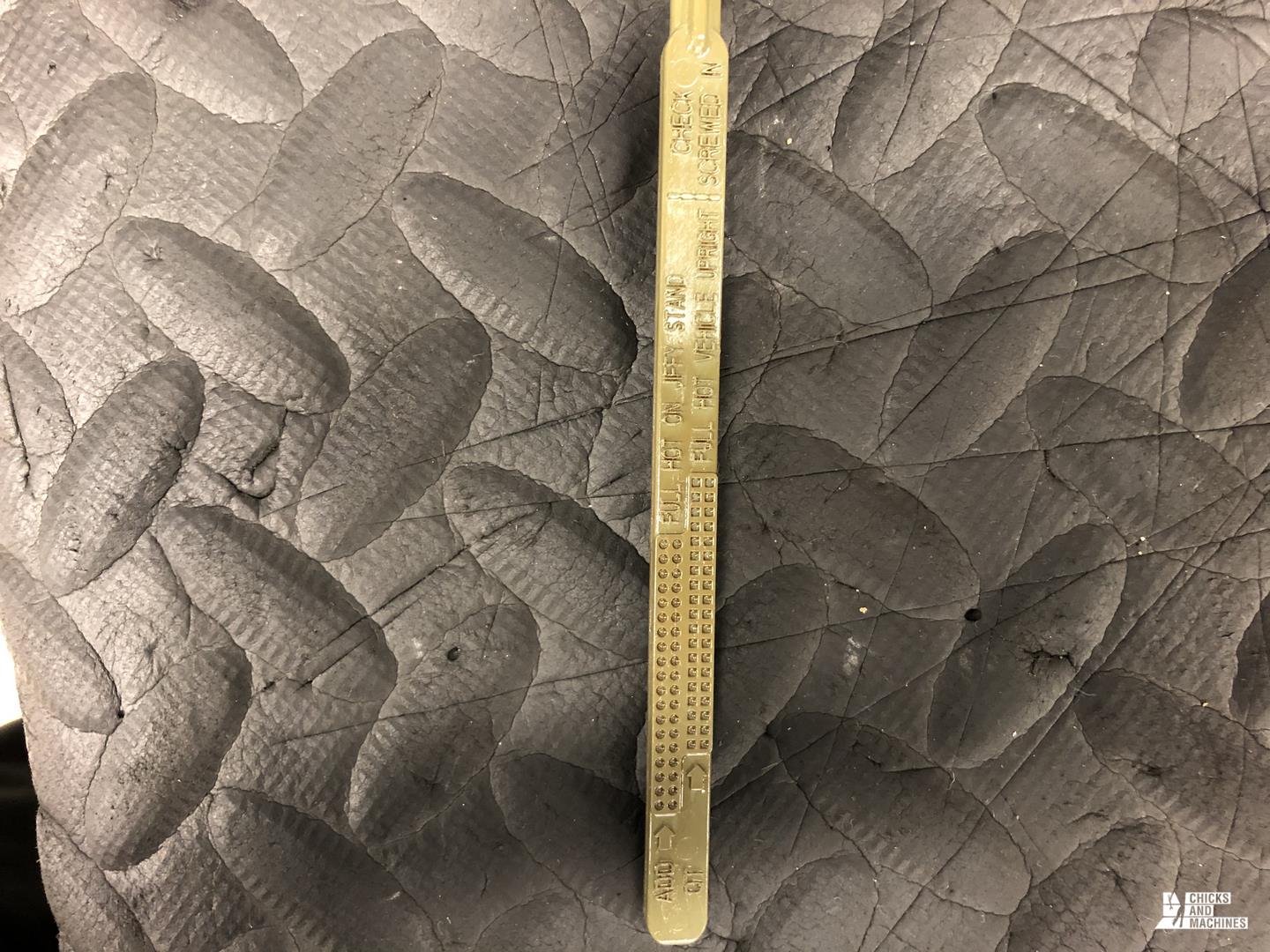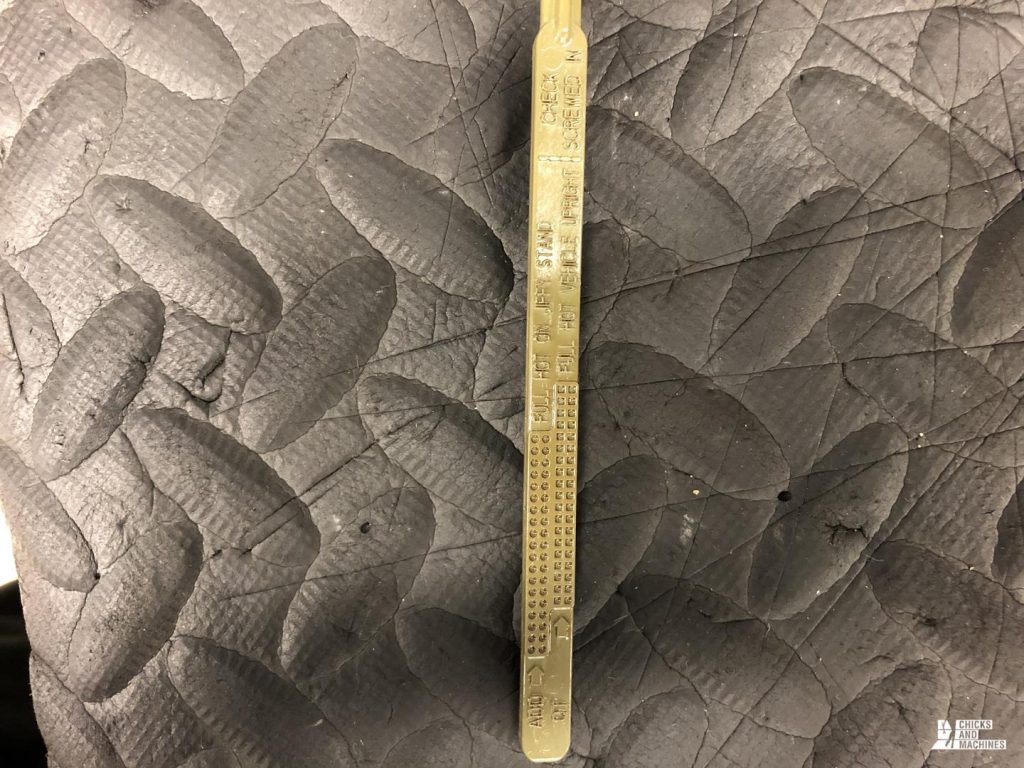 What are the advantages of doing your maintenance at the dealership?
My goal is not to denigrate general mechanics. Since I'm an H-D technician at a dealership, however, here's why I think it's best to have your bike serviced at your Harley-Davidson dealer.
First of all, dealership technicians are H-D certified. In addition to some fixed training courses, we all receive ongoing training in order to continuously meet Harley-Davidson's skill level requirements.
Here are the levels of H-D certification:
Trained Technician (1)
Staff (2)
Technician (3)
Advanced Technician (4)
Expert (5)
Master (6)
Levels 1 to 5 each require between one and two weeks of training in Montreal.  The Master's certification is done either in the United States (Milwaukee or Orlando) or in Canada (Alberta), and can last up to three weeks.
I am currently at Level 3 : Technician. I plan to complete my Level 4 Advanced Technician training in the winter of 2021. My ultimate goal is to become a Master Technician, of course!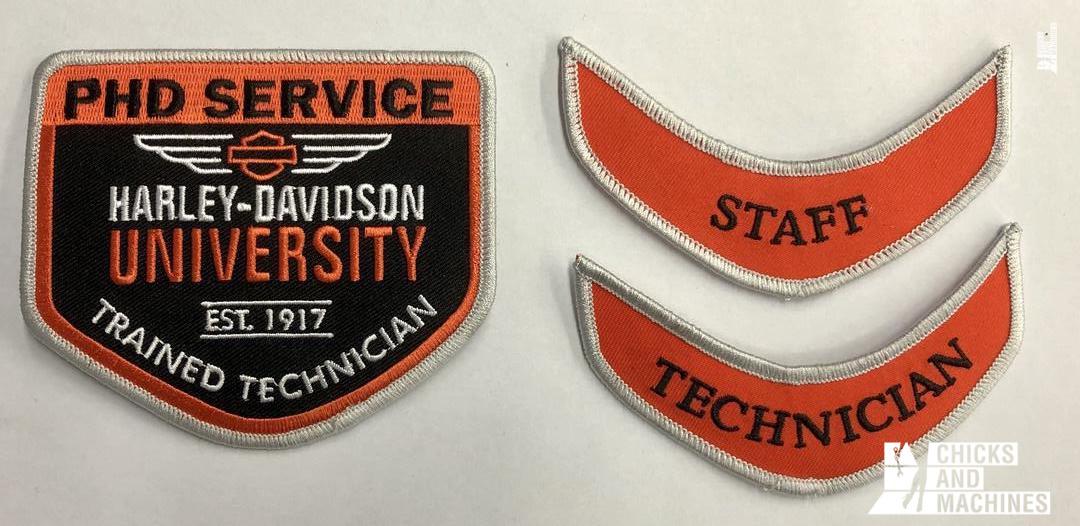 Another good reason to go to your dealer is that they have the certified computer equipment necessary to make the right diagnostics and updates for your motorcycle. Indeed, there are updates to be done for all Harley-Davidson models and years. Doing these updates requires the "DT II" (Digital Technician II), and only Harley-Davidson dealers are authorized to own and use it. Your injectors, ECM (Engine Control Module) and radio are examples of components that require updates.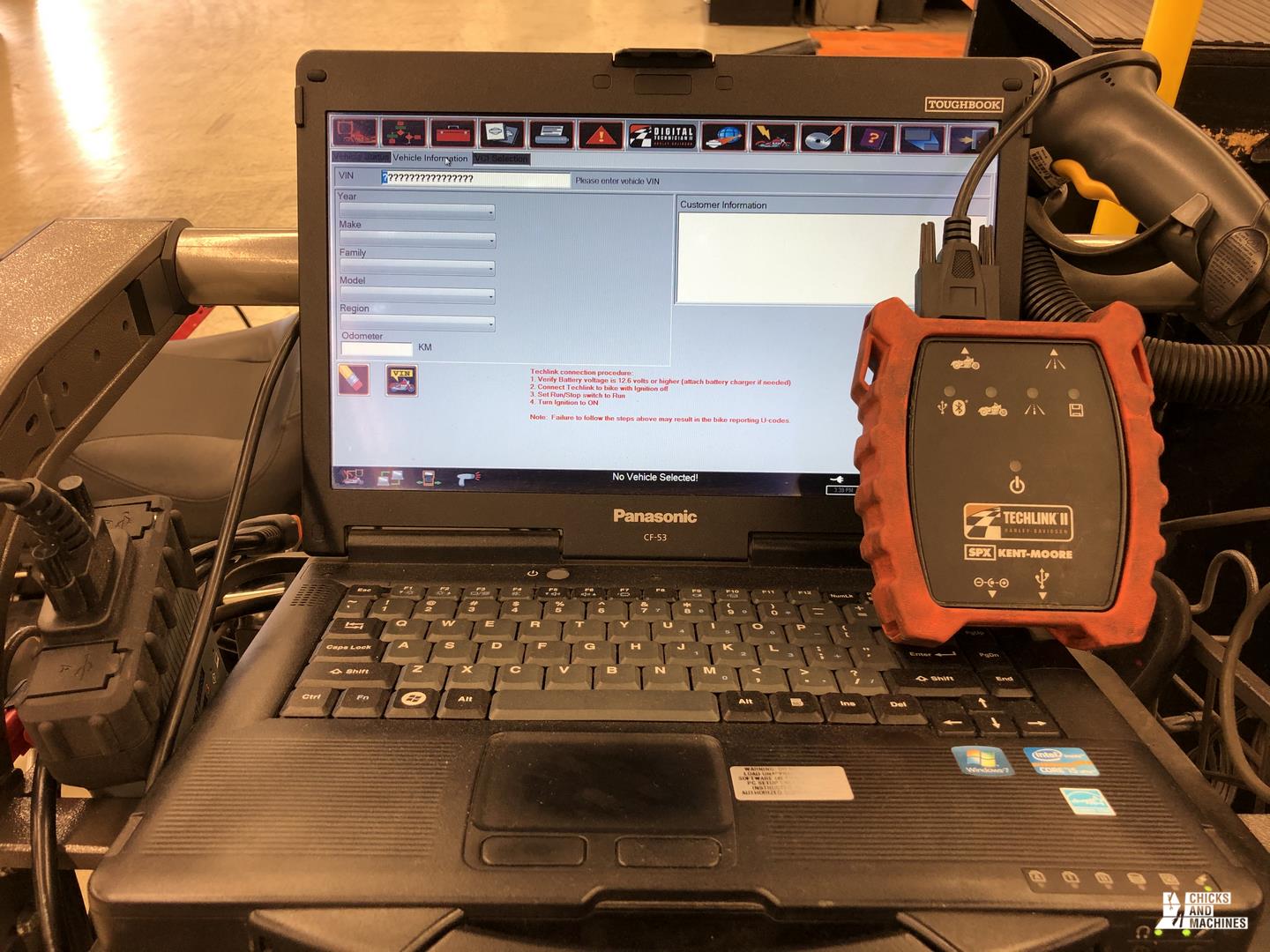 Finally, your dealer has access to the file and history specific to your Harley, if you have made a habit of going to your dealer of course.
Your technician can therefore know if you have any safety recalls or if your bike is still under warranty.  In short, your dealer keeps a complete file on your bike, so no detail that can be overlooked.
Forums
It's impossible to ignore the fact that there are a whole lot of forums out there. Some are good, some are bad, and some are awful. Be careful! If Bobby554 says he fixed his bike with a tie wrap and tape, it doesn't mean it's going to work in your case…or that it's a good idea to begin with. It's kind of like the famous "My aunt's brother-in-law told me that…" stories.
You have to keep in mind that your context is likely different from his. A problem that may seem similar is not necessarily so. Many minor symptoms that look the same can make the solution seem similar. Only a good examination of the motorcycle can lead to the true diagnosis, so be mindful of the potential dangers of believing what you read online.
In Conclusion
In conclusion, no matter what problem you have, no matter what questions you have, no matter how uncertain you are about your Harley-Davidson motorcycle, don't hesitate to contact your H-D dealer: they will always be the best source of help.
Ride safely!
Cendrine L.