2022 CFMoto 300SS Motorcycle Test Ride
After focusing mainly on their ATVs for a few years, CFMoto recently announced on their website that their motorbike line was set to return to the Canadian market in the Spring of 2022. You may remember the models we saw in 2015; at that time, the company was focusing on their two naked bikes, the 650NK and 650TK.
True to their promise, the Chinese company recently launched their new bikes in Canada, and thanks to Mathias Sports and Chicks And Machines, I had the great pleasure of testing one of them: the beautiful 300SS.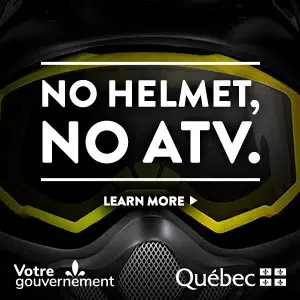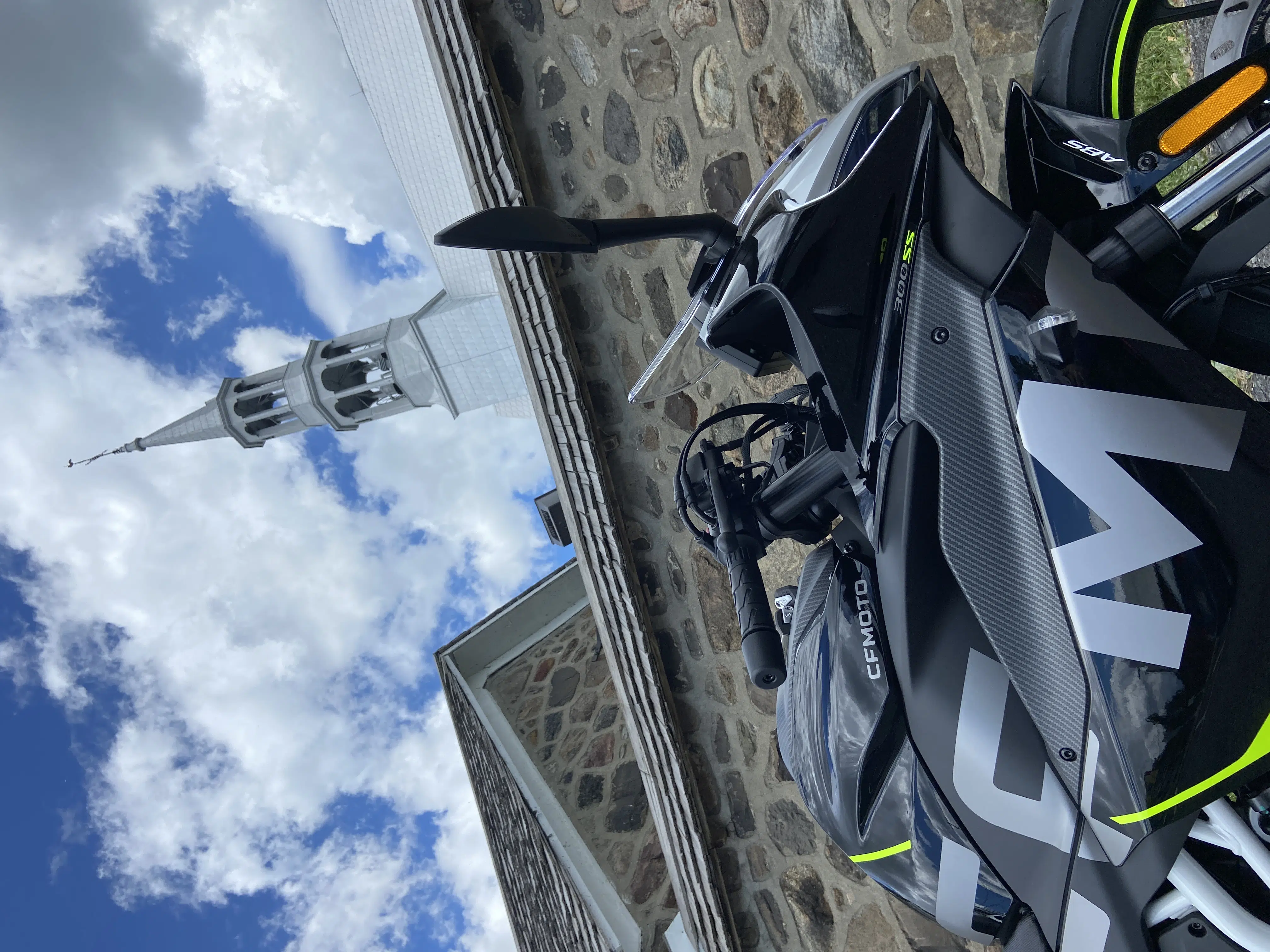 Specifications of the 300SS by CFMoto
Priced at $5,929.00, the 300SS is a great little sportbike that's nimble, light, and most importantly, economical.
·        Engine: 292 cc
·        6-speed transmission
·        LED lighting
·        Digital display screen
·        2 riding modes: Eco and Sport
·        Slipper clutch
·        Maximum torque: 29 HP (ps)/8750 RPM
·        Seat height: 780 mm
·        Inverted front fork
·        ABS braking system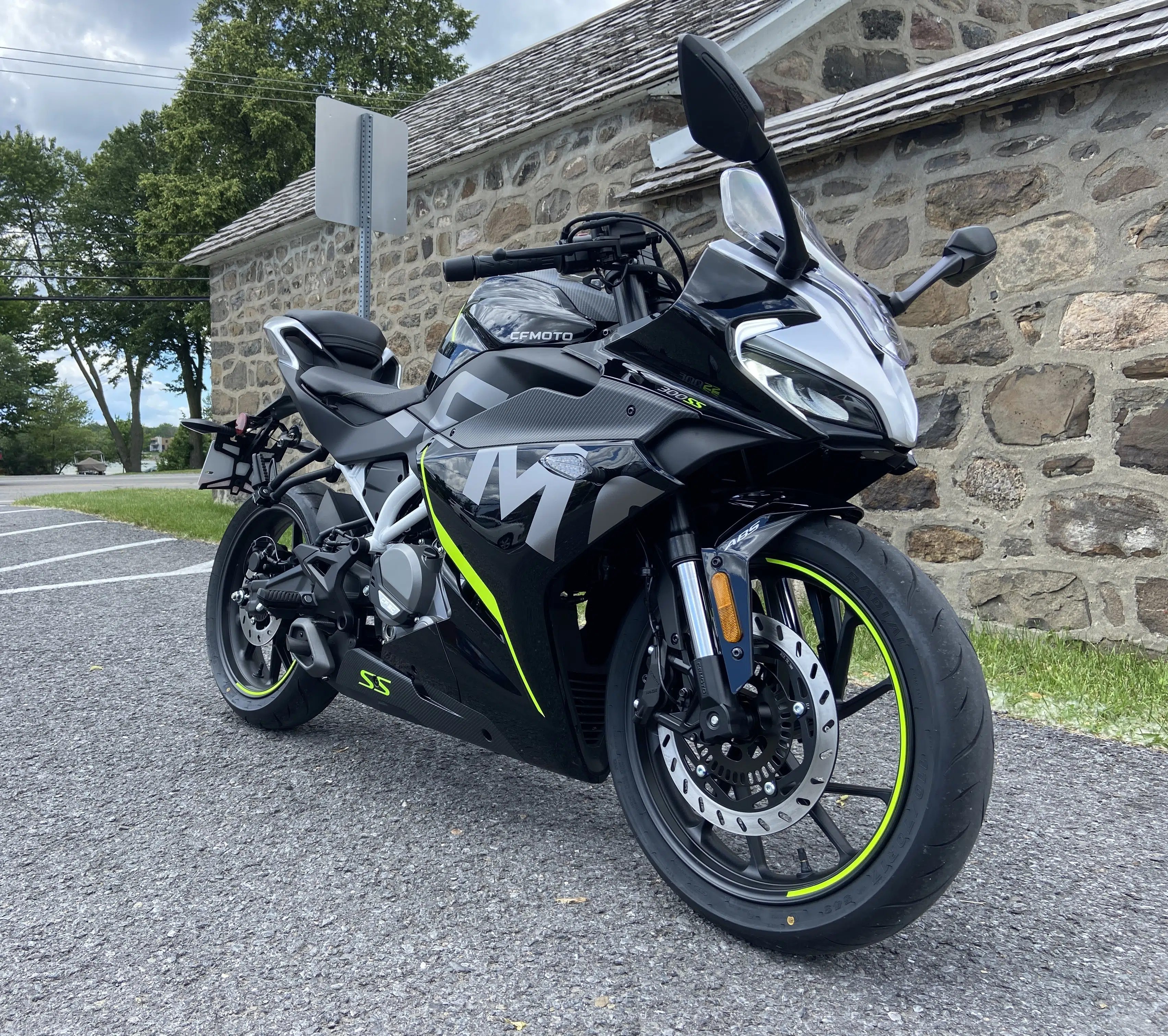 A Small, yet Surprising Bike
When I first laid eyes on the 300SS at Mathias Sport, it took me a moment to realize that this was not a full sport bike. Sleek, elegant, and aggressive-looking, this bike has several gorgeous details that make it truly unique.
Let's start with the colourful details on the bodywork: they truly give it a racetrack-ready personality!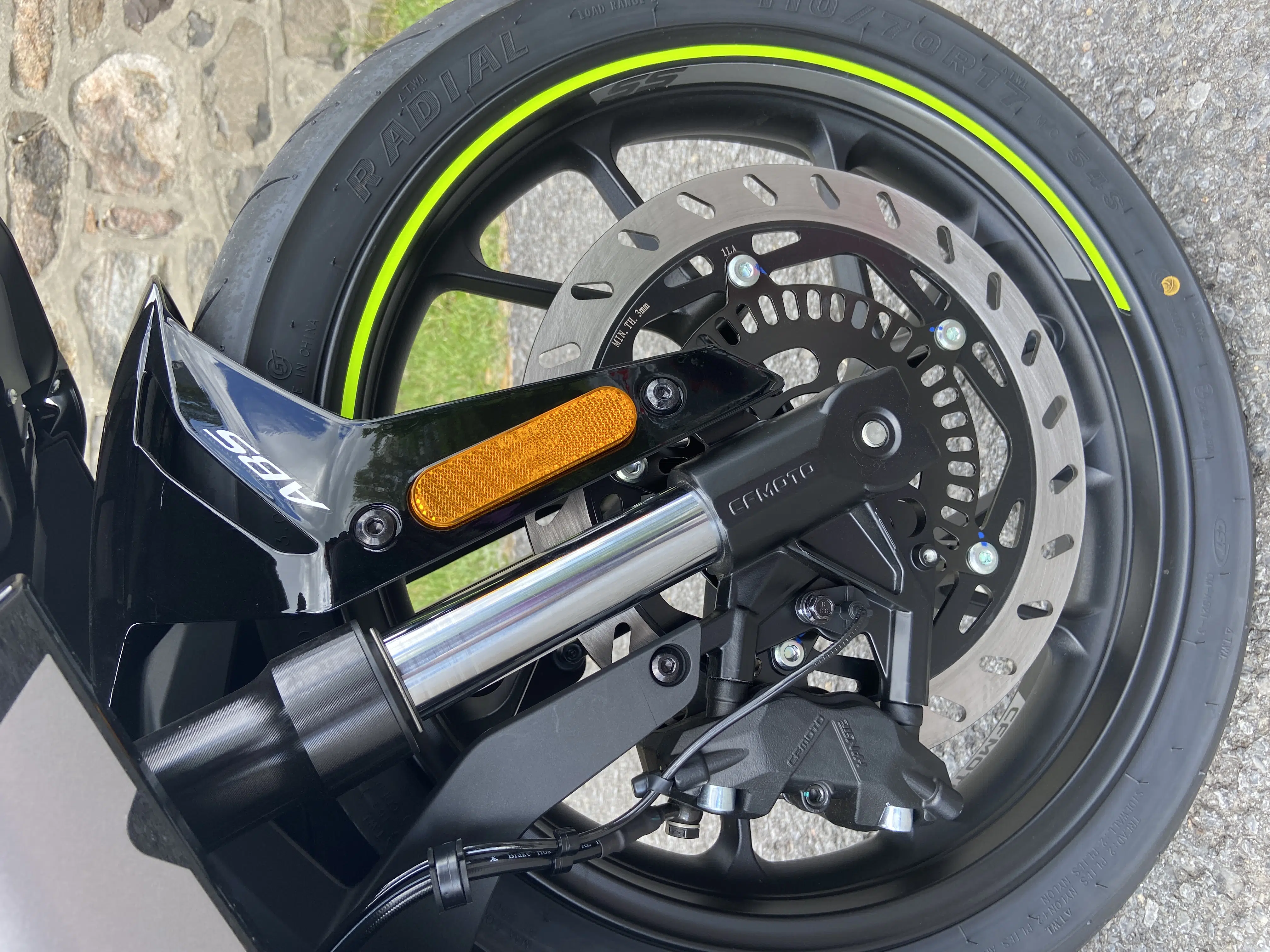 This type of detailing can also be found on the wheels, and even in the seat threads. It is a refined touch that I very much appreciate.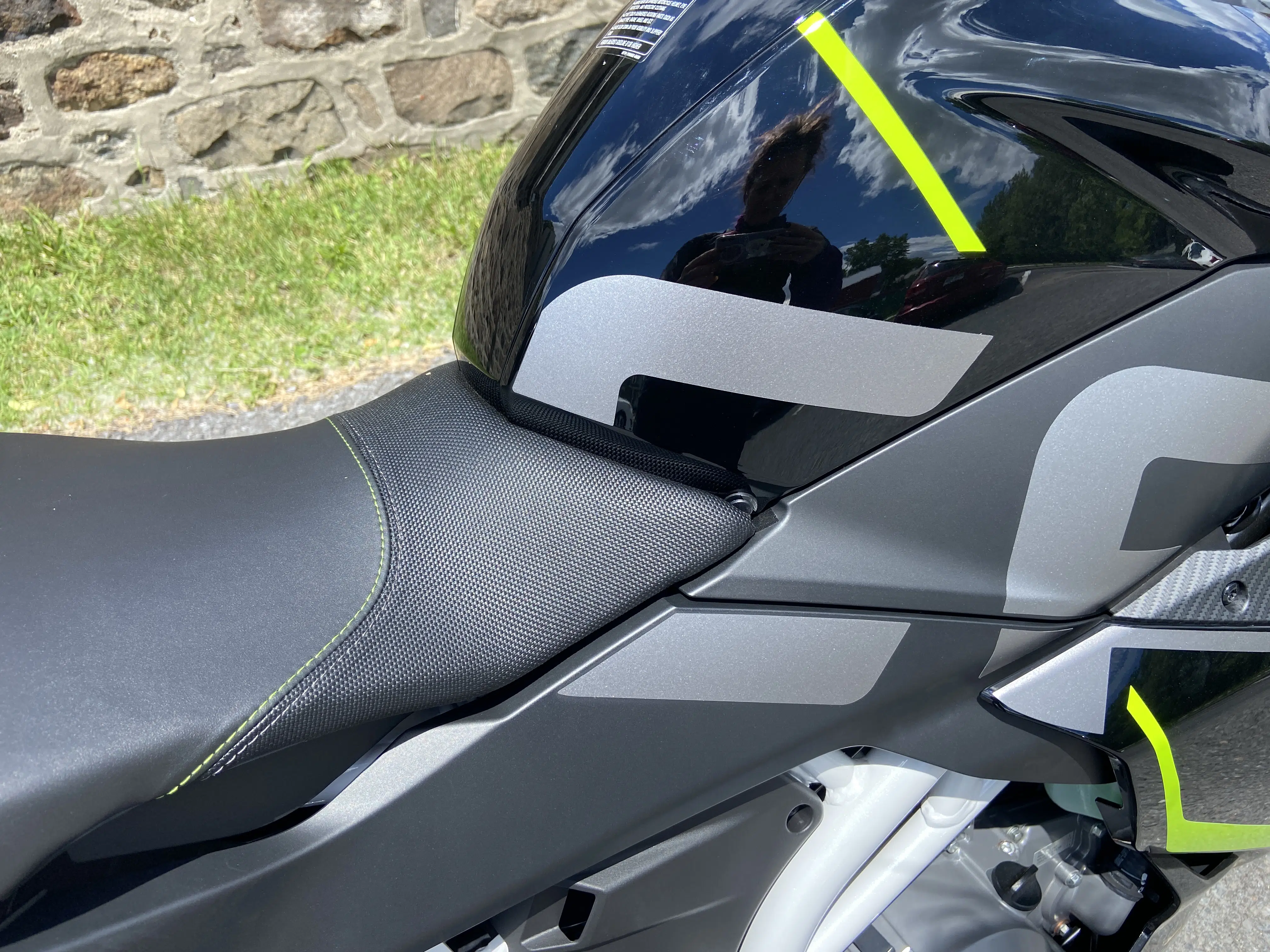 The icing on the cake: the fuel tank is decorated in carbon fibre style.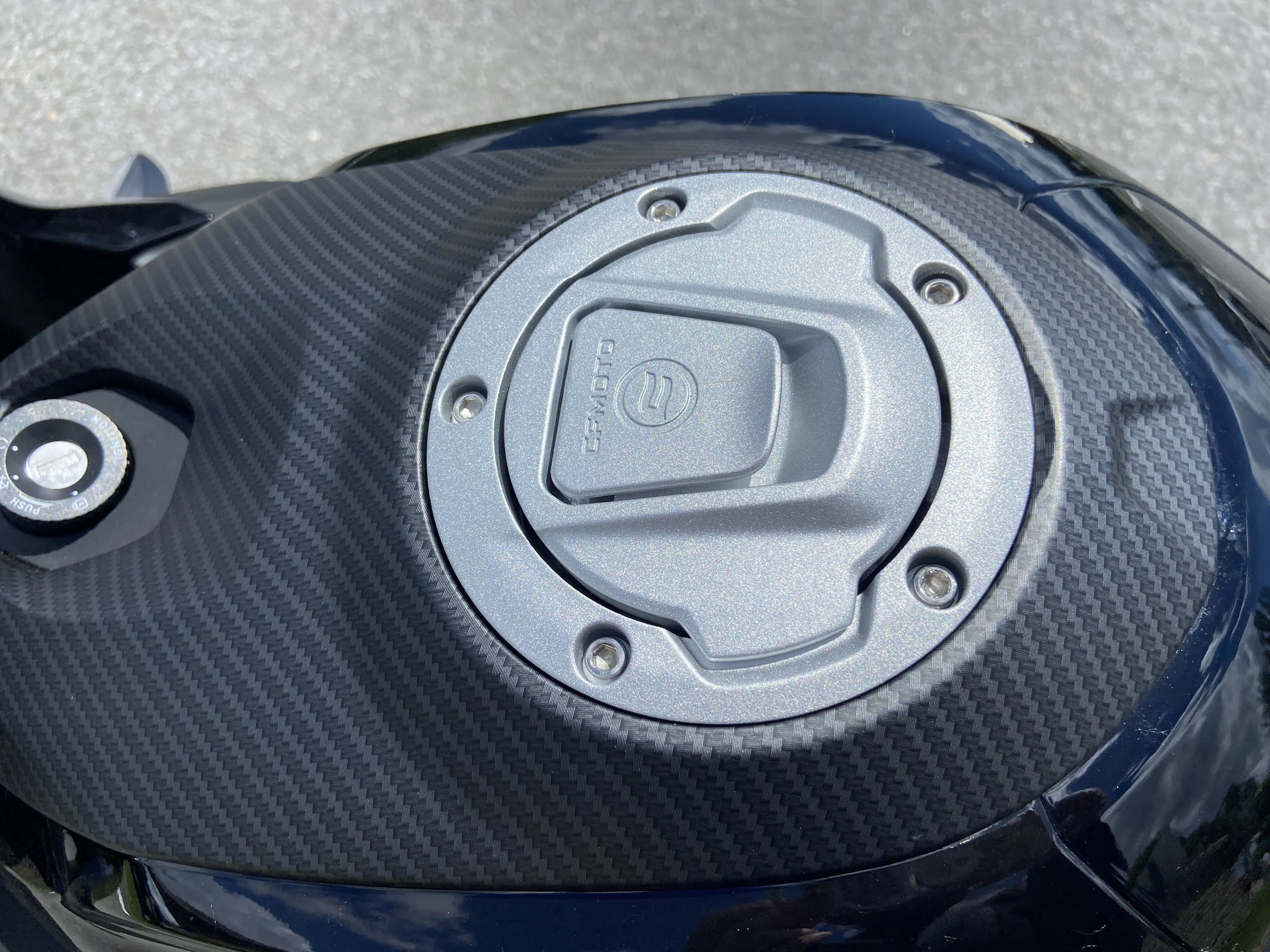 Air traps are located under the passenger seat, adding to the bike's unique look.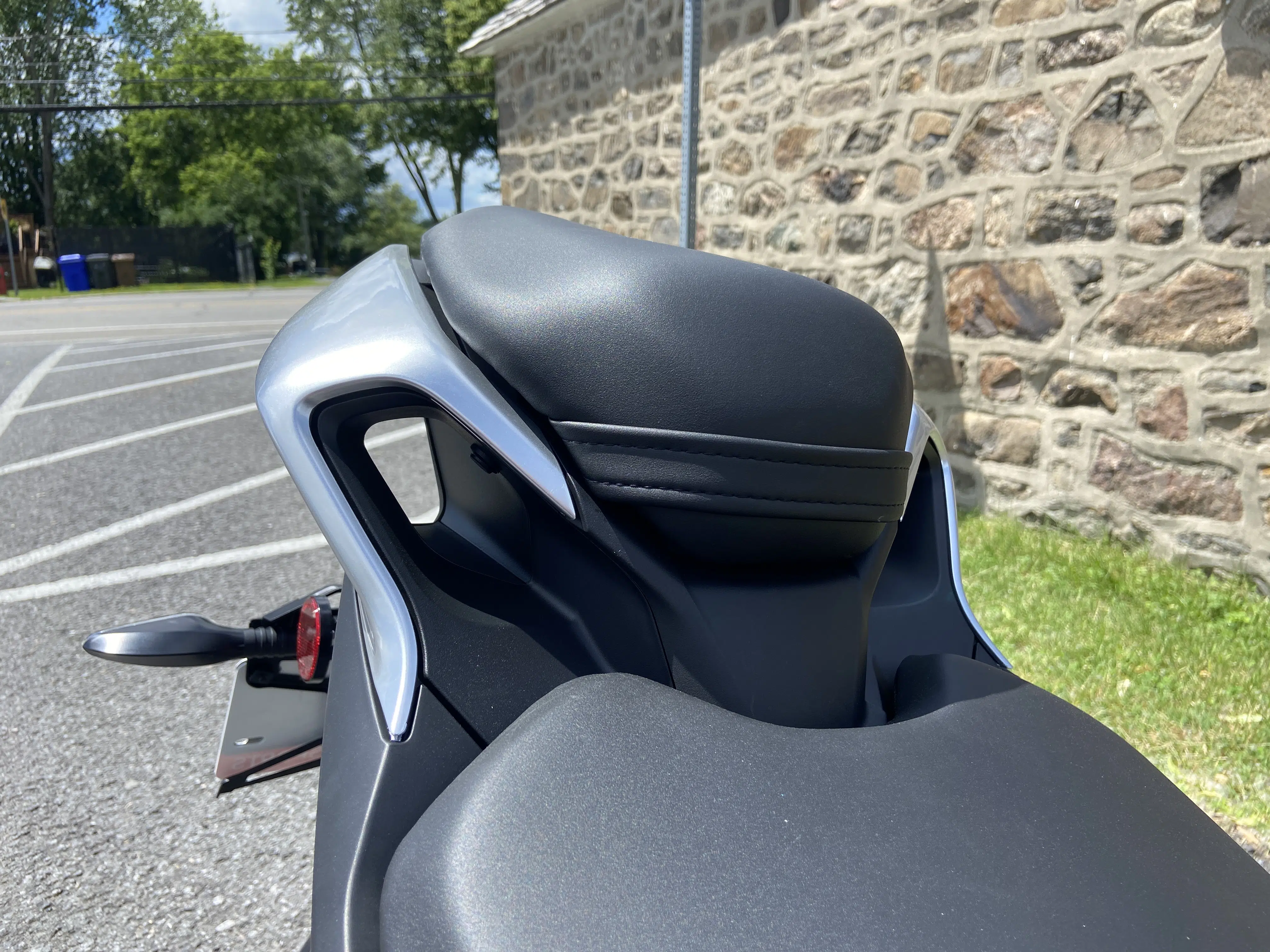 It is available in two colours: Nebula Black (the one I was able to try) and Nebula White, which is mainly white with beautiful, blue accents.
What's it like, riding a 300SS?
Don't let the small engine fool you; once you get behind the handlebars of the 300SS, you quickly realize that this little bike is more powerful than you'd think! Departures at red lights are quick and easy, and even at higher speeds, the bike still responds very well. Even on the highway, it's easy to forget the small size of the engine that powers the motorcycle.
Thanks to its small size and ultra-light weight, it's incredibly agile and manoeuvrable. The riding position is that of a sport bike, so you really feel at one with the road.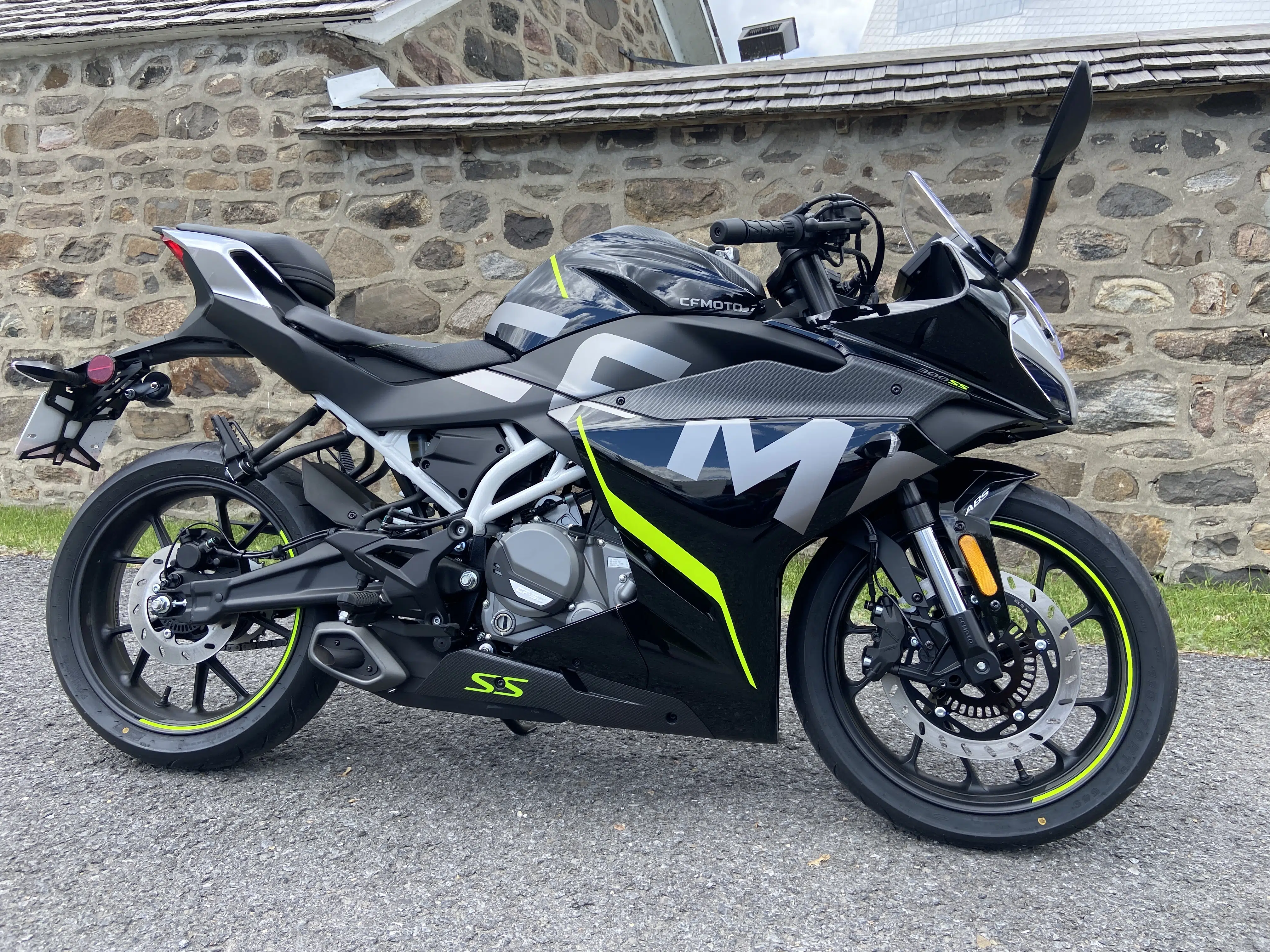 In addition, the bike has two riding modes : sport and eco.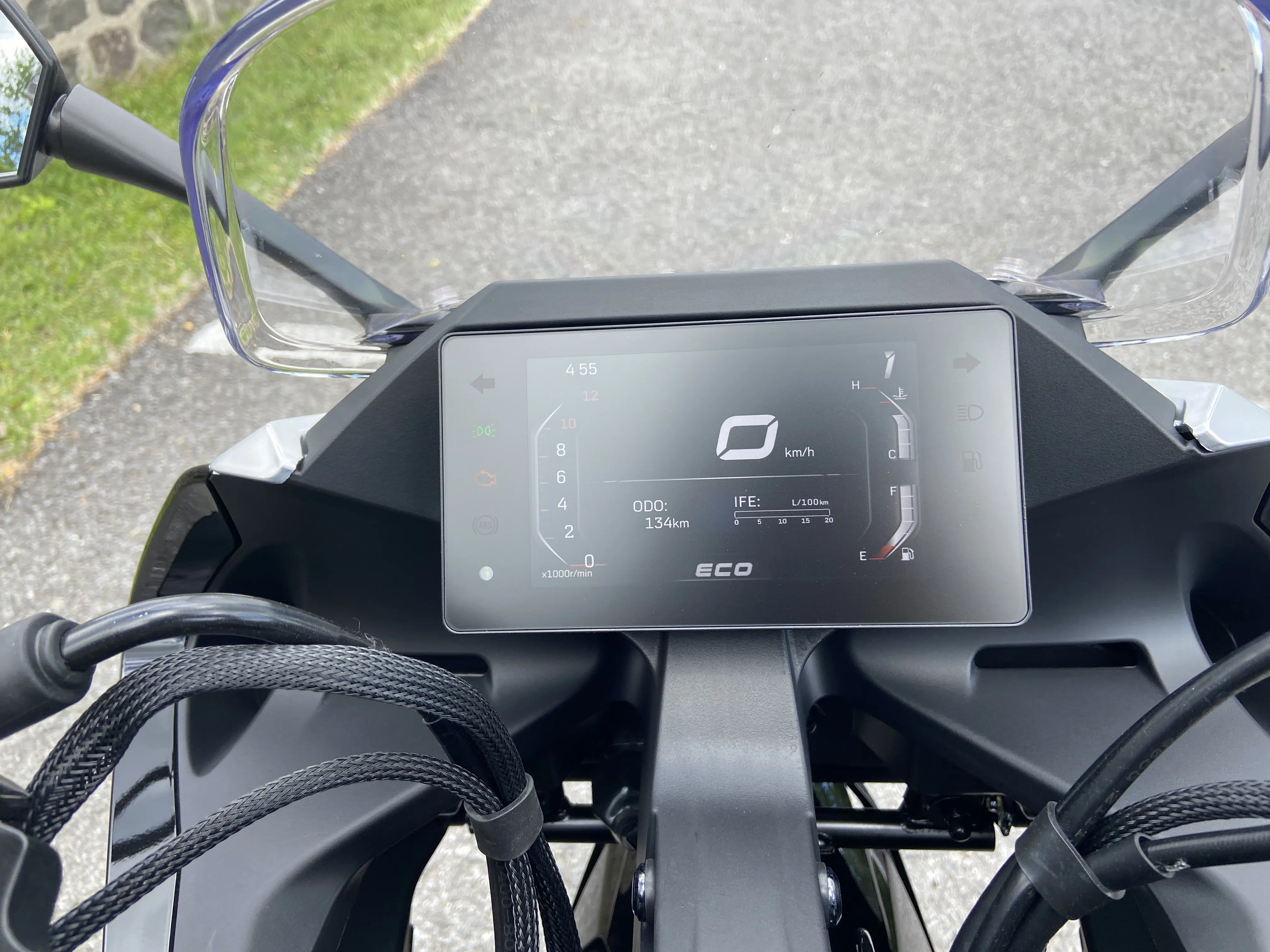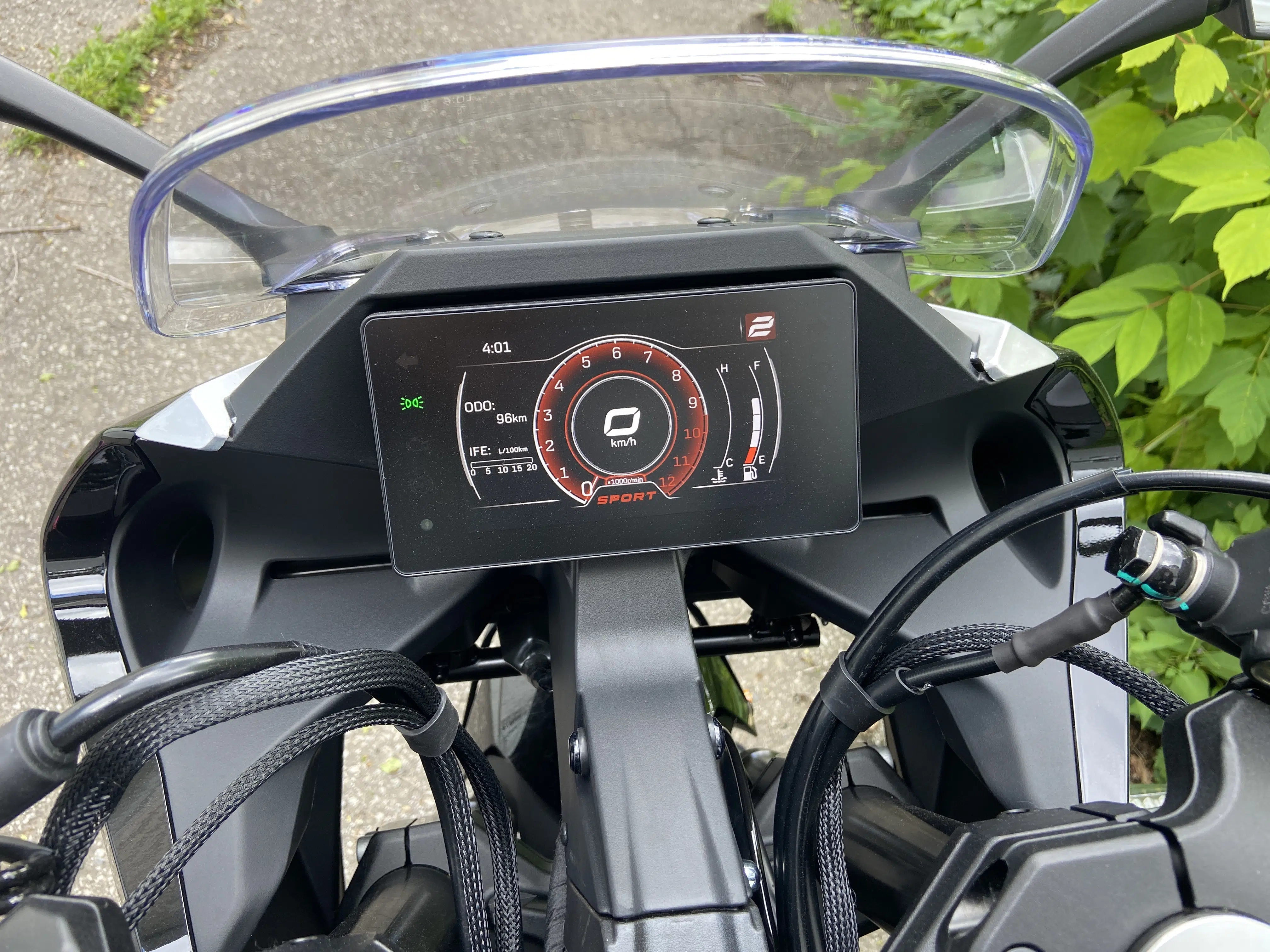 Using the handy little button on the handlebar, you can easily switch between modes depending on road conditions and your preferences. Eco mode saves fuel, while sport mode unleashes the bike's full performance potential. The display on the digital instrument panel changes accordingly.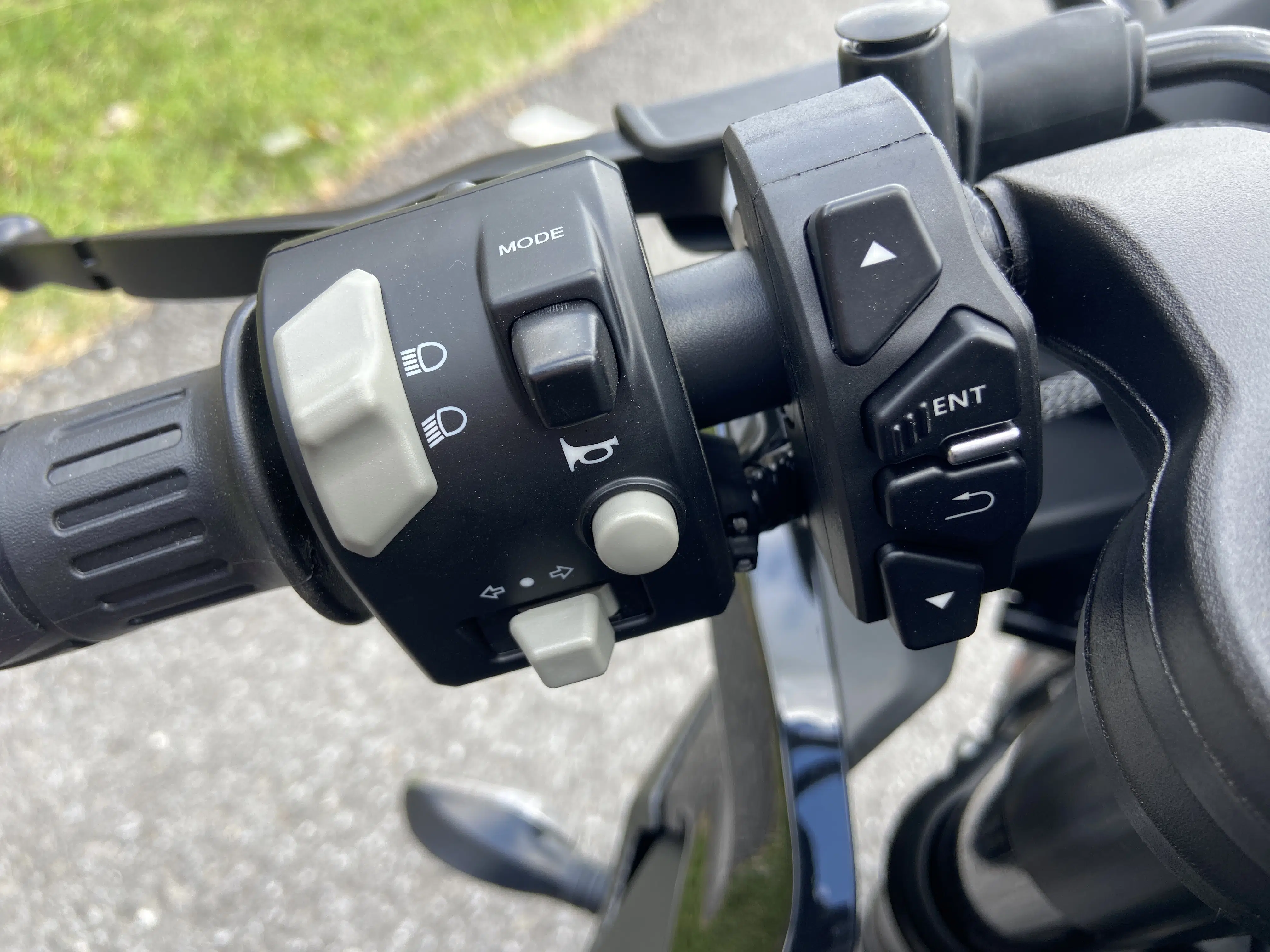 My impressions of the CFMOTO 300SS
I am truly thrilled and grateful to have had the opportunity to test ride CFMoto's 300SS. Being used to custom bikes, this was my first experience riding in a sport stance, yet I immediately felt comfortable and at ease on the 300SS.
It's also worth mentioning that it's a real head-turner, thanks to its sleek, sporty look. In addition to being breathtakingly beautiful, it's light, easy to handle, and generally very fun to drive.
It may be a matter of habit, but the sport position quickly caused body fatigue, however, and I had to take regular breaks. Therefore, I felt like I had the main disadvantage of a sport bike – i.e. the aches and pains – without having the main advantage, i.e. the great engine power.
Also, apart from the display interface, I didn't feel much difference between the two riding modes. If the riding mode options are a considerable additional cost to the design of the bike, I think it would be better to have a single riding mode – 'sport' – and to lower the selling price of the bike.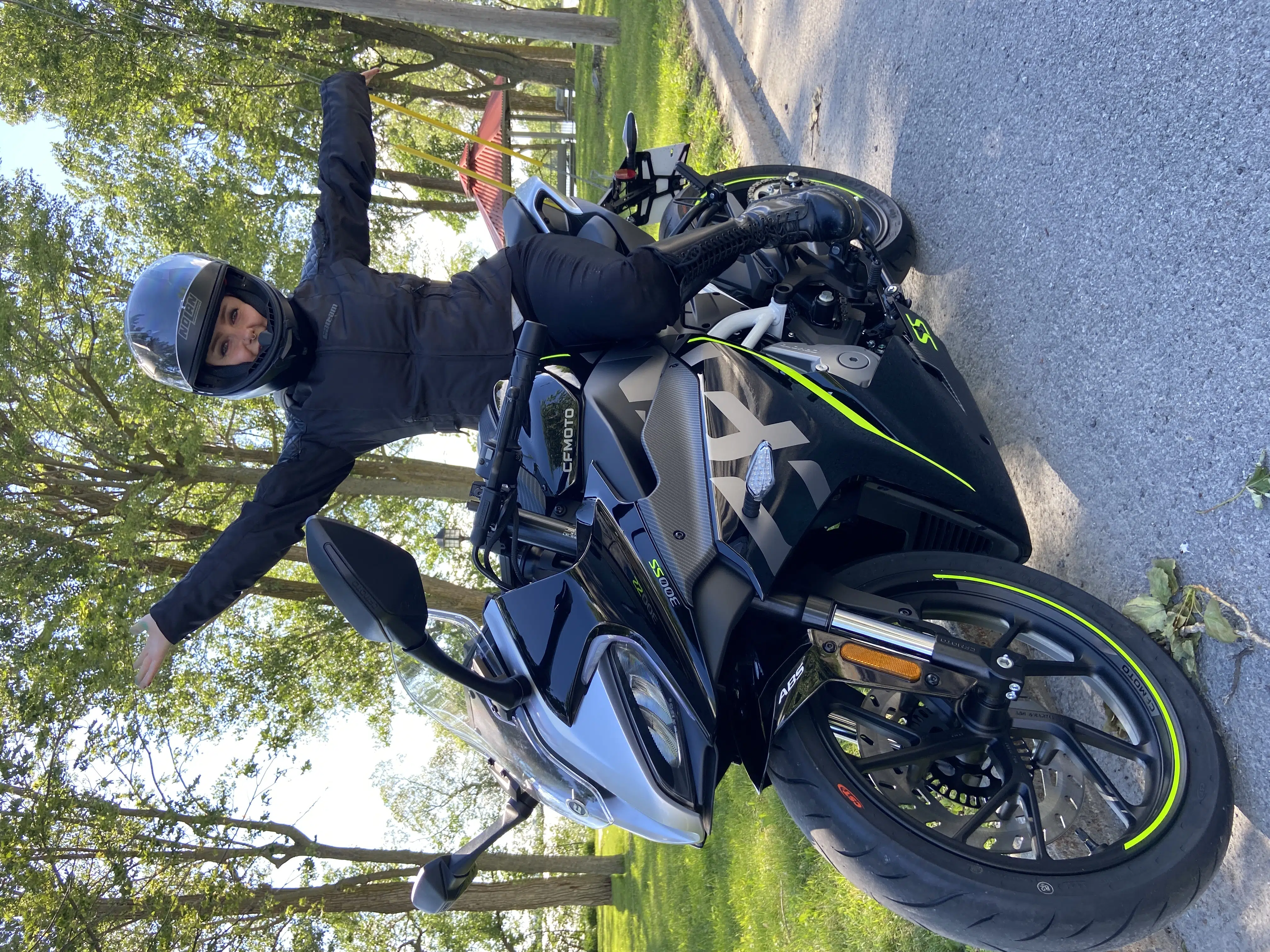 I think CFMoto's 300SS is perfect for anyone looking for a bike for short-distance rides, especially around town, while getting their hands on a bike that stands out with its unique look. It's also perfectly suited for smaller people; at a mere 5 feet tall, I had no problem managing this beautiful little bike.
Typically, people tend to recommend bikes with a small size and/or engine to beginners. However, in the case of the 300SS, I can confidently recommend it even to experienced riders; I am convinced that everyone will have fun with this beautiful little machine. I can't wait to see what CFMoto will bring to the market in the coming years; so far, their comeback is very promising!
To read more about the seven motorbikes that CFMoto recently released in Canada, I recommend this article, which provides an overview. If you are interested in 300cc bikes, I also invite you to read my article on the 2021 Yamaha MT-03!
I would like to thank CFMoto Canada, Mathias Sport and Chicks And Machines for allowing me to live this great experience.
EM
Technical specifications
| | |
| --- | --- |
| Engine | |
| Type: | Single cylinder, 4 stroke, liquid cooled, DATC |
| Displacement | 292.4 cc |
| Bore and stroke | 78 x 61.2 mm |
| Maximum power | 29 HP(ps)/8750 rpm |
| Maximum torque | 25.3 N-m/7250 rpm |
| Clutch | Multi-disc, oil bath, manual |
| Dimensions and weight | |
| Length x width x height | 2010 x 750 x 1080 mm (79.1 x 29.5 x 42.5 in) |
| Wheelbase | 1360 mm (53.5 in.) |
| Seat height | 780 mm (30.7 in.) |
| Fuel tank capacity | 12L (3.17 gal) |
| Weight | 151 kg (333 lbs) |