Discover the Matane Region on a 2023 Harley-Davidson Street Bob 114
When Chicks and Machines teamed up with a number of partners, including Harley-Davidson Rimouski, to offer two contributors the chance to discover the region of Matane on motorcycles – and to showcase just how beautiful and interesting this region is, especially for motorcyclists – I jumped at the chance.
It was therefore on a Friday morning, full of enthusiasm and anticipation, that I headed to Harley Rimouski with my buddy Isabelle.
We were welcomed as if we were part of the family: the employees were so hospitable to us – whether it be staff in sales, parts or the clothing shop. We didn't want to leave… but all that changed when we saw the beautiful bikes waiting for us in the garage. At that moment, we couldn't wait to hop on and depart for our adventure!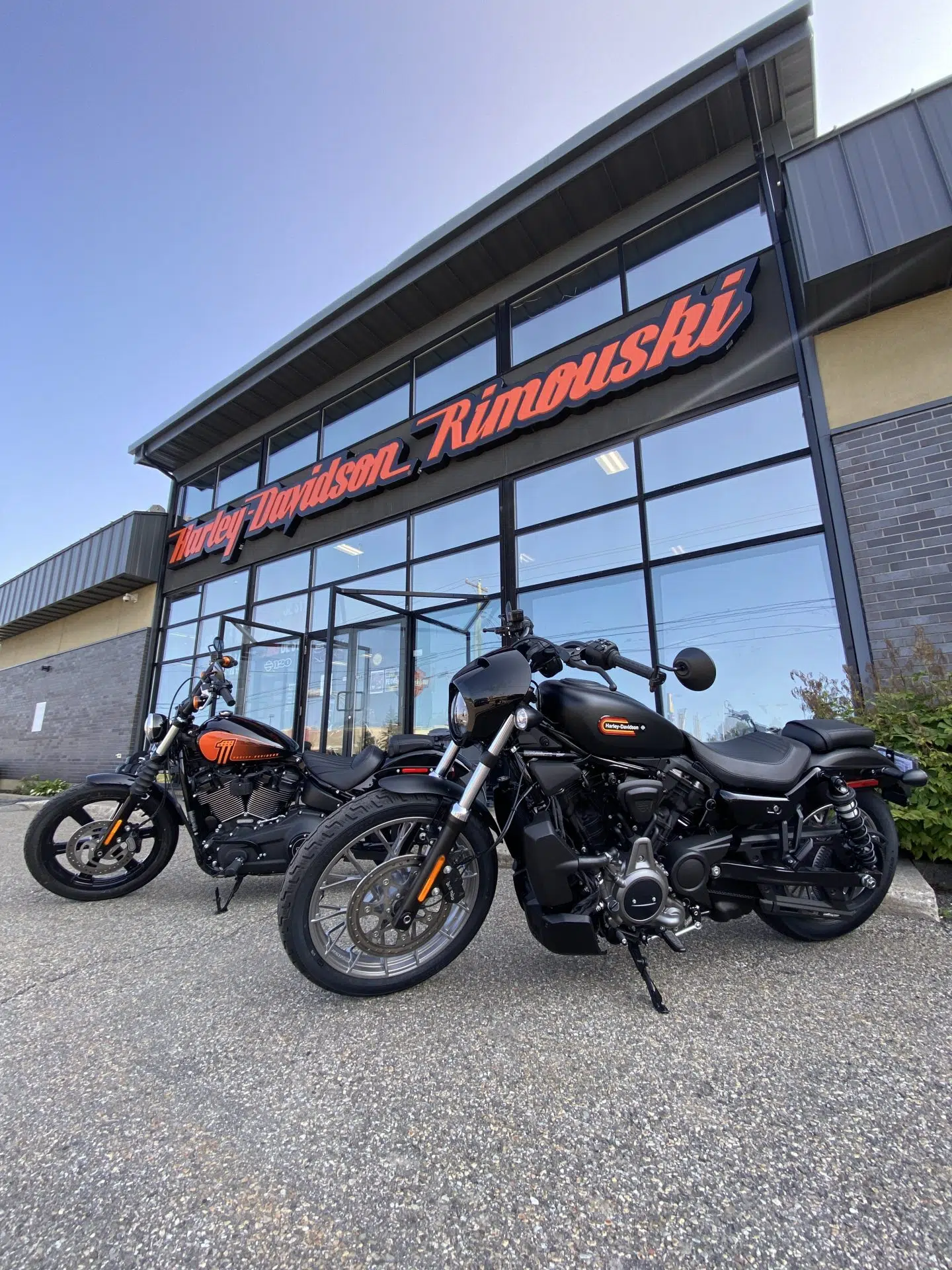 Why did I choose the Street Bob?
Among all the options in the entire Harley showroom, why did I choose the Street Bob?
First of all, in terms of looks, it's definitely the one that spontaneously attracted me the most when I arrived at the dealership. It's hard for me to put my finger on the specific features that drew me to this bike more than the others.
I really like the shape of the handlebars, which are raised yet comfortable. I also really like the bike's clean look: no bags, no windscreen, no fairing. This bike, in its purest form, doesn't need all those accessories to look outstanding.
Built on a Softail frame, this bike is designed to be low, with an upright riding position. What's more, it boasts easy customization, so there really is a way to make it unique and truly your own.
The display screen is tiny and almost hidden from view, which I found not only unique and original, but also very practical and in line with the bike's sleek character.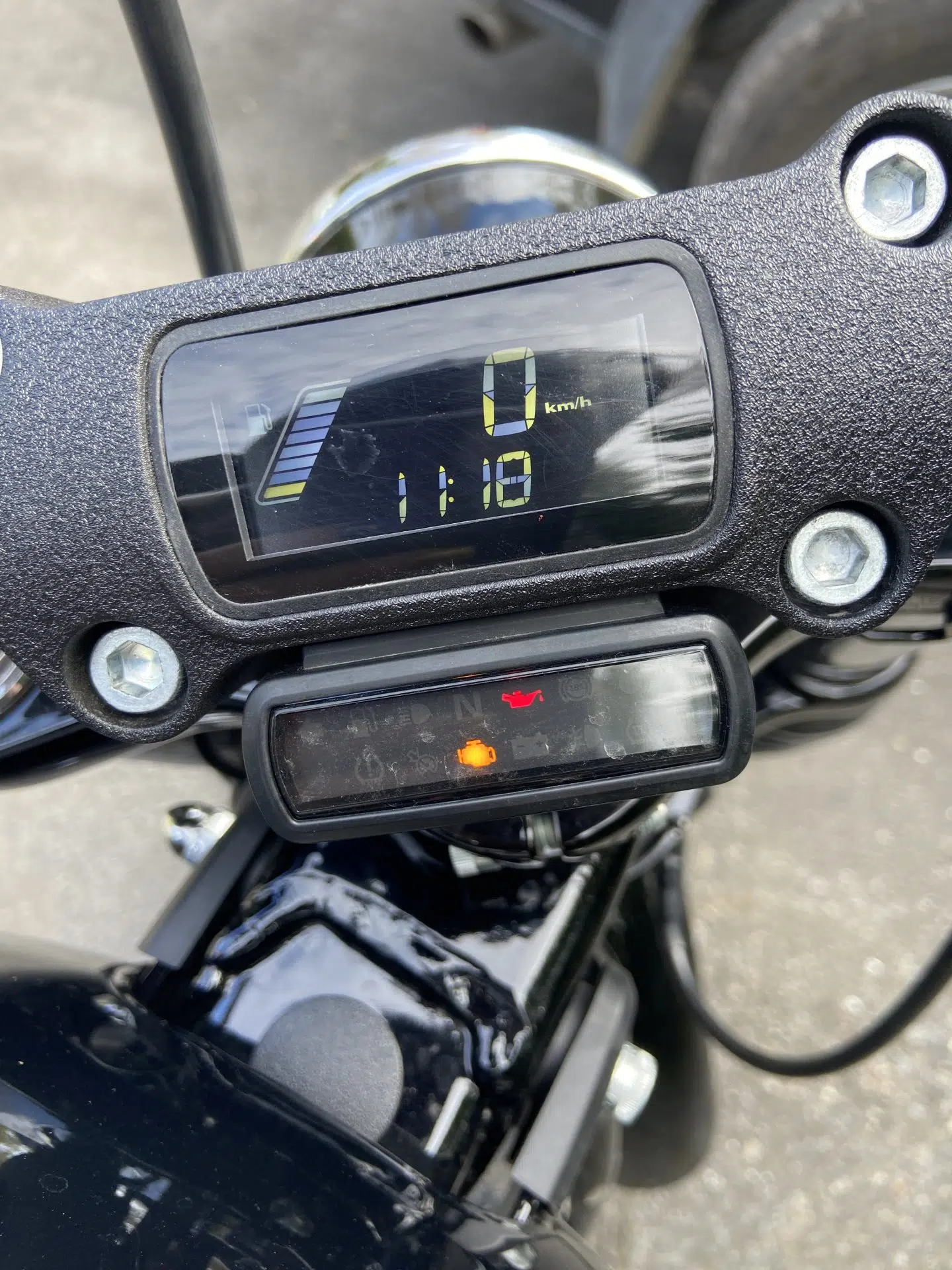 I also appreciate the attention to detail on this bike, like the little Harley logo in the headlight, for example…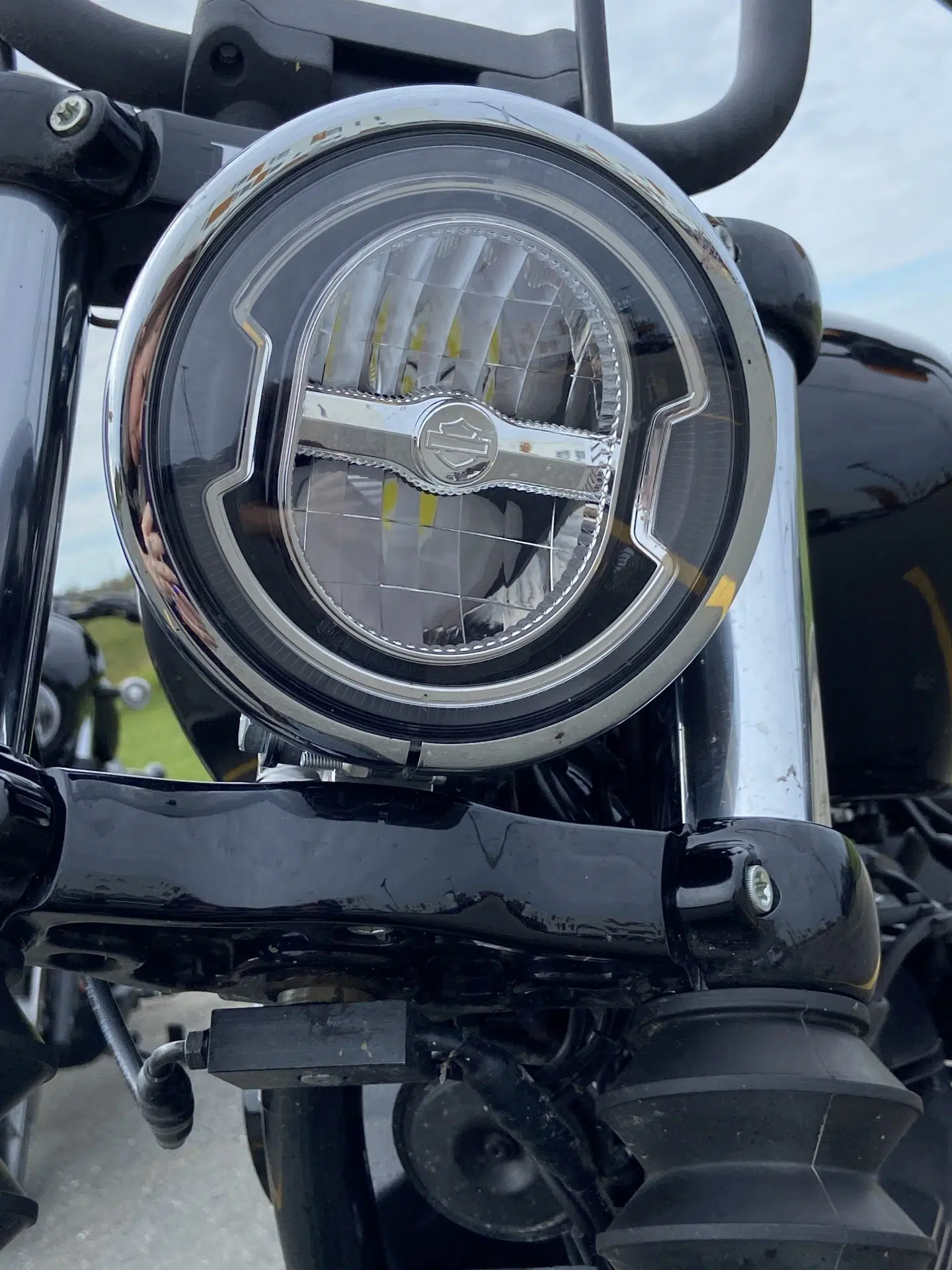 … as well as decorative seams on the bench.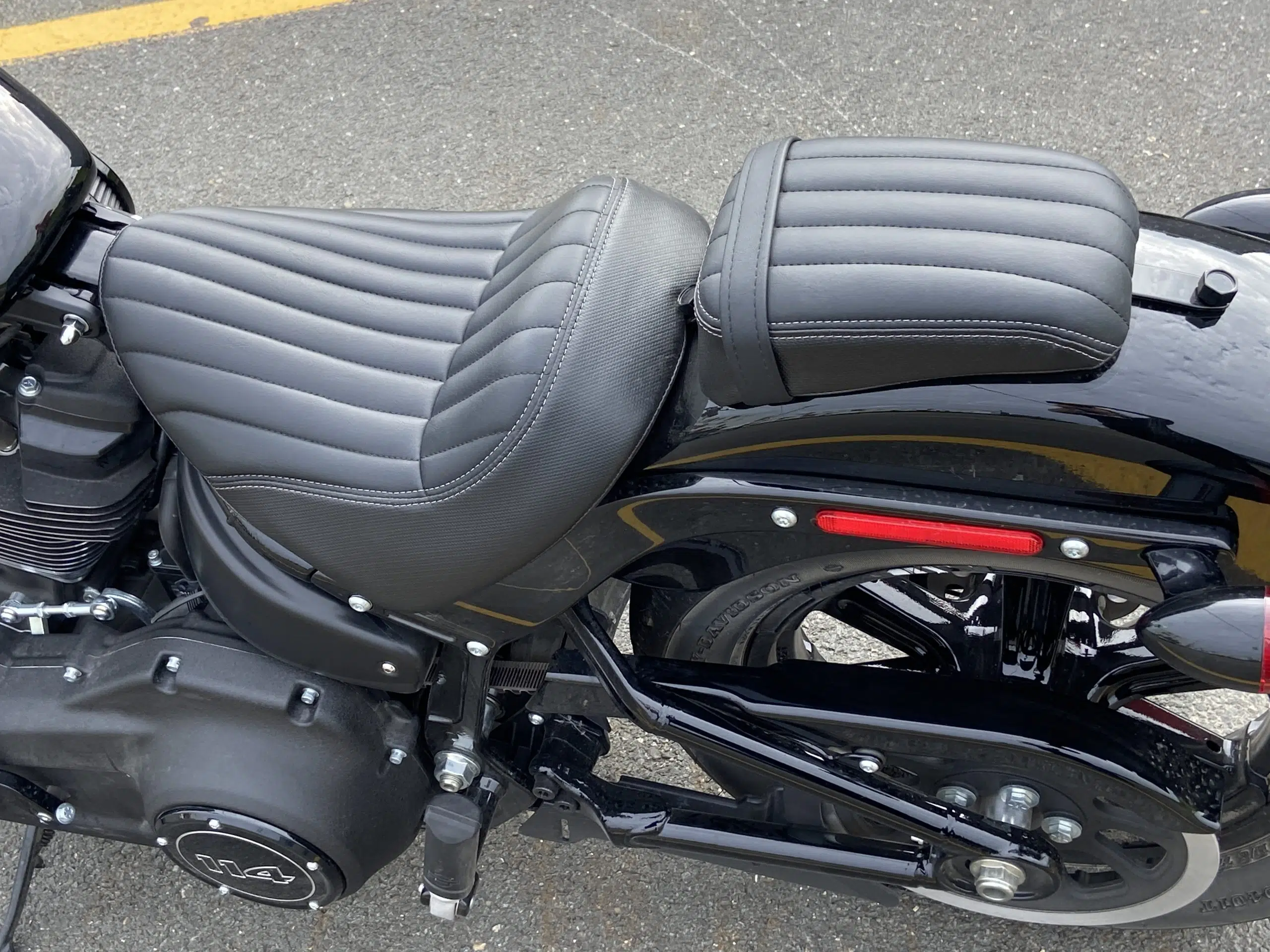 The bike is available in three colors: Industrial Yellow, Redline Red and Vivid Black. The latter features orange detailing, a perfect match for the Harley brand.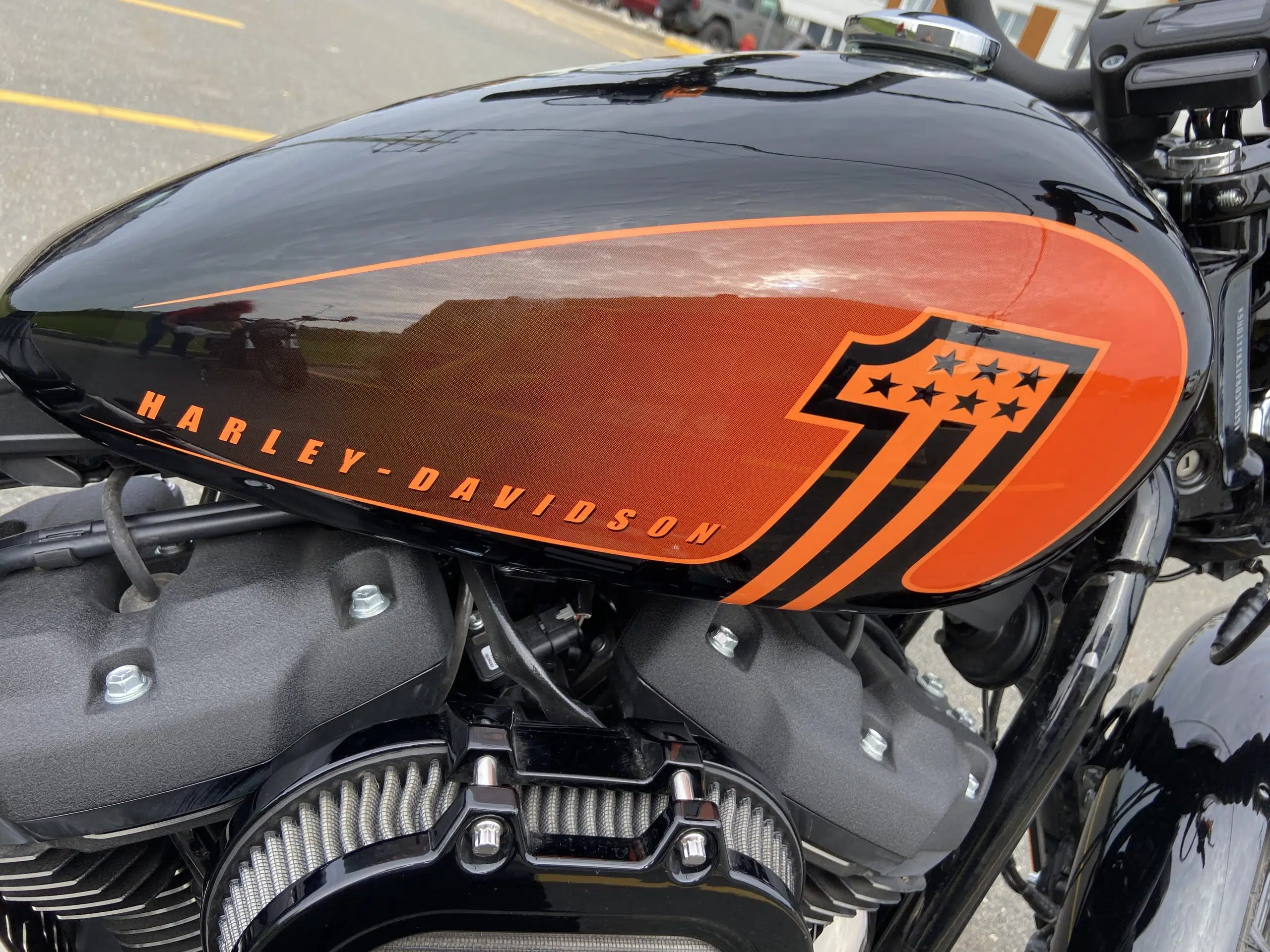 But above all, it was comfort that made me choose this bike over so many other superb choices. As mentioned above, the handlebars are just high enough to give the bike an aggressive look, without sacrificing comfort. I really like the riding position.
I found the seat very comfortable and soft, yet supportive. What's more, as a petite, 5-foot tall rider, this model didn't intimidate me at all, despite all its power, because I had both feet firmly planted on the ground on either side of the bike.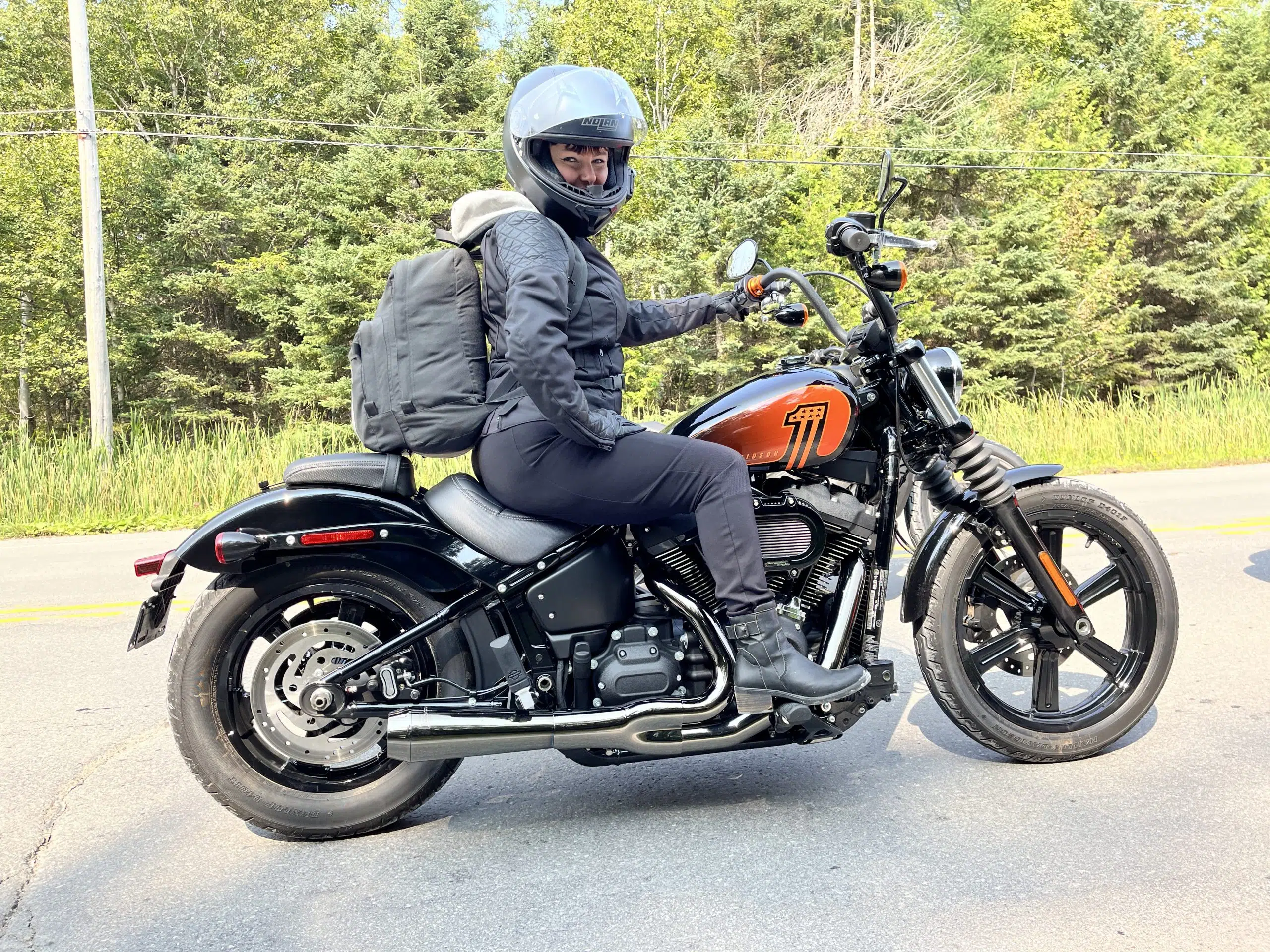 Technical specifications
Here are some of the bike's specifications, according to the Harley-Davidson website.
DIMENSIONS
Length: 2,320 mm
Seat height: 680 mm
Ground clearance: 125 mm
Wheelbase: 1,630 mm
Fuel tank capacity: 13.2 L
Weight, in running order: 297 kg
ENGINE :
Engine: Milwaukee-Eight 114
Displacement: 1,868 cc
Fuel system: Electronic Sequential Port Fuel Injection
It should be noted that the bike loaned to me had a Screamin' Eagle air filter, which is an add-on.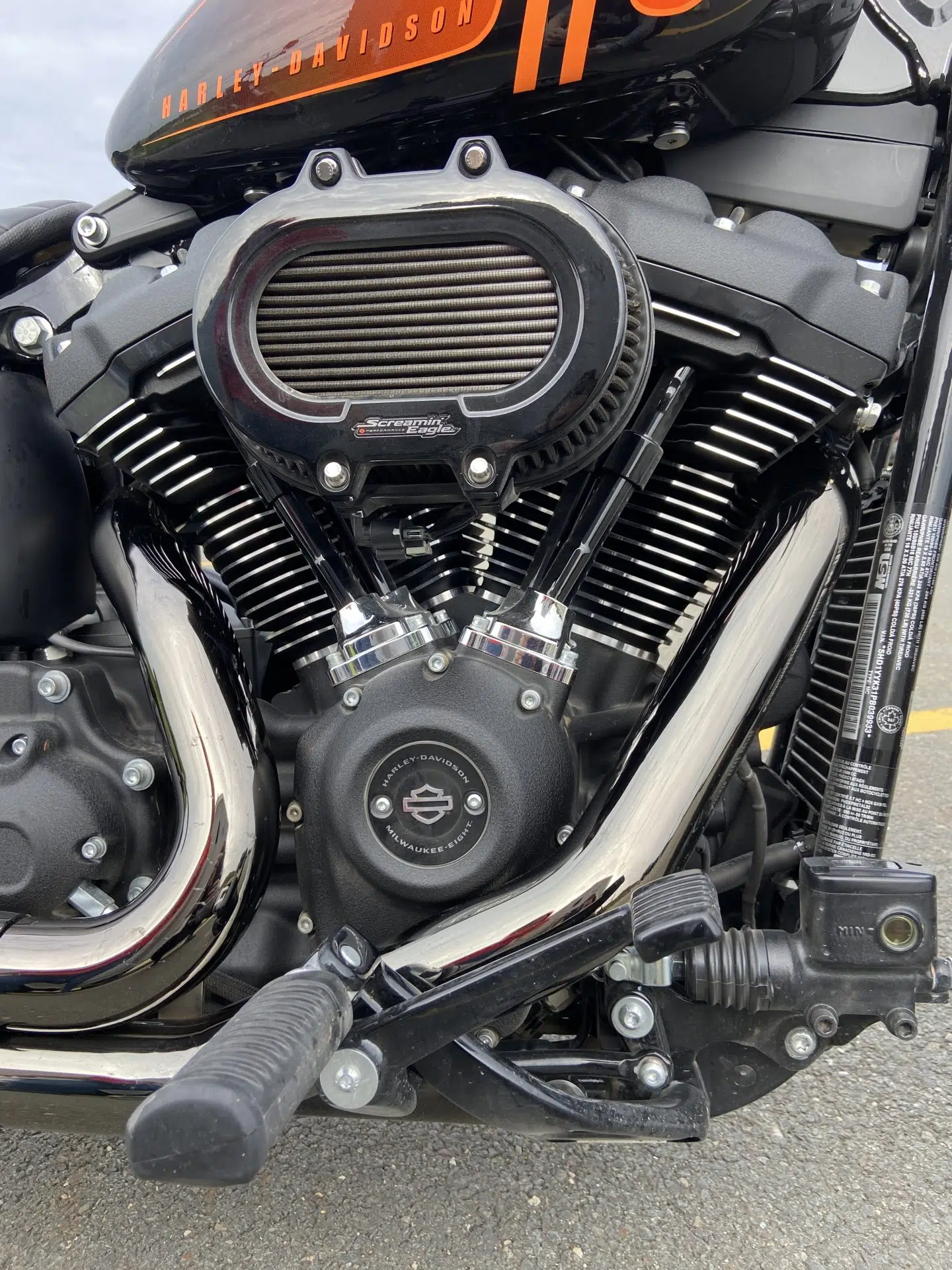 Riding the Harley-Davidson Street Bob 114 2023
Leaving the dealership, I quickly adjusted to riding this big (for me), beautiful beast. I found the ride comfortable and intuitive right from the start.
I was in for quite a surprise, however, when I got onto a bigger road, where I was able to turn the handle, which I did quite enthusiastically. The engine's power and acceleration were breathtaking.
In fact, the first time I really accelerated, I almost fell off the bike; fortunately, I was holding on to the handlebars tightly! I knew I was dealing with a very powerful bike, but I wasn't expecting such acceleration! Let's just say I quickly developed a taste for it.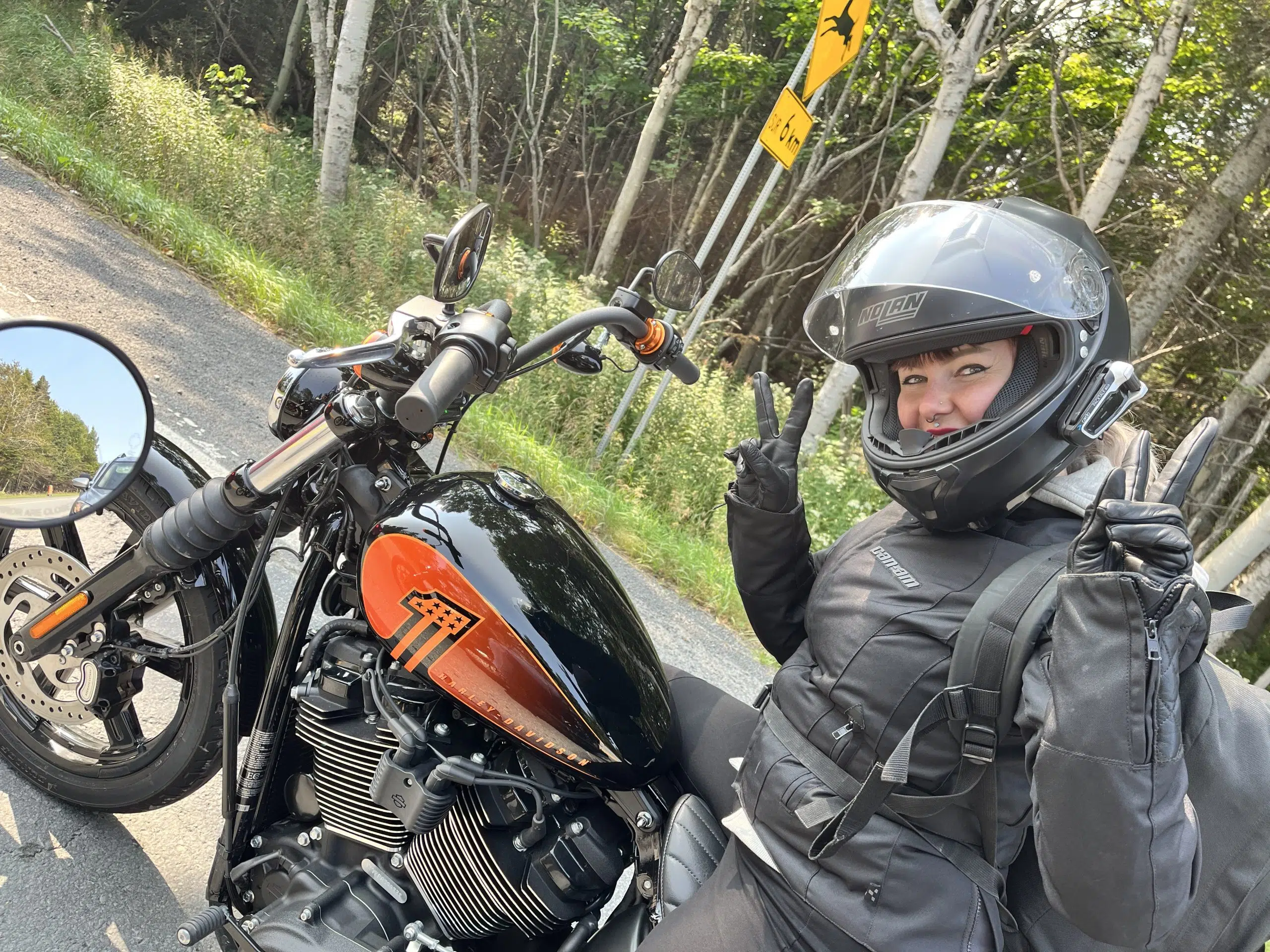 I was able to try out this bike in the perfect context for testing its performance in a wide variety of conditions: very windy seaside freeways; winding mountain roads; gravel roads through forests and agricultural hills…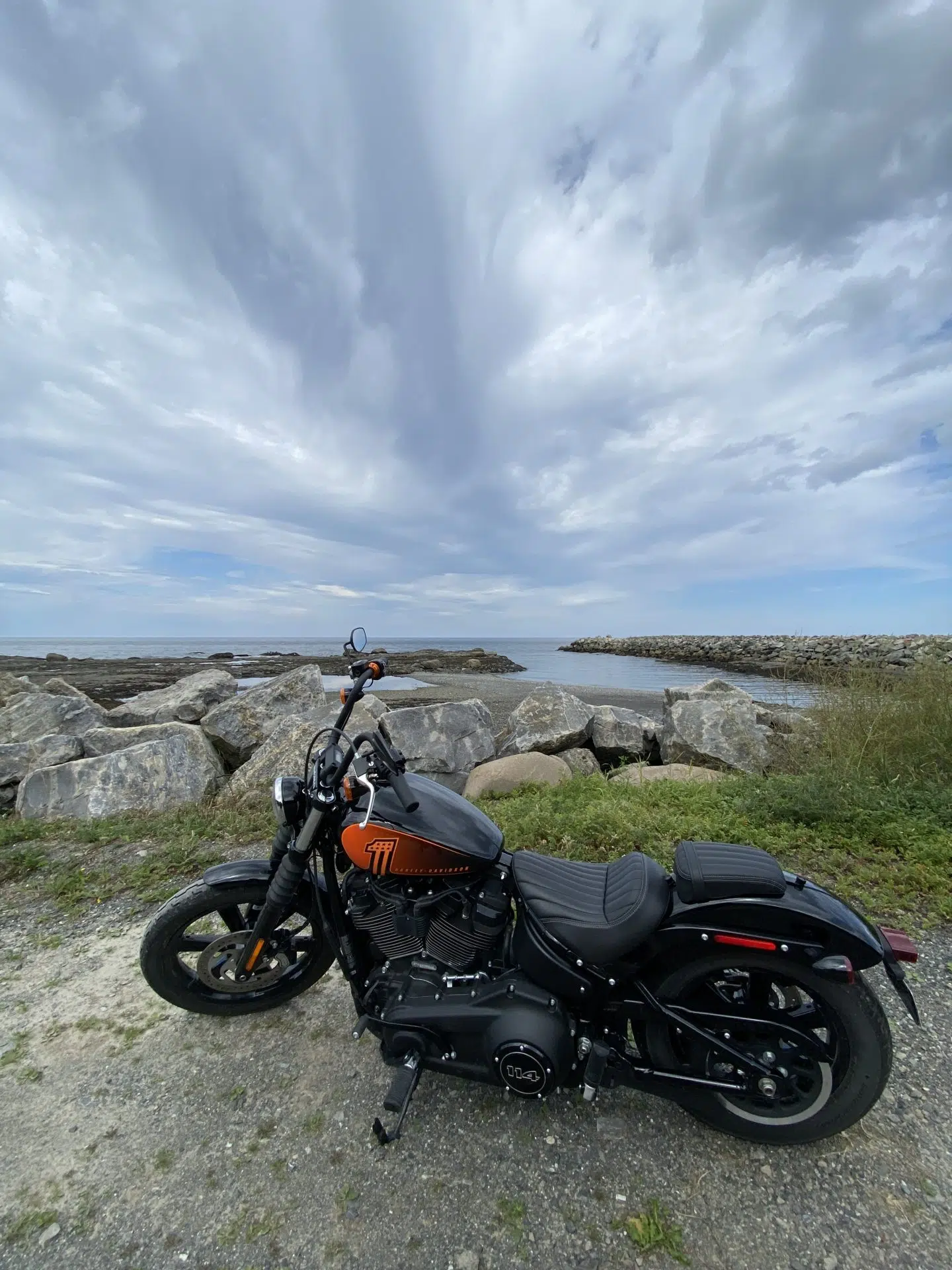 This bike delivered excellent performance in all these contexts, and I especially found it to offer optimal handling on winding roads or at low speeds (below 90 km/h).
I had a lot of fun leaning the bike into mountainous curves and accelerating up hills.
If you're looking for a bike to take on relaxed rides to admire the scenery and have fun in curves, this really is the perfect road bike. I could have ridden it for hours and hours in complete comfort, and with loads and loads of fun!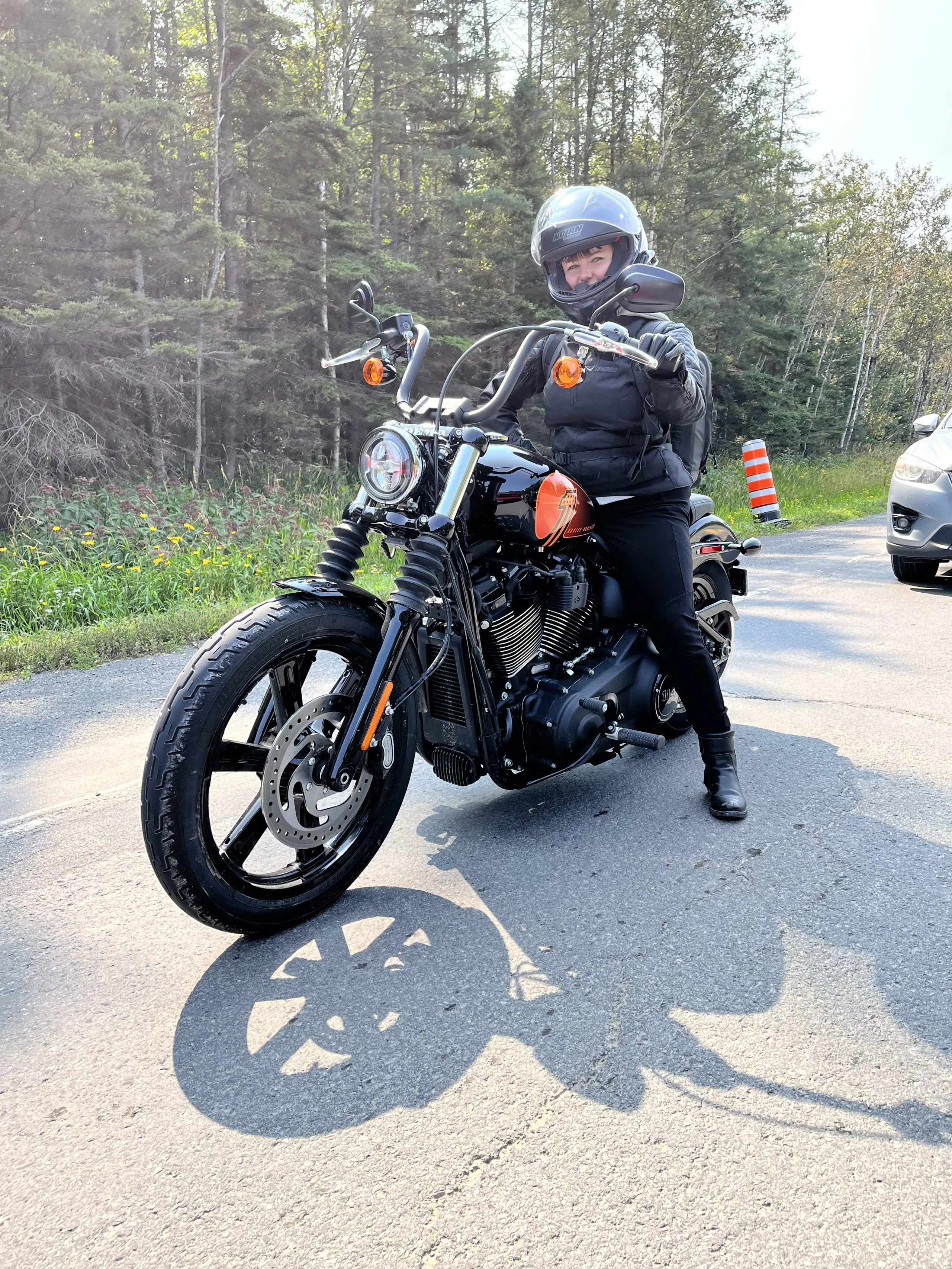 The Harley-Davidson Street Bob 114 2023 Turns Heads, Including Mine!
Not only does the 2023 Street Bob 114 offer a light, responsive, easy and enjoyable ride, it also delivers powerful and aggressive performance. Add to this its unique, sleek look, and it really ticks all the boxes.
I was pleasantly surprised by my experience with this little wonder, and I don't seem to be the only one: everywhere I went, people turned their heads, nodded or gave me a "thumbs up"; looks like I'm not the only one who appreciates the Street Bob!
Now, when I see one on the road, I can't help but nod or "thumbs up" as well.