I am the Legion kit by Fox
I'm the Legion by Fox and the one who wears me is Cyndi. … and since we are never better served than by ourselves, I decided to tell you my story with Cyndi, the one I ride with.
I arrived at her place last fall. It was Kim from Mathias Sports who gave me to Cyndi.
I was very proud, because when she saw me, she immediately said how beautiful I was. I try to stay humble with so many compliments.
I have to say right away that I am a package made for trail riding like enduro.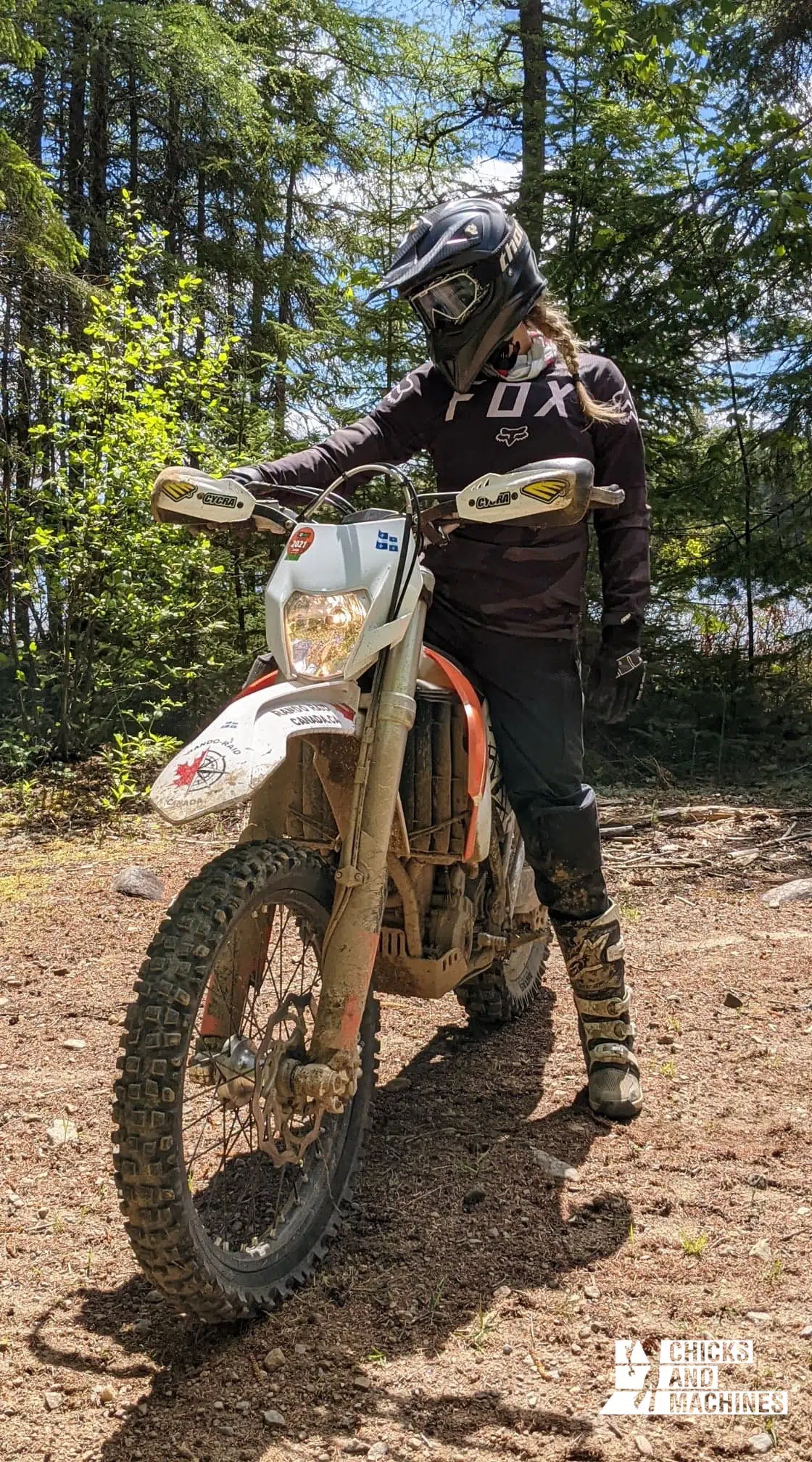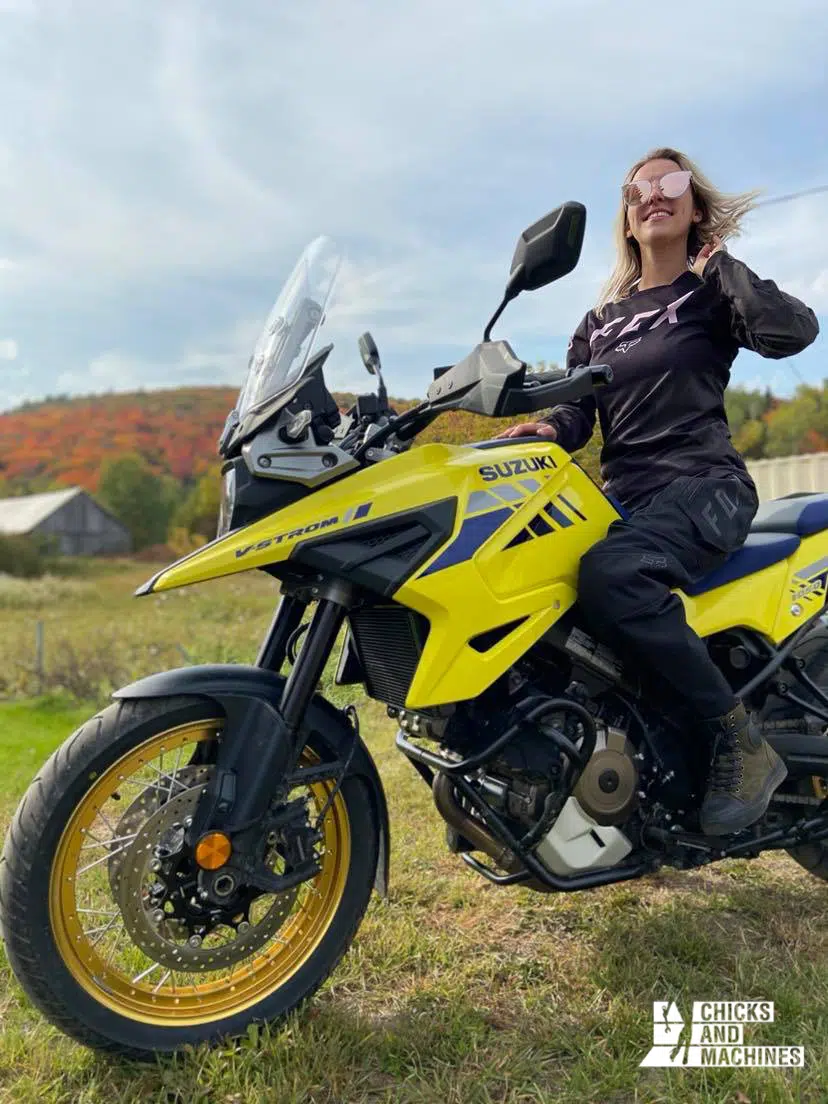 Just a few days later, she puts me on and takes me on a ride on a beautiful V-Strom 1050, I really like bikes! A beautiful adventure bike that matches my look very well.
Right away, I hear Cyndi telling everyone how comfortable she is and how much she likes it. She really likes my RAP (Ride Attack Position) pants, which means I'm made to have bent knees, so no extra fabric when sitting. My jersey, I hear her say how light and well ventilated my polyester fabric is. Once again, it's hard to stay humble!
I ride several hundred miles with Cyndi, I've even done some 4 wheeling. Again, I seem to do very well. She is comfortable to move around and my fabric protects her from external threats.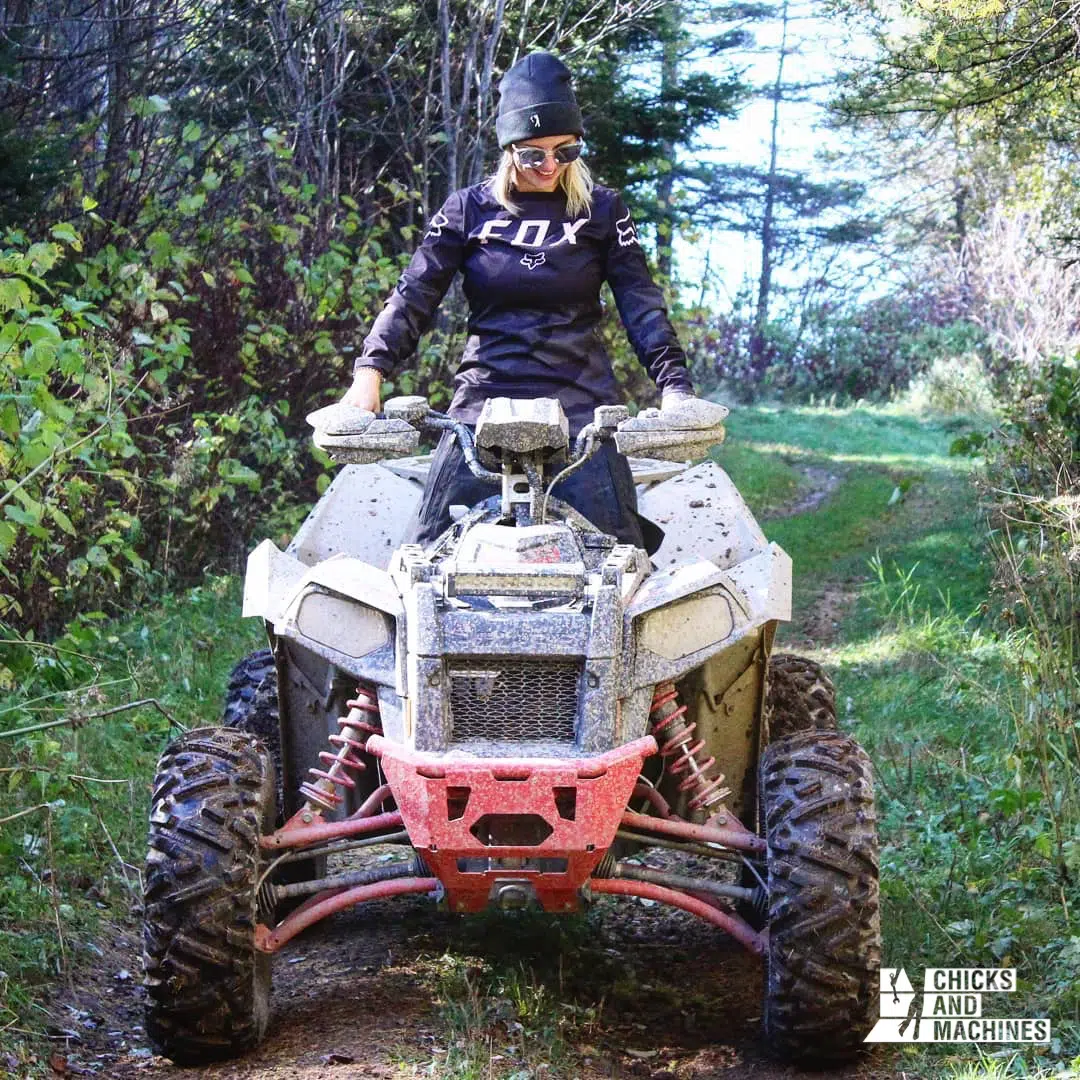 As we ride, I can see the autumn leaves getting colored and then falling…
Unfortunately, without knowing why, I get squeezed in the dark next to a snowmobile suit. I feel like I am being abandoned, although I thought she loved me. When the snowmobile suit hears me sobbing, he explains to me that it is normal, it is the cycle of the seasons. It was his turn to go live his life in the snow with Cyndi.
A very long winter…
Long months pass and I dream of my next adventures. I can already see myself travelling through Quebec with my faithful friend and her motorcycle.
Then, one day, while I was in conversation with the Sena system of her helmet , Cyndi, with a big smile, takes me out of the dark. She is still promoting my beauty and says she can't wait to wear me.
We then get ready to go look for a new bike, the one that was going to share the road with us this season, a beautiful V-Strom 650!
Seeking for new adventures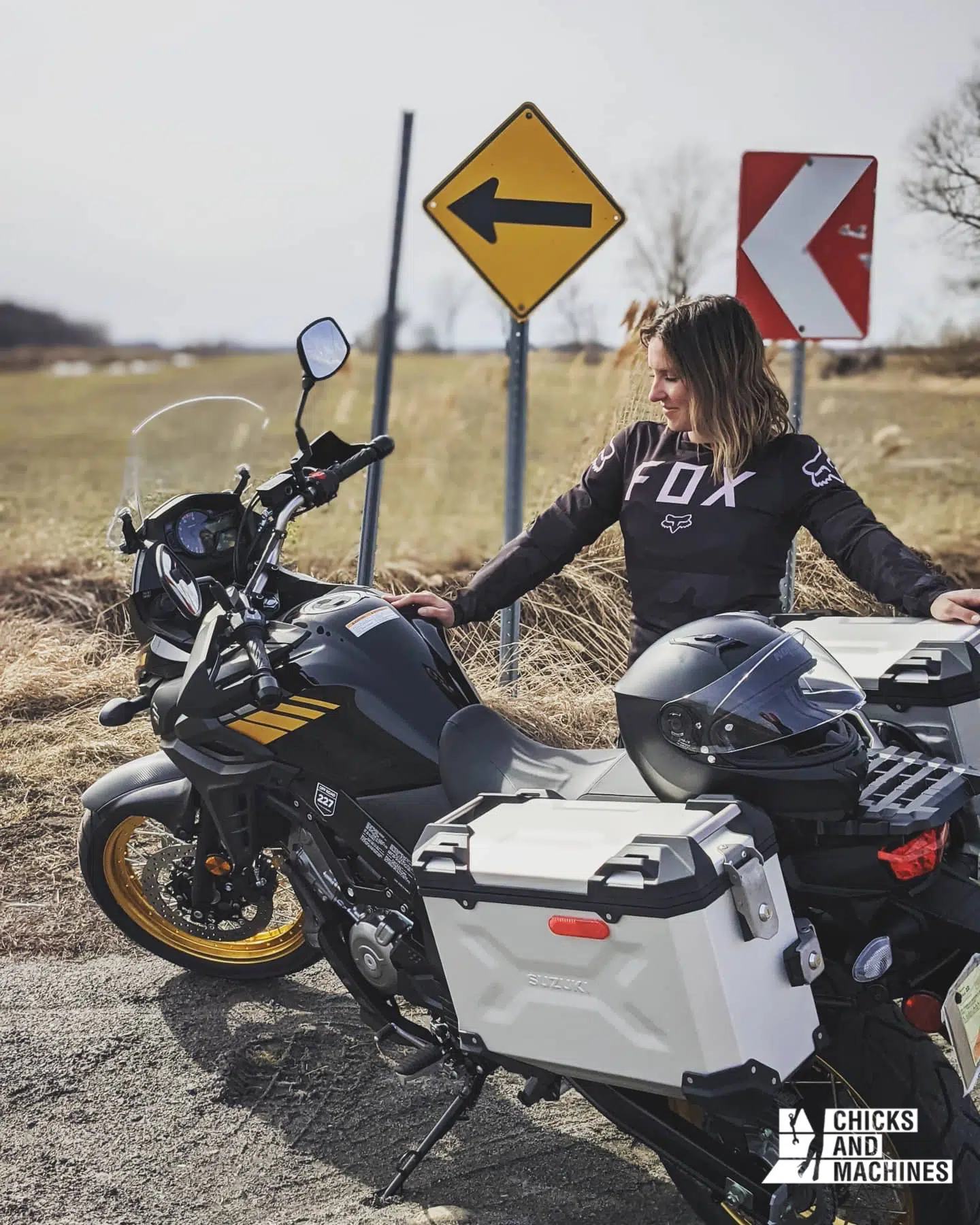 Cyndi was all smiles and she couldn't help but say that she liked me a lot and that I was doing my motorcycle outfit duties well, I was quite proud I must say.
She was chatting with her boyfriend when I heard her say about my pants that around the knees the fabric is thinner (it's 4way stretch, she didn't know the name) so she felt she could move easily on her bike. Also, she was surprised at how breathable the fabric was.
I should add that she feels safe because the inside of my knee has real leather panels to resist heat and increase durability.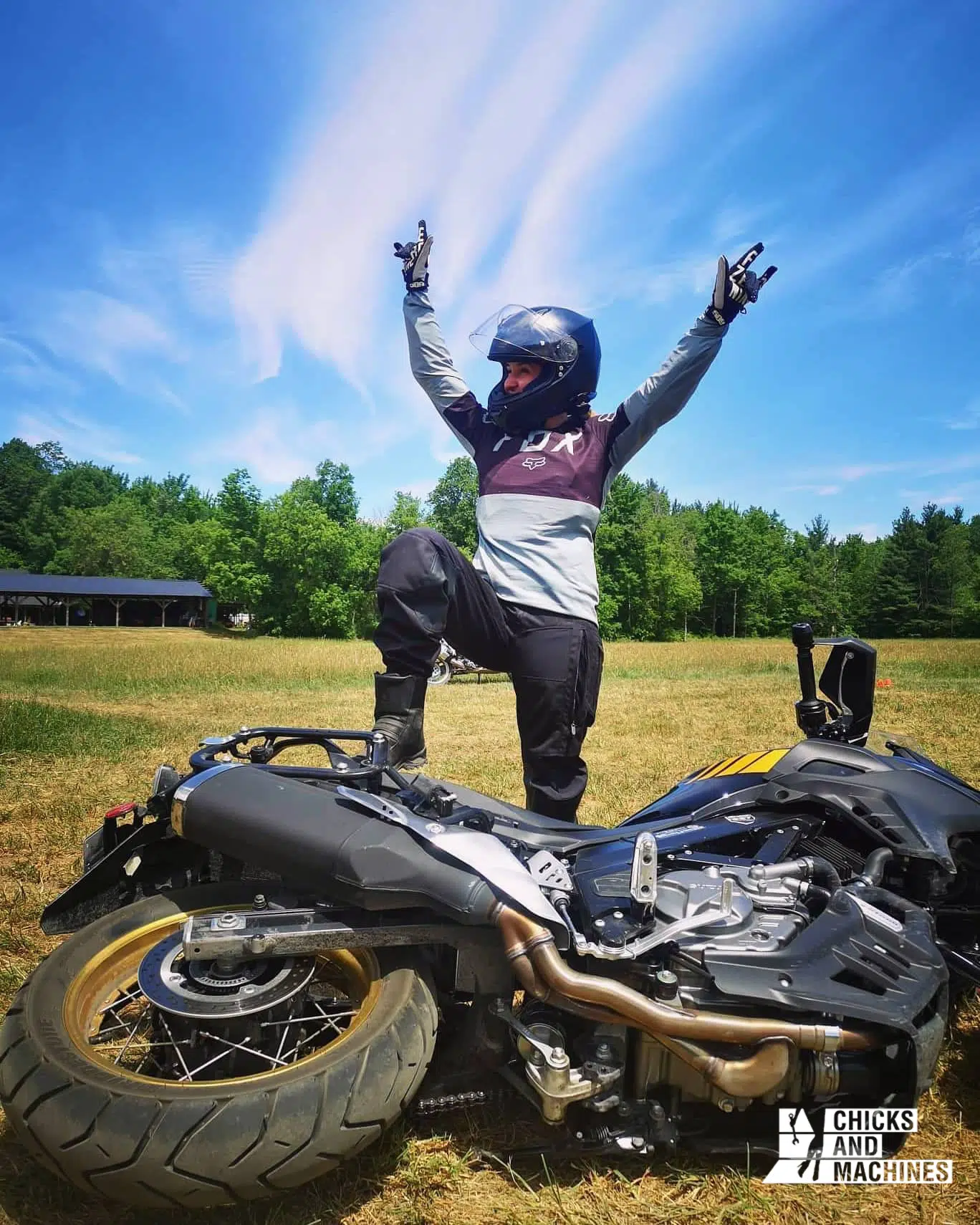 I must specify that Cyndi wears me with adapted protections under me. It's important to be well protected.
Also, on the back of the calf to mid-thigh, I have a stretchy Mesh fabric, which increases the comfort in the boot, so that I offer a good ventilation behind the knee. There is nothing worse than sweating behind the knee, Cyndi said so.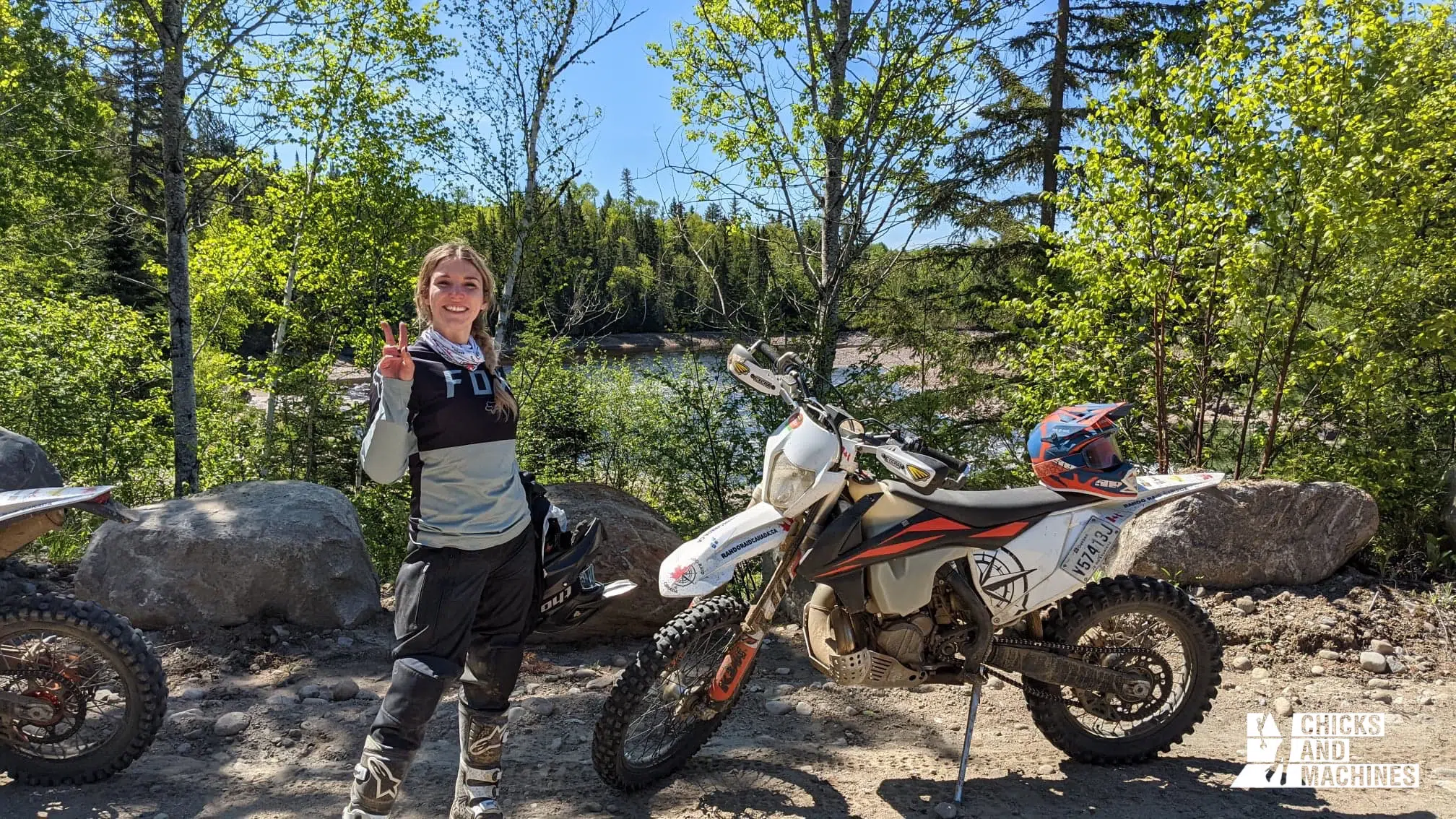 It's during a weekend in Rando Raid Canada  in Saint-Michel-des-Saints that Cyndi tested me in all my splendor! My jersey has a cut made to be comfortable in the basic position on a bike. She never felt uncomfortable in her movements, she told me so.
She could see that I was durable because the outer part of my sleeve, which is often the part that is most often touched by branches, is made of a tear-proof fabric. It's not only a stretchy fabric, but it adds a lot of durability.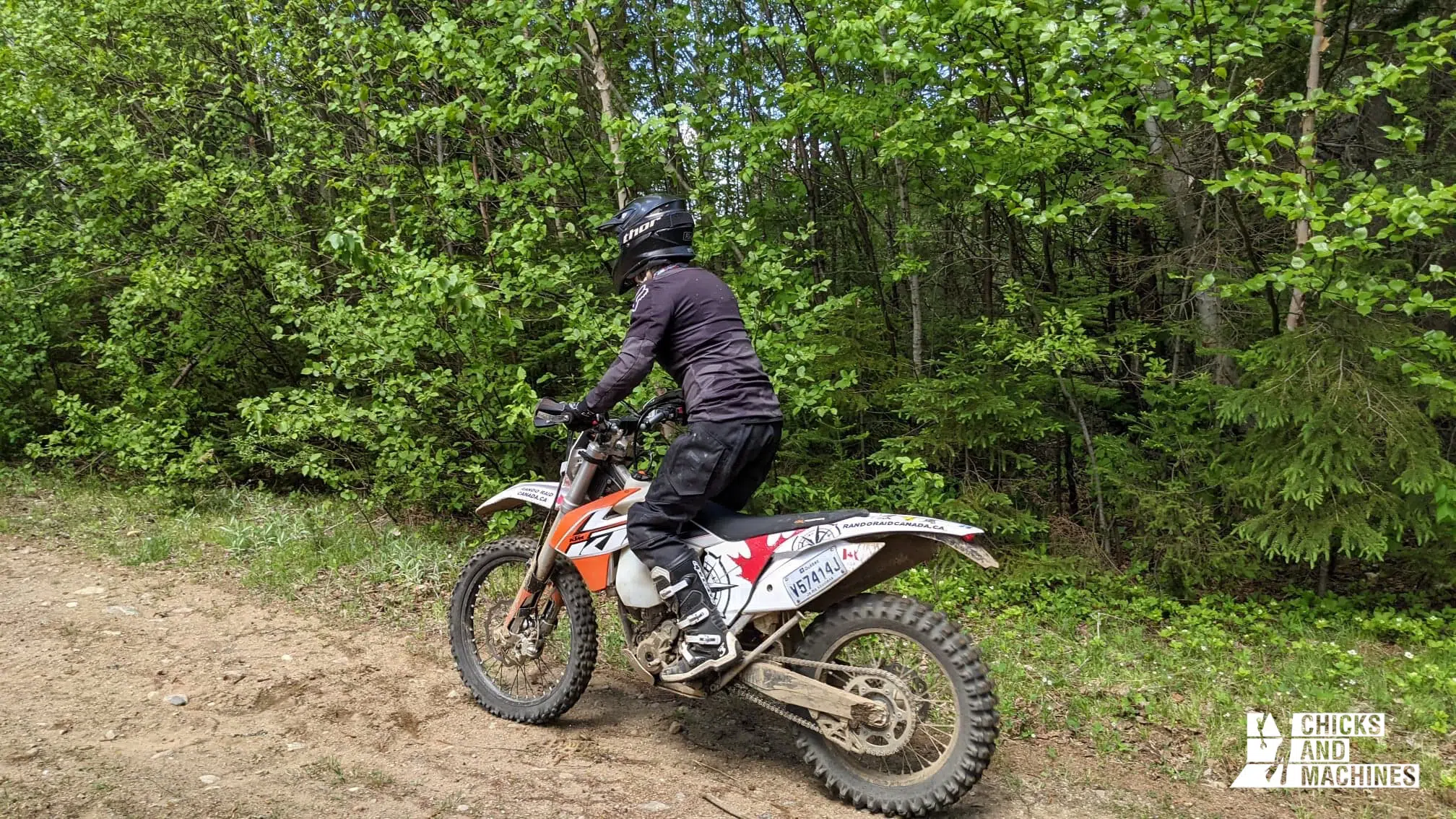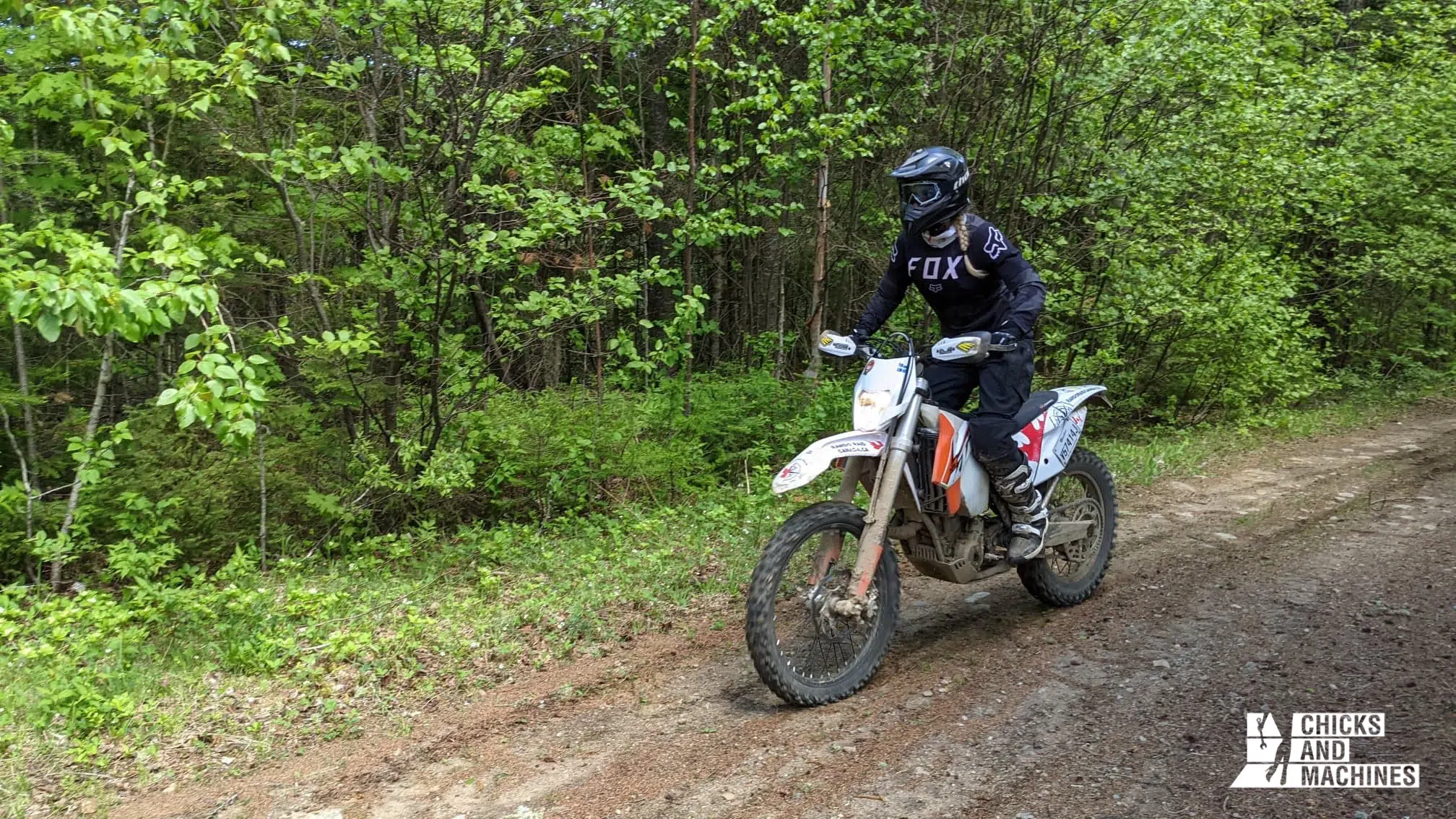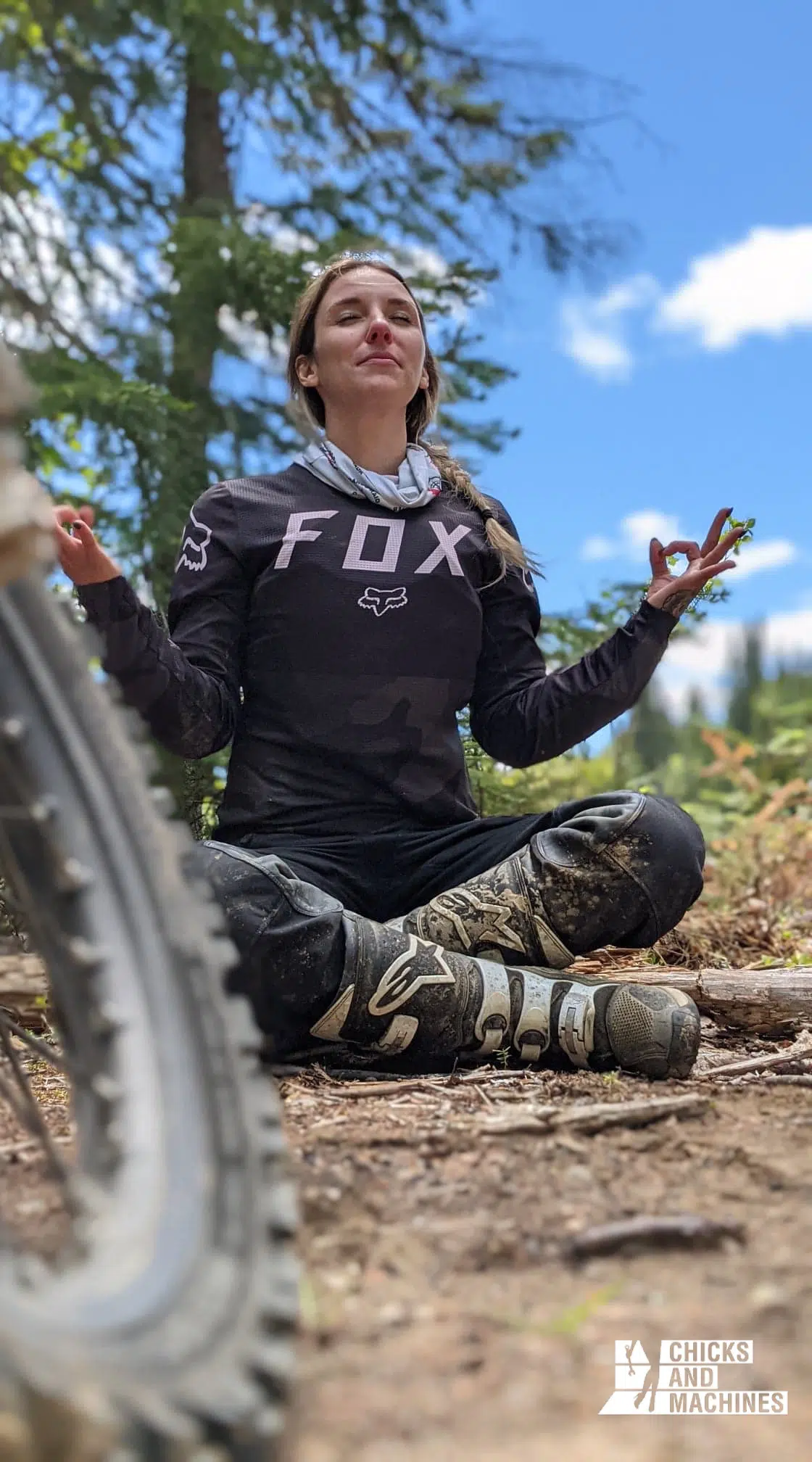 On the side of my pants, the polyester used is an 850D as opposed to 600D in a MX pant for example. It is thicker, therefore more resistant!
What a great two days of enduro riding we had with the Rando Raid Canada gang! Cyndi was delighted with her experience, but especially with my performance.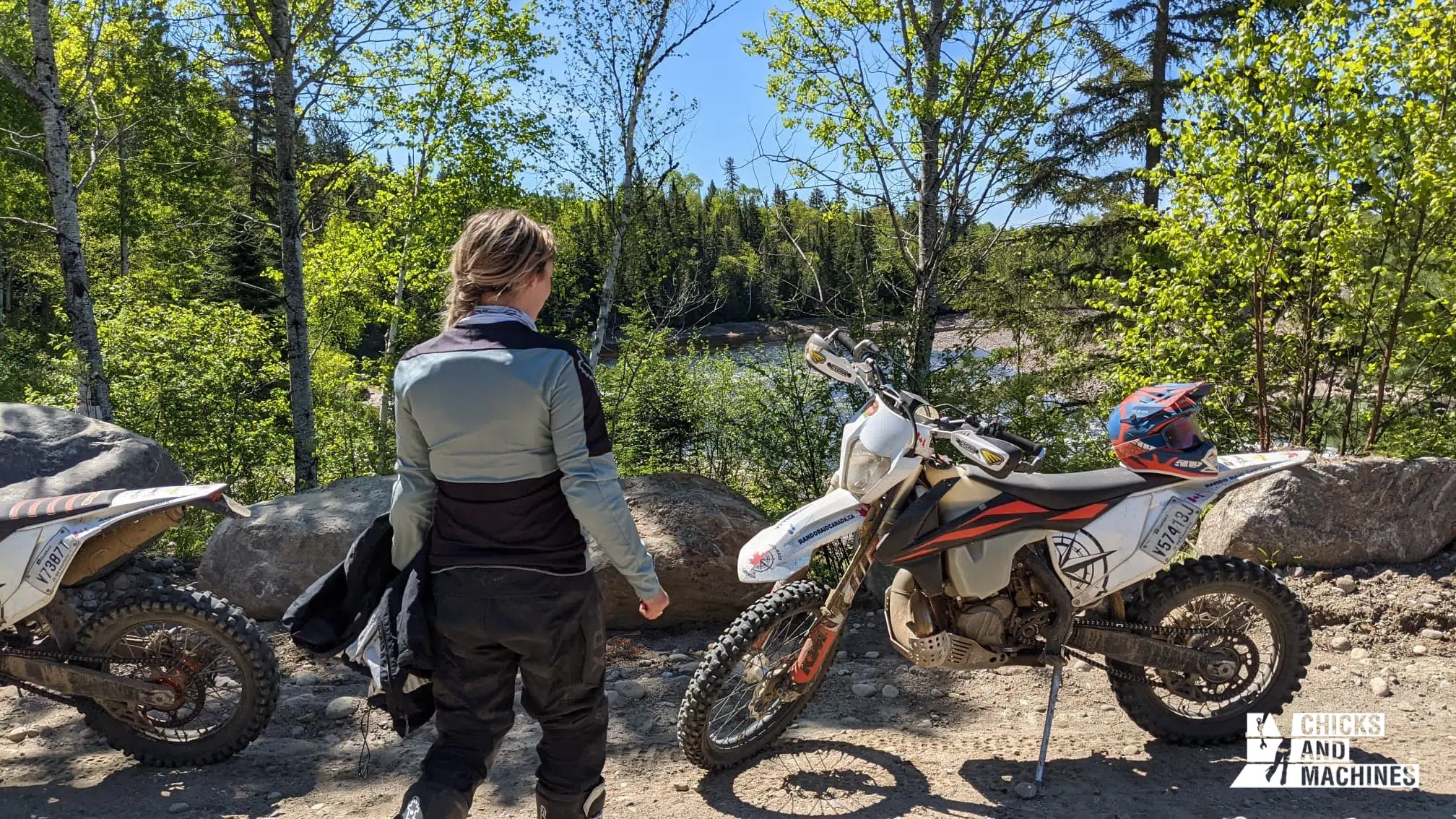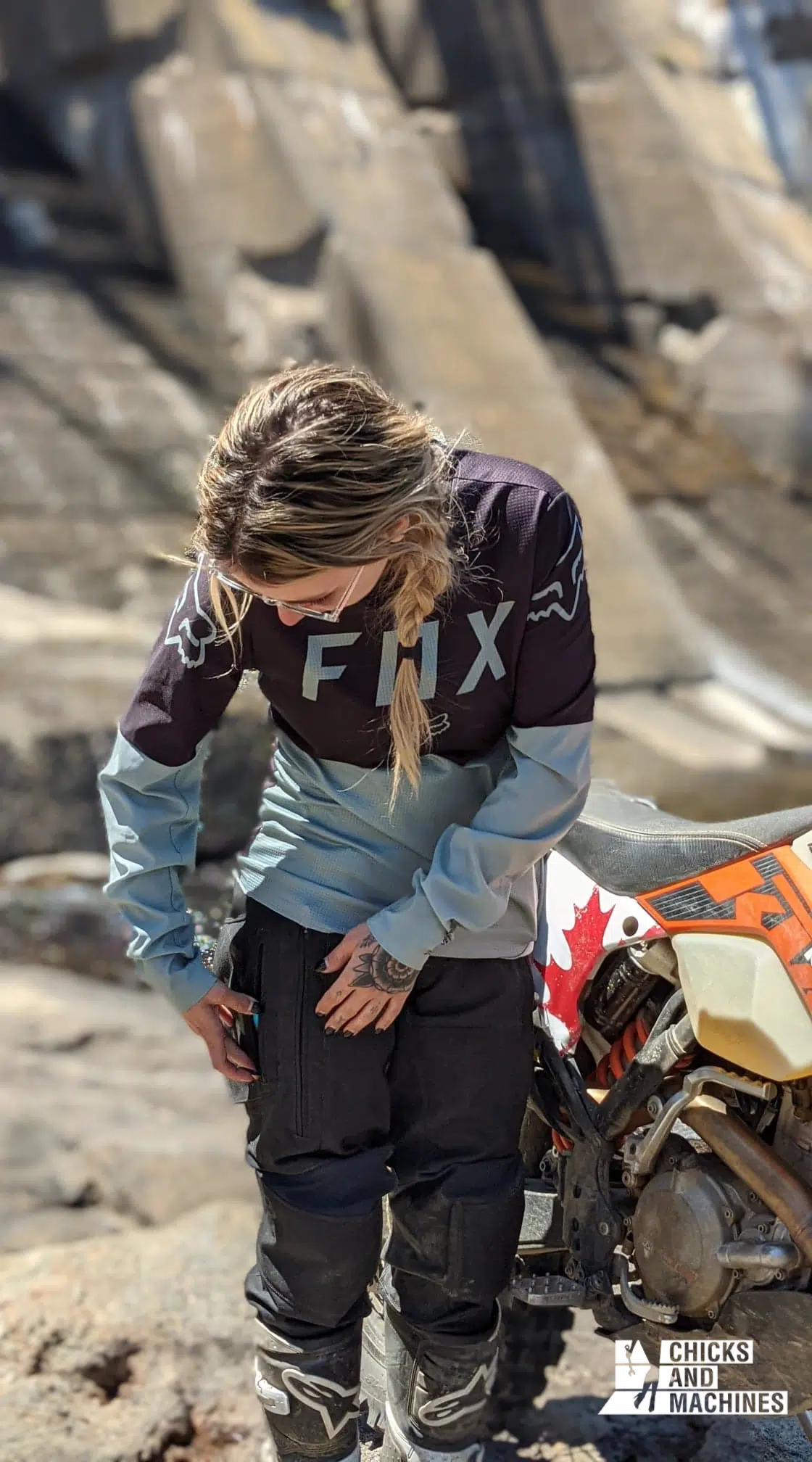 The most appreciated thing about me, apart from the fact that I'm beautiful (Cyndi said it again), is that at Fox, the patterns are really made for women and are not modified men's patterns. Cyndi says it, it makes all the difference.
I can say that I have succeeded in my mission, Cyndi and I still ride together, I would have plenty of other things to tell you, but I would look like a suit who is not modest and I don't want that!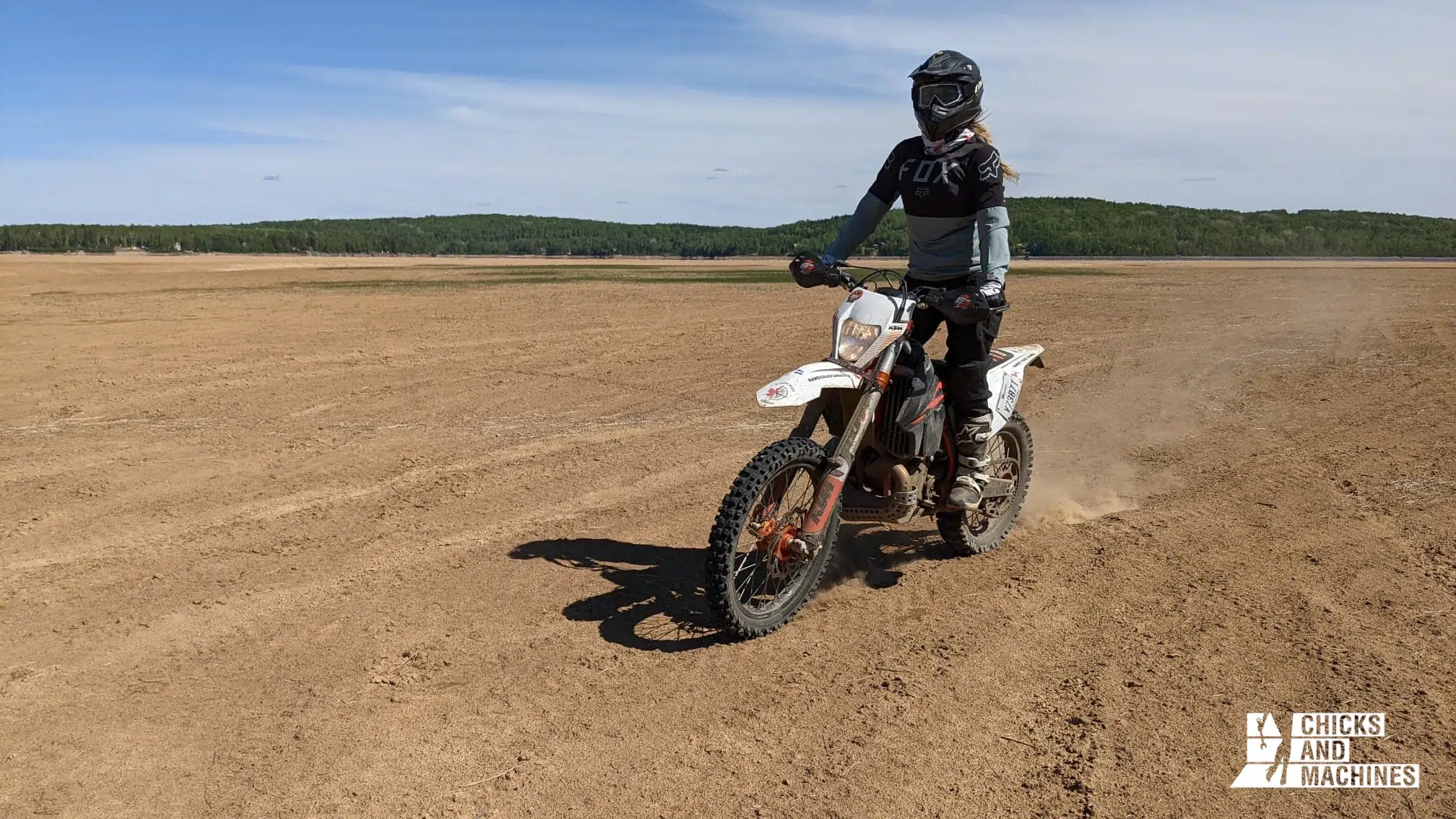 Thanks
Cyndi told me to thank Mathias Sports, without whom this test would not have been possible! Thanks also to Fox Canada!
If you too want to be comfortable while practicing your motorized sports like enduro, adventure bike or ATV, don't hesitate and go to Mathias Sports!
- Cyn ✌️