Trying out CKX's Brand New Mission Helmet
Snowmobile season has sadly come to an end, and many people are preparing their summer wheels. While you wait for summer to arrive, why not take advantage of this time in-between seasons to start shopping for your next helmet?
Search no more; I've tried THE helmet you've been dreaming of: the brand-new Mission by CKX.

AMS Technology
This innovative technology is, in fact, an air management system (as the acronym reveals). It was created by a multidisciplinary team made up of engineers and designers specializing in helmet development. The AMS relies on a physical principle associated with fluid mechanics. The starting point: aerodynamism. When it moves, air from the exterior is circumvented, and therefore offers little resistance.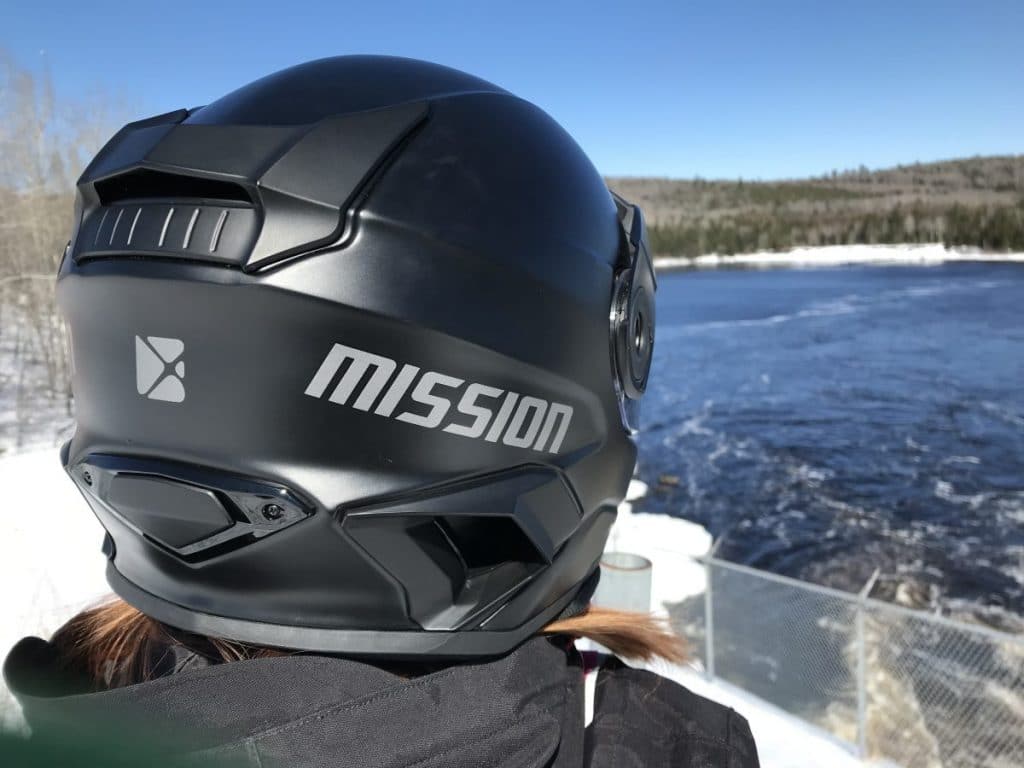 Inside the front of the helmet, an elevated pressure zone is created by the humid air that is exhaled. The back of the helmet is made up of air outlets where a zone of depression is created. In other words, humid air is easily evacuated, thanks to these differences in pressure. You will therefore be able to breathe freely without fearing internal fogging, condensation or frost.
Let's be honest, this new process is REVOLUTIONARY! It was even tested in a wind tunnel, thanks to the collaboration of a university research group specialized in fluid mechanics.
Design & Comfort
In addition to the AMS technology, the Mission has much to offer. Let's begin with its enormous visor, which offers an extra-wide peripheral view, enabling users to see on all sides. It is no longer necessary to turn your head backwards in order to see your partner. A quick glance and you'll see farther than ever, thanks to this supersized visor!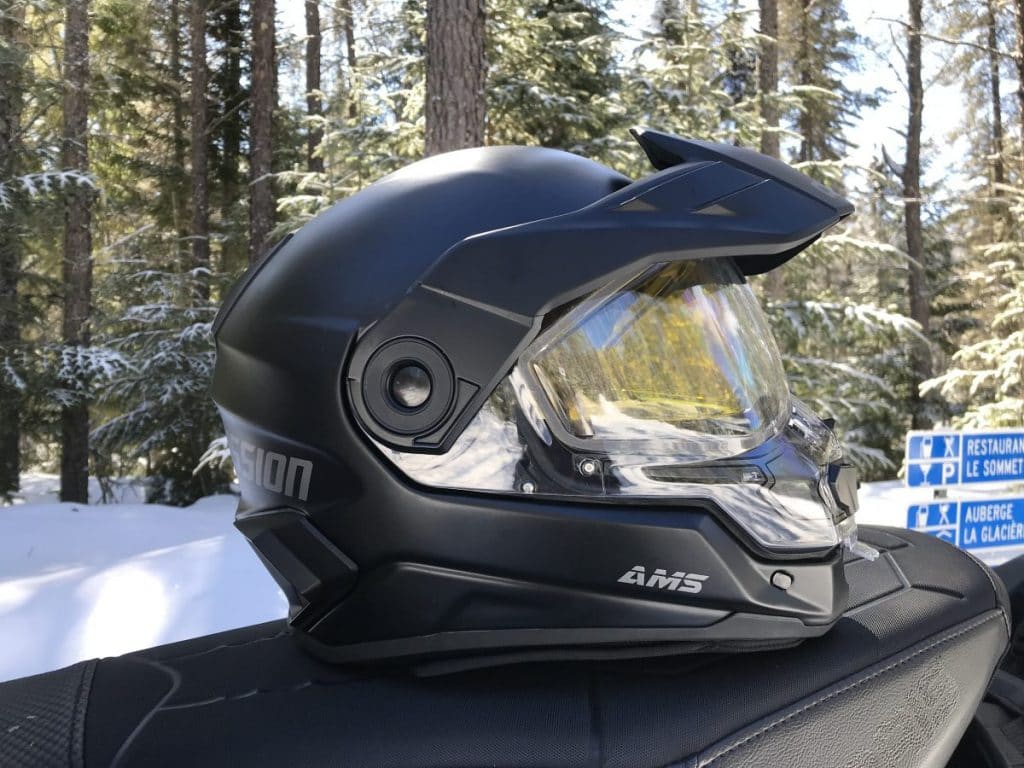 Nowadays, snowmobilers greatly appreciate helmets that allow for the mouth area to be unobstructed. You won't be disappointed, since the Mission's visor can be pulled back completely; you'll be able to flaunt your prettiest red lipstick!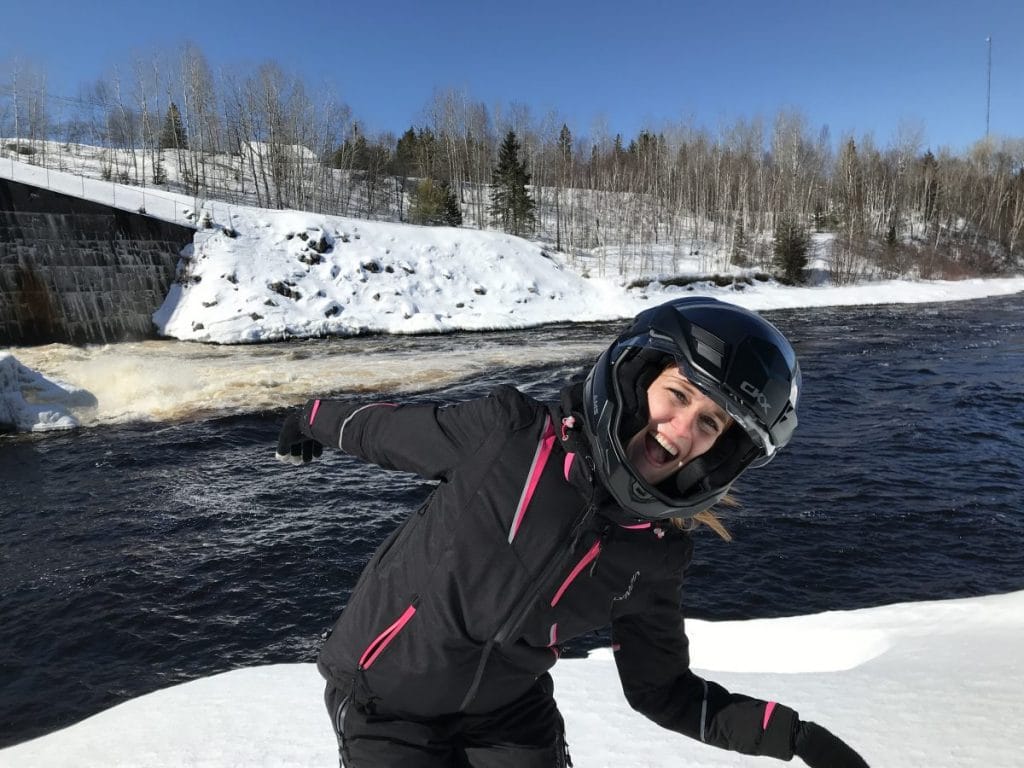 The front peak of the helmet is very interesting, because it is adjustable and can be removed in a few seconds, and without any tools at that! That's one less screwdriver to lug around in our snowmobile trunks. I loved riding with the peak on, which I adjusted while I was in the driver's seat.
For very sunny days, a second, yellow peak is integrated in order to allow the driver to see the paths clearly. I found that I returned from my ride feeling much less tired, since I didn't need to squint all day!
The Mission includes a chin protector that's quite long; in fact, it can almost be considered a neck protector, in my opinion. It's a must-have for people who easily get cold, like me! In the past, I've had to wear a face mask and a neck warmer, in addition to zipping my coat all the way up to my chin. If you're like me, you'll be happy to learn that endless layers are a thing of the past, my dears! This famous chin protector will keep you nice and toasty, and won't let the cold air through. For those of you who are walking furnaces, you'll be happy to know that, just like the ergonomic deflector, the chin protector is removable.
In addition to offering an unbeatable level of comfort, this helmet also has a cushion at the ear level, which provides optimal auditory protection.
My impressions
During my day of trying out this item, I was able to witness the exceptional work accomplished by CKX in order to offer superior quality to their clients. The team of developers, engineers and designers have certainly succeeded in creating a helmet that redefines the experience of trail driving.
I tried the helmet near the end of the season, so I was unfortunately unable to put it to the test in extreme winter conditions; but it goes without saying that I'm confident in the capacity of the AMS technology to bring just as much satisfaction in very cold weather.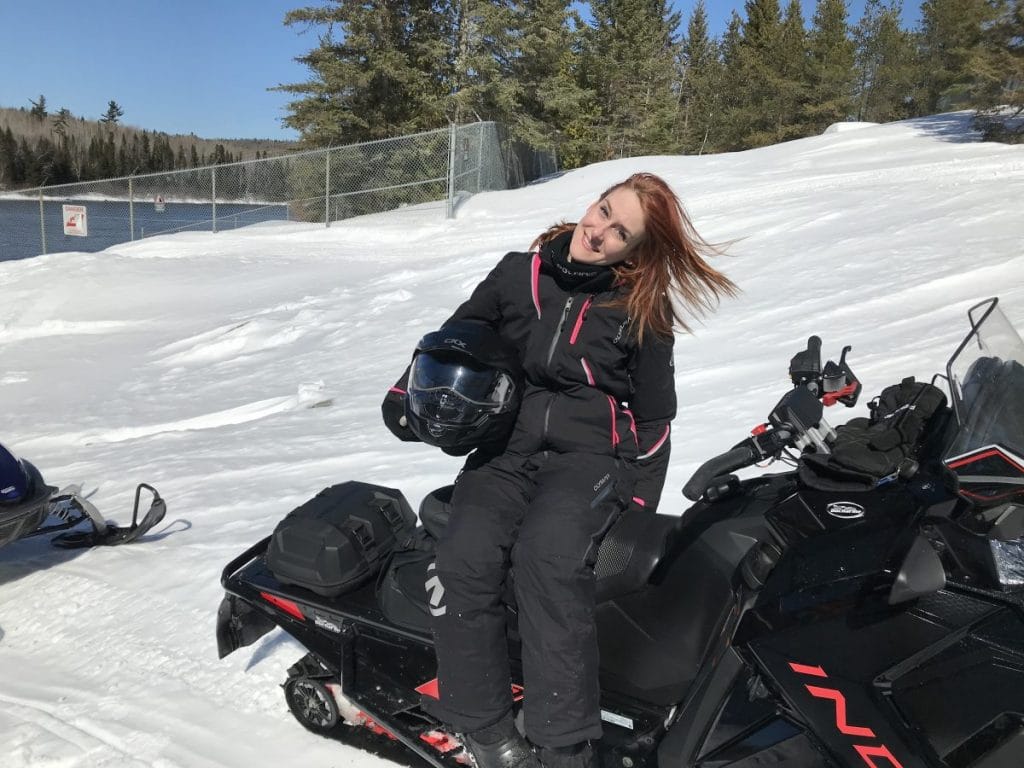 In order to give you as many details as possible on my experience, I went all out for you. I breathed by the nose, by the mouth, I blew into the visor on several occasions; the result: NO mist whatsoever! The quality of the Mission helmet is undeniable. The huge visor, the stylized sunshade, the aerodynamic front peak… they truly thought of everything!
In the past, I've sometimes had neck pains due to the weight of helmets. This one certainly eradicates this problem, because it is so lightweight.
This product, which left me speechless, goes beyond passing the test; there is, however, a small point to improve on. The quality of the visor is excellent – superior, even – but I found it somewhat difficult to open and close. That being said, it's a small price to pay when compared to all the other fantastic features, which completely BLEW ME AWAY!
The verdict
To finish, considering all the positive points I mentioned earlier, it goes without saying that you will see me in the trails wearing my lovely Mission helmet as of next season. I strongly recommend that you try it out for yourself, so that you can attest to all the innovations that this helmet brings to the table.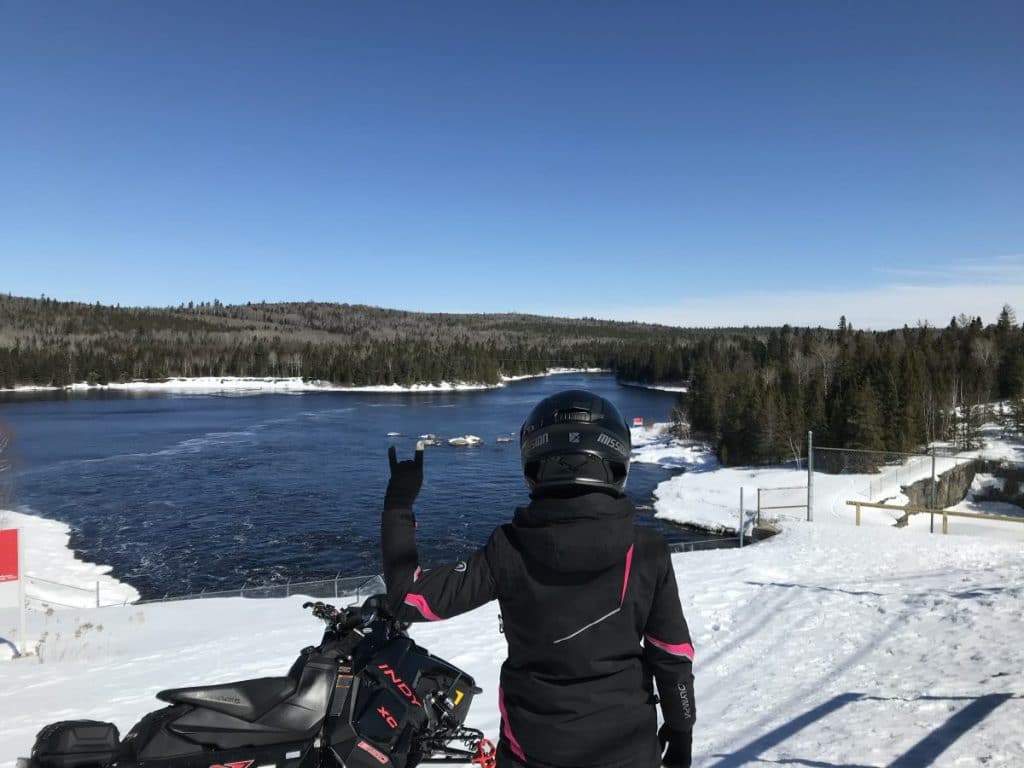 CKX says that they are aiming to reach the apex of performance and comfort on the trails, and I believe that they will achieve this sooner than later.
I hope that I helped shed some light on your next helmet purchase, and would like to thank CKX for allowing me to find the gem I was looking for!
Gen K.