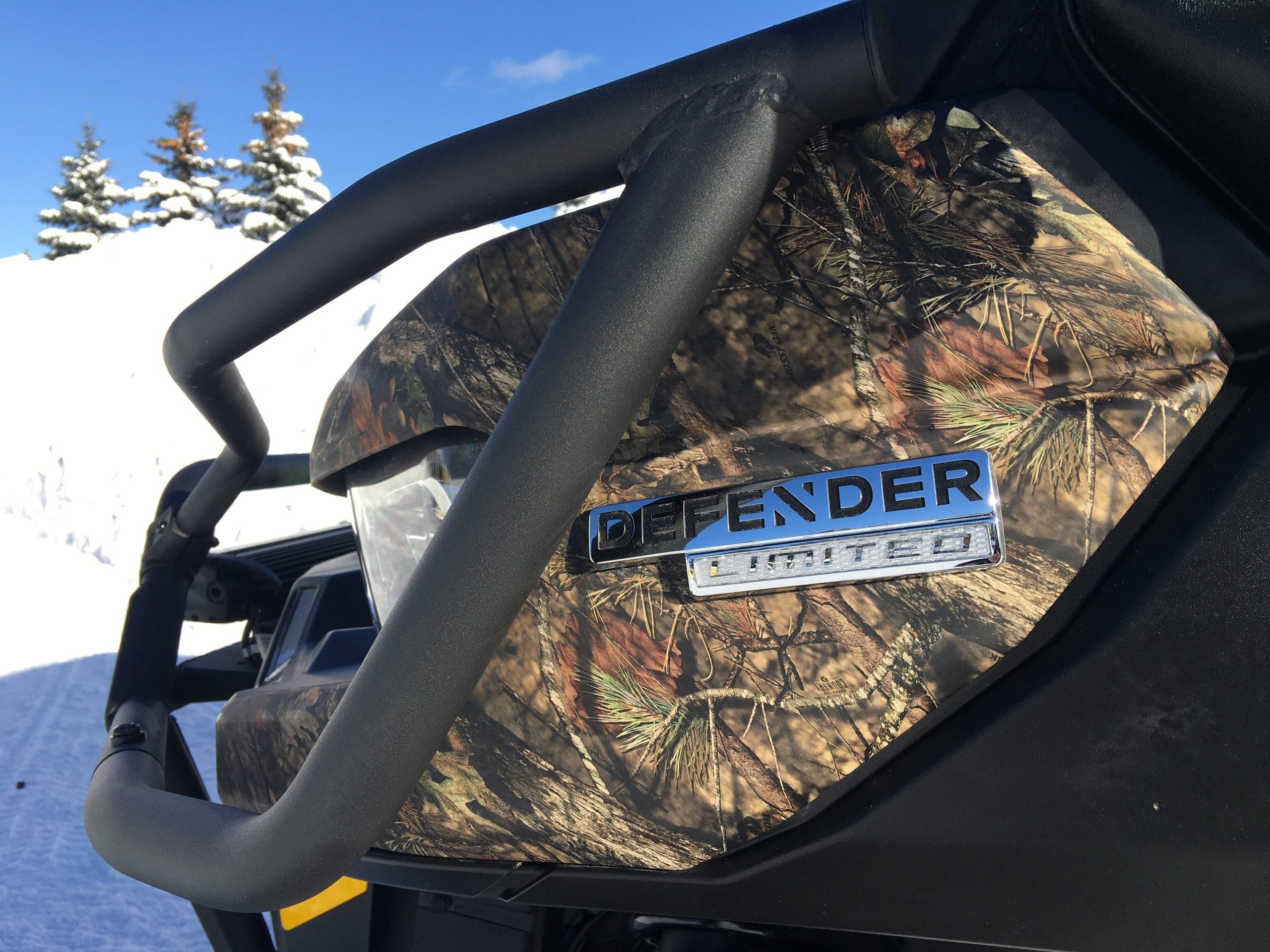 BRP has added two new side-by-side vehicles to its Can-Am Defender family for 2020.
The two new additions to the lineup include the Can-Am Defender Limited HD10 and the Defender MAX Limited HD10. 2020 is the most advanced Can-Am line to date, says BRP, with upgrades and adjustments to the Defender and Maverick models. The Defender range obtains a fully transformed machine, that benefits from a revolutionary new technology.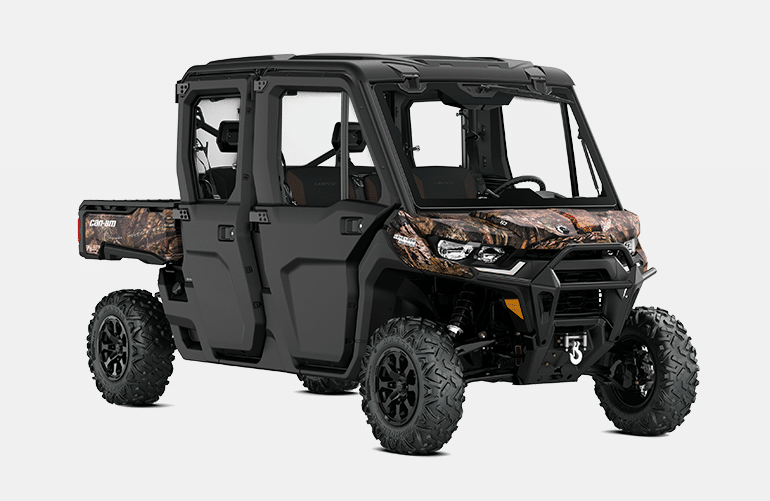 We asked for a practical tool and they listened to us: the tray is larger, the storage is more generous, and with the LinQ system, it is now ready for any challenge! With its width of 67in and its wheelbase of 83in / 115.5in for the MAX LIMITED model, this model offers you additional comfort, much more clearance from the ground and better stability. With 27 " Maxxis Bighorn tires and 14 " cast aluminum rims. Can you imagine this model on snowmobile tracks? Wait and see what I have in store for you!
Can you imagine this model on snowmobile tracks?
Wait to see what I have for you!
Ready for the cold, Defender Limited models come standard with efficient air conditioning and heating to keep you comfortable and safe in the harshest weather conditions. It includes a fully waterproof cabin system with HVAC system.
The full-joint cabin and up to 60% quieter, the factory-installed cabin kit including an updated integrated heat management system, air conditioning and an industry-exclusive automatic mode.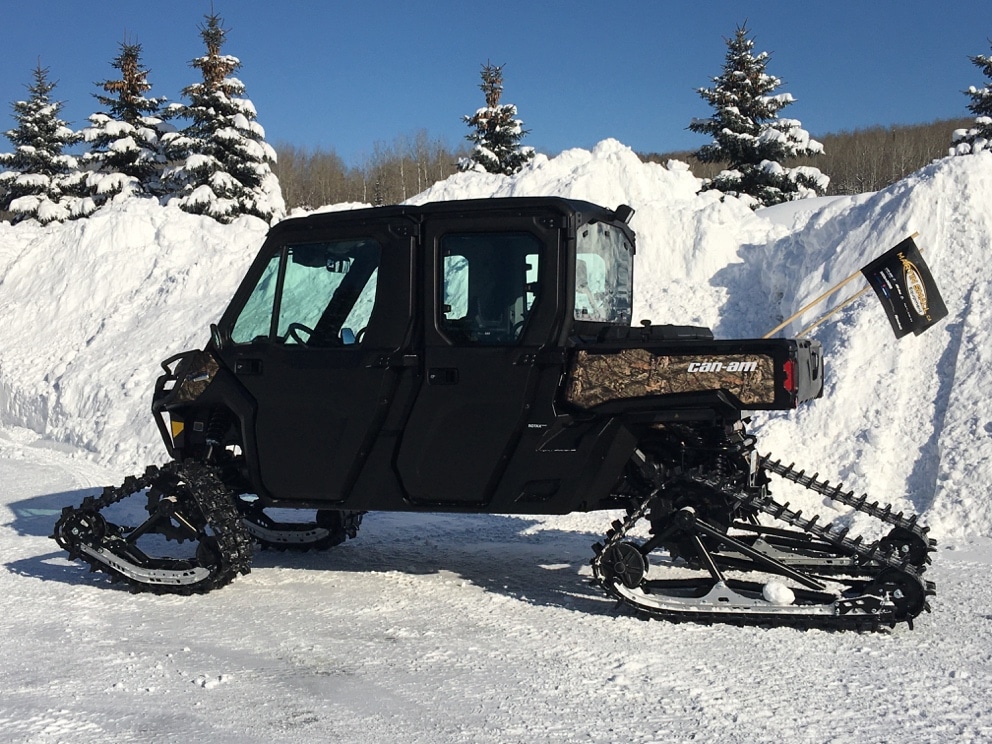 Different modes for more comfort
The automatic mode regulates the temperatures by operating the heating, air conditioning and air flow together. Designed to keep heat or fresh air inside the cabin, without increasing the heat or noise of the powertrain, for remarkable comfort.
A heating and air conditioning system of absolute comfort and security, whatever the forecast. Rain or shine, snowstorm, intense rain or oppressive heat: you will be protected and productive, even in the most extreme conditions!
Improved driving experience
The Defender Limited model offers an improved and quieter driving experience, with their high resistance Rotax HD10 engines, they offer the perfect balance of leisure and functionality. Demanding chores and rides are more enjoyable thanks to a smoother, stronger 82 hp Rotax engine generating more power in a timely fashion, 10hp more compared to the industry-leading 2019 model.
The versatility of the cabin
The interior, which can accommodate up to 6 passengers, has been completely redesigned and redesigned. Tan colored VERSA-PRO bench seats with reinforced seat covers with limited signature and an adjustable driver seat. Armrest in the center as well as several storage compartments. Windshield with wiper and a roof system ready to add a sound system with speakers.
The Defender Limited's center console gives you easy access to the 4×4 or 2×4 system, the lock for the rear differential, menu, drive mode, and trip. Equipped with a 12V socket, a USB socket to facilitate the loading of all your accessories, a 4,500 lbs winch and a front XT bumper.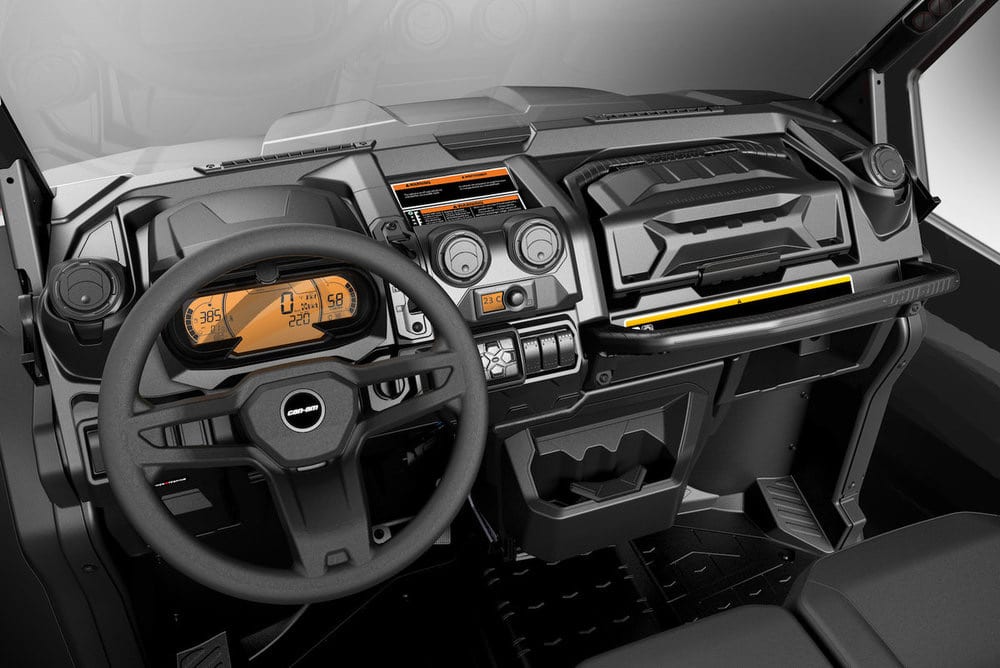 Here is a real good all-terrain recreational vehicle that will satisfy anyone's needs for its utilities! Whether it's work on the farm, in the woods, or even as a recreational vehicle, this is the one for you!
A side by side adapted for extreme conditions
For example, IMAGINE us wanting to use this powerful machine and trying it out in extreme conditions? In conditions where snow and cold are in control? Is it possible? Well the answer is YES! I had the honor of testing this machine in extreme cold conditions, the -20 degree Celsius accompanied by the 30cm of snow we have here in New Brunswick. Yes yes you understood, but is it really possible without getting stuck in the snow?
I had the chance of meeting a good friend of mine, Hugo Violette owner at MARTIN SMALL EQUIPMENT located in Edmundston New Brunswick for an amazing time!
It was Tuesday morning and I was going to meet Hugo to test drive his new machine. Hugo being an eternal lover of motor machines and especially modified ones, I can tell you that I wasn't ready for what I expected! A Can-Am Defender Max Limited was waiting in the backyard, but not just any model from BRP's Defender line…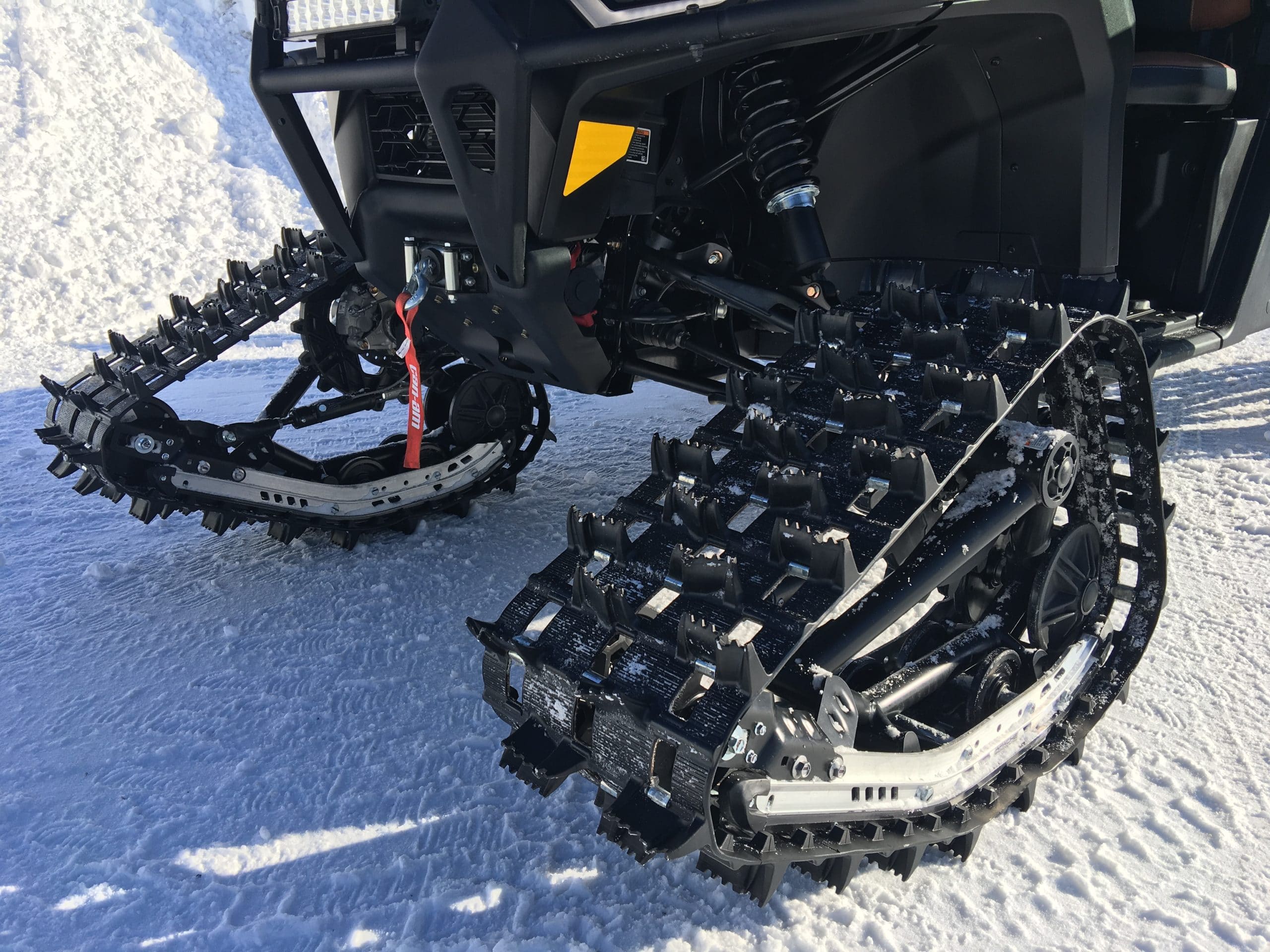 A modification to meet my expectations
A Can-Am Defender Max Limited mounted on an Apache Backcountry LT track system. This system has never been seen before! You can finally explore winter in complete freedom. Thanks to the performance of the Apache Backcountry track sets. Watch out Winter! Designed and made to excel in deep snow, pure pleasure! The Apache 360 ​​LT track system is an ally in any season and on all types of terrain.
Each set of tracks is optimally made for a particular use, whether for work or for pleasure. This specialized system for unequaled performance and durability: The Apache Backcountry, snow champion, and Apache 360 ​​and 360 LT tracks, versatile in all seasons. Each set of Apache tracks is tailored to the power of your machine's engine, chassis design, speedometer and DPS steering, so we're in perfect control of where we're going.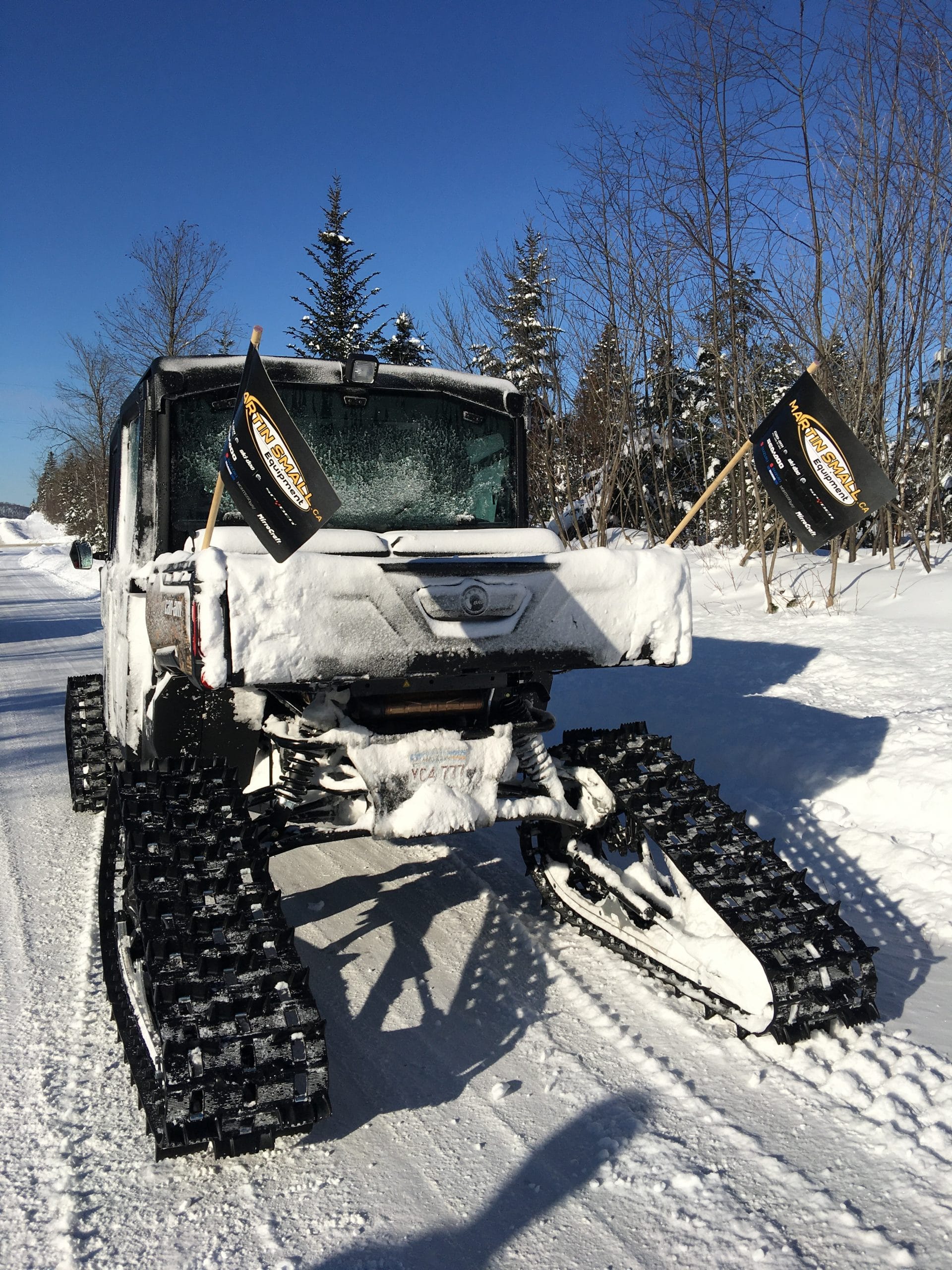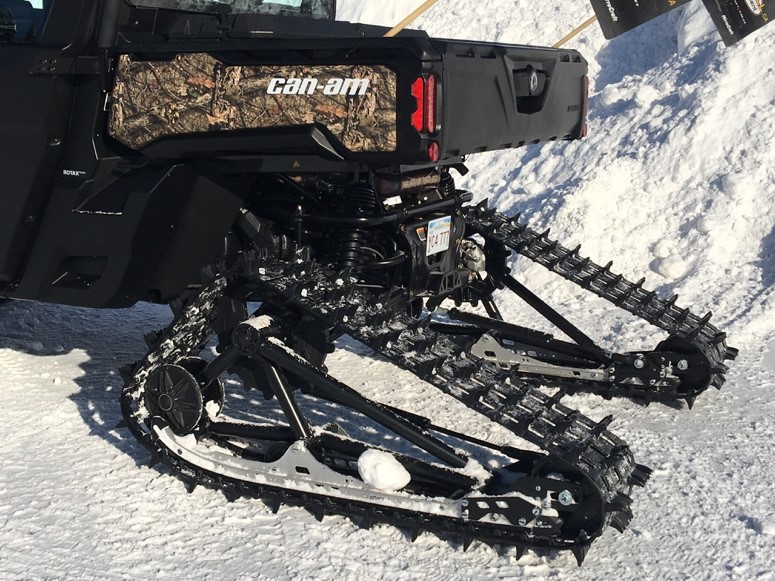 The aluminum slide system reduces rolling resistance and increases the contact surface. You can adapt your tracks to driving conditions by adding wheels, slides and snow scrapers. Can-Am Dynamic Power Steering will give you a better experience. By calibrating several parameters, like the power steering and the speedometer according to the tracks, the vehicle's odometer and speedometer will be really synchronized.
These are easy to install explained Hugo. Can-Am vehicle-specific mounting brackets simplify track installation. Thanks to their integrated design, they remain well-adjusted when you use the wheels.
An impressive performance
Oufffff! It was exciting to see this Defender Max Limited at work! We left the yard at MARTIN SMALL EQUIPEMENT to head for the trail not far from the dealer. We did 500 meters on the trail and suddenly hopped in the deep snow, absolutely nothing stopped it! A real war machine.
With the comfort of heating in the cabin, while pushing the defender to the maximum of its capacity in the mountains, in all angles unimaginable, we were excited as two small children! The stability, the power of the machine and the Apaches tracks, no chance of staying stuck! This machine is complete. Hugo and his mechanics have successfully managed to modify the Defender Max Limited as such, what ingenuity, never seen before!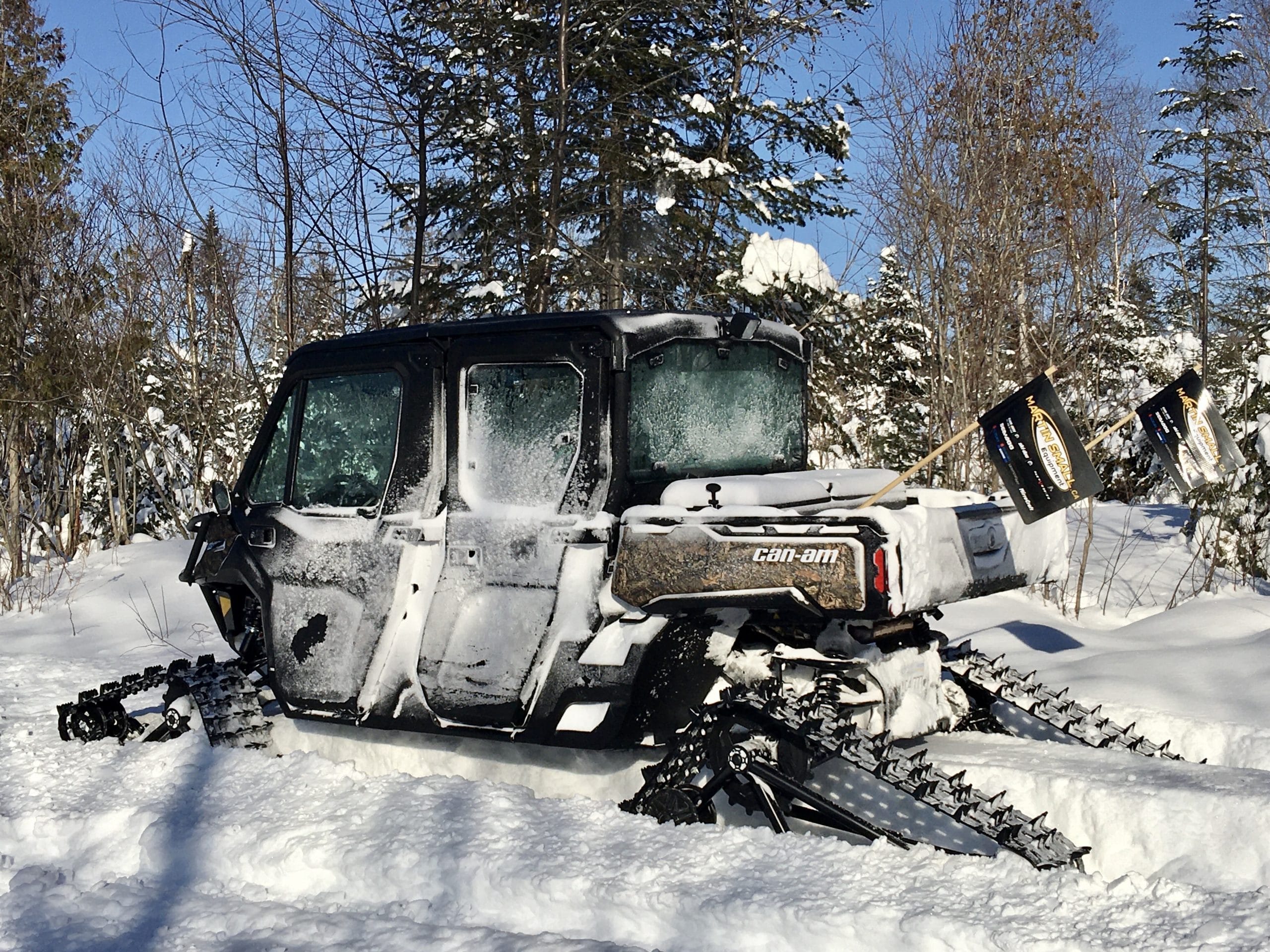 Thank you very much to MARTIN SMALL EQUIPMENT's team for their generosity and for letting me live this experience. This is only a postponement!
See you soon 😀