First of all, you should know that I had never really driven a side-by-side before I had the chance to test drive the new ZForce 950 HO Sport. I can tell you that it was quite an experience!
First, I had to get used to driving the side-by-side because, let's face it, it's not the same as driving a road vehicle, which I am used to.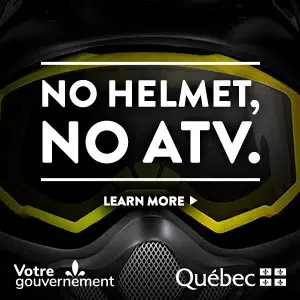 Secondly, it was important for me to test the different components of this vehicle: we're talking about the suspension, the steering, the handling, and more. Therefore, here is my opinion on this wonderful vehicle.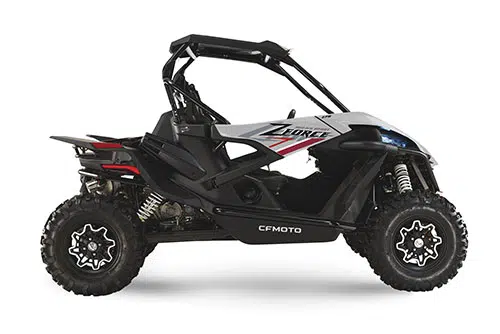 FIRST IMPRESSIONS
The CFMOTO ZForce 950 HO Sport is available in three colors. You can choose between pearl white, ghost grey or lava orange (like the one I tried).
Exterior and interior mirrors and turn signals are included, as on all CFMOTO models. The roof, half doors, winch and tilt steering wheel are also included in the basic side-by-side models.
The aggressive look of the ZForce 950 HO Sport is enhanced by, among other things, the presence of LED headlights. This vehicle also comes standard with 14 x 7″ front and 14 x 8″ rear aluminum wheels.
Personally, this vehicle scared me a bit when I first saw it, knowing that it was going to be my first side-by-side experience. It looks quite impressive with its cage following the curves of the vehicle at the front, sides and rear. At the same time, it was also because of this aspect that I felt safer.

A RIDE THAT CAN LAST A LONG TIME
As far as comfort is concerned, there is nothing to complain about. We did spend a good 12 hours in the CFMOTO ZForce 950 HO Sport for the shoot, and other than fatigue, there was no discomfort. The impeccably finished sport seats are extremely comfortable; they can be adjusted to move closer to or further away from the steering wheel to accommodate all sizes.
The independent front suspension features double wishbones and adjustable gas shocks for compression and rebound. The rear suspension is also independent and has the same type of shocks as the front.
However, it uses QUADLINK trailing arms instead of A-arms. The wheel travel also adds comfort to the ride when cornering. The front wheel travel is 280 mm (11 inches) and the rear is 300 mm (11.8 inches).
For me, the extended wheel travel really helped me get a handle on the vehicle. I loved how comfortable it was to ride on rougher roads or when I needed to turn faster.
I must say that the electric rack and pinion system play a crucial role in the comfort of the ride. You can feel the vehicle's response very well through it, which helps you understand if you are still in control of the side-by-side or if you need to slow down.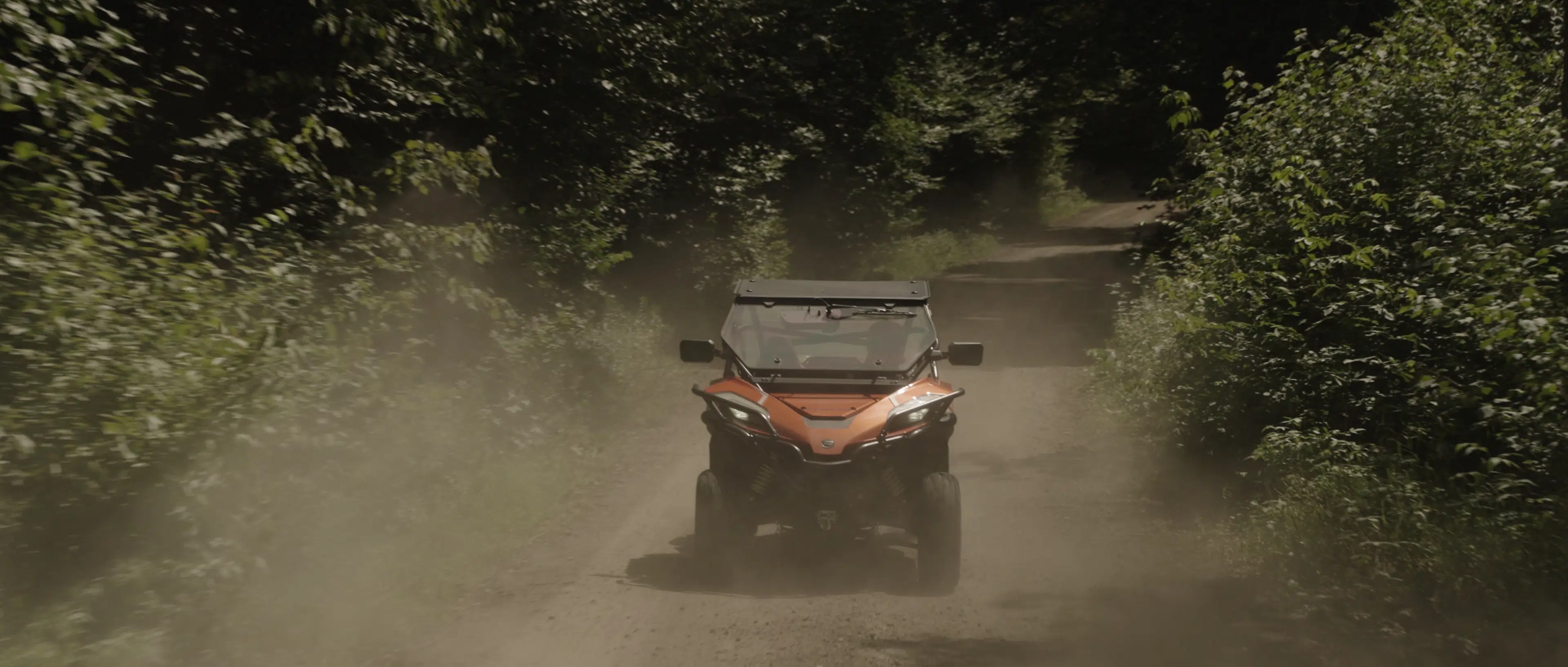 PERFORMANCE TO SPARE
The CFMOTO ZForce 950 HO Sport comes standard with an 8-valve, 4-stroke V-twin engine. What is interesting about this engine is that it has an oil cooling system. It works with fuel injection and offers 90 HP with a maximum torque of 64 lbs/ft @ 6 750 RPM.
This engine is paired with a primary and secondary variable transmission and a CV-Tech IBC clutch system. There is also the option of putting the running gear on two wheels (only the front wheels receive power from the engine) which is used for regular driving.
There is also the 4-wheel option (all four wheels receive power from the engine), often used for climbing steep hills. The last option is the differential lock, which you would use to get out of a mud or water hole.
There is one caveat. This vehicle knows how to mess up your aunt Ginette's hair. Since the response is pretty instantaneous and 90 HP for a 1,500 lb machine is a lot, you have to push the throttle ve-ry slow-ly. Believe me, I learned this the hard way.
Once I understood the engine's response to acceleration and deceleration, this vehicle gave me everything I needed to have a great day. As you can imagine, I pushed the machine to see what it had to offer. I can tell you that despite the fact that this was my first experience behind the wheel of a side-by-side, I was able to have a great time and exploit its 90 HP to its full potential.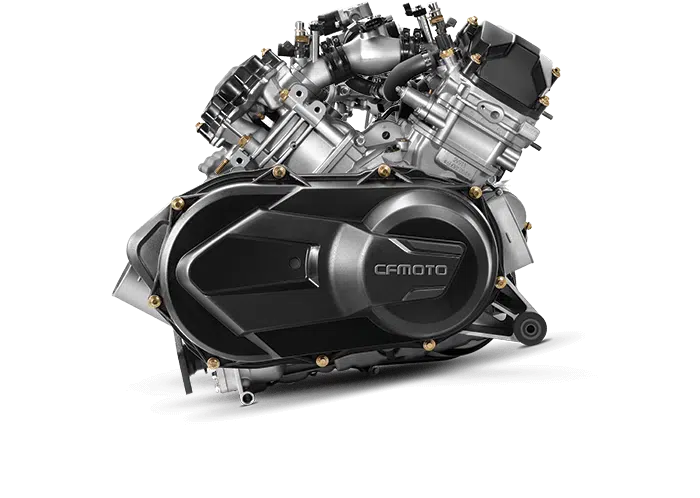 I SAY YES
For sure, as a first-time side-by-side buyer, it's important to get to know the machine before you put the pedal to the metal. For fun, the CFMOTO ZForce 950 HO Sport will meet all your needs.
What really impressed me was that even though it was my first time, I always felt safe. The pedal response to the engine is very quick and allowed me to get a good feel for the machine. Therefore, I had a lot of fun without getting upside down or hurting myself or the people from Chicks And Machines who were with me.
However, if this is your first experience with side-by-side, I strongly suggest you go on fairly simple trails. Go with experienced people who can give you a little lesson on how to ride this type of machine. I had the chance to do it with Cendrine. She was able to introduce me to this wonderful sport by showing me how to push the CFMOTO ZForce 950 HO Sport to its full capacity, while staying safe.
Another advantage of this model is that its MSRP starts at around $19,000 CDN. That is pretty affordable for what this machine has to offer in terms of performance and comfort. I can confirm that for your first side-by-side purchase, the CFMOTO ZForce 950 HO Sport is the one to buy!