CFMOTO Z950 HO EX Test Ride
As you probably know, I'm a thrill seeker. And who doesn't like to try new machines? Well, I LOVE it! Thanks to CFMOTO, I had the chance to try their brand new Z950 HO EX. What a machine!
In this article, I will introduce you to this power bomb, the Z950 HO EX. I will discuss the look, comfort and specifications of the Z950 HO EX. Of course, I won't forget to give you my opinion.
Enjoy your reading 😉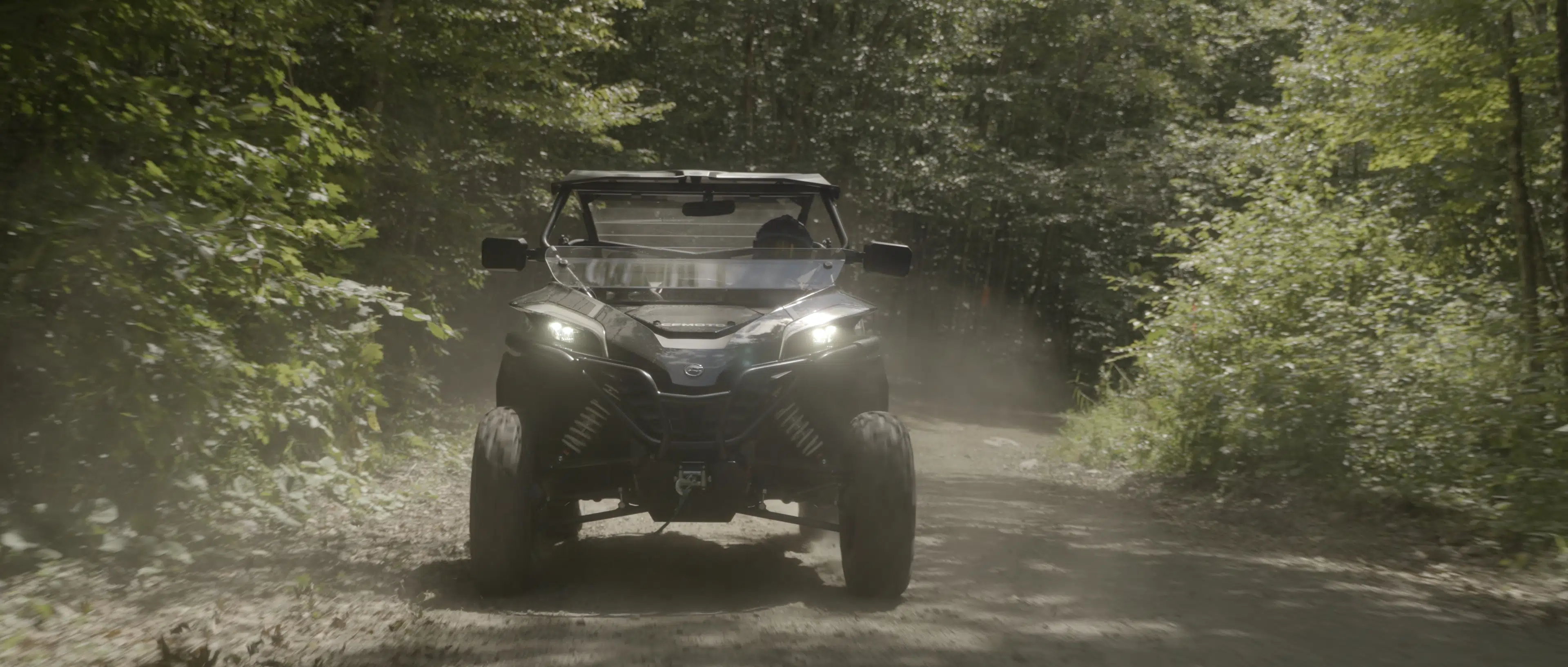 Its look
The CFMOTO Z950 HO EX is a machine with a lot of character. With its aggressive look and charming curves, the Z950 makes you want to sit on it and go for a ride in the woods. It is available in three colors: lava orange, nebula black and pearl white.
For my test drive, I got the black… WOW!!! What a beauty! I fell in love with it right away. ❤
Mounted on 15.6″ aluminum wheels, the CFMOTO Z950 HO EX has more than one trick up its sleeve. It comes standard with three mirrors: two on the outside and a center one inside the cab. The turn signals, as well as the front and rear exterior lights, are LED.
Everything is impressive:
the roof,
the half-doors,
the 3,000-pound front winch,
its 2-inch trailer hitch with a 550-pound towing capacity,
its full-length skid plate, and so on.
This is a vehicle that can be used for a multitude of things, whether it is to hit the trails, to take your grandchildren for a weekend ride, or even to get to work!
Its interior is perfectly simple.
The sport seats are super comfortable, I know, I sat in them for 12 hours. I promise you won't have a sore butt or back. Plus, the seats are adjustable from front to back, so there's no injustice for short or tall people.
Its LED display screen is easy to read and use.
Its USB and DC Power outlets are ready for your cell phone, yours or your copilot's heated jacket, and all your other gadgets. All the buttons for the turn signals, horn, high and low lights, and power shift are easily accessible in the center of the console while driving.

Its comfort
The CFMOTO Z950 is equipped with 100% adjustable gas shocks at the front. It offers 11 inches of travel. I guarantee it will stand up to any challenge! Believe me, I've given it a run for its money: mud, water, rocks, rough trails, everything!
For the rear suspension, it's the same principle as the front one: 100% adjustable gas shocks. However, they have 11.8 inches of travel.
As you know, I love thrills and I was able to test the CFMOTO Z950 HO EX in several conditions: rocky terrain, big rock like "an explosion happened yesterday and we have to leave now," mud, sand…
I loved the response of the suspension: it adapts quickly to the changes of the terrain. In all situations, I was never afraid to drop my machine. I especially liked the steering wheel. Why did I like it? Because it has a telescopic shaft. Therefore, you can really adjust it, as you want to find your ideal comfort.
Note that the Z950 HO EX comes with a larger wheelbase than the other vehicles in its lineup, with a 64-inch wheelbase instead of 60 inches. This allows for better stability. Its 13.4 inches of ground clearance is high enough to get you where you want to go without any problem.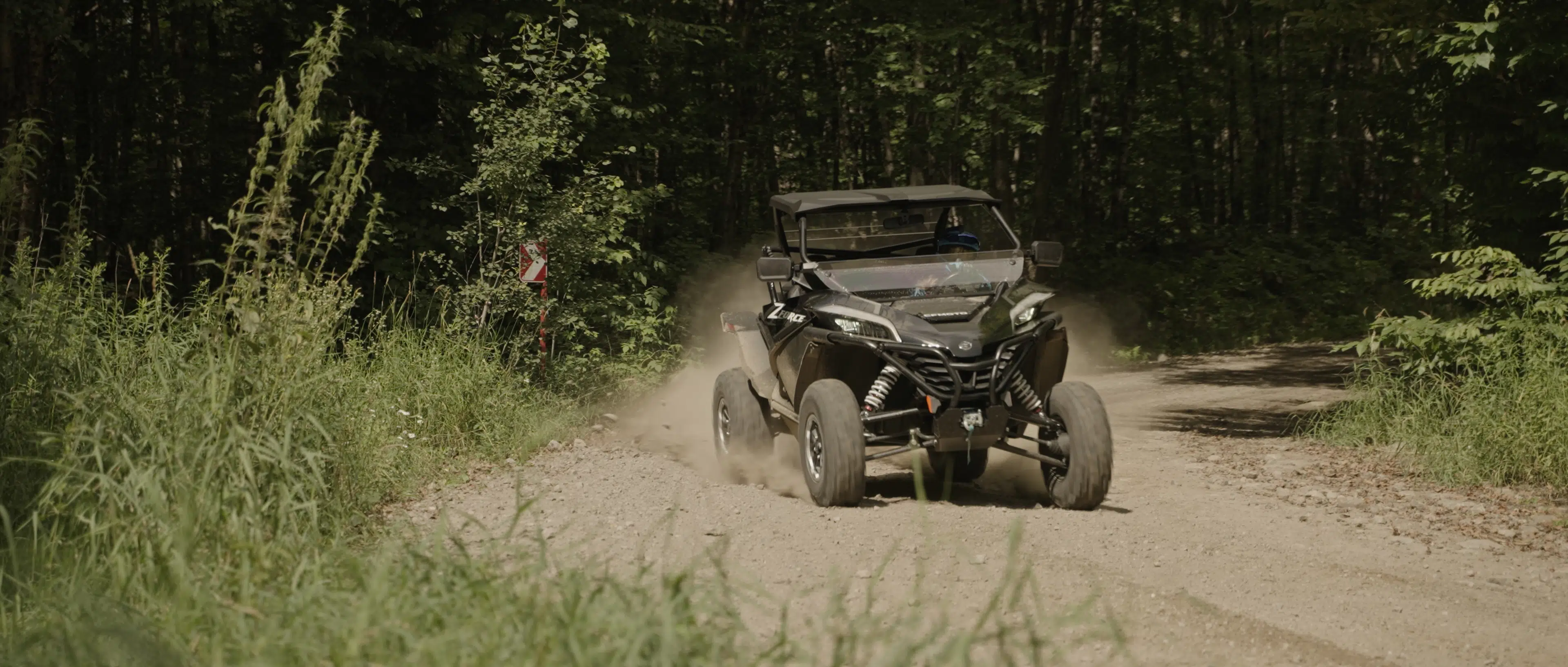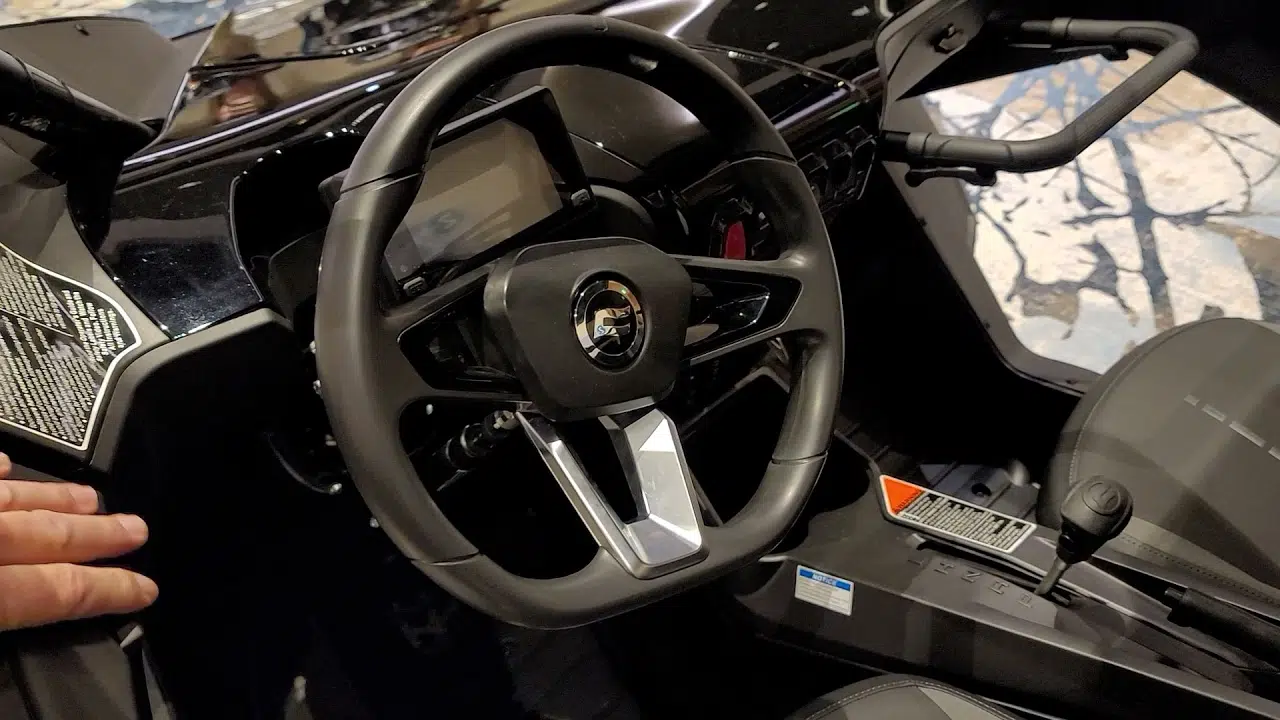 Specifications
For the performance of the Z950 HO EX, CFMOTO has added performance to the engine. This one is a twin-cylinder V-Twin cooled by liquid coolant.
That's a 90-HP engine under the hood of this machine! As long as you ask for it, it gives you it! With its quick response when you hit the gas, strap on your hat, hold your dentures, let's go! Everything to please me!
As for the transmission, it is a CVTech. A 100% automatic transmission makes it easy for you to do whatever you want without any hassle.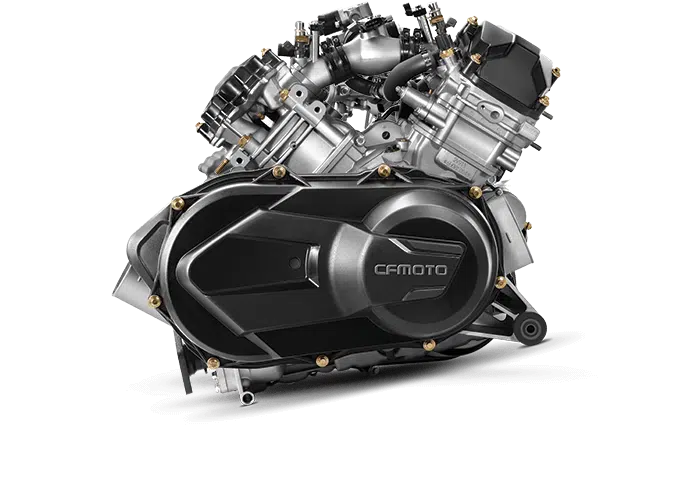 Fun fact: Do you know where CVTech transmissions are built?
A) In the United States
B) In Quebec
C) In Mexico
D) Somewhere in Canada
Well done! Or not… haha. 😂
They are built in Quebec, more precisely in the city of Thetford Mines. I think it is great to have a Quebec part in these machines. After all, we are not just good at making maple syrup! 😜🍁
Moreover, it is possible to change the driveability of the vehicle.
The 2WD will be used for your daily walks on any kind of terrain.
The 4WD can help you out when you are on extremely rough trails (where you can't drive more than 10-15 km/h), or in huge mud holes.
Last but not least is the 4WD with locked differential. This one can be used for fun that we cannot mention here and for a helping hand in emergencies.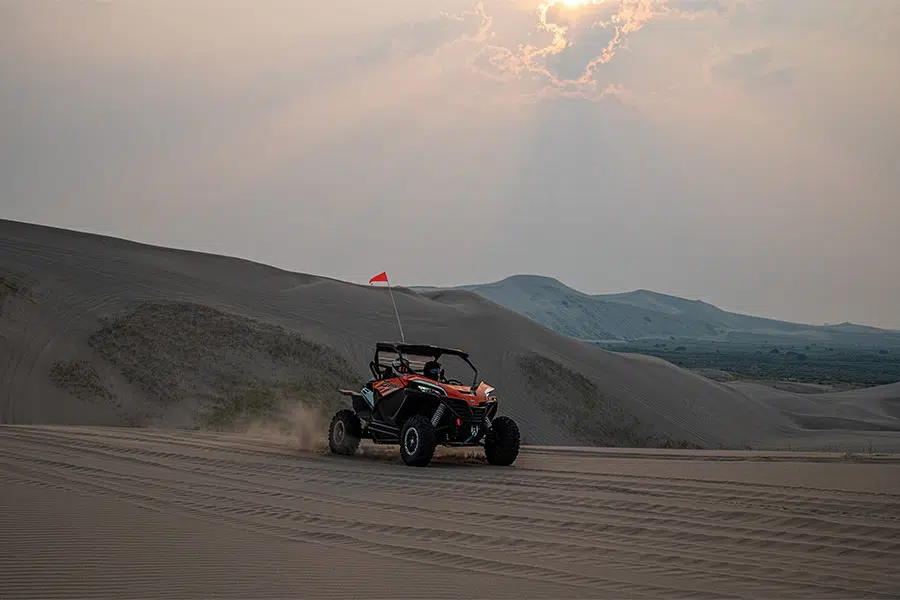 Conclusion
The CFMOTO Z950 HO EX retails for $20,500, a good price considering all the standard accessories. For more details, you can refer to your nearest CFMOTO dealer.
As you may have read, I loved my test ride of the Z950 HO EX.
Its aggressive look, its choice of colors, its comfort on every trail imaginable, its power… WOW!
The machine is amazing in many ways. The Z950 HO EX comes with a lot of standard equipment and it is possible to add accessories or modify components according to your tastes and requirements. You can add an enclosed cab, add rear racks, add a spare tire… you name it. Who doesn't want the machine of their dreams?
I hope my review has enlightened you on your next machine choice! See you on the trails!
Your fellow thrill-seeker
Cendrine!  xx