As a motorcyclist and lover of the wilderness,🌳🏍🌲  I fell off my chair when Chicks And Machines offered me the opportunity to test ride a side-by-side.
This type of ATV is known to be the ultimate vehicle for riding in the mountains and exploring all kinds of terrain. Having never been on such a vehicle before, I immediately jumped on the opportunity, without any hesitation!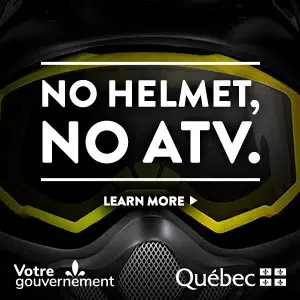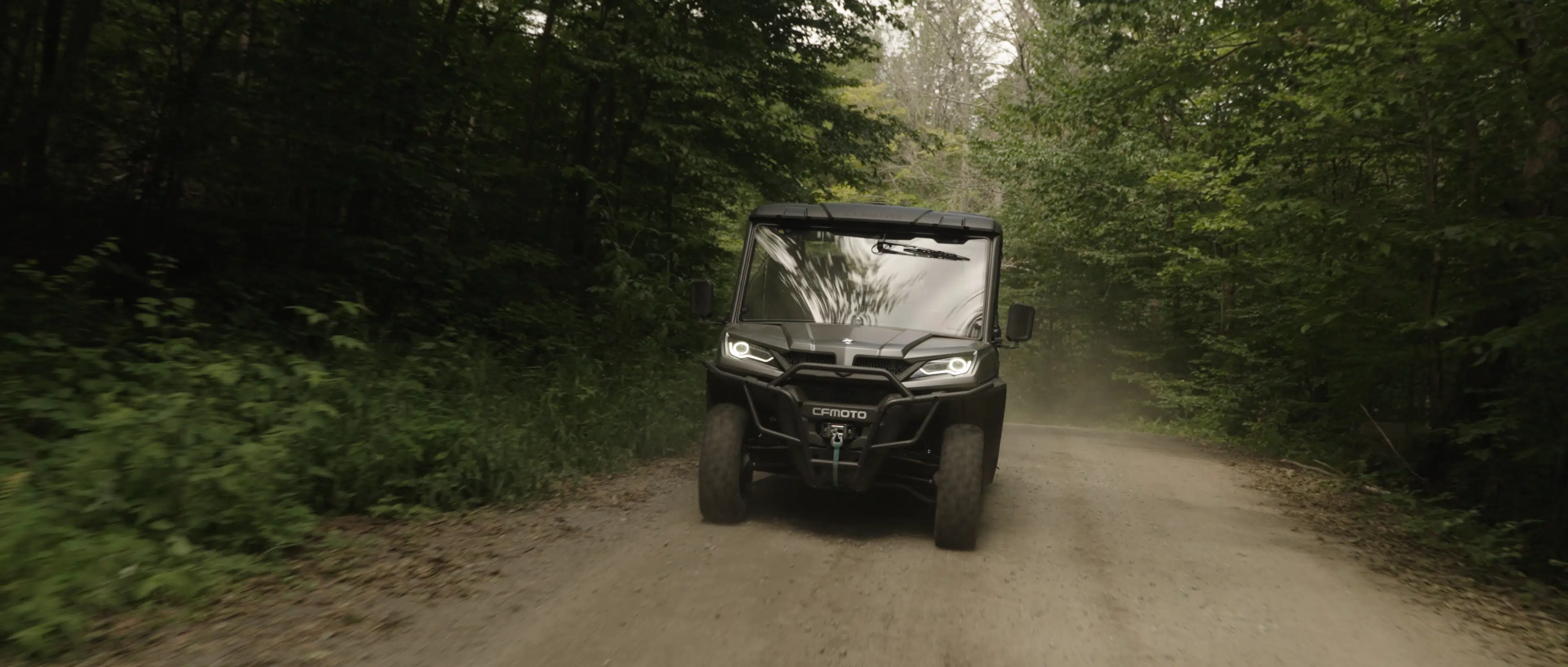 UFORCE 1000 XL by CFMoto : specs
Fuel injected 963cc engine (79 HP/60 ft/lb)
Adjustable hydraulic shock absorbers in 5 positions for spring preloading
Continuously Variable Transmission of CVTech- IBC
Electric Power Steering (EPS)
6 passengers
Rooftop included
Tilting rear box
3,500 lb winch with remote control
Hitch towing rating: 680 kg
14″ aluminum alloy wheels
Digital display dashboard with full instrumentation
12V outlet
Mirrors
LED headlight with integrated turn signals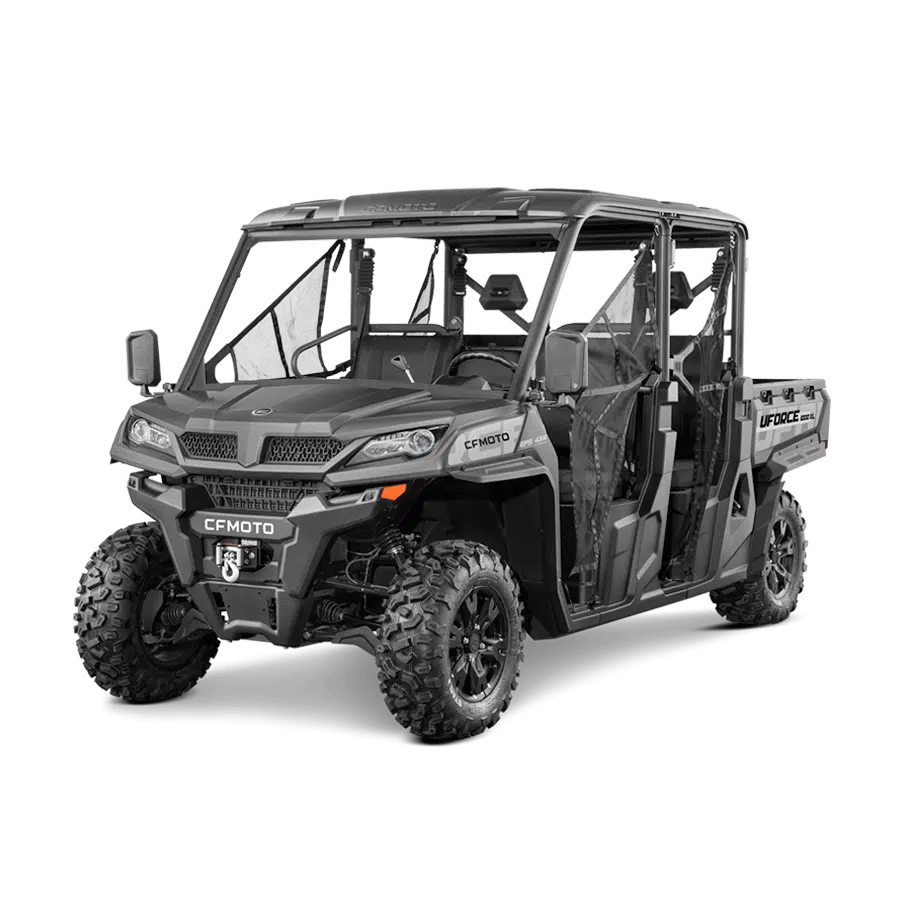 Engine
Type: V-Twin Cylinder, 4 strokes, 8-valves
Displacement: 963 cc
Bore & Stroke: 91 x 74 mm
Compression: 10.6 : 1
Engine management: Fuel injected engine
Maximum torque: 60 FT/LB @ 6200 rpm
Maximum power output: 79 HP / 7000 rpm
Cooling system: Liquid
Starting: Electric
Battery: 30 Amp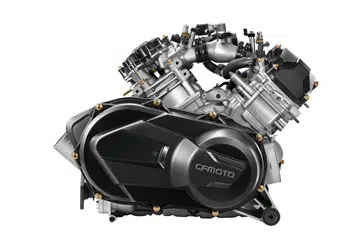 Size / Weight
Length x width x height: 2945 x 1615 x 1850 mm (116 x 63.5 x 72.8 in)
Wheelbase: 2049 mm (80.7 in)
Seat height: 500 mm (19 in)
Ground clearance: 280 mm (11 in)
Fuel tank capacity: 39.25 L (10.5 gal)
Vehicle weight with all fluids: 689.4 kg (1520 lb)
Towing capacity: 907 kg (2000 lbs)
Rear box capacity: 453,5 kg (1000 lbs)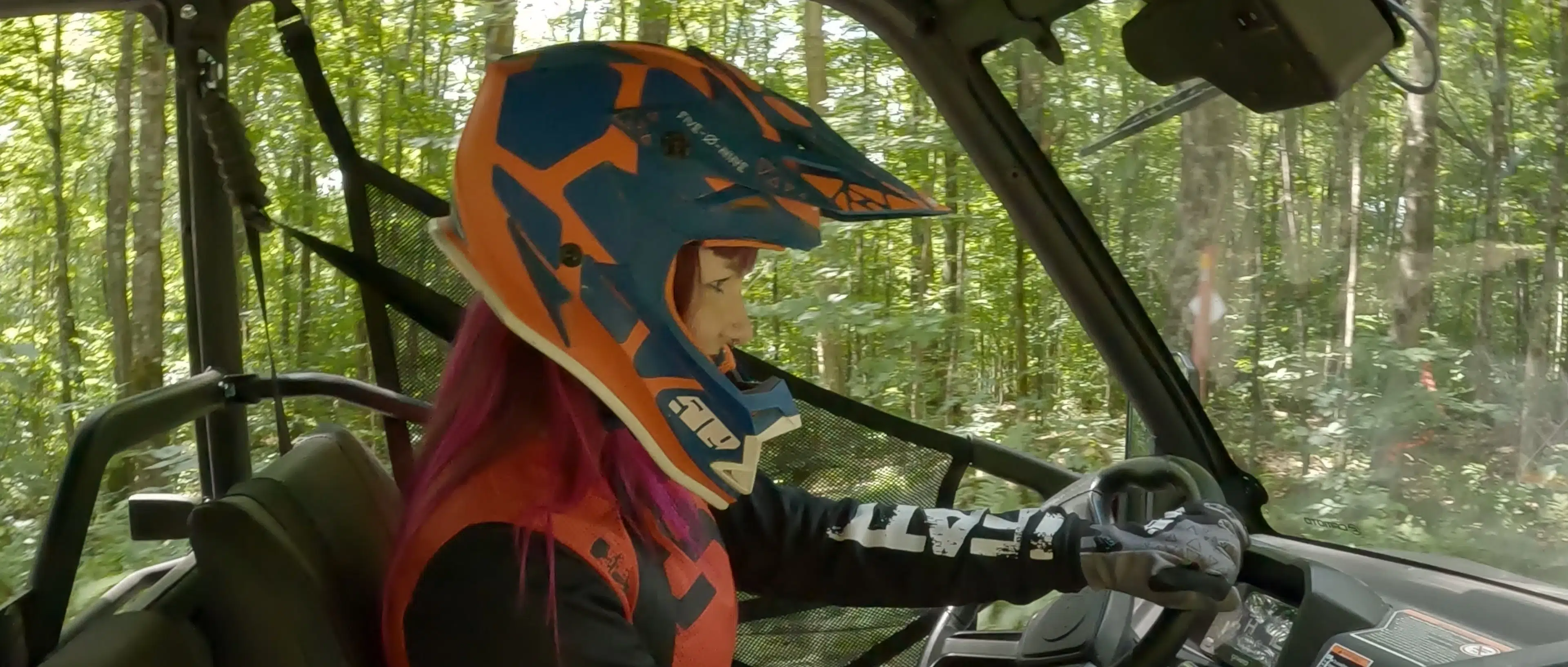 Transmission
CV-Tech IBC clutch system: Variable transmission. Gear Box: L / H / N / R / P (parking lock shift system)
Power train: 2WD / 4WD, electric locking differential
Wheels
Front wheels: Aluminum alloy (14 x 7 in)
Rear wheels: Aluminum alloy (14 x 8 in)
Front tires: AT 27 x 9-14 (STAG)
Rear tires: AT 27 x 11-14 (STAG)
Suspension and steering
Front suspension: Double arm independant suspension. Hydraulic shock absorber with 5 spring preload adjustment
Front travel: 230 mm (9.1 in)
Rear suspension: Double arm independant suspension. Hydraulic shock absorber with 5 spring preload adjustment
Rear travel: 230 mm (9.1 in)
Steering: Electric Power Steering (EPS)
Brakes
Brakes: Front and rear brake disc system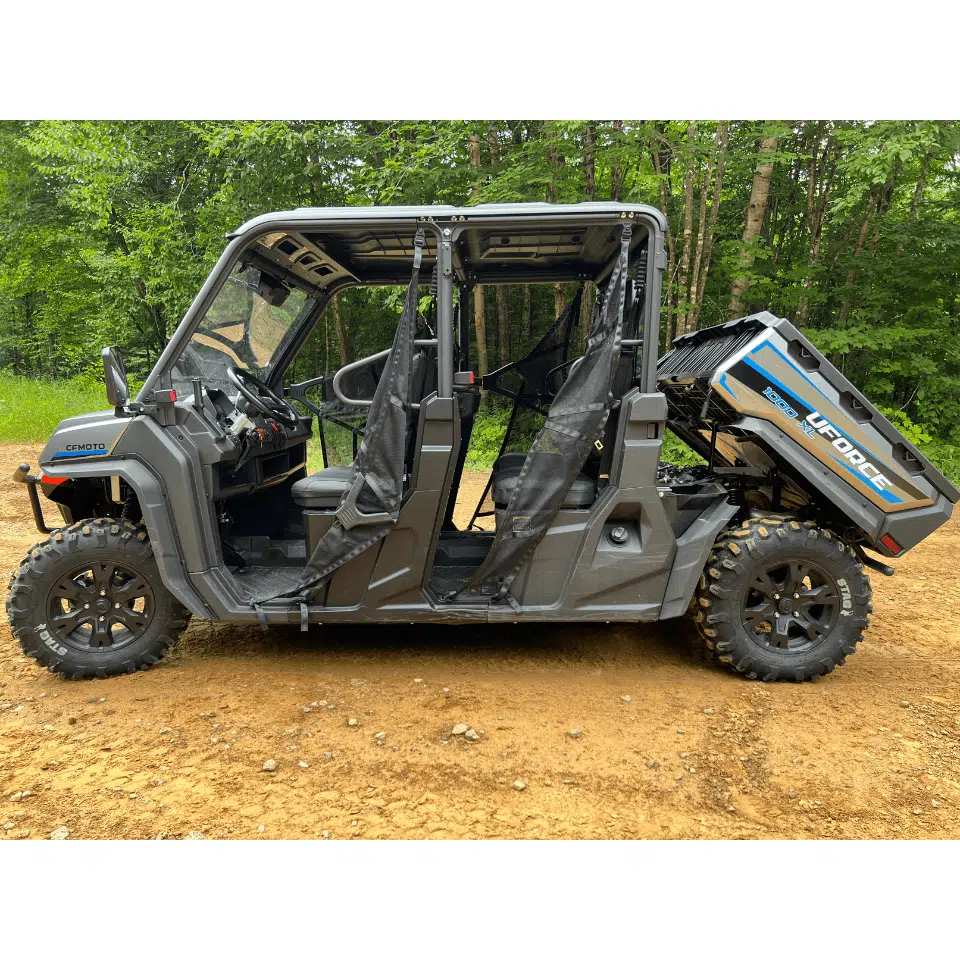 CFMoto's UFORCE 1000 XL: Target Audience
As I headed out for my road test (or forest test, rather!), I was curious to find out why someone would choose a side-by-side with a dump box over a traditional pickup. As I drove the UFORCE 1000 XL, however, I quickly realized the advantages of such a vehicle.
You can really go anywhere with this warrior of a vehicle, whether it's through mud, water, or over rocky terrain. Plus, thanks to its compact size, the UFORCE 1000 XL can fit between trees and on the same forest roads as small ATVs. It is also a lighter vehicle, which reduces the tracks it makes on the ground, and also makes it more economical in terms of fuel consumption.
In my opinion, the UFORCE 1000 XL is the dream side-by-side for anyone who spends time in the woods, but with a mission. While other side-by-sides are great for people who just want to go out, play in the mud, and enjoy the woods or mountains, the UFORCE adds a practical element that makes it very useful and versatile.
Like other ATVs, the UFORCE 1000 XL can be used to play in the mud. However, what sets it apart is that it can be used for more practical purposes as well.
Thanks to the pickup-style rear box, you can store all sorts of equipment; and the fact that you can tilt the box makes it easy to load and unload your items.
Whether you're fishing, hauling lumber, hunting, or even wilderness camping, the box is roomy enough to handle a wide range of needs. With seating for 5, you can transport your work crew, friends, family, or your faithful four-legged friends.
The winch is the icing on the cake for anyone wanting to put their UFORCE 1000 XL to work. With a capacity of 3500 pounds, it's truly impressive how such a small cable can do such big work… and I have to admit that activating it with a simple little remote control is especially satisfying. It gave me a funny feeling of enormous power!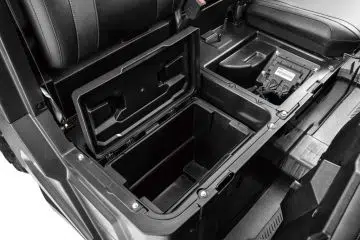 My experience with CFMoto's UFORCE 1000
TheUFORCE 1000 by CFMoto is the first side-by-side I have ever ridden in my life, yet I found myself to be comfortable and confident almost instantly. I had a lot of fun aiming for mud holes and rocky spots, rather than avoiding them as I always do, whether I'm on a motorcycle or driving a car.
I found that the throttle responded well, and so did the brakes. I felt safe and secure, and I saw very clearly all around me. I've been told that in some side-by-side vehicles, the windshield can be glaring at certain angles, depending on the location of the sun; but this was not my experience at all with the UFORCE 1000. I felt that my view of the road ahead was always optimal.
Some parts of the rear box seemed a bit fragile, especially the mechanisms holding the door in place, so a more extensive test to really put the box to the test would be in order, in my opinion.
I walked away with great memories of my day on the UFORCE 1000 XL, and feel very fortunate to have been able to test it with my favorite Chicks And Machines contributors. I would like to thank Chicks And Machines and CFMoto for this unforgettable experience!