For a while now, most people have been talking a lot about the electrification of vehicles, the reduction of fuel vehicle sales and all the benefits that come with it. In other news, Hennessey Performance has announced one of its creations: the all-gas RAM 1500 TRX Mammoth.
From my perspective, this is a great marketing idea that shows gasoline vehicle enthusiasts that they have not been forgotten.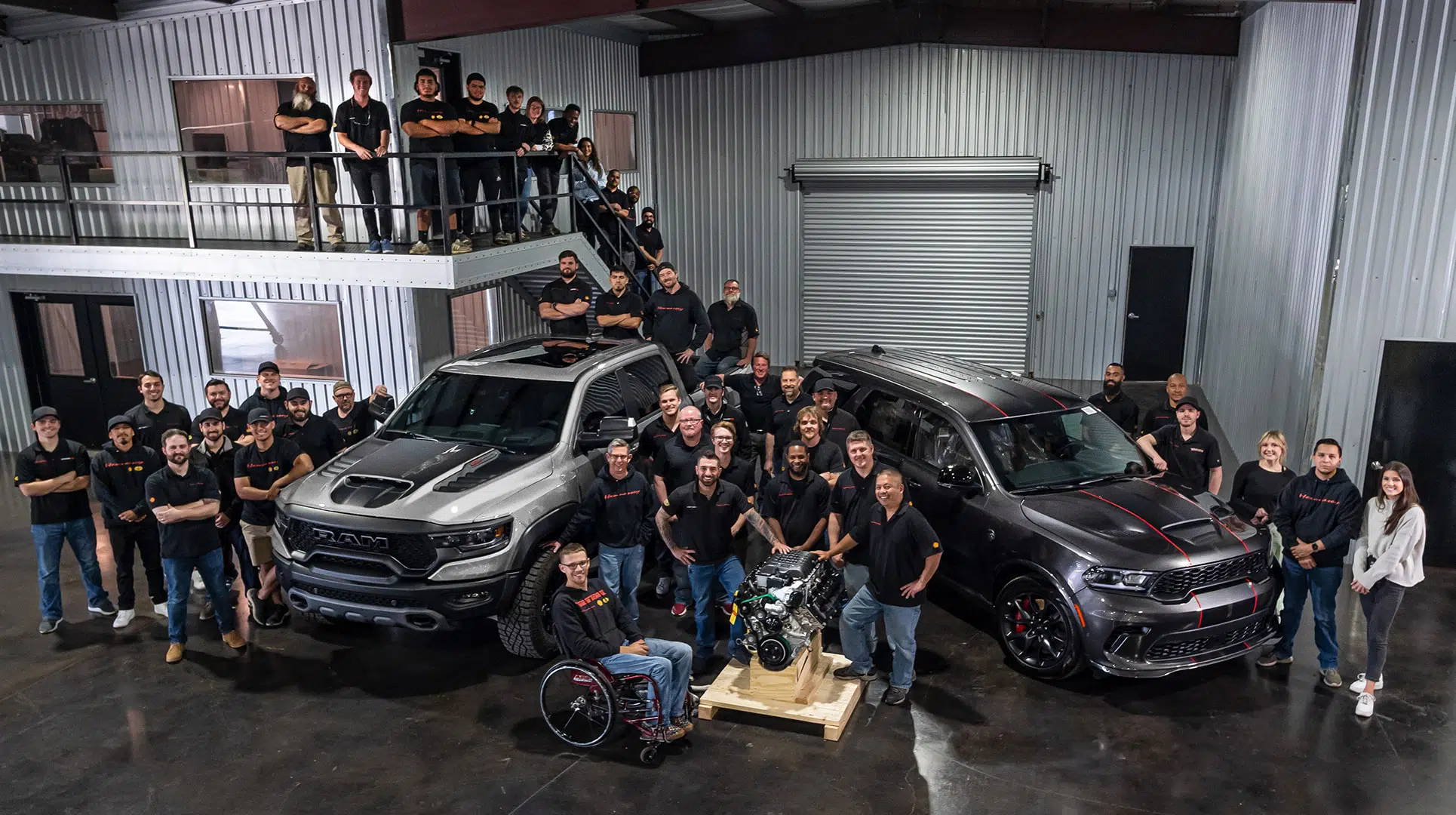 But who is Hennessey Performance and "what does it eat in winter" you might ask?
Hennessey Performance is a Texas-based company founded in 1991 by John Hennessey to modify vehicles that are already known to be performance or road monsters. The company focuses solely on American manufacturers such as Cadillac, Ford, Dodge, Jeep, and more.
Each vehicle comes with a 2-year/24,000 km or 3-year/36,000 km warranty, depending on the model. Hennessey has already created several impressive models such as the Chevrolet Exorcist and the Jeep Gladiator Hennessey Maximus, both also developing in the 1000 hp range. This company is simply the dream of every self-respecting mechanic.
I invite you to visit their website www.hennesseyperformance.com to get even more information on the different vehicles offered and their characteristics.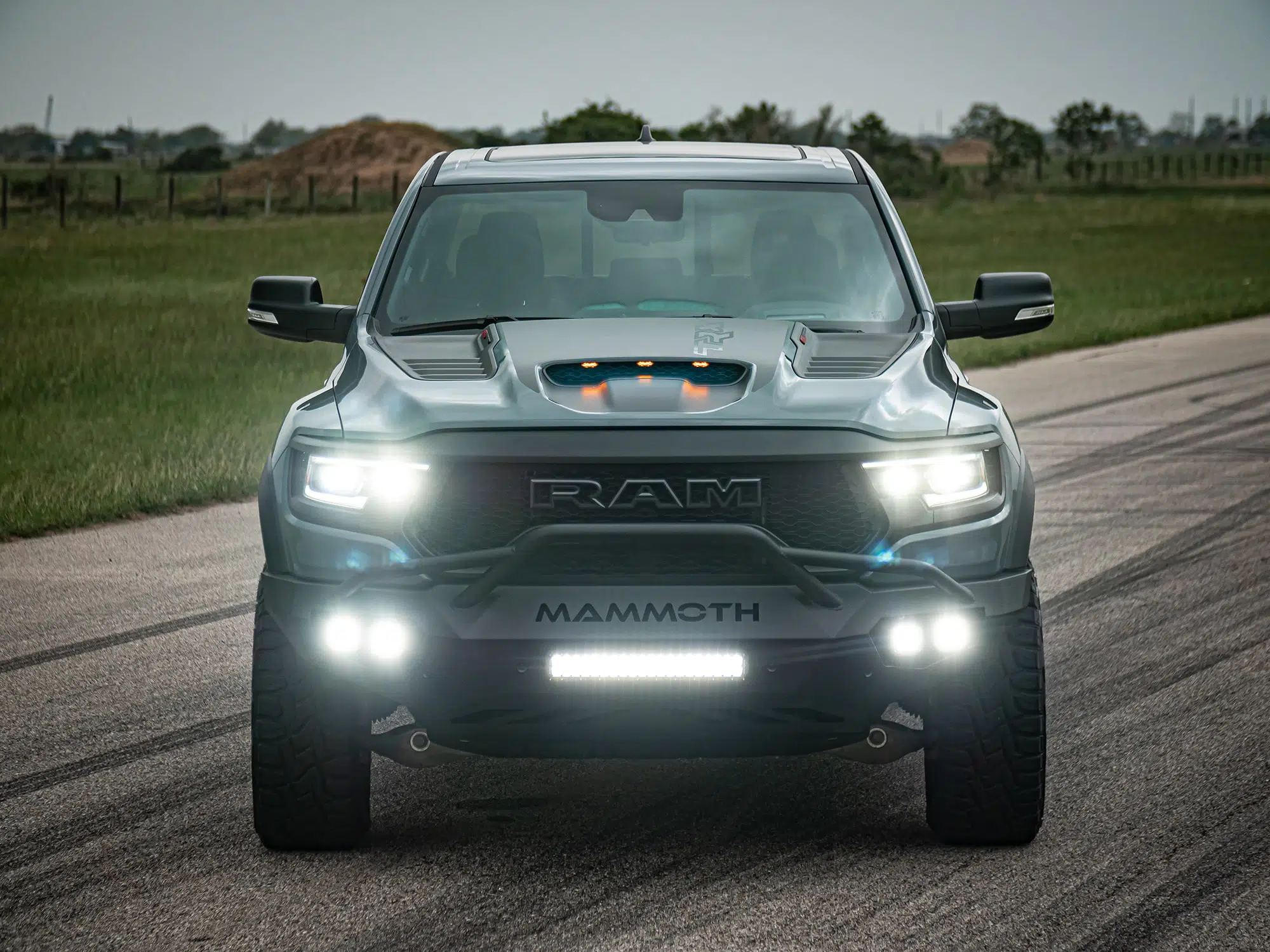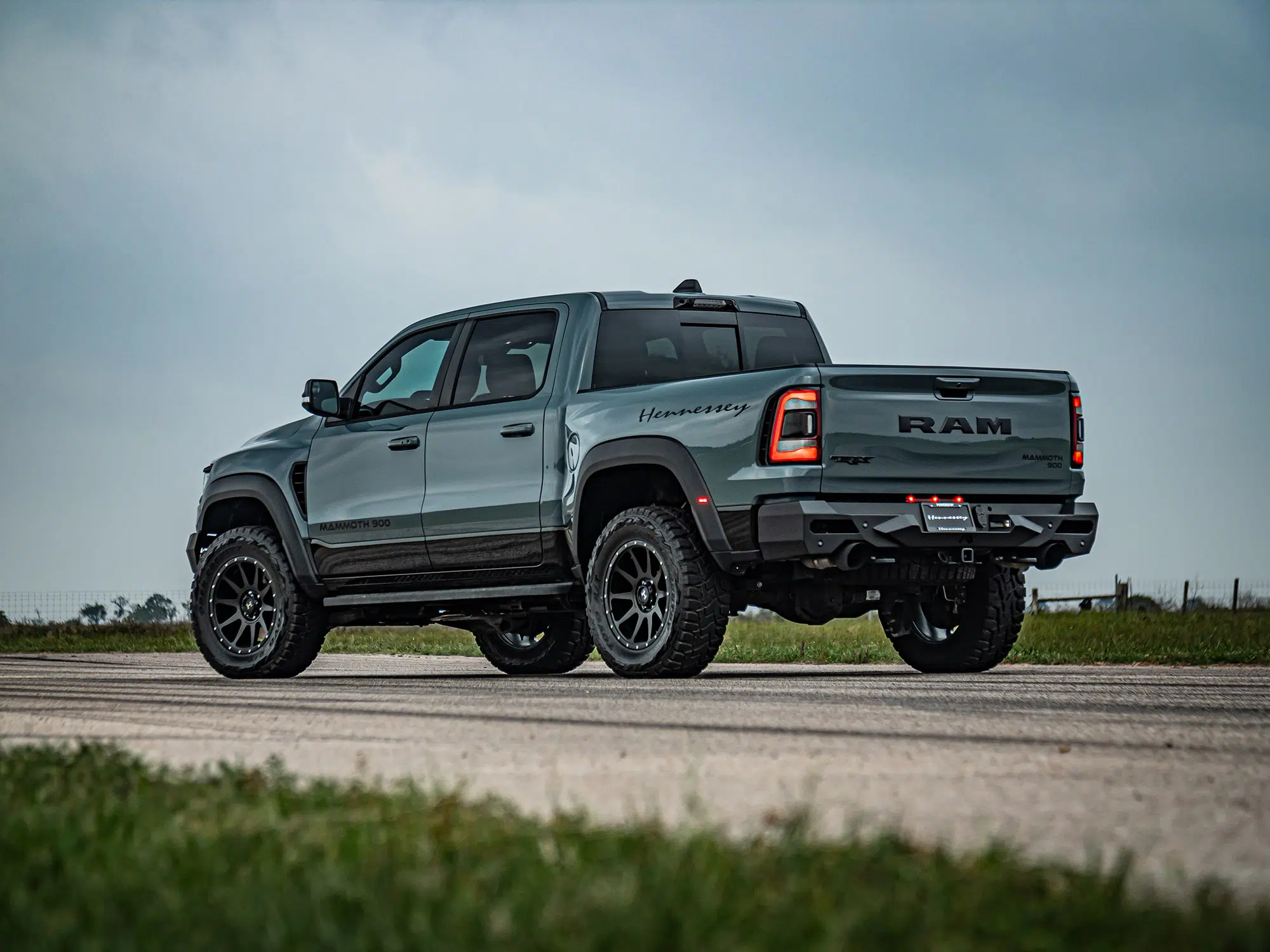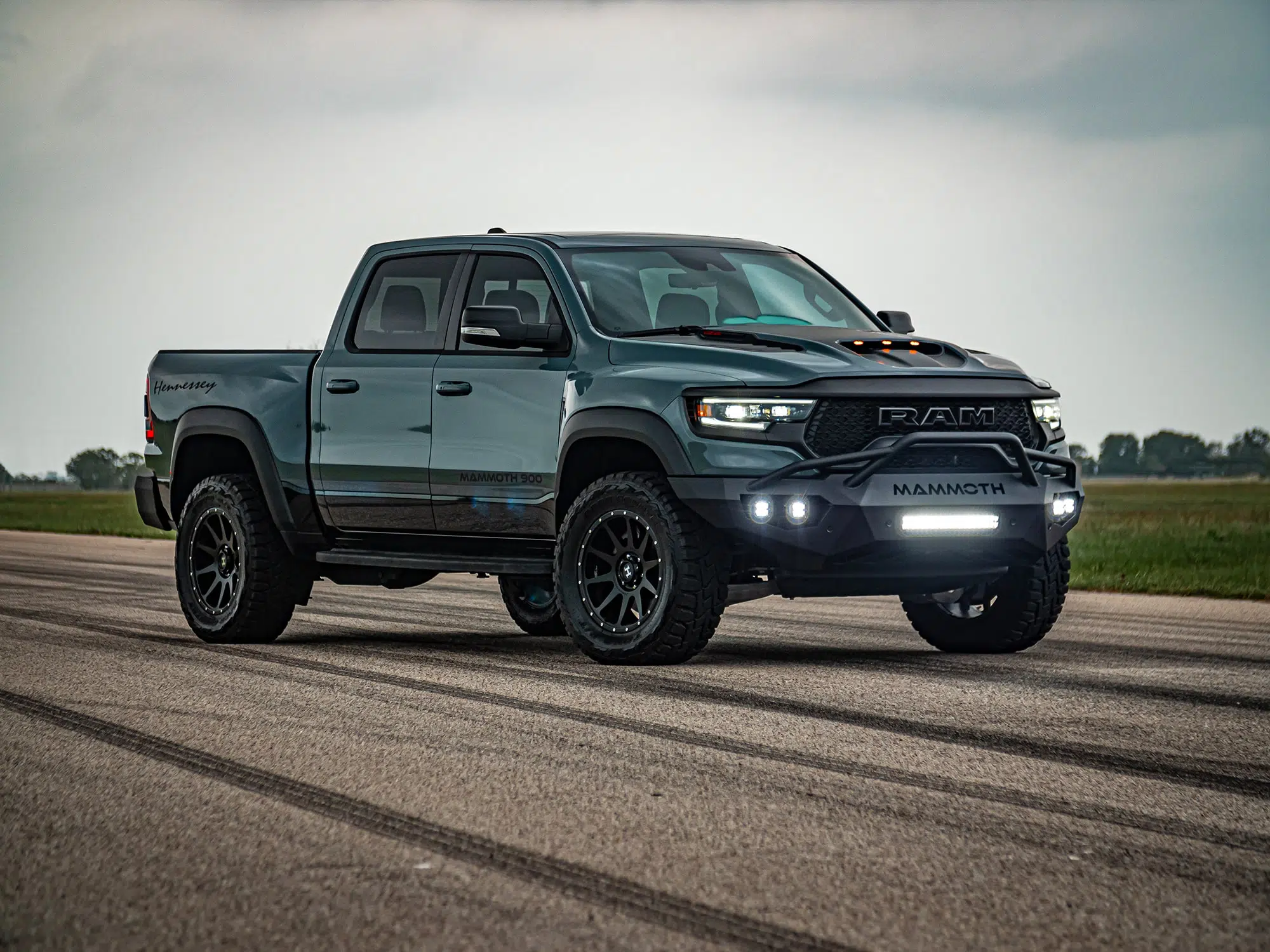 The RAM 1500 TRX Mammoth
The vehicle we're interested in today is their latest creation, the RAM 1500 TRX Mammoth, offered in four models: 900, 1000, SUV and 6×6.
Each TRX comes with the same modifications found in the base model, the 900. Here is a quick list of the changes:
Supercharger Drive Pulley Upgrade
Supercharger Drive Hub Assembly Upgrade
Upgraded Overdrive Crank Damper
High-Flow Fuel Injectors
High-Flow Filtration System
Crank Case Ventilation System
HPE ECM Calibration Upgrade
HPE TCM Calibration Upgrade
Professional Installation
Chassis Dyno Testing
Road Testing up to 200 miles
Hennessey Embroidered Headrests
Hennessey Exterior Badge
MAMMOTH 900 Exterior badges
Serial Numbered Plaques
3 Year / 36,000 Mile Warranty
There are also additional options that come in packages of two.
The MAMMOTH OFF-ROAD STAGE 1 KIT includes custom front and rear bumpers, LED lights in the front bumper, 20-inch 10-spoke Hennessey wheels with 35-inch tires, and a front leveling kit, among others. All of these options are professionally installed.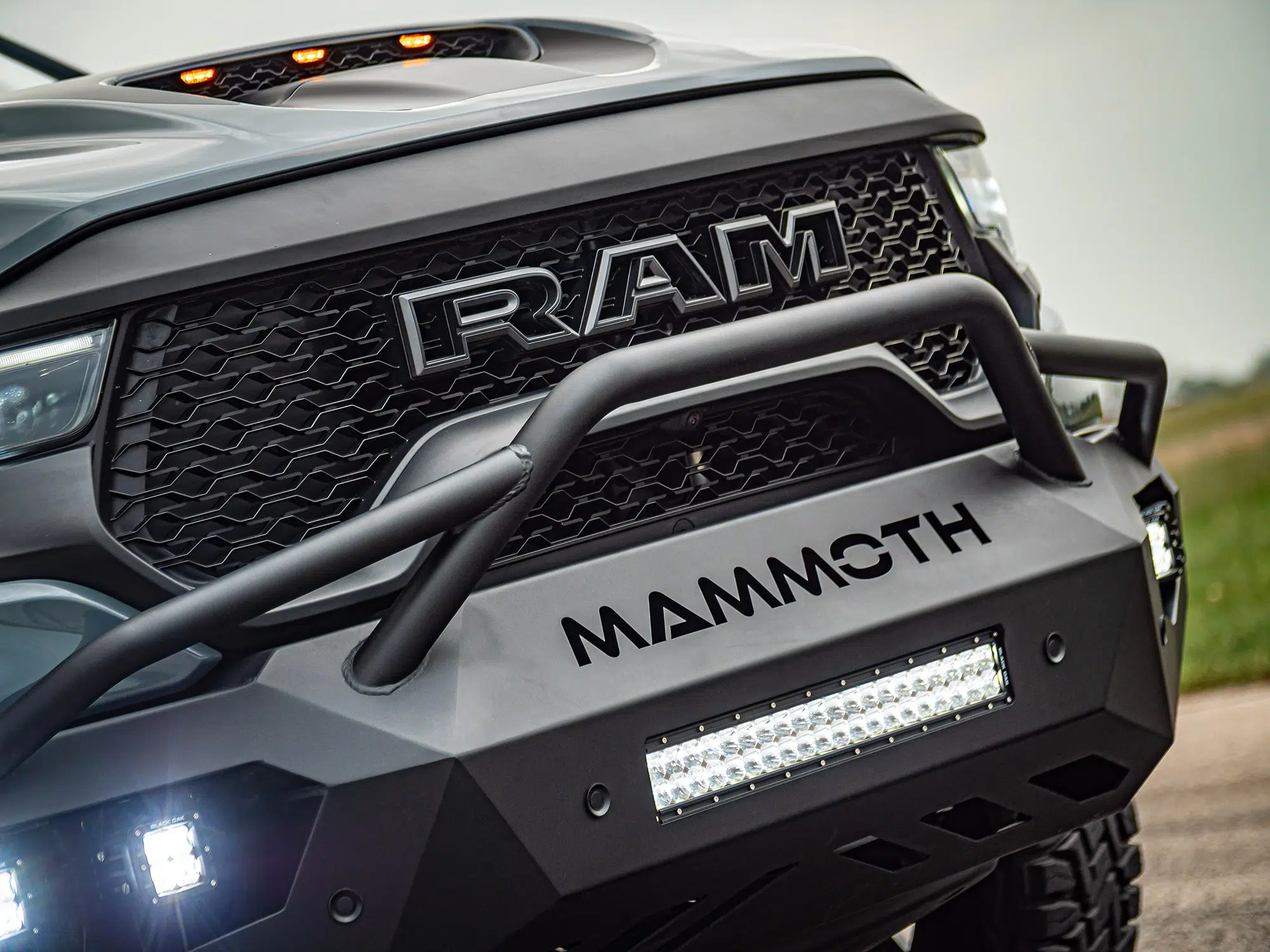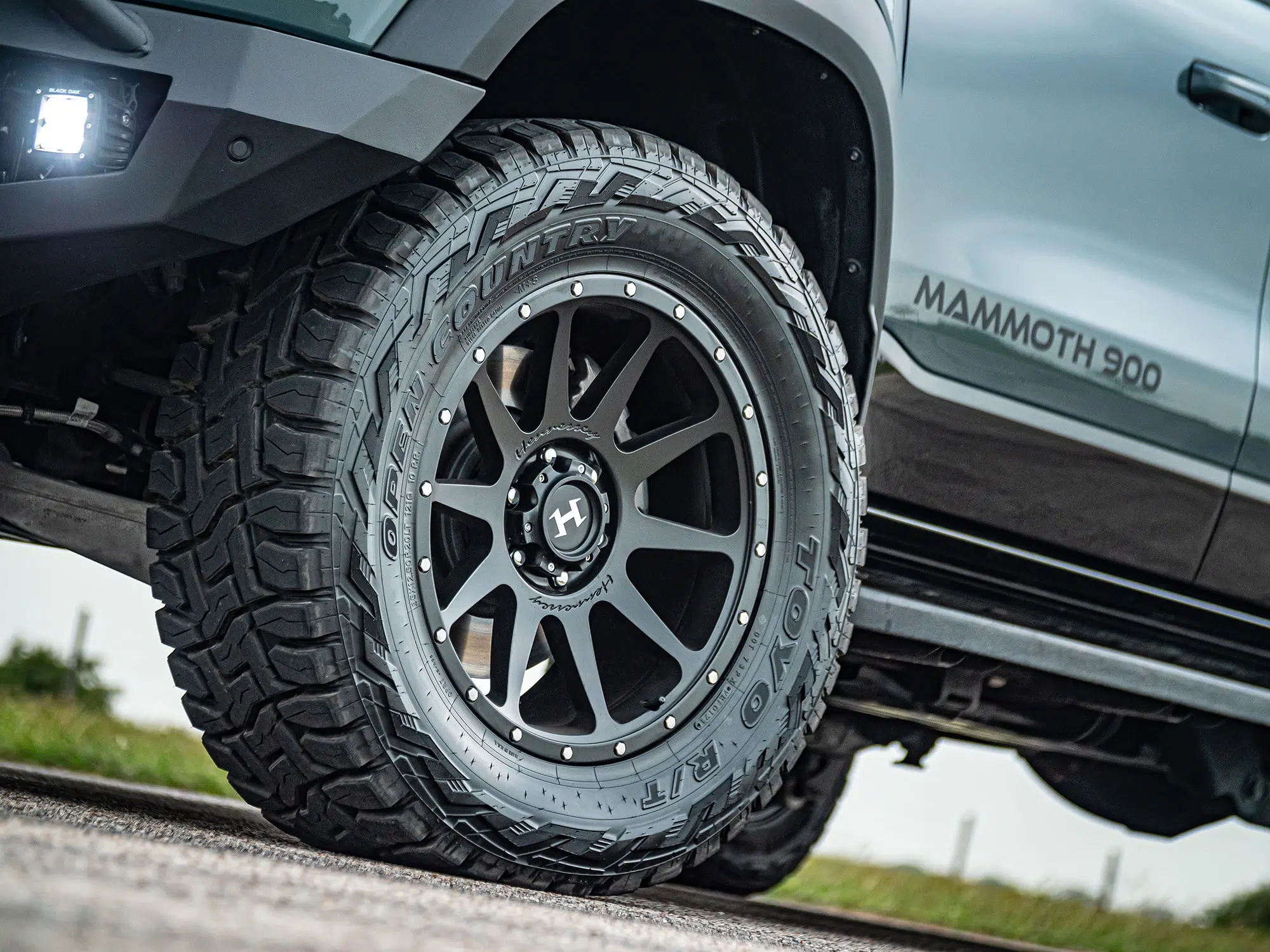 The MAMMOTH OFF-ROAD STAGE 2 KIT offers the same options as the STAGE 1, but with some additions. Among other things, it includes 37-inch tires instead of 35-inch tires and improved electronic running boards.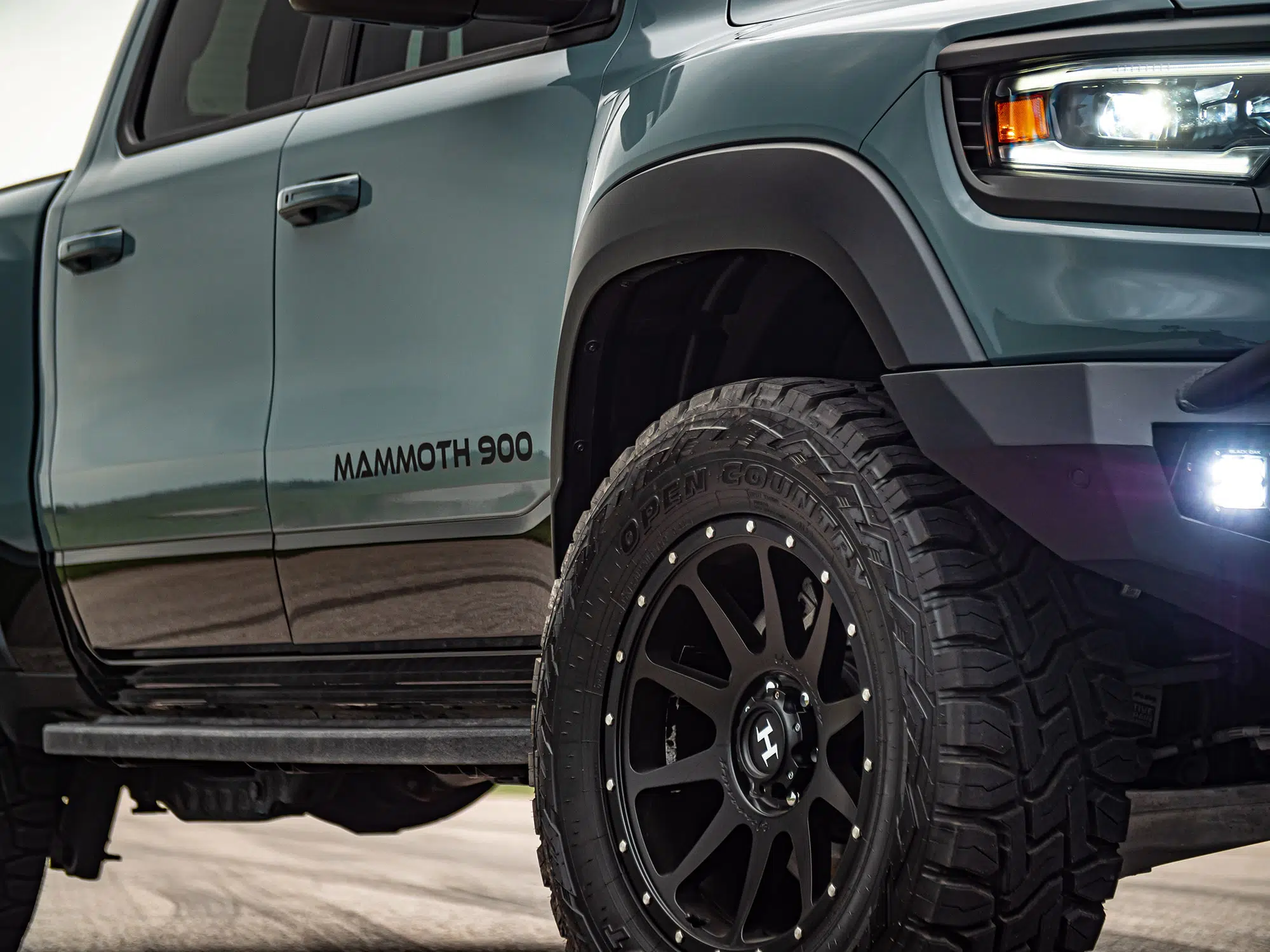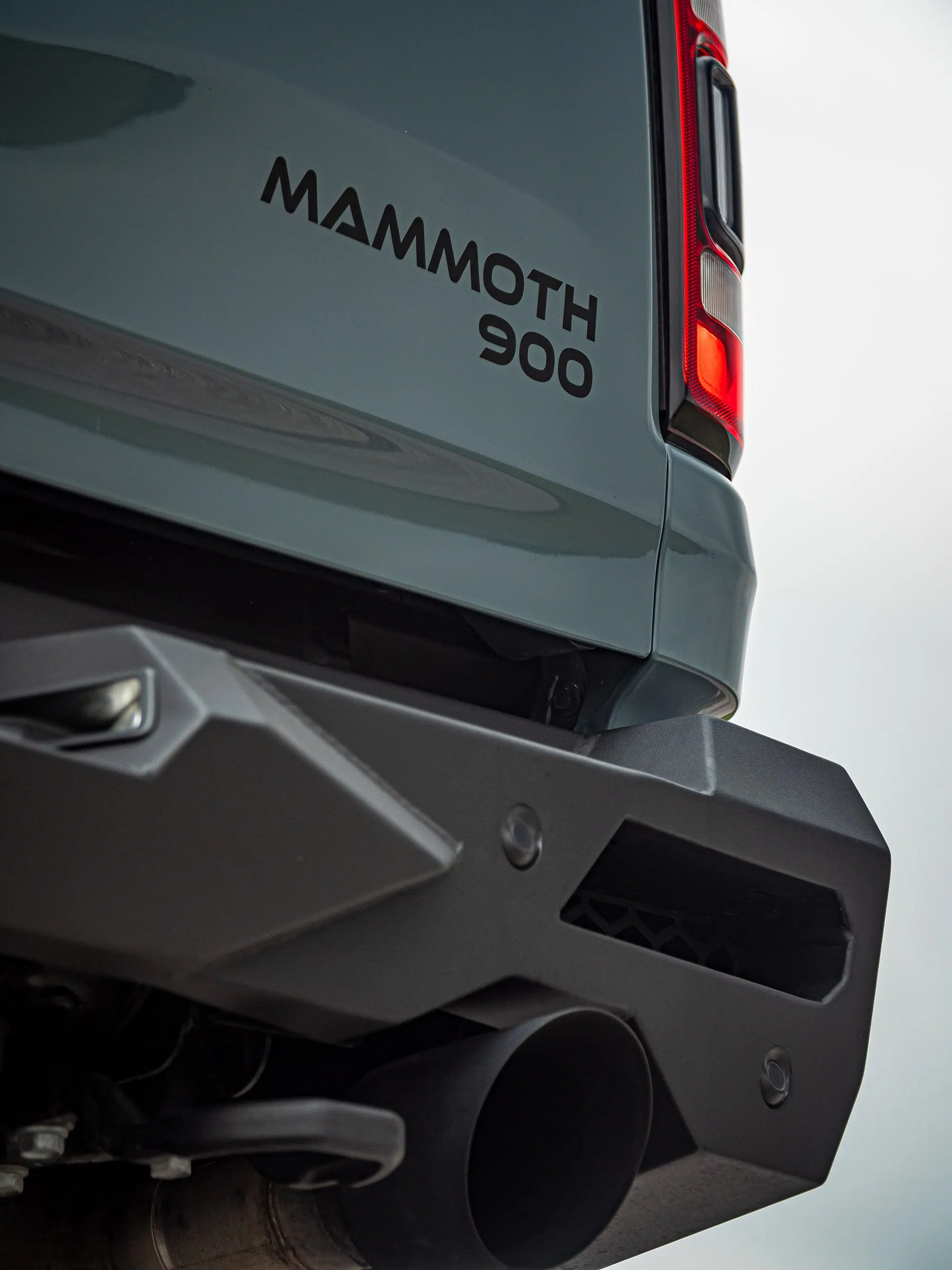 The Mammoth SUV
The one that caught my eye the most was the SUV. It has kept the same look and body as the regular RAM 1500, while offering space for 7 passengers. Needless to say, the cabin space is simply incredible, both for the front and rear passengers. The interior remains identical to the original model.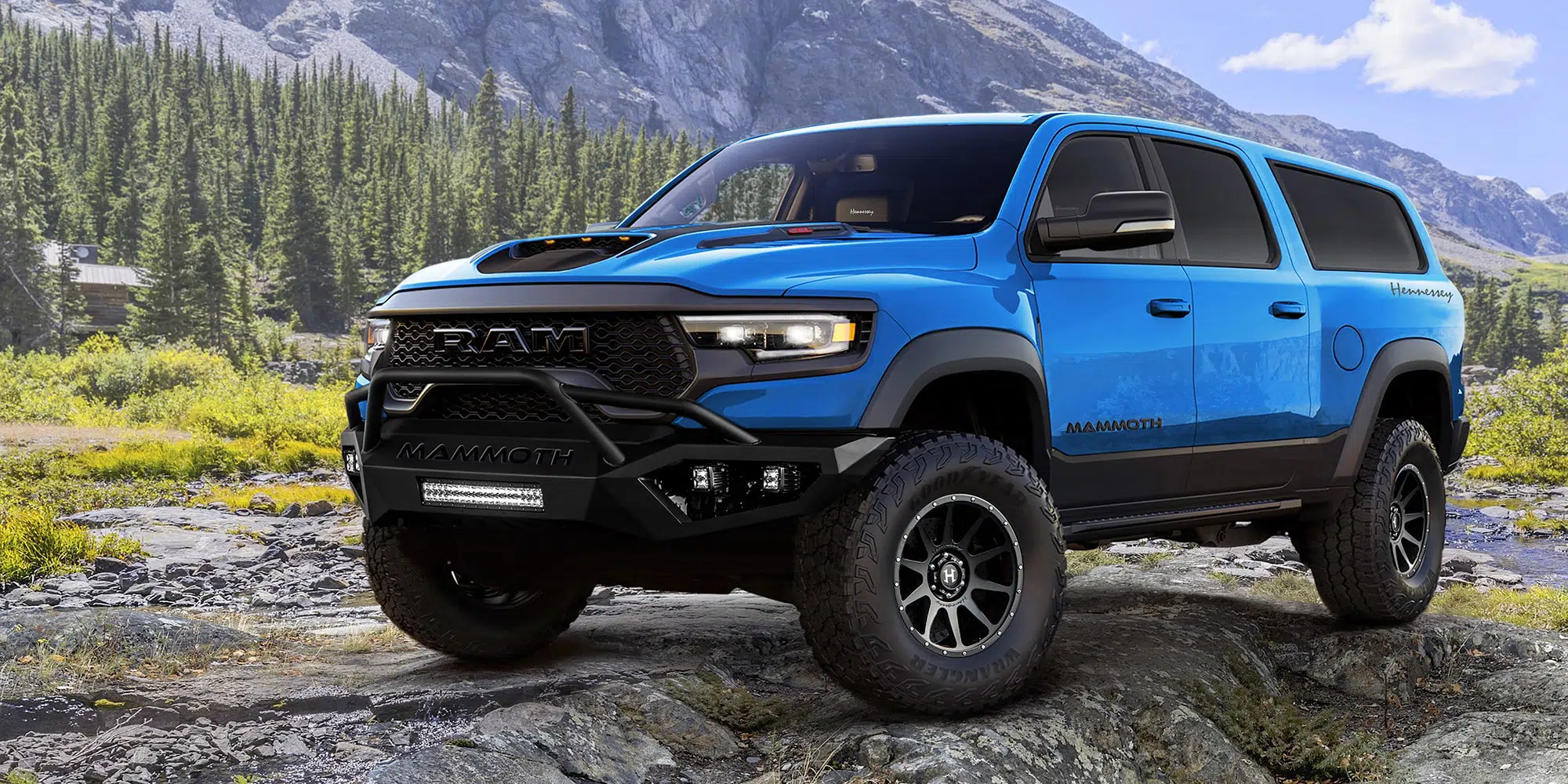 The RAM 1500 TRX Mammoth Performance
On the engine side, Hennessey integrated the Hellcat 6.2L V8 engine developing 1012 hp for 969 lb-ft. This monster does 0-100 km/h in only 3.4 seconds. This vehicle can go as fast as a 2020 Audi R8 V10.
Imagine the face of the driver of his R8 being overtaken by a RAM 1500, as if nothing had happened!
To help you imagine, the 5 km Safari Park route normally takes 1 hour to complete. With this vehicle, you will make the visit in about 2 minutes 30 seconds. We can say that the visit would become as interesting for parents as for children, for once!
So, the Mammoth is not only convenient to take the whole family on a trip, but also to hurry up when we are late for the end-of-year show. Conflicts between children are also over, since you can put them far enough apart by separating them into the three different rows of benches.
That's all well and good, you might say, but…
a pickup is made to pull and tow
Is it still just as interesting on that side? The answer is YES!
It offers a load capacity of 2,300 pounds and a towing capacity of 7,700 pounds. That means you can carry one hippo in the car and pull three in a trailer at the same time. You can create your own exotic animal park in your truck. What more could you ask for?
With its 35-inch wheels and 2.5-inch lift kit suspension, this vehicle is sure to stand out! Only 20 SUVs will be created at a minimal cost of $375,000 US. There are still models available and it is possible to have them imported into Canada.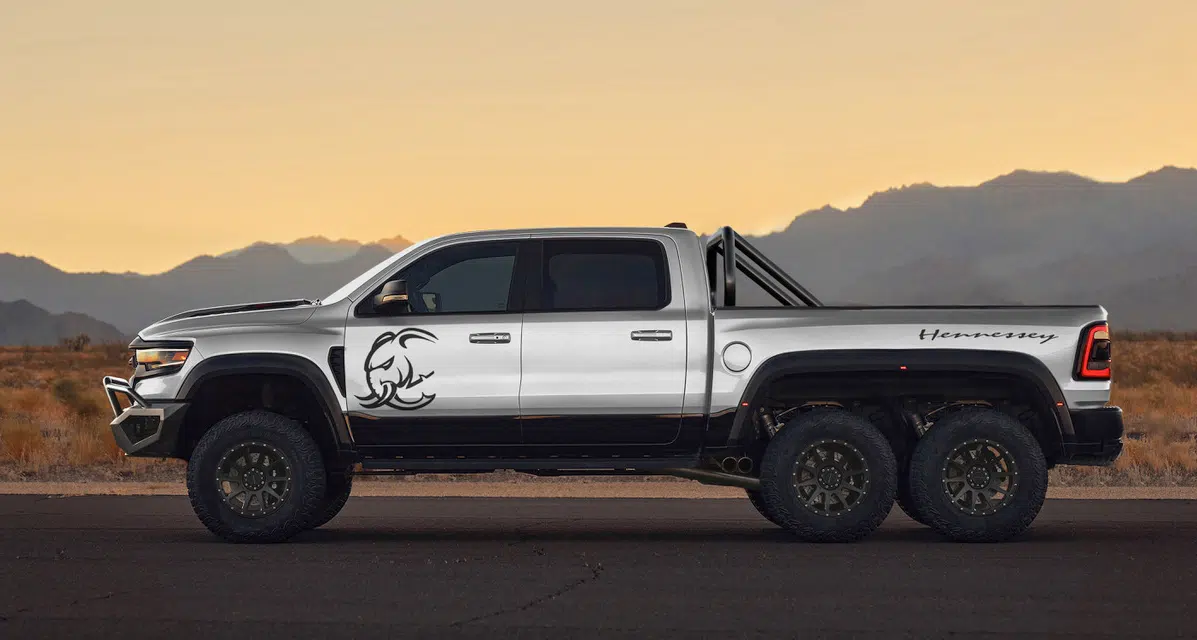 The Mammoth 6X6 Hellephant-powered Ram TRX
There is also the Mammoth 6X6 Hellephant-Powered Ram TRX, which will be equipped with 6 wheels. But not 6 wheels like the Ford 3500, 6 wheels like 18 wheels. So three wheels located one behind the other, on each side. A crazy idea, but how impressive!
For this vehicle, Hennessey took the 702 bhp supercharged V8 engine of the Hellcat and modified it to a Hellephant engine delivering over 1200 bhp.
The Mammoth 6X6 Hellephant-powered Ram TRX was built in only 3 examples, making it the most exclusive and expensive 6X6 ever built by Hennessey Performance.
Hurry up to make your choice and order yours since all the models are made in limited quantity. To help you do so, I have made a small summary table:
| | | | | |
| --- | --- | --- | --- | --- |
| | MAMMOTH 900 TRX | MAMMOTH 1000 TRX | MAMMOTH 1000 SUV | MAMMOTH 6X6 |
| Manufactured | ND | 200 | 20 | 3 |
| Availability | ND | 100 | ND | 1 |
| Engine | 900 | 1012 | 1012 | 1200 |
| Lb-pi/ bhp | 873 lb-pi | 969 lb-pi | 969 lb-pi | 702 bhp |
If you want to hear me speak on this topic, I suggest you listen to our podcast episode 5:
To continue reading on similar topics:
- Rox the Fox