Off-road test of 2022 LEATT clothing and helmet
In my endurocross and motocross career, I've had the privilege of trying out several brands of clothing and protective equipment.
It is with this experience that I accepted to evaluate the complete Lite off-road line from Leatt.
I tested the 4.5 clothing, the Velocity protective goggles and the 7.5 helmet.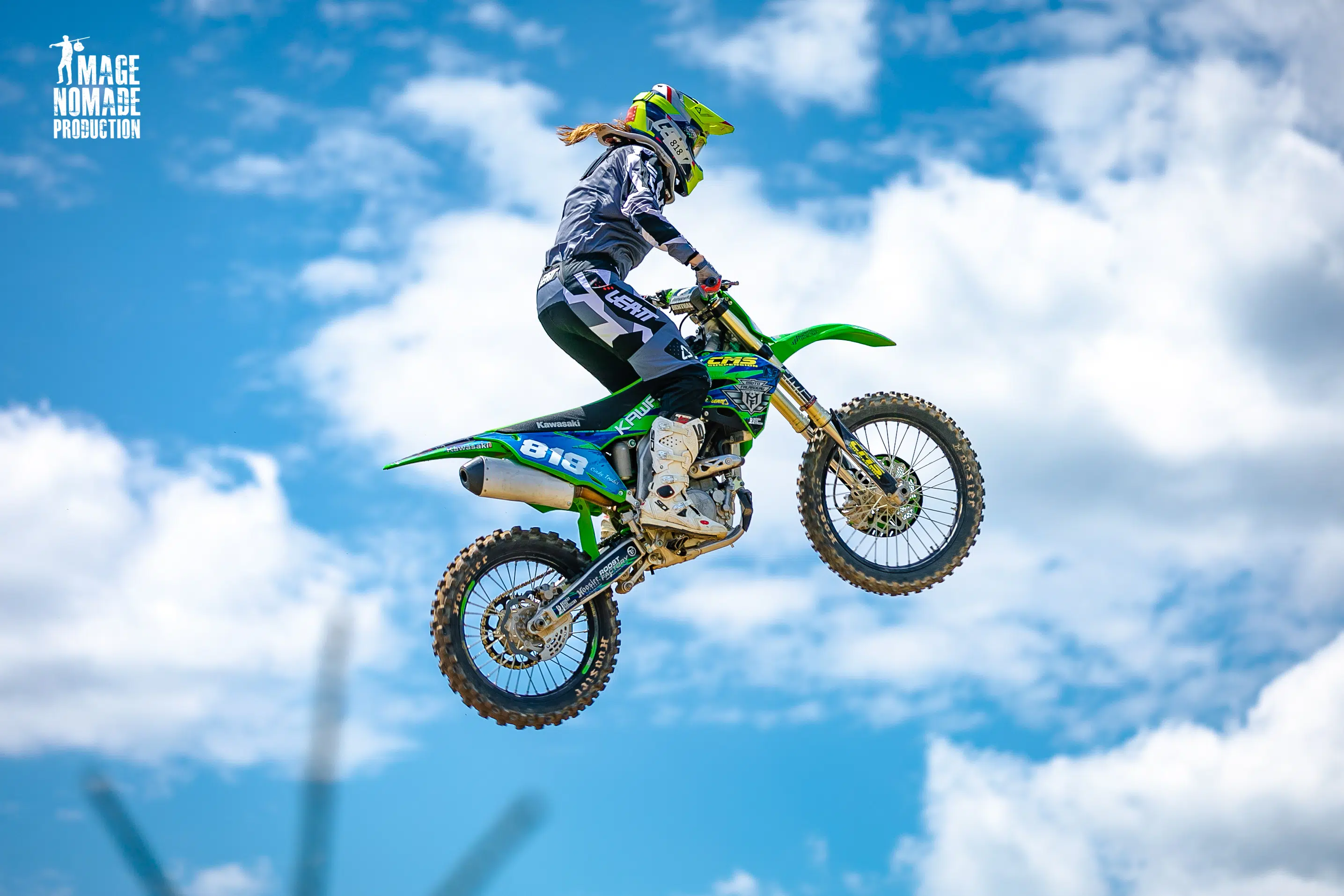 The essential protection
Let's start with the helmet test.
Leatt offers their 7.5 line including
a pair of Velocity goggles,
a visor extension and
a protective bag.
Leatt's helmets have advanced and exclusive technology that promises superior protection. In fact, the 360 ̊ turbine system, invented by Leatt®, is effective in reducing the severity of injury mechanisms, related to concussion and mild traumatic brain injury.
These turbines are discs constructed from an energy-absorbing material that allows the head to move slightly inside the helmet during a collision.
Leatt helmets also feature an emergency cheek pad removal system that allows more room inside the helmet to limit further injury after a crash.
Leatt thought about keeping our gray matter well ventilated by including large ventilation channels. In addition, the soft, comfortable inner liner is washable, breathable, and has a moisture-wicking, anti-odor fabric.
The Leatt 7.5 helmet, made of injection-molded polymer, weighs 2.76 pounds (1,250 g); if you're looking for a composite or carbon shell for a few grams less, check out the Leatt 8.5 and 9.5 models by clicking here.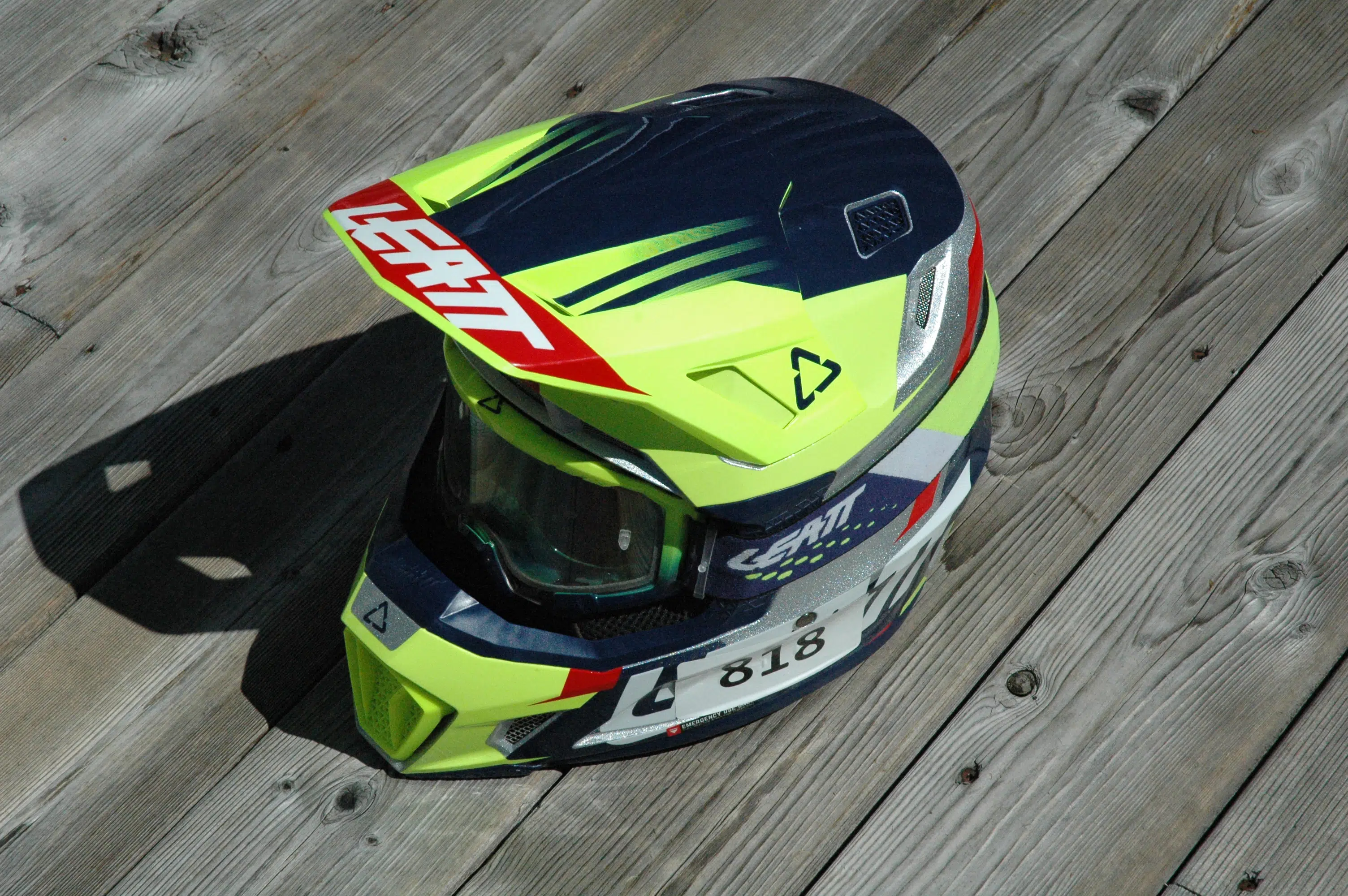 For my part, I particularly appreciate the comfort of the helmet and its large opening that provides a wide field of vision.
The Leatt goggles fit this opening perfectly and sit comfortably on the nose while adequately hugging the face. It is practical and effective to use the same brand of glasses as the helmet: it ensures a proper fit and a more natural comfort.
Particularly effective, I ran in extreme dusty conditions and never got dust in my eyes. Hyper ventilated, they never had fog and their lens quality is excellent, as it allows a clear and precise vision.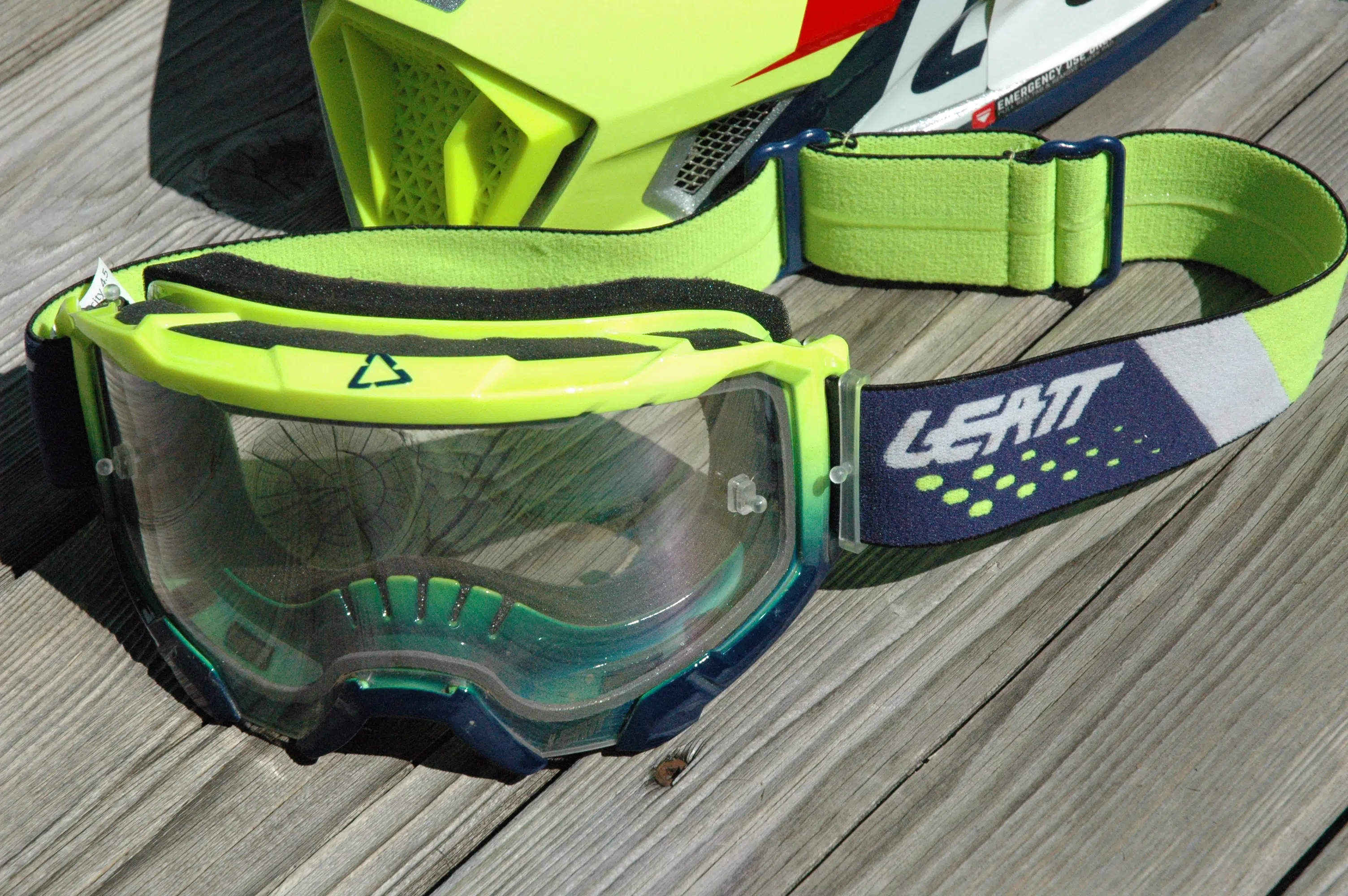 The Leatt off-road clothing line
Leatt offers several lines of off-road clothing. Like most major manufacturers, Leatt offers their clothing in 3 versions:
the 3.5 which is the basic range,
the 4.5 which represents the ventilated version and the
high range version which is identified with the 5.5.
Their difference lies mainly in the materials used and their assembly technology.
Kimpex, Leatt's official distributor in Quebec, offered me the opportunity to test the ventilated 4.5 Lite range, which I put to the test in various contexts.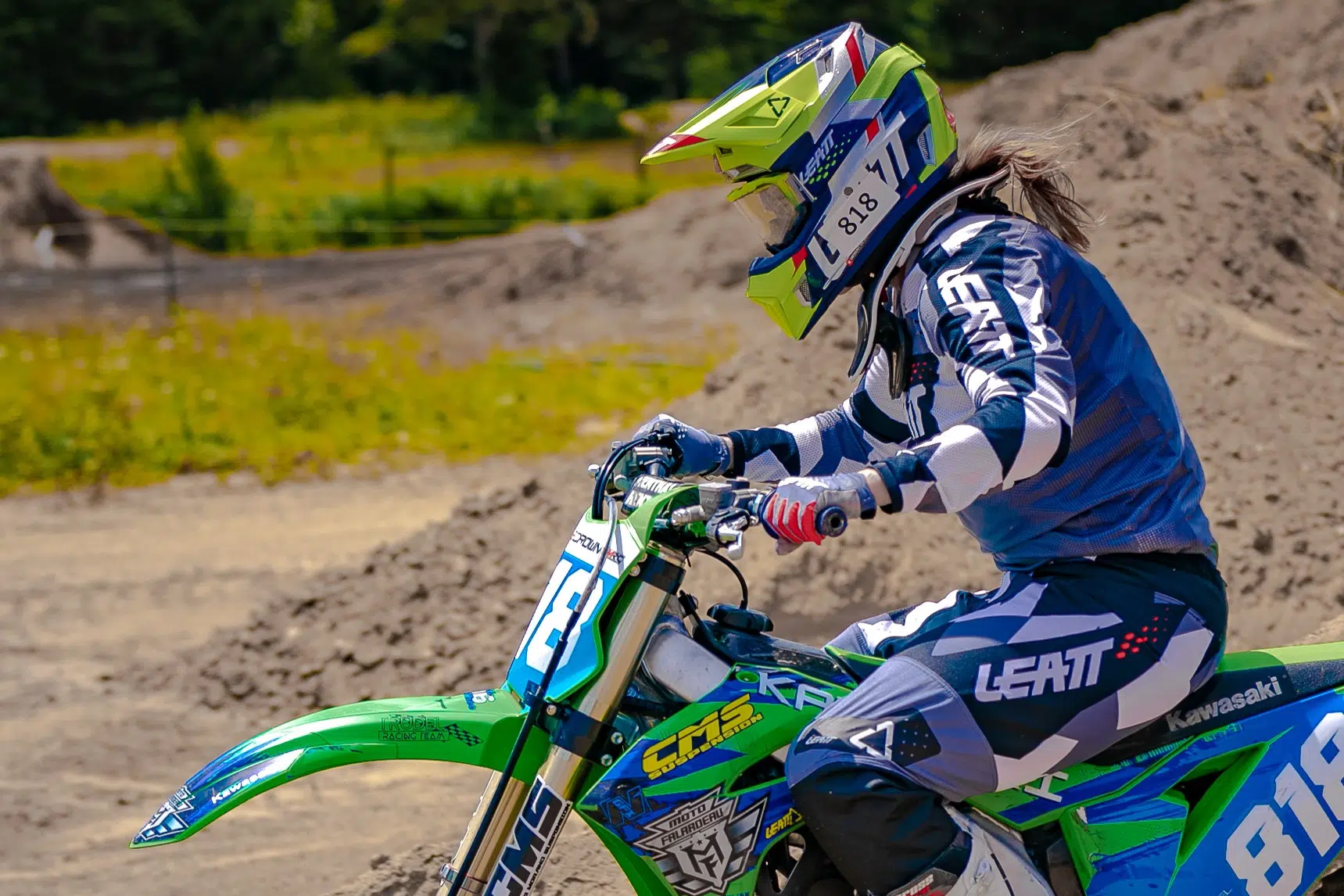 The main feature of this 4.5 Lite version is that it is fitted with breathable yet sturdy fabric with reinforcement and elasticity pieces in strategic places.
First of all, the shirt is made of a lightweight, wide-mesh polyester. This fabric is very breathable and comfortable to wear, even in hot weather. In addition, Leatt has strategically placed ventilation channels to further enhance the cooling effect.
The ergonomics of this shirt were well thought out; you can wear a chestplate under the shirt without feeling trapped. Moreover, the neckline has been well designed to allow the neck protector to be inserted inside, if desired. Therefore, you don't feel pressure on the front of the throat like some other brands I've tried.
There is also a silicone grip on the back, at the bottom of the shirt, to help keep it in the pants, a detail I appreciate. Honestly, once you put it on, this shirt is so comfortable, it almost feels like you're not wearing anything.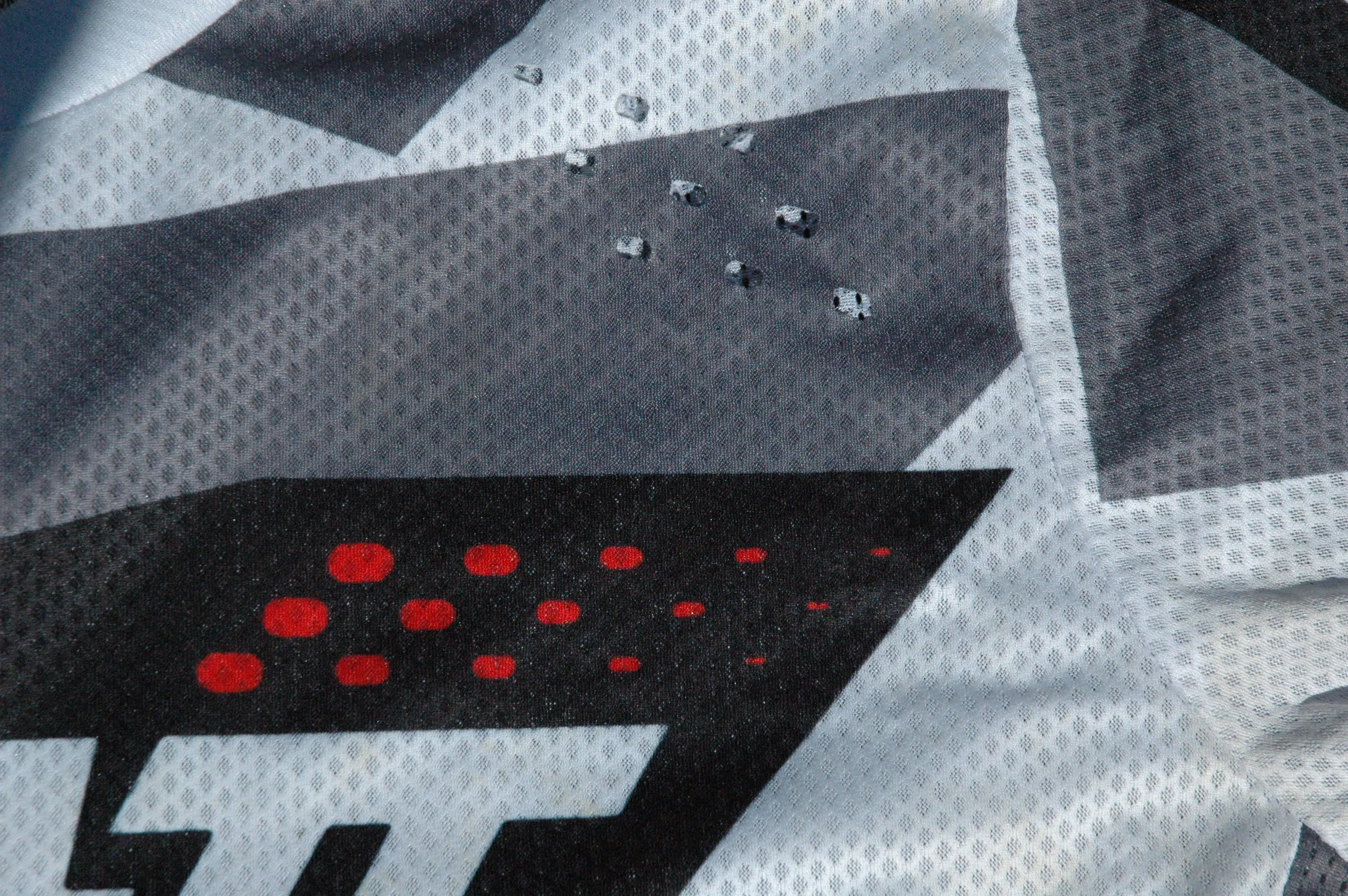 I'm a pretty fussy and demanding person when it comes to pants, as I'm tall, and I use massive custom knee pads.
Good pants should be durable, lightweight, tight yet stretchy, and have a good grip.
Honestly, Leatt meets my requirements well.👌
The 4.5 Lite pants are snug and comfortable, providing enough stretch in the knees and hips. These pants have a pre-curved fit; they have strategically located elastic panels, including a sturdy seat area and reinforced leather knees.
Motocross pants are worn inside the boots, so Leatt usually designs them short. That's how I prefer them, because pants that are too long and come down to the ankle can cause discomfort. Very nice and comfortable to wear even when it's hot.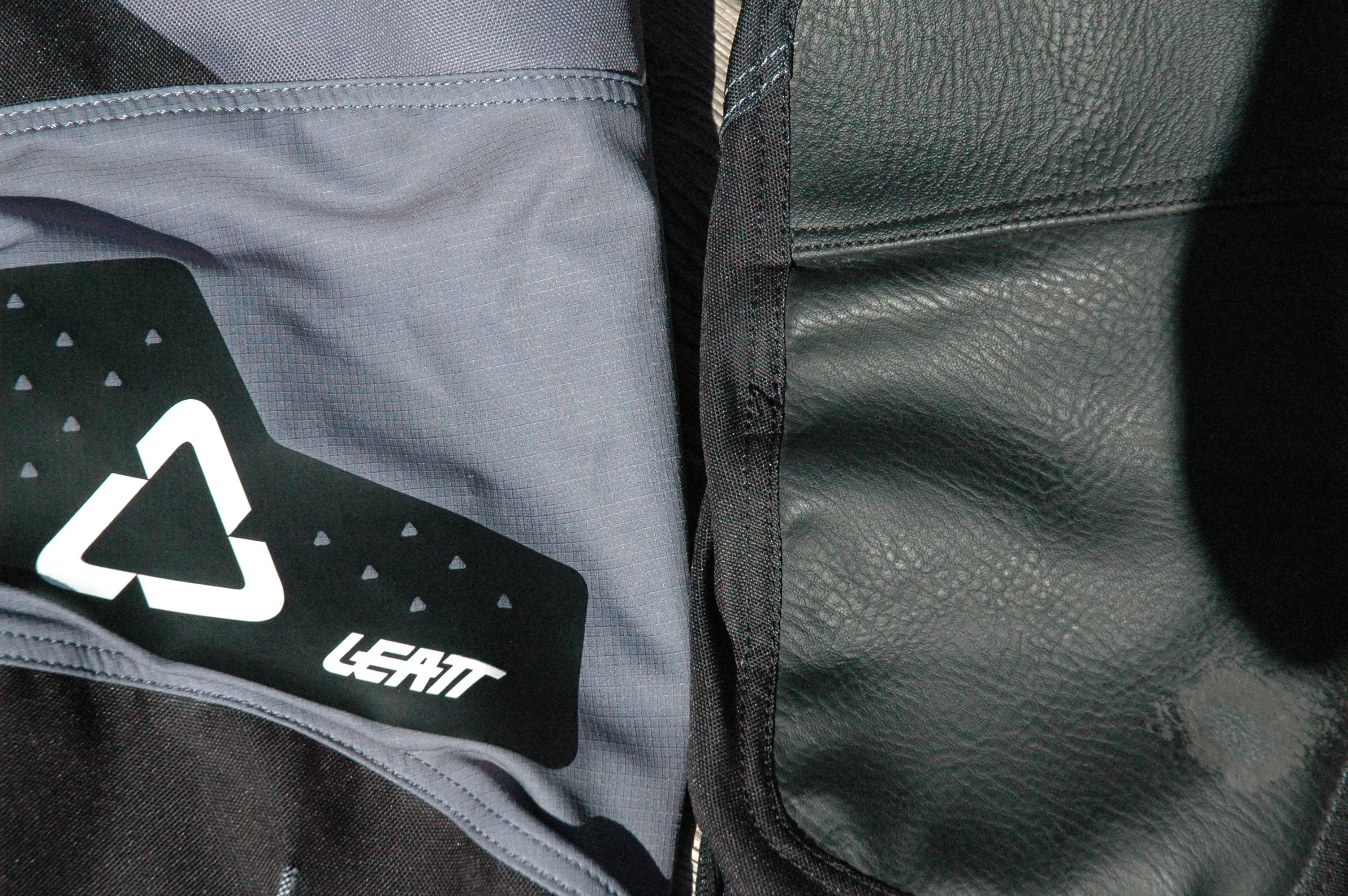 For the gloves, my choice was the 2.5 X-Flow version.
I like thin gloves to get a good feel for the levers, as opposed to gloves that have liners on the inside of the palm, which results in a fatter grip on the handles.
Quick tip: it's not the thickness of a glove, but rather a tight-fitting glove that will prevent hand blisters.
Leatt gloves are thin and flexible with a palm made of nanofiber technology fabric 7,500 times thinner than hair. This fabric provides excellent grip; no need for extra silicone fingertip appliques like some other manufacturers offer.
If you are looking for impact protection, I invite you to look at the Leatt 3.5 or 4.5 versions.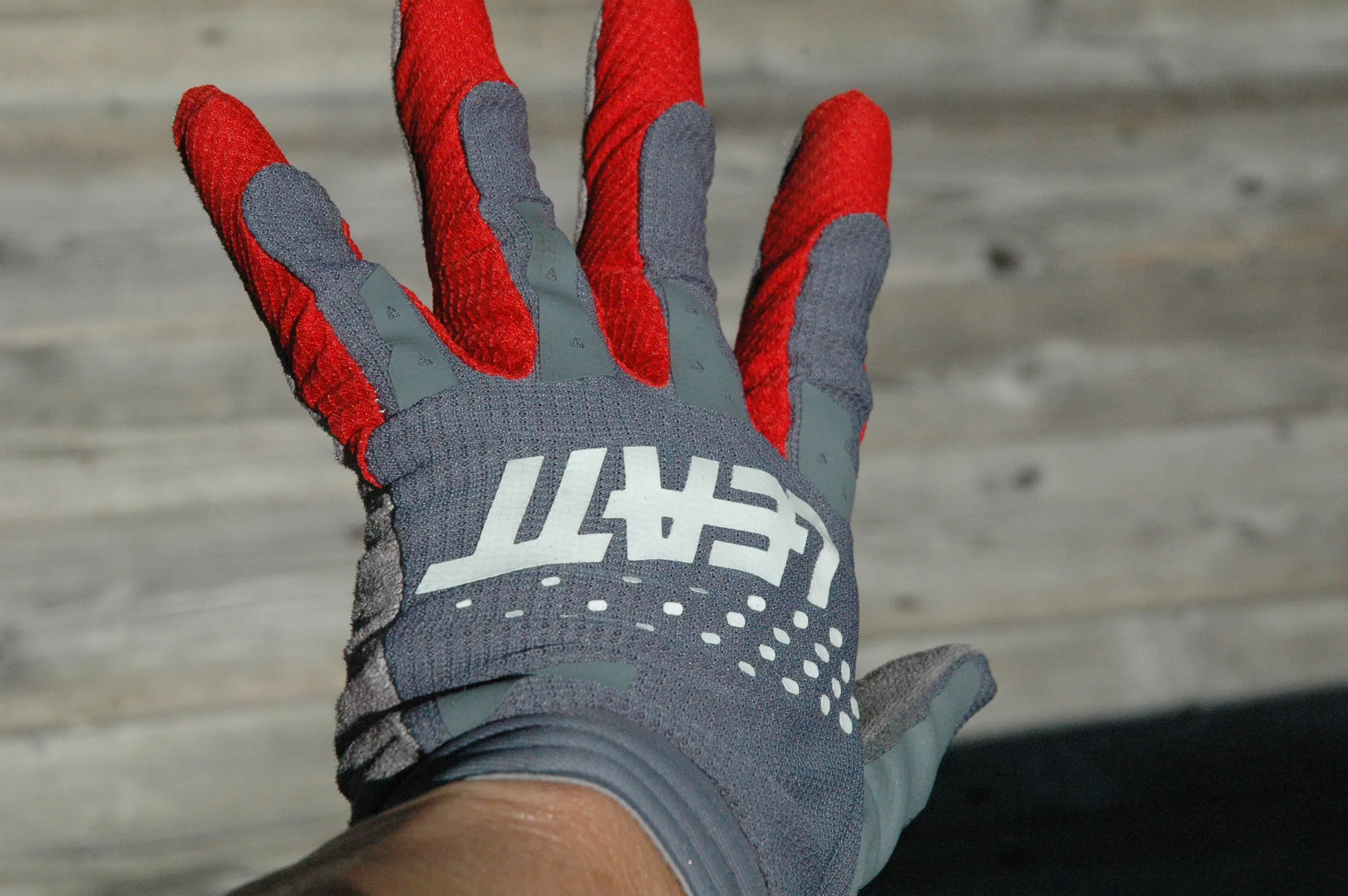 2023 range
Leatt has just unveiled its complete line of 2023 helmets and apparel, featuring vibrant and very interesting designs and colors. This company is always at the forefront of technology and protection, and is committed to customer confidence, comfort and looks.
Leatt, the company and its products
Leatt was first known for inventing the first ever neck protector in 2004.
They then developed a complete testing laboratory, surrounded by a team of doctors and biomedical engineers to create a complete range of quality products (helmets, goggles, chest protectors, knee and elbow protectors, boots and clothing).
Leatt has since become well established and renowned in the off-road protective equipment market, notably for its cutting-edge technology, its efficiency and the quality of its products.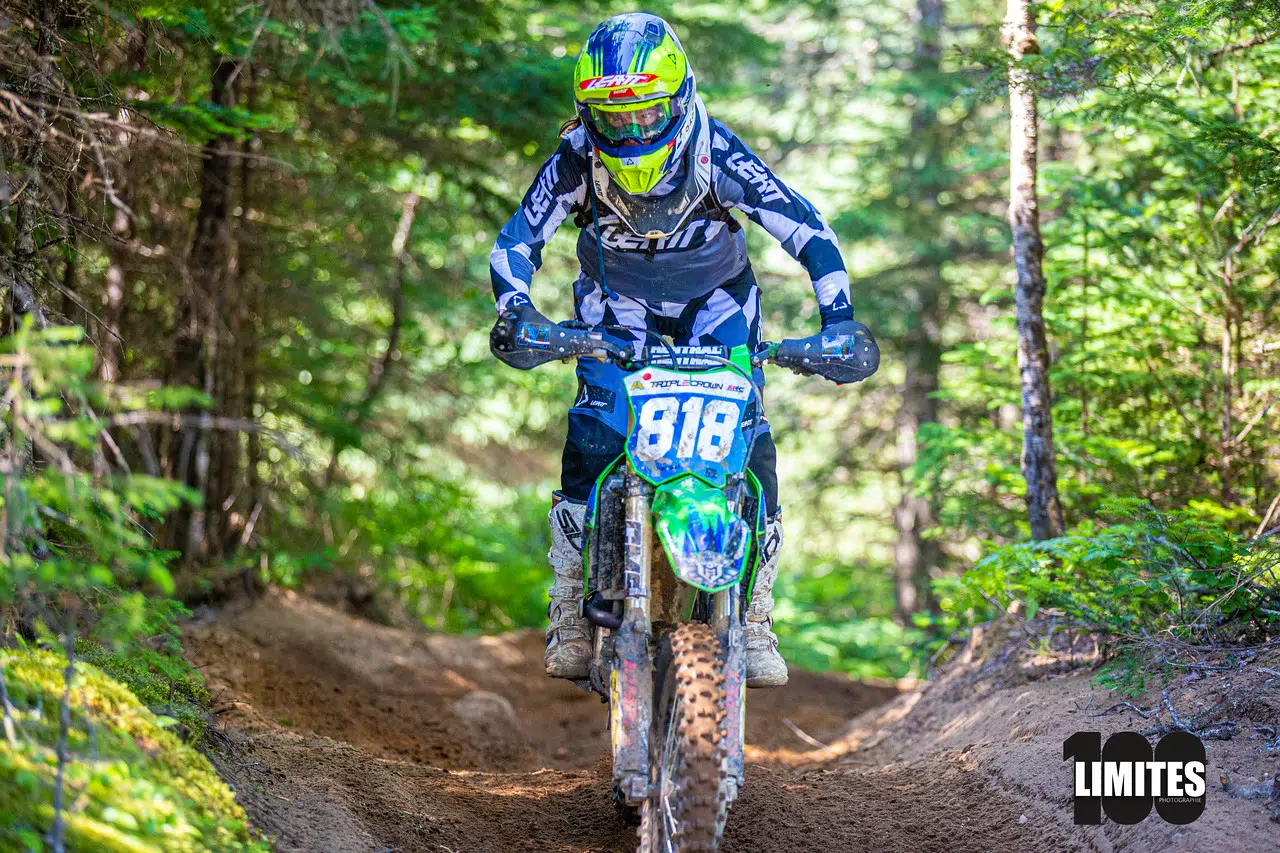 My opinion
I did several tests with the Lite 4.5 clothing and the 7.5 helmet from Leatt.
I tested in all common situations, on the track, racing, hiking and in the woods. The most extreme test was during a 35-degree endurocross race for 110 minutes.
Lightweight, cool and ventilated, this range is tough and durable. I honestly loved my test with Leatt products in all situations. I immediately felt comfortable, confident and safe with Leatt products.
The features I appreciated during my Leatt trial:
The discreet, well-located seams on the gloves for added comfort;
The visor is clipped to the helmet rather than screwed on, reducing the risk of breakage when it comes off during an impact;
The tinted visor extension of the helmet, helping in the sun, rain or mud conditions;
The lightweight and impressive ventilation of the 4.5 Lite garments;
The thinness and effective grip of the gloves;
The clarity of the goggle lens, no distortion, scratch and impact resistant;
The not too high waist of the pants, very comfortable especially at the level of the knees.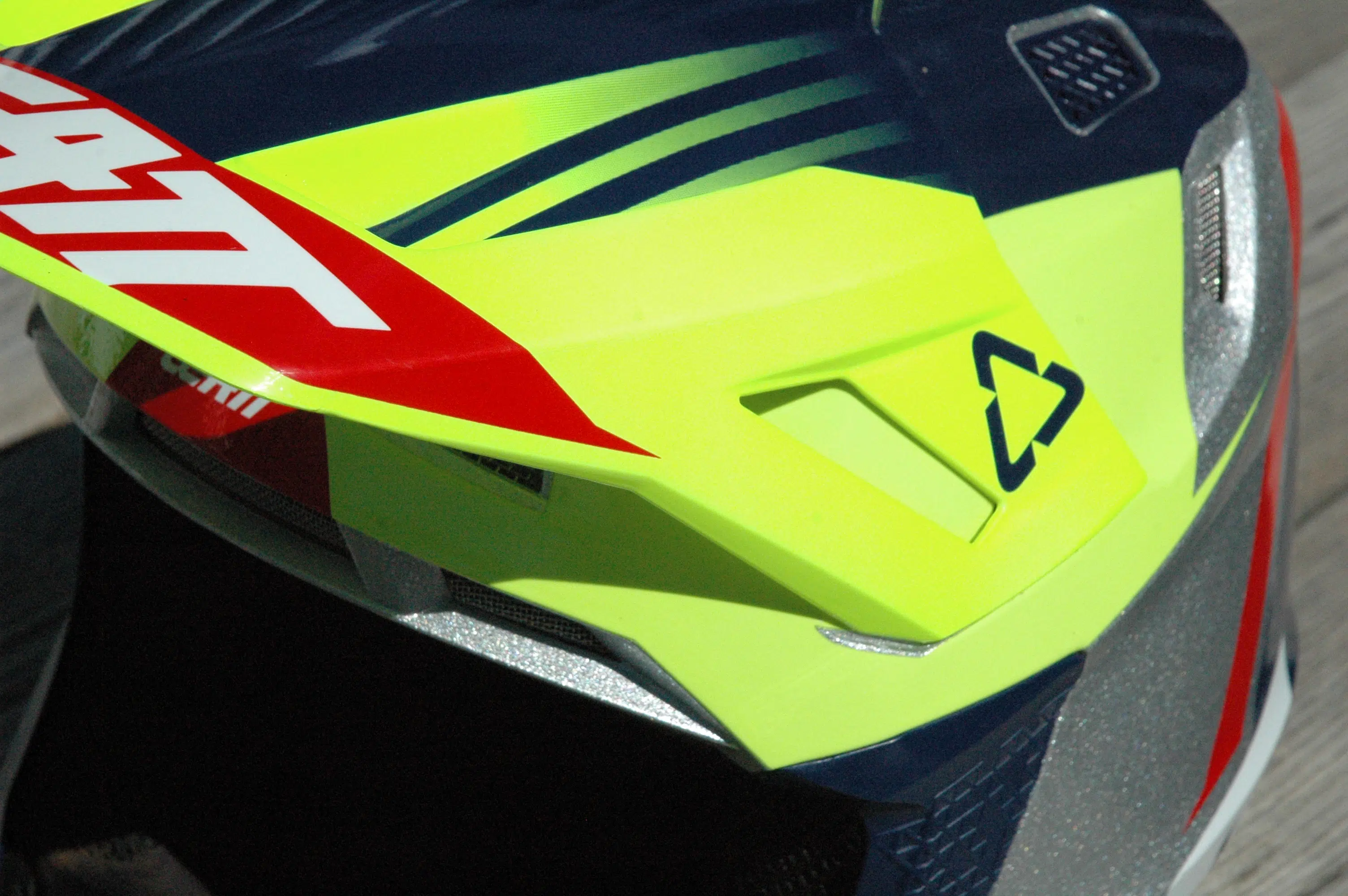 Motocross, as we know, is a risky sport. It is therefore important to protect yourself well, thus the investments in equipment should not be neglected.
I recommend the use of Leatt equipment for its efficiency, comfort and high level of protection. Plus, you'll look great!
Leatt is my choice.
Ride safely!
Cindy 818