Ready for Adventure Thanks to the Can-Am Ryker!
Aside from my passion for motorcycles, I am a true fan of camping in the wilderness and of hiking. As an outdoor enthusiast, it is therefore very important for me to have a motorcycle that can follow me in all my adventures.
Being a road bike girl by nature, I have often been confronted with gravel or sand roads in order to access a campsite or hiking trail, and these types of terrain have given me many challenges in terms of driving. Not to mention the guilt I feel for mistreating my poor little motorcycle, which by far prefers asphalt!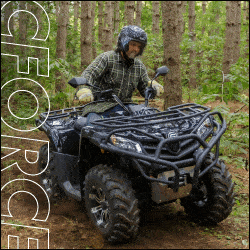 A "road" test, but not really
That's why I was so excited when I was offered the chance to try the Ryker as part of Can-Am's Women Mentorship Program: it was a great opportunity for me to experience a new type of machine, while pushing the limits of my comfort zone by tackling roads I had never dared to try before!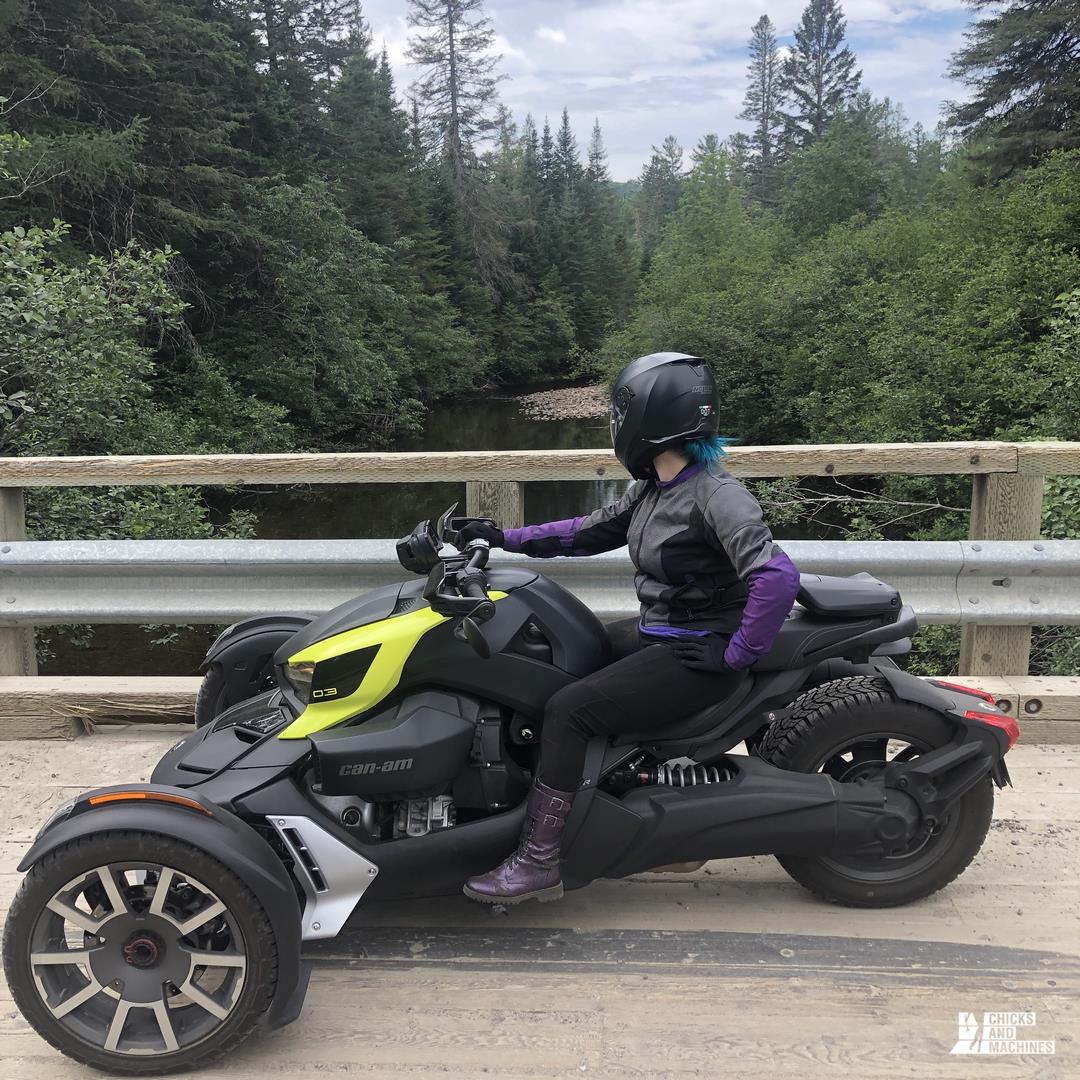 Indeed, the world of off-road driving was completely unknown to me until I tried the Ryker. My experience with vehicles is limited to on-road cars and motorcycles, period. When I was told that the Ryker could tackle a wide range of trails, I was very eager to discover this type of riding. Having a camping trip planned, I decided to take the Ryker to get there (don't worry, my motorcycle has since forgiven me for this betrayal).
Lots of luggage!
Even before leaving home, the first thing that impressed me with the Ryker was the ease with which I was able to fit all my luggage on it. With a simple net, I was able to attach a large bag, my sleeping bag and my tent to the back seat, not to mention all the items I was able to stow in the Ryker's side case. You wouldn't suspect it at first glance, but it's surprisingly spacious!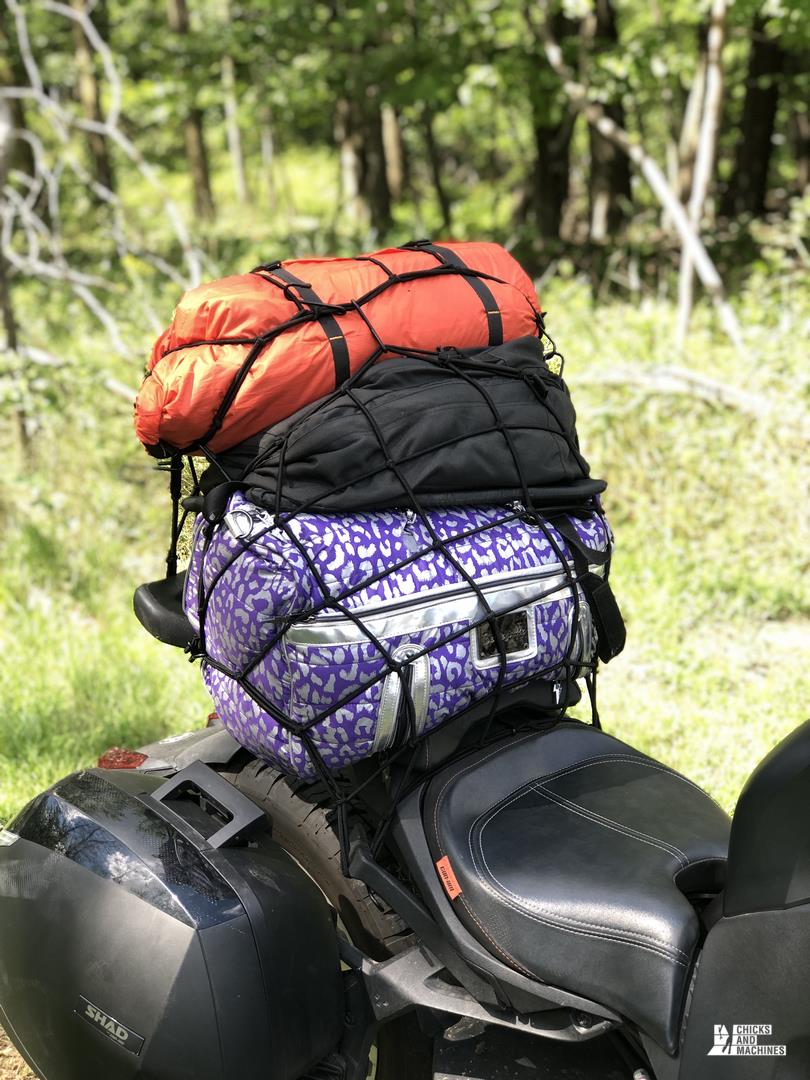 Ready for all kinds of roads
Normally, when I approach a camping site on a motorcycle, I feel a certain apprehension when I think about the condition of the road that will stand between me and my site. It's always a matter of time before the asphalt road ends: what will come after? Wet sand digging under my tires? Big pebbles that will make me lose my balance and possibly damage my bike? Small, sharp rocks that will jeopardize my tires?
On board the Ryker, none of these questions came to mind. When I saw the gravel road approaching on the horizon, I even accelerated. Riding the Ryker really provides a feeling of confidence. With the exceptional handling and the three big wheels that offer incredible stability, you really feel in full control of the machine. In fact, I barely felt the transition from the paved road to the gravel trail under my tires.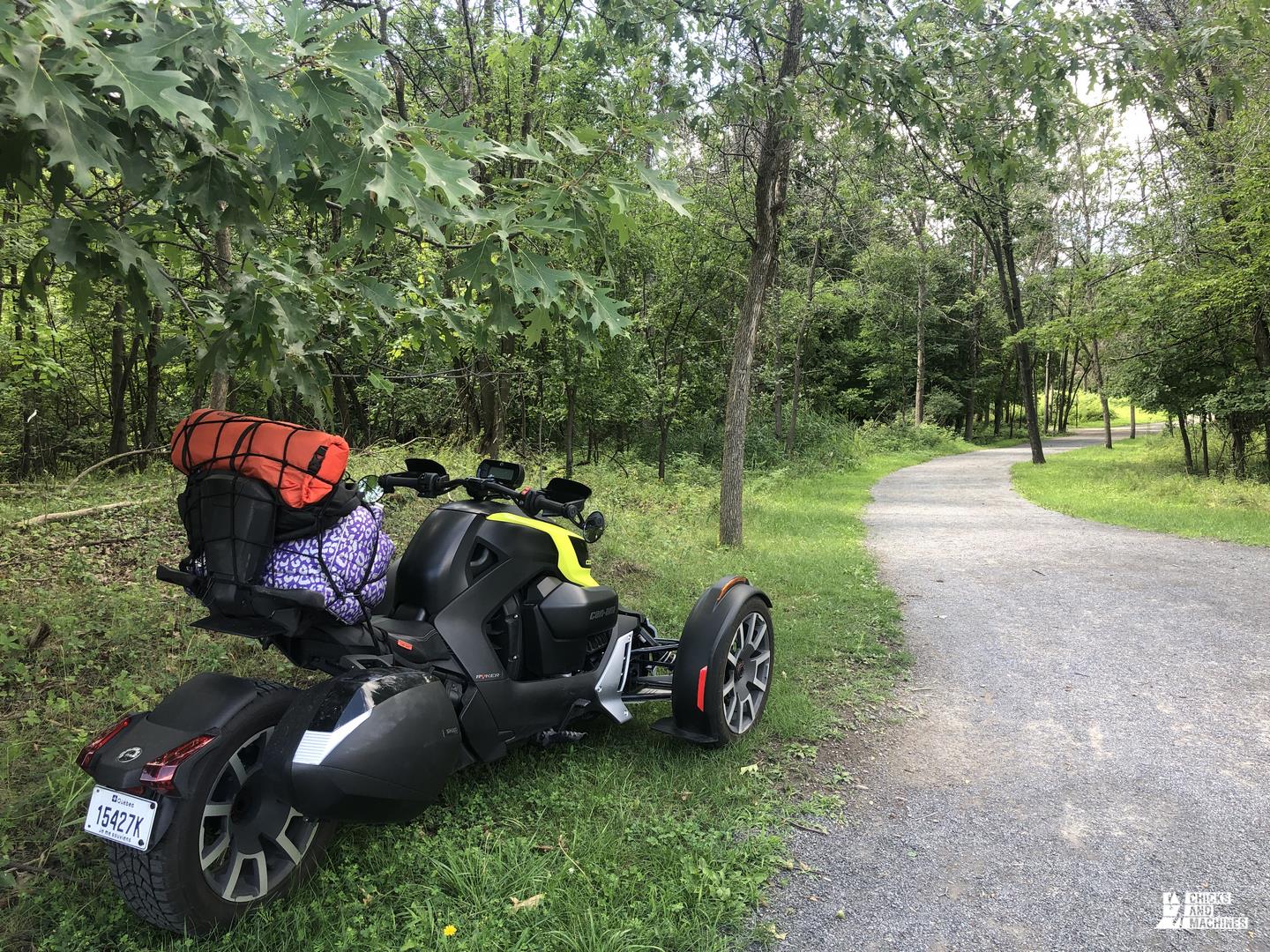 Rally Edition: they thought of everything!
Driving deeper into the forest, I was able to ride on all kinds of trails, including sand, pebbles, rock, and even a grass field full of small valleys… and none of it was a problem for the Ryker. I had a lot of fun discovering these roads without worrying about losing my balance or having a flat tire.
Since this was the Rallye model, I was in possession of a vehicle with reinforced rims, front grille protection and a skid plate, which meant that I didn't have to worry about damaging the machine. It was so refreshing!
In addition, the Rallye model comes with a Max Mount structure that allows the owner to add accessories for additional luggage transportation (and passenger features); they really thought of everything!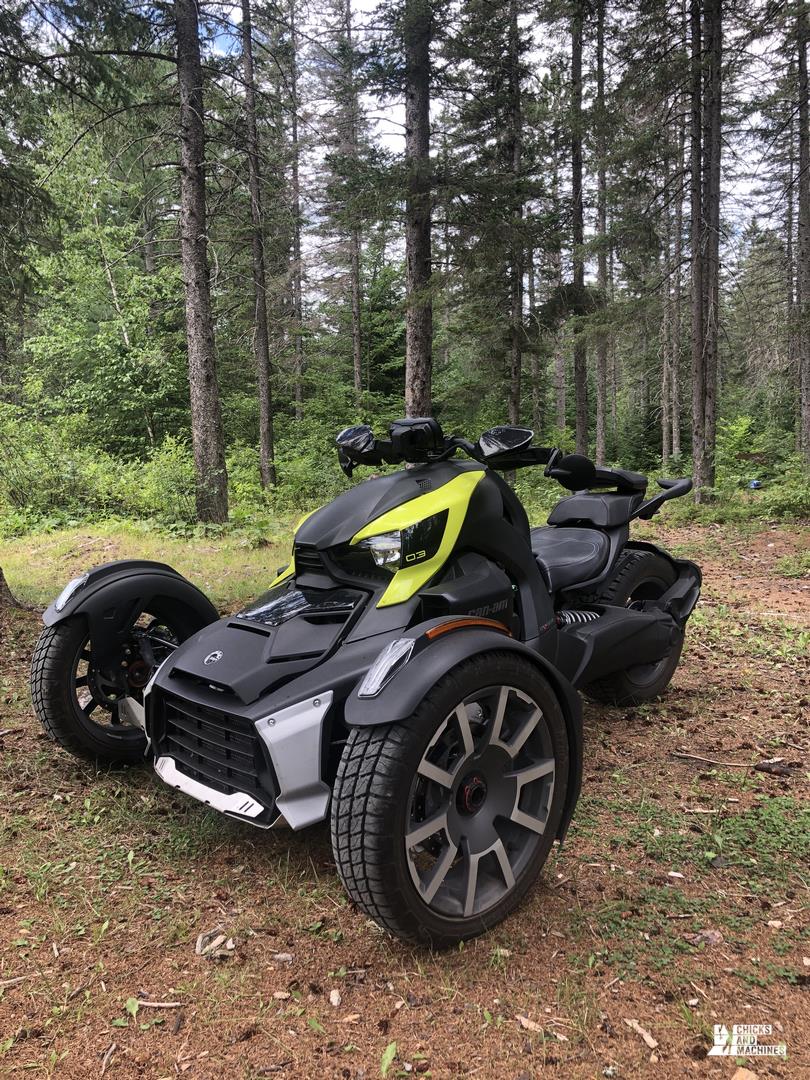 Once at my campsite, I set up my tent, opened a good microbrewery beer and sat down by a campfire, admiring the nature around me and the beautiful Ryker that had transported me to this magical place. At that moment, my heart was full of gratitude to be there, to live my passion, and to be where I love to be: in the forest.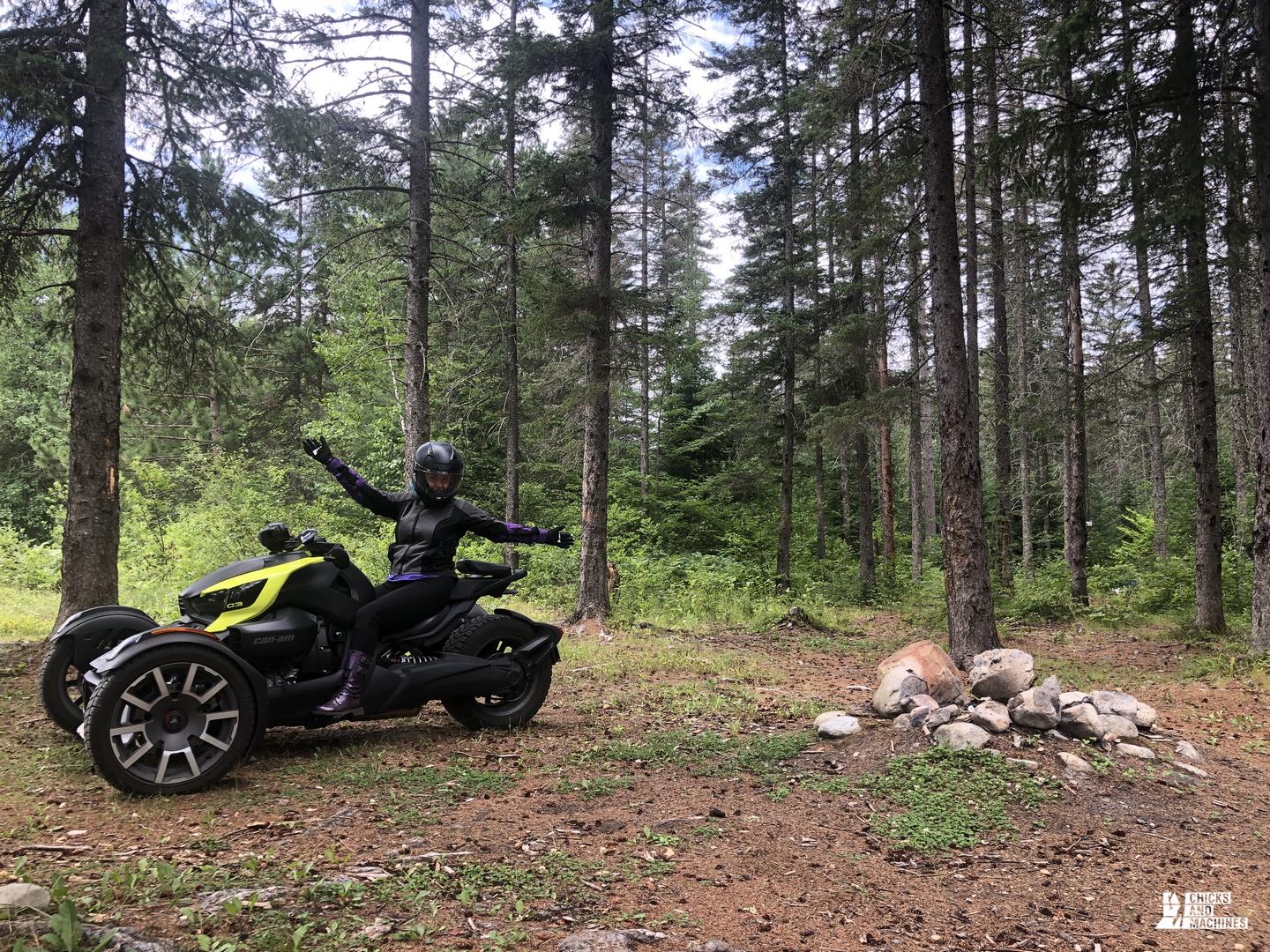 To learn more about the Ryker, I invite you to watch my video, in which I discover it for the very first time.
Cyndi also did the experience in French; here is her video.
I would like to thank  Can-Am On Road  and Chicks And Machines for making this memorable adventure possible for me.
xx
Émilie