Harley Davidson LiveWire Road Test
People who know me are aware that I am a passionate about super sports motorcycles. You are probably curious about my experience with the Harley Davidson LiveWireTM. I was not sure if I were the right person to do this road test, but my curiosity about electric motorcycles was so strong that I could not turn down this opportunity.
It was with an open mind and a huge desire to know more about this fierce little beast that I arrived at Carrier Harley Davidson, St-Hyacinthe (Qc), to pick it up. The staff made me feel very welcome and instantly shared their passion for this unique bike: I was even more excited to give it a try.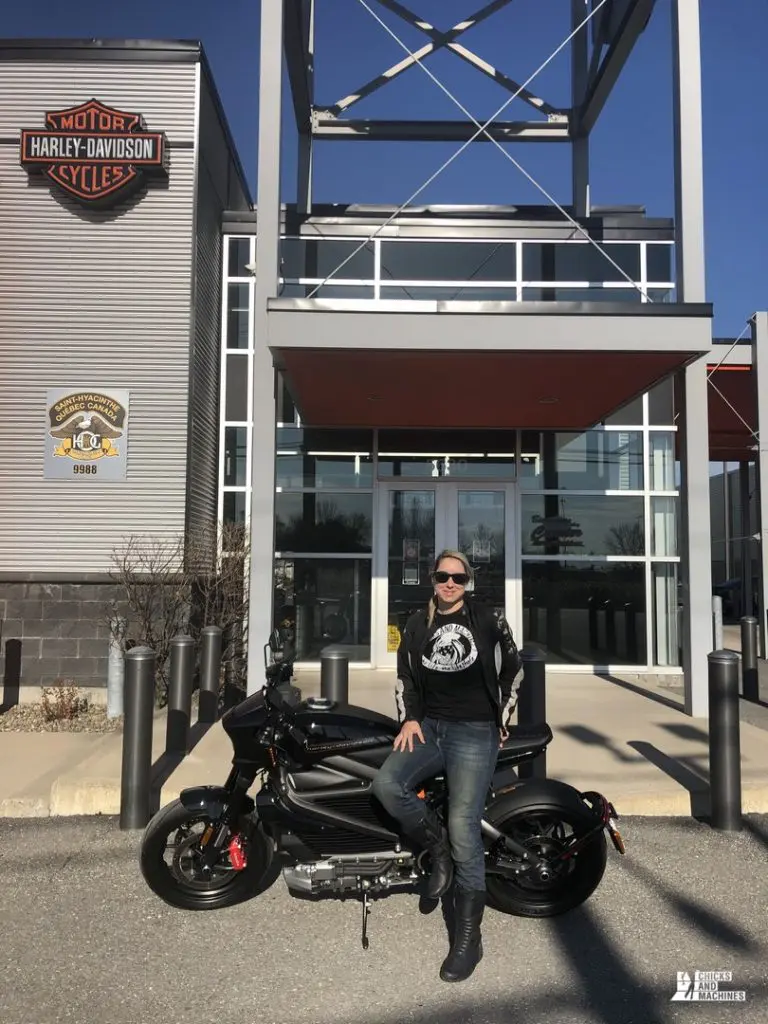 To describe my experience, I am going to talk about  power and suspension, battery and its range, brakes, electronic assistance, technology, target customers and, finally strengths and areas for improvement.
Power and Suspension
I admit I liked its "futuristic cafe racer look", hands down: the LiveWireTM looks great. When I sat on it for the first time and started it – without hearing any noise, something special happened: I felt pulses under the seat, like heart beats. I thought, this thing is alive, and I found it more endearing. Harley Davidson installed an adjustable pulse, so that the rider knows the bike is running; this can also be disabled. The riding position is very comfortable. Two saddle height versions are available, 30 inches and 30.7 inches.
The response of the throttle grip is really fast, we are still talking about 0 to 100 km/h in 3.1 seconds (0-60 mph in 3 sec.)!  In a closed circuit test, it reached a top speed of 184 km/h. In order to extend the battery life, Harley had to put a power limit  – it could offer us more power.  The handling is surprising. During my two testing days on our bumpy roads, the bike was able to hold its course in a stable manner while sporty riding in curves on pavement filled with bumps.
The LiveWireTM is equipped with Showa's 43mm Big Piston inverted forks with fully adjustable separate function.  They use a fully adjustable Showa Balance Free Rear Cushion piggyback reservoir shock.  No other bike in Harley's lineup is using this sport suspension. Its power and its handling left me pleasantly surprised. The Livewire's Revelation internal permanent magnet synchronous motor delivers a maximum power of 105 horsepower and a maximum torque of 116 ft/lbs.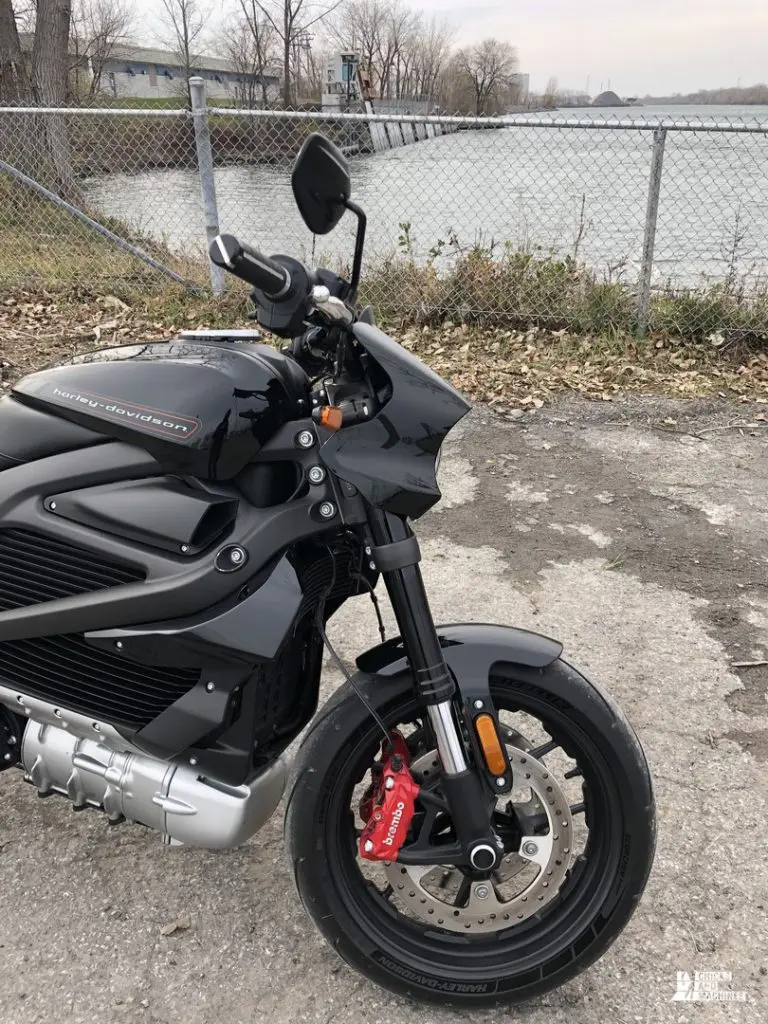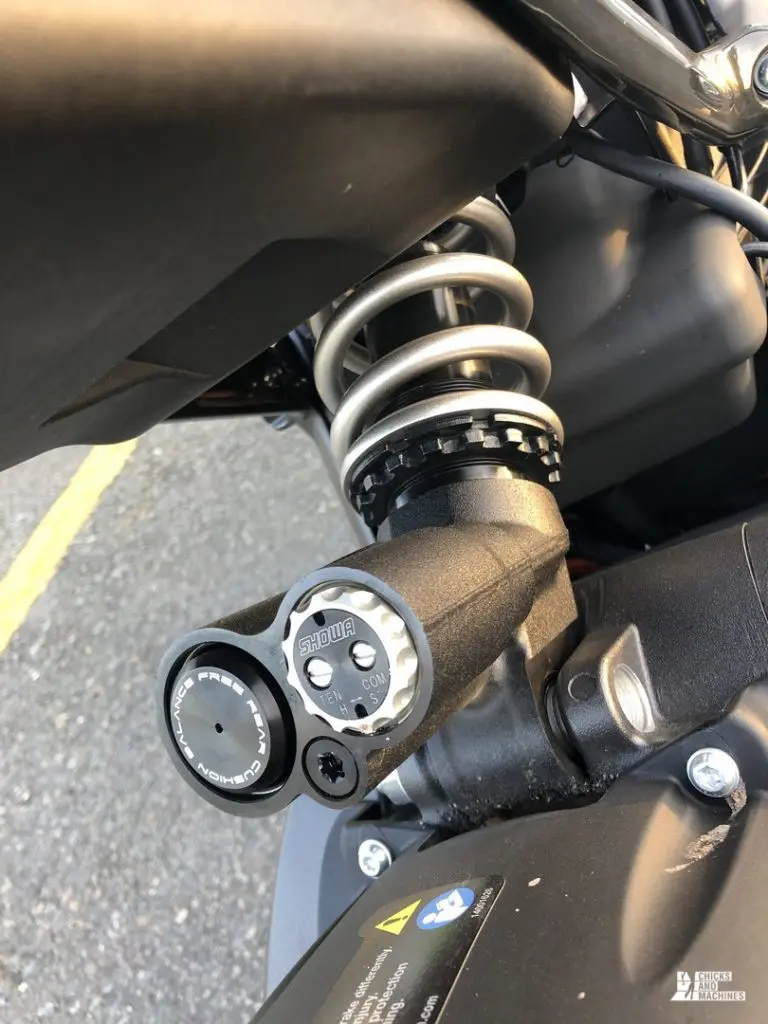 Battery and its Range
The LiveWireTM is liquid-cooled and features a clutchless single-speed transmission. The battery recharges while decelerating, using the engine brake. Harley Davidson claims its new electric toy has up to 235-kilometer range in the city. During my test, when the bike is fully charged, it indicates around 178 km of range, so charging by deceleration accounts for the additional range.
If we do a mix of city and highway, the range is more around 152 km and if we have a sporty / aggressive riding style in the winding roads and highways, then the range will be more like 100 km. In short, the more aggressive you are on the throttle, more the range decreases. Its lithium-ion battery has a 24 kWh maximum capacity.
The charge time is 12.5 hours (AC) with the original hook-up wire that plugs into a regular 110-volt outlet and is 1 hour with level 3 fast charging (DC). To charge it, it is simple: we lift the small panel on the false tank and the two connection points are there.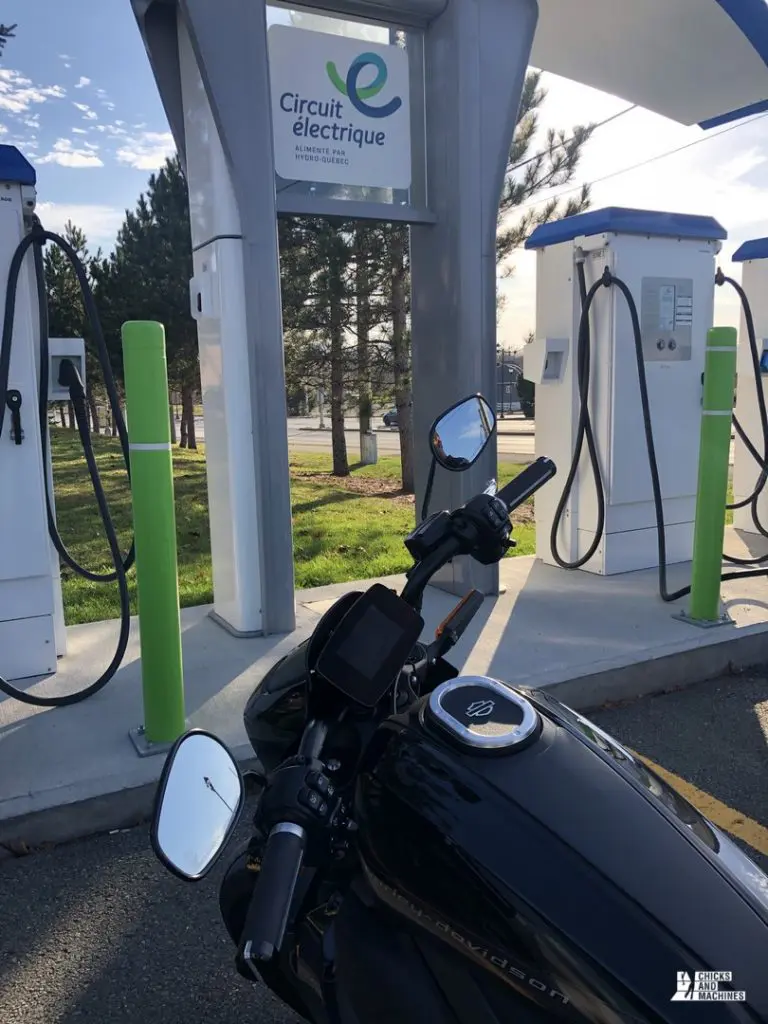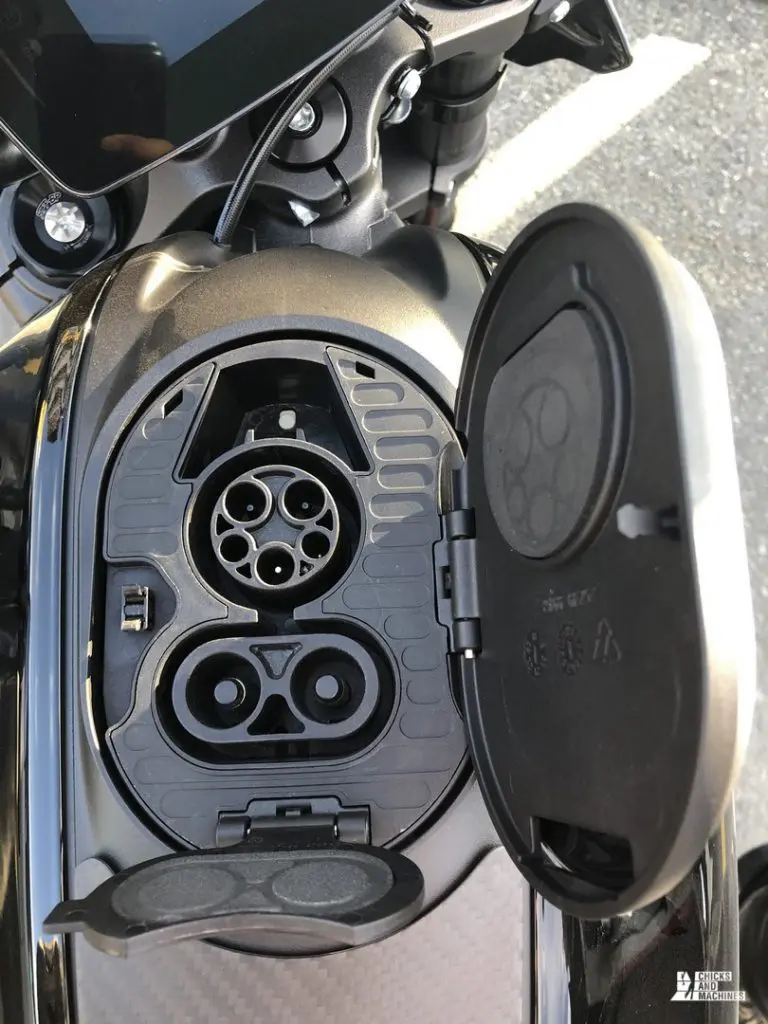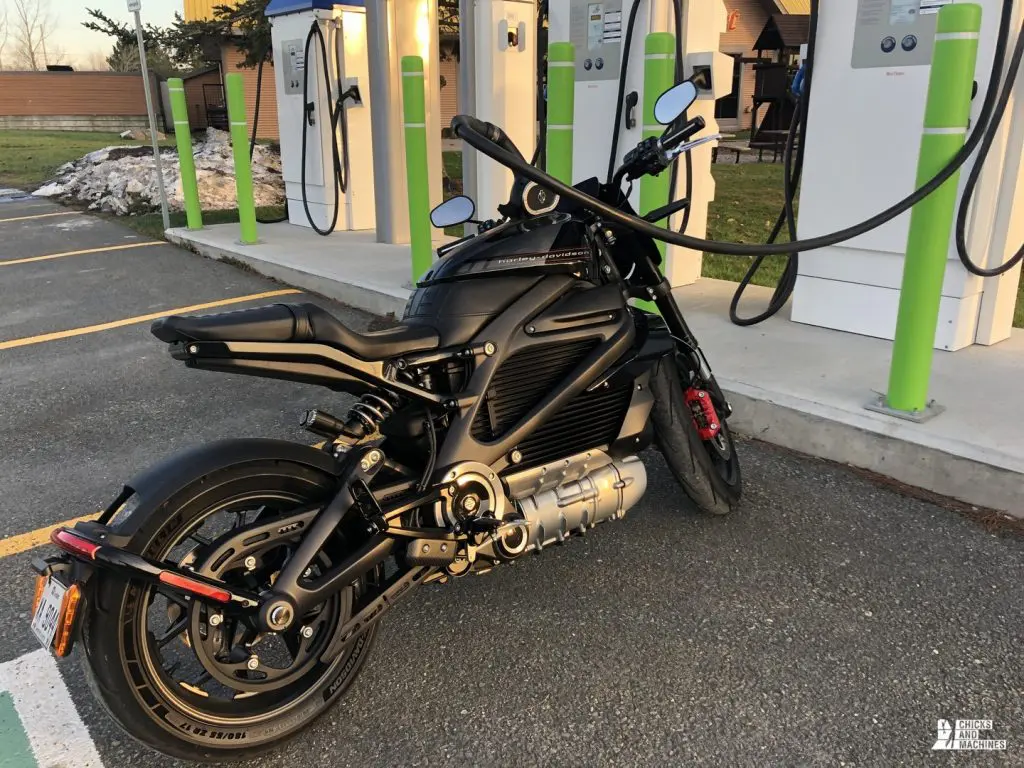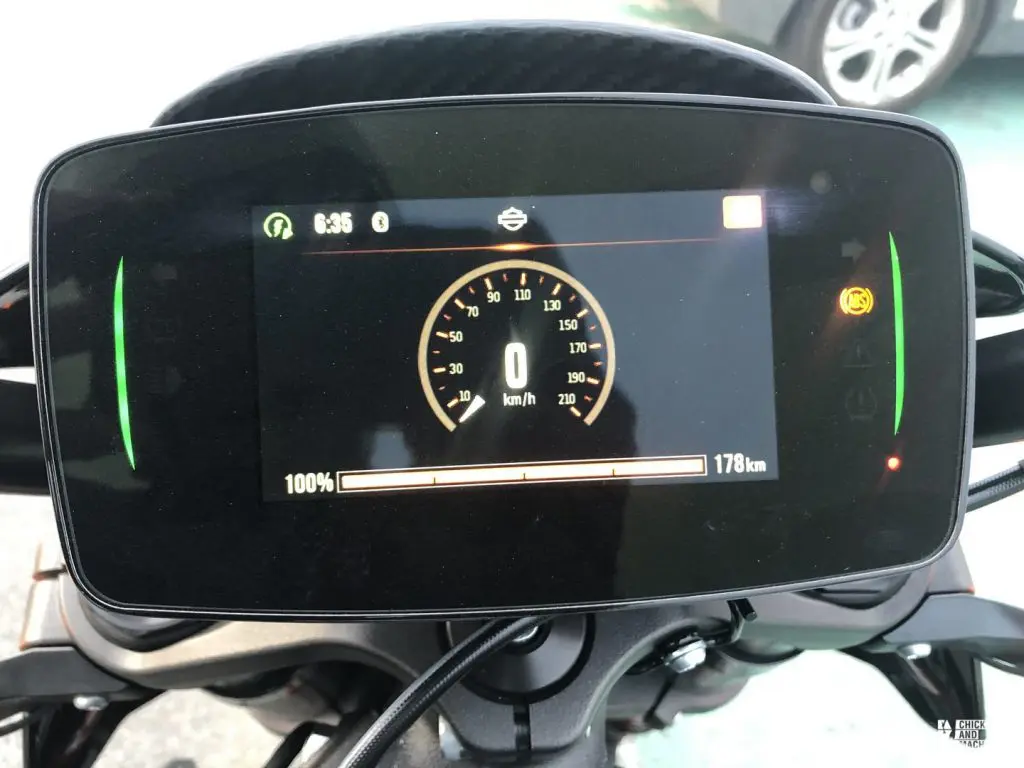 Brakes
Another amazing fact about the LiveWireTM is its braking system.  The 300 mm front discs with radially mounted 4-piston Brembo monoblock calipers are the highest end brakes on any of the bike's in Harley's line-up.  A 260 mm floating disc with dual-piston caliper at the rear, not to mention the ABS system that comes standard, round out the brake system nicely.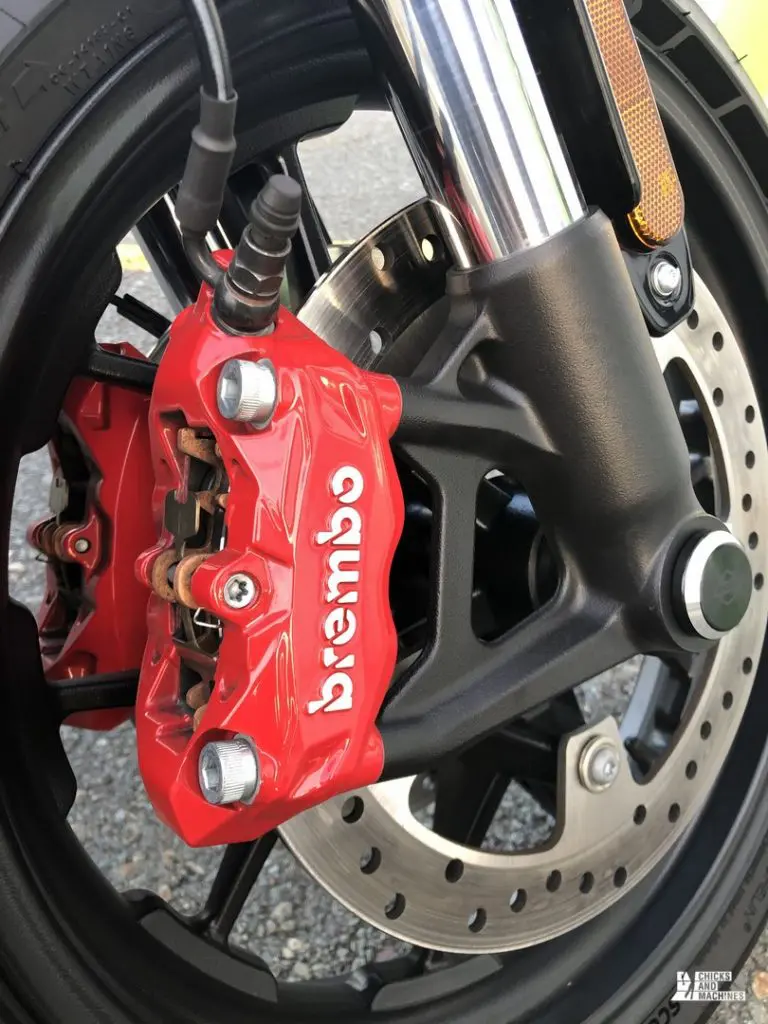 Electronic Assistance
This little electric beast is equipped with electronic traction assistance, as well as 7 different driving modes: road, rain, range, sport, and 3 customizable modes (A, B and C).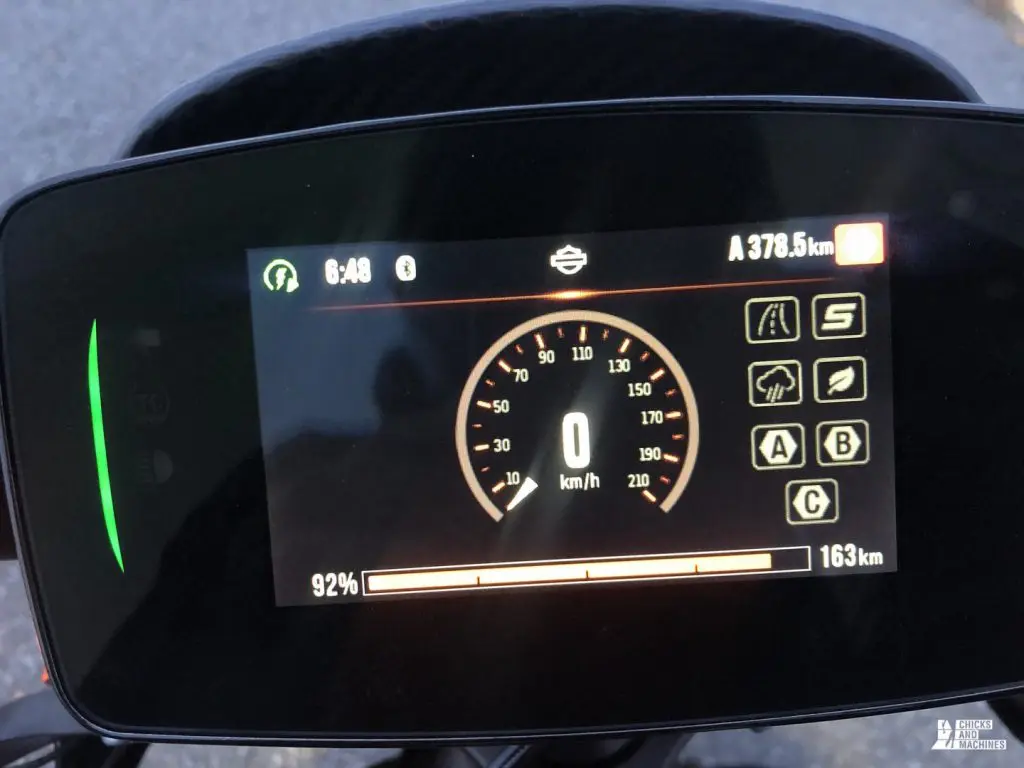 Technologies
The LiveWireTM is H-D Connect compatible, which allows you to download an app (iOS or Android) and connect the motorcycle directly to the app. The app allows riders to check various operations:
Motorcycle status (battery status and available range, riding mode, riding stats)
Enhanced security (bike location, if anyone is tampering with it, suspected stolen alert)
Charging status and notifications (battery charging percentage, Level 3 charging station locations)
Service reminders and notifications
Target Customers
You are wondering: who is the target audience for this bike? The base price starts at $37,250, with an additional $600 for color choices other than black. Well, it is Mr. and Mrs. Tesla who love luxury and electric toys, they are professionals looking for a trendy city vehicle without petroleum-based fuel.
The strong points
The LiveWireTM  power and handling make it an attractive choice. It is an ideal city bike for short distances but has amazing potential for recreational rides. Its futuristic look will not leave you indifferent.  The bike attracted many people during my road test as I breezed by silently atop the well-adorned machine. The quality components, such as suspension and brakes, make the ride as enjoyable as it is lively.
It has a unique and original look. Like some other electric vehicles, LiveWireTM owners can benefit from a $ 2 000 credit when registering their motorcycle in Quebec for a one-year period and can receive up to $ 5 000 credit if they install a smart charging station at home.
Points to improve
With all the excitement also come some points to improve. The LiveWireTM is very pleasant to ride and it makes you want to go for long rides; the challenge, as you may have guessed, is its range and the underdeveloped network of level 3 fast charging stations. Of course, this motorcycle was designed for urban use, but when you ride it, its potential makes you want even more and that is where it gets complicated.
You must plan your route according to fast-charging stations, as well as to schedule one-hour breaks for recharging. For Harley Davidson's regulars, the next point is probably not a negative point; for those who are not used to control the separate turn signals on each side of the handlebar, it can make a simple maneuver a little bit more complicated.  The target market chosen by Harley is narrow (price) and I think they are missing out on the young and trendy customers who might be interested in this kind of electric bike.
I would like to see offered by Harley an entry-level version of the LiveWireTM in order to capture younger riders.  We know Harley is looking to break into this market. This bike has the potential to convert younger riders into Harley Davidson brand loyal customers; just not at the current price.
Conclusion
The LiveWireTM has to be discovered; it is amazing and the rider will not feel indifferent, for sure. Its lack of battery life for long rides is the major area of improvement, but I have the feeling that Harley Davidson did not say its last word and is preparing a surprise.
This motorcycle, designed for the city, hides a powerful beast that asks only to give its rider thrills, curve after curve. I really liked to have the opportunity to try this fierce and endearing little beast.  As a sport bike enthusiast, I have to admit that I was pleasantly surprised how much I enjoyed riding this bike.
Thanks again to Carrier Harley-Davidson Sainte-Hyacinthe for the test ride!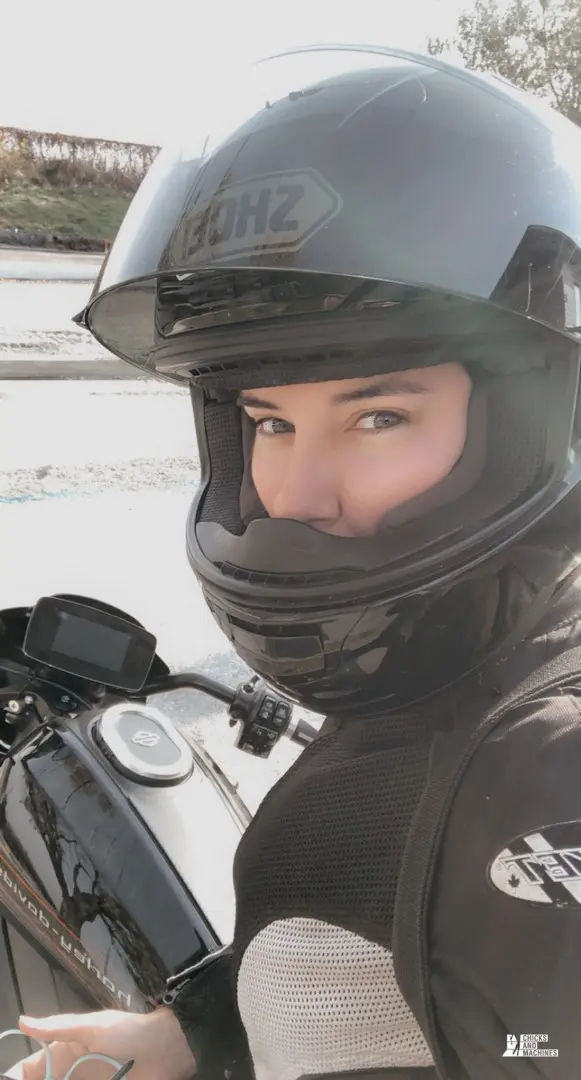 Here is the full specs sheet:
ENGINE
Type: Revelation internal permanent magnet synchronous motor
Maximum power: 105 HP
Maximum torque: 116 ft/pounds
Cooling: Liquid
Transmission: Clutchless single-speed
Final drive: Belt
BATTERY
Type: Lithium-ion
Maximum capacity: 24 kWh
AC charge time: 12.5 hours
DC fast charging time: 1.0 hours
City range: 235 km/ 146 miles
Highway range: 113 km à 113 km/h (70 miles at 70 mph)
CHASSIS
Front suspension; travel: Fully adjustable SHOWA Separate Function Forks – Big Piston 43 mm inverted fork; 4.5 inches
Rear suspension; travel: Fully adjustable SHOWA Balance Free Rear Cushion piggyback reservoir shock; 4.5 inches
Wheels: Split 5-spoke cast aluminum
Front wheel: 3.50 x 17
Rear wheel: 5.50 x 17
Tires: Michelin Scorcher Sport
Front tire: 120/70 x 17
Rear tire: 180/55 x 17
Front brake: 300 mm discs w/ radially mounted Brembo 4-piston monoblock caliper
Rear brake: 260 mm floating disc w/ dual-piston caliper
ABS: Standard
DIMENSIONS and CAPACITIES
Wheelbase: 1,490 mm/ 58.7 inches
Rake: 24.5 degrees
Trail: 108 mm/ 4.3 inches
Seat height: 761 mm/ 30.0 or 30.7 inches
Curb weight: 249 kg/ 549 pounds
2019 Harley LiveWireTM Colors:
Orange Fuse
Yellow Fuse
Vivid Black
2020 Harley LiveWire Price:
Please contact Carrier Harley Davidson for additional information.