Learn more about the motorcycle Stunt
Stunting is an English term referring to acrobatic performances. It is a discipline that emerged in the United States in the 1980s, and it involves performing acrobatics and tricks mainly on a motorcycle. It is not to be confused with "freeriding" which is performing tricks on open roads. 
 Still little known in Canada, this discipline is quite widespread in the United States and Europe. More and more bikers practice this sport and create their own "teams" and events. Professionals stunters are increasingly mediatized and recognized, notably thanks to social networks.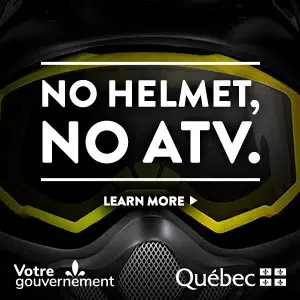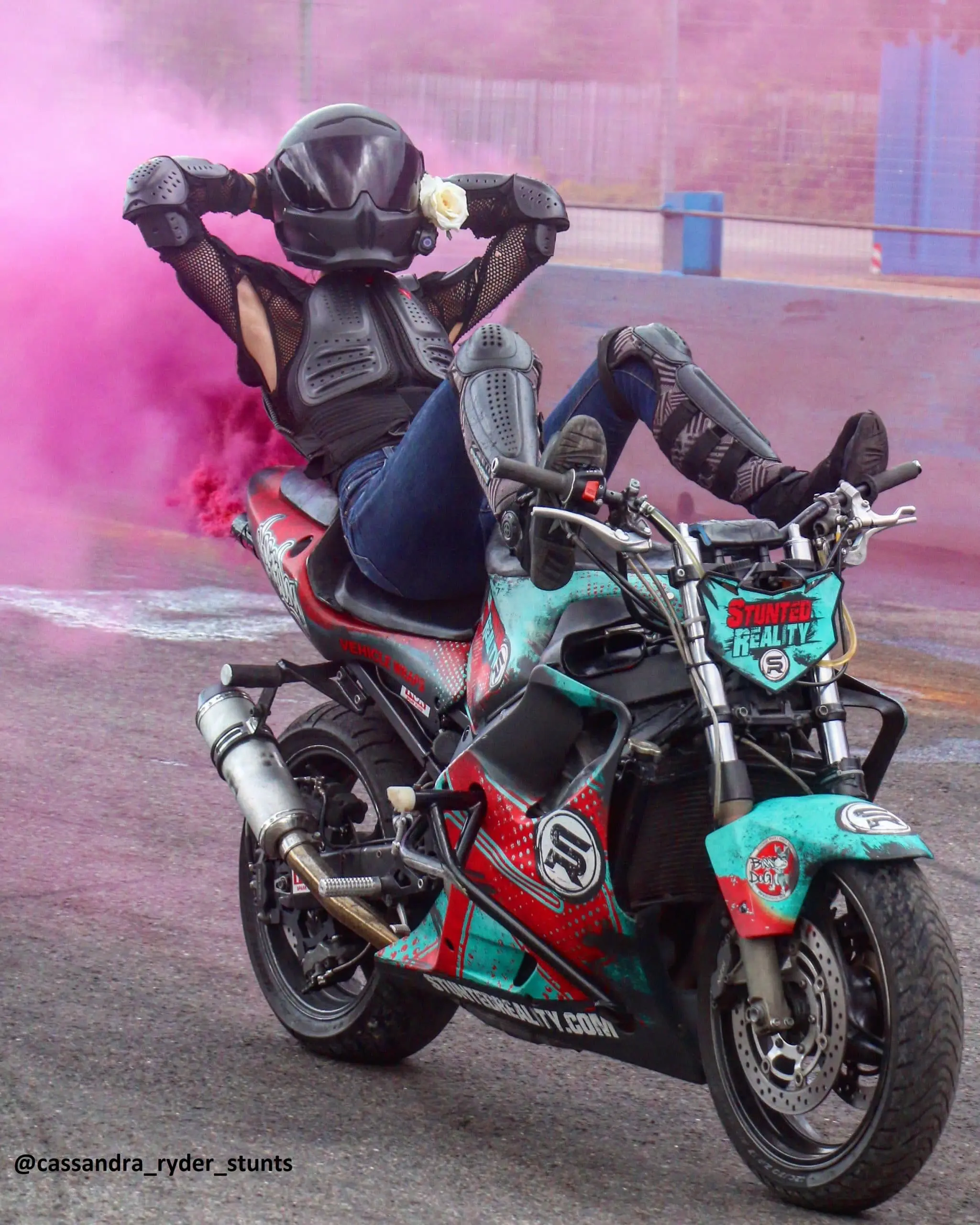 Some of the most popular tricks:
Wheeling
– Wheeling is driving only on the rear wheel over a certain distance.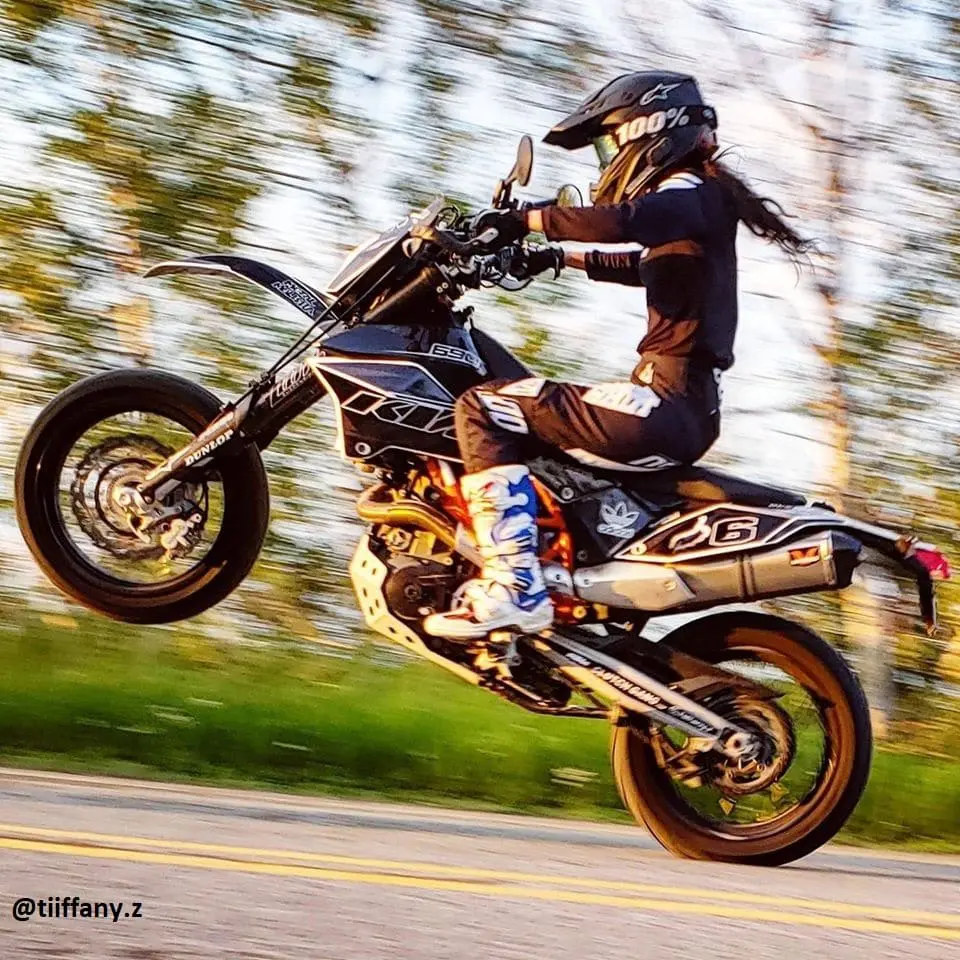 There are many variations
; 
here are a few: 
– High chair: wheeling with the rider's legs on the handlebar. 
– 12 O'clock: wheeling the motorcycle at a 90° angle to the ground. 
– Circle: wheeling in a circle. 
– Spreader: wheeling seated on the tank; the legs are spread apart on the sides of the tank. 
– 180°: making a half turn while wheeling. 
– Superman: standing on the saddle with one leg up, with the body and arms straight. 
– No hand: wheeling without hands.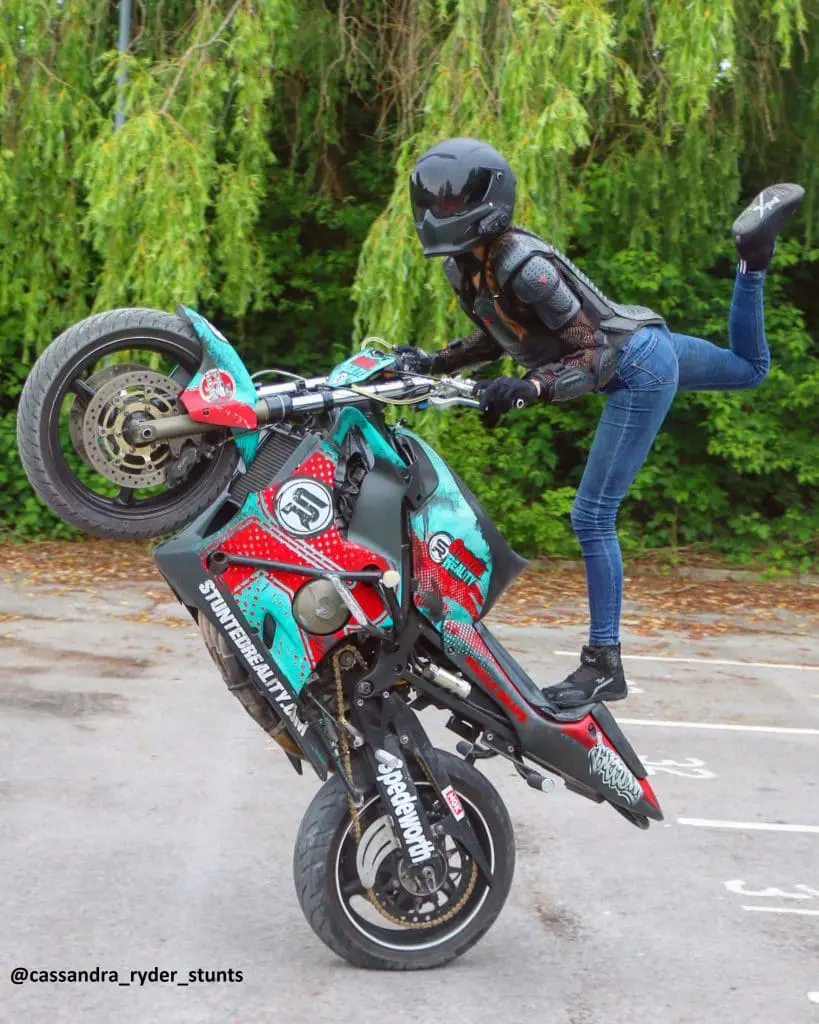 Stoppie
– The Stoppie consists of riding only on the front wheel for a certain distance. 
Some variations:
– High chair: as with the high chair wheeling, we perform a stoppie with the legs on the handlebars. 
– Slalom stoppie: perform a slalom on the front wheel. 
– Stoppie 180: ending a stoppie with a half turn. 
– Stoppie 360: ending a stoppie with a full turn.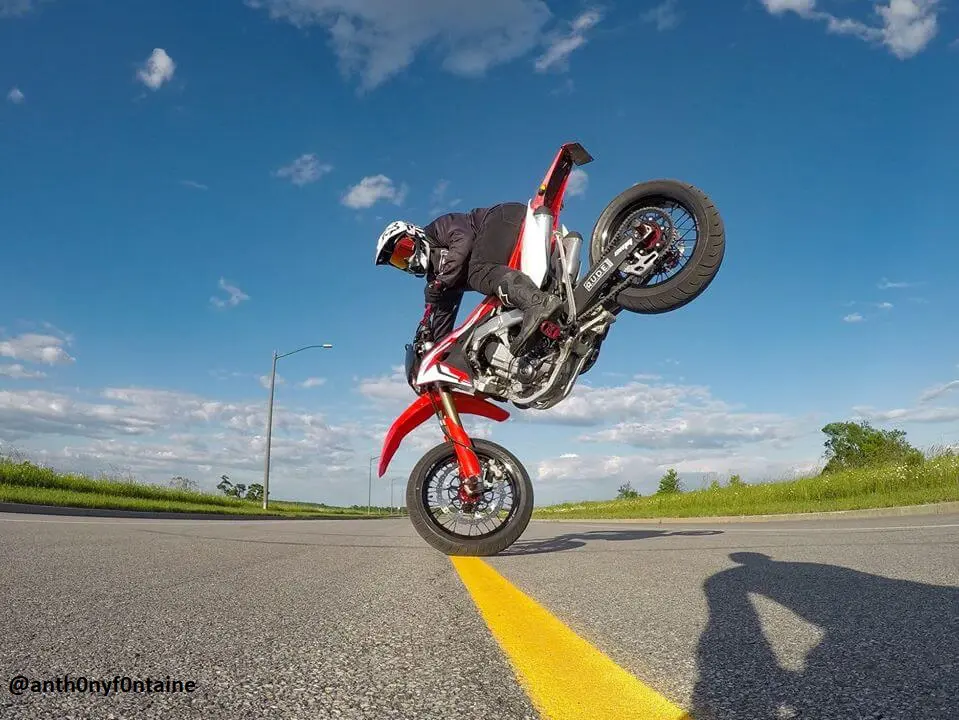 Burn
–The Burn requires making the rear tire skid on the spot.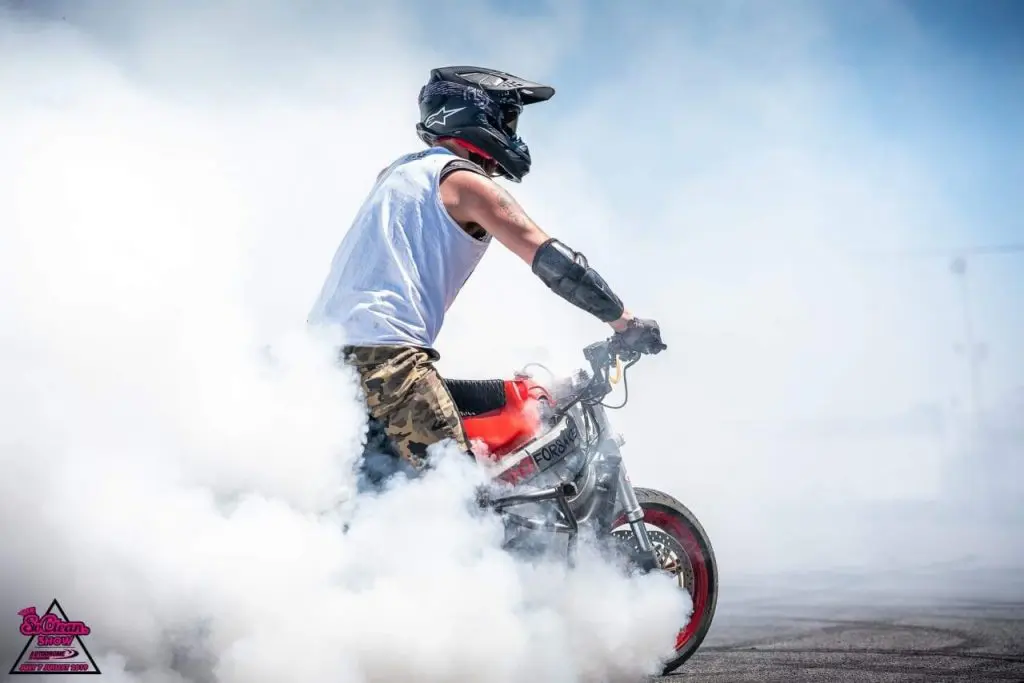 Some variations:
– Chainsaw: the rider stands next to the bike holding it by the handlebars, and spins it around themselves while doing a burn. 
– Run: do a burn while driving. 
Christ
– The Christ requires that the rider stands on the seat or tank of the motorcycle with both arms outstretched while the motorcycle is moving. 
– The Drift: sliding the bike sideways through turns.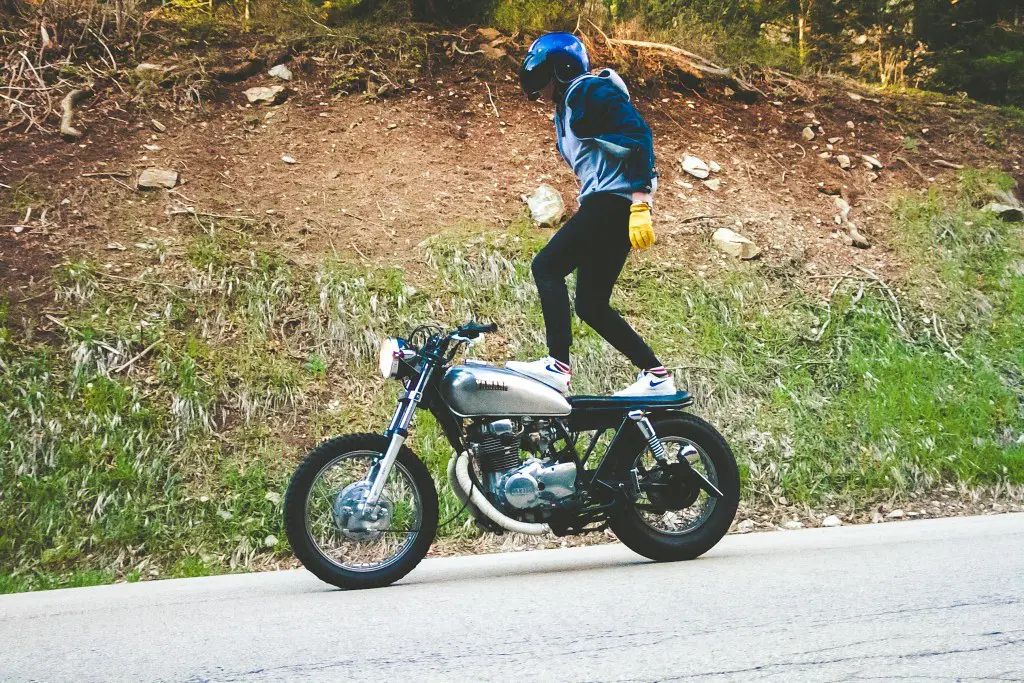 Stunters are overflowing with creativity! There are a whole lot of figures and variants that can even be combined with each other. 
What do you need to practice stunting?
The motorbike 
This discipline can be practiced with any two-wheeled vehicle (motocross, scooter, sports bike, Harley, supermoto, touring, electric motorcycle, etc). However, stunting involved lots of falling, getting back up and starting again. It is therefore better to have a solid, inexpensive, and reliable motorcycle.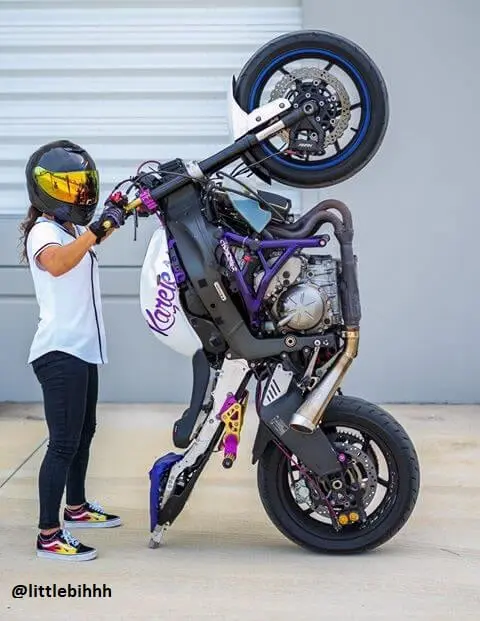 For beginners, it is recommended to start with a less powerful bike (from 50cc to 125cc). It is lighter, less powerful, easier to handle and cheaper. Examples: Honda Grom 125, Honda CBR 125. 
For experienced stunters, more powerful vehicles are more common but also more expensive to buy and to maintain. Examples: Kawasaki ZX6-R, Honda CB500, Suzuki DRZ400. 
These motorcycles are also often modified for stunting to protect the machine, to give it more torque and to make it lighter.  
Ces motos sont souvent modifiées exclusivement pour le stunt dans le but de les protéger, leur donner plus de couple et pour les alléger.
Here is a list of the most common modifications:
– Removing fairings to avoid damaging them, and to make the bike lighter. 
– Adding a rear brake control on the handlebar, to be able to brake during tricks where you have your feet away from the pedals.  
– Addition of a sub cage and a crash cage to protect the motorcycle, and to give points of support in order to perform tricks. 
– Straighter, wider, and stronger handlebars. 
– Enlarged ring gear for shorter transmission to increase torque. 
– A flattened and adherent tank to sit on for tricks. 
Stunter Equipment 
Even if you do not reach high speeds while stunting, falls are very frequent. Protection is therefore of utmost importance. 
Here 
is
 what 
you will
 need:
– A full-face helmet. 
– Gloves; it is recommended to use motocross gloves that are light and flexible, not to impede finger and hand movement. 
– A back protector. 
– A jacket that covers the backbone; it is recommended to use a textile jacket with elbow pads for good freedom of movement and protection from minor abrasions. 
– Soft and light knee pads are recommended to allow freedom of movement and to protect the knees, which are often in collision with the motorcycle and in case of a fall. 
– Soft boots or high-top shoes.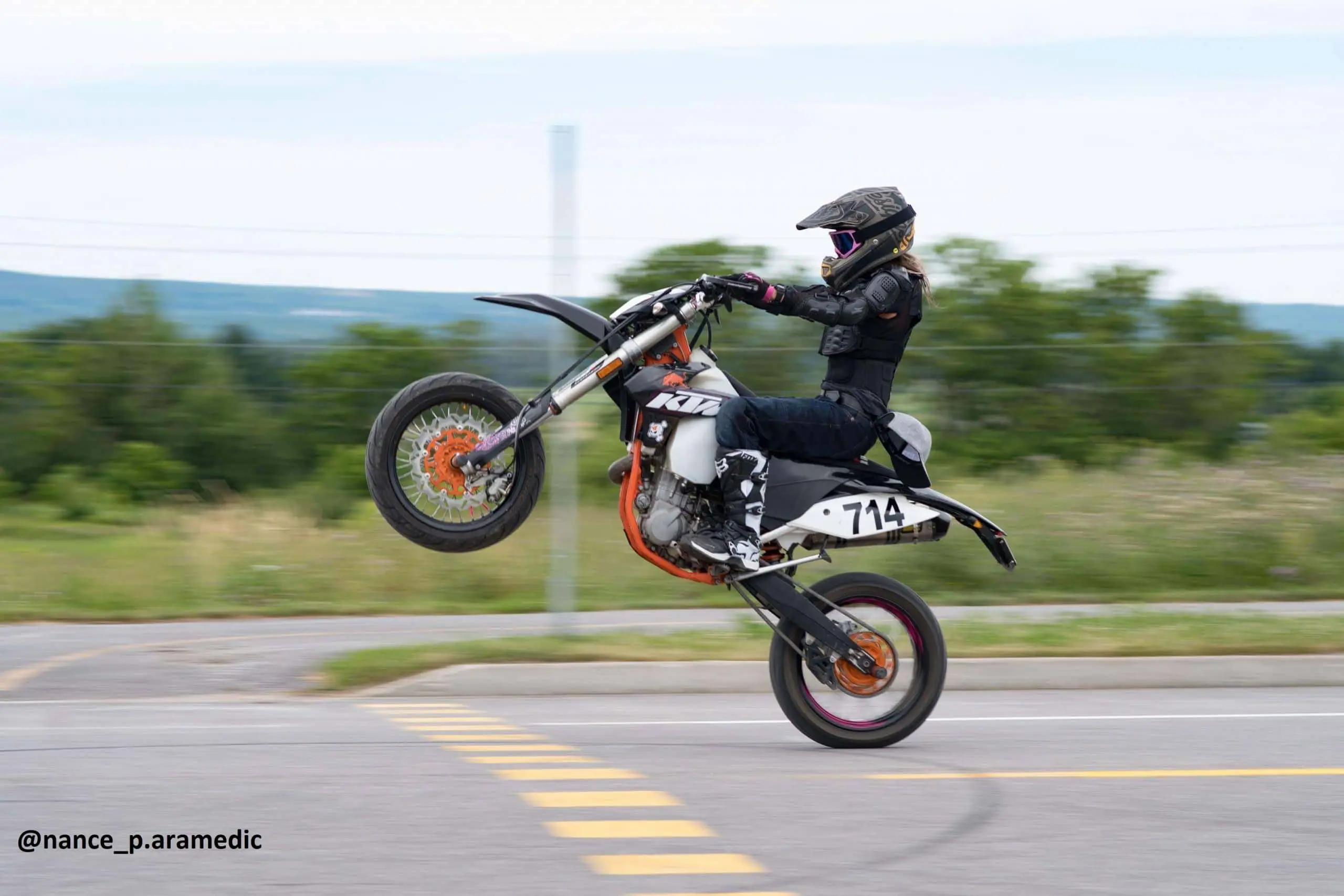 The 
location
It goes without saying that it is illegal to perform stunts on open roads. A hefty fine can be given to offenders, and there is even a risk for your bike to be towed! Be aware that the highway safety code also applies to all public and private parking lots that are open to traffic.  
Therefore, 

stunting in parking lots is also illegal

.
This leaves 
few 
location
 options. 
Indeed, finding a good spot is not easy. One must find a disused land, a parking lot or another space that is closed to traffic, with an authorization from the owner if it is a private property. For a good spot, you need a surface that is in good condition and without obstacles (trees, posts, signs, etc.). It is also suggested to be far from any houses to avoid noise complaints.
In addition, it is recommended to be at least two people on site during practice. The reason is simple; if you fall and get hurt, the other person can help you and contact emergency services.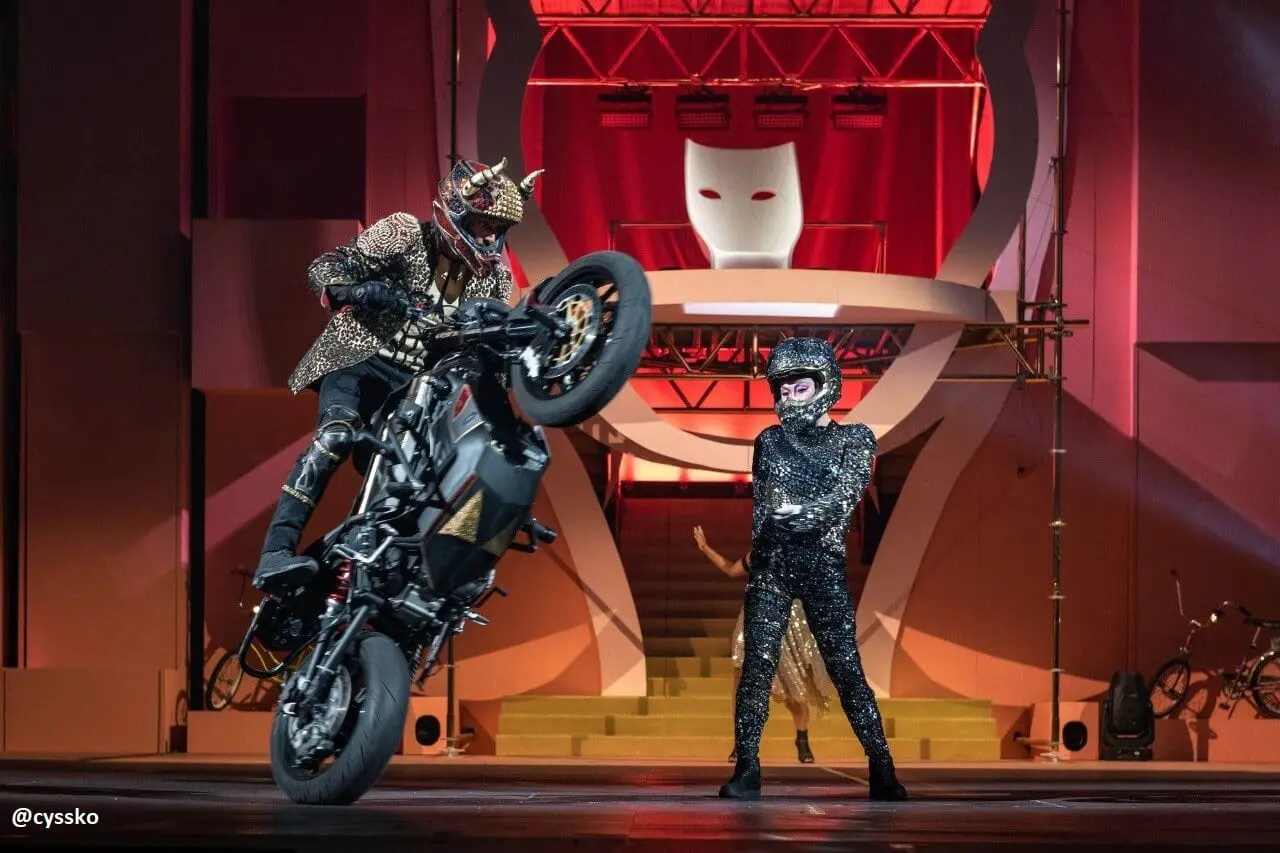 And w
hat about women?
Although there are fewer women than men in this discipline, women have their place in the world of stunting! A woman is just as capable as a man of mastering the tricks. Opposite to common beliefs you do not have to have a lot of strength to do stunts. It takes the right techniques and a lot of practice.  
Moreover, it takes "balls" to do stunting because you must not be afraid to fall and to push your limits. And we all know that women are just as ballsy as men… sometimes even more so ?. There are a lot of stunteresses in the United States and Europe.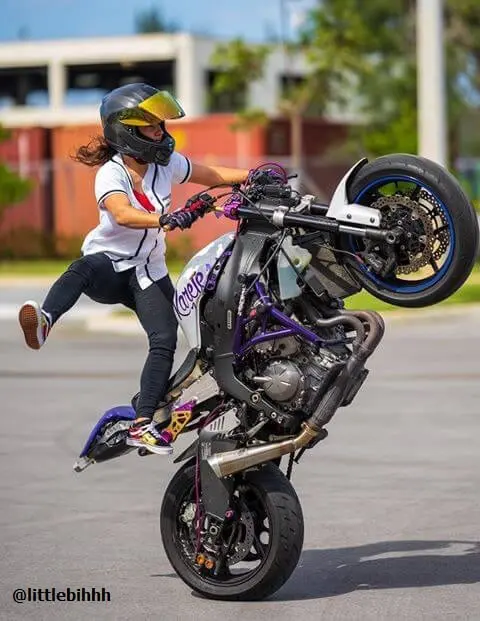 Stunting is
 a profession too
We have all seen movies with action scenes where a motorcycle jumps over a big explosion, goes under a truck, goes wheeling or drifts in the streets. Professional stunters are regularly hired by film producers to play stunt doubles and to perform stunts. Some examples are action films like Ghost Rider, Mission Impossible, XXX, Fast and Furious, etc.  
Sarah Lezito, a French professional stuntwoman, played Scarlett Johansson's stunt double on an electric Harley in the film The Avengers 2. 
Stunters are also hired to shoot in video clips, such as Travis Scott's stunning video "Can't say". 
Quebec Stunters 
Here are some stunters from Quebec to follow on Instagram: 
Harley Davidson Stunt: Le Forever North crew @forevernorthcrew, @martingilbert2697, @tdavidson_ , @slave2thatrade
Supermotard : @phil.stunt, @rudeboy_lemlem, @anth0nyf0ntaine, @fredo.sm
Stuntbike : @cyssko,@forsaken_stunt, @napster_stuntrider, @newcity_stunt
Female stunt riders from Quebec:  @nance_p.aramedic  and myself @tiiffany.z, who are attempting wheeling ?
Female 

stunters

 from the 

USA

 and Europe:
@sarahlezito, @smashstunts, @cassandra_ryder_stunts, @mari_lionhearts_girl, @littlebihhh
Tag your favourite stunters in the comments!  ?