A Wise Side and a Wild Side!
Hello, dear motor enthusiasts!
It is with a lot of excitement and enthusiasm that I'm writing my first article for Chicks And Machines: my introduction text!
My Wise Side…
My name is Cindy and I am the mother of 2 kiddos aged 8 and 11. I'm also an aunt to 7 children, and great-aunt to 2 more. Daughter of a lumberjack, I grew up in a small village of 800 inhabitants located 3 hours north of Montreal. I have always been quite skilled in sports, and quite resourceful in manual work such as construction and mechanics.
I am a process engineering technician at Airbus Canada, and have been working in the aerospace industry for almost 20 years. Building airplanes is a fascinating field, especially considering that I get to work on the most revolutionary aircraft of the last few years: the C-Series, now known as the A220, a magnificent Quebec-designed aircraft. It is with amazement and dedication that I and my colleagues participated in the design and construction of the very first FTV1(flight test vehicle). We saw the certifications being completed one by one until its very first flight in 2013. Since then, we have delivered more than 150 aircraft, which now fly all over the world.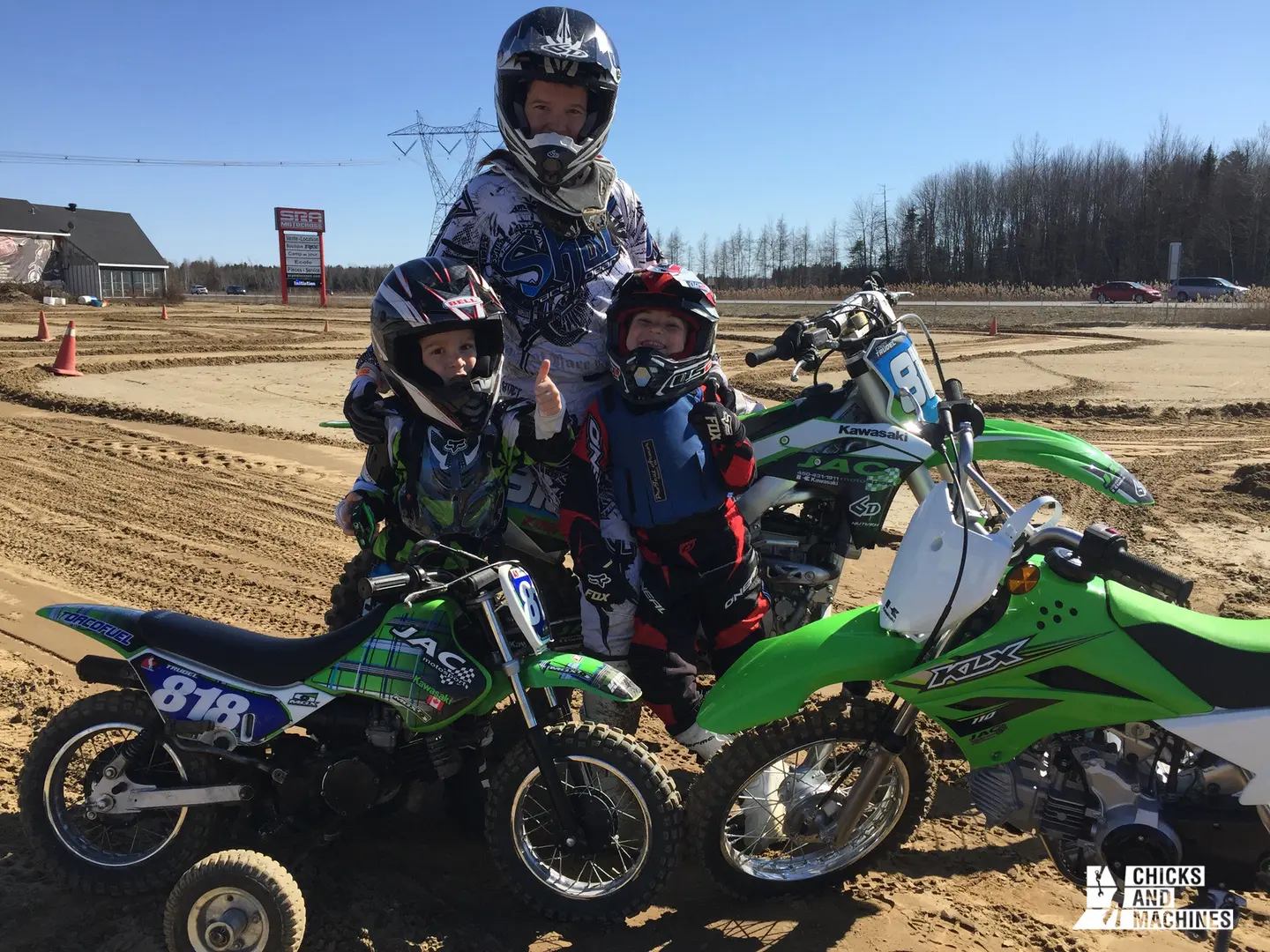 My Wild Side!
Although I love my job, I sit behind my computer screens most of the time. That's why my personal life is so much more extreme and hectic. I'm a motocross rider! Although most motocross racers started motorcycling at a very young age, my background is rather atypical.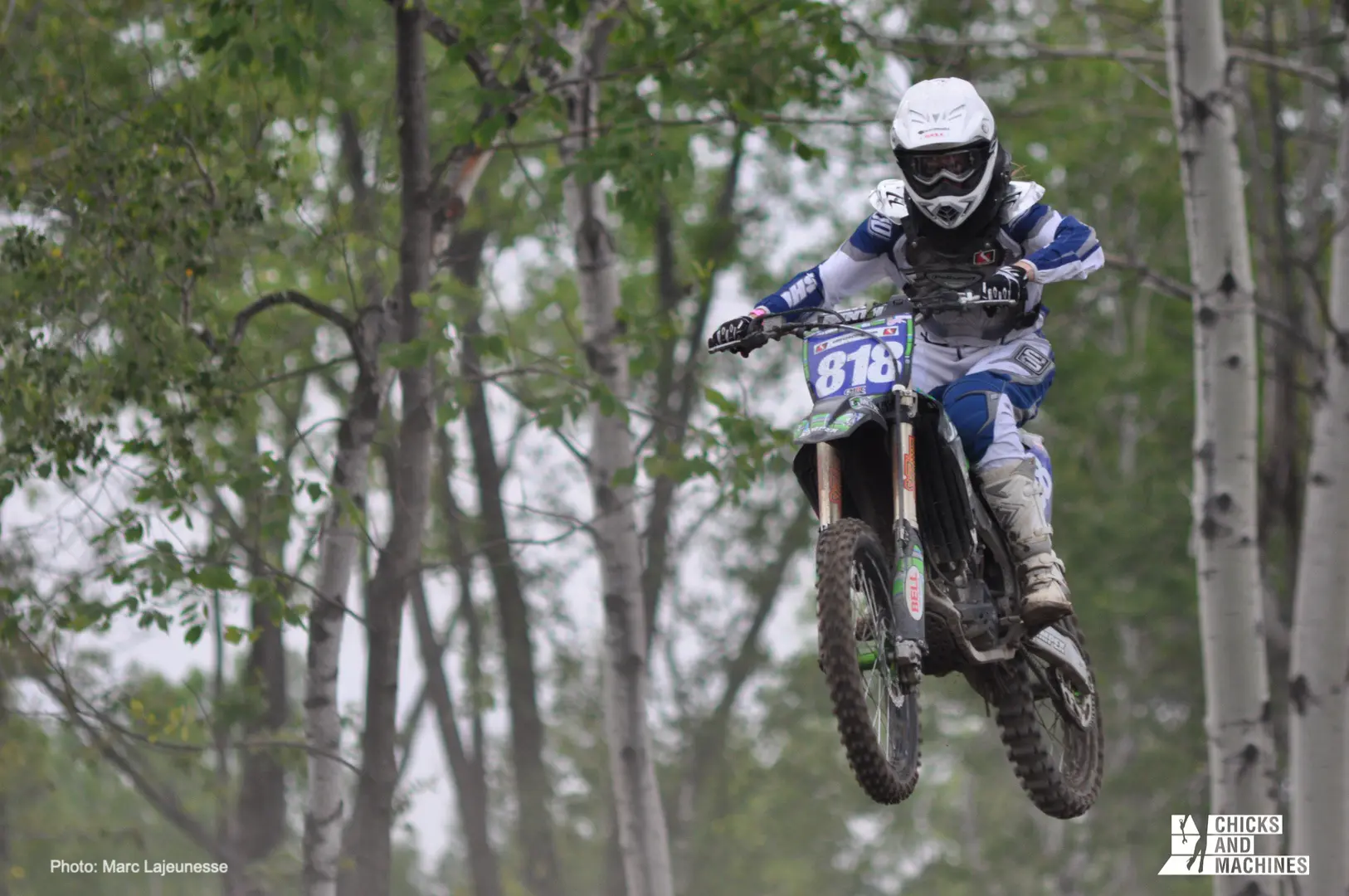 Back in my Day…
My parents never had any interest in this sport, so it's my older brother who opened my eyes to it when he bought a 1987 TT225 motorcycle to ride with friends in our town's sandboxes. It was with new friends he met over the years that he started motocross racing, and then moved on to EnduroCross.
I always enjoyed watching my naturally talented brother train and race, but it never crossed my mind that I, too, could practice this sport. Only guys were motocross riders in those years! It therefore took me several years before I acquired my first off-road motorcycle to have fun on the trails. When I was 25 years old, I rode a motorcycle for the first time. It was a Yamaha TTR250: a 273-pound beast, as slow as a slug but as comfortable as a sofa. At that time, my brother was at the competing among the EnduroCross experts and I frequently attended his races. His new girlfriend, who had started competing, had made it her mission to convince me to try racing. At that time, fewer than 10 girls were participating in EnduroCross races organized by the FMSQ.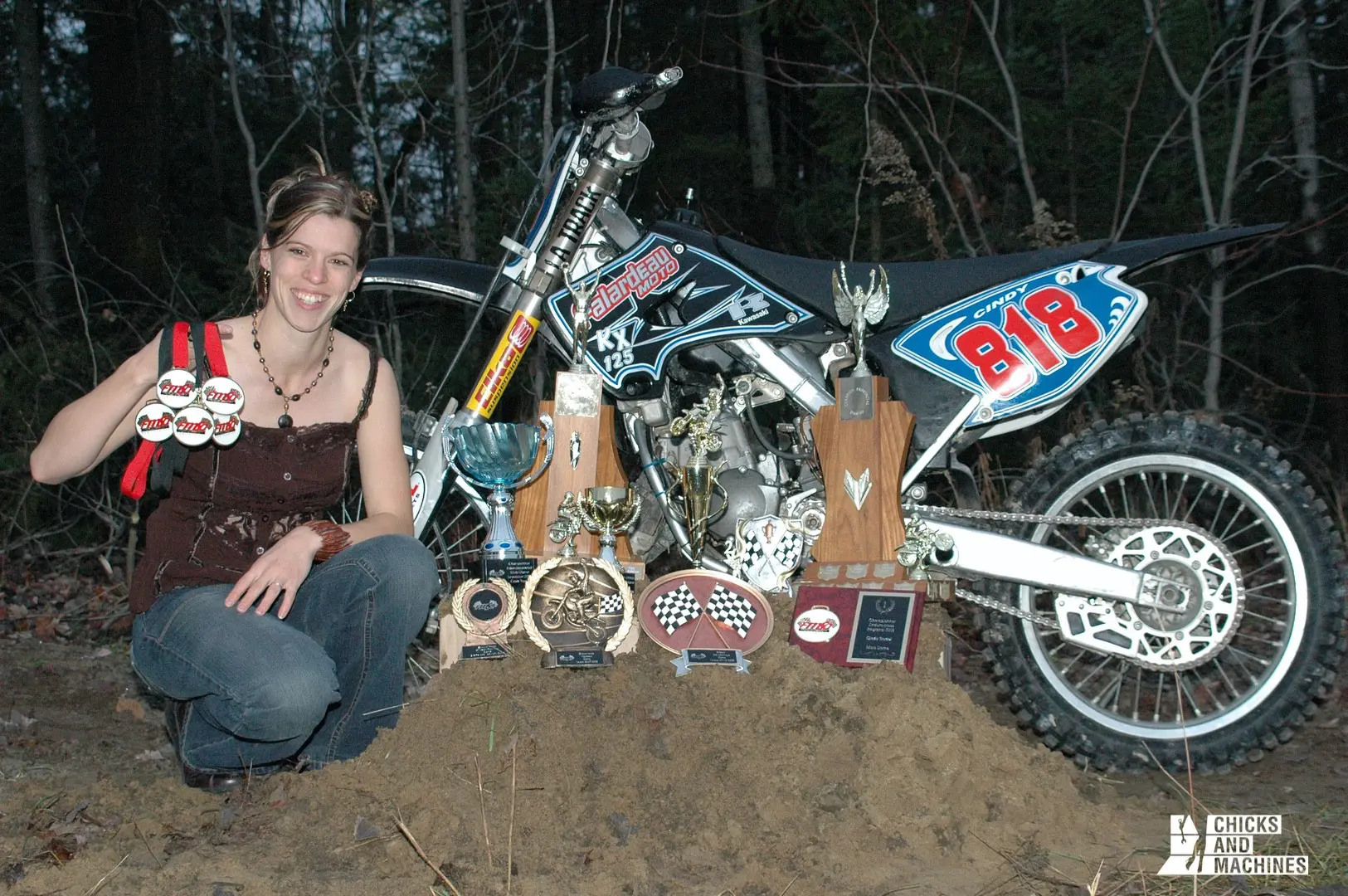 Click here to learn more about another badass female pilot:

For me, everything started in the spring of 2004, in l'Annonciation in the Upper Laurentians. I was not prepared, not trained, not equipped…but I had the essentials: a smile and my sister-in-law at my side. I completely missed my start, starting last out of 18 participants. I therefore decided to have fun during the hour of the competition, making my way up the ranking without paying much attention. I was just trying to get my hefty bike back to the finish line, and I finished fourth! So close to a podium, I absolutely had to race again to get one of those top 3 spots I coveted so much.
This led me to completing my first season of EnduroCross racing in 3rd place, also collecting a few first places here and there. I had become addicted to competing. I started dreaming big, telling myself that with better preparation, I could aspire to great things. I didn't take anything lightly: whether it was physical training, nutrition, frequent track training or the right equipment, I took it all seriously. I also bought the perfect bike for this kind of race: a Kawasaki KX125.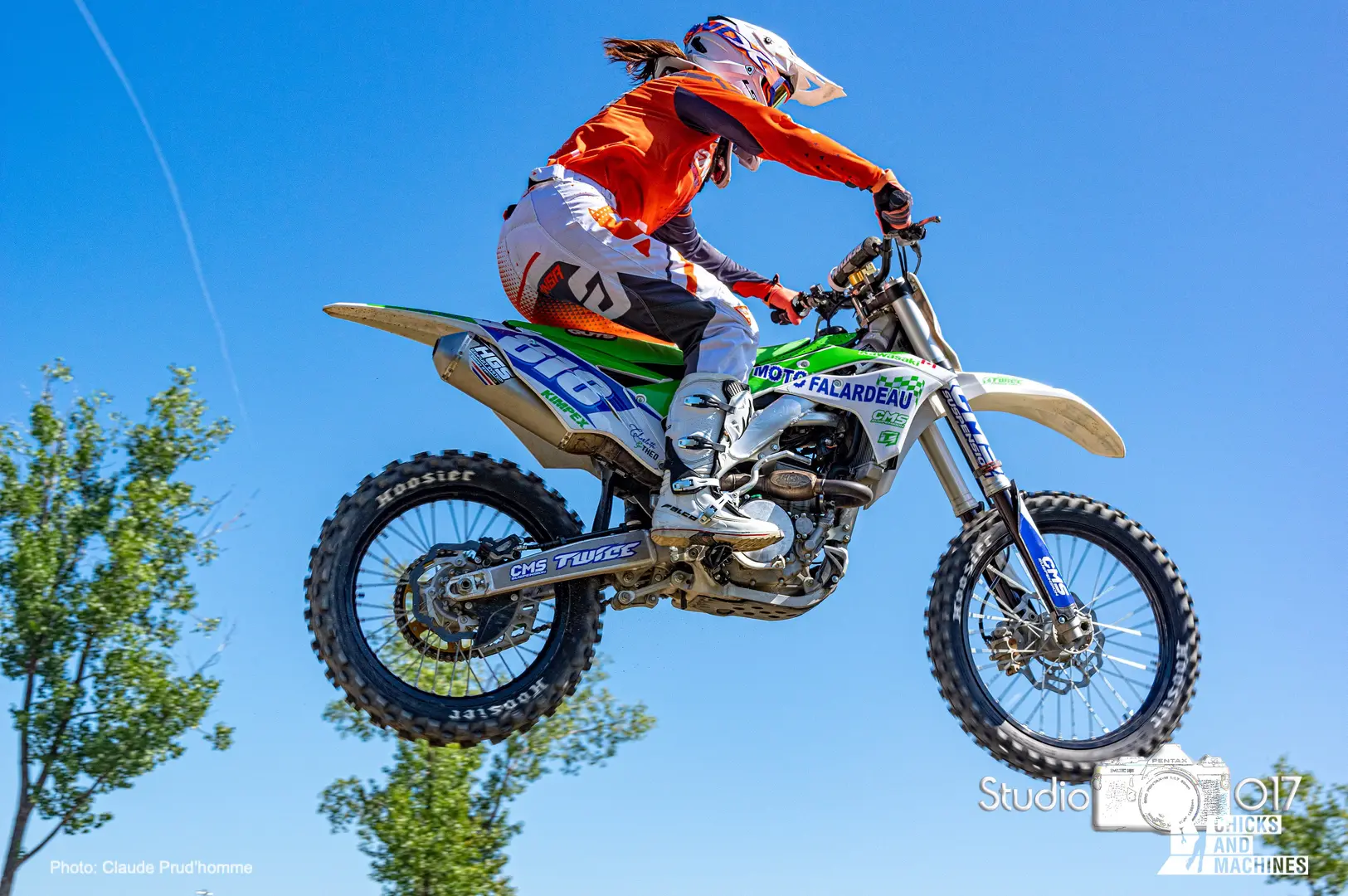 The victories kept piling up, and I was lucky enough to sign for Team Green with Kawasaki Canada.
Creating a Trail, Just Like a Lumberjack
As a female pioneer in this field, I was clearing a path before myself that was promising and riddled with sponsorships. I managed to develop a bond of trust with each sponsor by placing great importance on representing them adequately and professionally. All the efforts and all the people who helped me paved my way to 4 provincial EnduroCross championships.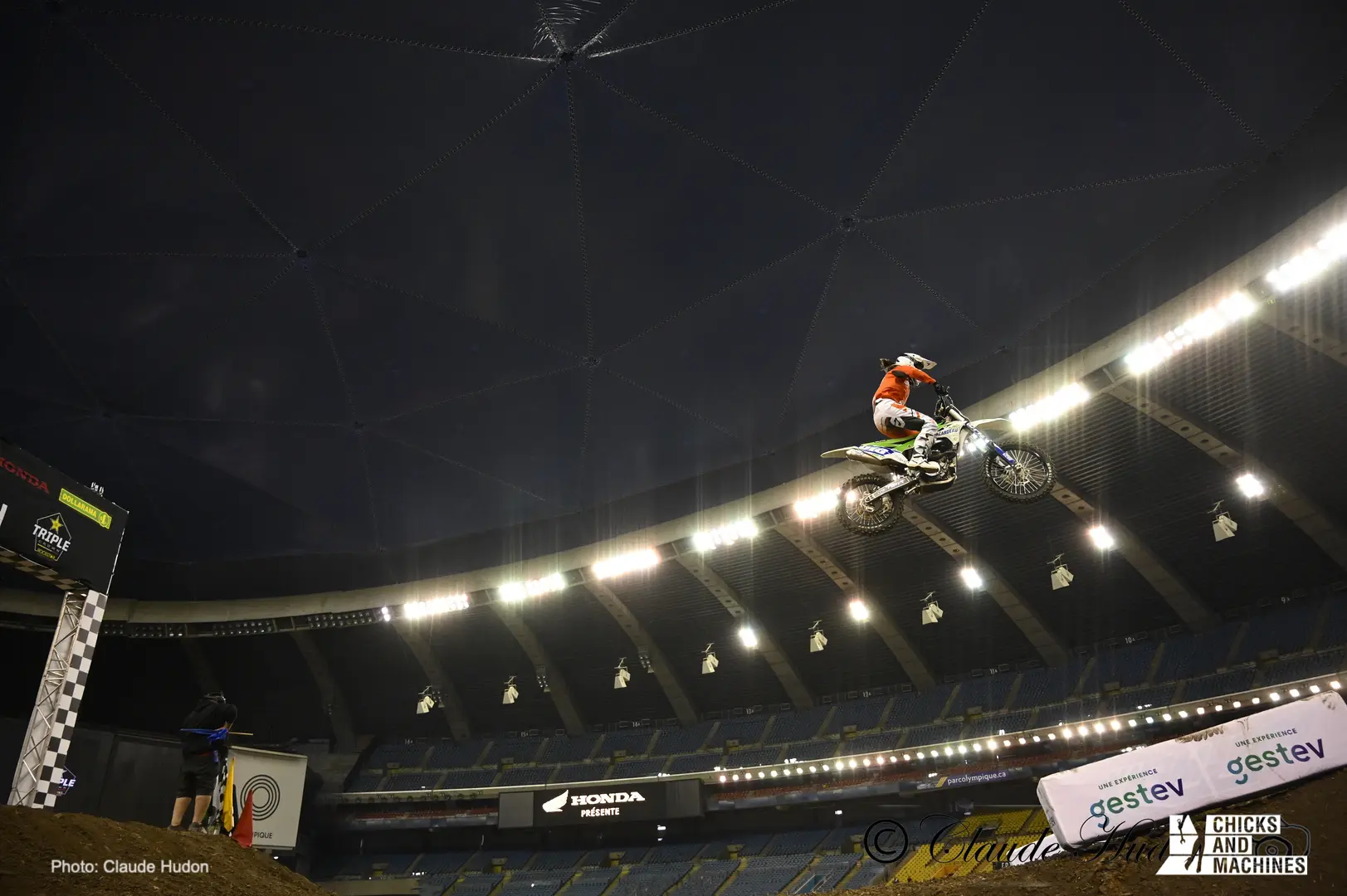 It was then that my first injury occurred: a fractured ankle and the ensuing operation forced me to rest for a long time. It was a perfect time to have our first child. During this break, I thought about transitioning to motocross. The competition, the intensity and the jumps appealed to me a lot, and the few races I had competed in for fun had been very memorable. I made the decision with Kawasaki Canada that it was time to trade in my 2-stroke bike for a 4-stroke: the KX250F, which is better suited for motocross.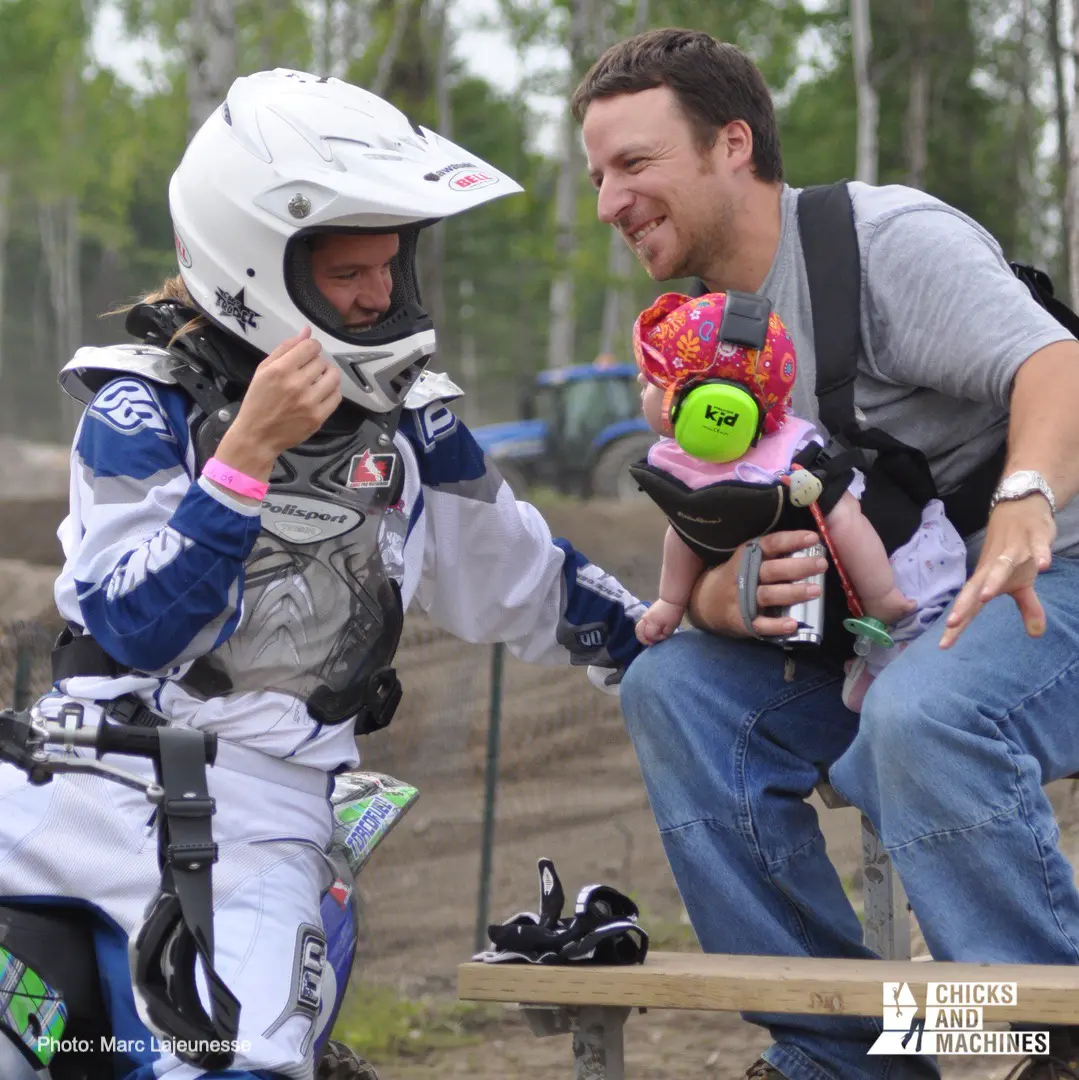 All or Nothing
11 days after giving birth, I was back on my bike, practicing basic techniques. I had also decided to participate in the national championship. At that time, we had to ride all over the country during the summer, from British Columbia to New Brunswick (nowadays, the championship is split East/West). My partner and I left with our little 3-month old to travel the roads of Canada, doing our best to visit our beautiful country between each race. I was not physically ready to compete among the best in the country. I managed to put in some good performances nonetheless, and finished 10th in the championship.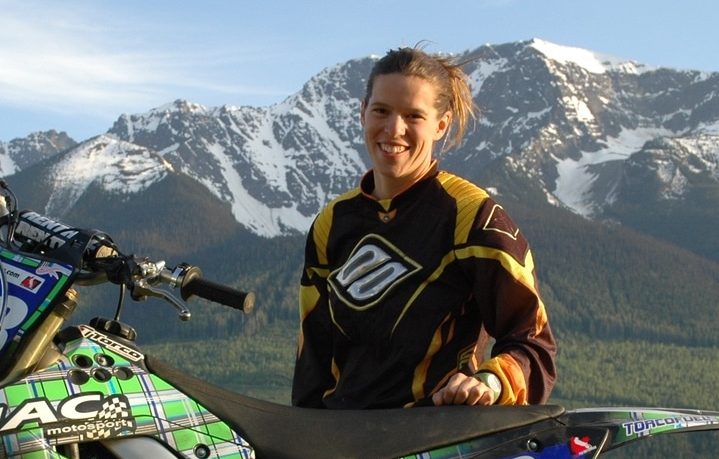 My Beautiful Path
In spite of all the success I've had in EnduroCross, I never had the desire to go back to that sport. Since 2009, I am 100% dedicated to motocross. Victories, injuries, a second child, a women's championship and a men's championship have marked this last decade for me.
Now that I'm 42 years old, maybe I should think about retirement: I'm getting old in this sport, where the majority of female competitors are between 15 and 25 years old. But I simply can't bring myself to retire! I'm still a solid rider, my technique is well entrenched in me, I'm training harder and harder to maintain my caliber and I manage to get good results, even though championship victories now seem out of reach for me.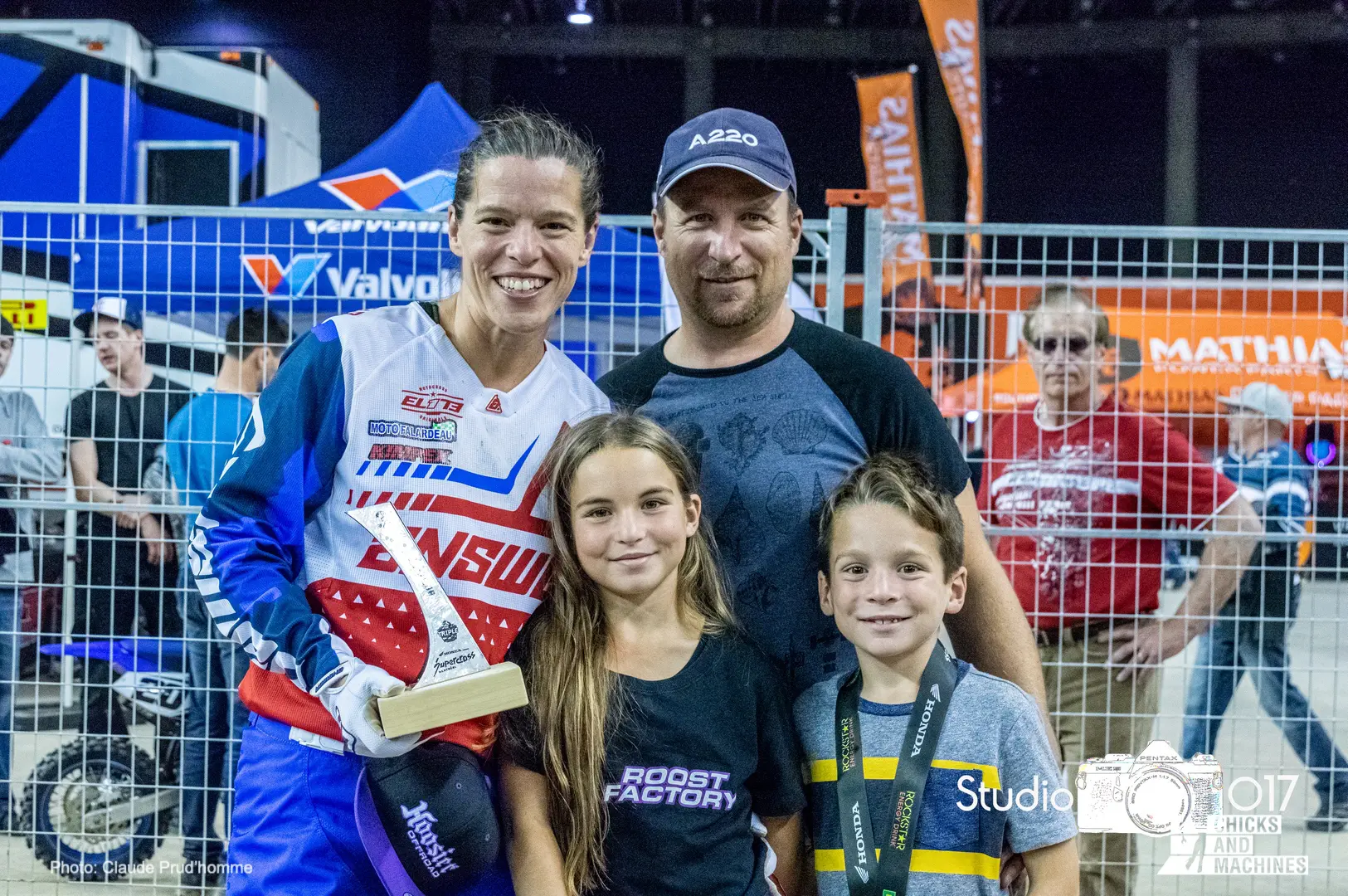 It is with great pride that I'm joining the team of Chicks And Machines collaborators. Their philosophy is very close to my heart. Do not hesitate to send me your suggestions for my article topics! I am looking forward to sharing my knowledge, experiences and my passion with you.
Never let go of your passions!