Cynthia Gauthier: Interview with a Monster Truck pilot
Chicks And Machines offers us, collaborators, the chance to meet a lot of people with all kinds of background, personalities and experiences within multiple events in different environments.
A couple of days ago took place the VIP party hosted by Mathias Marine Sport. This remarkable event was a huge success and a complete article on the happening will be posted shortly…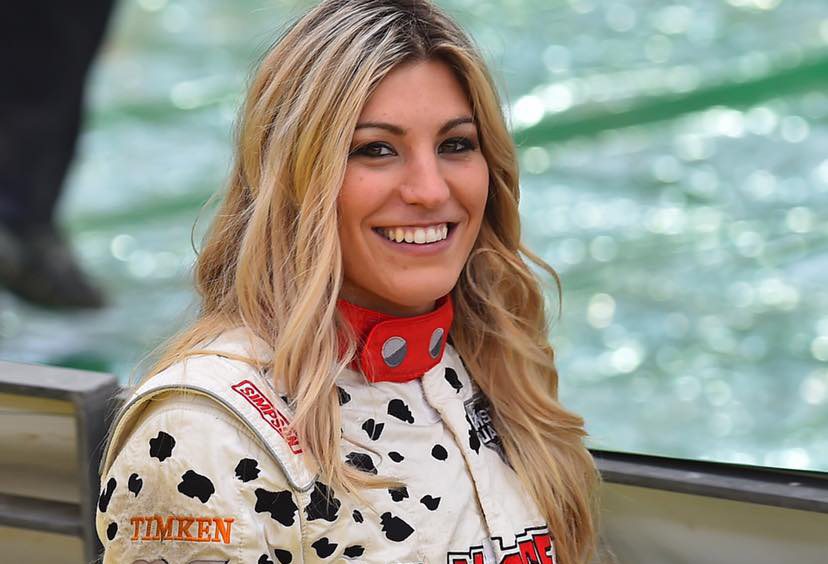 During this night I had the chance to meet a lot of strong, motivated and inspiring female athletes. They had so much to share and everything they were discussing was so interesting that we had no other choices than to interview them! Without further delay, let me introduce you Cynthia Gauthier, a bubbly girl who knows exactly how to communicate her passion.
A pathway like no others…
Cynthia Gauthier started motocross at 18 years old. Without wasting time, she participated in motocross races and she even reached the national championship.
After 5 years of competition and after multiple injuries, she decided to experiment buggy, a more robust vehicle. During the next 2 years, she raced with her buggy all over the United States. Since our lovely and glowing Cynthia is always seeking for new challenges, she finally decided to jump into Monster Truck competitions. Let's face it, she's fearless!
How to pilot a Monster Truck

First of all, you must know that Monster Truck is definitely one of the biggest race trucks in the world. With an average height of 3.6 metres, 6 metres in length, tires of 1.7 metres high and an approximate weight of 10,000lb, Monster Trucks are definitely unlike any other sports! Driving this big creature is beyond doubt different than a regular car. Cynthia explained us that the biggest difference is the direction. We were surprised of learning that the front and rear wheels can both turn in separate directions at the same time. To do so, the driver needs to firmly hold the steering wheel with one hand and with the other hand, he controls a joystick which is related to the back wheels.
An unforgettable moment
During our chat with Cynthia, we asked her what is the nicest moment she lived since she pilots her big baby. Her answer was prompt and lively, there was no doubt for her or even for us, that what she was about to say was FOR SURE her best moment in career as of now! During her first Monster Trucks competition, she was driving as fast as she could (that's as fast as the speed of lightning, let me tell you!)  and as she was manoeuvring her Monster Mutt Dalmatian, this "dog" decided to tip over. Without an once of hesitation, she pressed on the gas pedal as much as she could and all of a sudden, she was back on track, all wheels on the ground! At that very moment, the crowd was going crazy, screaming and cheering for her. She was earing all those people being there for her and the excitement she felt was amazing but the only thing she had in mind was to know if that stunt was enough to win the trial! Well guess what, it was more than enough for the judges who declared her as the big big big winner! Not only did she won her first Monster Truck race, but she also give a hell of a show to everyone in the stadium!
The chance of a lifetime
Pilot Monster Trucks has nothing common that's for sure! Once Cynthia fell into the world of big trucks, she invests herself to the fullest and she is now travelling the world chasing all competitions with her Monster Mutt Dalmatian. She had the chance to practice her sport in the United States, Europe, Chili, Brazil, Canada, Mexico and even Australia. Definitely you need to be ready to pass long hours in airports and on airplanes to break into this world and make it a long-term job. This year, Cynthia even tried her first Back Flip and she almost landed it during a race happening in France. Being the only rider speaking French, the Quebec girl could enjoy this beautiful moment in her first language!
Did you say TV show?
Not only is she one of the rare woman to pilot Monster Trucks, the stunning blond is now hosting her own TV show called Zone VL. This show is a reflection of every aspects of Cynthia's personality; it's full of adrenaline and this awesome chick tests any and every motors vehicle. You can watch the show every Sunday at noon on V Télé (for Quebecers).
In conclusion
To finish this interview on an amazing note, Cynthia had a couple of nice words for all of us girls, filled with encouragements. She is saying loud and clear that none of us should quit or stop doing what we like for any reasons. When you love something, you have to work hard to play hard. Girls wanting to break through Motorsports should always look forward even when things get harder. She is wishing that every girl remembers to never doubt yourself in whatever you want to accomplish. This is an inspiring message from a real Chicks And Machines!
Thank you, Cynthia, for your generosity and your overflowing passion!
To follow all of Cynthia's adventure all over the world:
www.CynthiaGauthier.com
Facebook Cynthia Gauthier
Instagram Cynthia Gauthier