I've tested the Can-Am 2020 Ryker 900
To start off, I have to say that I own a Harley Sportster Custom 1200 and have this brand tattooed on my heart… I live for this bike and I am a passionate Harley Davidson girl. So, I was never really drawn to three-wheeled vehicles either Harley or Can-Am. However, when Chicks And Machines and Can-Am On-Road came together to collaborate on product trials, I was curious to learn more about the project!
Subsequently, when I was offered to test the Ryker 900 2020, I immediately said yes because I finally had the opportunity to try this machine, which is a bit of a misunderstood machine by motorcyclists! Without even knowing it, my opinion of the Ryker would change very quickly!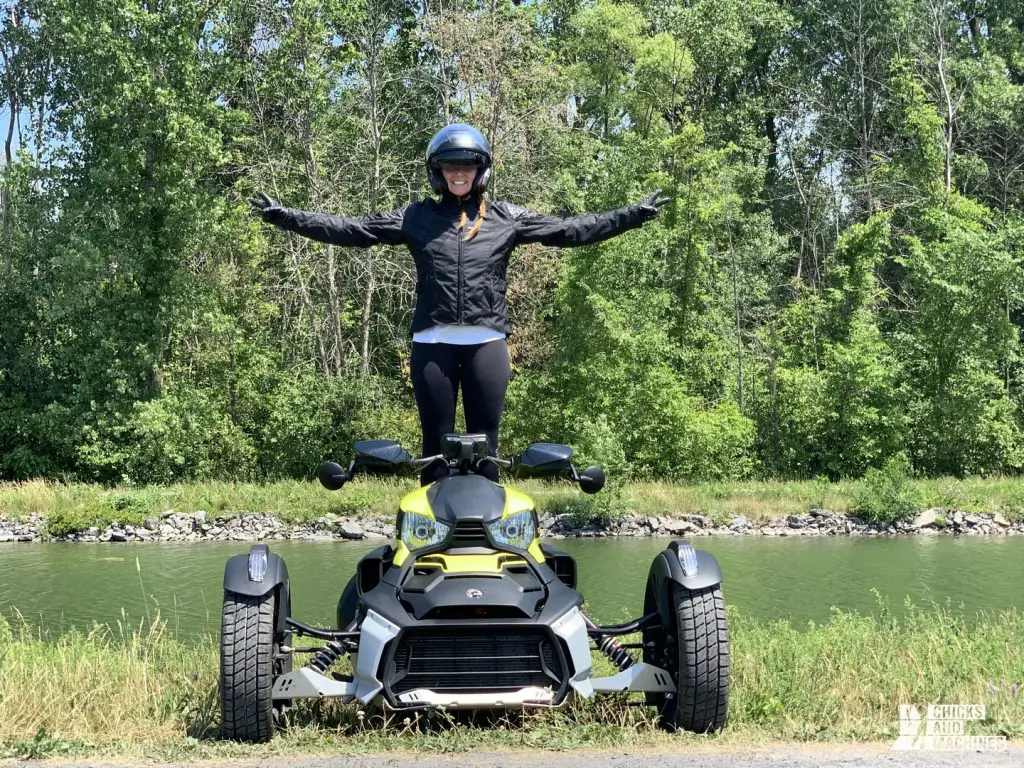 Discovering this 3-wheeled machine!
First of all, the opinion of 3-wheeled vehicles is very mixed in the motorcyclists' world. But which of you had the chance to try a Ryker? I did! And I can tell you that the first word that comes to mind is impressive! I drove a little over a thousand kilometers with this machine alone and accompanied. I must say that this machine is a charm and very pleasant to drive.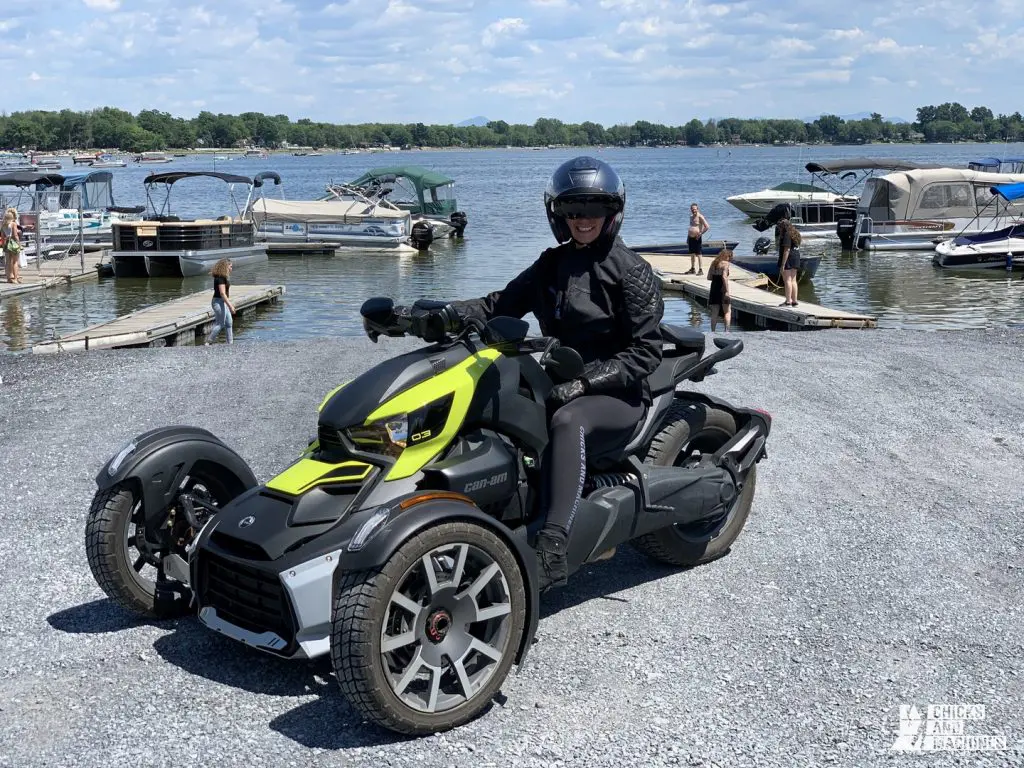 I did my test drive on the South Shore of Montreal, passing through small country roads and highways in order to test the power and reactions of this impressive machine! I visited Venice-in-Quebec where I stopped to eat at La Charlotte canteen by the beach! This canteen made the top 10 potato shacks in Quebec! Then I drove to Notre-Dame-de-Stanbridge, Granby, Magog, to name a few places …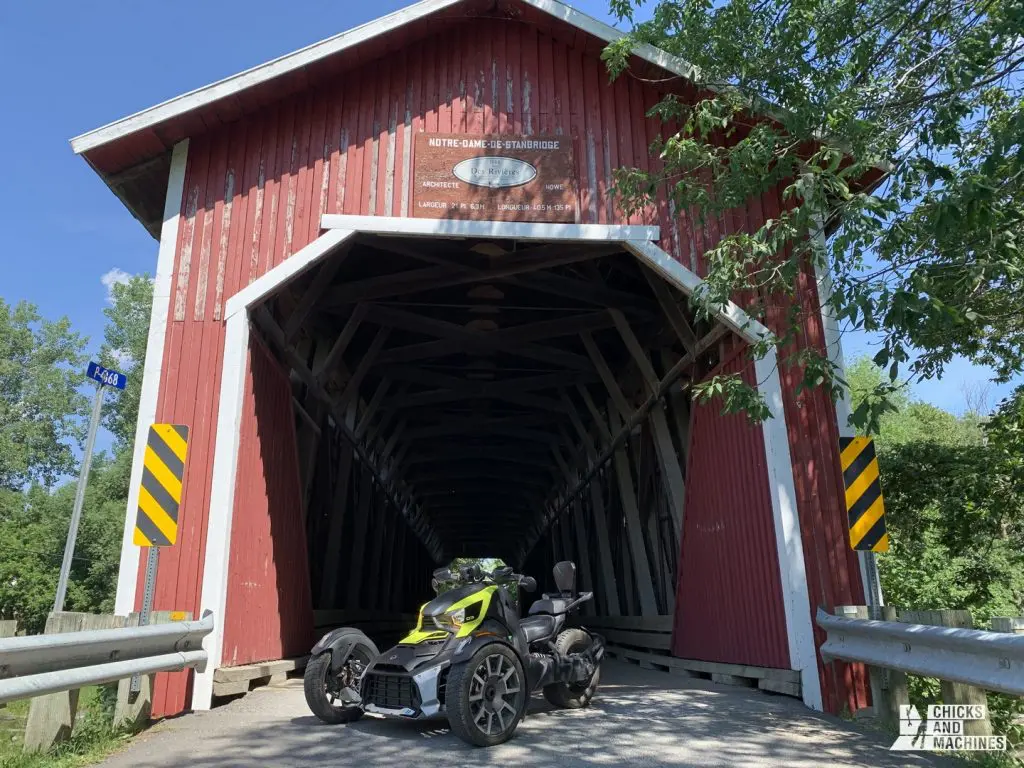 It was beautiful weather and beautiful roads! What could be better!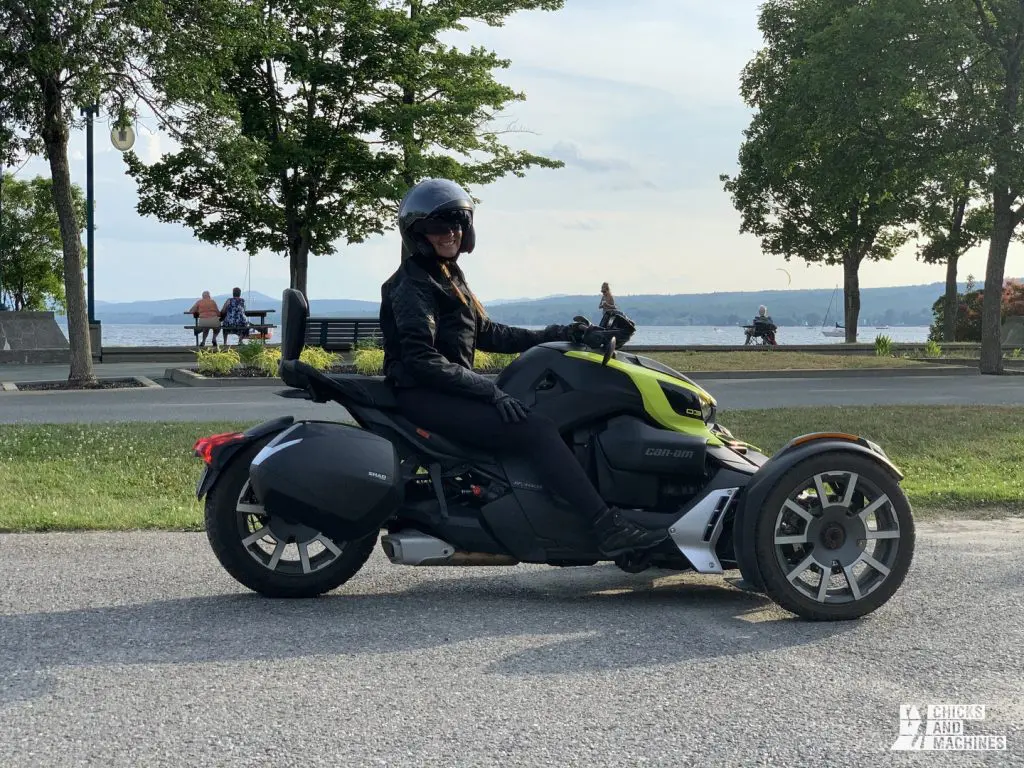 The Ryker 900
Power up to my expectations
The Ryker is offered with two engine choices, 600 cc and 900 cc. The one I tested was the 900 cc. Not only safe and stable, the Ryker 900 is also very powerful! Be careful when you start as the Ryker 900 reacts aggressively when given gas! It is very easy to take off making the tires scream! It's a nice feeling, but we must be careful not to be too crazy! And like a powerful car, when I twisted the throttle to the max, I immediately felt myself backing up on my seat! It was a nice reaction from the machine! Power she has! In addition, two driving modes are available with the 900 cc, Eco mode and Sport mode.
And for those who love power, with a Rotax 900 cc engine, the Ryker is sure to give you thrills. Guaranteed!  In addition, the Ryker has an automatic transmission with reverse gear. Driving this vehicle is easy and accessible to all. With no stress associated shifting gears, driving becomes safe and enjoyable. Not to mention that these three wheels offer stability that should not be neglected. Riding carefree is a great combination for driving pleasure!
Some people say that driving a Ryker is most like driving a snowmobile… well what I especially like is the interaction of my body riding this machine. It's very athletic, you absolutely have to put your weight in the direction you are turning. Do not forget to pronounce your movements if you want to make your turns safely!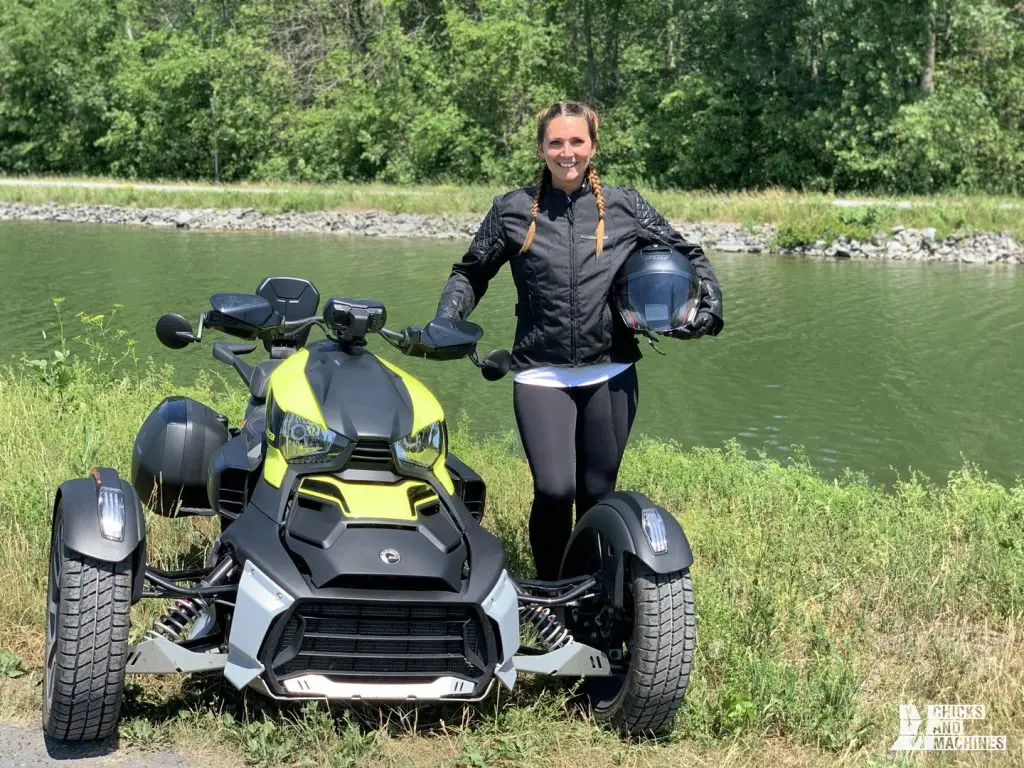 The look
Regarding the look of the Ryker 900, it offers a very aggressive appearance. Just like a sport bike. The young and sporty look completely won me over. With several choices of color panels, you can customize it to the perfection according to your style and personality. For my part, I opted for fluorescent yellow and black! I can assure you that this machine does not go unnoticed! It is also very easy to change the color panels.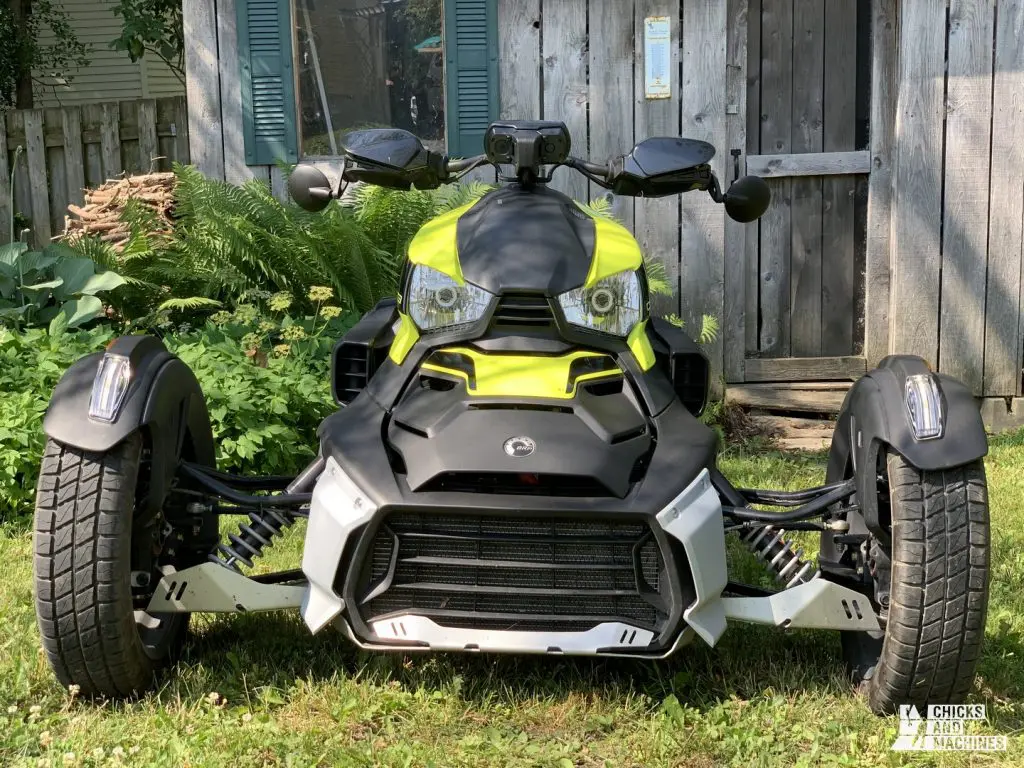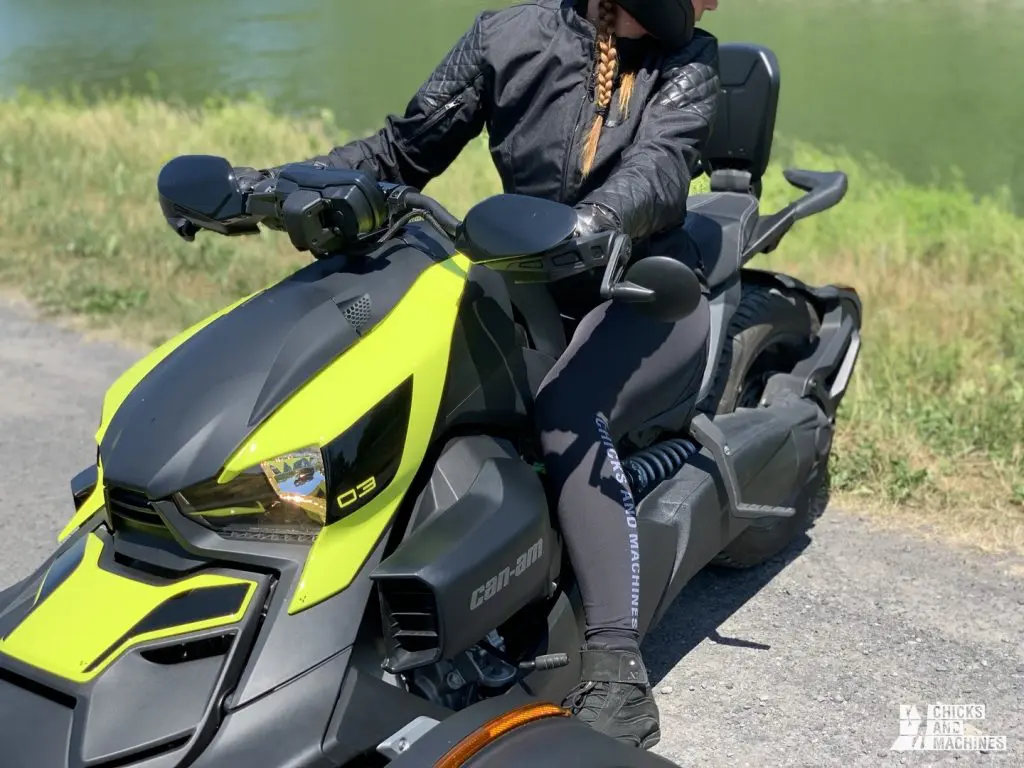 The storage capacity
The Ryker offers an ideal glove box to store your wallet, gloves, cap or any other smaller items you may need for your road trip. Inside this compartment you also have a double USB socket to charge your phone or GPS during your rides.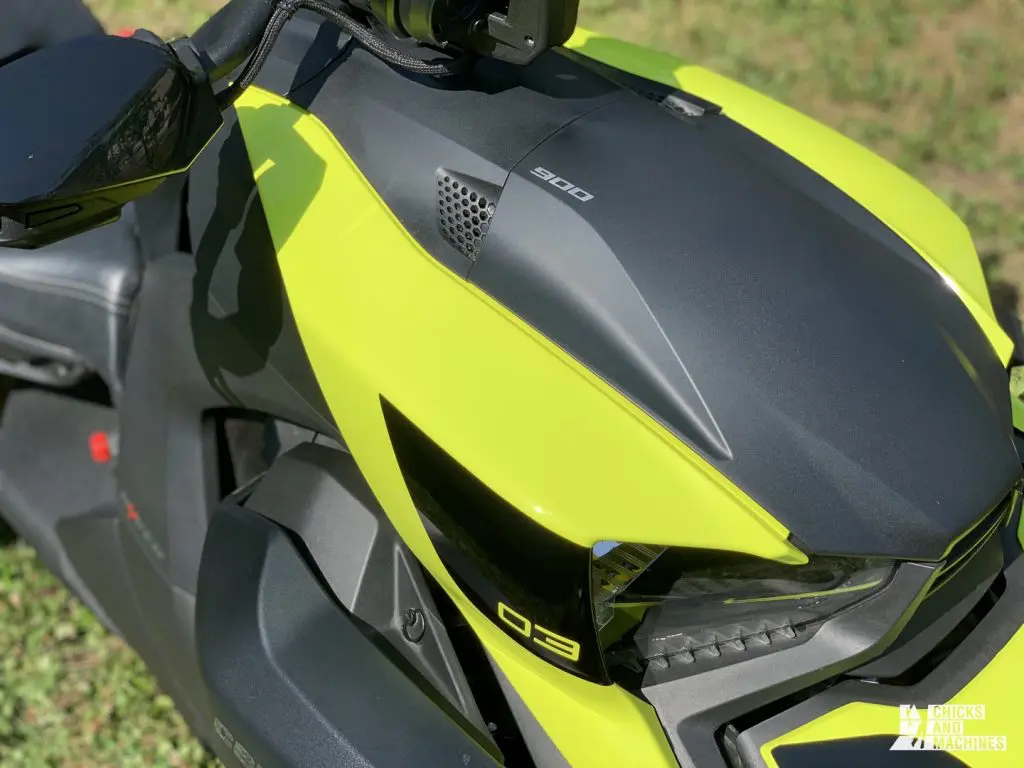 It also offers a spacious rigid case located on the right side with ample cargo capacity to store your travel essentials!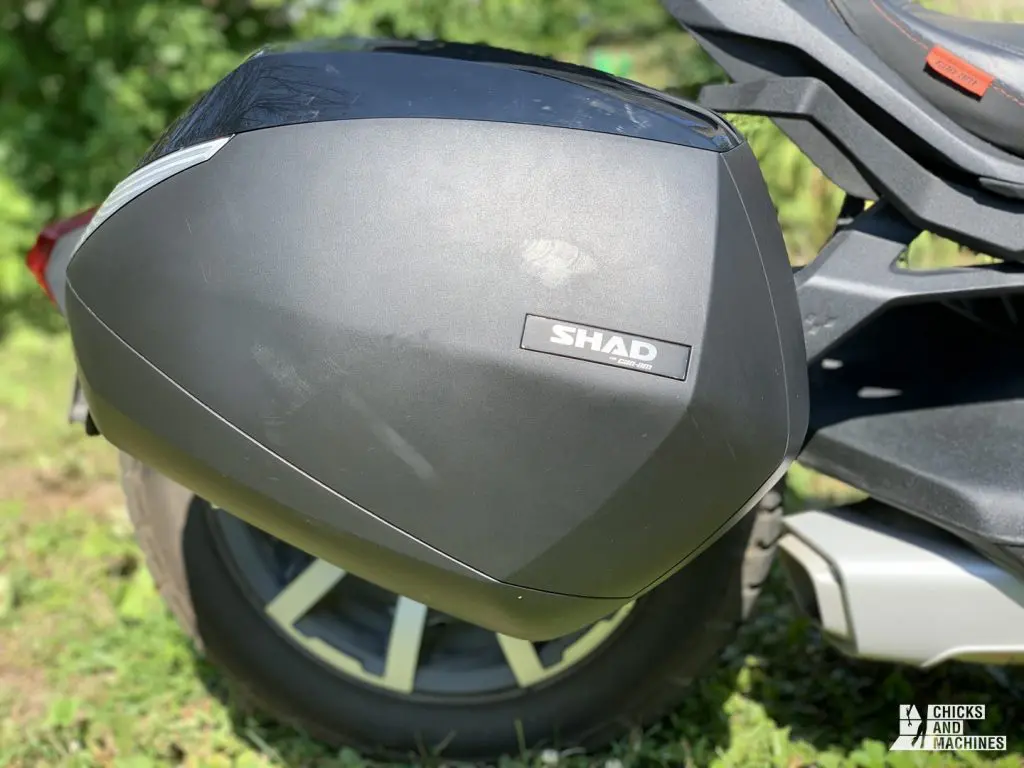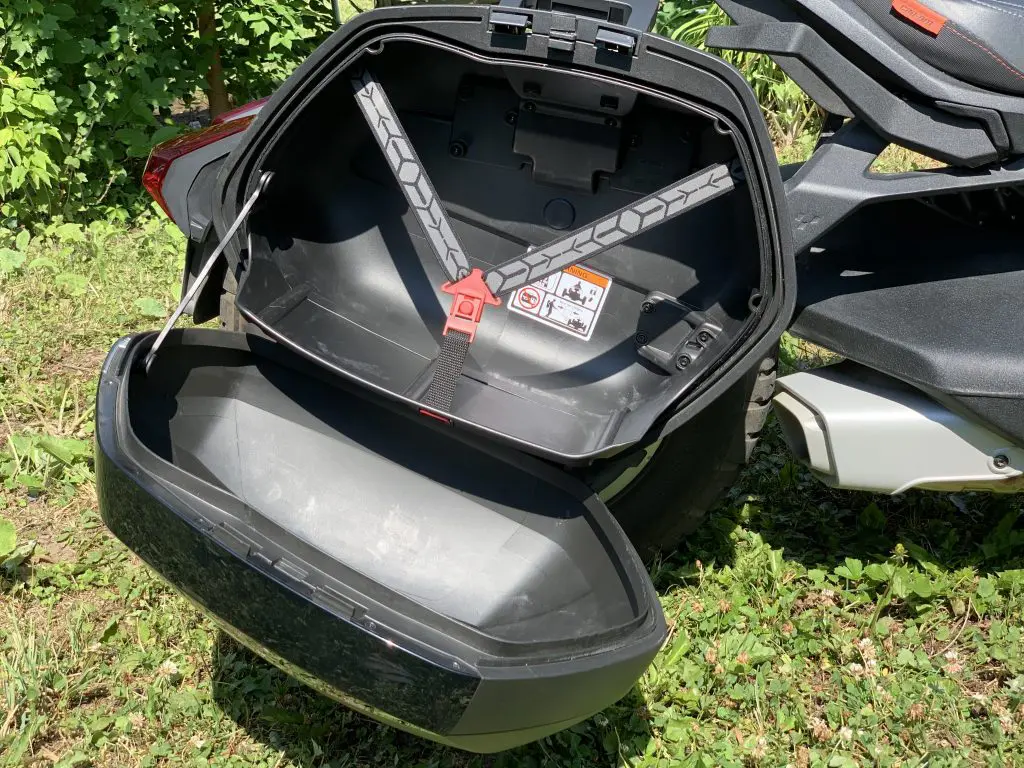 Some of the main specifications:
 Rotax 900 ACE engine with 3 cylinders in line
Liquid cooling
Direct fuel injection and electronic accelerator
 82 hp
 58.3 lb-ft torque
Automatic transmission (CVT) with reverse function
 20L (5.28 gal) gasoline tank
Several panel colored options fully customizable and exclusive according to your tastes
Two 55W halogen headlights
Front mudguard with integrated LED lights
Dual USB port
Fully detachable memory foam seat
Suspension: front: SACHS twin tube coil-over spring shocks; rear: SACHS twin tube coil-over shocks with preload adjustments
11.4 cm digital center display
Very quiet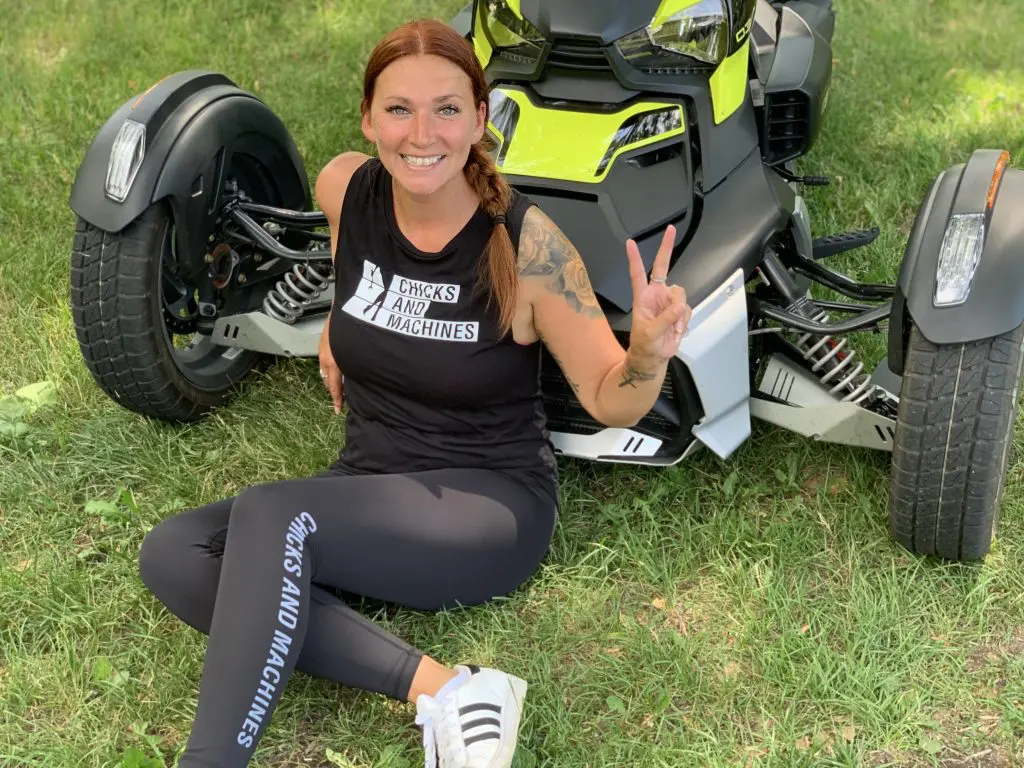 My Verdict
My experience with the Can-Am three-wheeler community has completely won me over. Riding a Ryker opened my eyes to a whole different way of life than motorcycling.
There is great respect for Ryker riders – inclusive and pleasant people to be around. Everywhere I went people talked to me and asked questions about the machine. They greeted me, smiled and respected me! I can tell you that a lot of motorcyclists waved at me as I passed and of course all the Ryker riders as well!
This is where I changed my mind.
It is of course impossible to compare the Ryker to the motorcycle because they are two completely different and distinct machines. However, I am pleasantly surprised at the power and ease of handling this beautiful machine.
As I mentioned earlier, I was never attracted to three-wheeled vehicles… until now! Finally, after my experience, I must admit that I would love to get a machine like the Ryker 900. It is safe, comfortable and easy to add a passenger. I am absolutely won over by this machine!
Last but not least
I would like to thank the Can-Am On-Road and Chicks And Machines teams for their trust in allowing me to try the Can-Am Ryker 900. I strongly recommend this extraordinary machine to everyone. It is a great option for those who don't feel comfortable on two wheels! Fun guaranteed!
Caro G.