Valérie, adrenaline junkie and motorcycle lover
My story
For as long as I can remember, I have always been attracted to adventures and the pursuit of adrenaline. When I was younger, I was called a "tomboy" because of my penchant for sports, cars and gunplay (probably not helped by my short haircut in grade 4).
In short, I stood out from the crowd with my attitude and taste. Later, when I got my driver's license, I quickly discovered a passion for the car world. From the mounted Civic to the Audi that was " racing ", I drove through the gears with a smile on my face and the wind in my hair.
Today, I still love beautiful sports cars, but for everyday life and to carry my dog on my outings, I equipped myself with an SUV. So I quickly needed an alternative to compensate for my desire for excitement and I turned to motorcycles!
I've always found it impressive to see a woman on a bike! It's beautiful, it exudes confidence and power!
I decided to take my license at the 2018 Quebec City Motorcycle Show. I had to say I was tired of riding backseat with my boyfriend. Let's just say that doing 2/3 hour rides on the back of a GSX-R 1000, there's enough to get sick of!
He eventually switched to a Harley, but the seat didn't get any better (I almost missed the takeoff once at a gas station. Guys…don't put Armor All on your bench to "shine" before a ride! Just a little advice…)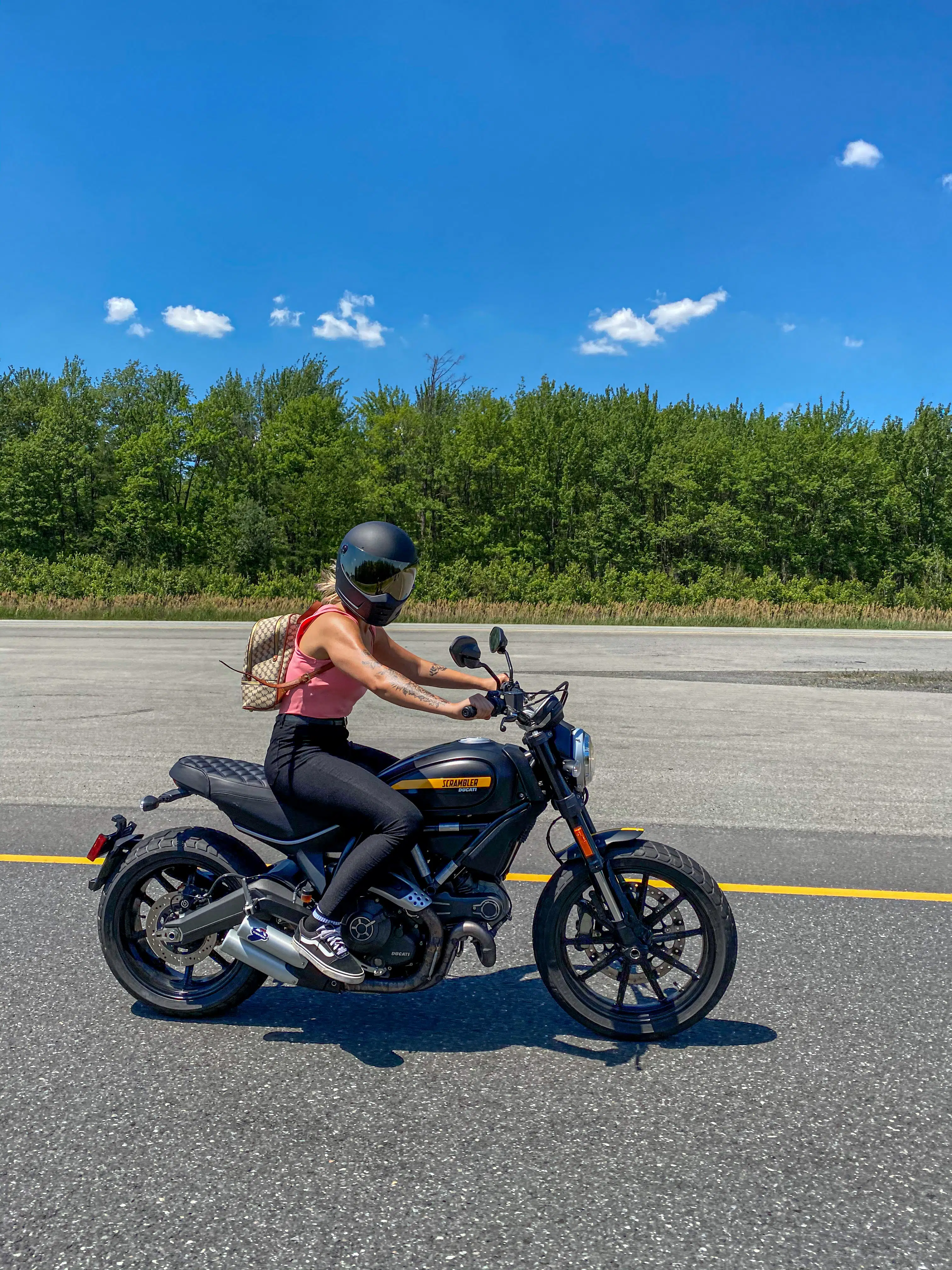 The beginning of a long love affair with two wheels…
The motorcycle courses helped me a lot to pass the exams and I met some great people! When it was time to choose my first motorcycle, I looked on the internet to see what was recommended in terms of weight, power, handling and size.
I immediately fell in love with the Ducati Scrambler. I loved the military look and the power. This bike was the best first bike for me! I even passed my practical test with flying colors with this one!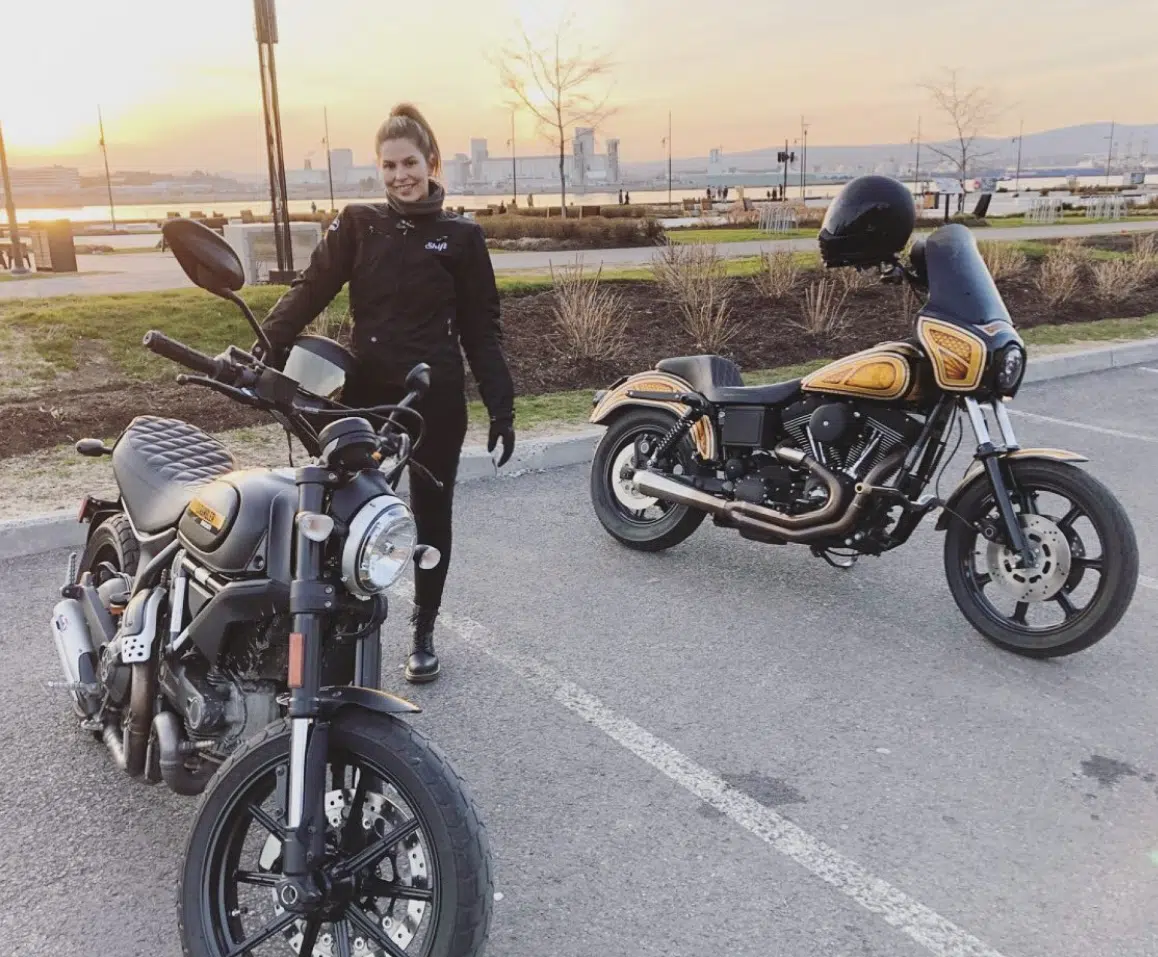 From powerful Italian to rugged American!
The summer of 2021 marks the end of my history with my Ducati and the beginning of my new adventure with my Harley (a Dyna with carburetor for the connoisseurs)! I have always needed a change and I felt that I had done enough with my Ducati. On the menu, modifications and improvements for my new project! Stay tuned !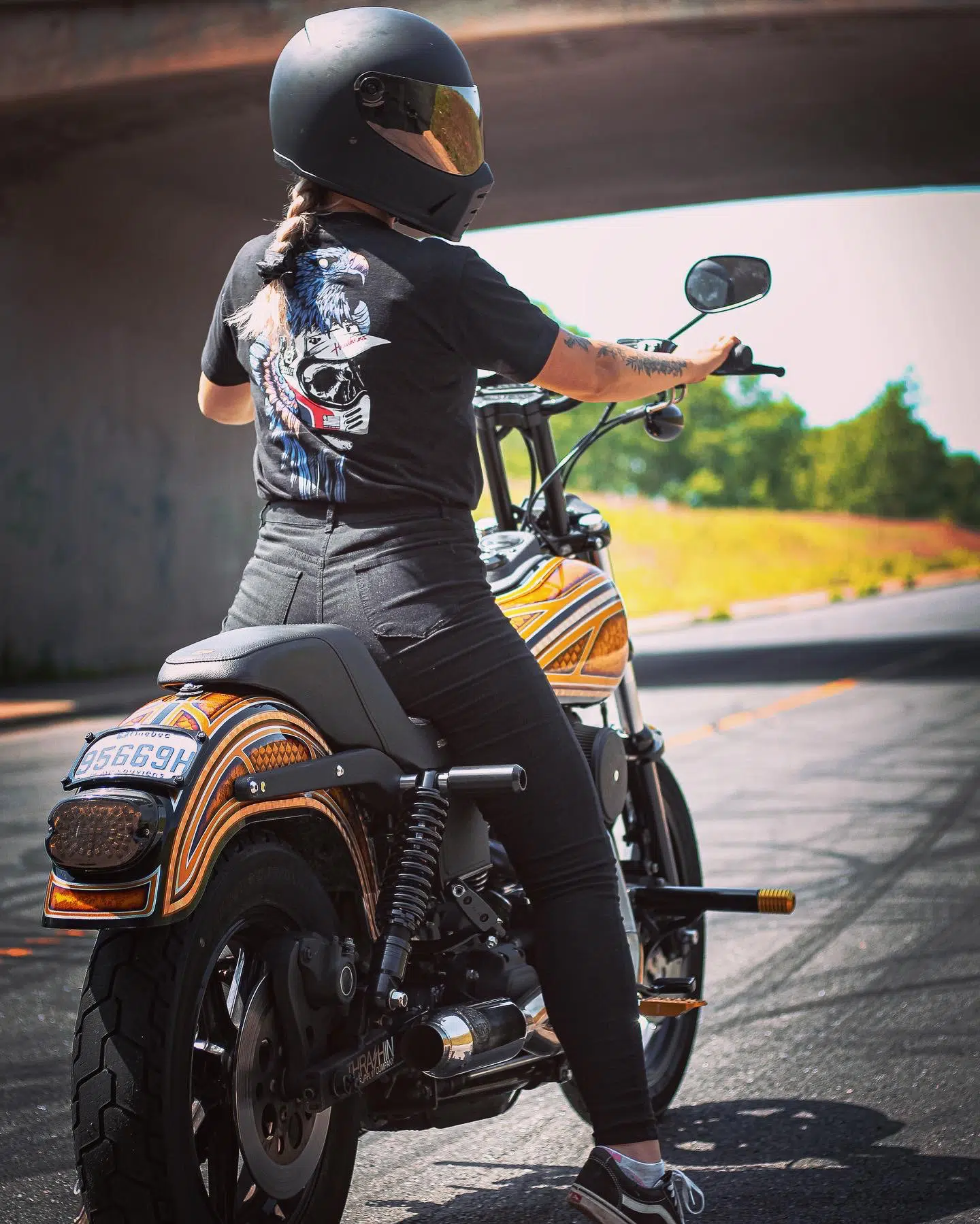 Bikers are like big teddy bears in the back !
What I like the most when I ride a motorcycle is the people I meet ! Of course, the beautiful landscapes and the snack bars are not unpleasant either! But the people who are passionate about " bécyk ", they are the best !
Woman or man, in spite of their appearances sometimes Rock N Roll, advocate the respect and the good mood in the field of the bike. It's easy to have a little chat between two reds! Really good people!
With my boyfriend and our friends, we can go for a ride and discover the regions as well as settle down at a spot and practice some stunt tricks. For me, it doesn't go further than a good old burn-out for the moment!
But I'm proud of it! Otherwise, I'm their photographer, cameragirl and number one fan! By the way, their page is @transworld_dyna 😉.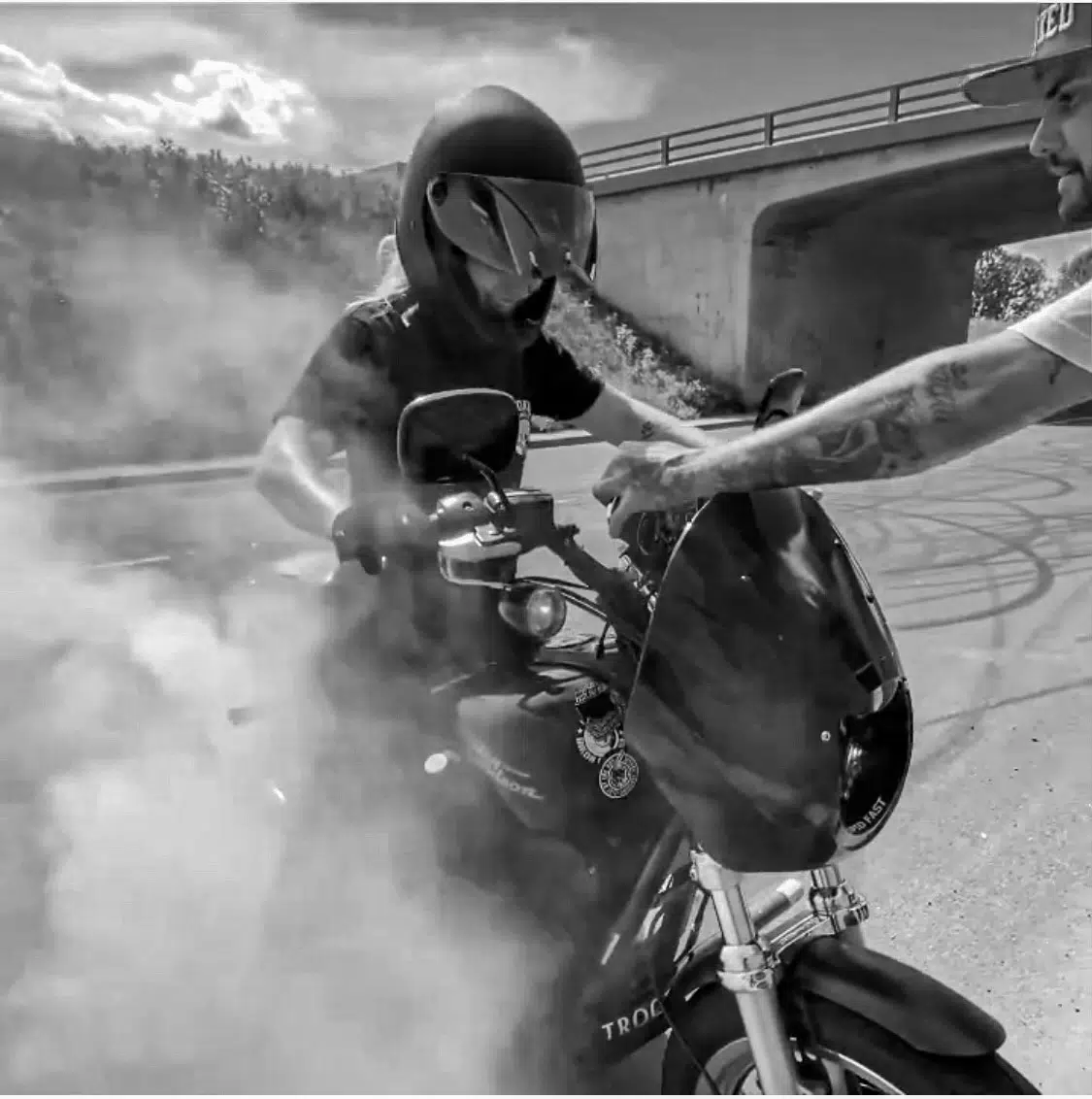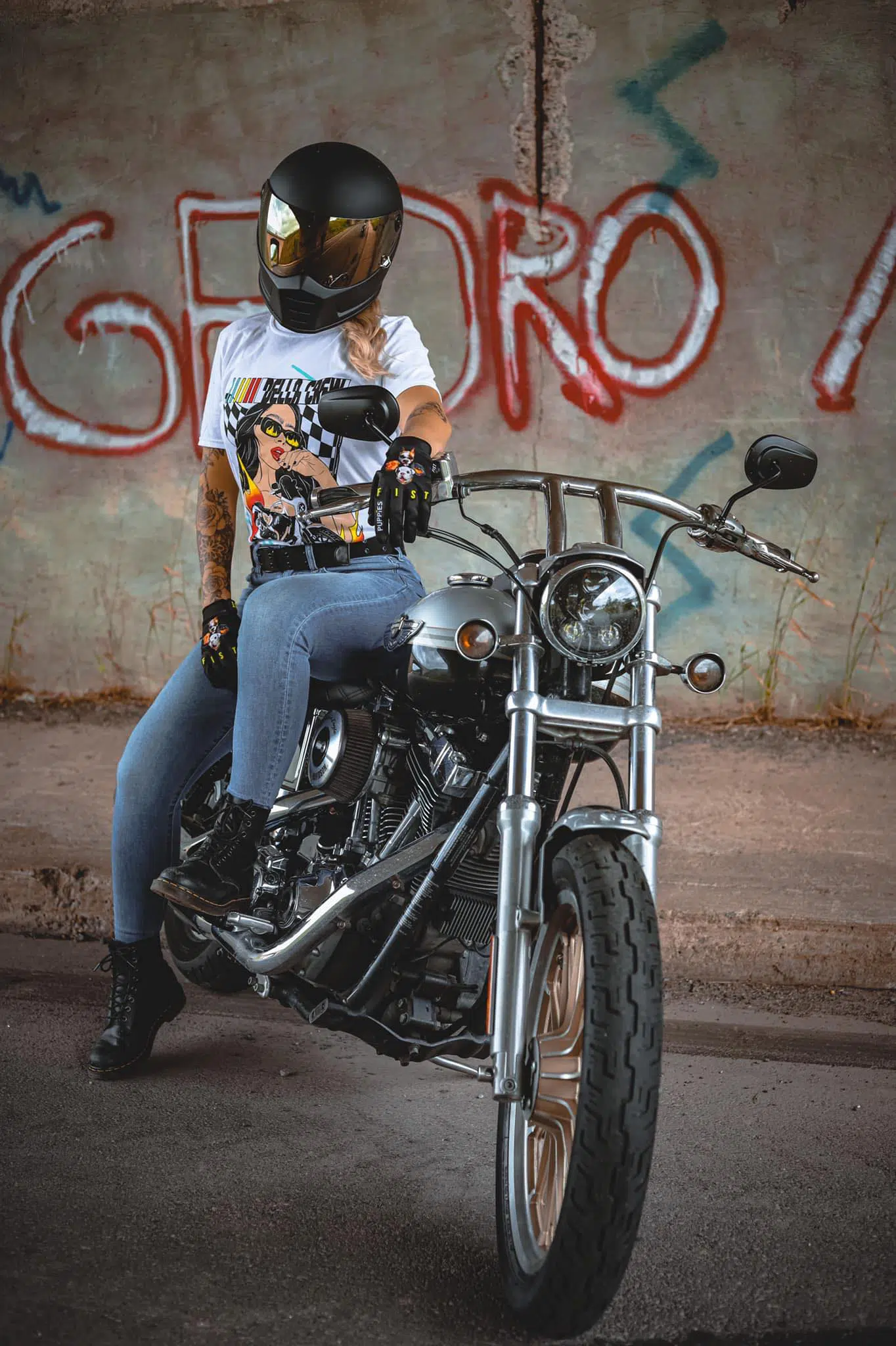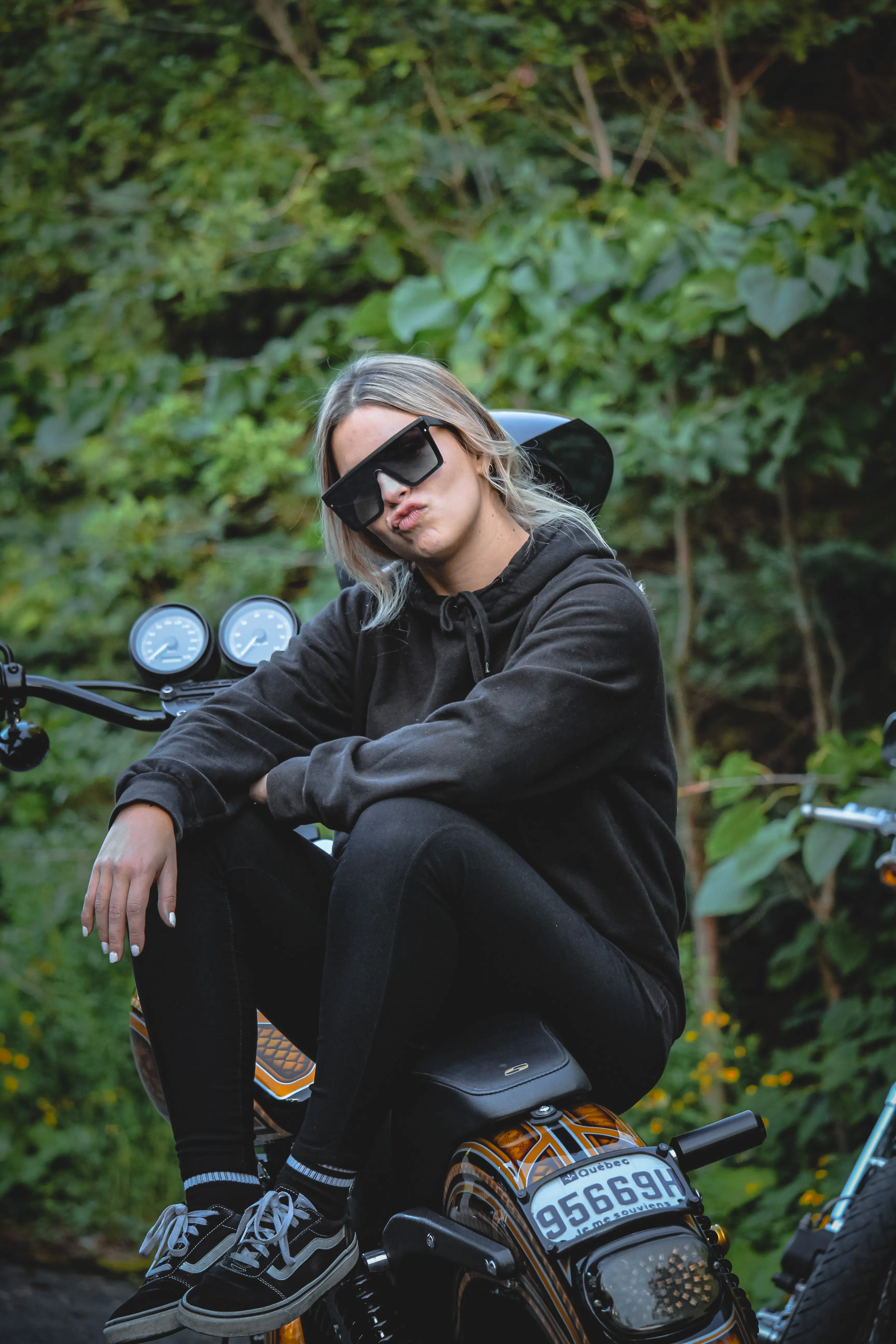 I want to test and educate chicks on everything related to the motorcycle field.
I want to be a reference source for any woman who wants to learn more about motorcycles. If you need advice on where to start, classes, which bike to choose, how to dress, how to gear up, I'm here to help! Don't worry! I'm a big teddy bear biker! Hope to see you soon 😊 !
Val