A snowmobile trip, destination: Gaspésie – Part 1
Who doesn't know the beautiful region of Gaspésie? The mountains, the river, the sea, the forests, not to mention its inhabitants, each one more welcoming than the last. In short, a winning combination! It is well known that in the summer, thousands of tourists come to this magnificent region to admire the different landscapes.
But what about winter? Is it the off season? NOT AT ALL! This is what the Chicks And Machines, in partnership with Tourisme Gaspésie, want to share today. Two Chicks, a photographer, a guide and three snowmobiles, that's all it took to organize a three-day trip through the snowy trails of this part of the province. Buckle up, we're going to blow your mind!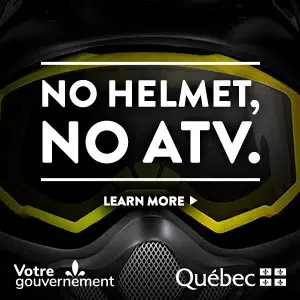 Let's go!
It is with excitement that our team got on the road towards our first destination: the Riotel – Hôtels sur Mer – Matane. The reputation of this four-star establishment is well established, it is a must if you want to spoil yourself. Located on the shore of the St. Lawrence River, the majority of the rooms give an extraordinary view of it with the sound of the waves as a bonus 😉. Of course, this hotel is accessible by snowmobile via the local trail 451 that joins the T5 (Trans-Quebec trail that allows you to go all the way around the Gaspé Peninsula.) Their parking lot is perfectly adapted to circulate with your trailers if needed.
In addition to all this, there is the Cargo Lounge restaurant, a gym and an aquatic center with a pool, spa and sauna (which is being renovated as I am writing… to be continued!). In short, everything you need is available here! The food is excellent, the rooms are superb and the staff is attentive. This is definitely a stop to add to your itinerary.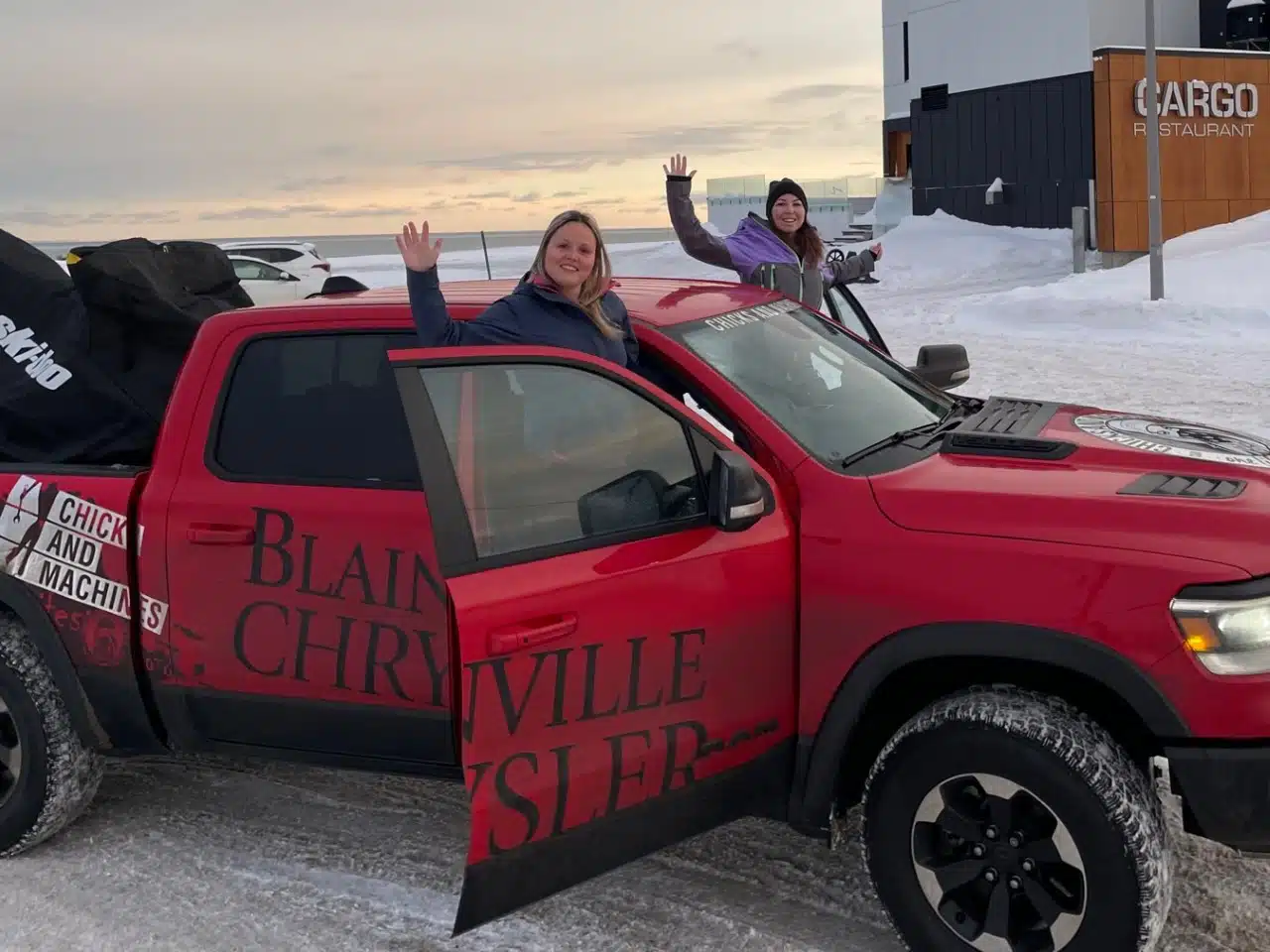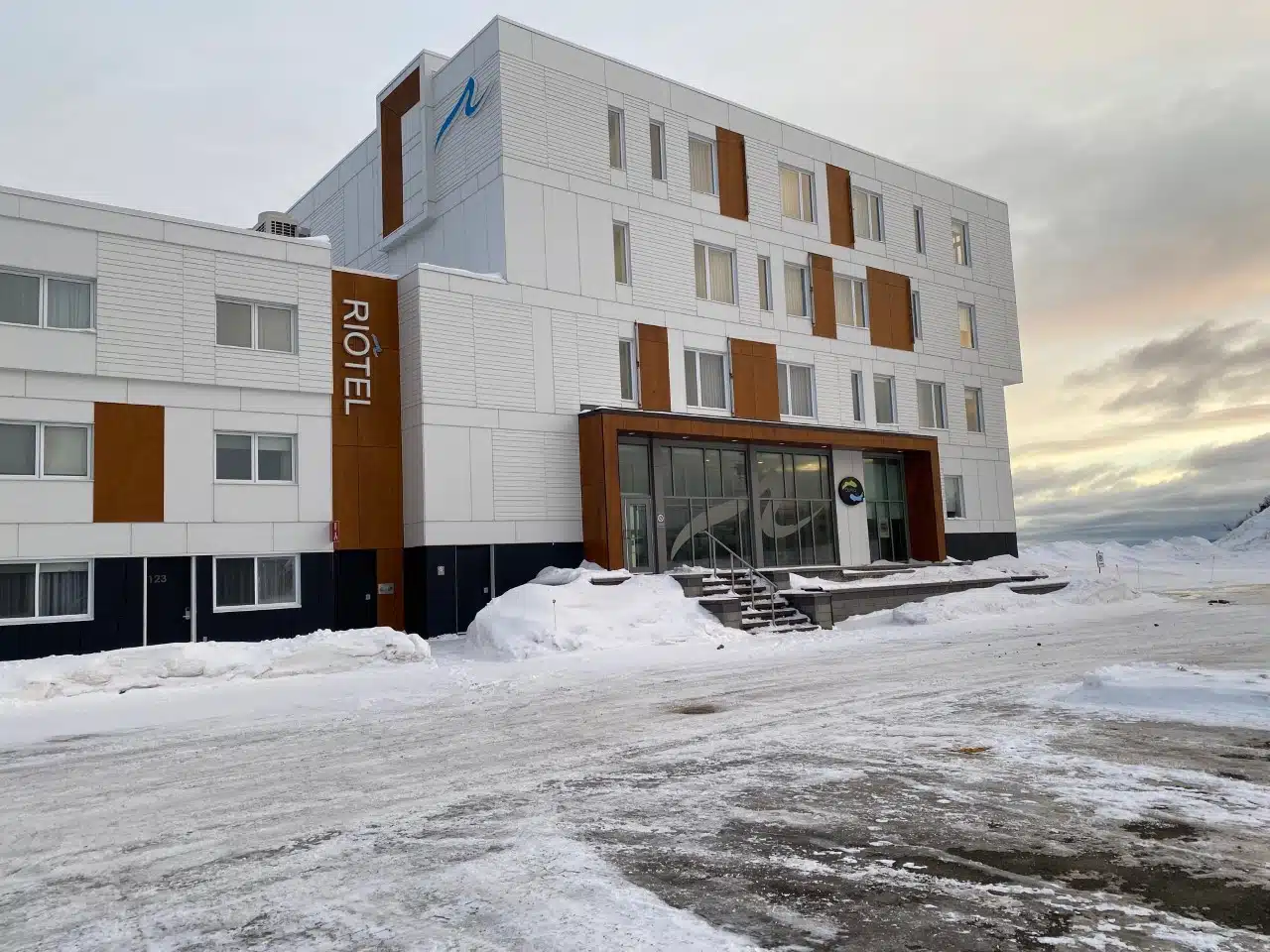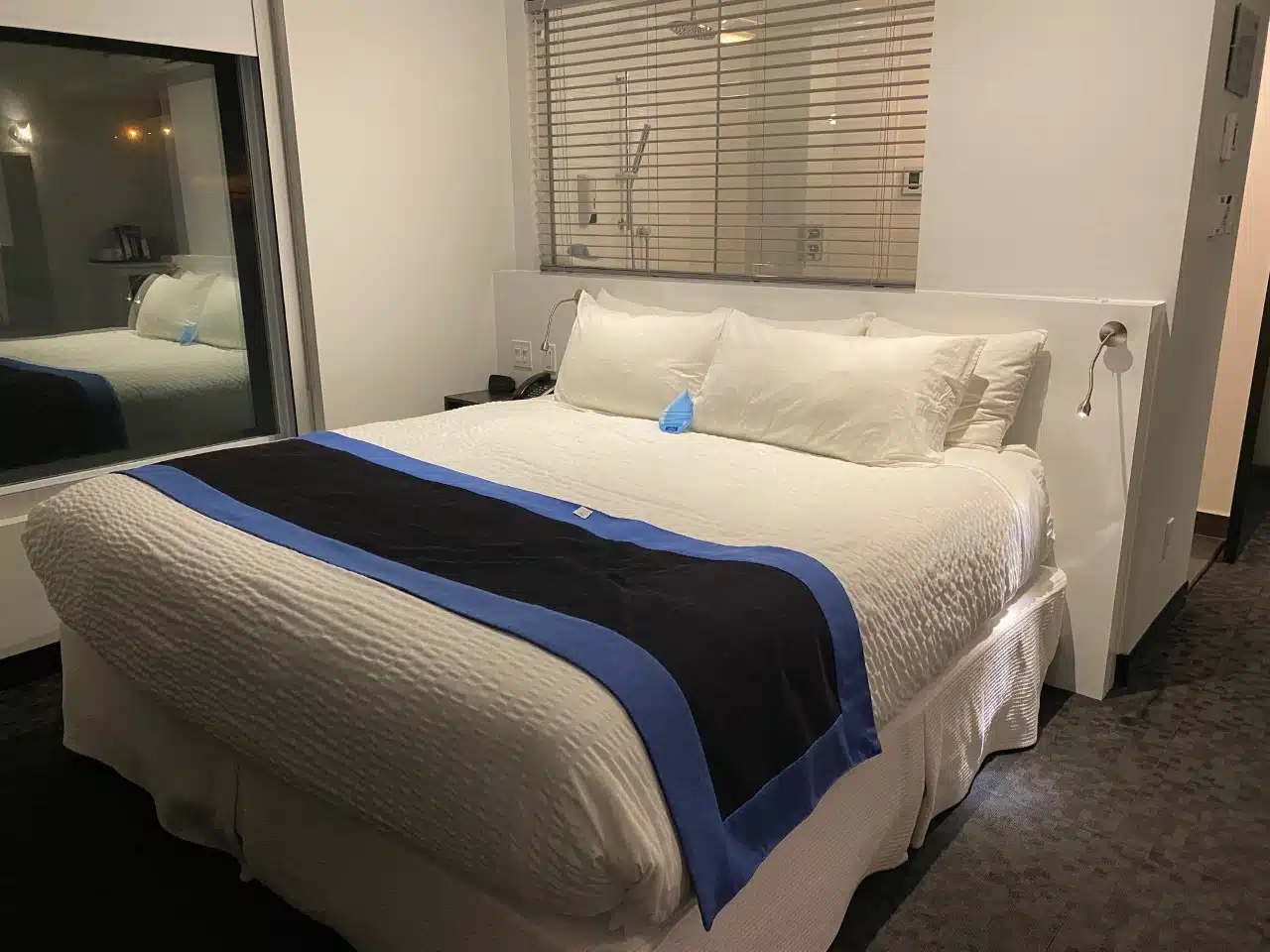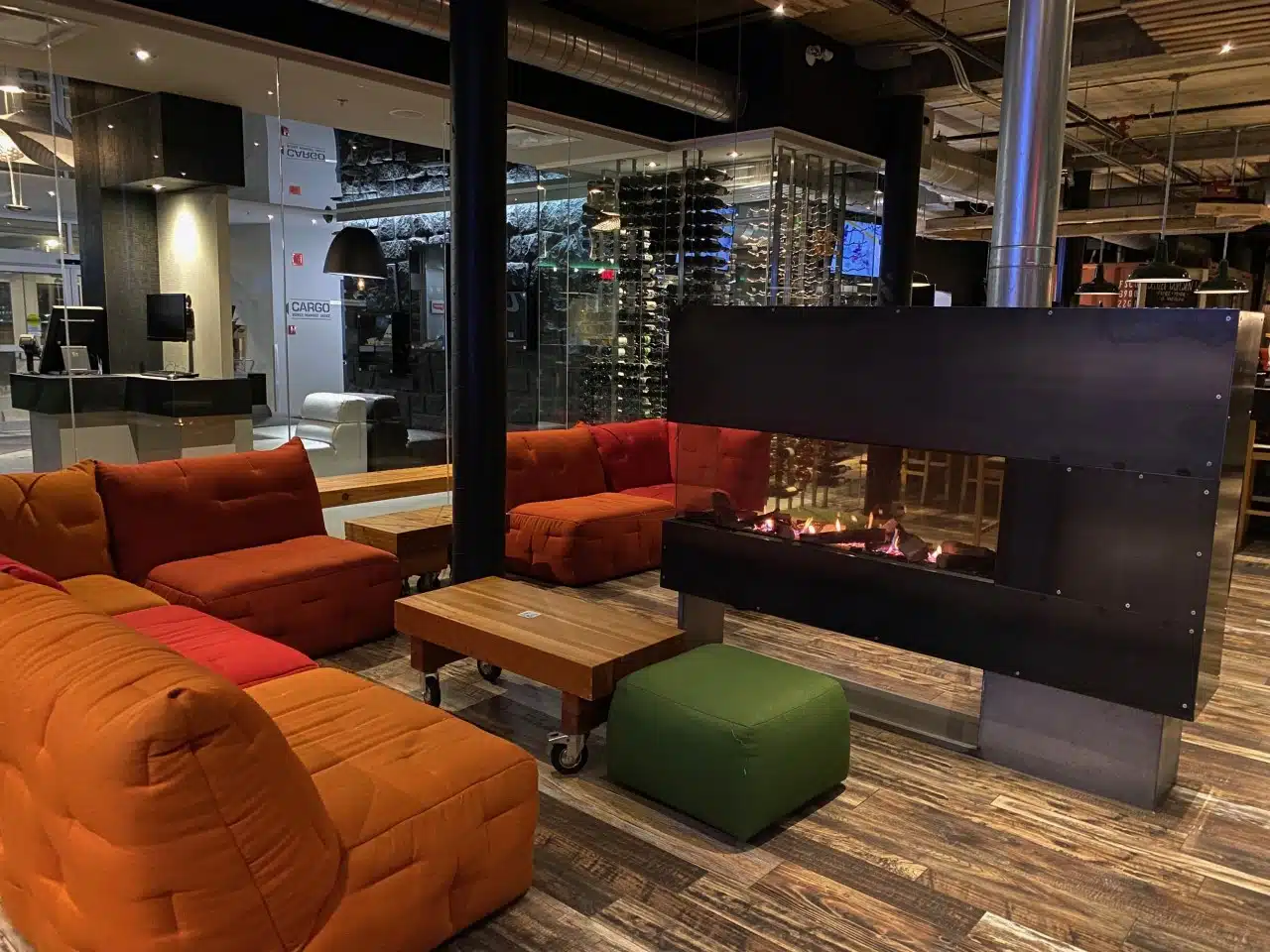 Day 1: Objective Cap-Chat – New Richmond
Total : 188 km
The alarm clock rings at dawn and it is with enthusiasm that we take the road towards Cap-Chat to begin our snowmobile adventure. It is behind the cozy Motel – Restaurant Nanook that we took the local trail 6403 in order to join the regional trail 595 by the T5 west.
This one is very popular with snowmobilers since it allows a direct crossing from the northern part to the southern part of the region. This is exactly what we had planned! A winding route with breathtaking views, that's what the Gaspé Peninsula offers us. Although the first few kilometers offer beautiful straight lines, we quickly move on to more pronounced curves. Wide, well-maintained trails lined with forest, what more could you want?
A little tip: remember to fill up your car and bring a spare can of gas, because there are 117 kilometers between the starting point and the Relais La Cache station. Nothing worse than running out of gas!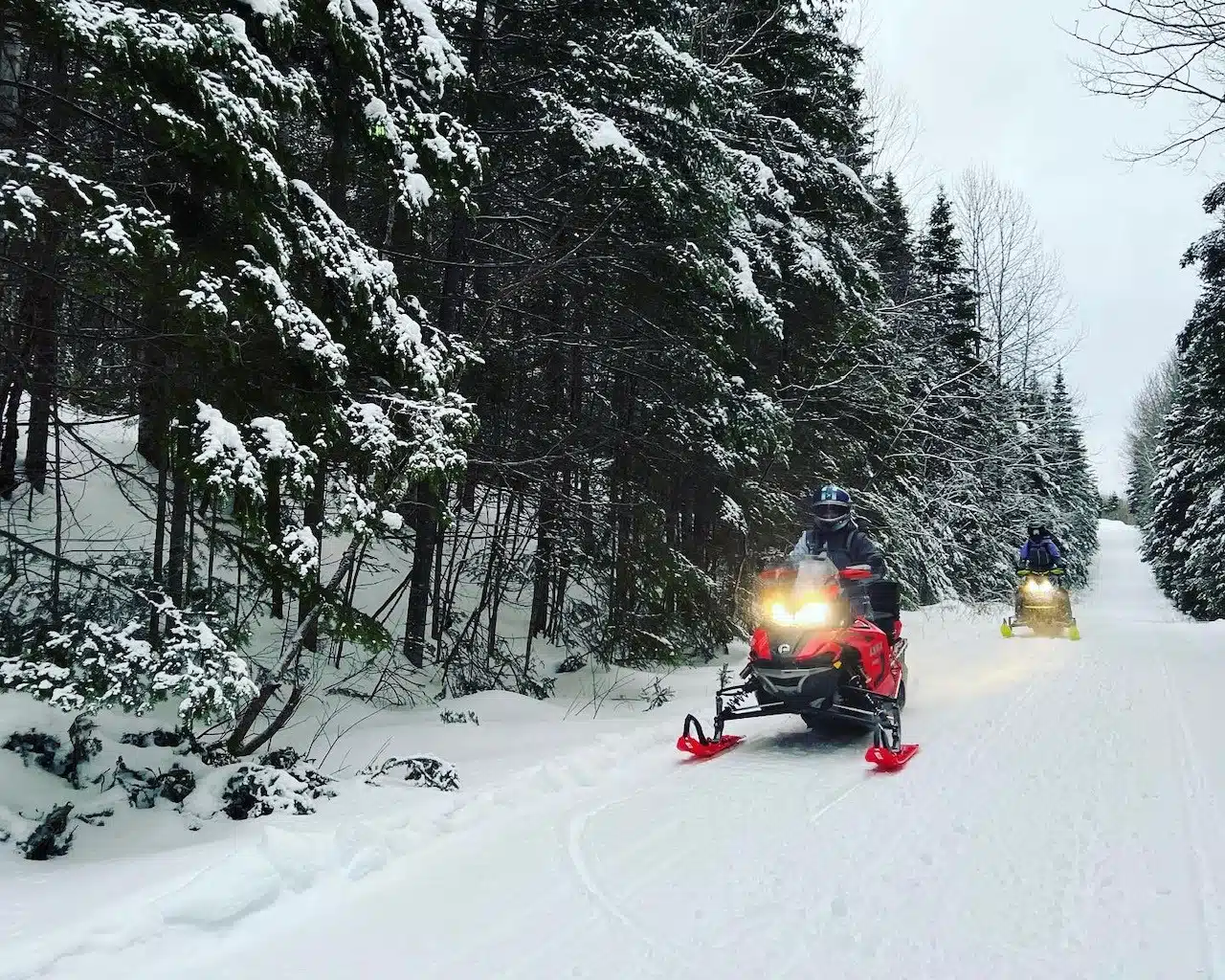 Let's talk about this Relais La Cache! Perfect for stopping by to warm up and refuel your machine. This establishment was purchased in 2016 by the Mi'kmaq Native Community of Gesgapegiag and they have grand ideas.
Phase 1 of the renovations is scheduled to begin this spring in order to be ready for the winter of 2024 and should include a restaurant capable of seating 80 people, a convenience store as well as a bar for post-snowmobile parties. Eventually, there will also be lodging for the night and they will promote local products in all areas of the business. This is a project to follow closely!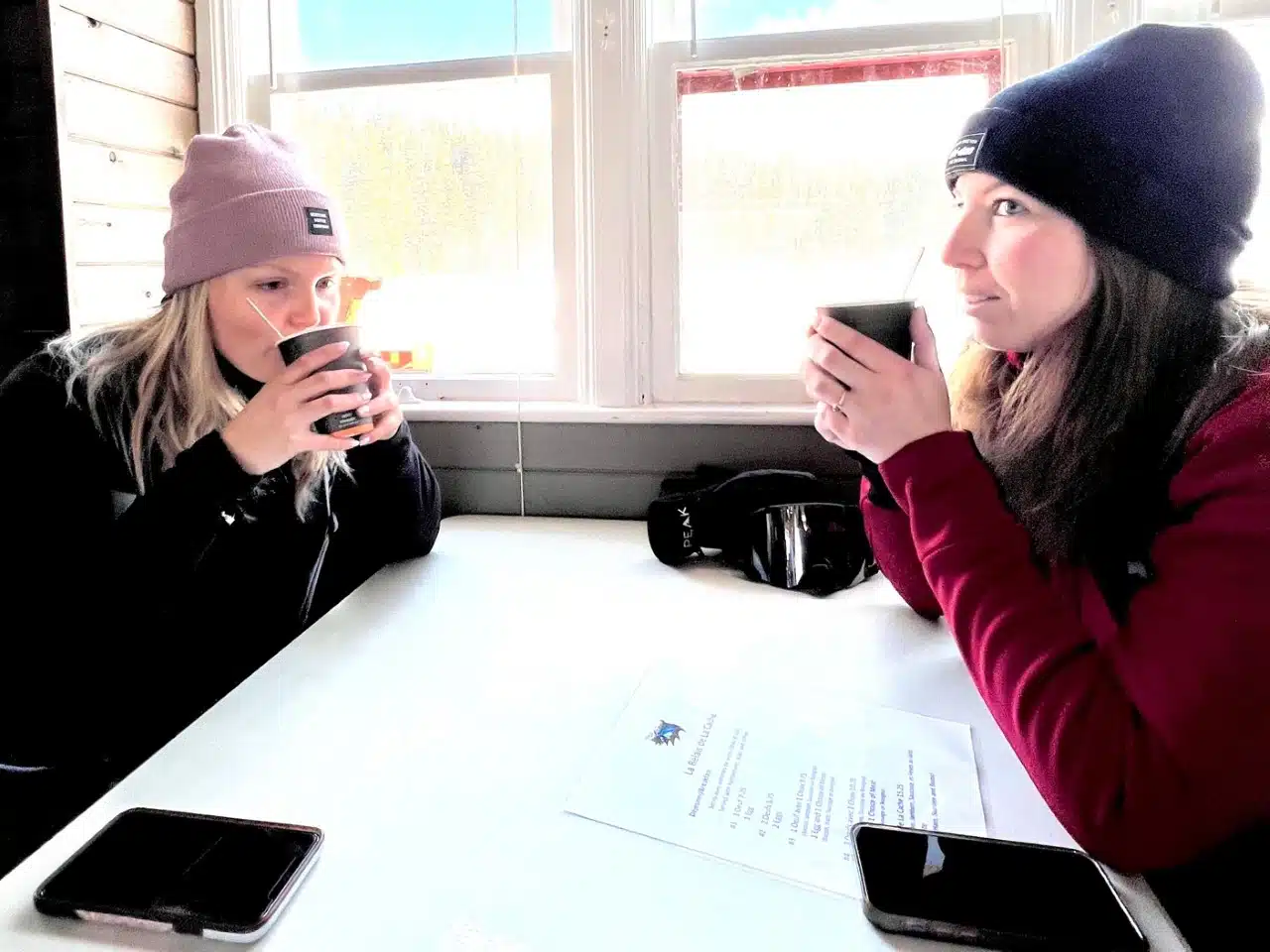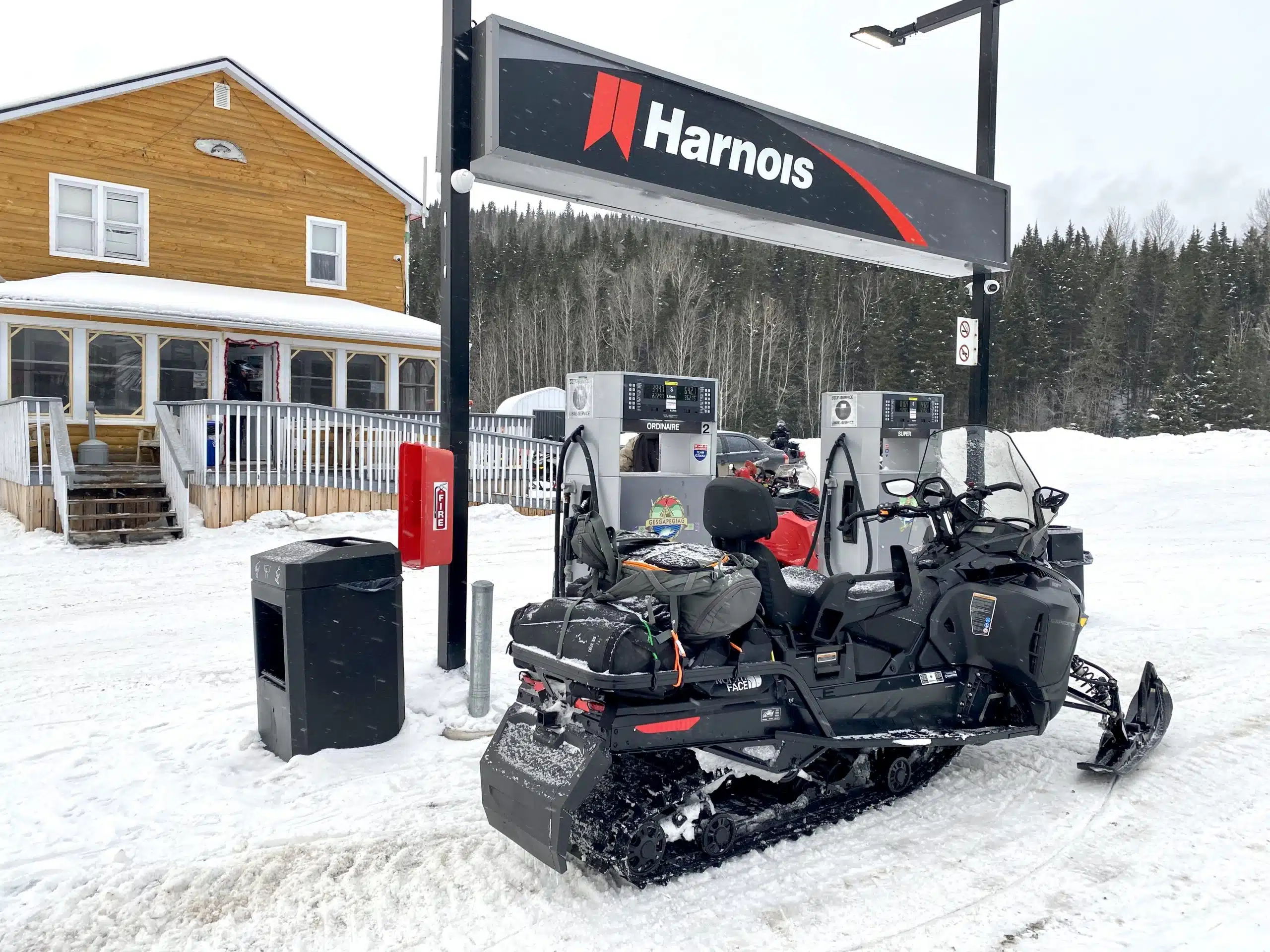 Still 71 kilometers before reaching our drop-off point for the night. All along the road, we can contemplate the Chic-Chocs Mountains in the distance. Sometimes, we go along a river, other times a dense forest.
This mix of magical scenery makes us want to stop every 100 meters to immortalize this moment. Do you know many trails that offer such a panorama? However, we have to keep driving towards our destination so we don't have to sleep outside.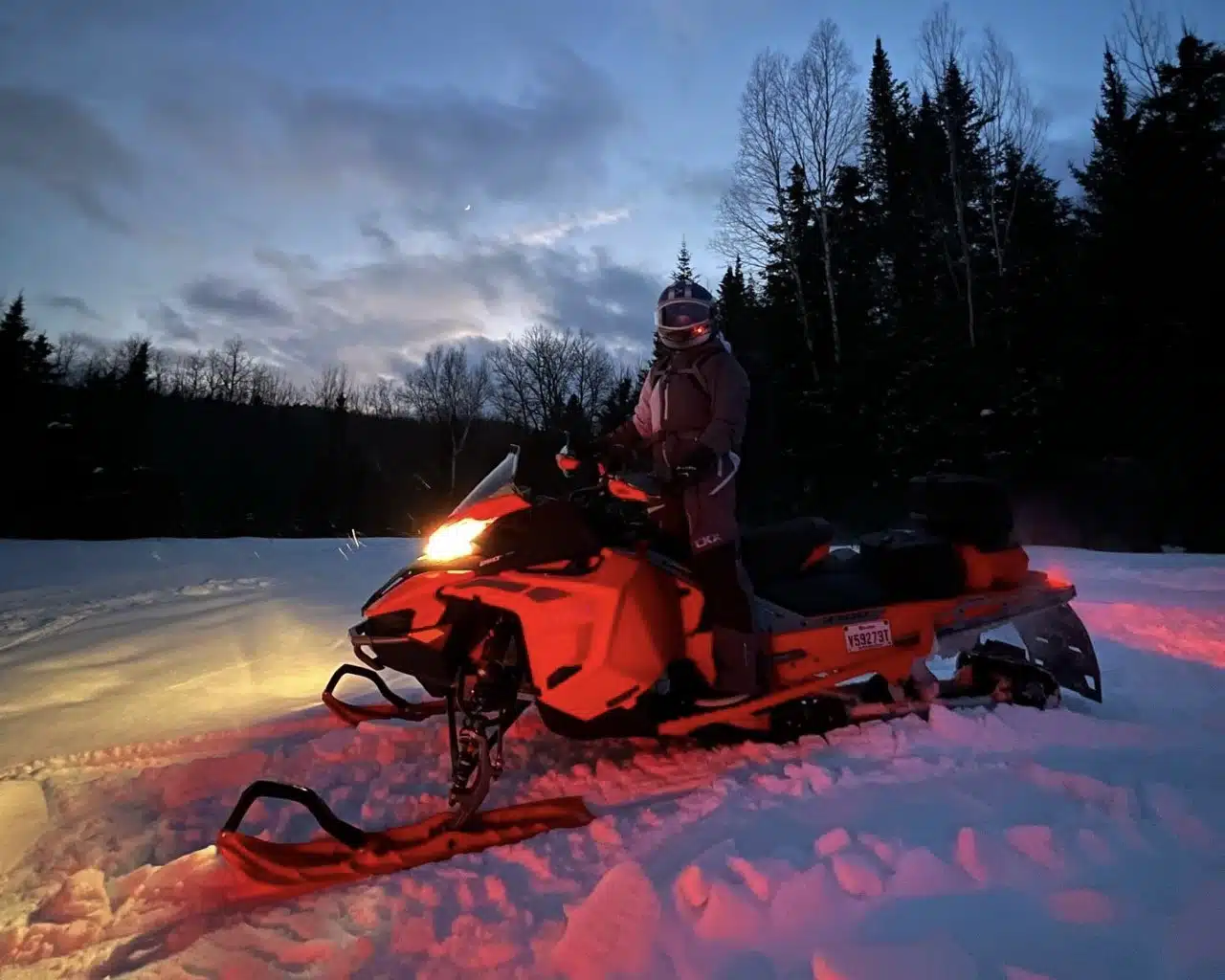 The Pin-Rouge Resort is located 20 km from the center of New Richmond and the T5 junction. The adjoining 500-meter high mountain has long been a paradise for skiers wanting to enjoy the land-sea view. With the construction of its colorful village at the foot of the slopes, this resort is now a jewel for winter sports enthusiasts (with or without a motor!).
The rustic chalets can accommodate up to six people and are fully equipped. Their snowmobile package will treat you to a three-course dinner prepared with care by their cafeteria service. You do not even have to go outside, everything is in the refrigerator. We heat it up, eat to our heart's content while drinking a glass of wine and relax…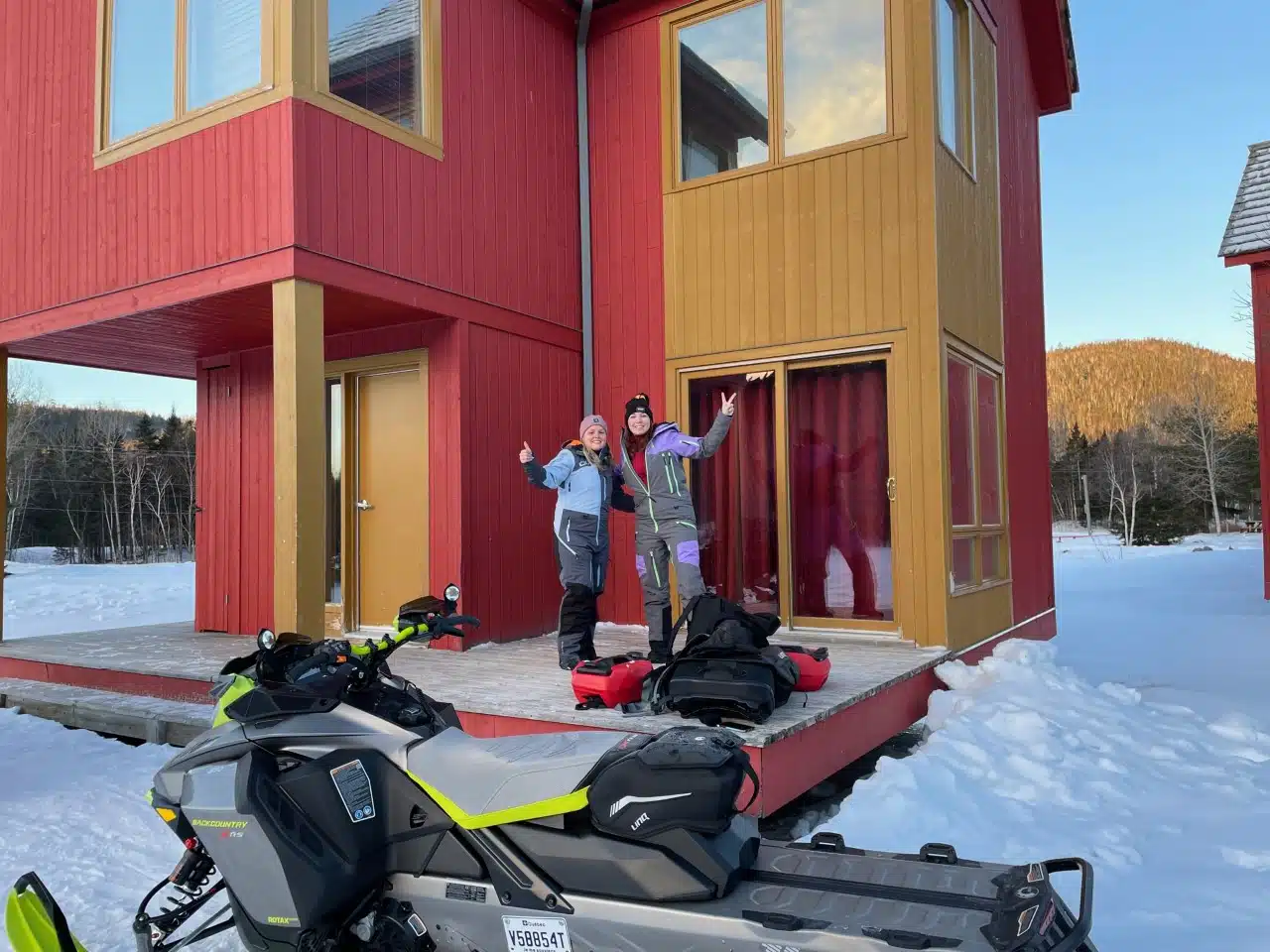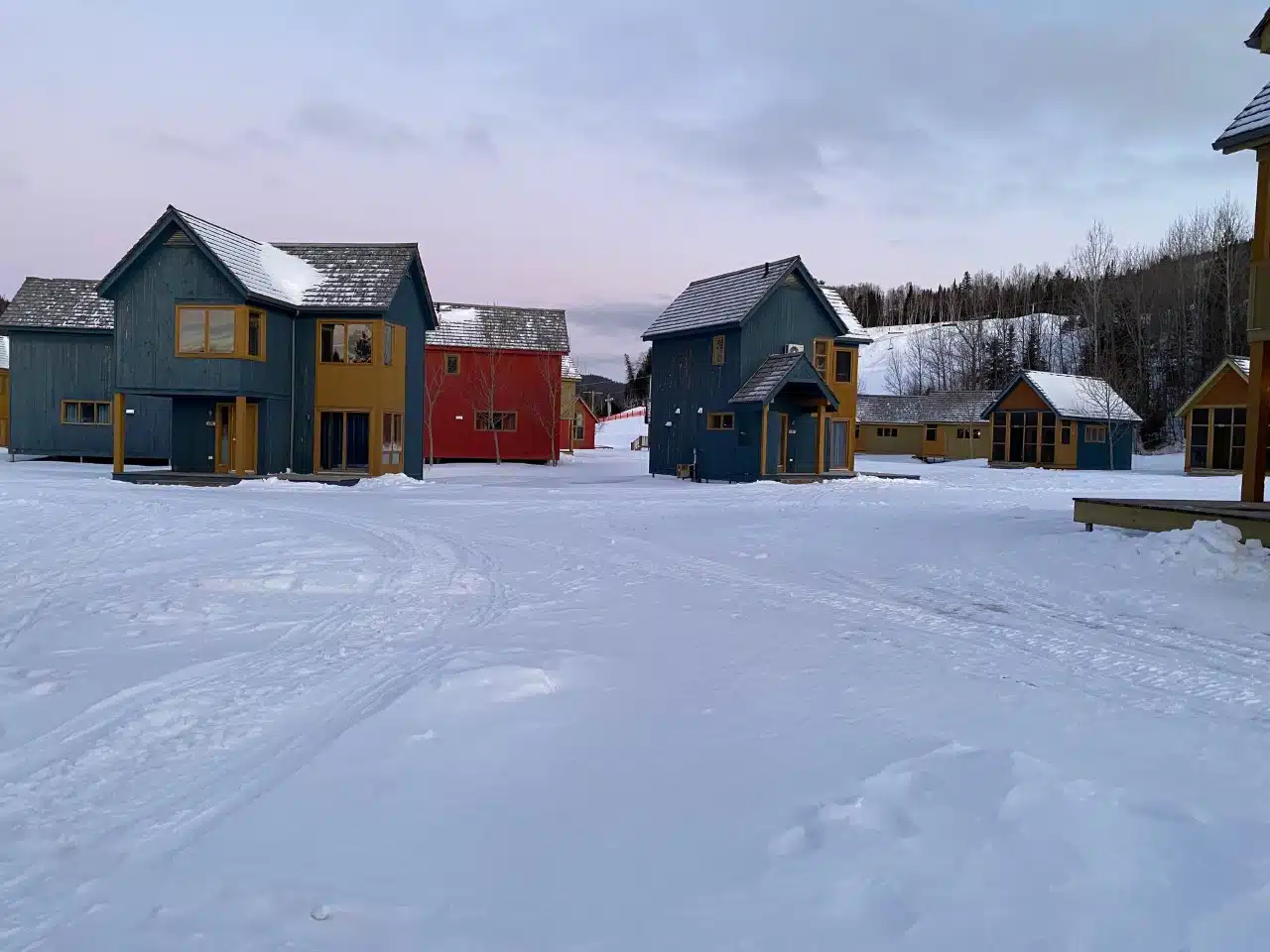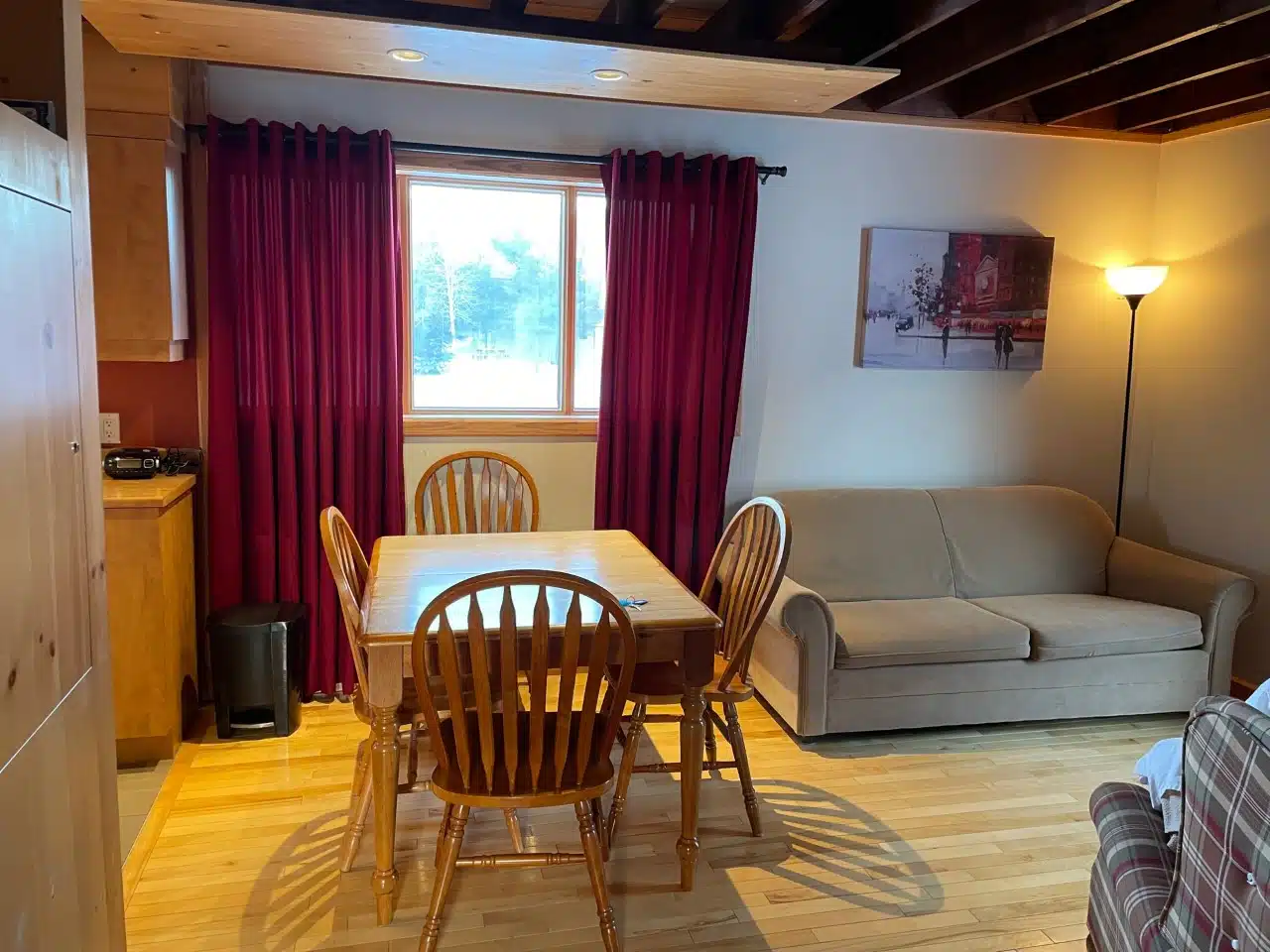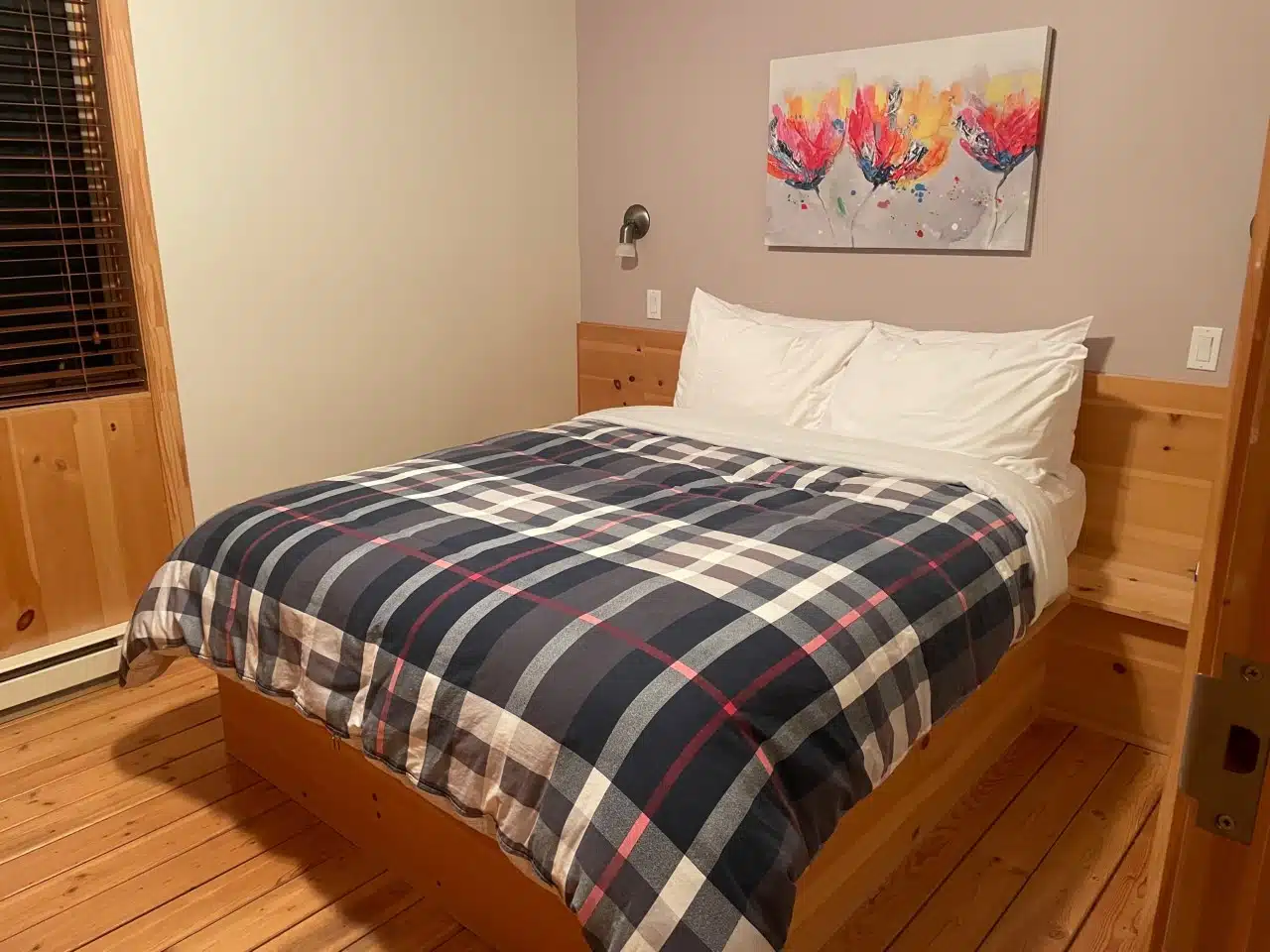 Total : 204 km
Sunrise at the foot of the trails, once again the Gaspé Peninsula dazzles us. However, we all know that when the sun is shining on a winter day, it means that the outside temperature is falling! It is better to wear several layers, even if it means removing them later in the day, than to deal with frostbite.
All along the R-595, there are several small survival shelters. Most of them have a fireplace to warm up, dry your gear or simply take a break.
A little tip: Always take a lighter with you since there may not be any on site. If, by chance, you don't have anything to light a fire with, the extreme solution is to open the left side panel of your snowmobile, turn the engine on and approach a piece of paper until it catches fire. It is not a very conventional solution but it can save your toes!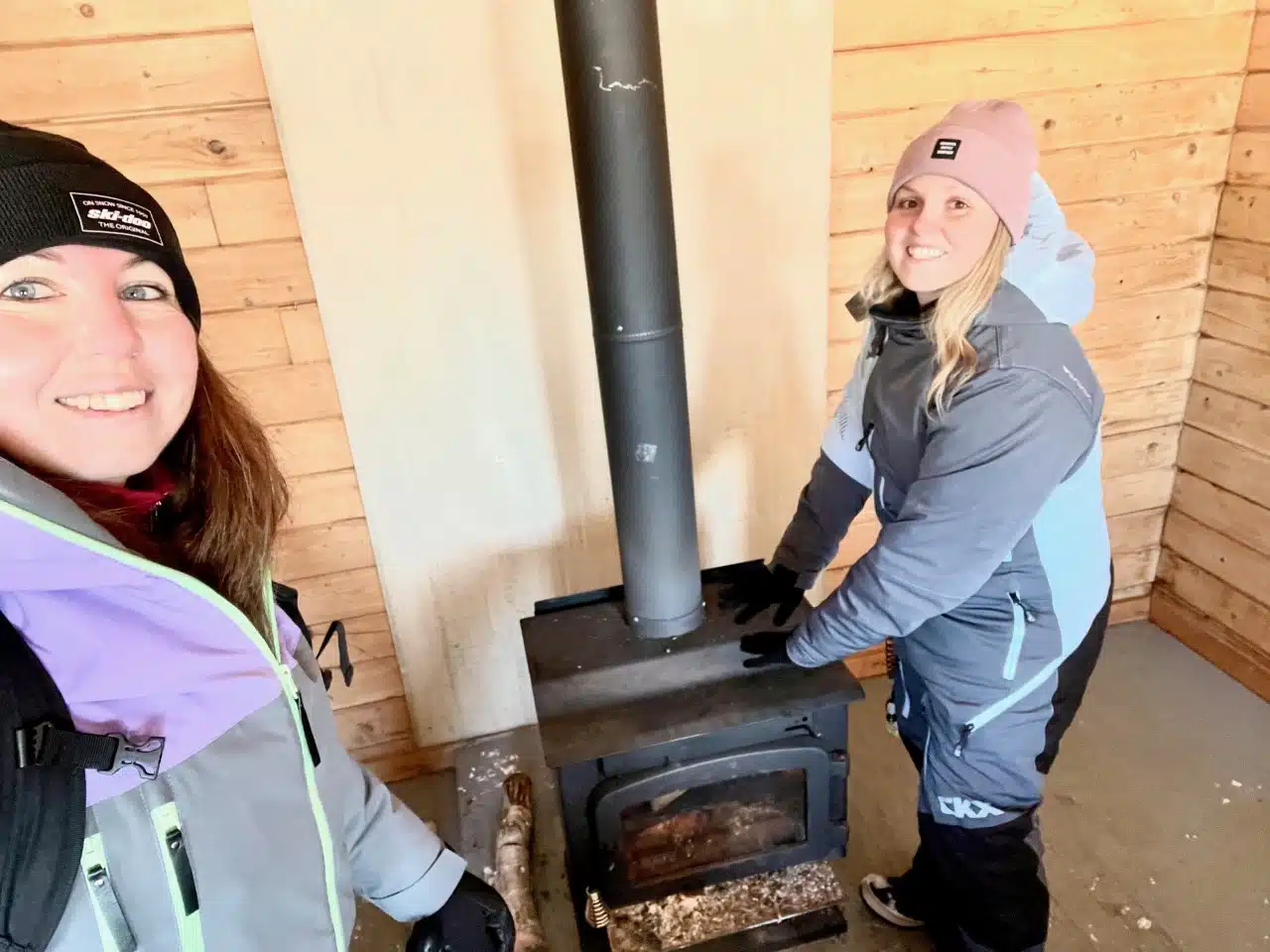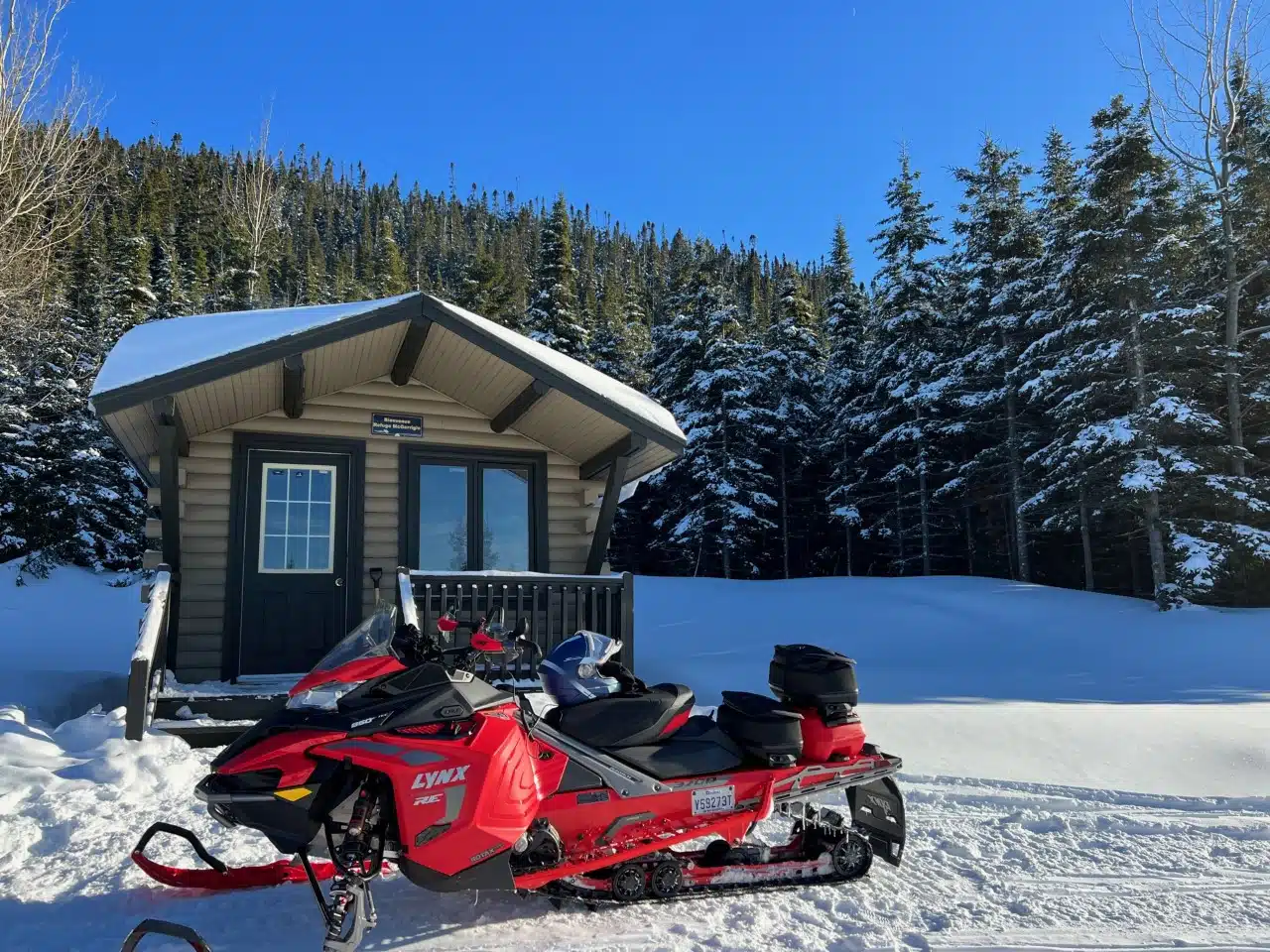 Next stop: Murdochville for lunch, a distance of 165 kilometers to cover. The local trail to get there is a fun twisty road. Do you like to take tight curves on your snowmobile? You'll get your money's worth!
If you are accompanied by beginners, you may have to reduce your speed so they can keep up. Nevertheless, the trails are wide and you won't be bothered by other snowmobilers coming in the opposite direction.
Near our destination, you can see the wind turbines in the distance, which look very small! A single article would not be enough to describe the splendor of the environment that surrounds us. You have to see it to believe it! 😍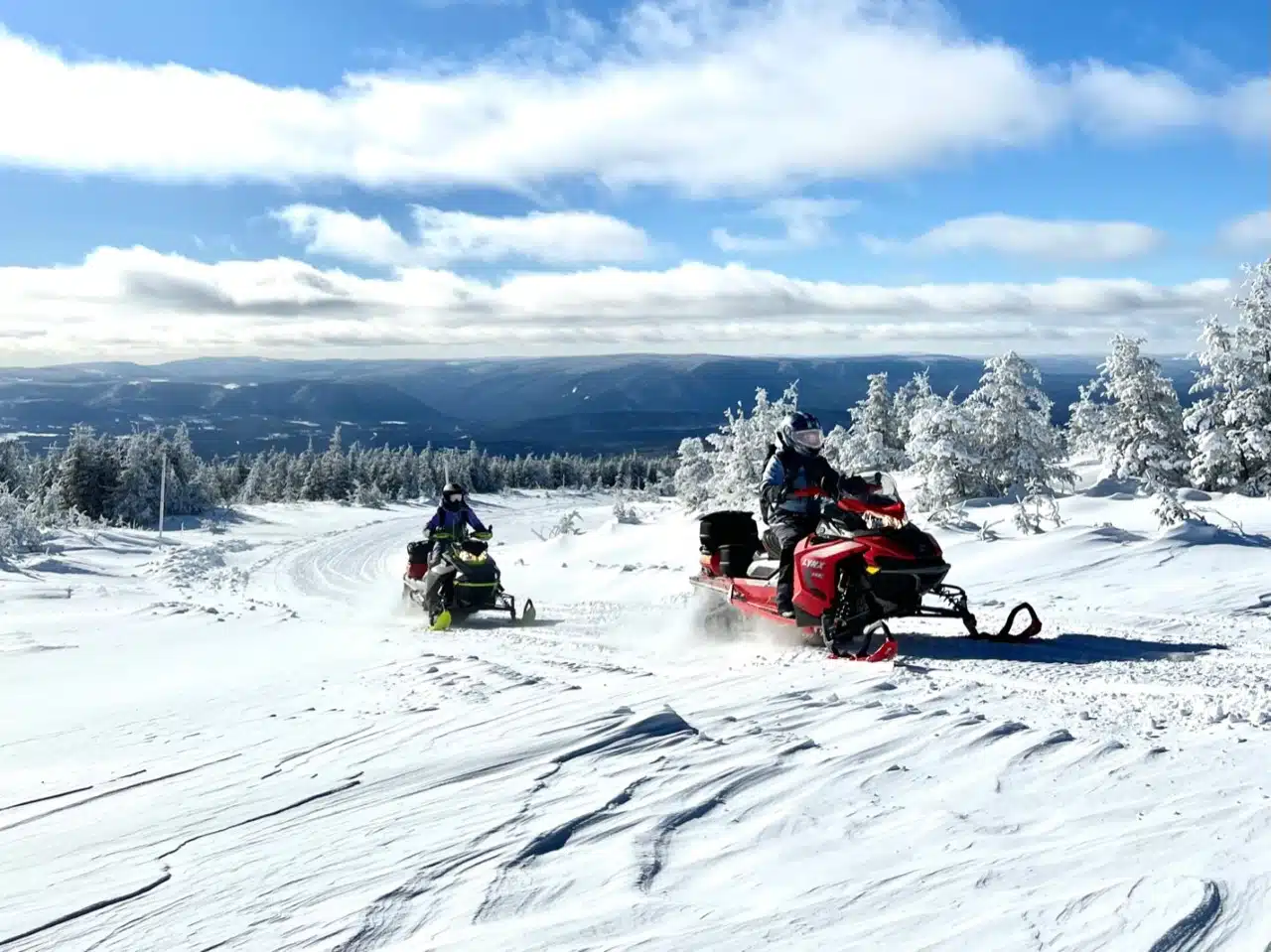 Formerly a mining town, Murdoch (nickname for its friends) was a ghost town for a long time after the mine closed.
In 2008, Guillaume Molaison and Éloise Bourdon decided to join forces to create a lodging and restaurant service in order to put the town back on the map. Over the years, the Chic-Chac company added mountain guiding activities on Mount Miller for outdoor sports enthusiasts.
Now specializing in adventure tourism, they operate year-round and cover a multitude of outdoor sports. Their HQ, a very hip restaurant, is the place to be after a day outside. Located in a former church, there is also a sports equipment rental store.
The former rectory has been converted into a youth hostel, but don't let that term fool you. Bright, modern rooms, a living room with a fireplace for relaxing, a pool table for fun and a kitchen equipped with everything you need to feel at home.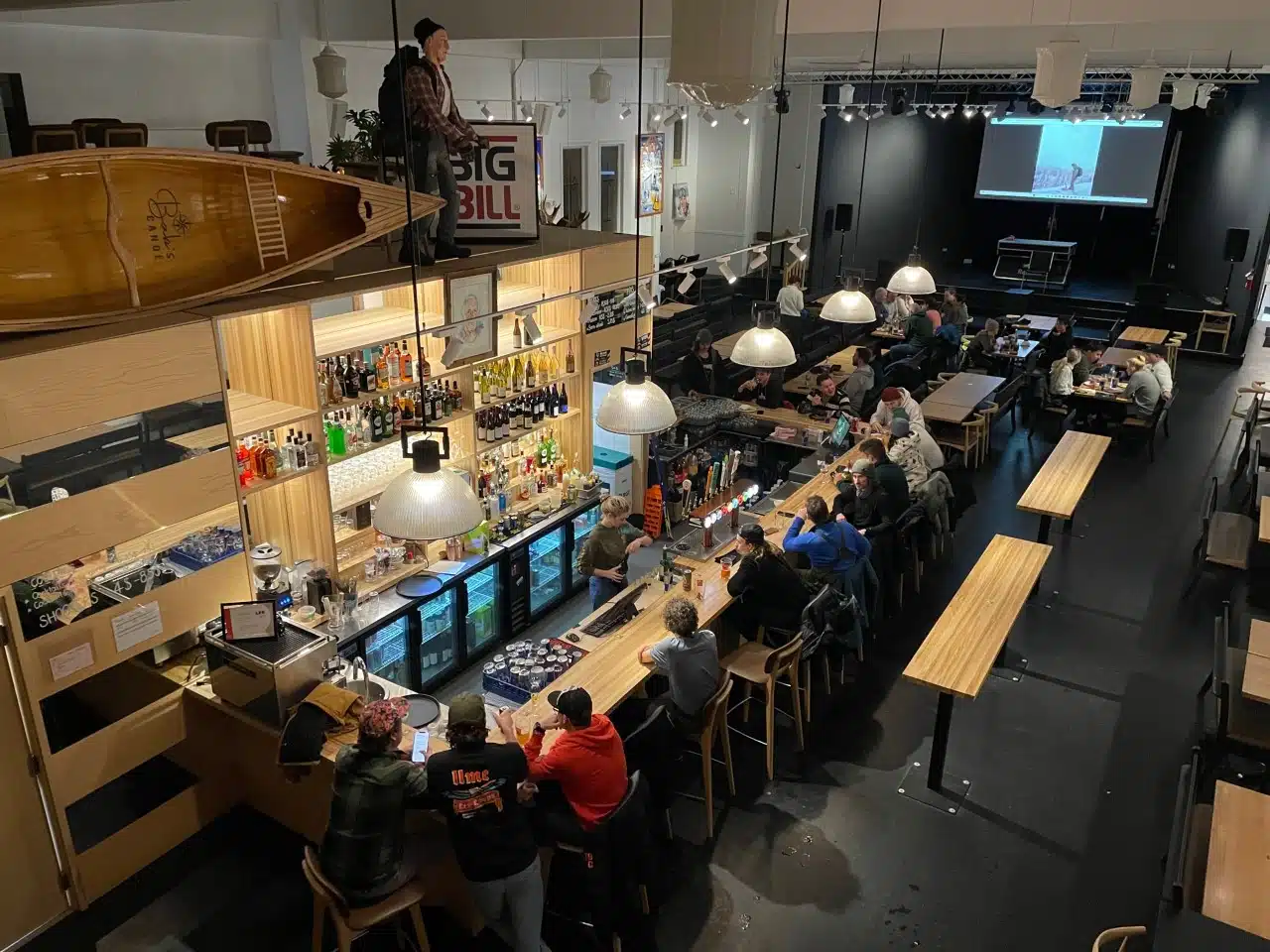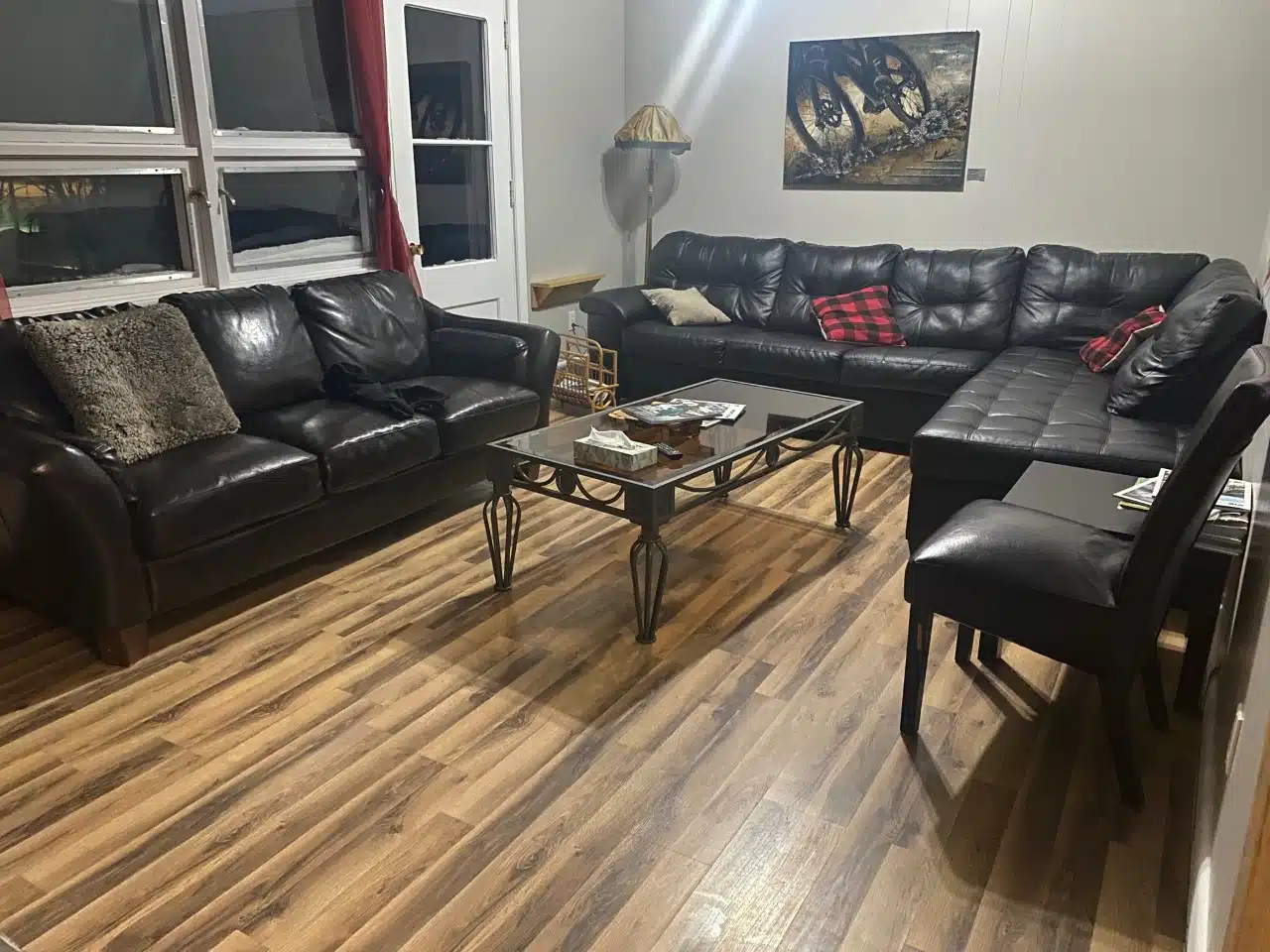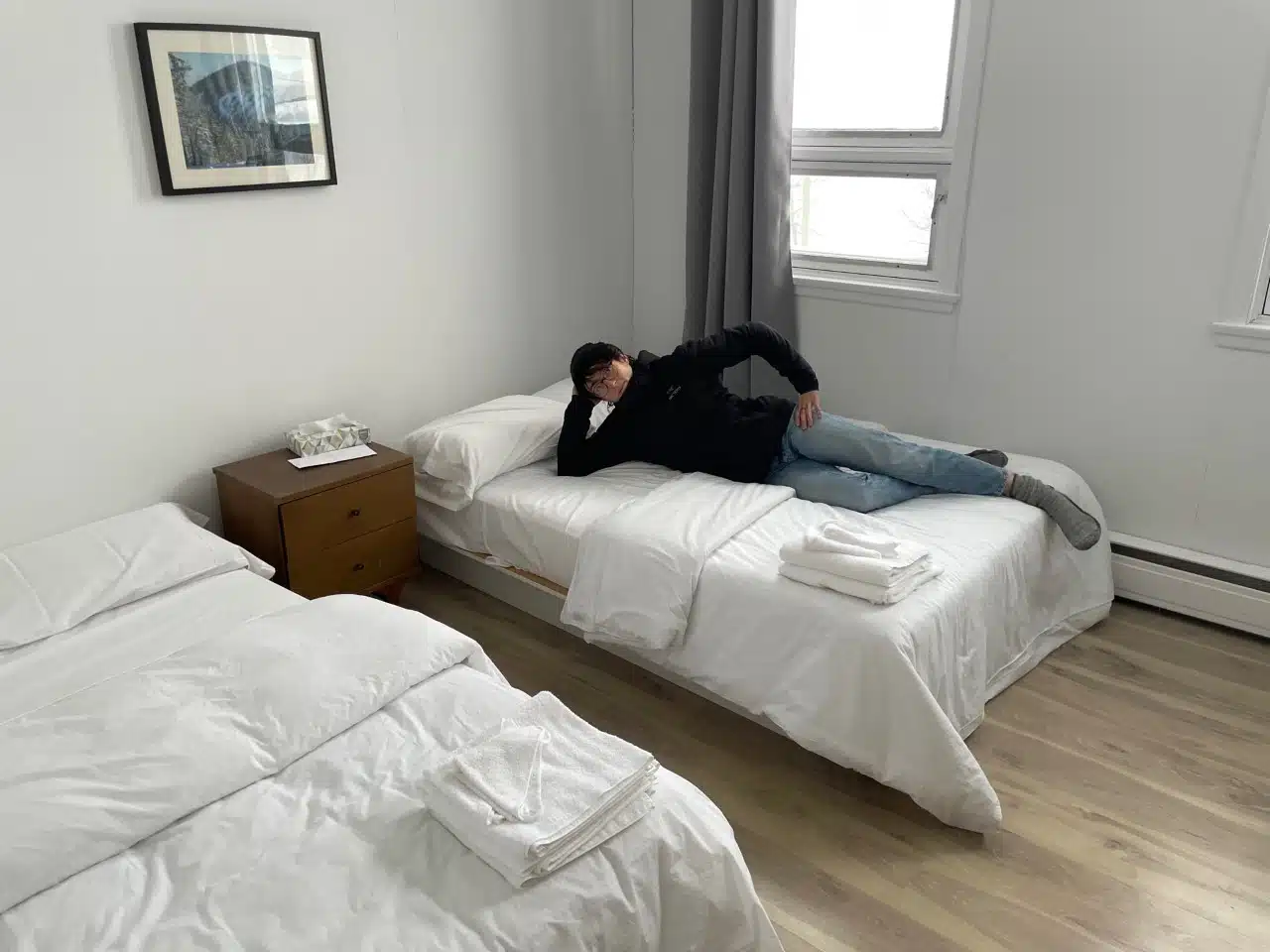 Although we still had about 50 kilometers to go, it was getting dark soon when we arrived at Chic-Chac and the announcement of a violent winter storm did not augur well for the next day. It is thus to ensure the safety of our team that we decided to stay in Murdochville for the night and to put on pause our journey for a day.
Stay tuned for the second part of our adventure in Gaspésie, you haven't seen anything yet!
I would like to take the time to thank my partner Myriam Couture for her participation in the writing of this article 🖤
See you soon!
Gab xx