2023 Honda Trail125 ABS makes its Canadian debut
Latest edition to Honda Canada's miniMOTO lineup is steeped in tradition and heritage
Honda Canada is pleased to announce that the 2023 Honda Trail125 ABS will be making its Canadian debut this spring.
The Honda Trail125 ABS resurrects a revered brand by injecting a healthy dose of practical design and hassle-free technology to create a miniMOTO that pays tribute to the past while adapting easily to modern lifestyles.
Debuted in 2019 as a concept model at the 46th Tokyo Motor Show, nearly 60 years after the original 1961 Trail 50 was released, the Trail125 received rave reviews from the public, and was followed up with many requests for a production model in Canada. That wish is now being granted with the Honda Trail125 ABS rolling into the Canadian
miniMOTO line up, introducing riders to the thrills of riding on pavement and backroads alike.
Honda's designers kept the iconic aesthetic, simplicity and ruggedness that propelled the purchase of hundreds of thousands of CT-series machines over six decades, while updating the motorcycle to a modern package. The Trail125 is powered by a semi-automatic, air-cooled 125cc four-stroke, single-cylinder engine with modern
conveniences such as :
PGM-fuel Injection,
electric start,
a full LED lighting package and
disc brakes with front wheel ABS.
The backup kick start, high air intake, upswept exhaust, spoked rims, standard skid plate and cargo rack add a ruggedness that is unique to this bike in the miniMOTO portfolio, readying it for any adventure, big or small.
"We are extremely excited to bring the Honda Trail125 ABS to Canada, it's a bike that Honda fans and consumers have been waiting for," said Ryan Kelly, Assistant Vice President of Powersports and Power Equipment, Honda Canada.

"Honda has been a perennial leader in the dual sport and miniMOTO spaces for decades and with the introduction of the new Trail125 ABS to our lineup in Canada, we know it will be a successful bike that Honda enthusiasts will embrace."
Other features and benefits:
✅Classic styling: Pays tribute to the generations of Honda Trail motorcycles that have come before it, including the original 1961 Trail 50 by preserving the symbolic elements such as the upswept muffler, air-cleaner cover, fuel tank, rear carrier, steel front fender, turn signals, foot pegs and handgrips.
✅Modern Engine: The 125cc four-stroke, single-cylinder overhead-camshaft design with programmed fuel injection (PGM-FI) with automatic enrichment and electronic ignition ensure trouble-free starting and efficient operation in every conceivable condition.
✅Semi-automatic transmission: The heel-toe shifter and no clutch lever make shifting the four-speed transmission a breeze
✅High air intake and upswept exhaust: Provide better clearance from dirt and water
✅Disc brakes: Front and rear disc brakes with front wheel ABS help in making controlled stops in less-than-ideal situations, without impacting off-road capabilities
✅Off-Road capable: Capable ground clearance, skid plate, spoked rims and back up kick-start make the Trail125 ABS ready for any adventure.
The 2023 Honda Trail125 ABS will be available for sale at Canadian dealerships in April.
Selling Price – $5,649
Includes MSRP ($4,971), Freight, PDI & Fees ($678)
Colour – Glowing Red
For more information and to stay up to date with all Honda product releases, please subscribe for updates at www.hondanews.ca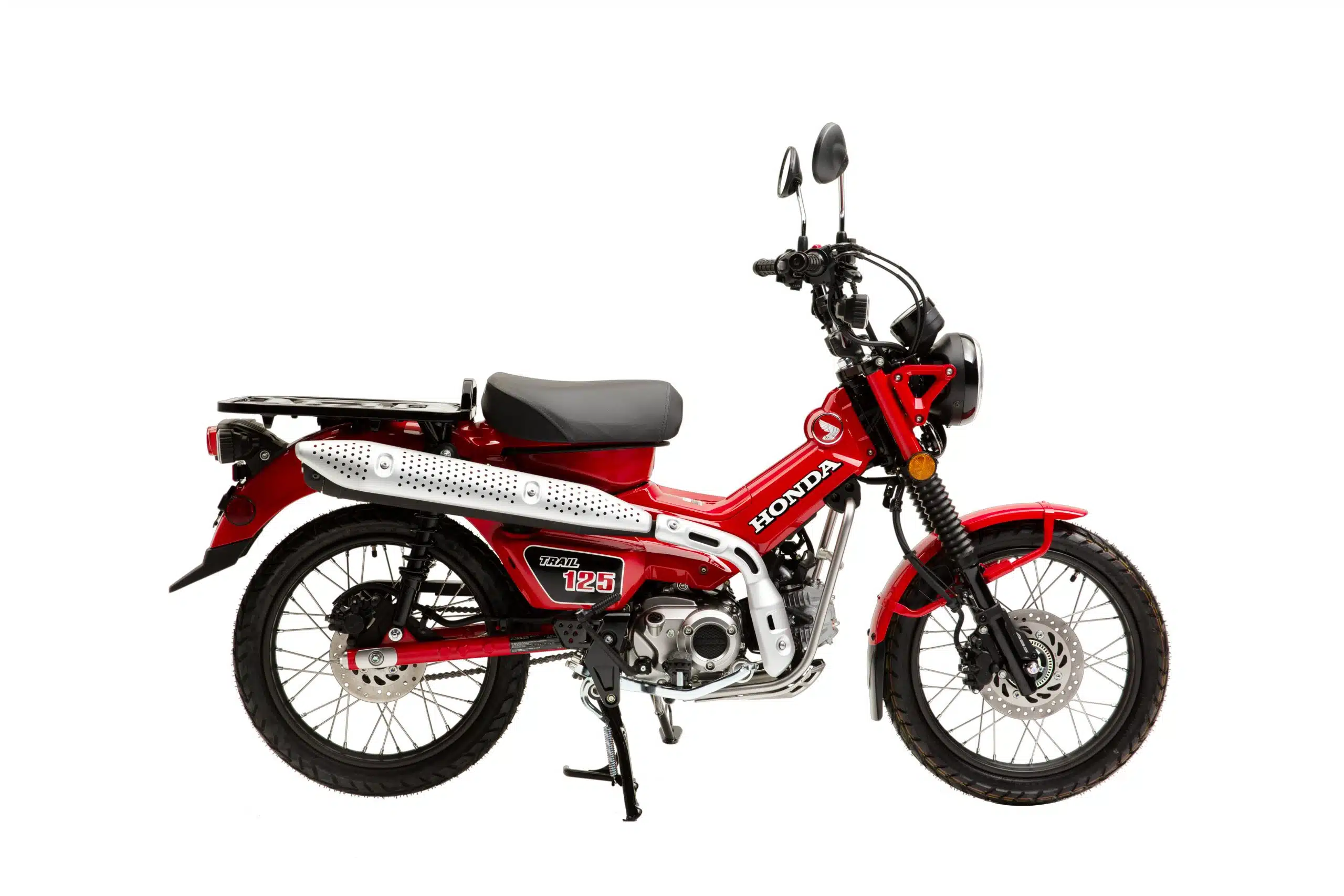 But that' not all!
Honda Canada welcomes an adventurous icon with the new XR150L
Dual-sport motorcycle is synonymous with toughness, versatility and affordability
Honda Canada is bringing back an iconic nameplate to the dual-sport motorcycle world, the 2023 XR150L. A durable, easy to ride and affordable machine that seeks adventure on and off-road. The XR name has been legendary for generations as riders have enjoyed its versatility and rugged engineering which solidifies its reputation.
Making its way to Canadian dealers this spring, the XR150L provides an accessible and easy to ride platform for those looking to get into the world of dual-sport motorcycles. With its low 33- inch seat height, comfortable ergonomics and rugged design, the XR150L takes the intimidation out of learning to ride. And for those who have more experience, it has everything needed for a fun machine to boot around the cottage backroads or trails.
The tough 5 speed gear box is synonymic with Honda's history of reliable two wheeled machines, while the low maintenance 149cc air-cooled OHC single cylinder engine provides riders peace of mind whether they are on the road or off the beaten path. For longer rides, customers will also love the XR150L's 12L fuel tank and standard luggage rack with plenty ofroom for any tools or spares.
With a low cost of ownership and an entry point selling price of $4,599, the XR150L is the perfect introduction to the world of motorcycle riding.
"The XL150L is an extremely important motorcycle for our product lineup, and we're thrilled to bring it to Canada," said Ryan Kelly, Assistant Vice President of Powersports and Power Equipment, Honda Canada.

"Not only is this bike perfect for those purchasing their first motorcycle, but it's a great option for those looking for an additional bike for themselves or their family. The XR150L gives riders a reliable, safe, low-cost and adventurous option for whatever their riding needs may be."
Other features and benefits:
✅  Rider friendly ergonomics: Comfortable seat with 33-inch seat height
✅  Reliable engine: Low Maintenance 149 cc air-cooled OHC, single-cylinder engine
✅  Full-size wheels: The 19-inch front and 17-inch rear are ready and capable of negotiating any obstacle with ease
✅  Standard luggage rack: Allows riders space to bring items they may need for their trip
Selling Price – $4,599
Includes MSRP ($3,921), Freight, PDI & Fees ($678)
Colour – White