Learning how to ride a backcountry snowmobile with Extrême Chic-Chocs
My experience in the Chic-Chocs was incredible, it was a crazy weekend! I was invited by Chicks And Machines and Extrême Chic-Chocs to live the experience of mountain snowmobiling in one of the most beautiful regions of Quebec.
I am an adventure and adrenaline addict, it was out of the question that I would miss this opportunity, moreover, mountain snowmobiling has always been on my TO DO LIST. So, I went to see my good friend Hugo, owner of MARTIN SMALL EQUIPMENT Edmundston, to see if he was willing to work in collaboration with chicks and machines on this project. Hugo decided to send me to test the new Summit 850 E-TEC Turbo 2020. What a surprise! I wasn't only going to drive THE new machine, but I was going to completely get out of my comfort zone and have a snowmobile experience beyond anything I already knew!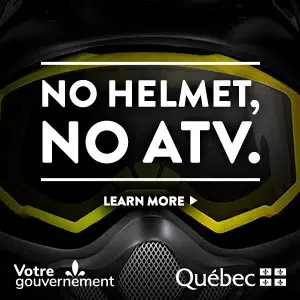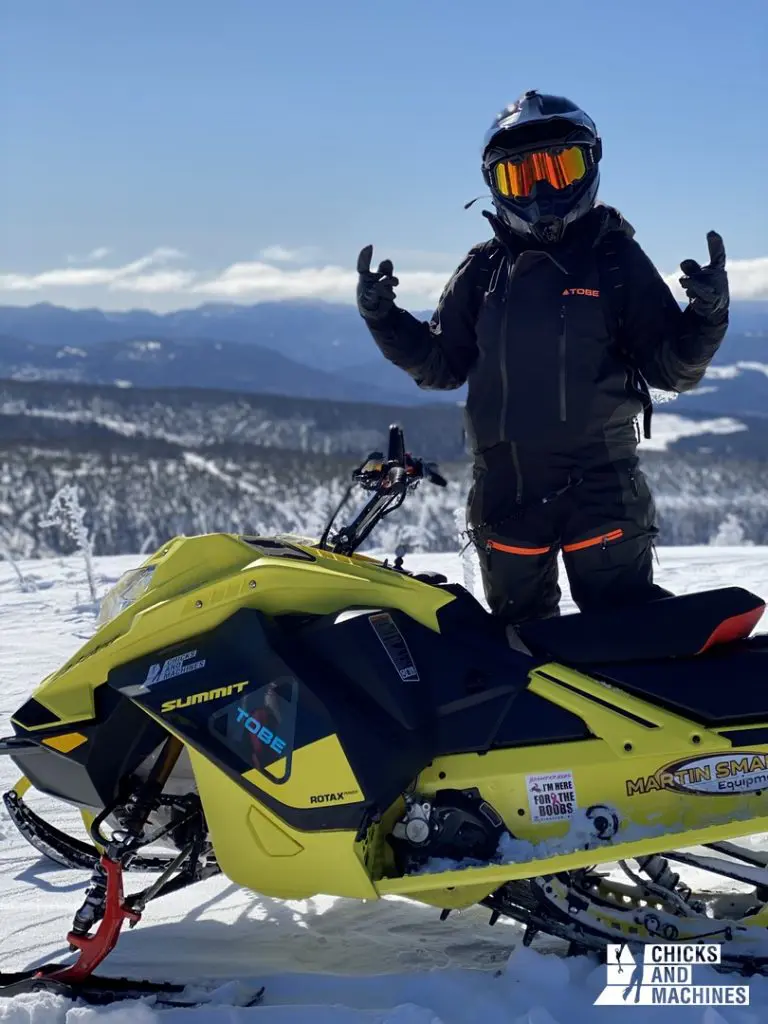 When we arrived, Cyndi and Me, in Sainte-Anne-des-Monts in Gaspé, L'Auberge Château Lamontagne, warmly welcomed us! A literally breathtaking place. At the top of Cap des Groseilliers, facing the majestic St. Lawrence River, this heritage building dating from 1874 houses 7 rooms including 1 suite, 3 recently built chalets and a restaurant with a "bistronomic" menu. You can visit them four seasons, they are open year-round. What an enchanting place.
A little tired of our trip, we joined Alain Thibault of Extrême Chic-Chocs for an aperitif before supper. Extrême Chic-Chocs is a mountain snowmobile company. Whether you are a beginner or an expert, I can confirm that Extrême Chic-Chocs is the playground for you!
It was finally time to sit down for supper, when we realized that we were sitting with 22 people. 22 passionate, ready to go on an adventure and share this passion that consumes us all. Alain then explained to us how our weekend was going to happen. Their off-trail guide service is based on an 8-hour day, starting with a presentation of our instructions for our departure. These instructions consisted of covering points such as our timetable, security, journeys, etc. Thereafter, usually according to our choices, our experience, our type of snowmobile, the guides will make us live the experience of our choice. The word for the weekend was FUN. We were all of different levels and most importantly we were all on vacation, there to have fun and enjoy the weekend! He promised it was going to be crazy!
That evening, we met Carol-Ann Beauchamp, an off-trail snowmobile athlete. Carol-Ann was running the women's clinic for our weekend and she would also be our tricks teacher. We couldn't have gotten better because she is amazing! She is impressive to see. Her passion for snowmobiling takes her 2-3 times a year to the magnificent mountains of the west. The BC is a great place for her. She even bought a sprinter-style van where she takes her snowmobile, her dog! Snowmobiling in the BC mountains is a super exciting trip that she told us about and above all enriching, which allows her to gain experience and better improve herself in her favorite sport. A trip that I would so much like to do.
The next morning, we left L'Auberge Château Lamontagne at 8:30 am to head for where we would all park our trailers and unload our snowmobiles for the day. The excitement grew more and more just seeing everyone getting ready for the day. Alain and the guides separated us into two groups, guys and girls. We were the second group to leave following the guys. All in place to leave and extra ready to face these mountains, one that they called Mount X, the adrenaline of each could be felt for miles! Mount X rises up to 3,000 feet above sea level. We didn't know what to expect but this passion that brings us all together, like warriors ready to fight, the excitement and determination in the eyes of the girls next to me was worth all the gold in the world! What a feeling I would never forget! The time has FINALLY arrived!
The ascent of Mount X took approximately 45 minutes. 45 minutes of access in the most beautiful snow I have ever ridden. Real POW as said in the language of snowmobilers. We arrived between the mountains, in a small camp located in front of a beautiful lake just below the ultimate elevation of Mont X. Our playground was just WOW! The mountain pens, the logs, the trees, it was a real paradise. To the summit of Mont X, the view was breathtaking, at 3000 feet above sea level you could see the top of the mountains and the sea as far as the eye could see! We all made it up despite staying stuck a couple of times. But on an off-trail snowmobile trip, if you don't get stuck, you can't call it a day.
The rest of the day and the weekend was more technical, we had fun with Carol-Ann and the rest of the gang to practice our SIDE HILL, our TREE RIDING and improve the handling of our machines in some big pow. Boy, did we all deserve our drinks at the end of this weekend! We were all physically exhausted! I never thought I would live a weekend so emotional, even to a point that I was almost crying in my helmet and wondering '' GET ME OUTTA HERE ''. My knees were blue all over, and my arms outstretched from pulling my sled all weekend, but it was worth it!
I think that what made this weekend a TOTAL success is the EXTRÊME CHIC-CHOCS team and the place where we were staying! The patience of Alain and all the guides who unstuck us several times, always with a smile. The welcome from the owner of the Auberge Château Lamontagne, breakfast, dinner and our lunches prepared for the mountain, everything was more than perfect! I recommend this little paradise during your visits to the Gaspé Peninsula.
Alarm clock rang Monday morning and it was time for Cyndi and I to go home. Sad in our hearts but smiles split to our ears and ESPECIALLY our sore bodies, we were already looking forward to our next visit. I advise you to follow our adventures, because there will certainly be a part 2. A big thank you to Extrême Chic-Chocs. There is a huge place engraved in my heart for the CHIC-CHOCS, I will not forget you. It's not a farewell, but see you soon, next season.
Corinne xxx