Snowmobile in the mountains: DESTINATION REVELSTOKE, BC
Last February, I had the chance to discover, for the very first time, a snowmobile destination that can be described as the "Mecca" of mountain snowmobiling: Revelstoke, BC.
Do you also want to discover this dream destination so popular with mountain snowmobilers? Maybe you're thinking of booking your next trip to Revelstoke this winter and want to make sure you don't forget anything? This article is for you!
WHY CHOOSE REVELSTOKE?
Let's start by saying that "Revy", as most people affectionately call it, is nothing like the mountains you'd find in Quebec.
These are imposing and majestic mountains that go on and on. When the sky clears on a bluebird day (a sunny day with blue skies after a storm), it is almost unreal to admire the views from the top of their peaks.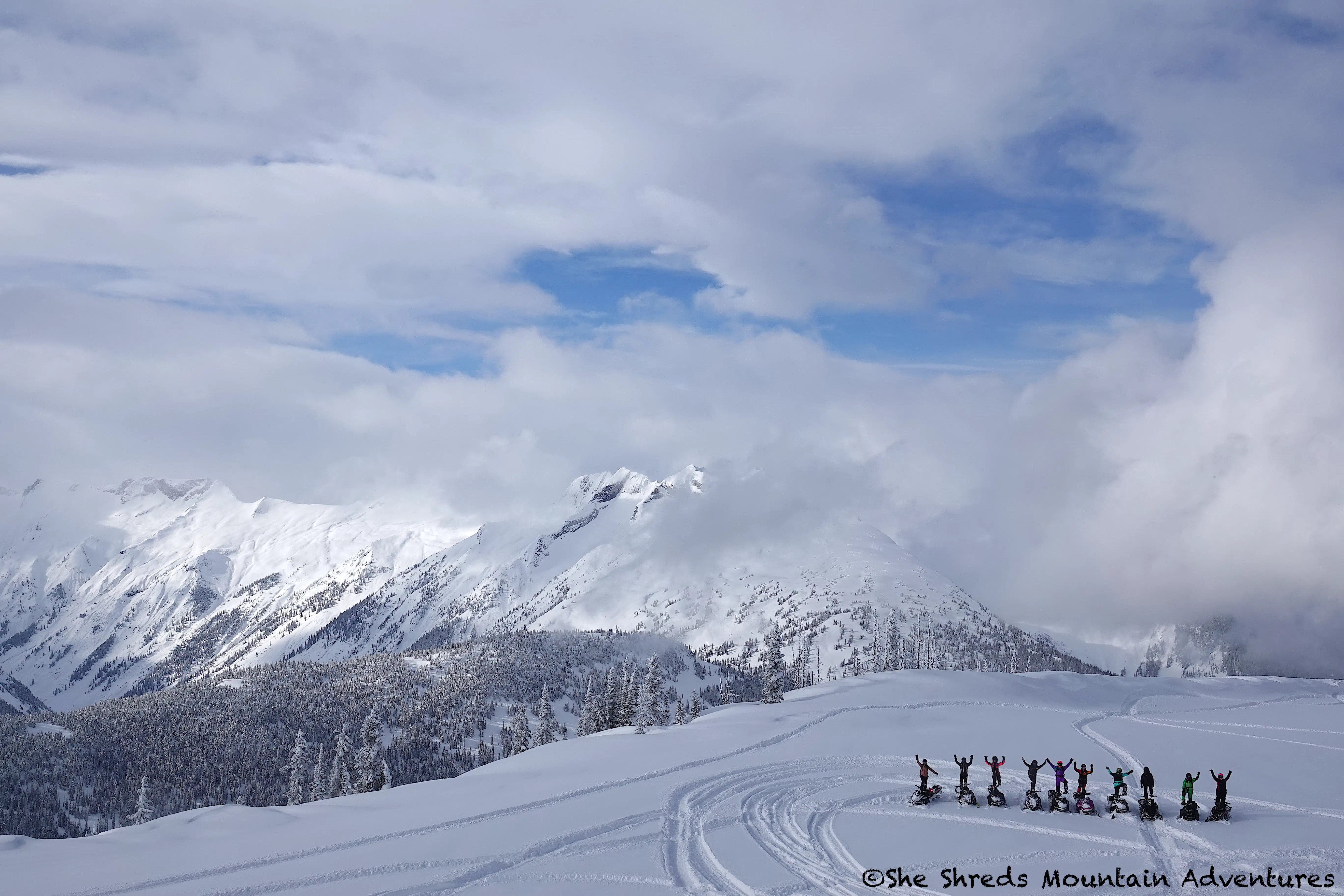 Revelstoke is most of the time beautiful "fresh pow" (fresh powder snow) in abundance in high season. In Quebec, we often look for "spots" (places par excellence) where we can have fun off the trails.
There, we choose them because there are so many. You can walk from one place to another in deep snow without ever stopping.
You can go down one mountain after another, powder carving (downhill turns in deep snow), with feet and feet of snow under your skates.
In Quebec, we're happy if we can string together two or three downhill turns without hitting a rock or a well-hidden stump!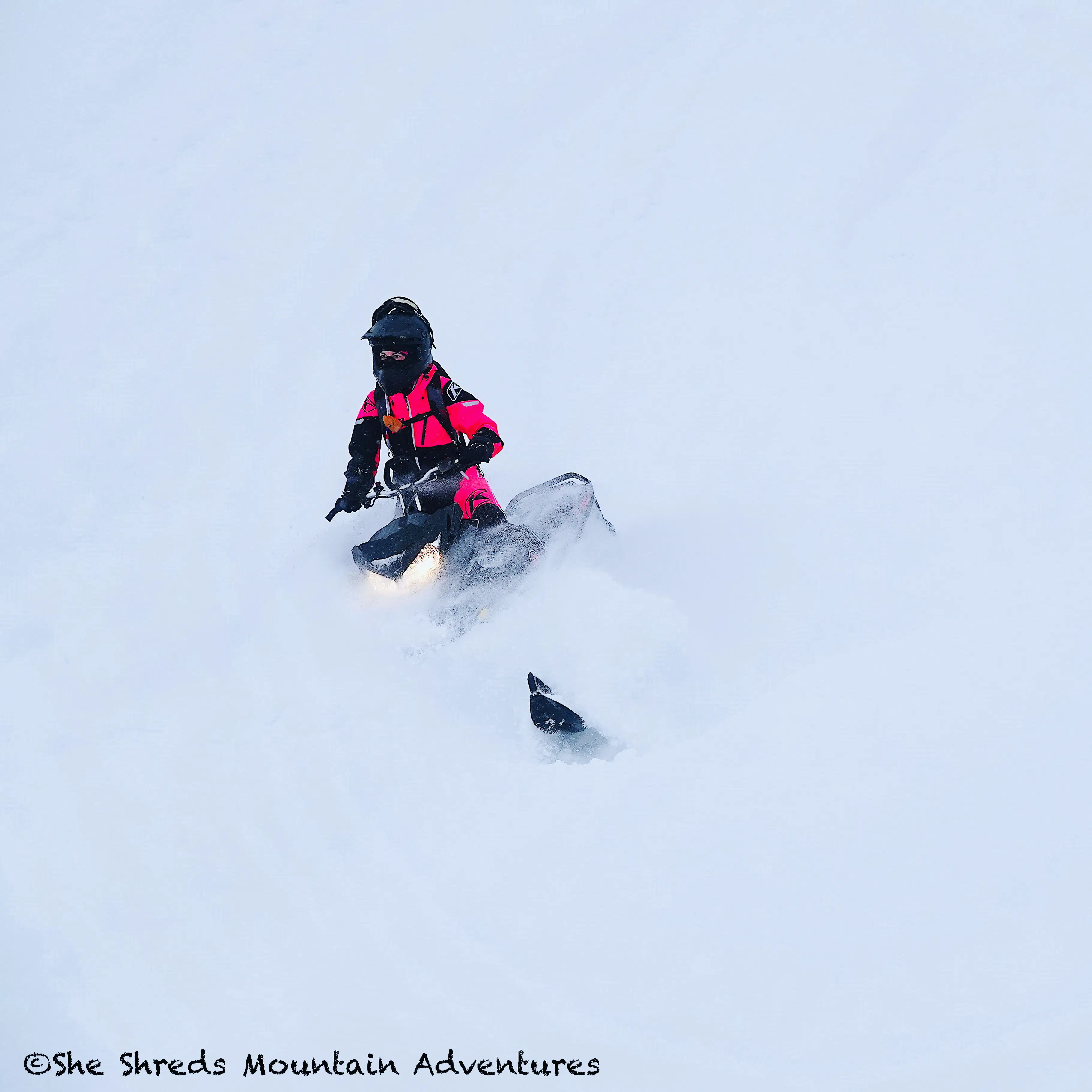 And when the storm rages through the mountains, it literally feels like you're in the middle of a quiet force, both beautiful and terrifying, all small and vulnerable. ❄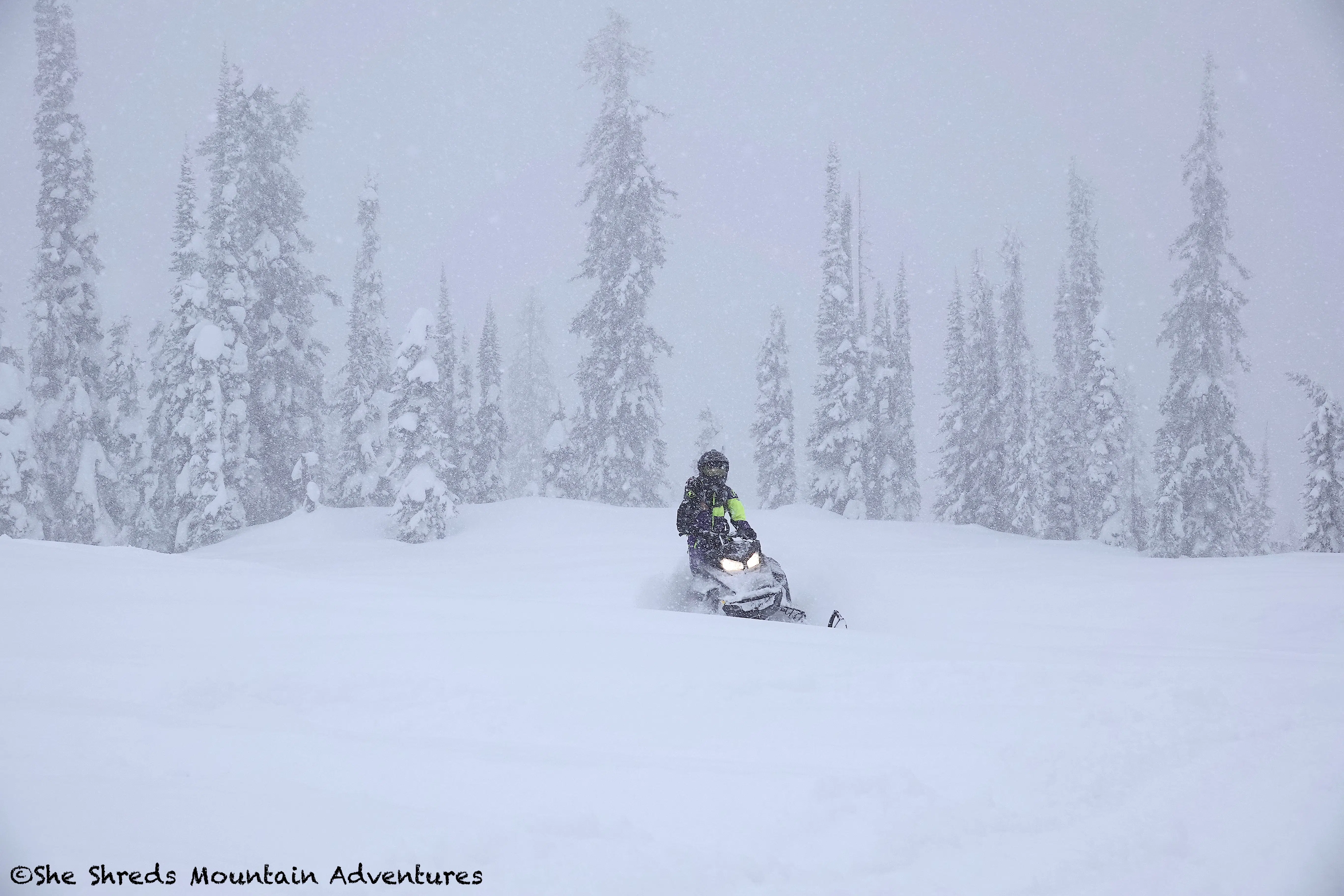 The climate is also quite different from Quebec. The temperature is milder and more humid. I would even go so far as to say that Revelstoke benefits from its own little microclimate, making it possible for all that snow to fall throughout the year.
The terrain is also different from Quebec. Obviously, it is different because of the number and height of its mountains, but also because there is a lesser density of slender trees.
Personally, I also found that the snow had a different consistency and carried my snowmobile differently. I noticed that my snowmobile was easier to handle there in deep snow (even with a 165-inch long deck) than in Quebec.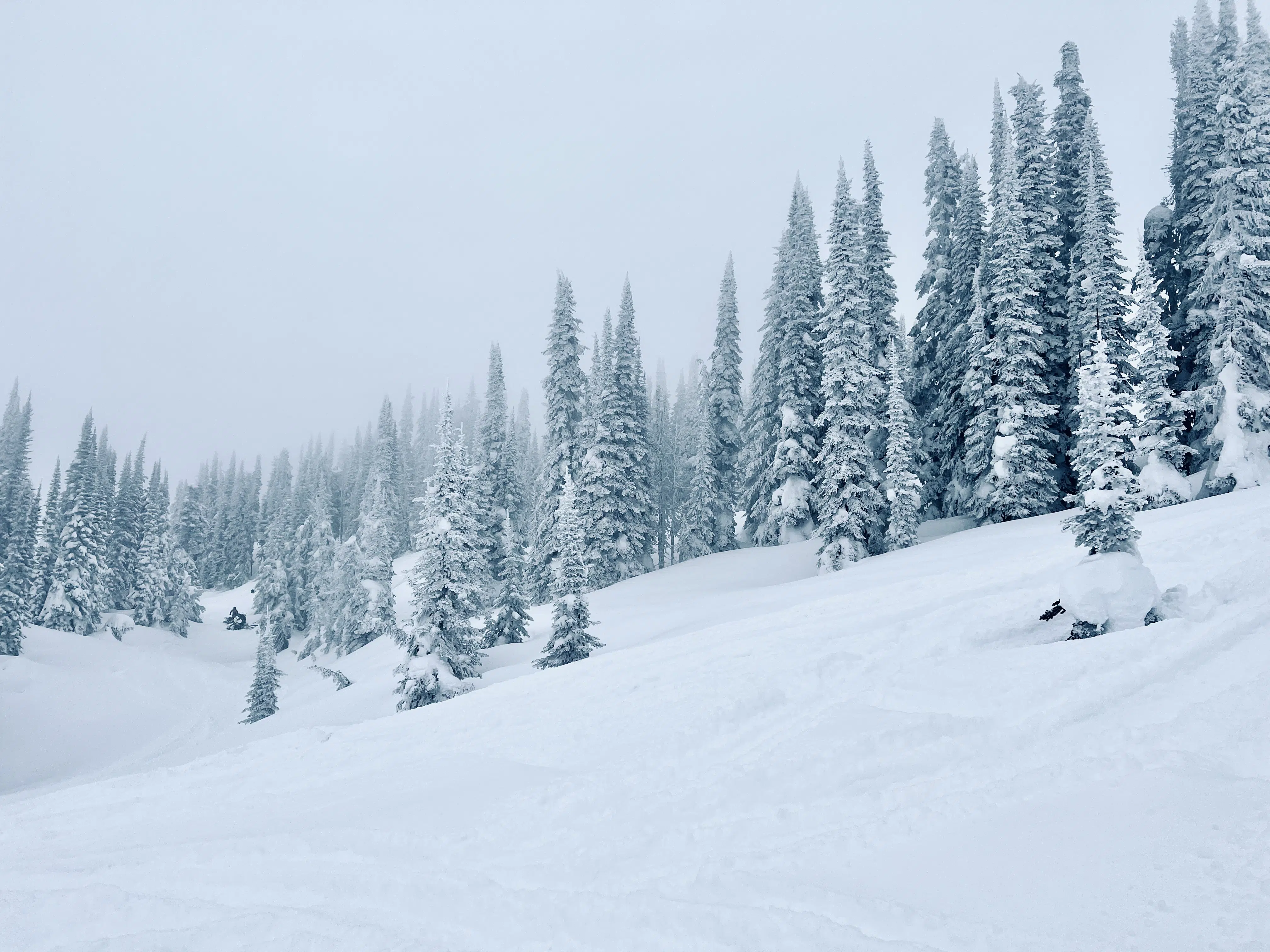 BEFORE YOU GO: tips and recommendations
Now that you're excited about going to "Revy," I'm sharing some tips and recommendations that I wish I had before I left last year.
1. Transportation
You could very well choose to cross Canada by car and enjoy the road (about a week, depending on your pace and the number of drivers). We chose to go by plane ✈ , in order to spend as much time as possible in the mountains and not on the road.
We landed at the Kelowna airport, which is the closest international airport to Revelstoke. From there, we rented a car and drove about two hours to Revelstoke.
Quick recommendation: if you choose to rent a vehicle from Kelowna, consider asking for a four-wheel drive vehicle, equipped with winter tires. This is necessary for driving in the mountains on snowy, icy roads. Rental vehicles are not always equipped with winter tires there, even during the winter season. We learned this the hard way! 😬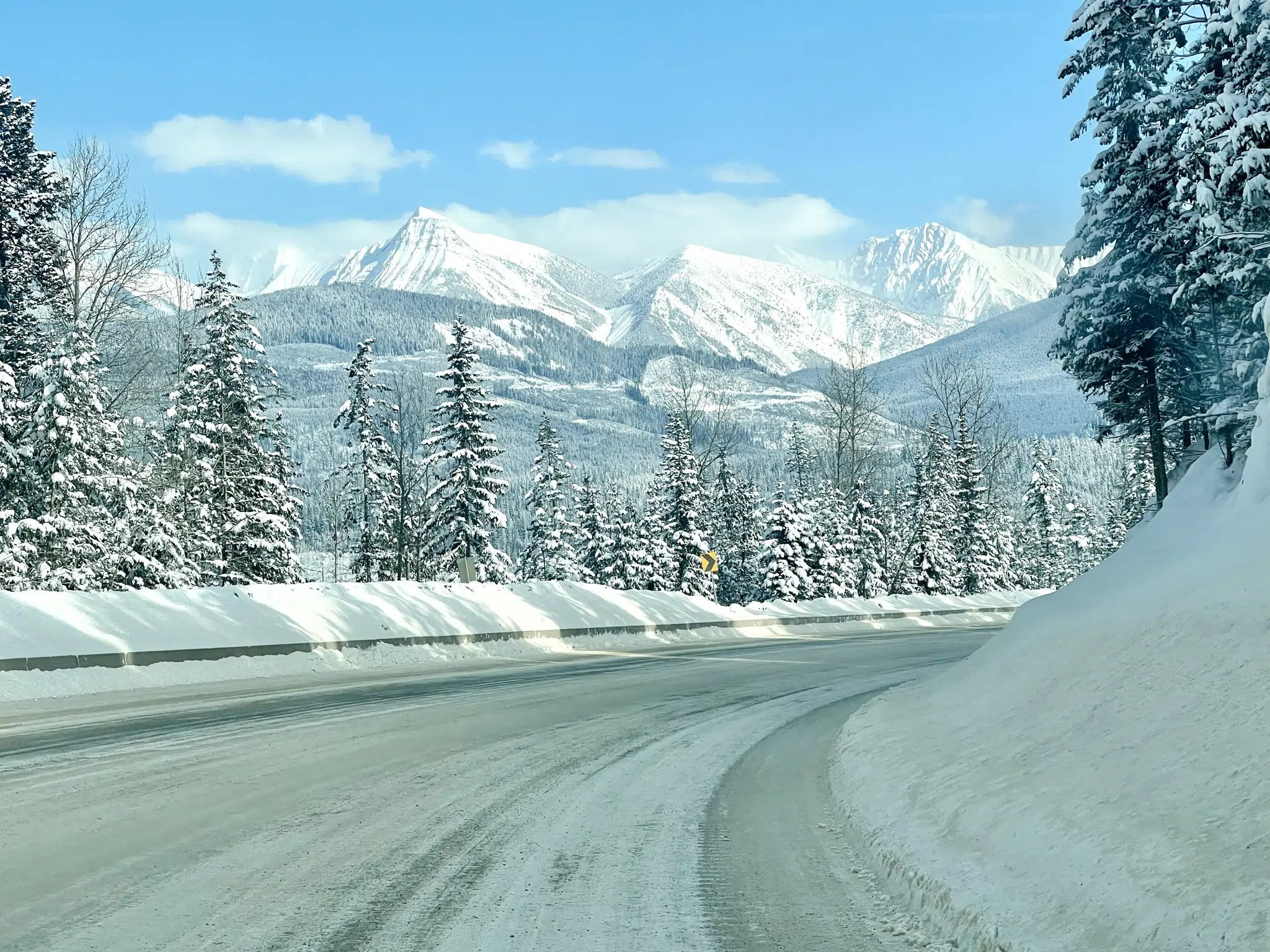 When you arrive in Revelstoke, even before you get to the mountains, you will notice and feel right away that everything is snowmobile in this town. For snowmobile trippers, it's a crazy feeling!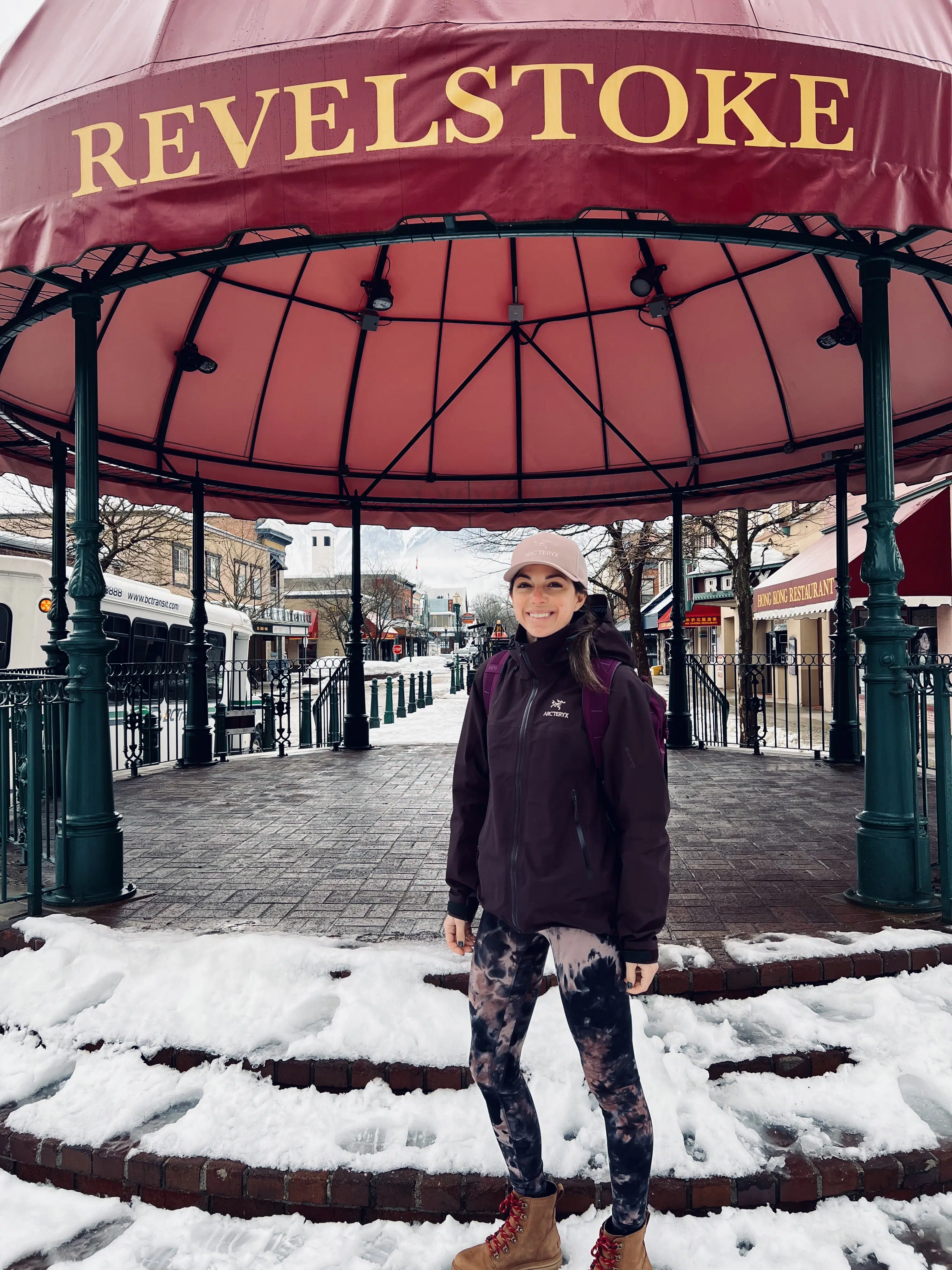 2. Snowmobiles
Take your own
This option may seem interesting at first glance, since it avoids having to rent machines on the site. You save money on the rental, you make sure you have a machine you like and that is mechanically in good shape. However, this option also involves transporting your snowmobiles to Revelstoke.
You need to consider the time it takes to cross Canada and back, and the gasoline costs.
You could have your snowmobiles transported by some transport companies that offer this service. Also, groups of friends usually organize to transport several snowmobiles in the same trailer to their destination.
If you are a member of several snowmobile groups, on Facebook, for example, you will see this. However, unless you know these people well, it might not be my number one recommendation, considering insurance and reliability.
Renting directly in Revelstoke
A few companies offer snowmobile rentals in Revelstoke and the surrounding area.
For my part, I dealt with Great Canadian Tours. The advantage of doing business with this rental company is that it is located right in front of the Glacier House Resort, the hotel where I stayed in Revelstoke.
You can walk across in the morning to pick up your rental snowmobile, and then take the snowmobile trail that takes you in a few minutes into the mountains (Boulder Mountain & Frisby Ridge areas).
A few words about the Glacier House Resort. It is a log cabin/hotel, used to welcome snowmobilers and skiers. It is a great place to sleep and eat. The little chalet-style bar in the basement is really nice.
I was pleased to see that the hotel has rooms where you can hang your clothes and equipment. It's very practical for drying!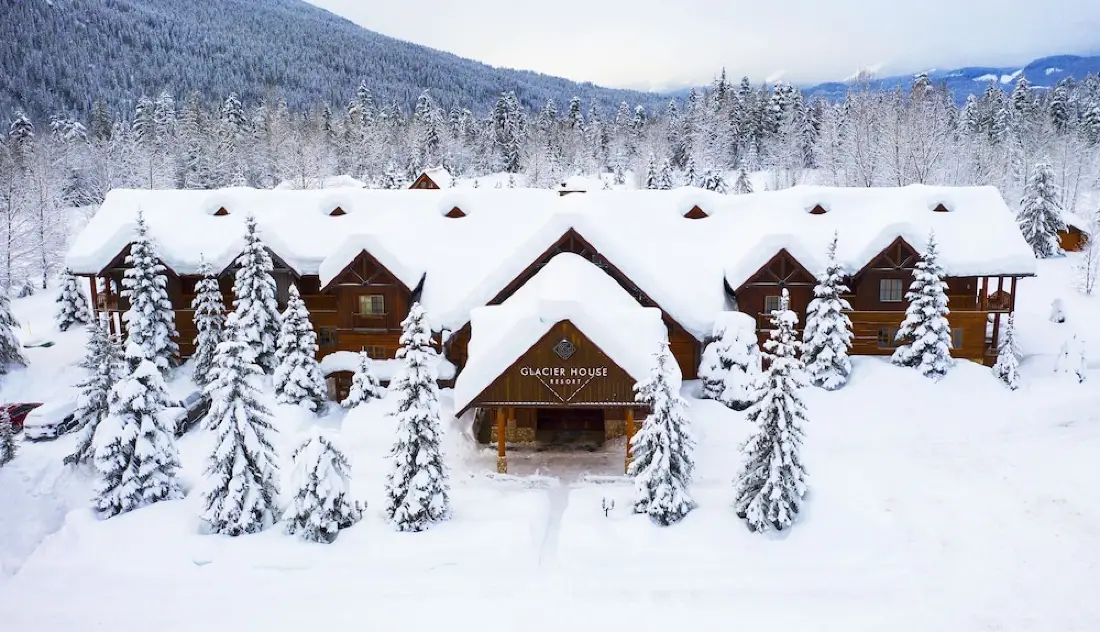 Choose your rental machine carefully
Maybe it will be different this year, but last year, even if I booked several weeks in advance, my choices of rental snowmobiles were limited because everything was already booked. So book your rental well in advance to make sure you have the model of snowmobile you want.
If you want to make your life easier, no matter what kind of driver you are, you must have at least a 165-inch long deck, with 3-inch lugs and an 850 CC engine or equivalent. Moreover, why not add a turbo engine to the mix? At this altitude, it will really come in handy.
Take out insurance coverage
If possible, I advise you to add a few dollars to the cost of your rental to limit your liability and the amount payable in case of damage to your rental snowmobile. When riding in the mountains, accidents and damages happen more frequently and very quickly!
Inspect your rental snowmobile before you take possession
Be sure to check out your rental machine every morning before you take possession of it. First, you do not want to be held responsible for damage caused by a previous rider.
Secondly, you want to make sure that it is mechanically sound before you head off into the mountains when it will be very difficult to get a tow.
3. The equipment
For me, I chose to bring all my personal equipment in duplicate. I wanted to make sure that I had a dry set every morning and that I had a replacement set in case of breakage. I was able to pack everything into an extra Ski-Doo carry-on bag (about the size of a field hockey bag), which was accepted by my airline.
However, you should know that there are stores in Revelstoke where you can buy replacement equipment if needed.
If you don't have one, don't forget to rent an avalanche backpack, equipped with a locator beacon, a radio, a shovel and a probe.
This is an essential piece of equipment for your safety.
The vast majority of licensed guides will refuse to include you in their group if you do not have one. Most snowmobile rental companies offer to rent you this equipment with your snowmobile. Some guides and groups also offer to rent it directly with them.
If you are thinking of bringing your own, check your airline's restrictions and instructions to avoid any surprises. This is usually a regulated item.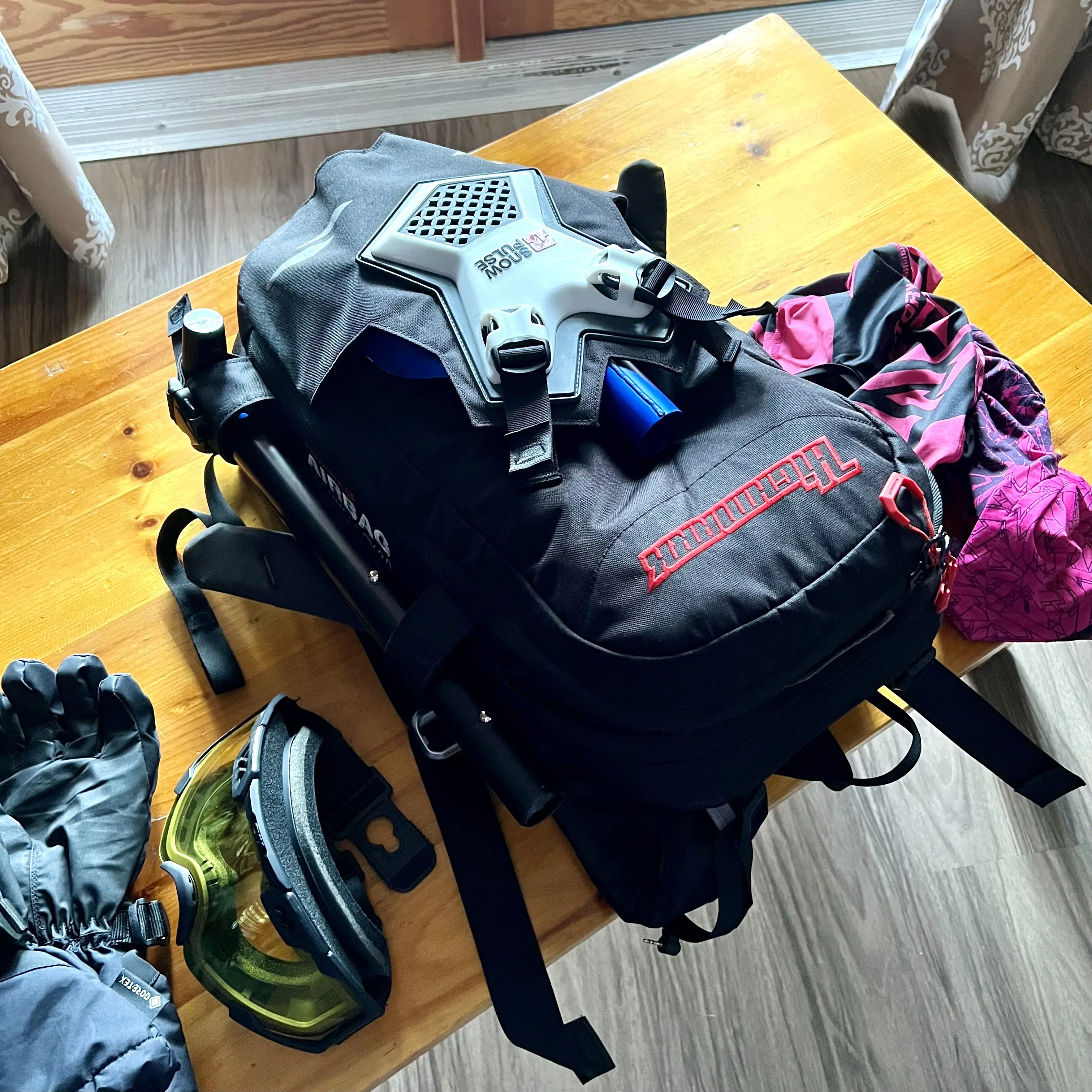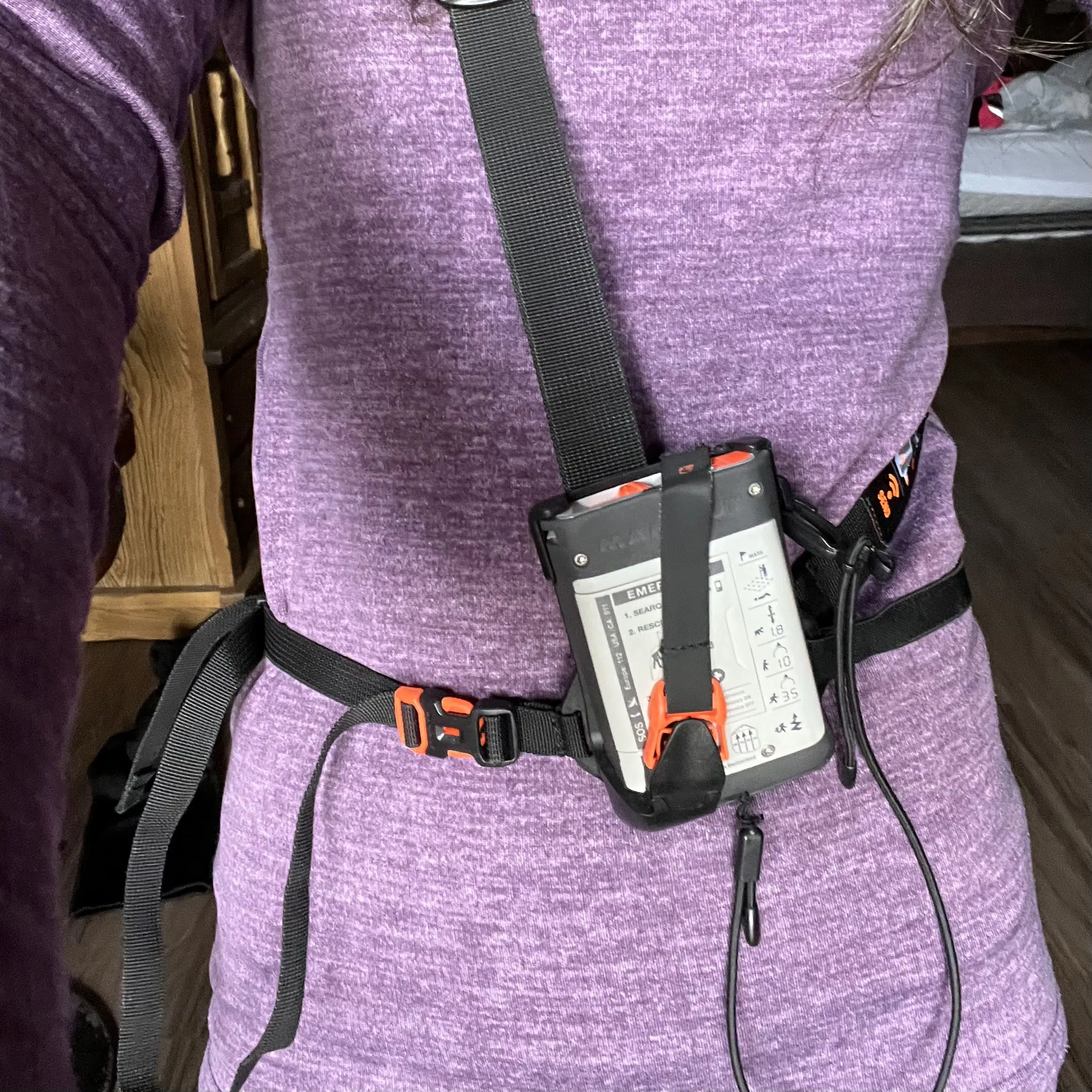 4. Your schedule
Even if you want to make the most of your time in Revelstoke, plan rest days 😴(with a hot tub, haha!) during your mountain rides.
Even if you are in good shape and used to snowmobiling off the trail in Quebec, you will quickly realize that riding in the mountains in Revelstoke is much more physically demanding!
You will enjoy your outings much more if you start your day well rested and in good shape. It's also an opportunity to discover the local hot springs (naturally warm thermal waters).
Halfway Hot Springs and Halcyon Hot Springs are two places you cannot miss. You'll have to take a short ferry ride to get there, but the scenery you'll see is worth it!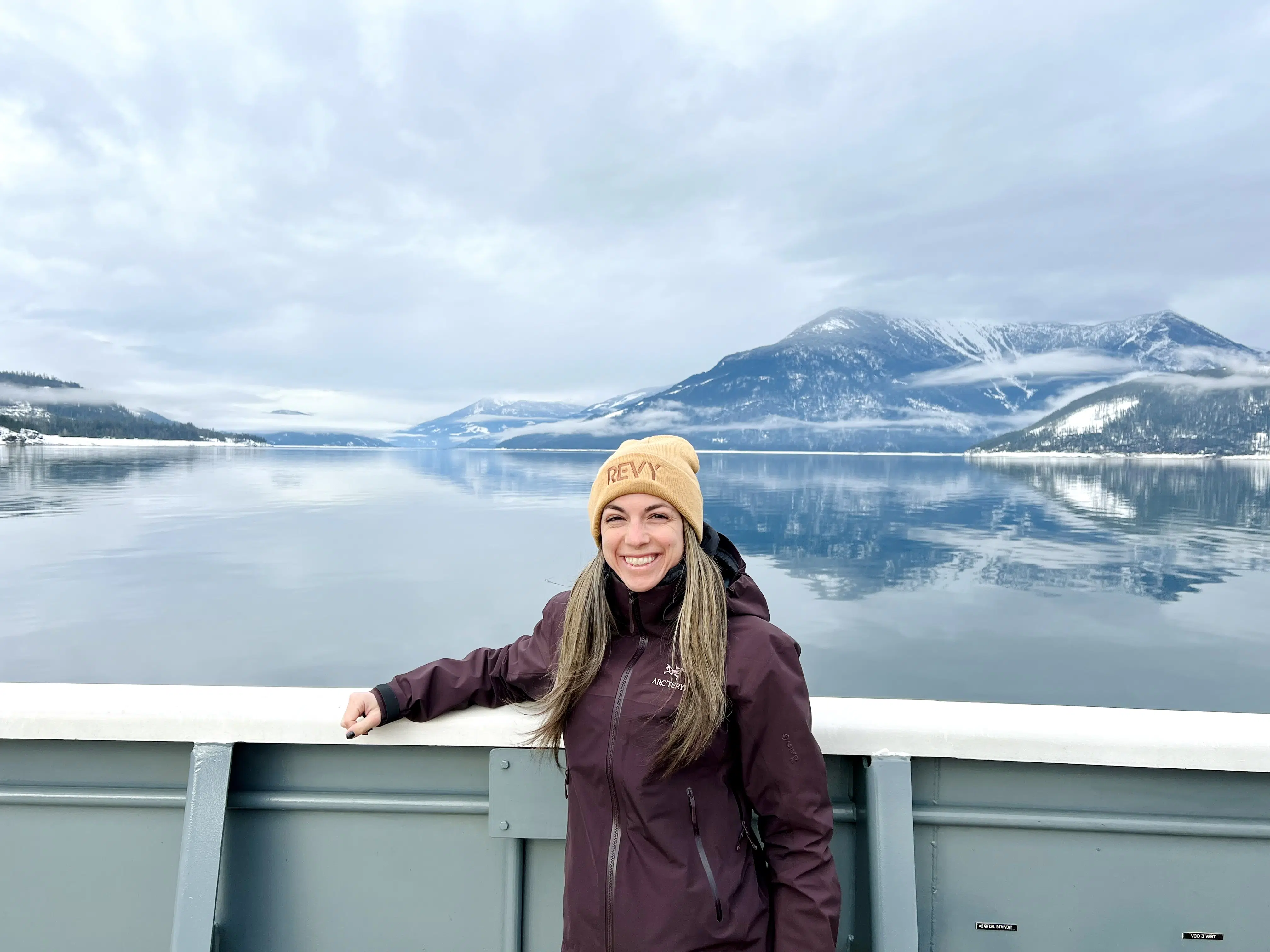 5. The guide and the groups
In my opinion, it is unthinkable to venture into the Revelstoke mountains without a guide and without a group, even if you are an excellent off-trail snowmobiler in Quebec.
As I mentioned earlier, the mountains of Revelstoke have absolutely nothing to do with the mountains of Quebec. The terrain is different, it is easy to get lost and the environment is much more dangerous.
There, the risk of avalanche is a real concern for snowmobilers.
On my first day in the mountains with the She Shreds Mountain Adventures gang, Julie-Ann Chapman, our guide, spent the first few hours of our trip explaining the phenomenon of avalanches, snow compaction, etc., and giving us a simulation of an avalanche victim rescue.
It was then that I realized how dangerous avalanches are for mountain snowmobilers in Western Canada.
To ride in the western mountains, yes, you must be an excellent snowmobiler, but more importantly, you must have a good knowledge of the terrain, the avalanche phenomenon, the weather and good geolocation skills.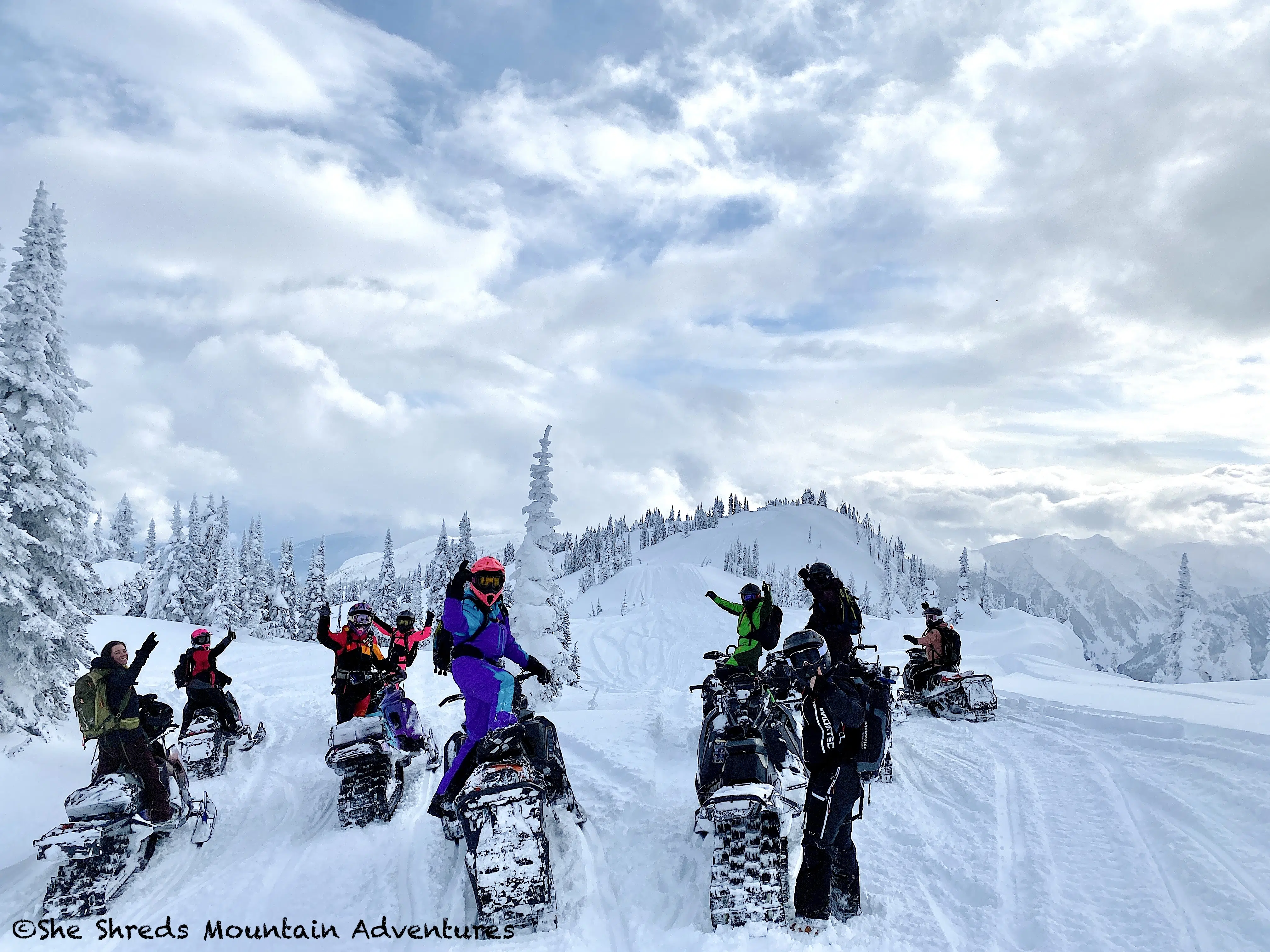 Back to the guide. If you choose a guide, be careful in your choice. Some people out there improvise themselves as guides, when they do not have the qualifications, courses and licenses to do so.
Choose a reliable guiding company, with whom you will feel confident and safe in the mountains.
6. Choose a company that offers guiding in a "learning or improvement clinic" format, think about it!
I was only in my third season of off trail snowmobiling when I made my trip to Revelstoke last February. I had in mind to choose a guiding company that would do it as a clinic, in order to improve and really learn how to ride in the mountains.
Choosing to have your first mountain snowmobiling experience in Western Canada as a clinic, rather than just as a guide, can really elevate your mountain riding skills.
It is an opportunity to learn from the best, who will give you tips and techniques on terrain that is much more complex than what you can find in Quebec.
Any snowmobiler, regardless of the category or experience, can benefit, unless your name is Carl Kuster or Chris Burandt (haha!).
Speaking of Carl Kuster, you should know that he has his own snowmobile guiding and driving school in the mountains, located in Revelstoke: Carl Kuster Mountain Park (CKMP).
This is your chance to ride with one of the Ski-Doo team's pro riders, with the latest and best-equipped Ski-Doo machines available! Just getting to the CKMP warehouses and garages is an experience in itself!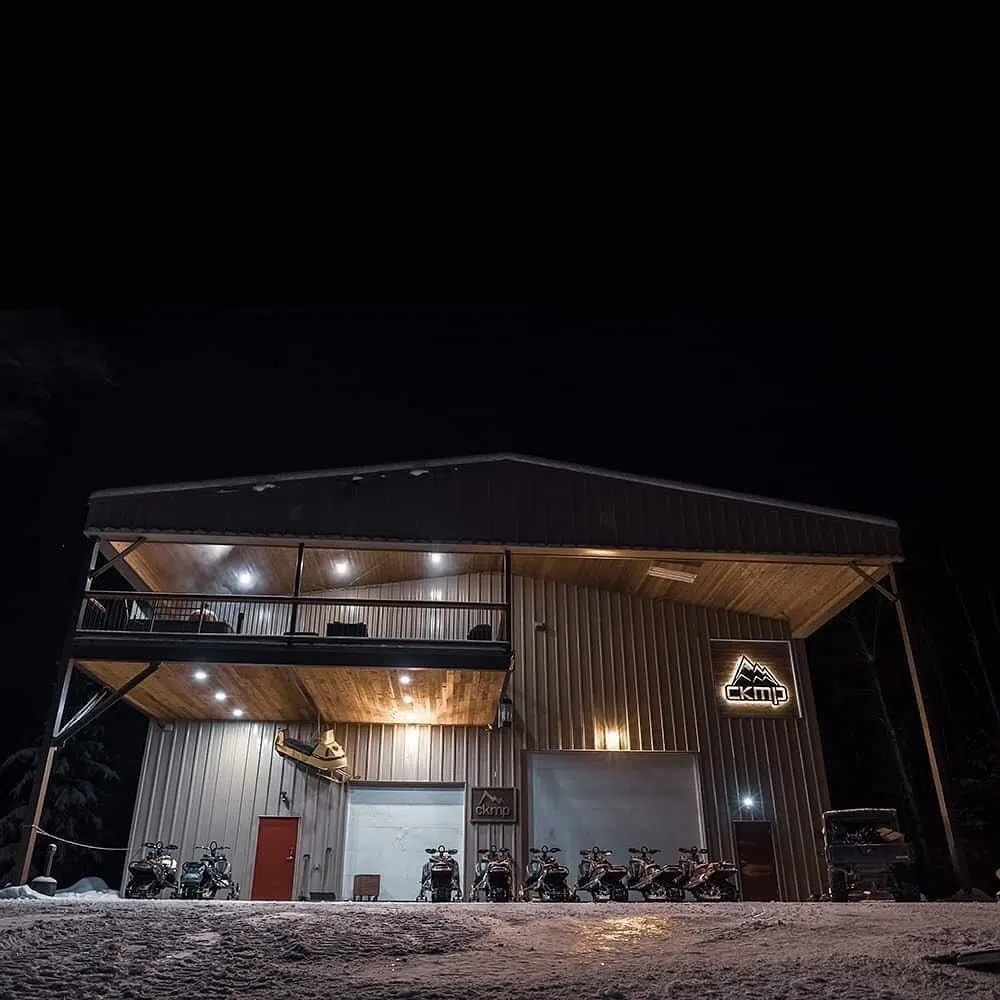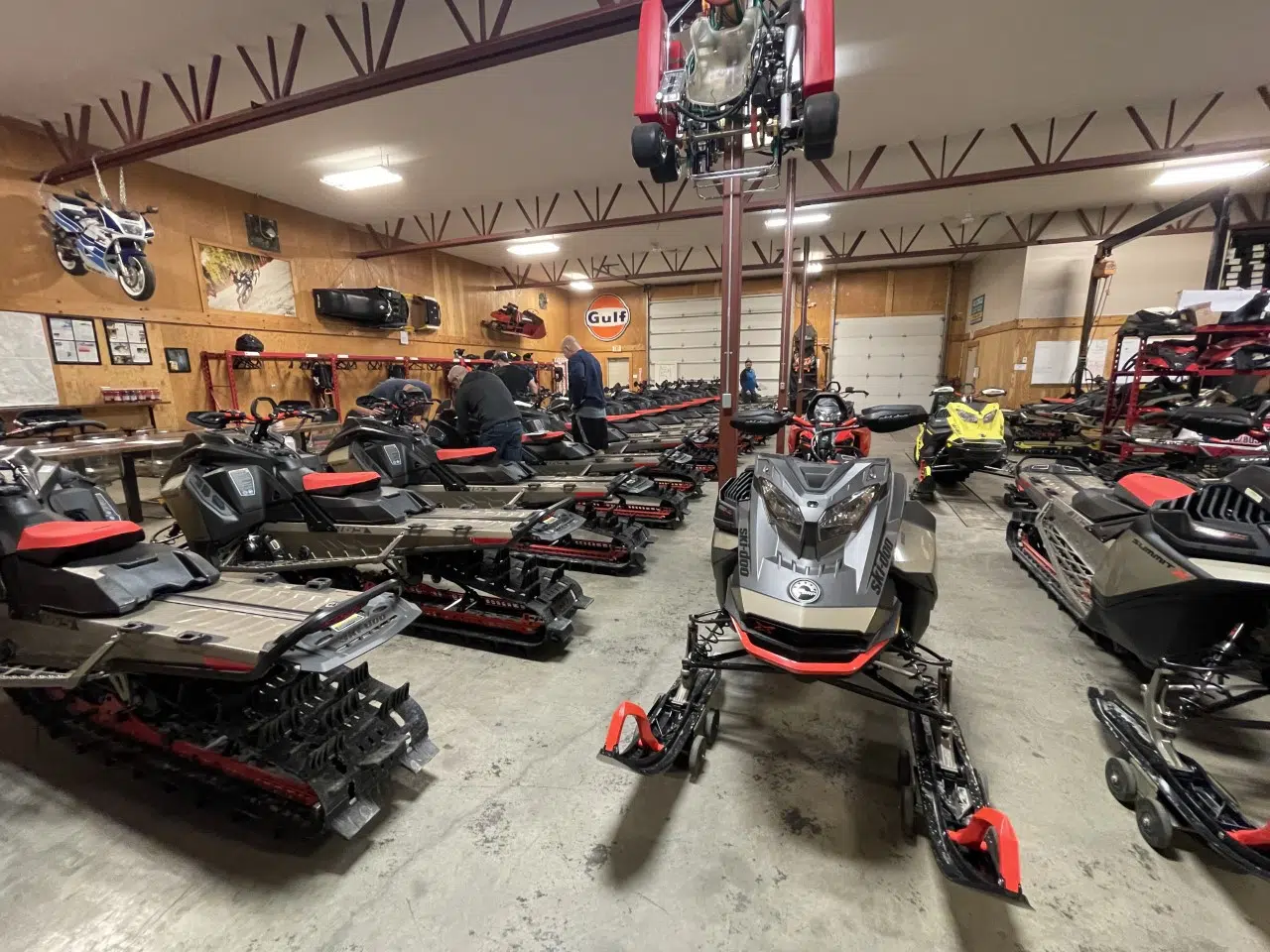 For me, I chose She Shreds Mountains Adventure, a company that offers guidance in the form of learning and development clinics, taught by women, for women.
I had an exceptional experience! To read about my full experience, check out the article "Learning to Ride in the Revelstoke Mountains with She Shreds Mountains Adventure: A Girl's Experience" which will be published soon!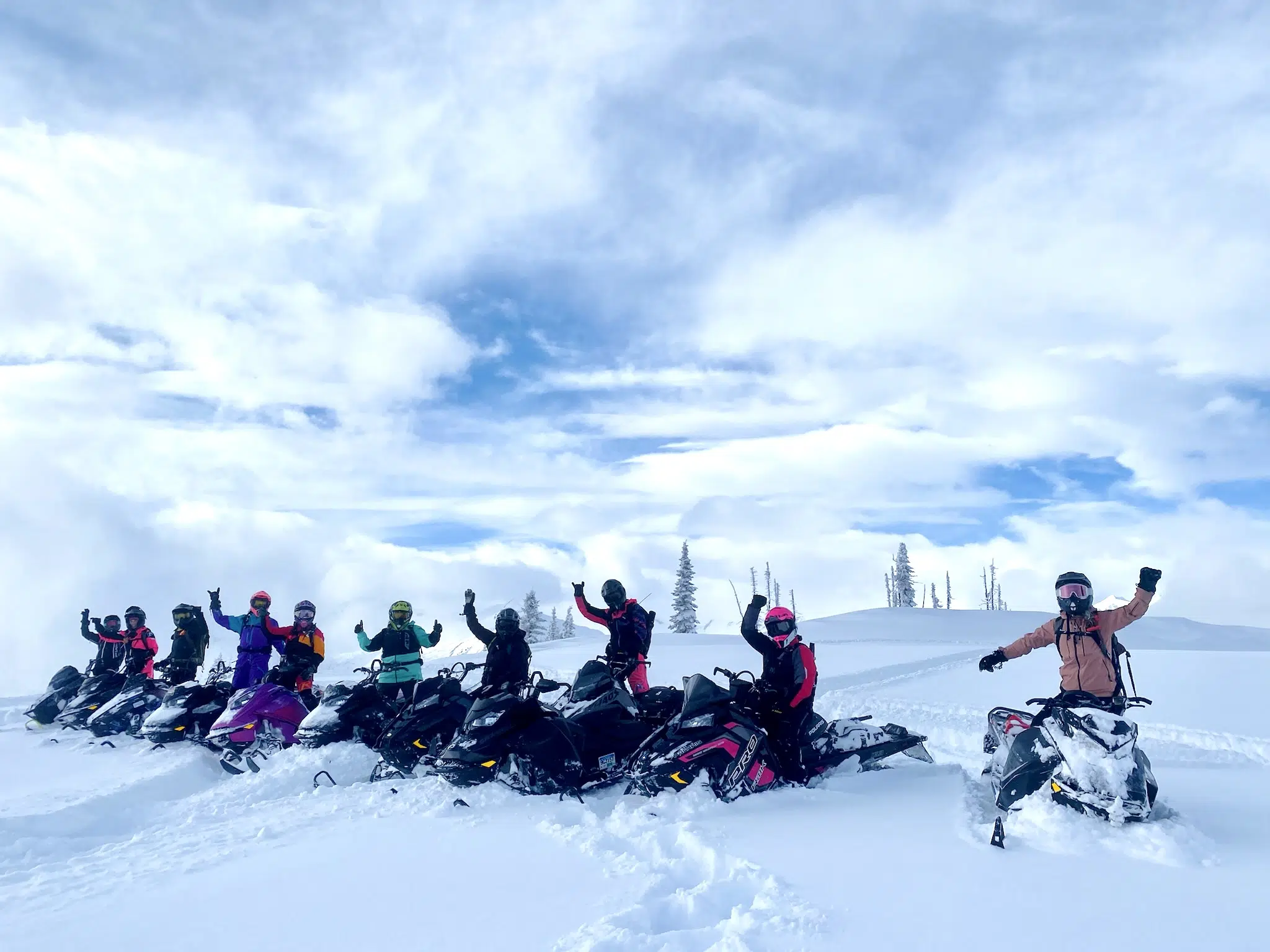 IN CONCLUSION
After experiencing Revelstoke, I came back to Quebec, not only with a better mountain riding technique, but also with a completely different vision of snowmobiling off the trail.
In Western Canada, people snowmobile in the mountains and in deep snow. In Quebec, people snowmobile off the trail, but not necessarily in the mountains and in deep snow.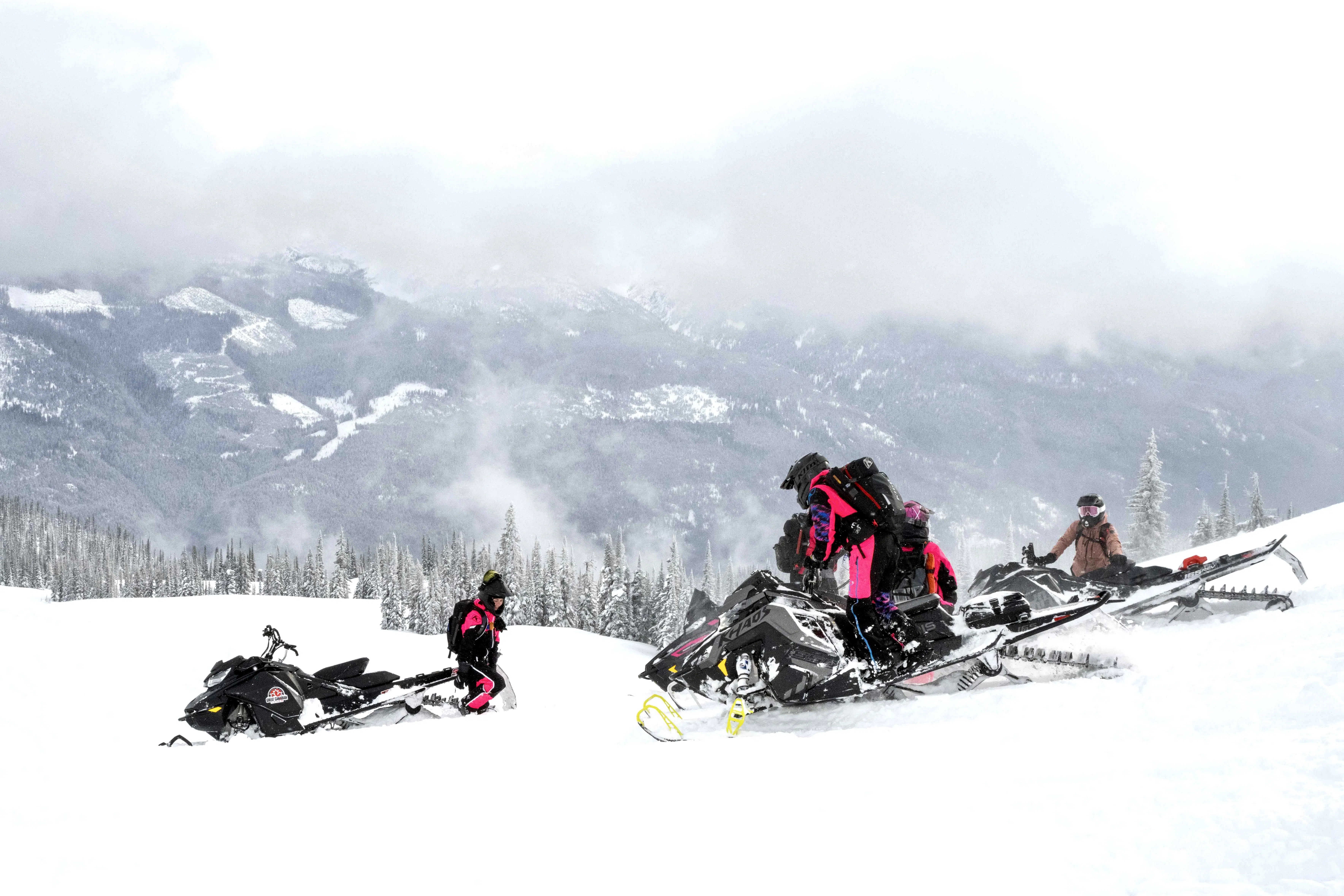 You literally have to live Revelstoke to understand why people want to go back again and again and why some even end up moving there and living their lives.
I wish all off-trail snowmobilers who dream of going there, to be able to one day "crunch their sleds" at the top of one of these mountains, and then make one downhill turn after another in powder that sparkles under the sun.
Bianca B.