Myriam, Nordic Airplane Pilot
Hello everyone! My name is Myriam, I am 24 years old and I am an airplane pilot.
I am honored to join you as the first contributor to the aviation section.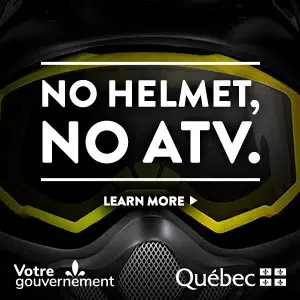 Recently, I started my dream job, which I have been dreaming of since I was interested in aviation. Since June 2021, I have been the first officer on the Boeing 737-200, a legendary aircraft that flies all over the world, from the south to the far north, on gravel and ice.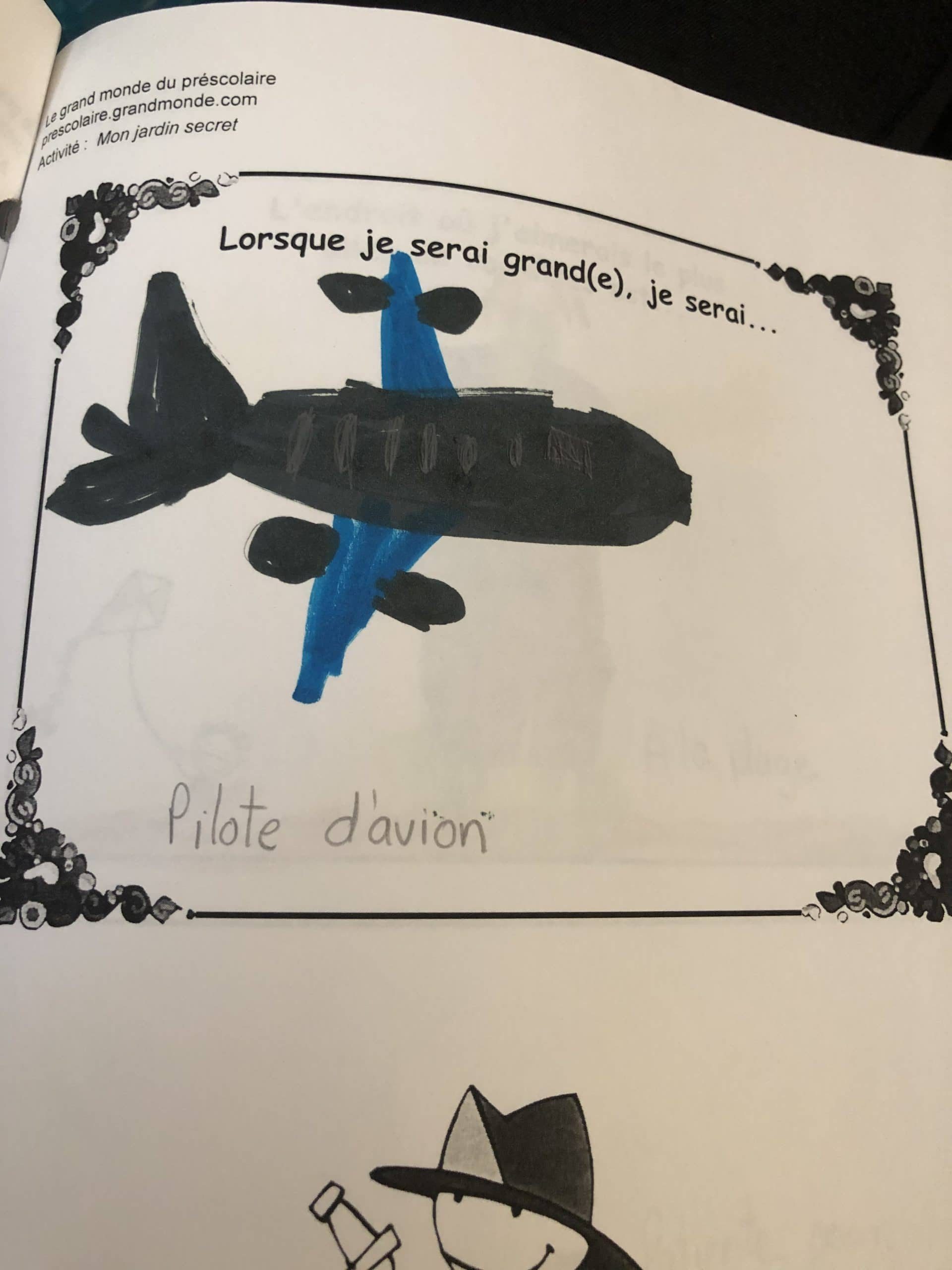 As this drawing from my kindergarten years shows, my dream of being a pilot is not new. Indeed, I grew up traveling a lot for my mother's career, and being very close to my uncle, himself a pilot with Air Canada.
I also grew up surrounded by strong women, who go for it and never take no for an answer!
My first steps
My parents always encouraged me in these goals, despite the obstacles I encountered. After high school, I was privileged to study at the Centre québécois de formation aéronautique, in Chicoutimi, where I completed a technique in aircraft piloting. It is by discovering all the possibilities that aviation offers that I decided to explore off the beaten path in terms of my career.
My first job in aeronautics was with SOPFEU, as a forest fire detection patroller, based in Chibougamau, Abitibi. Flying low, all alone in my little plane, looking for fires, I realized that I could never do anything else with my life.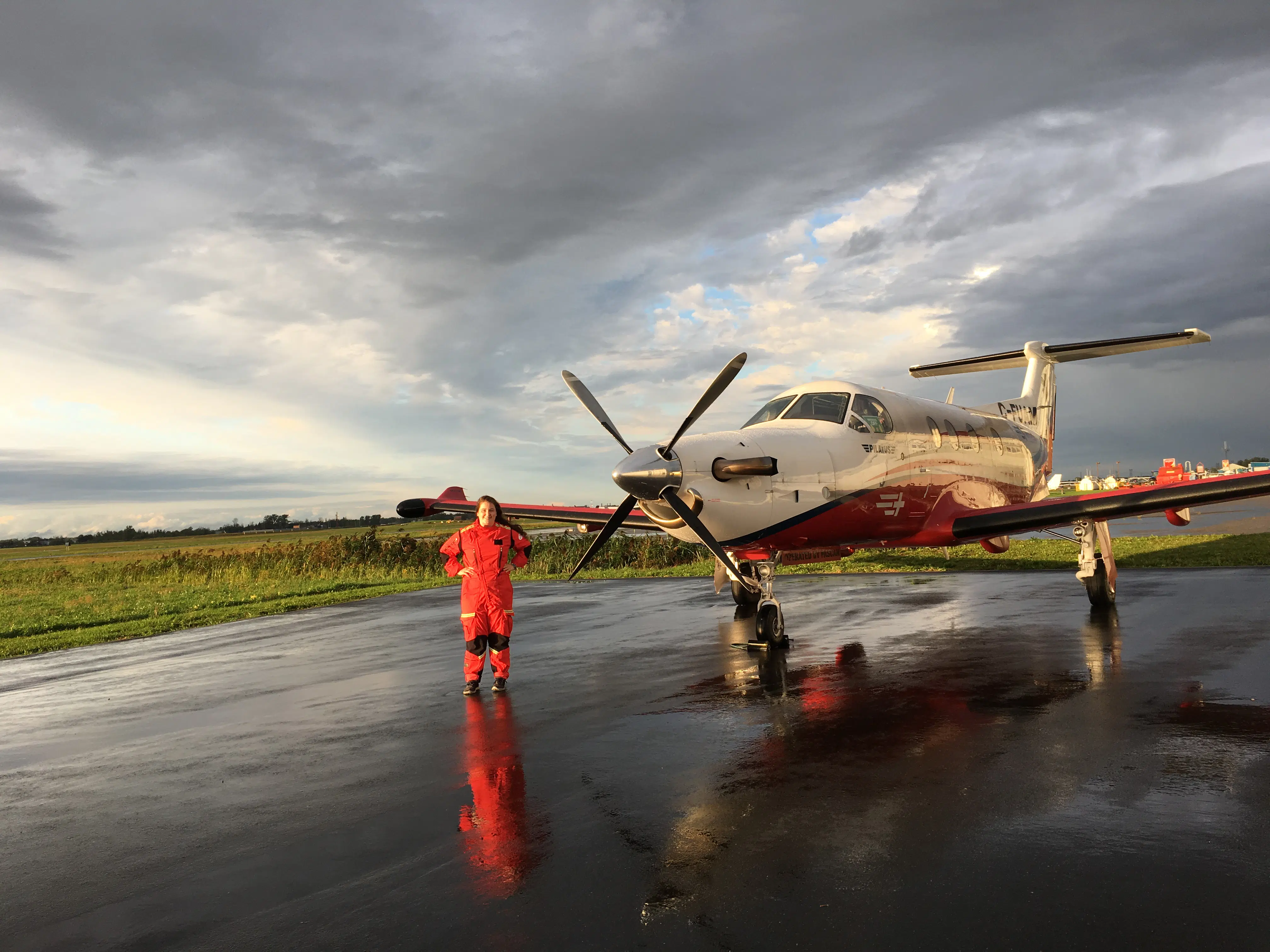 After that summer in Chibougamau, I was hired as a first officer by a medevac company.
At the controls of a Pilatus PC-12, I discovered the length and breadth of Quebec, from Saint-Bruno-de-Guigues to Salluit, from the beautiful long runways of Montreal Trudeau airport to the small rough gravel runways of Nunavik. During 3 years, I gained an invaluable experience.
The sense of pride in being part of saving lives, from premature babies to the elderly, is indescribable. My years in the medevac have also made me a girl who is always ready for any eventuality, passionate about complex situations that require the participation of different professions, and fascinated by the professionalism of the health personnel.
I have also been in contact with First Nations people, which has greatly opened my eyes to the issues of these communities and the richness of their values and history. I was touched many times by the encounters I had with both medical personnel and local individuals.
What I learned from this trip, on a technical level, is that the airplane is an incredible tool that can be used for many purposes. I discovered how to brave bad weather, both thunderstorms and blizzards, and how to land a plane on a short runway with strong crosswinds on the North Shore.
The feeling of being in complete control of the situation, whether it was a beautiful calm sunset above the clouds or a storm that shook the plane, made me fall in love with this job day after day.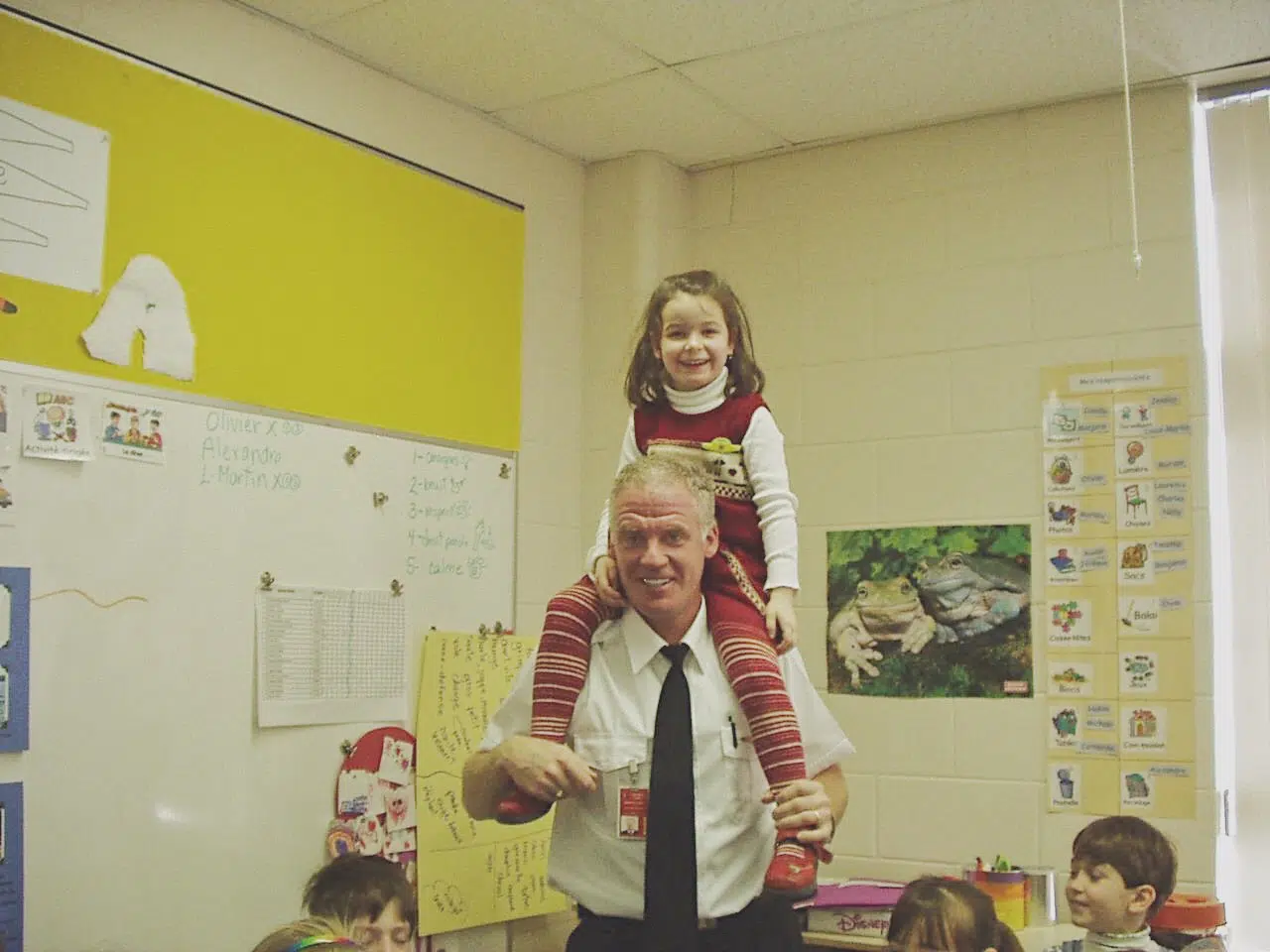 New challenges
I loved those years, but I wanted to fly bigger planes, even further north. My uncle André, to whom I have always been very close, used to tell me since I was a child how his years flying the Boeing 737-200 in the Great North were the most beautiful of his life.
Since my school days, and every time I passed these planes on the airport tarmac, they were winking at me.
I always knew that one day I would want to fly for Nolinor, a company based in Mirabel, which has the largest fleet of 737-200s in the world. After sending my resume dozens of times, I finally joined the company as first officer in the summer of 2021.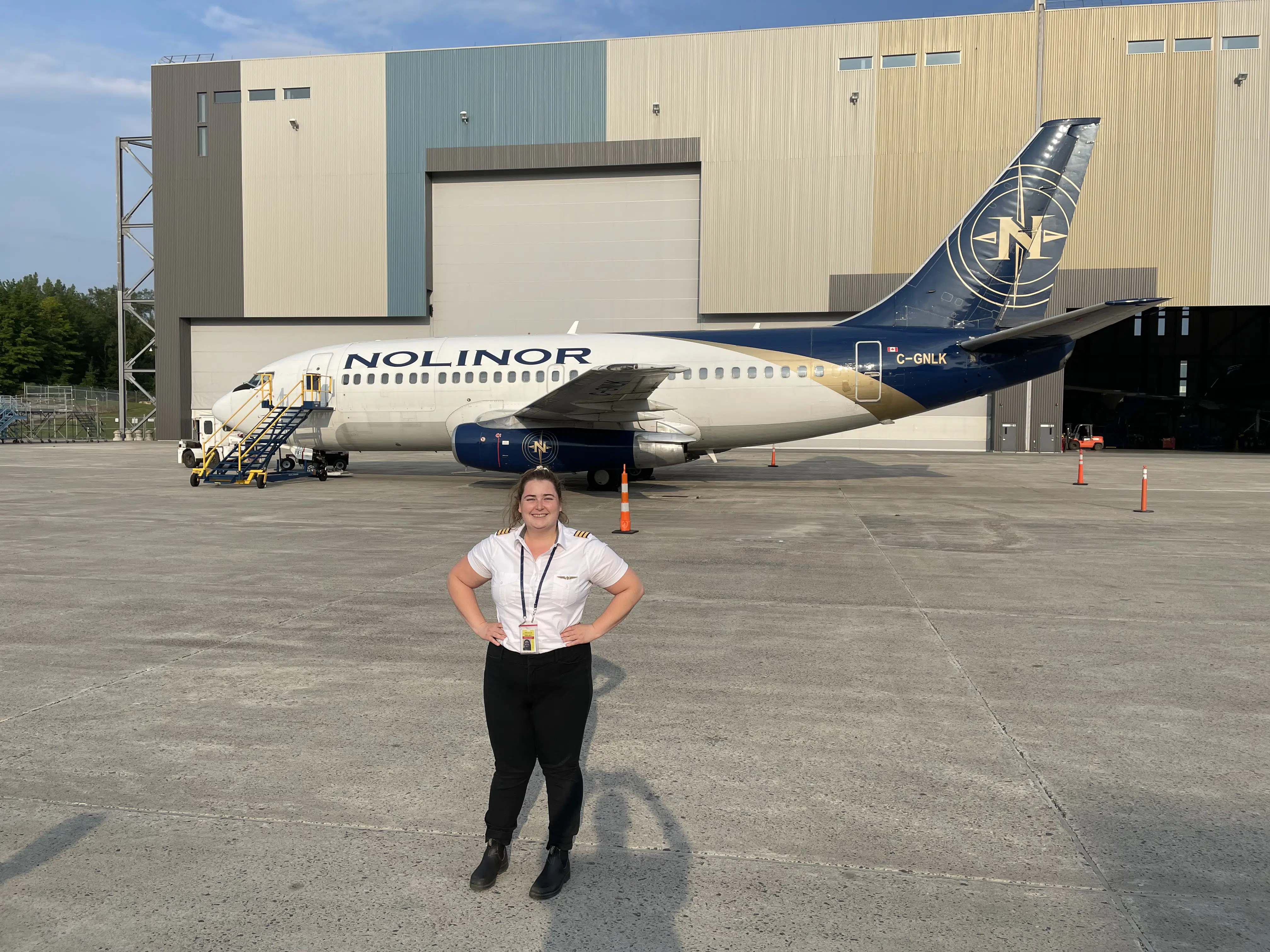 After a rigorous training, that is to say 3 weeks of classroom training, and 3 weeks of simulator training in Miami, I finally started to fly the plane of my dreams. Humbly, the challenge was great.
I had only flown single-engine planes with a maximum capacity of 9 passengers, but now I was flying a powerful jet with 119 passengers.
Nevertheless, I came back from my first flight with a smile on my face, knowing that I was definitely in my place.
The 737-200 is an aircraft developed by Boeing in the 1960s. It is interesting to use it in Northern Canada because of its ability to land on frozen lakes or gravel runways. Indeed, it is equipped with a kind of ski on the nose wheel that prevents rocks or ice from damaging the fuselage of the plane.
Also, the engines are equipped with a small pipe in front of the air intake that blows high pressure air when on the ground to prevent rock debris from being caught in the turbine.
The aircraft is also known for its very distinct thrust reversers, which redirect the air coming out of the engine forward to slow the aircraft down even more during landing, allowing us to operate on very short runways.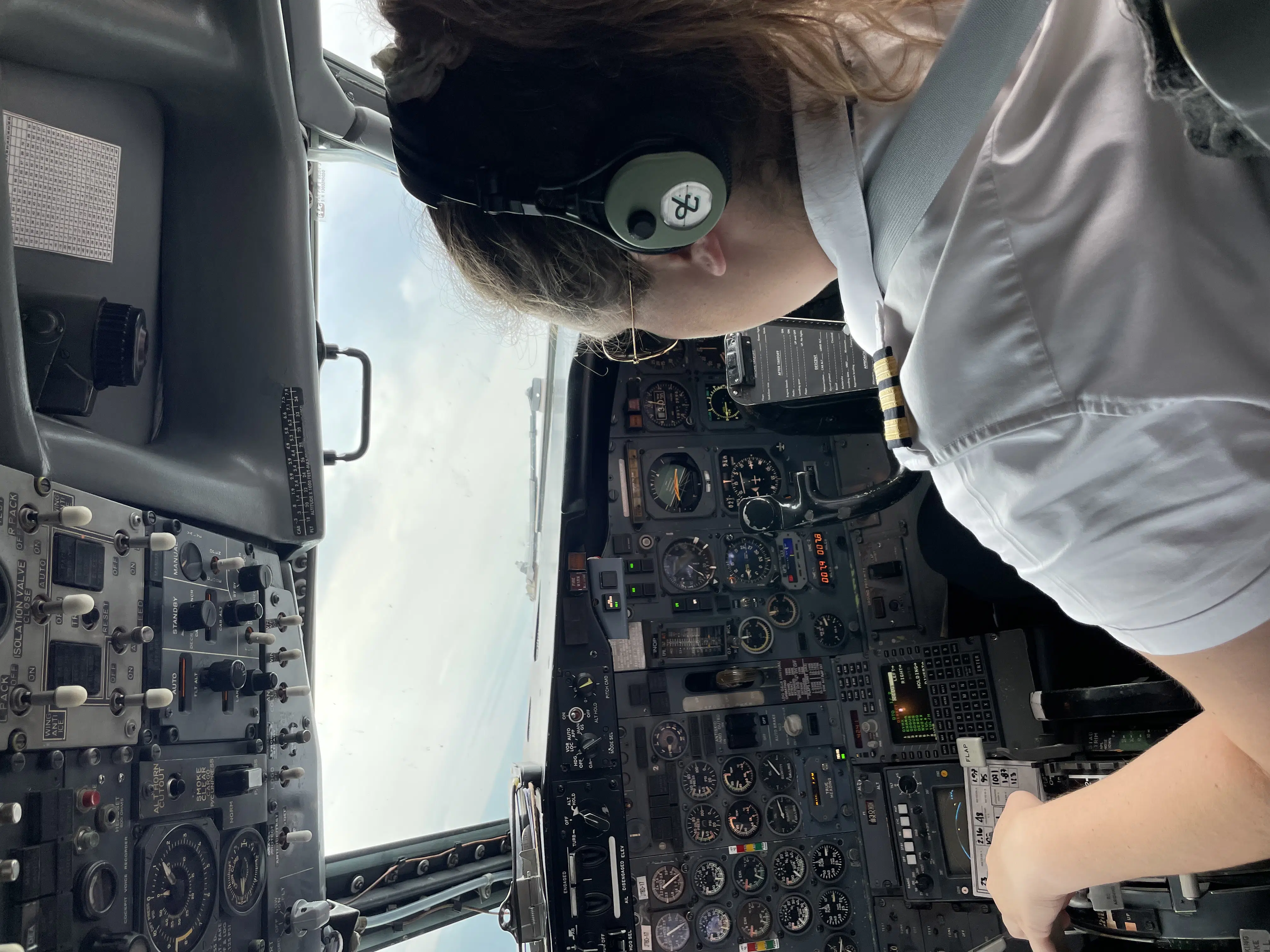 Since I started at Nolinor, I have flown the 737-200 to transport mining workers in Nunavut, hunters on Anticosti Island, cargo in the Northwest Territories and even professional sports players in the United States.
The diversity of operations is definitely the biggest motivator for me. I can't wait to see where the next few years will take me on this historic aircraft.
I know I am young and have a mountain of lessons to learn from all the experienced captains I work with every day. What I love about this job is that improvement is constant and new challenges are always on the horizon.
Therefore, I am delighted to start working with you through my other passions, literature, history, alpine skiing, cycling and the outdoors.
I look forward to sharing different facets of my work, such as my academic background, the place of women in aviation, a bit of history of women aviators as well as some of my fondest memories gathered during my young career.
See you soon!
Myriam D.