Top 10 of the best motocross tracks in Quebec 2023
You don't know where to go to ride your motocross bike? Just know that Quebec is lucky and is full of beautiful trails where you can practice this sport. Stop searching left and right and all over the web for a motocross track! All the information is here!
I again surveyed different motocross riders with different experiences who are familiar with all the tracks in Quebec in order to identify the most popular tracks. Obviously in this top 10, we mainly find tracks that are located near major centers, but I also offer you the "favorite" tracks in more remote regions.
Of course, to each his tastes, to each his preferences; the proof: the rankings have changed since our last poll in 2020. Some tracks have lost feathers while others have gained popularity. Some positions were determined by a few tenths of a point difference. The results are really tight.
Can we say it?.. Well I'm gonna say it!
All of our trails in Quebec are downright cool, and each of them offers some pleasant differences.
So, have fun discovering the results of this new survey and I invite you to explore the many motocross tracks in Quebec this summer to determine your own ranking.
The sport of motocross is booming and gaining popularity year after year in Quebec. This sport is increasingly practiced with the family and several track owners have developed sites adapted to everyone's needs. This is why the vast majority of serious recreational parks, allowing the practice of motocross, are now grouped with the FQMHR.
This Quebec Federation of Off-Road Motorcycles is a non-profit organization whose objective is to regulate, develop and promote the practice of off-road motorcycles in Quebec in a supervised and safe manner.
You MUST therefore be a member of the FQMHR to come to one of its parks. Membership is annual and FREE. It consists of a risk recognition and acceptance form (18 years and over) or parental consent (6 to 17 years). This way, you avoid having to sign a waiver each time you go to a site.
Before each ride, I strongly advise you to always check the website or the Facebook page of the track, to make sure that it is open. Each site offers different opening times and are subject to the vagaries of Mother Nature.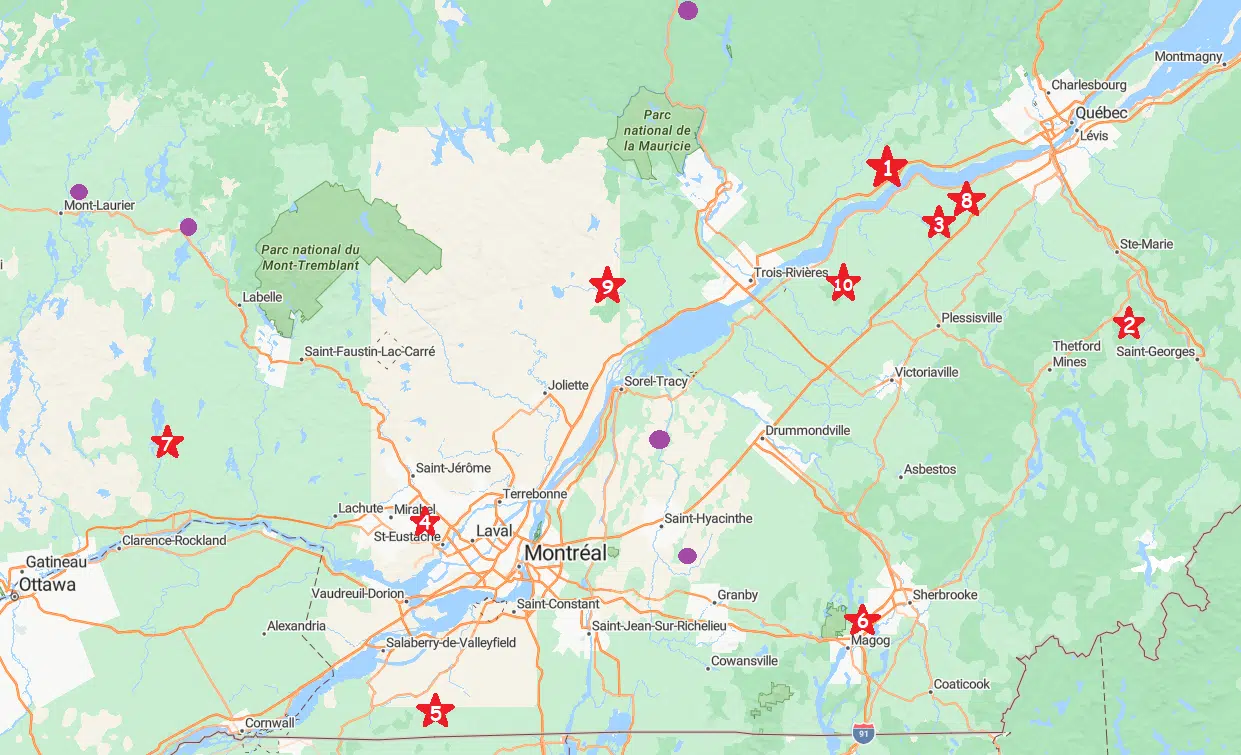 This track is breaking into the top 10 this year and I'm not surprised. I have raced there in the past and I really like its variety of jumps and especially the big bowl turn and big sand where you can turn quite quickly. The main track is mostly sand and the site also offers 4 other auxiliary tracks with hard ground, including one for enduro. In short, something to satisfy all calibers.
Located at: Sainte-Sophie-de-Lévrard, in the Center of Quebec. On the South Shore, very close to A-20, it is 45 minutes from Trois-Rivières and just over an hour from Quebec.
Description of the main track: Long circuit generally in sand with several jumps in solid ground, some of which are quite long. This track will give you great challenges and great sensations!
Other tracks:
Intermediate track
2 peewee tracks
*note that these tracks are farther from the main track
Other activities or services:
Possibilities of lessons with a teacher in enduro or motocross
Free camping on request
Large parking lot
Hours of operation: Friday and Weekend (on call opportunities for Monday, Tuesday and Wednesday)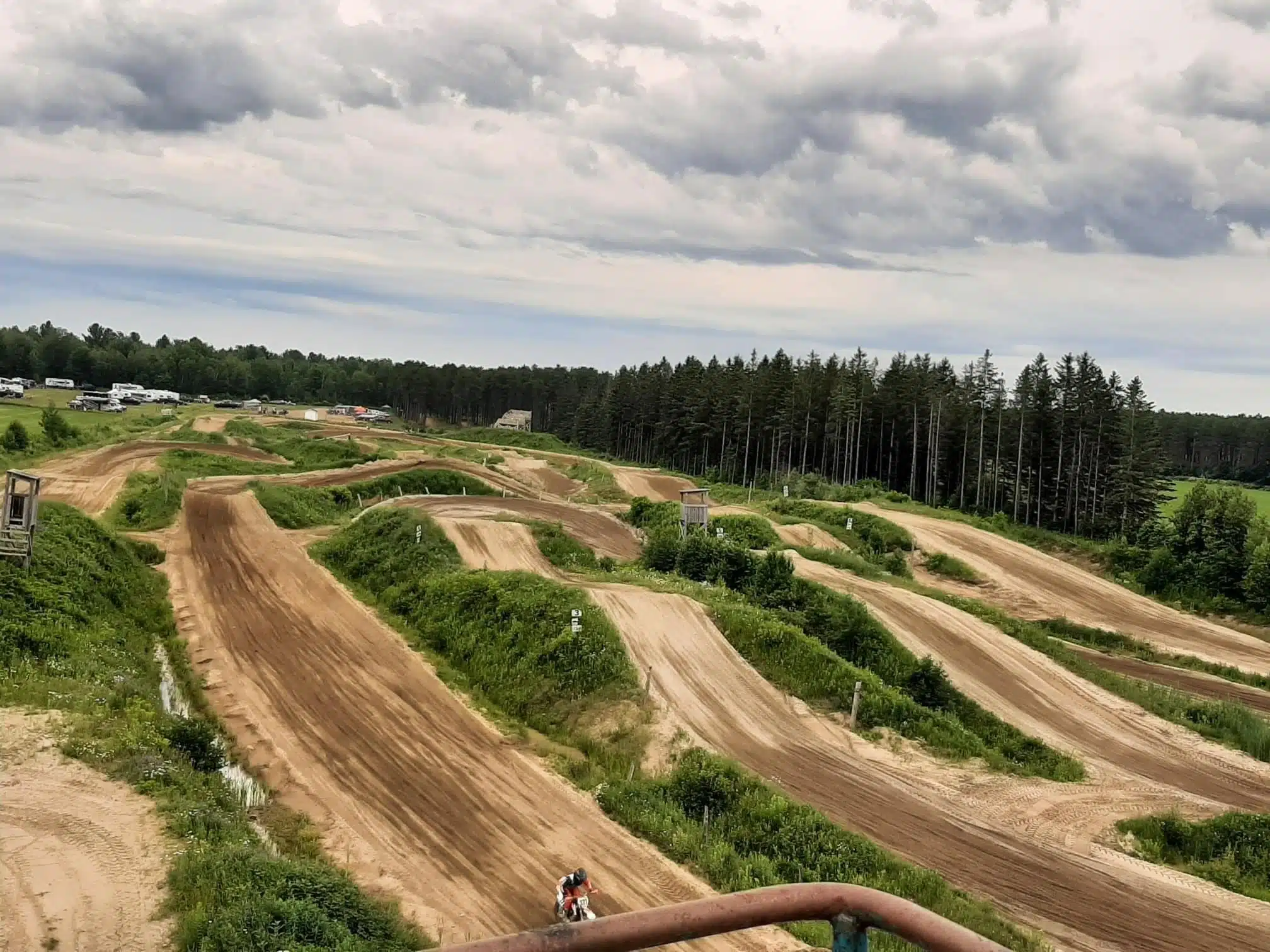 In the middle of the woods, this isolated and somewhat lesser-known circuit is clearly different and unique in Quebec with its long sandy slopes on its main circuit. François and his team spare no effort to offer you a track on which you can exploit the engine of your off-road.
Beautiful fast sections, interesting elevations as well as nice sand bends that allow you to open the throttle to the max. I assure you that this track is worth the detour, and a rather cool atmosphere awaits you there to have a good time in nature!
Located at: Saint-Édouard-de-Maskinongé, in Mauricie. Just over an hour from Montreal and 45 minutes from Trois-Rivières.
Description of the main track: Sand track with several drops. Fast circuit with safe jumps. To be expected: a good climb to access the site.
Other tracks:
Intermediate track
Peewee track
Other activities or services: N/A
Hours of Operation: Weekends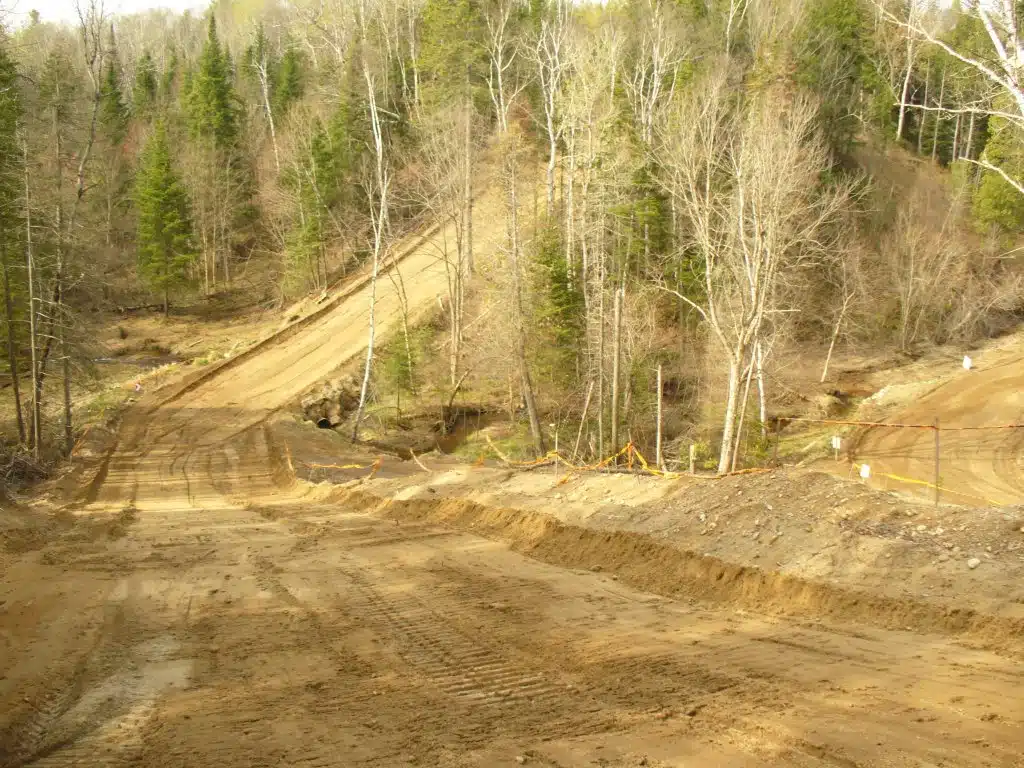 Many were happy, including me, to see this circuit come back in force after a few years of closure. This track with a relatively solid bottom offers you several types of jumps. The more experienced can have fun on some long jumps, which are technically more difficult. This circuit is particularly valuable for challenging you and is therefore perfect for progressing and improving your techniques.
Located at: Saint-Apollinaire, 20 minutes on the South Shore of Quebec.
Description of the main track: Dirt track with several condensed and well maintained jumps.
Other tracks: 
Other activities or services: 
Hours of Operation: Weekends and Occasional Weekdays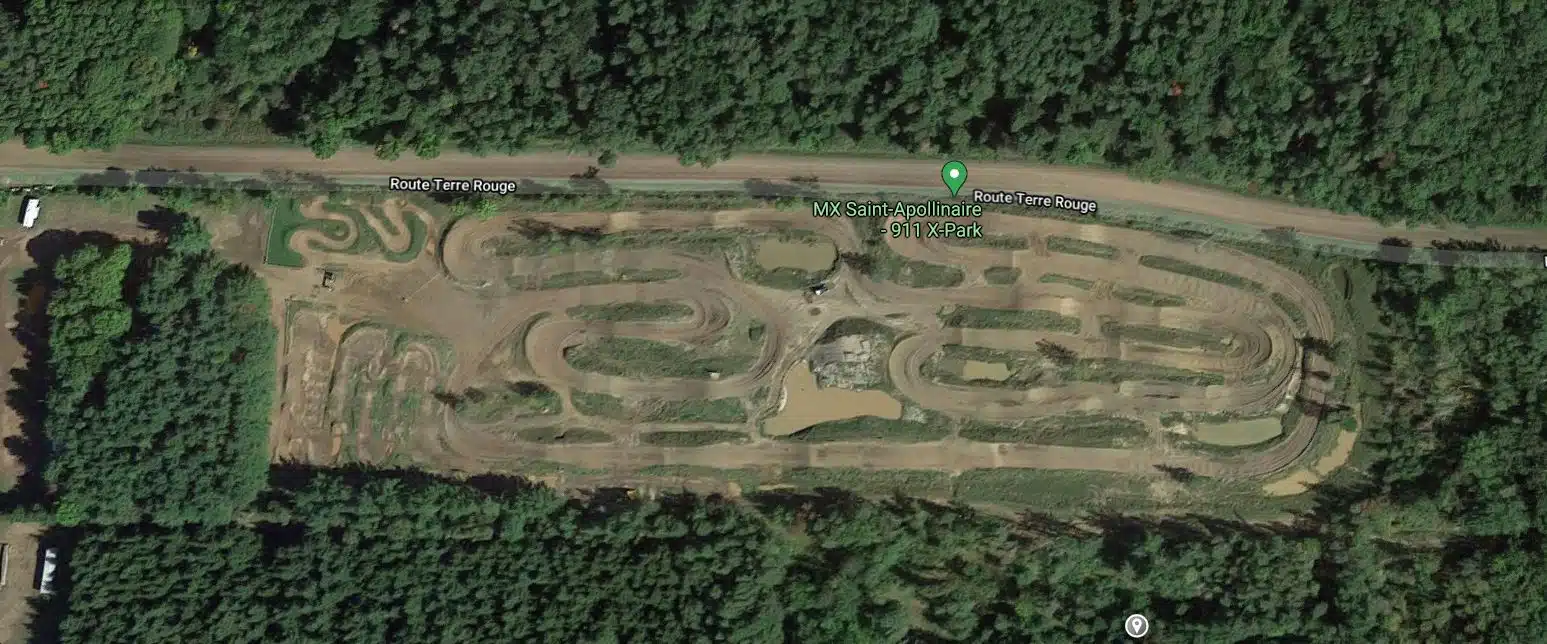 Open since 2015, this circuit is the ultimate motocross circuit in the Outaouais. Dominic works there with passion, a smile and dedication to offer you great conditions. This site is a beautiful and pleasant family place for young and old. Prioritizing the safety and enjoyment of all, MXPN offers the exclusive chance for women and children to ride between 9 a.m. and 10 a.m. on a freshly reworked track. In addition, in order to separate the calibers, each first 20 minutes of each hour is granted to women and children and for the other 40 minutes, the most experienced can go wild!
Located at: Chénéville, near the popular Lac Simon, halfway between Montreal and Gatineau.
Description of the main track: Mostly sand on a hard bottom with several plateau type jumps. Wide and safe track.
Other tracks:
Other activities or services: 
Basic mechanical service.
Parts store, on site and online.
Opening hours: Every Friday and weekends.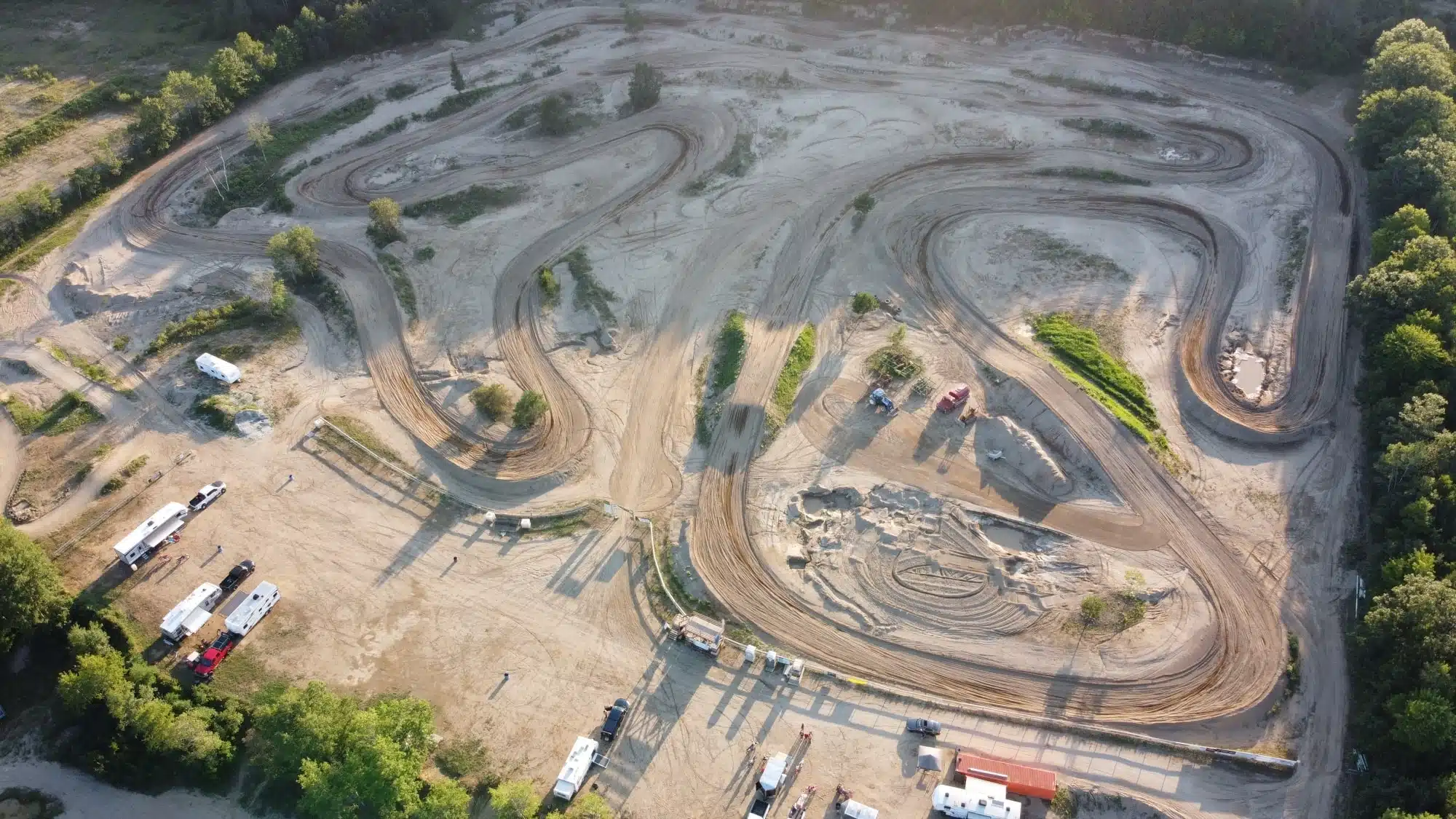 Owned by well-known and retired driver Simon Homans, this circuit is made of dirt. Several improvements have recently been made and this is the reason why this circuit has climbed in the rankings.
Mostly in Quebec we find sand tracks, St-Élie Motorsports offers rather a ground made of diluted earth and it is quite interesting. This material creates ruts in the turns, the jumps generally remain in good condition since the ground is compacted and this is what distinguishes it from the others. It offers a system of lights with the aim of separating the categories and for each person to find pleasure and safety in it.
Located at: Saint-Elie-d'Orford, Sherbrooke
Description of the main track: Dirt track with a nice diversity of jumps offering interesting line choices in certain turns.
Other tracks:
Peewee track, flat
New intermediate track
Other activities or services:
Motorcycle and equipment rental
Training
Opening hours: One evening a week depending on the weather and on Saturdays, so important to monitor their Facebook page.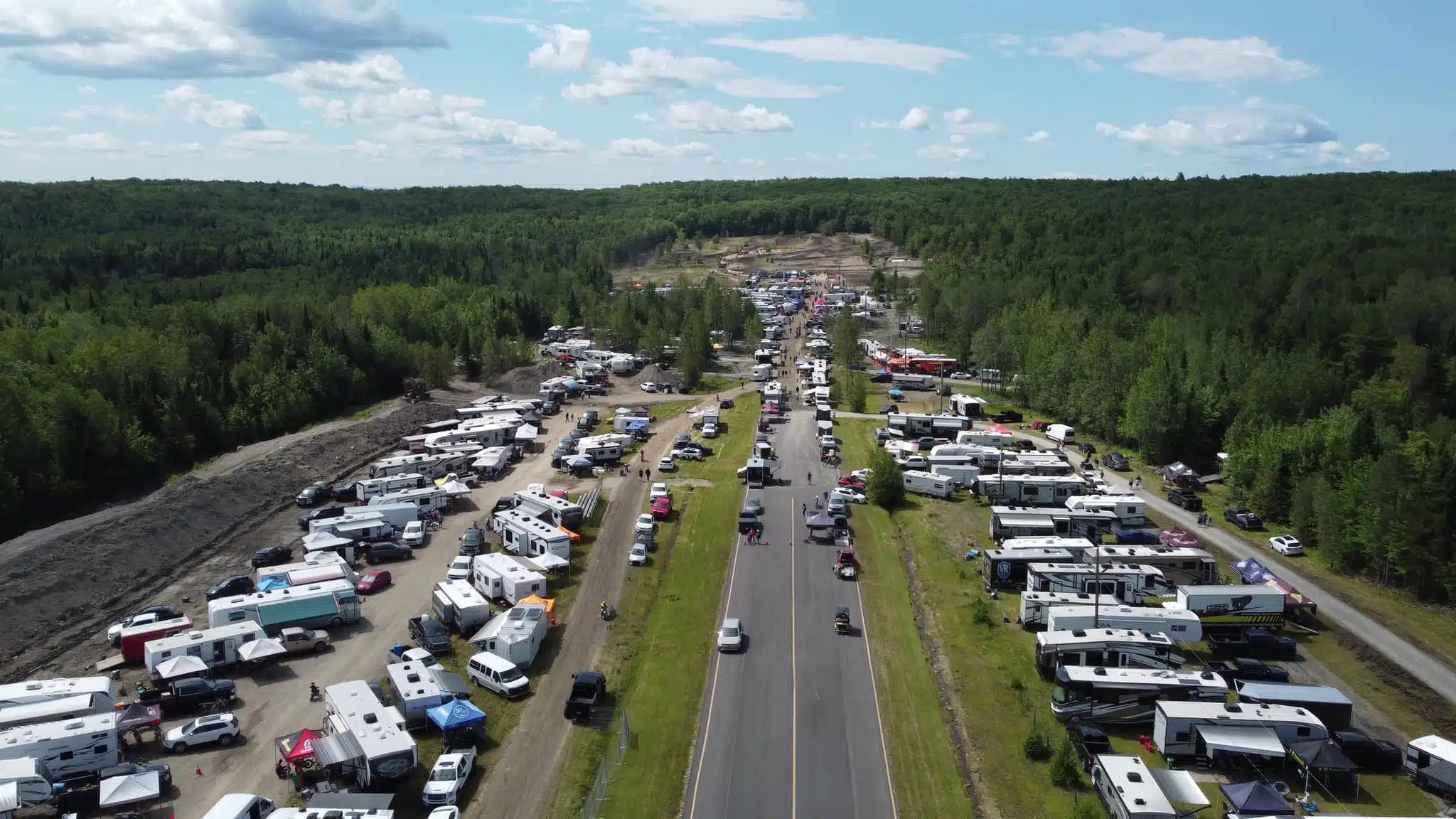 Typical motocross circuit with several jumps and curves. They are well equipped to do the maintenance and thus offer a good quality of soil. Large clean parking lot on small rock and platforms to provide very good visibility for spectators.
Franklin Motosport has slipped a bit in the standings this year, a slightly lower rating which I perhaps attribute to the fact that the track has remained unchanged for the past few years. But honestly, why change a course that is loved and mastered by its followers? The type of ground material provides good traction and lots of fun.
Located at: Saint-Antoine-Abbé, in Montérégie. 1 hour away from the South Shore of Montreal.
Description of the main track: Mixture of earth and sand with a hard bottom. Relatively condensed circuit with several curves and jumps such as double and long plateau all the same safe. Well-maintained track with very good ground quality.
Other tracks:
Pee-wee track, ideal for beginners (hard ground even allowing children who ride with extra wheels)
Mini track, for children with more experience
Endurocross track
Other activities or services:
Motorcycle rental
Equipment rental
Motocross school and camp
Private or group training
Opening hours: Weekends and statutory holidays.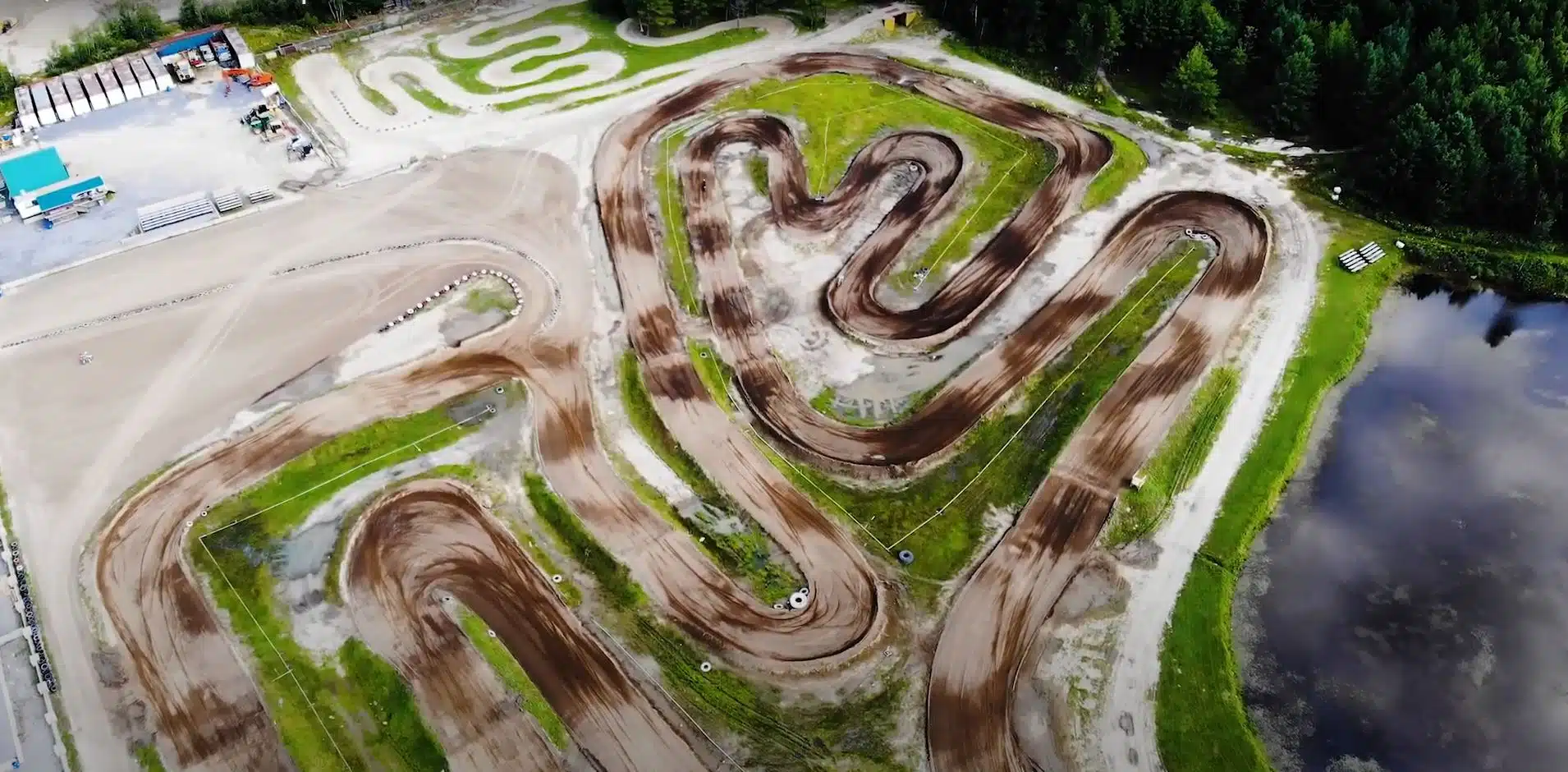 General public circuit, very safe. This site is quickly and easily accessible by being located just off Highway 15. It offers a great variety of trails for all levels and Xtown is the center in Quebec that offers the most opening hours.
The newly modified track allowed it to gain points, but still retains the same position in the standings. Xtown, is a particularly well maintained and watered track with its powerful sprinkler system. Its intermediate circuit is one of the longest and most diversified in Quebec. Xtown is a must for all fans and should definitely be on your list of tracks to visit this summer.
Located at: Mirabel, in the Lower Laurentians. Maximum 30 minutes north of Montreal.
Main trail description: Dirt/sand with hard bottom. Wide, fast and very safe circuit with mostly plateau type jumps. Well-maintained track and an efficient sprinkler system.
Other tracks: 
Beautiful and interesting intermediate trail
Beginner track
Peewee track
Pit bike track
Other activities or services: 
Parts and Equipment Shop
Motorcycle rental
Equipment rental
Area for washing motorcycles
Daily or seasonal camping pitch
Opening hours: Changing during the season, Xtown is one of the sites that offers the most opening hours. They are open every day, except Mondays. From September the site closes on Monday and Tuesday.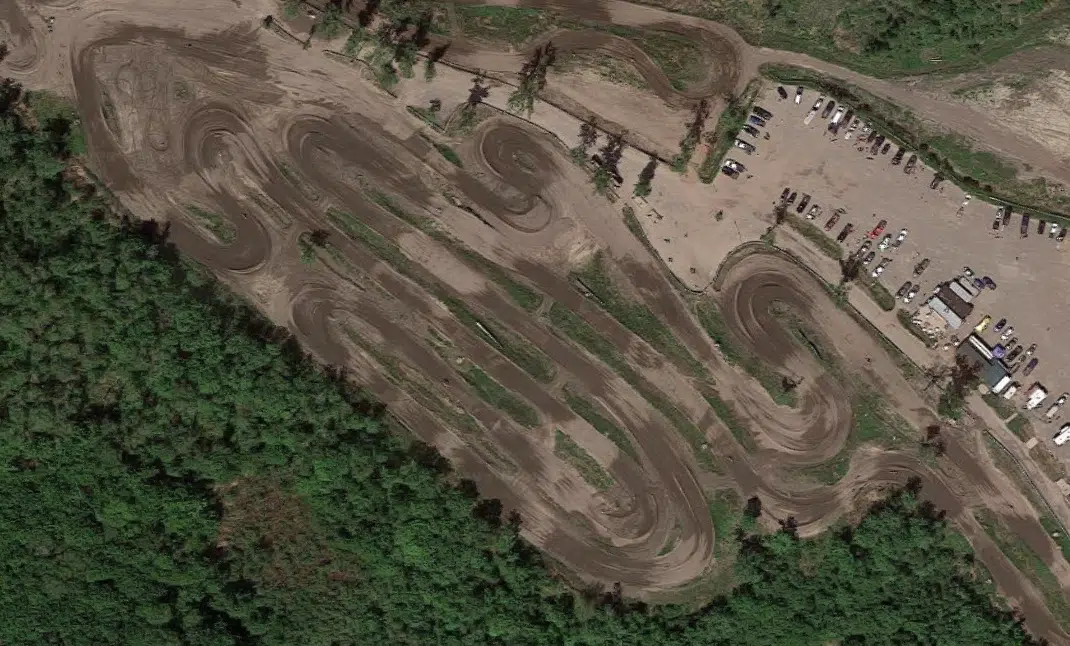 In business since 2016, Hubert Rousseau, well known in the world of motocross, has developed in a short time an interesting site for motocross enthusiasts. The circuit is growing in popularity and making a spectacular comeback in our charts this year. It invests each year in improvements to the slopes and infrastructure and visibly the users appreciate these efforts.
Challenge and adrenaline await you on this track which generally hosts 2 provincial competitions per year via the Challenge Québec association. This site really offers a wide range of activities, we bet you won't be bored!
Located at: Issoudun, very close to Highway 20, 30 minutes on the South Shore of Quebec.
Description of the main track: Dirt track with jumps for all levels.
Other tracks:
Intermediate track
Beginner track
BMX track
Other activities or services:
Motocross school and camp
Motorcycle rental
Private or group training
Parts and mechanics store
Lake, beach and slides
Playground and sandbox for children
Ninja course
Mountain bike trails
Walking trails
Covered pavilion
Motorcycle wash station
Forested (wild) campgrounds
Clean water
Opening hours: Tuesday to Thursday, 1 Friday per month and every weekend.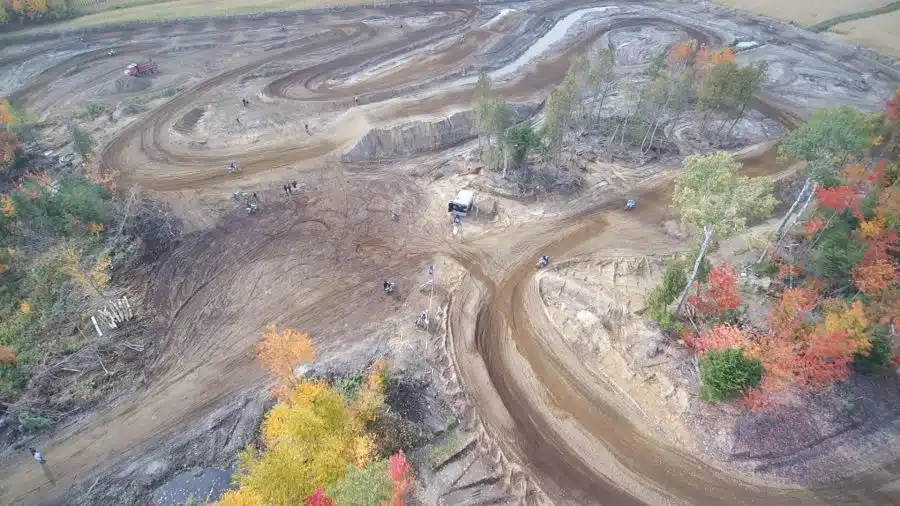 Built in 2007, this circuit quickly became part of the list of favorite tracks for Quebec drivers. The Lessard family has invested a lot of time year after year to provide a large, safe and friendly site with a landscape that is unique to this region.
Being himself an expert pilot, Simon Lessard, owner, used his experience to build a long and very diversified track with different levels of obstacles. Beautiful infrastructures, a large field, a large footbridge and good visibility for spectators. Take a look at their interesting day camp! This track is worth all the minutes of driving required to get there, which explains why it is well established in 2nd place in our ranking again this year!
Located at: Tring-Jonction, in Beauce. 50 minutes from Quebec.
Description of the main track: Sandy surface with hard bottom. Fluid, fast and wide circuit. Several types of safe jumps and efficient watering system.
Other tracks:
Very large and wide intermediate track.
Pee wee track
9 km endurocross track
Stacyc/BMX track
Other activities or services:
Motorcycle rental
Equipment rental
Motocross school and camp
Private or group training
Area for washing motorcycles
Lodging (House or RV)
Daily or seasonal camping pitch
Beautiful playground for children, modules and sandbox.
Hours of Operation: Generally open Tuesdays and Thursdays as well as weekends.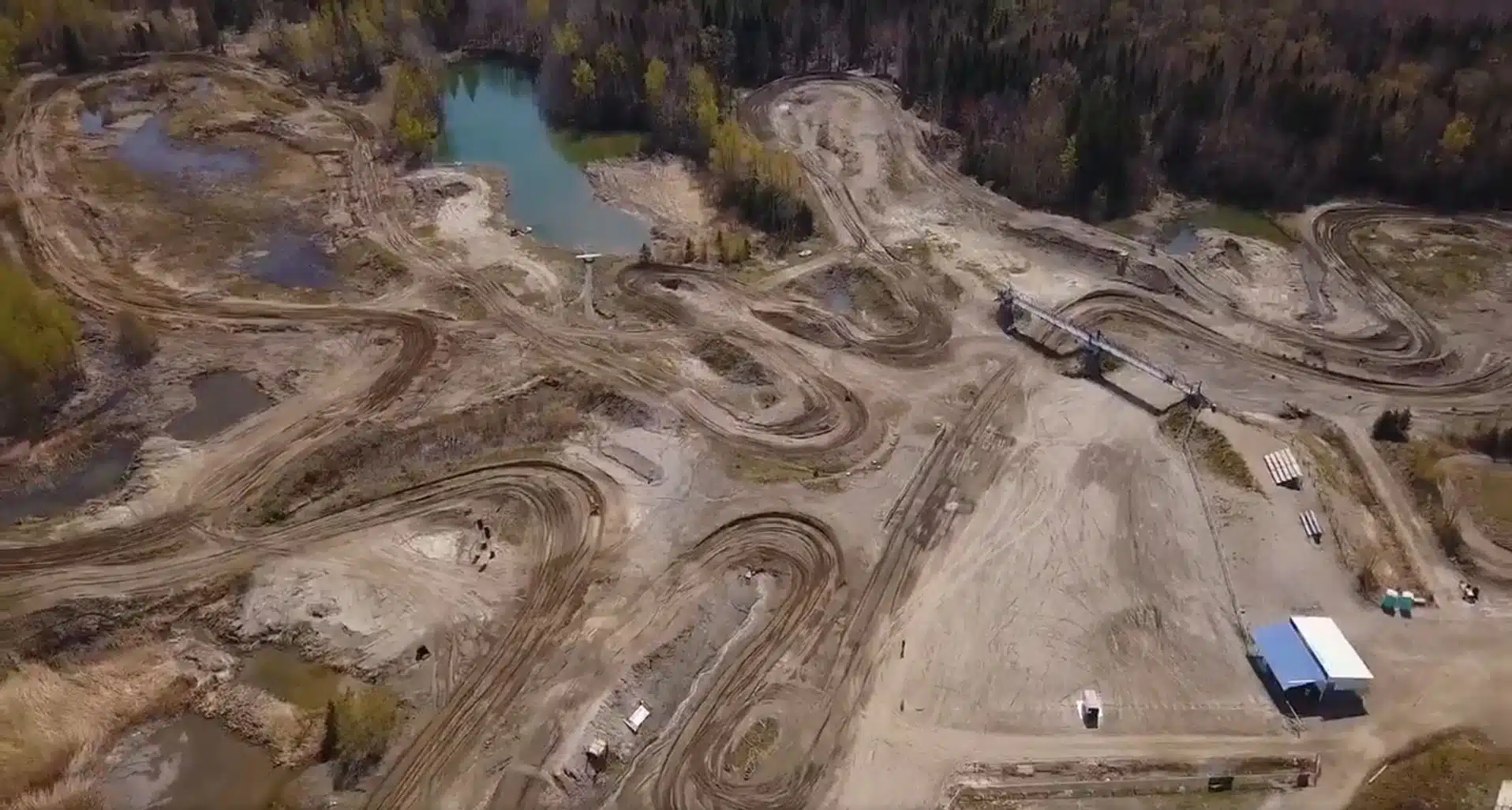 Clearly identified as the practice site par excellence in Quebec thanks to the scope of its facilities, this track is the venue for the biggest motocross competitions in Quebec. Motocross Deschambault is also the only track in Quebec to host a round of the national championship, so if you want to see the best riders in Canada, this is the place to go.
A very large straight, clean parking lot with grassy sections. Large catwalks for the spectators as well as an imposing tower from which you can contemplate the track in its entirety. The site is impressive and very complete for all enthusiasts; adults and children will enjoy it. Daniel and his 2 boys invest each year for improvements on the circuits and in the installations. They spare no effort to promote the sport, particularly by offering courses and day camps for everyone.
Located at: Deschambault, between Trois-Rivières and Quebec, very easy to access, just 5 minutes from Highway 40 via exit 254.
Description of the main track: Sand with hard bottom. Very long circuit with several elevation changes. Safe and diversified jumps. For all levels, they also have a system of lights to separate the caliber of the pilots to ensure safe practice for all.
Other tracks:
Beginner track
Intermediate track
Pit bike track
BMX track
Other activities or services:
Motorcycle rental
Equipment rental
Motocross school and camp
Private or group training
Equipment and Parts Shop
Small lake for swimming
Gymnasium and entertainment room
Area for washing motorcycles
Camping area
Hours of Operation: Generally open Wednesdays and Thursdays as well as weekends.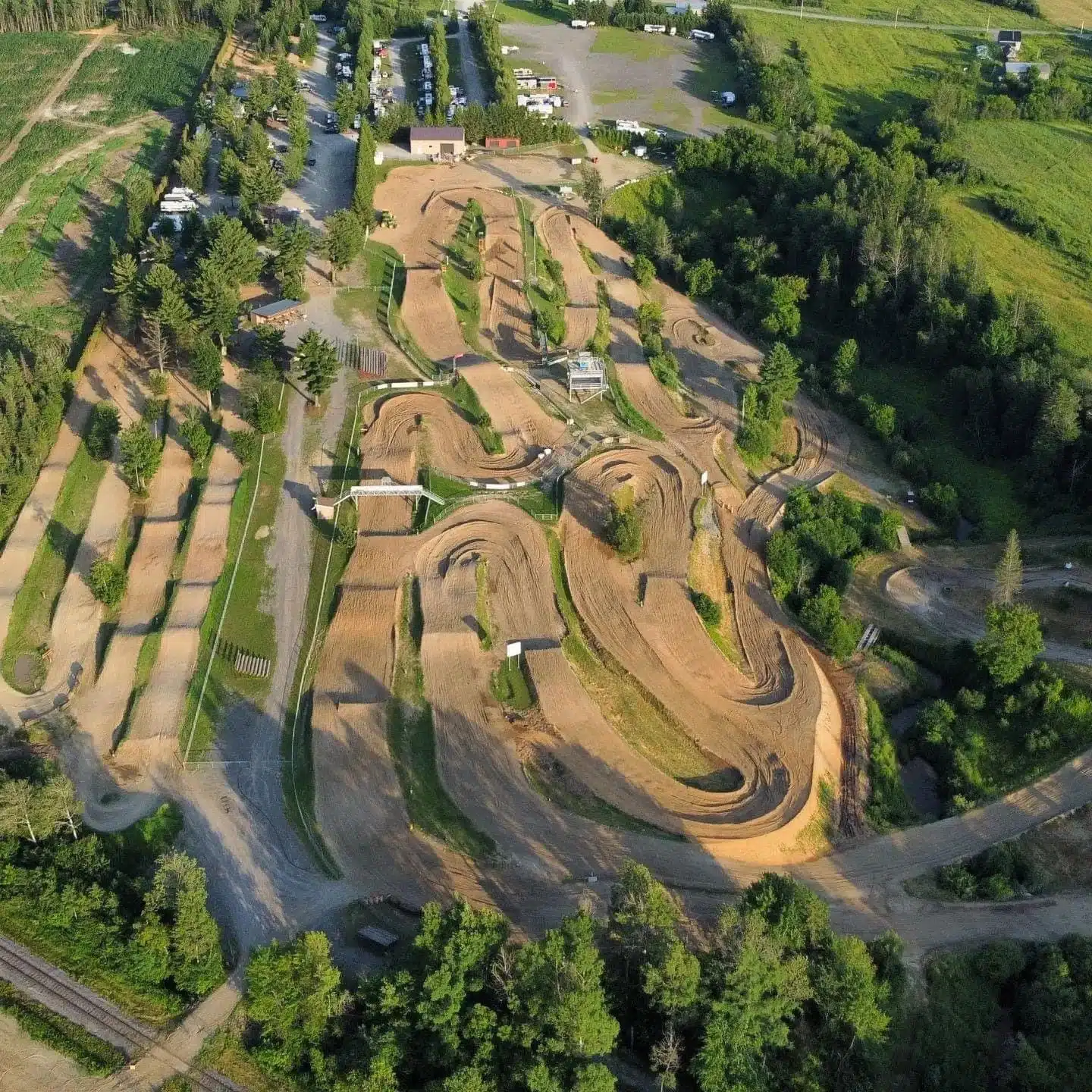 Excluded from our top 10, these circuits remain interesting and offer great trails to visit. I recommend them and predict just as much fun as the tracks listed in the top 10.
Located in Saint-Pie, 1 hour on the south shore of Montreal, SMX motocross is a site where several pilots train for competition, but which is still accessible to amateurs. This track unfortunately slipped off the charts, but only slightly. Its main track is made up of a mixture of dirt and sand and a small section of clay. You will also find several jumps, whoop, double and more technical section.
This circuit in the Hautes-Laurentides, 30 minutes from Tremblant, has existed for several years now, and has unfortunately been removed from the top 10. This circuit has remained unchanged for several years and this is what costs it a few points.
On the other hand, there are always good conditions on this track; while elsewhere people roll in the mud because of the rain, in Rivière-Rouge, pilots ride easily because it is a track that drains efficiently and the ground quickly absorbs water. Its wide and safe circuit in sand on a hard bottom with plateau-type jumps has some curves of soft sand that are really pleasant to cross. The pee-wee track is particularly interesting for the little ones.
Sand track on hard ground, existing for several years. It has lost the appeal of its 2 very long slopes, but this site is still worth the detour. In addition to the main trail, there are 2 other intermediate trails, a wooded trail and a pee-wee trail. The practice of Freestyle is also possible. A perfect place for nature fanatics.
Motocross vtt de la lièvre, Mont-Laurier
Young track in strong dirt with an interesting layout. Intermediate and beginner track available and is one of the very few tracks that still welcomes ATVs.
RPM motocross, Saint-Marcel-de-Richelieu
Dirt track, oval and pee-wee track, ATV allowed.
Here are our favorites in the region now:
In Abitibi, it is the interesting dirt track of the Club MX Trescreson which stands out, among other things, for the hospitality of the owners.
At Lac St-Jean, the favorite goes to the Circuit Pierre Tremblay made of sand and located on the shores of the lake in Desbiens.
In Bas St-Laurent, we recommend the dirt track of St-Jean de Dieu. Accessible for all levels, ATVs are also allowed.
Lastly, we remind you of the important points to remember
Make your FQMHR subscription, it's mandatory!
Make sure the track is open before leaving by validating on the website or Facebook page of the desired circuit.
Have all the required protective equipment, otherwise you may be denied access.
And above all, be careful, respect your limits and those of others, be courteous and always aware of the other drivers who are on the track with you. But most importantly, have fun!
Looking forward to meeting you on or near the track!
Cindy 818