The all-new 2021 Harley-Davidson Pan America 1250S: a more than satisfying test ride!
I had the great chance and pleasure to test the brand new 2021 Pan America 1250S from Harley-Davidson. As you may know, Harley-Davidson Motor Company has been around for 117 years. It was founded in 1903 in Milwaukee, Wisconsin by William S. Harley, Arthur Davidson, Walter Davidson and William A. Davidson.
In 117 years, the Pan America is the very first adventure/dual purpose motorcycle created by Harley. In this article, I will describe the bike and share my thoughts on this new model which, I must say, impresses and intrigues many…!
Technology at your fingertips
First of all, I was blown away by the technology of the Pan America 1250S (Special) and the precision that Harley has shown in building their first model in this class. The 6.8″ (173 mm) digital display is very clear and easy to read when you are on the bike.
There are five menus: navigation, music, home, bike status and settings. Everything can be controlled from the controls on the handlebars; everything we need is "at our fingertips", easily accessible.
Here are the options available on the handlebars:
Activation of the cruising speed
Heated grips with three levels of intensity
Trip mileage ("trip A- trip B").
Riding modes (road, sport, off-road, etc.)
Bluetooth control buttons
As I said, there are a lot of controls, but when you're riding, it's much more convenient and easy to have everything at your fingertips.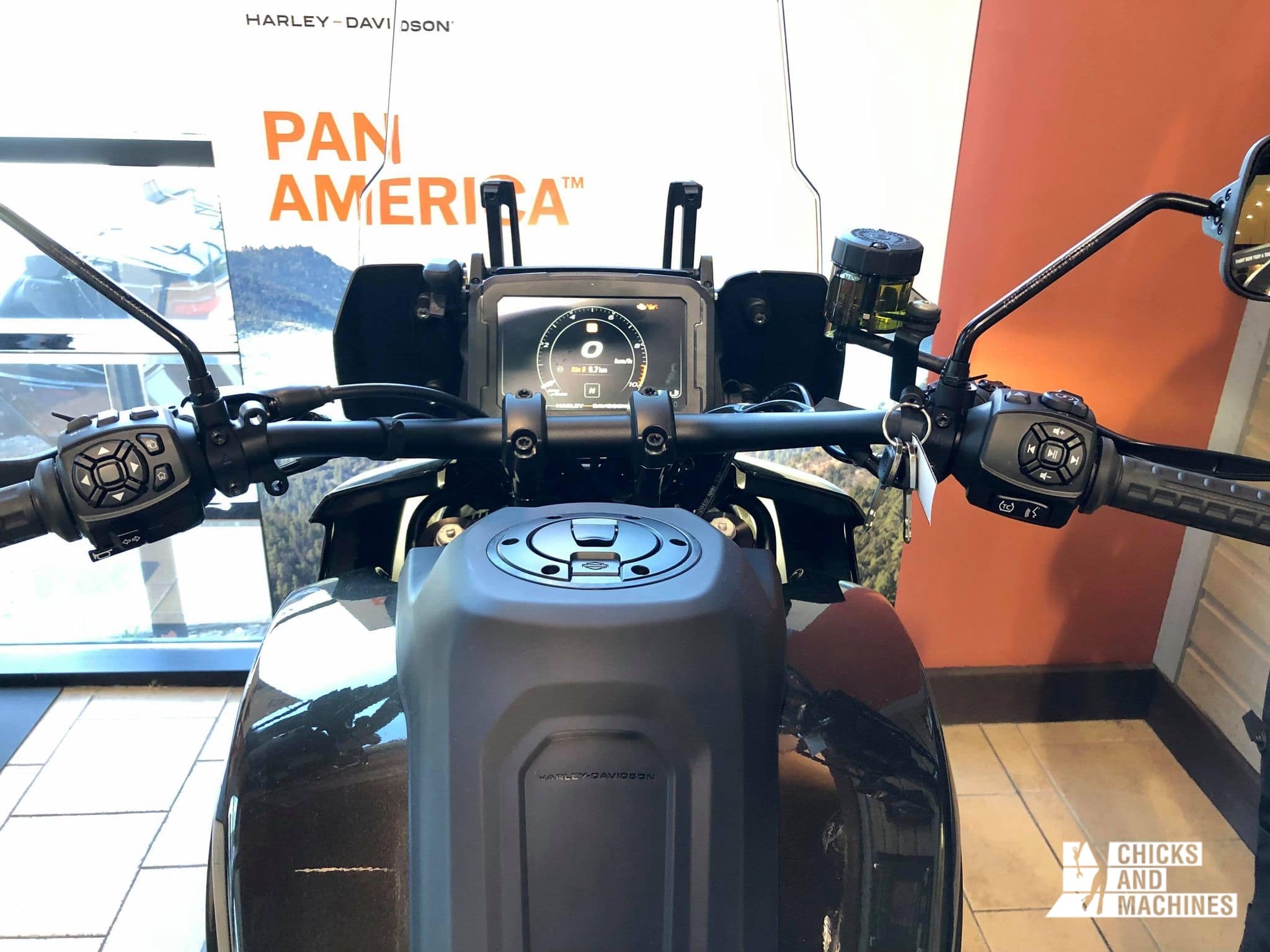 An adjustable suspension…
Also, when it comes to technology, Harley went all out with the suspension. The Pan America 1250S has an automatic adjustable suspension: when stopped, the bike drops an extra inch, allowing 5'5″-5'6″ people to have their toes on the ground.
For some people, just having their toes on the ground is not enough; that being said, for a dual-purpose bike with an engine of over 1000 cc, it is extremely rare that people of smaller sizes can touch the ground.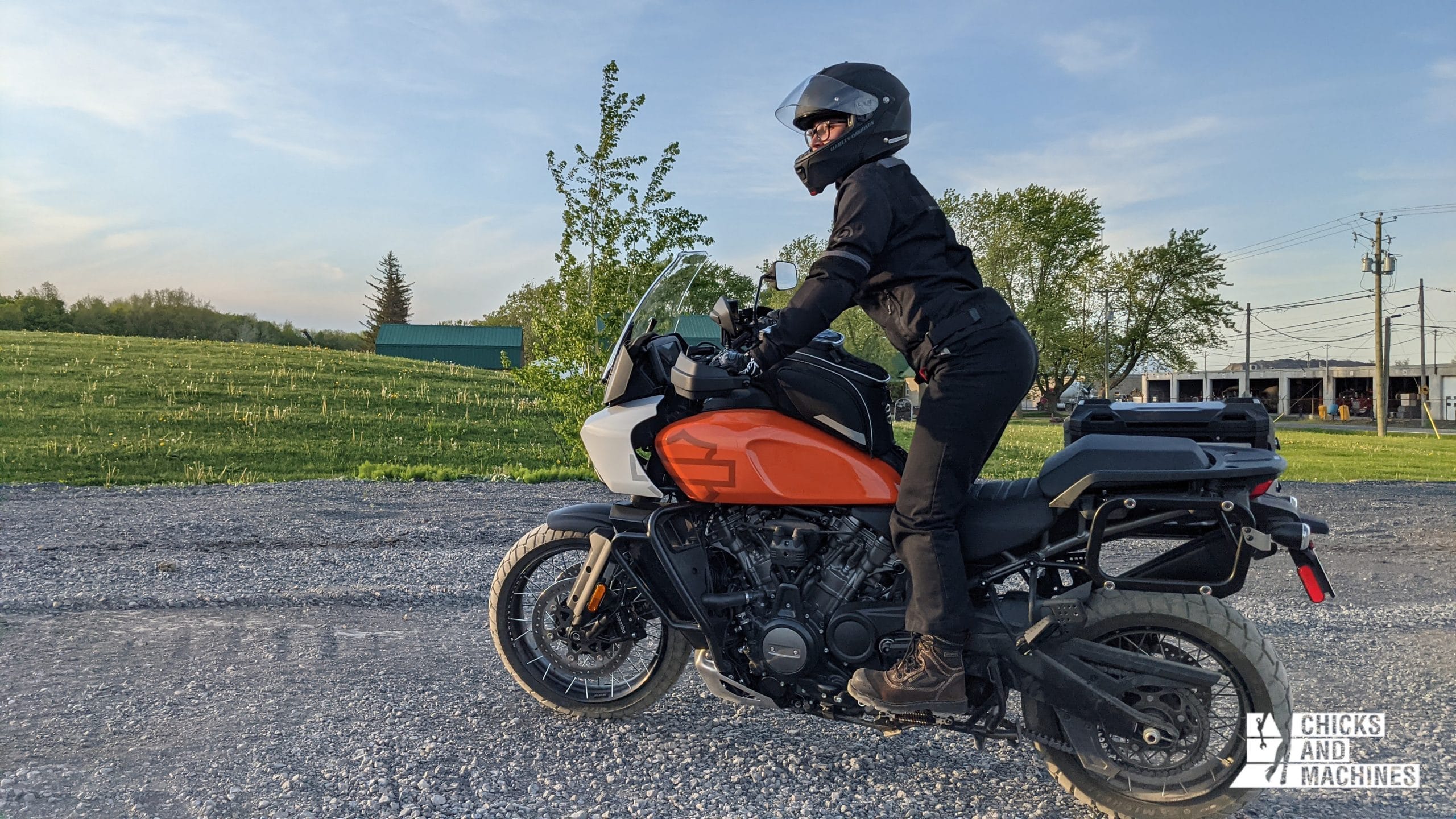 The highly developed comfort aspect!
The high comfort of this bike surprised me a lot. The seat is ultra-comfortable with three gel bands and can be changed in height for both smaller and larger people.
It is also possible to buy a bench that is an inch lower than the original, so another plus for shorter people. The height of the saddle, from the ground, varies from 32.7″ (831 mm) to 33.7″ (856 mm).
The position between the saddle and the handlebars is excellent, upright, with arms relaxed. If you want to do some gravel riding or even a little off-roading, the handlebar position is perfect when you stand up.
For more experienced off-roaders, you can change the handlebar angle, so change the pull back position from front to back for better comfort.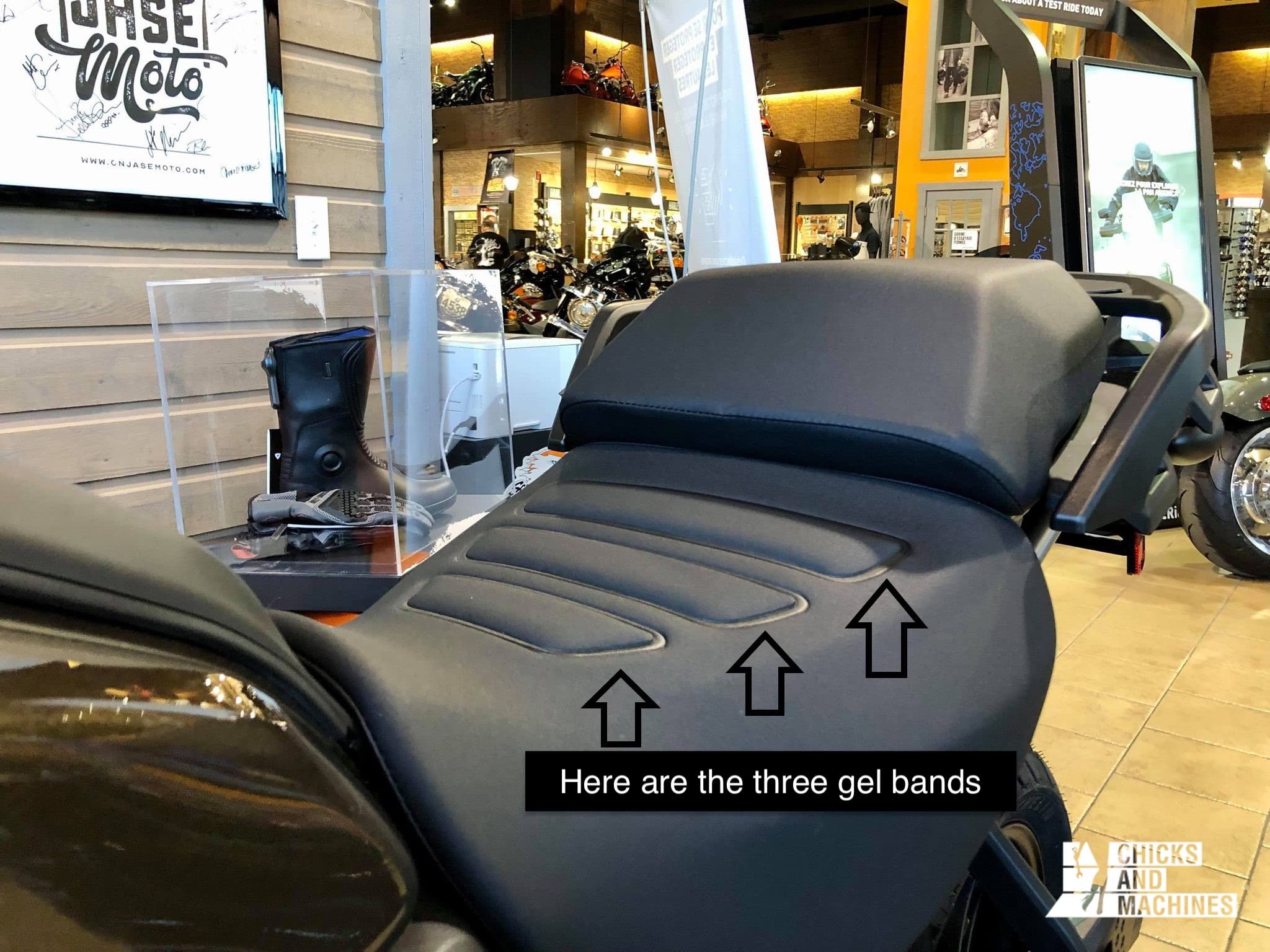 Power and adrenaline
As for the engine, Harley chose a 60° twin-cylinder VVT ("Variable Valve Timing"), 1252 cc. With its 150 horsepower and 94 pounds of torque, this bike provides a lot of fun and surprises.
Having ridden it in sport mode, I was able to fulfill all my adrenaline needs and kick up some dust. It is easier to handle in the off-road trails, with its 559 pounds weight, which is on average a little lighter than the competitive models of the same displacement.
The Pan America 1250 has the same specifications as the 1250S, except that it weighs 534 pounds. It should be noted that the special model has a few more accessories than the original: the brush guard, aluminum crash bars, automatic adjustable suspension, spindle wheels, off-road mode "plus", heated grips, center stand.
This is without counting all the accessories that can be added on both bikes.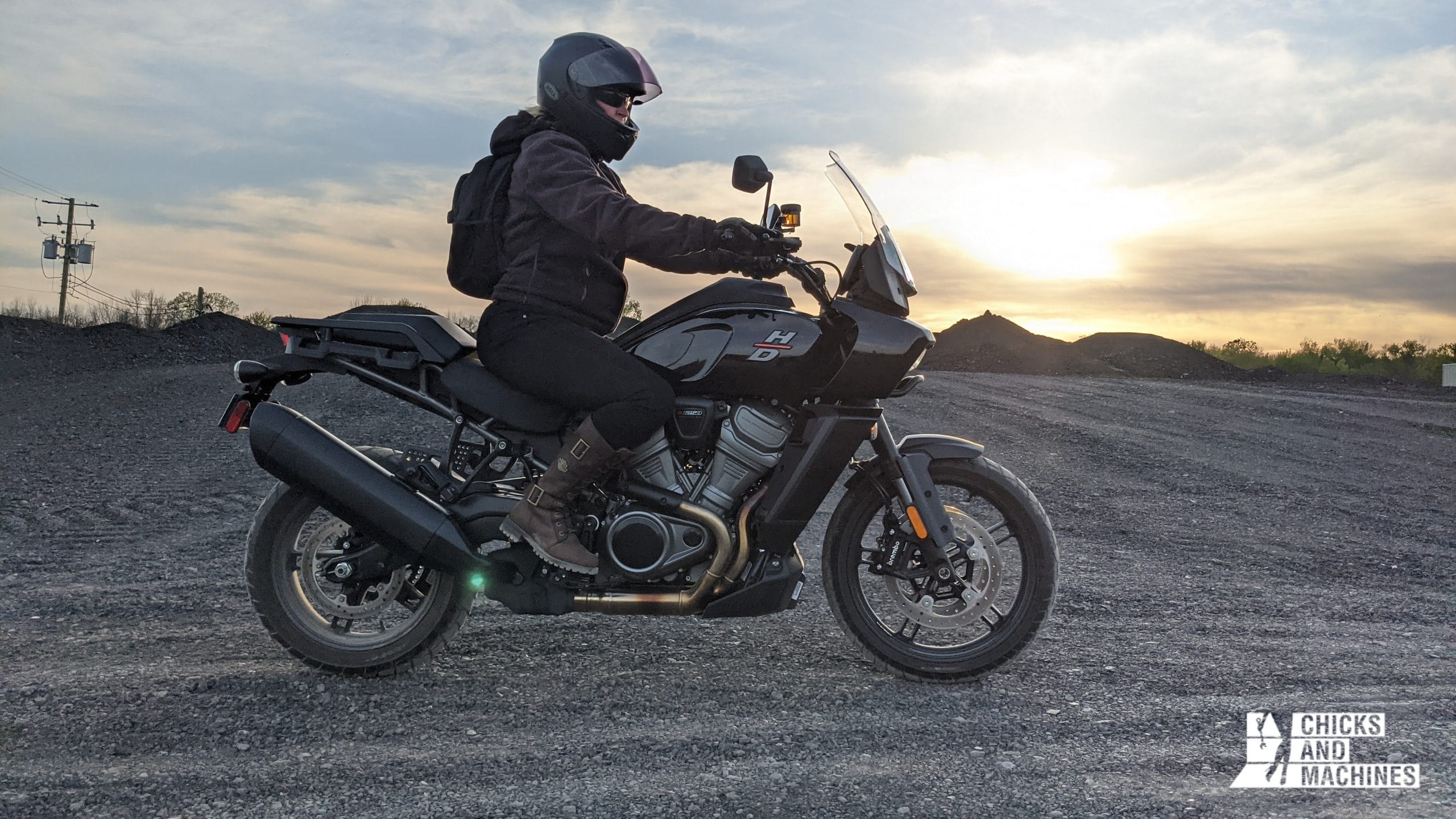 And how does a Pan America ride?
When it comes to the "feel" of riding, Harley had no choice but to do its homework with the models already in the industry and offer the best. I have found that riding a Pan America is like being on vacation…Let me explain!
When we are on vacation, everything is easy, we relax, we look around. You take your time and that's exactly how I found driving Pan America. As mentioned above, if you are looking for power, don't worry, you will be served!
Here's a little chart of the comparisons between the two models:
Pan America 1250S
Pan America 1250
Displacement
1252 cc
1252 cc
Horsepower
150
150
Torque
94 ft/lbs
94 ft/lbs
Weight
559 pounds
534 pounds
Engine layout
60 twin-cylinder VVT
60 twin-cylinder VVT
Fuel Capacity
21.2 L
21.2 L
Final Drive
6-speed chain
chain 6-speed chain
TFT instrument
6.8″
6.8″
Seat height
Seat height 33.4″-34.4″ (848-874 mm) Adjusted ride height (ARH) 32.7″-33.7″ (831-856 mm)
34.2″-35.2″ (867-894 mm)
Suspension
Suspension 190 mm front and rear travel, Semi-active shock absorber with electronic preload adjustment 190 mm travel front and rear
Suspension 190 mm front and rear travel, Full shock with preload adjustment
Wheels
Cast wheel

FRONT: 120/70R19

REAR: 170/60R17

With optional chrome spoked wheels Cast wheel

Cast wheel

FRONT: 120/70R19

REAR: 170/60R17

Available colors
Black, metallic grey, forest green, Baja orange/pearl white
River stone grey, black
MSRP (Canadian)
$24,199
$20,999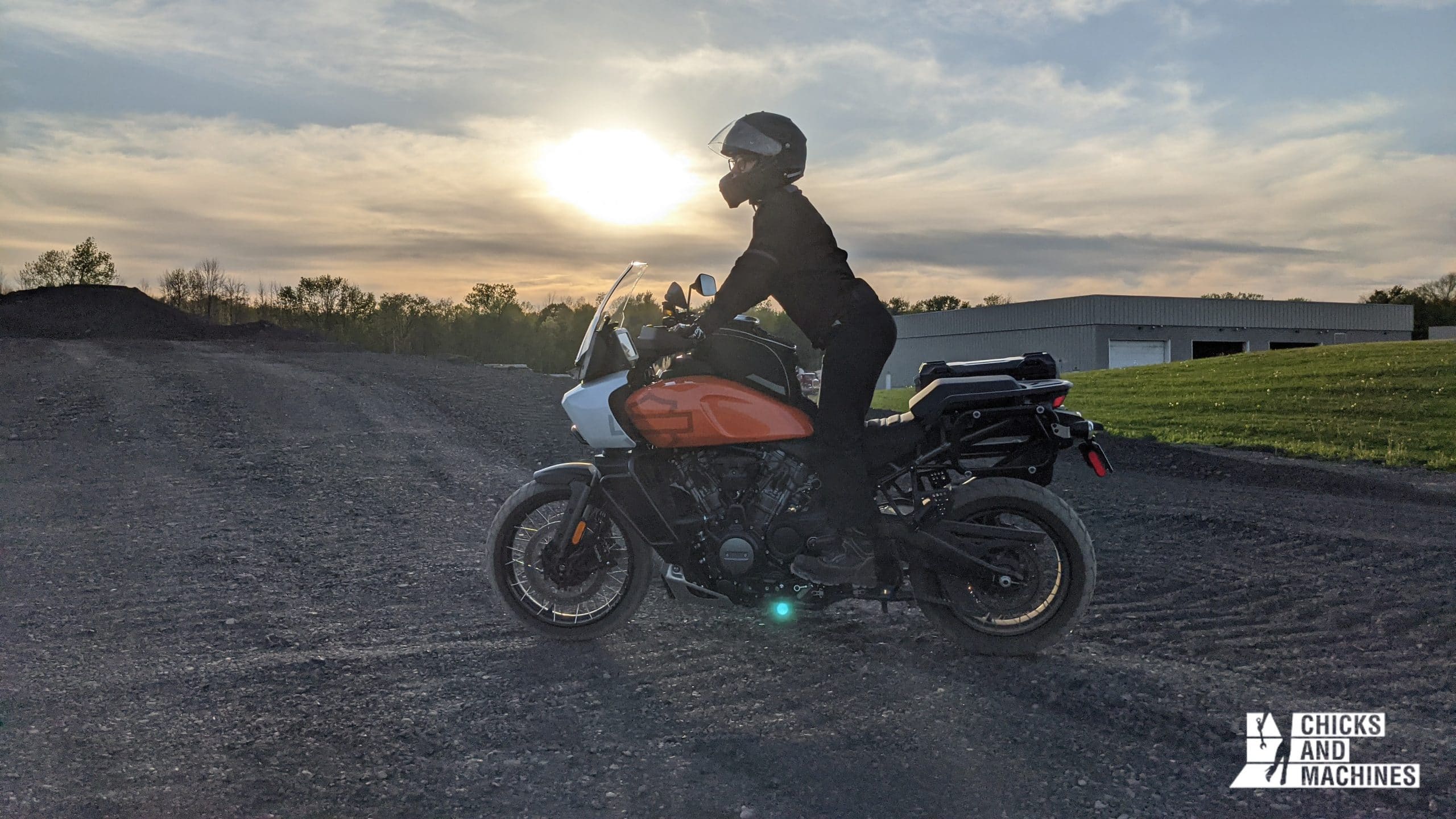 We will not hide it, it is really a state-of-the-art technology. However, I find that there are a lot of buttons.
With the three gel bands on the main bench, the straight and easily adjustable handles during off-road rides, the comfort aspect was really met.
I wasn't able to try other models to compare. However, I was able to fit my bike with good tires to ride off-road in gravel. So I can say that the Pan America is very stable and responds very well in these conditions.
Harley made a great bet with the adjustable suspension, giving more people access to this bike, including me, at 5′.5" tall, who had the pleasure of putting my feet on the ground during stops.
FINALLY a dual purpose bike with a square nose. Like most people, I like the pointed or rounder look. However, Harley was able to show originality with this model.
You will find a complete catalog for accessories that can be installed on your new bike.
As nothing is perfect, I noted some points to improve…
-There are a lot of buttons to walk through the menus and manage your music.
-I find that our legs are very close to the exhaust pipe, which gets hot for the legs. I would recommend more heat shielding, or simply relocating the exhaust pipe.
-I wish it was possible to remove the ABS function only on the rear wheel for maximum fun and better traction.
In short, I found the Pan America 1250S to be suitable for 5′,6″ people.  The screen is clear and easy to use.  The Bluetooth headset connection is really convenient for both music and navigation. The change of driving mode is simple and fast from the handlebar.
The heated grips are really useful. The riding position is comfortable and upright. The adaptive suspension at stops is also a plus. Moreover, we have the possibility to add all the accessories of our choice for maximum comfort, stability and fun.
I strongly recommend a test drive in store! Come and see us!
To try it is to adopt it!
To hear me speak on the subject, here is the link to the Podcast, episode 2:
Continue reading on similar topics with some of our articles :
Cendrine xxx