The FXR helmet and the FXR Maverick MX goggles : a perfect match !
The FXR on test
This week, Chicks and Machines offers you, in collaboration with Mathias Sport, to test the FXR helmet and the FXR Maverick MX goggle for motocross. I tested them for you on the track.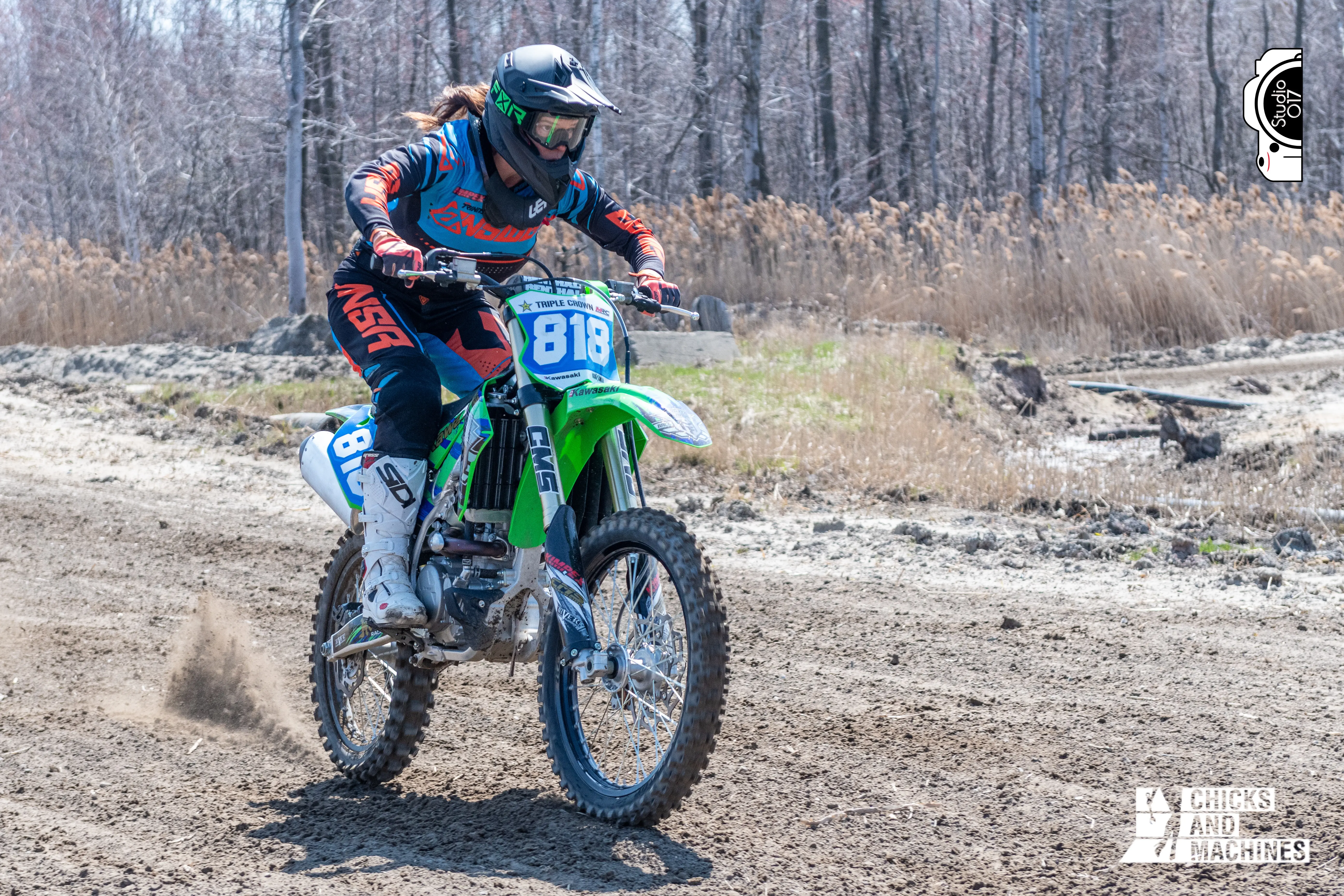 First of all, let's talk about helmets in general. Helmets are available for both $100 and $1000 and the price difference is understandable. The low-end helmets that are everywhere at $100 are made of polycarbonate with a (lower quality) polystyrene interior, which makes them heavy with basic protection. More expensive helmets offer much lighter materials, such as carbon fiber, and use advanced impact absorption and distribution technologies, which make a big difference in a fall or accident.
A helmet should fit properly; yes, it should hug the cheeks so that it stays in place and can offer its maximum protection capacity… You don't want a helmet that flops around on your head in motocross anyway! A helmet should be changed after five years of use or after a major impact to the head. Even if the helmet seems to be in good condition after an accident, it is the inner polystyrene that is responsible for cushioning the impact and it is probably dented or deformed.
FXR, the company and its products
It is important to mention that FXR is a Canadian company from Manitoba. Milt Reimer, its founder, began by creating high performance clothing for snowmobiles. Since then, he has developed several product lines for motocross, fishing and recently, for mountain biking.
FXR Helmets
FXR offers high-end helmets in collaboration with the manufacturer 6D. The ATR-2 is a high performance helmet designed for competition and retails for $900, while the ATR-1 is $645. In the intermediate range, FXR offers the Helium and the Blade for less than $500. There is also a basic line of helmets for less than $300.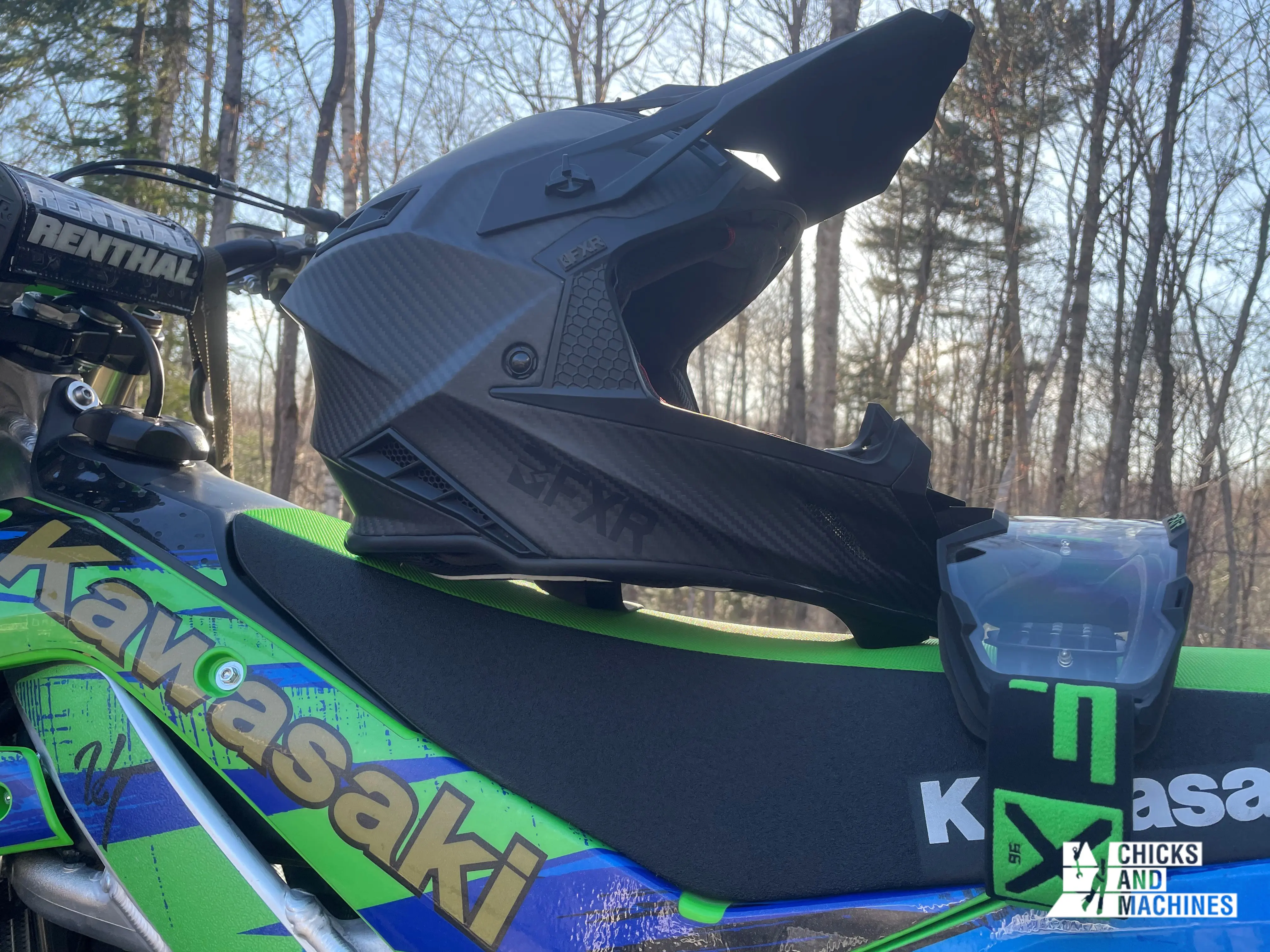 Test and advice
Helmet
For our test on the track, I used the Helium Carbon. Its shell is 100% carbon fiber. From the moment I held it in my hands, I noticed its weight: honestly, I was impressed enough that I took out my food scale to check its meager 900 grams. In motocross, you are regularly standing, leaning forward, chin up: so the weight of a helmet is a very important element to consider for comfort, but also to prevent neck and back pain. Sold with a three-year progressive warranty, this helmet offers good vision with a large opening on the sides. Its chin is well proportioned and contoured enough to protect the nose. There are several strategically placed air vents, in and out. There are also large holes in the visor, which allows the wind to enter the helmet with ease. The visor is well designed to avoid air restrictions. Additional cushions are available for a better cheek fit; as far as I'm concerned, the original cushions were snug and comfortable. However, I more or less understand why FXR provides fastening strips to attach the winter breath boxes, when they sell this type of box themselves. I would sell the fasteners with the boxes, which would force my snowmobile helmet buyers to buy my breath boxes instead of a competitor's. To me, they are useless and are useless to any motocross user of this helmet. Anyway, I had to remove them because they block the air intake at the jaw/mouth.
In conclusion, my favorite thing about this helmet is definitely its light weight. I only have one small drawback: the length of the strap to attach the helmet. It is short and forces the user to tighten it; I had to use it to its limit to be comfortable.
In my opinion, unless you are buying a brand of helmet that you have used before, you don't buy a helmet on the Internet. You have to try on a helmet to make sure you are buying the right size, but also to check which helmet fits your head and face. Go to your local Mathias Sport dealer to compare models, and make sure the helmet doesn't cause any uncomfortable pressure points for you. If you already have your goggles, bring them to test with the helmet so you can be sure the two work well together. It doesn't take much for the goggles to not sit properly on your face or for pressure to build up on your nose. Little tips… Also consider checking the space for your ears and the chin clearance. Definitely consider the weight of the helmet: I assure you it makes a big difference in motocross. Ask about the helmet's impact distribution technology: we're talking about protecting your head! Ask about the availability of replacement parts, such as screws that sometimes get lost, or visors that can break. Check how easy it is to remove and reinstall the interior cushions (practical and useful) when we wash our helmet.
FXR Maverick MX Goggles
We tested the FXR Maverick MX goggles valued at $85. These come with an additional yellow-tinted pre-curved lens and a removable nose guard extension.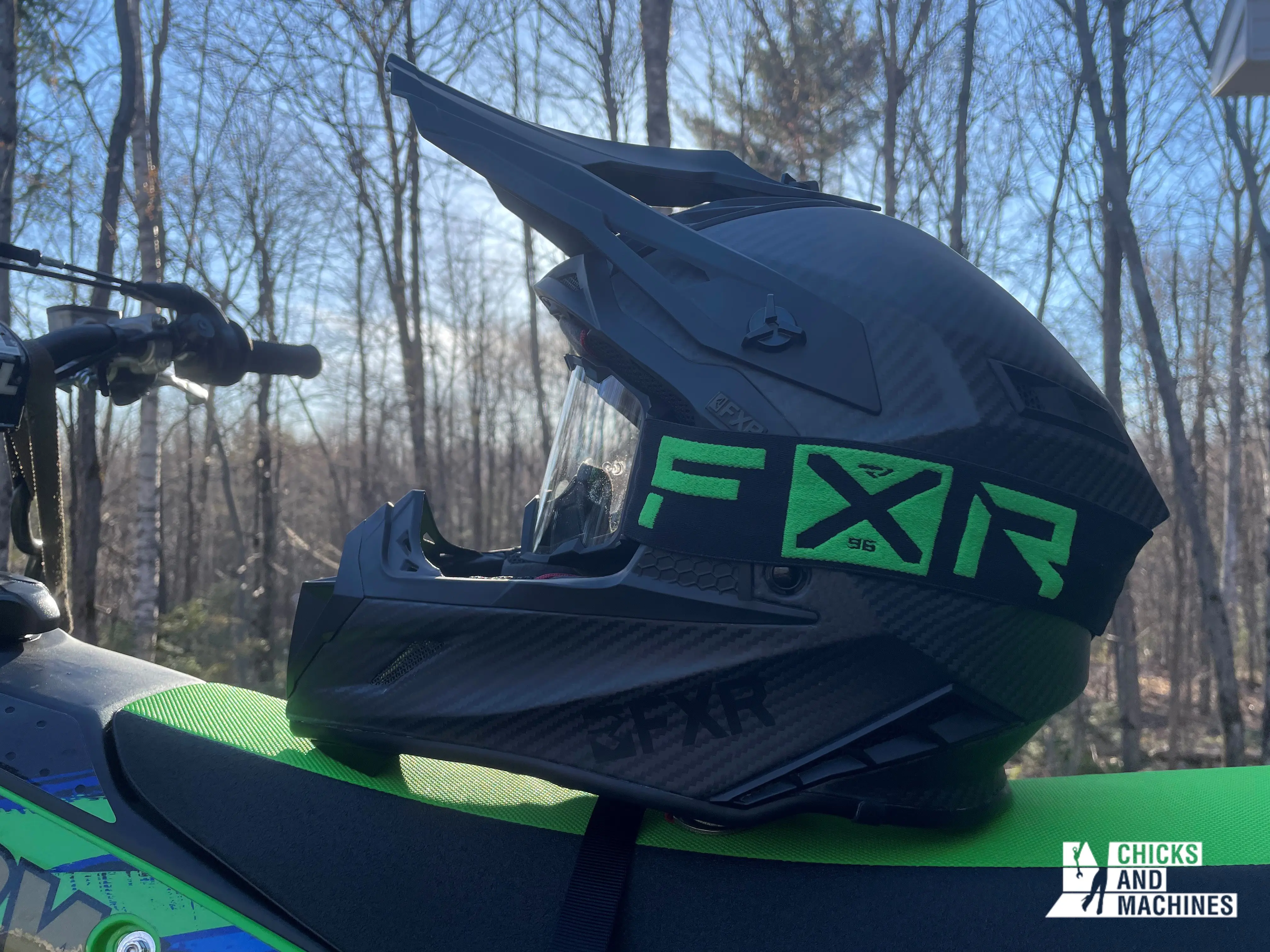 It's the perfect pairing with the FXR helmet: the goggle fits perfectly on the helmet, the contour sits well on the face and is comfortable. It is effective and protects well against fine dust or mud. The lens offers a nice translucency and does not distort objects. With a rigid pre-curved lens, the scope has no choice but to sit well on the face. However, I found the goggle to be a bit smaller than I'm used to, but not in a way that affected me once I was on the track.
For goggles, you can find mostly clear lenses, yellow for dark or undergrowth conditions, blue for cloudy conditions, or smoked for sunny days.
I strongly suggest that you bring your helmet to try on the glasses before you buy. Consider the availability of replacement lenses and their cost. For runners, check the availability of "tears-off" lenses. Make sure the lens fits your face well and doesn't pinch or crush your nose. Tip: Enlarge your eyes, move your head horizontally (left/right) with your helmet on to make sure the glasses are right for you.