The 2023 Honda Rebel 1100 Touring: "Torque Monster," indeed!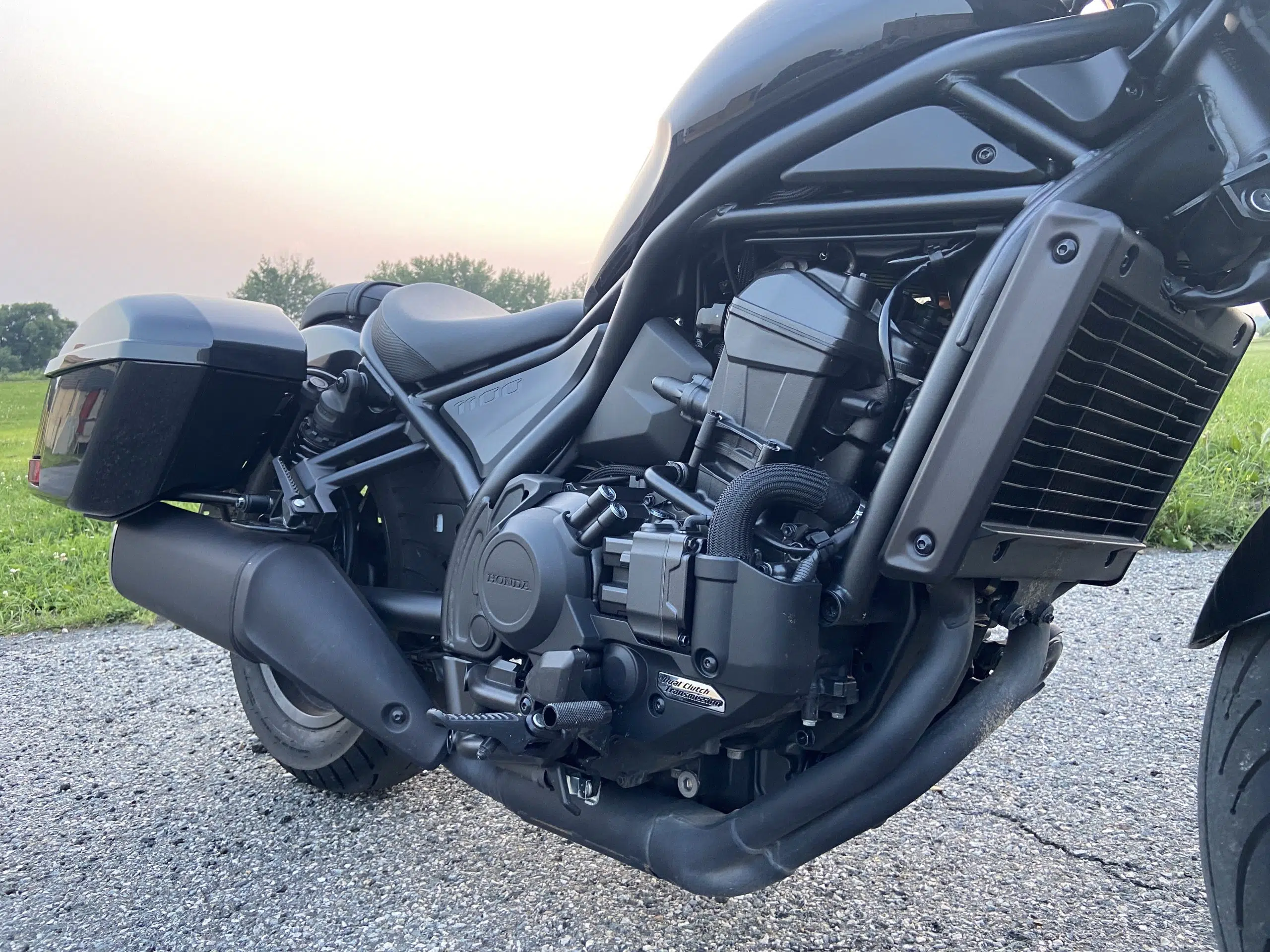 As many of our readers already know, I've been riding a Kawasaki Vulcan s650, which I truly love, since 2016. However, over the past few years, I've increasingly felt the desire to upgrade to a more powerful bike. It was therefore with this in mind that I checked out the bikes available at the 2023 Montreal Motorcycle Shows.
When my eyes fell on the Honda Rebel 1100, my heart skipped a beat. It was love at first sight! As I approached, I was worried that it would be too big and heavy for me: a common problem when you're a mere 5 feet tall like I am! As soon as I sat on it, however, I was comfortable and immediately told myself that I absolutely had to try it out on the road.
Test Ride of the 2023 Honda Rebel 1100 Touring
5 months later, Chicks And Machines told me that I'd be able to test drive this magnificent machine in July, which was even more exciting than Christmas morning! 🤩🎁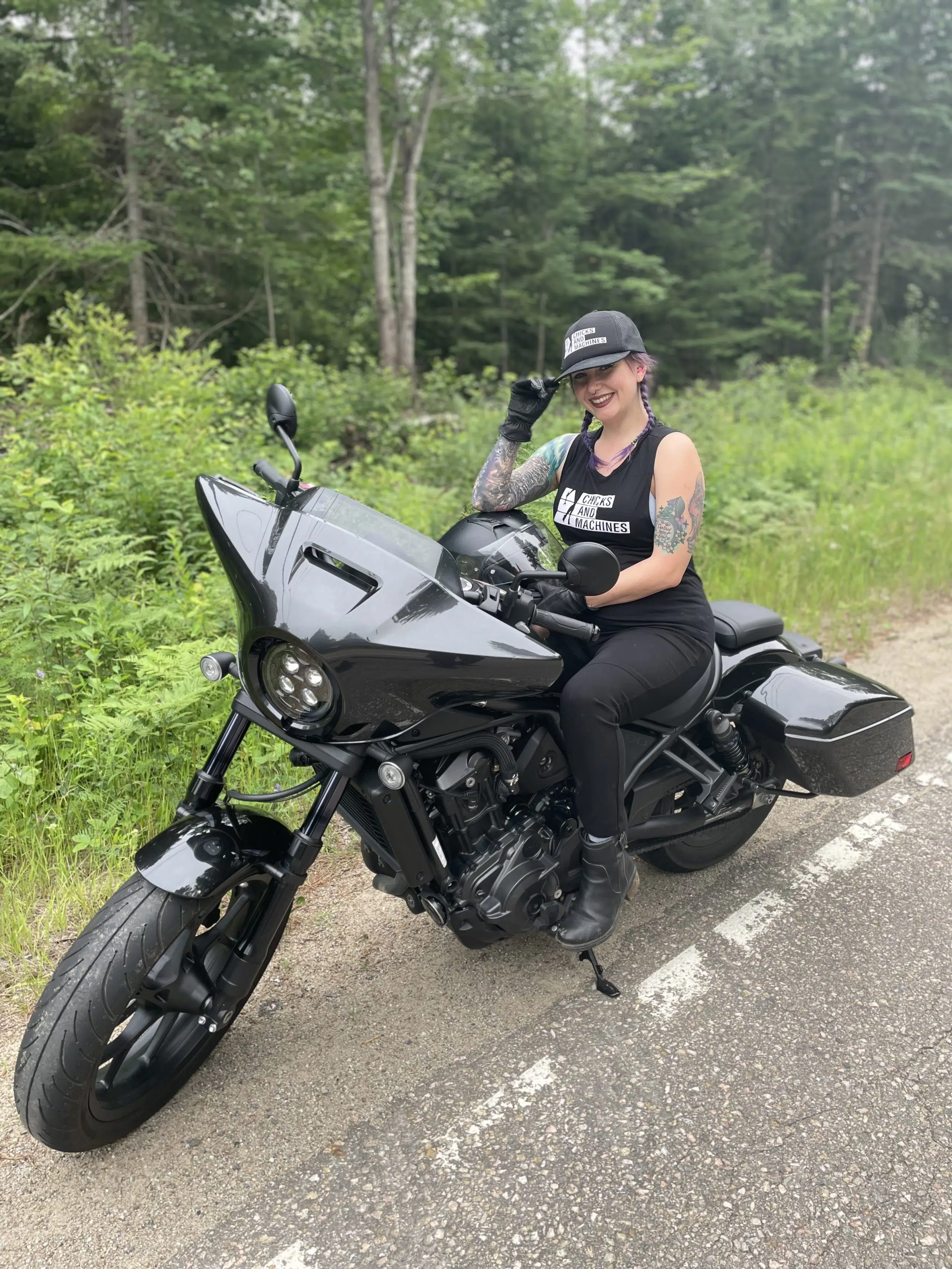 Fast forward 5 months: I hopped onto my beloved little Vulcan and headed to Honda in Boucherville to pick up the Rebel. As soon as I saw it, I couldn't help but audibly gasp in my helmet.
Whereas I had seen the naked bike version (i.e. no additional fairing or rigid side storage) at the Montreal Motorcycle Shows, the Rebel waiting for me in the Honda parking lot was the Touring version. I was amazed at how badass it looked! I confess I was even a little intimidated when I saw it; was I going to be comfortable on this little monster of a bike?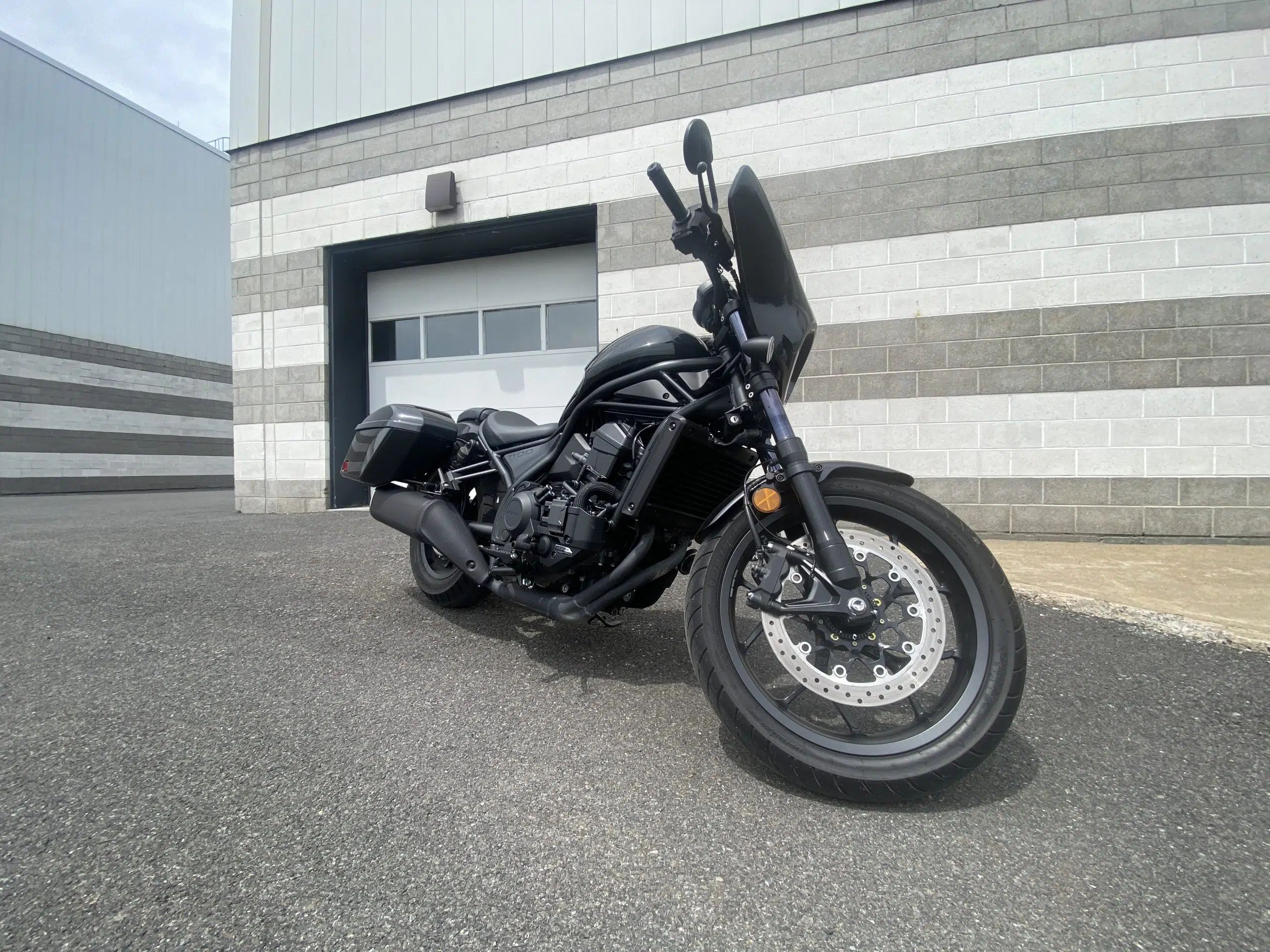 The 2023 Rebel 1100 Touring: what a beauty!
While I've always leaned towards colorful things (you may have noticed from my ever-funky hair, pink unicorn helmet and purple motorcycle), I completely fell in love with the all-black look of the Rebel in front of me. It had a whole lot of personality!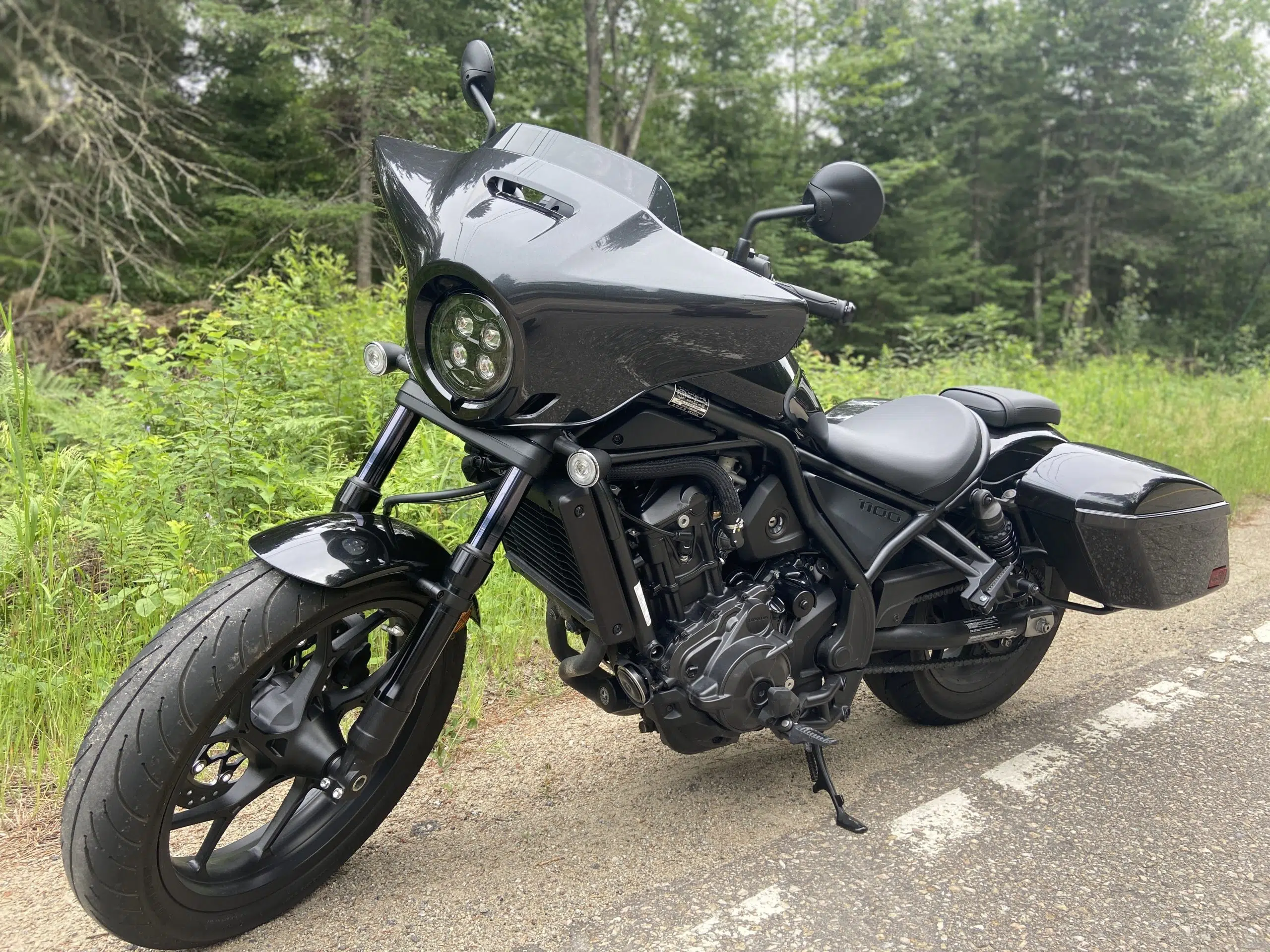 Besides, I tend to prefer naked bikes to touring bikes with windscreens and panniers. However, in the case of the Rebel 1100, the design is really perfect, in my opinion. The rigid storage bags have a nice shape that complements the bike well, and the front of the bike gives it great style.
Rebel 1100 Touring Specs
Here are the specifications listed on the Honda Motorcycle website: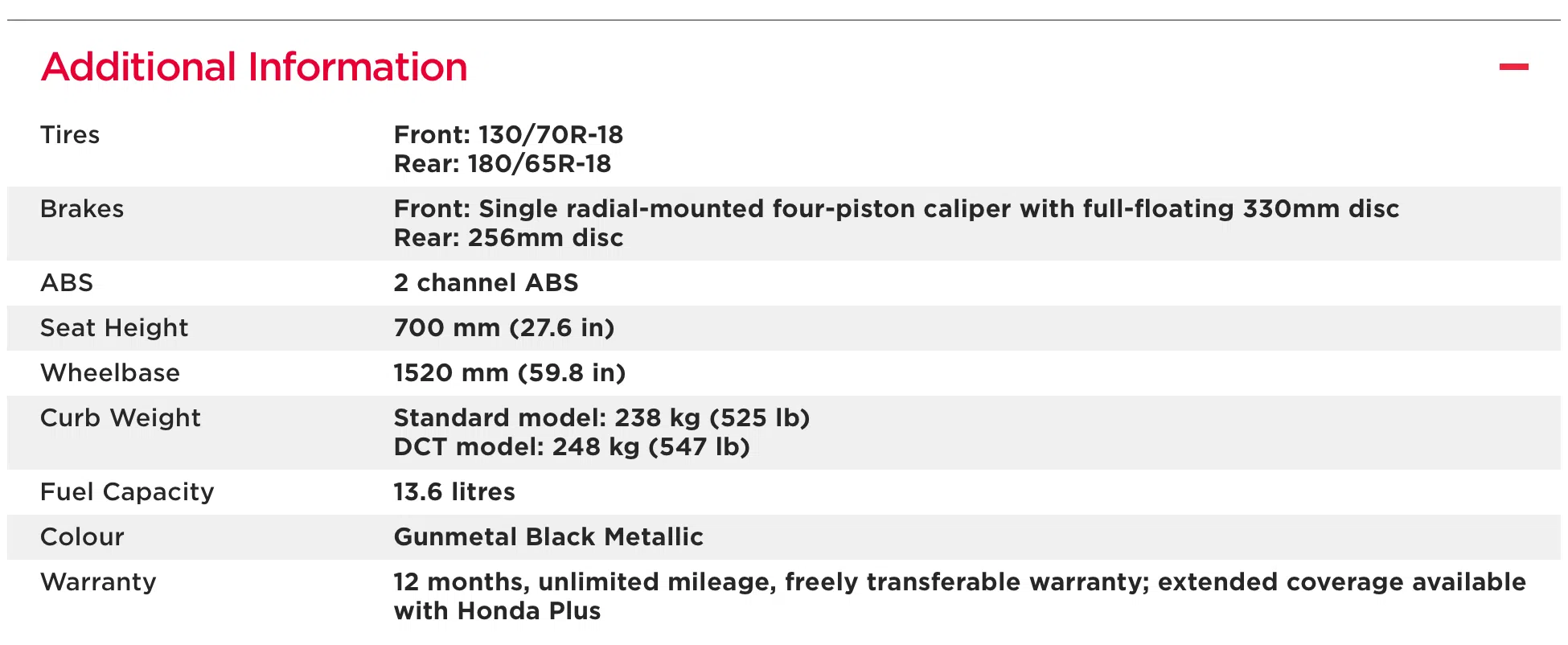 An Automatic Motorcycle
As I walked around this splendid motorcycle, exploring it with heart-shaped pupils, one detail struck me: some parts were missing. Where was the clutch?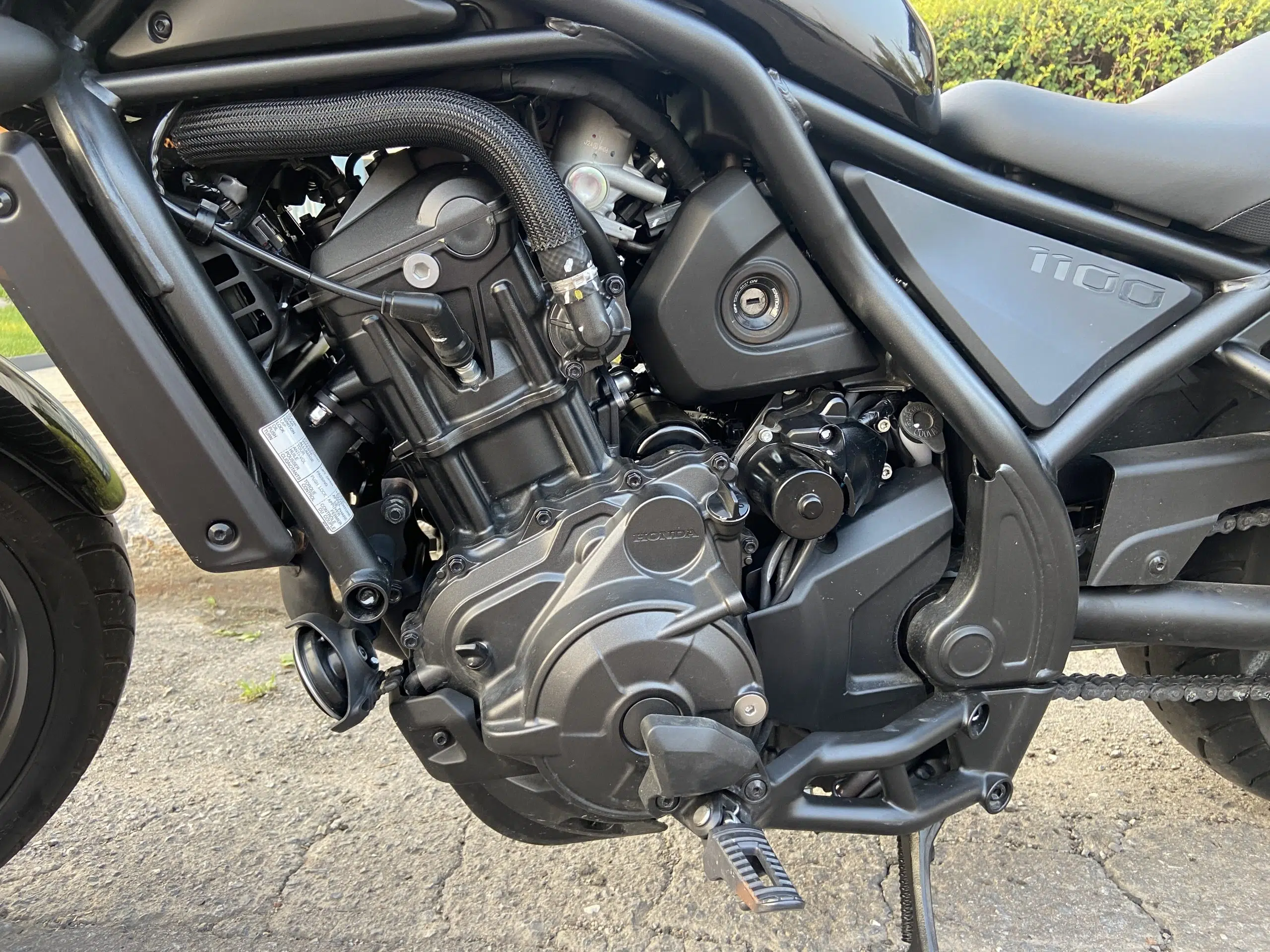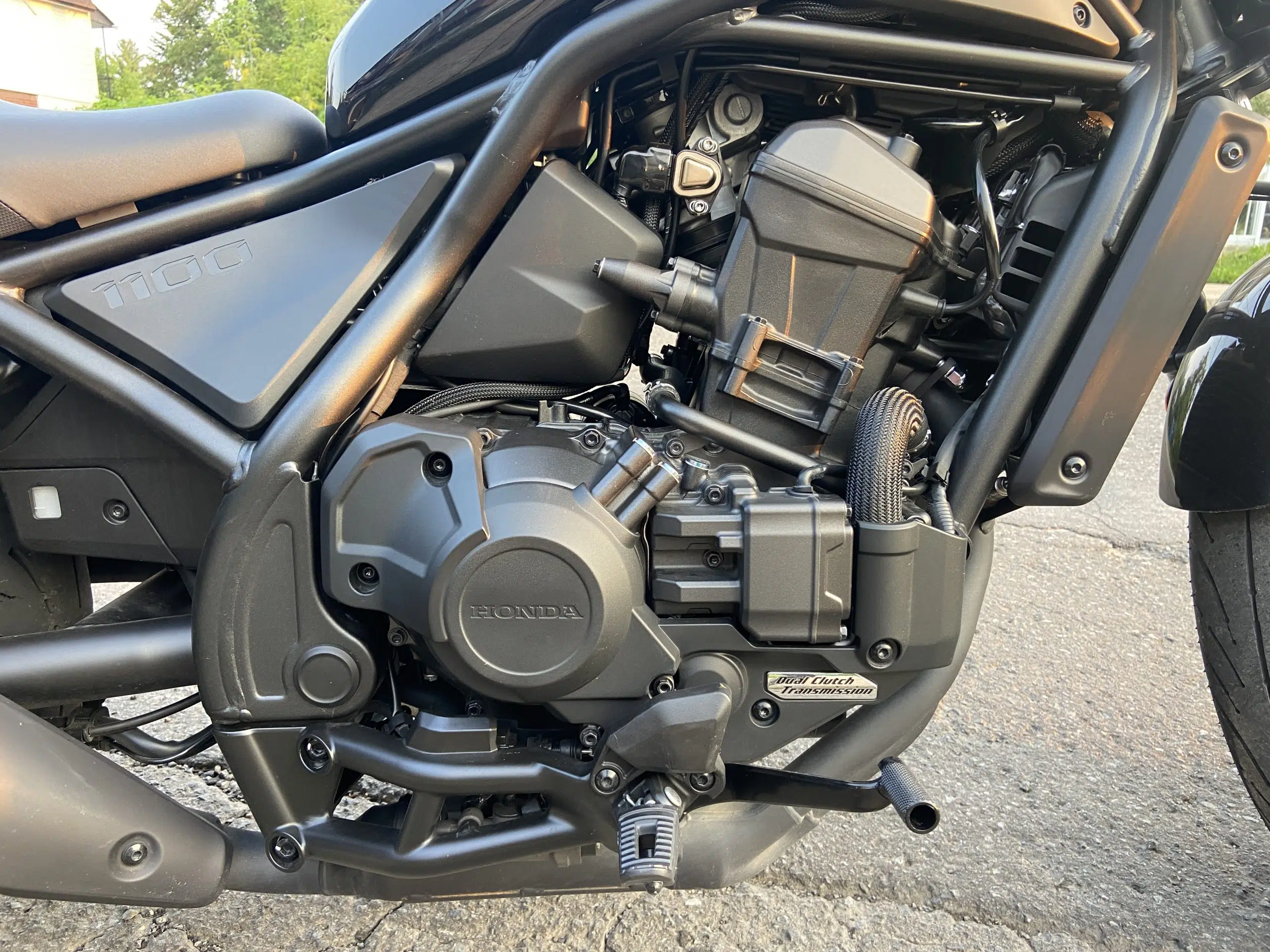 Then the Honda representative began to explain to me how the buttons worked and the different riding modes, and it became clear that I was dealing, for the first time in my life, with an automatic motorcycle.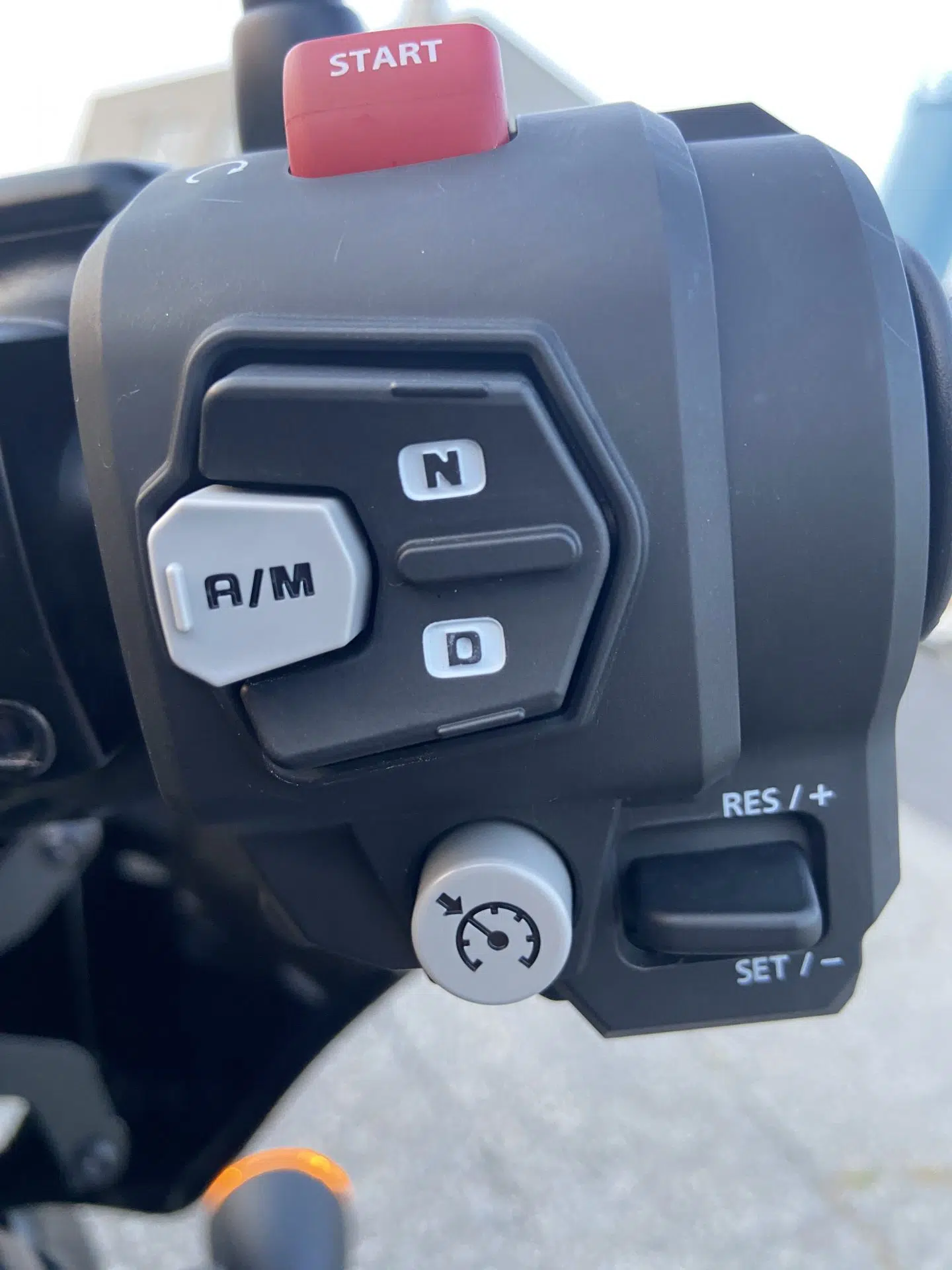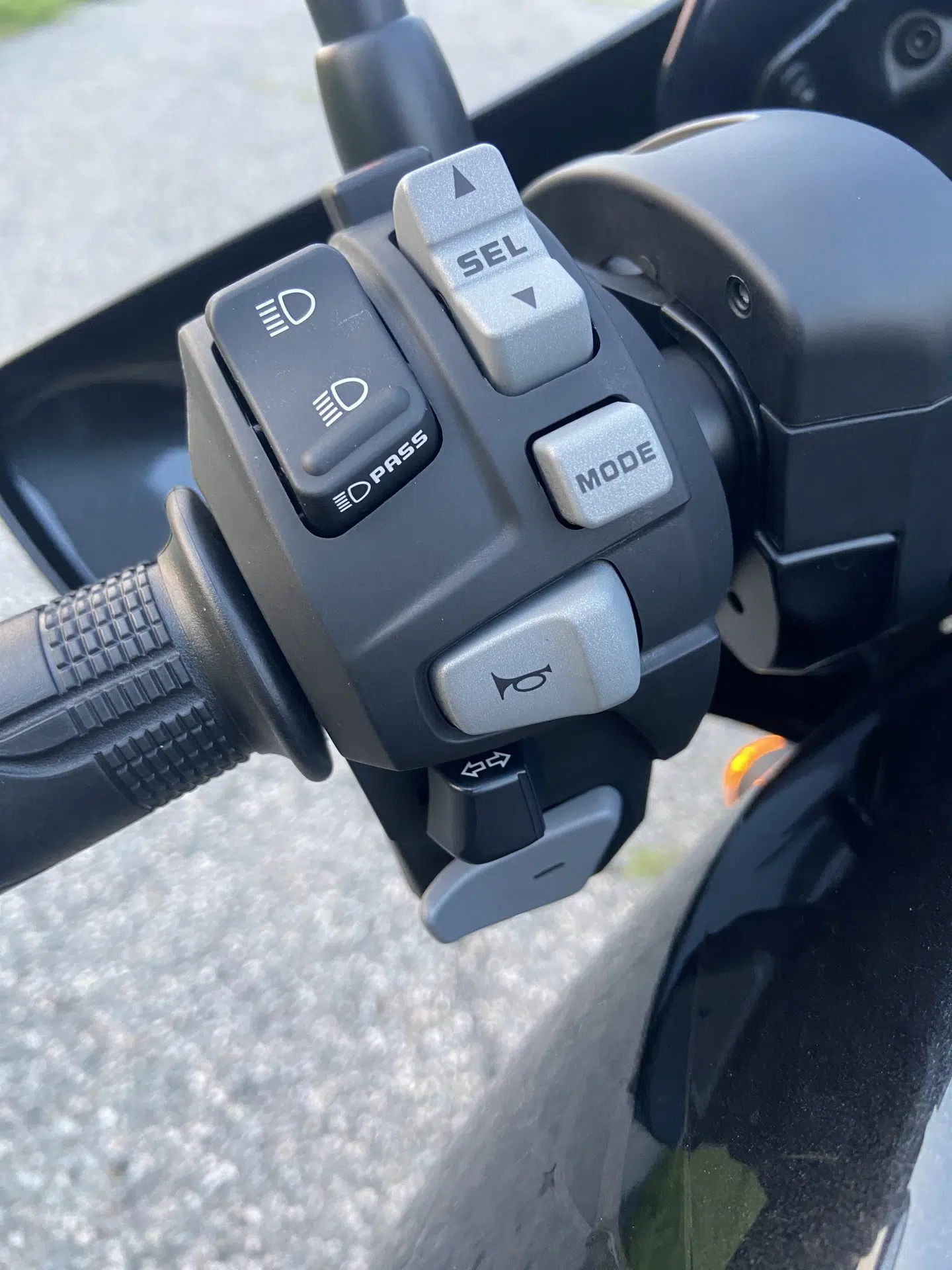 I admit I felt a little disappointed at this point; I had this beautiful, powerful and badass motorcycle in front of me, and I wouldn't even be driving it 100% because much of the work would be done for me. Nevertheless, I found the concept interesting and was curious to discover what it's like to drive an automatic motorcycle. So it was with an open mind that I left Honda aboard the Rebel 1100 Touring, hoping with all my heart that I was about to be impressed…
… and impressed I was.
Honda Rebel 1100 Touring Riding Modes
Wanting to familiarize myself with the bike in a leisurely fashion before really unleashing the beast, I obviously started my ride in Standard mode. In this riding mode, acceleration is smooth, and the bike shifts into second gear at very low speed. In fact, this mode is specially designed to keep the bike's power on a tight leash. Exploring the bike in Standard mode allowed me to become comfortable with the machine at my own pace, and I really appreciated having this option, especially since I'd rarely ridden such a powerful bike in the past (apart from the time I got to try out the splendid BMW R18!).
Rain mode is ideal, of course, when the road is wet: in this context, it's crucial to increase traction control and reduce speed, so this mode is perfect for such conditions. On the other hand, Sport mode really unleashes the Rebel's full performance: it's in this mode that you'll find maximum power and a fast, aggressive shifting.
Whichever mode was chosen, I always found that gear changes were quick, seamless, and smooth – hardly noticeable, in fact! To be completely honest, riding the Rebel even gave me a little lesson in proper clutching methods; and back on my Vulcan, I learned to shift much more smoothly in an effort to emulate my experience on the Rebel.
Whichever mode you select, you really feel the power of this impressive little bike. On Honda's website, it's described as being a "Torque Monster", and I can attest to that!
My favorite aspect of the modes, however, is the customizable mode: indeed, Honda allows the user to setup their own mode, thereby modifying the performance in terms of power, traction control, engine braking and shifting aggressiveness, to create a profile 100% adapted to the rider's preferences.
Attention to Detail
As I played around with the modes, I quickly forgot my initial concern that I was going to get bored driving an automatic motorcycle. In fact, I quickly learned to appreciate this feature: since the bike almost itself, you can really enjoy the scenery and, above all, you're always in the optimum gear, depending on how fast you're going and the incline of the slope you're on.
There are a few things I particularly liked about this bike. Firstly, the display is particularly easy to understand: of all the bikes I've tested to date, I've found this display to be the clearest and simplest to understand, which is essential when you need to gather information at a glance while riding. What's more, navigating between options is easy and intuitive, making the experience easy and enjoyable.
I particularly liked being able to see my fuel consumption (the mileage on this thing really impressed me, by the way!) and the range left on the tank.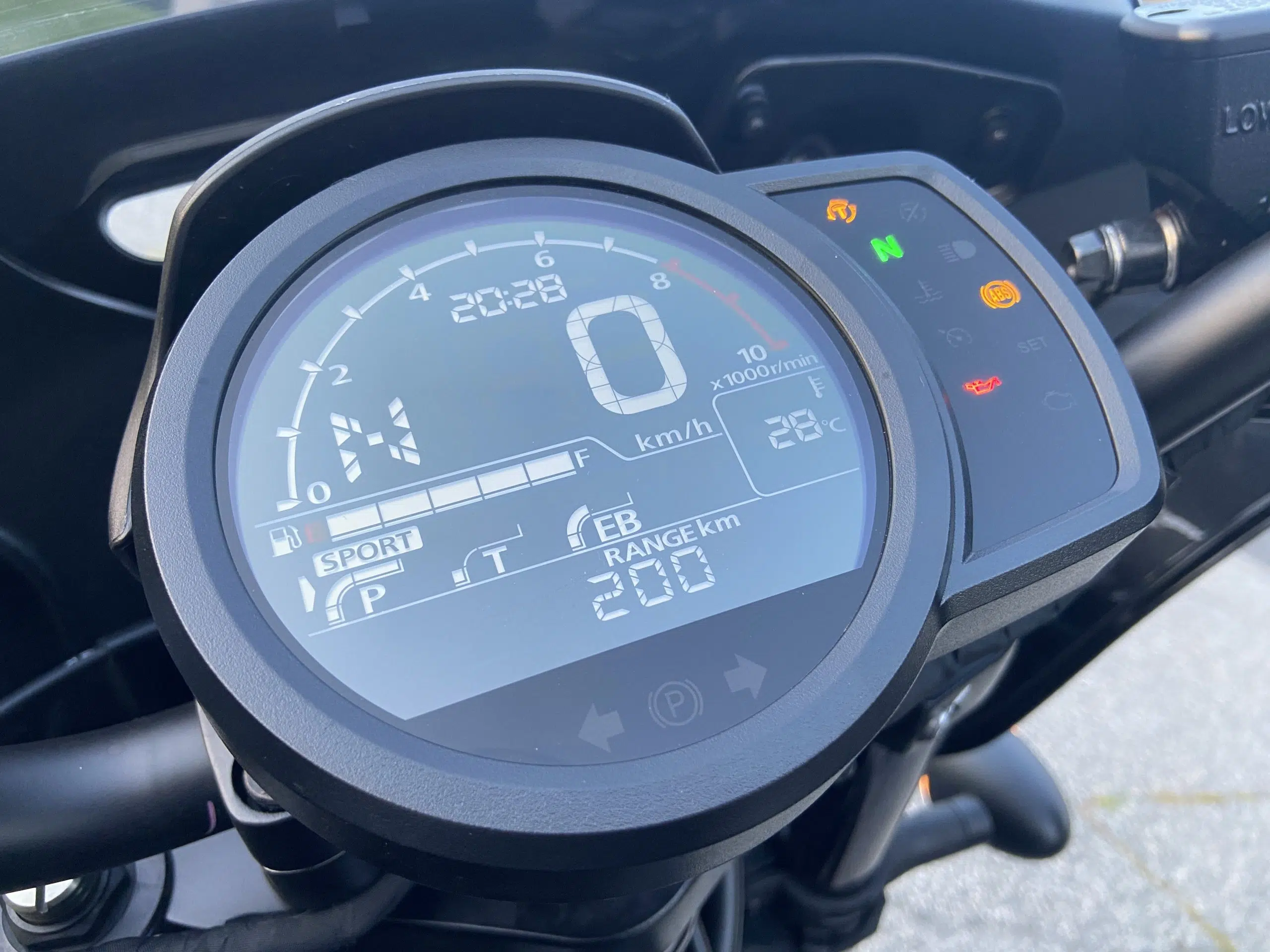 The rigid storage bags are very practical and roomy, and I like the fact that they lock. I did find them a little difficult to close, though; you get used to this quickly, but let's just say you can't go gentle with these bags if you want the mechanism to lock!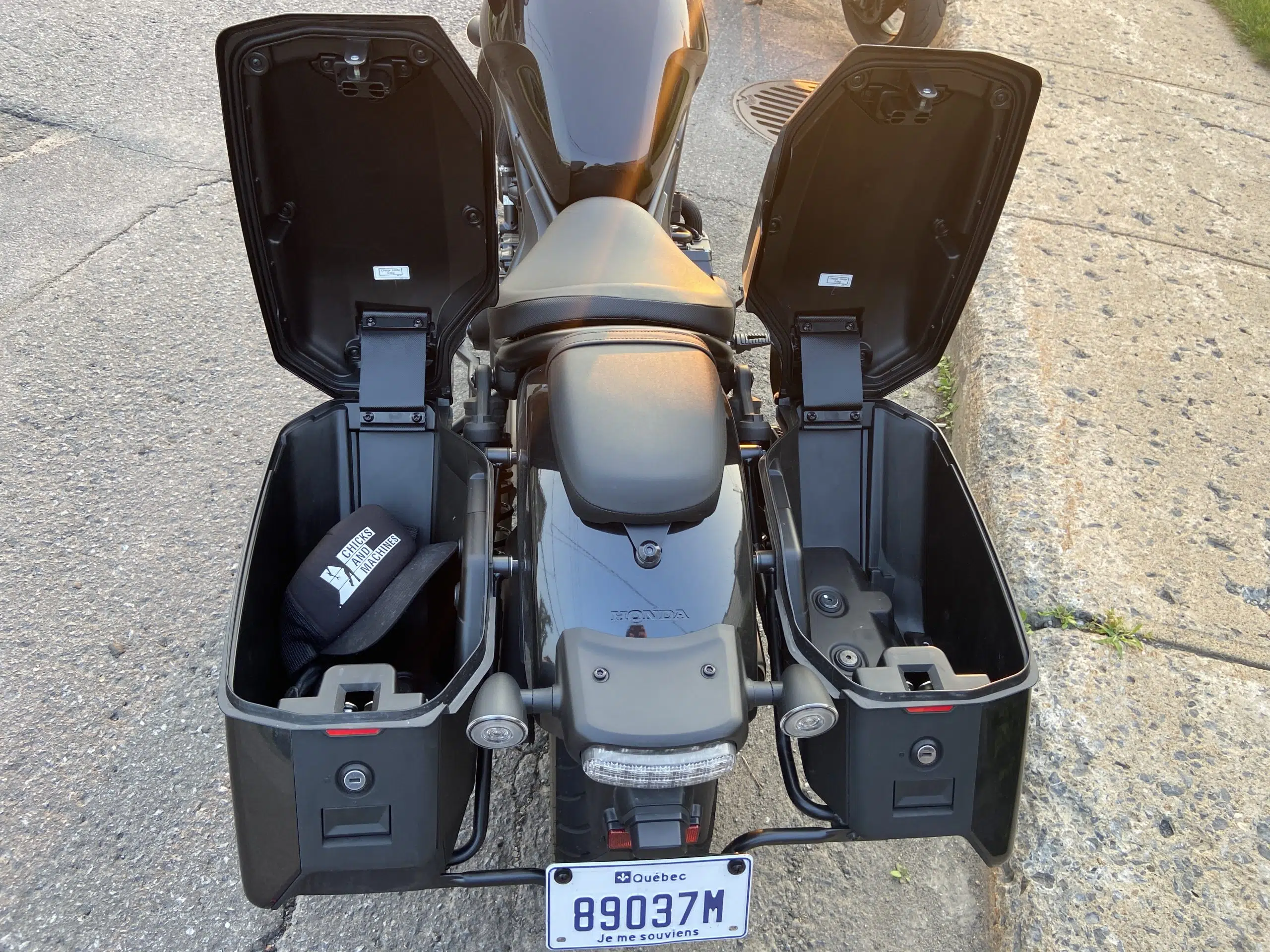 But I've saved the best for last: cruise control! This was my first taste of this feature on a motorcycle, and it's official: I can no longer live without it. While taking full advantage of the cruise control, I couldn't help but think back on all the long trips I've made in the past without it, and I made myself a promise: my next bike will have cruise control, it's non-negotiable!
That being said, I did run into a little issue activating it initially, however. It simply wouldn't turn on, regardless of what I tried. I parked the bike and went to read some forums to try to troubleshoot this issue, and it became apparent that the Rebel's cruise control might not be entirely fail safe. Luckily, the fix was super easy (I should have guessed!): turn the bike off and on again. It worked!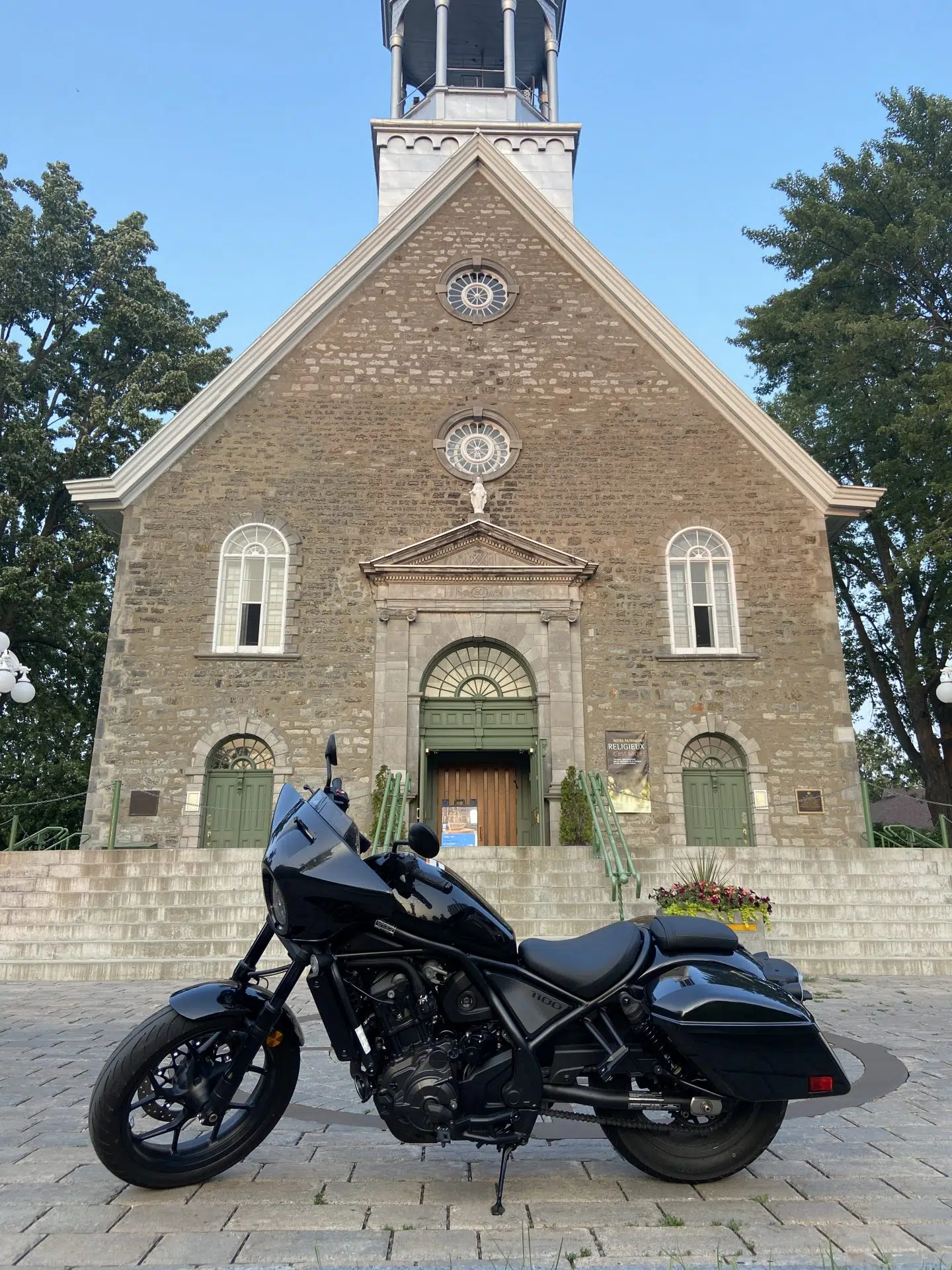 A Honda Rebel… Touring?
The Honda Rebel has always enjoyed, at least in my eyes, a reputation as a good, reliable little bike for urban use. With the automatic Touring version, Honda has taken a winning formula and broadened the range of uses it can be put to. With its fairing, rigid panniers, cruise control and automatic transmission, Honda has transformed the traditional Rebel into the ultimate bike for long trips.
I love that the Rebel has nevertheless retained its DNA as a relatively small bike with a lot of character. Often, when I think of a touring bike, picture a big, heavy, expensive, boat-like thing. At around $15,000, the Rebel Touring offers a superb alternative for people who want a versatile, high-performance motorcycle that's equally enjoyable in town or on the open road… and all at a very affordable price.
What's more, the traditional Rebel is still available, so this classic bike remains on the market for riders looking for a good, reliable cruiser without the extras that give it a touring aspect.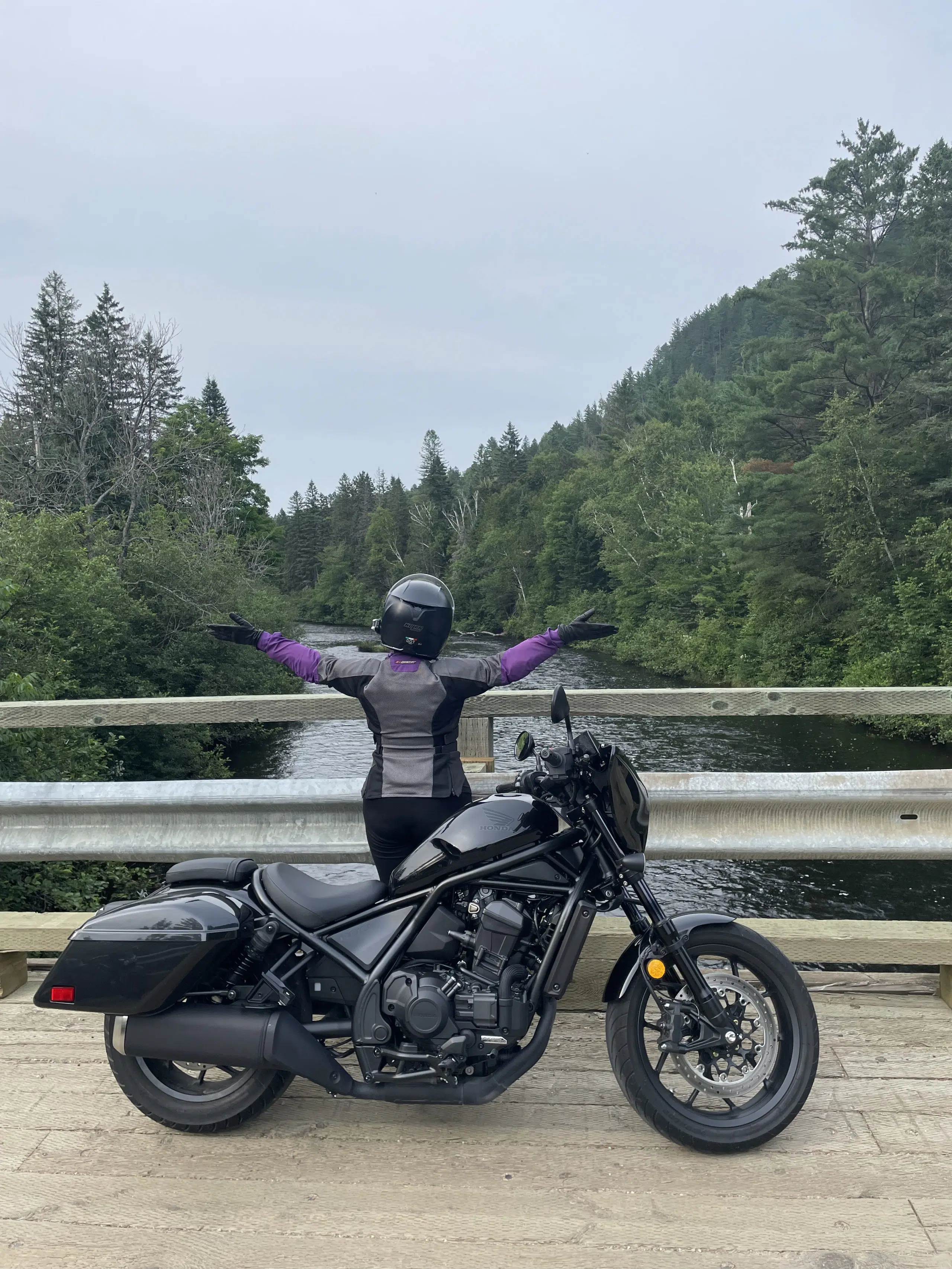 My Next Motorcycle: a Rebel 1100 Touring, Perhaps?
While I was having fun on the Rebel, my little Vulcan was patiently waiting for me in the Honda parking lot in Boucherville. One day, my boyfriend said to me: "Maybe you should go and get your bike, there's a tornado warning." At that moment, it struck me that I had completely forgotten about my motorcycle, the poor thing! Don't tell her, she'll be heartbroken… but I can't help it, I was having too much fun with the Rebel!
As a motorcycle traveler (especially motorcycle camping), the Rebel 1100 Touring really meets all my needs: it's small enough for my small body size, but without sacrificing power or performance (quite to the contrary!). It offers ample storage, comfort, and performance to get me through long days on the road.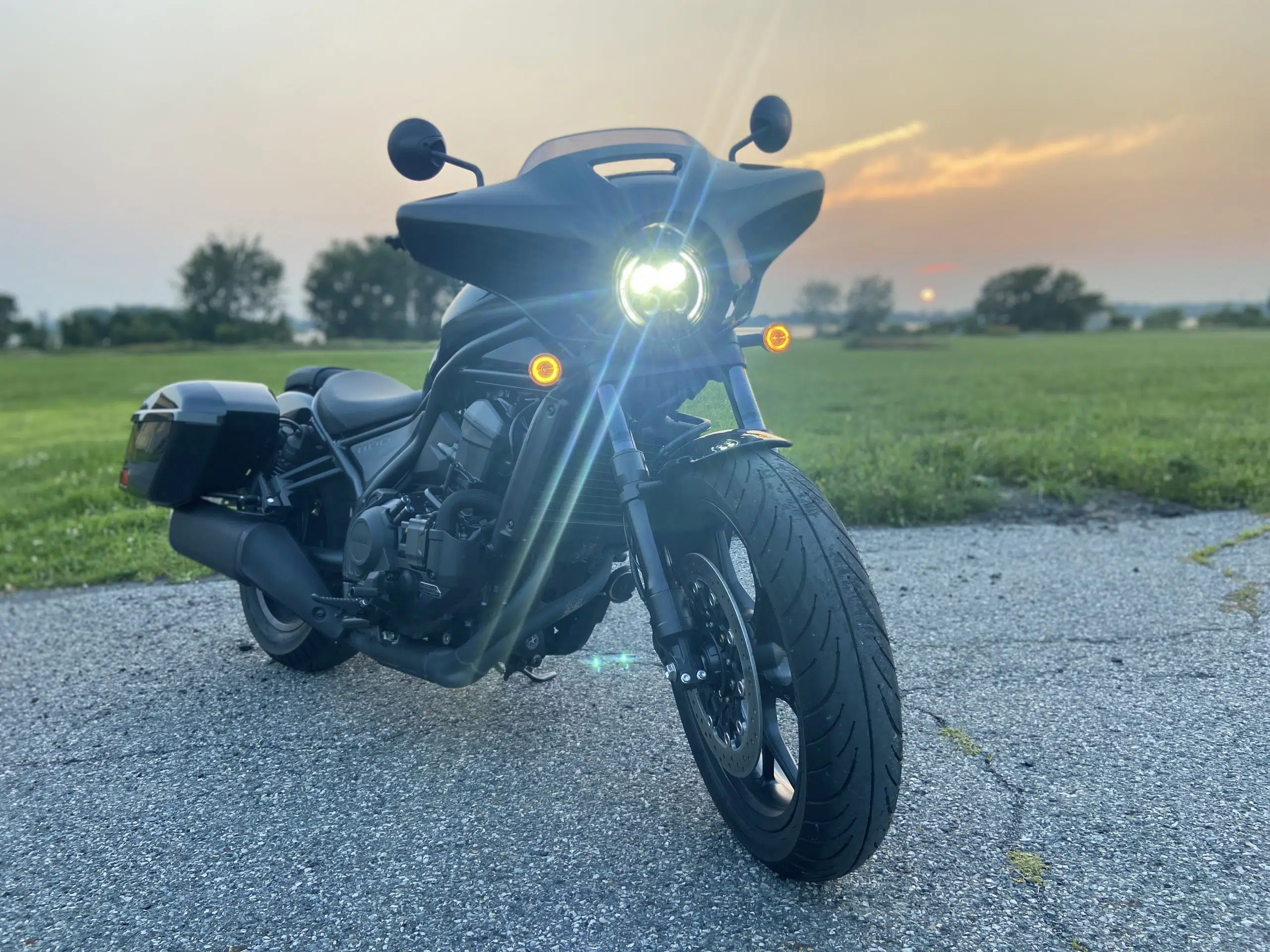 If you're a small person like me, however, you may want to change the handlebars to a version that brings the grips closer to the rider. For my small body, the grips were too far towards the front of the bike, causing discomfort in my lower back very quickly. What's more, the seat is a little too hard, especially for a touring bike. I even suspect it's the same bench as on the basic Rebel model. Before buying this bike with the intention of riding long days, I would therefore look into changing it for a seat better suited to touring.
Overall, I was really blown away by the Honda Rebel 1100 Touring, and I'm very grateful that I was able to try it out. Thank you, HondaCanada and Chicks And Machines!
Don't be surprised if you see me swapping my beloved Vulcan for the Rebel 1100 Touring soon!
Em