They chose the Ryker!
It was last September that I had the chance to try the Ryker Sport for the first time thanks to the Groupe Contant team. Being a two-wheel motorcycle enthusiast, I had never had the opportunity to ride in a three-wheel vehicle.
I know I know, I'm known for being the girl who always wants to try everything but hey, I can finally check that box off my list! I could write you a text about my test and give you a list of vehicle specifications but I rather wanted to talk to you about its customers.
I wanted to pay tribute to the women who chose to buy this unusual vehicle. I called everyone and got a ton of testimonials. I invite you to read their stories to better understand the choice of each and to discover what the Ryker can bring to the life of the person who drives it.
Isabelle Denis: Enjoy the present moment!
"In 2020, when the pandemic arrived, like a lot of people we were looking for an activity to do. We decided to buy a 2014 Spyder RSS. Quickly, seeing that the course was affordable and only one day, the idea of wanting to drive also took hold.
I had discussed with another person who encouraged me to do it that the thrill is incredible, that the passenger "backseat" position at a given moment you need more. So without hesitation I signed up.
Having already been a compensation agent at the SAAQ (a long time ago) I have seen the impacts of 2-wheel motorcycle accidents, which is why traditional motorcycles do not appeal to me at all. Right after taking my course, I bought myself a Ryker!
Wow! I fell in love! The feeling of freedom, stability, the sporty side, the smells of the forest, food etc. which are very present. It's incredible! Just driving on back roads, looking at the scenery… enjoying the moment!
My partner quickly changed his Spyder for a Ryker in order to have an automatic. These little machines also respond when you want a little speed, but that is not its primary goal. Since then I have made it to my liking, I have changed the links, put a rally suspension which makes all the difference, put colored panels in my image! I deeply love my Ryker! It's crazy just like that!"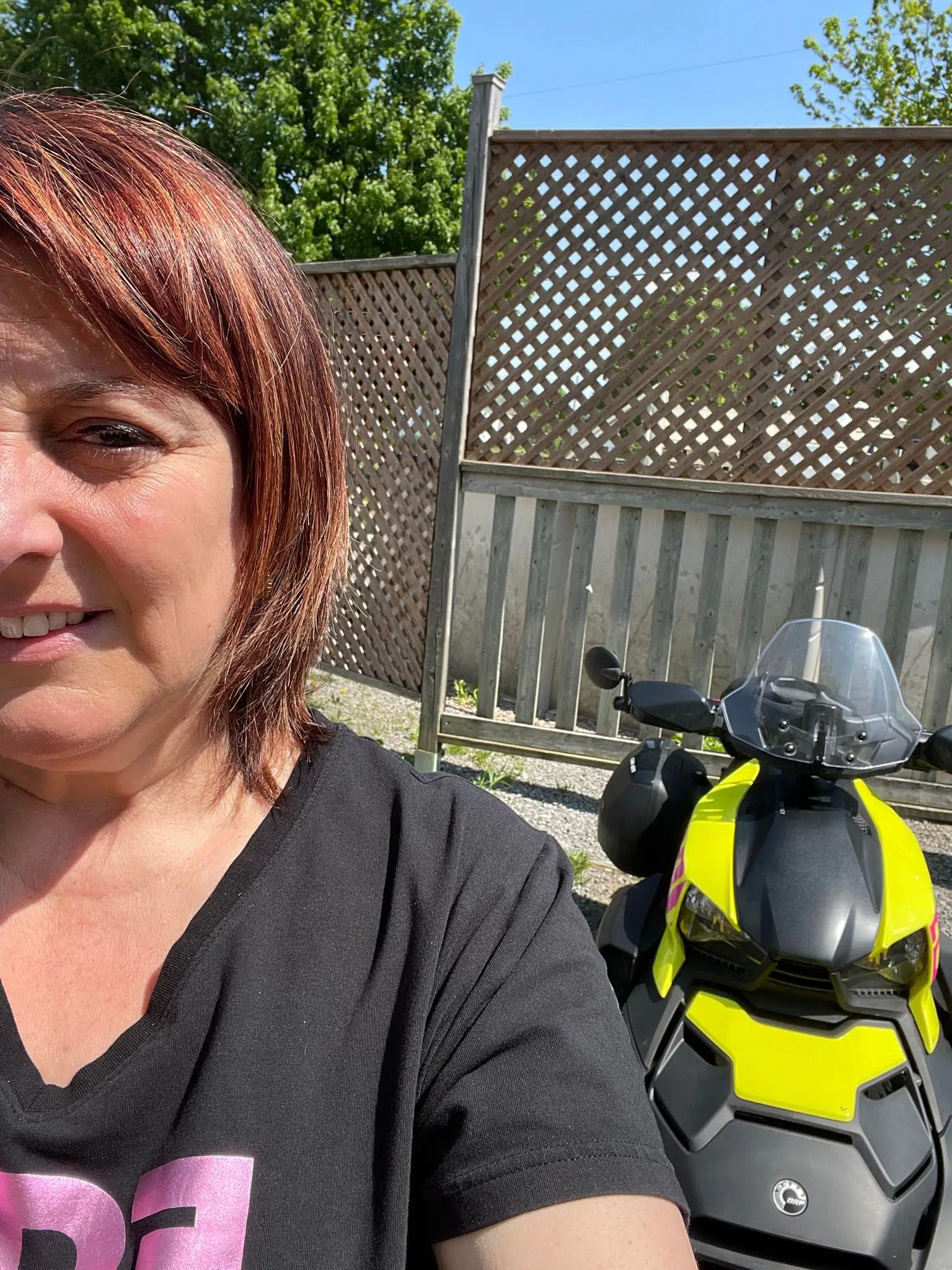 Marie-France Bourdon: Getting back on top…
"It is July 2019, following 14 years of relationship with the father of my children, I decided to end it all. Rather difficult relationship (especially in recent years), separation which is even more so. Event after event (alcohol, drugs, harassment, problems with the police, DPJ and so on), I am out of breath. But really out of breath!
I try to hold what's left of my family at arm's length and protect the children as much as possible from all this. It's mentally difficult to a point that I couldn't even imagine. One evening in May 2020, sitting on my porch I "wasted" my time on Facebook…
I see an ad from BRP for the Ryker. REVELATION! I looked it up. I have read all specifications and information available on the BRP website. YES! This is exactly what I need.
The Ryker is designed exactly for someone like me. Easy to use, safe, and great looks! Luckily, I managed to get my hands on a used 2019 Ryker.
Following my purchase, it's a race to complete the required training to be able to take possession of it. A beautiful Friday in July, arriving at the driving lesson (closed circuit and road) I was nervous as ever. I signed the driving school documents while shaking. I had NEVER driven anything other than a car and a bike in my life!
I literally read the entire Ryker user guide before taking the course in order to "know" my machine. Yes yes, I read the guide that no one reads, in its entirety from cover to cover!
I board my Ryker, positioned just behind the instructor. I'm still shaking, but the excitement is taking over me too. We start and… Just WOW, I drove 2 blocks and I knew I made the right choice. I liked this right away. I passed the training like a champion!
The first weekend after my course, I already have almost 1000km more on the clock. As soon as I have free time, I no longer even wonder what I am going to do! I discovered exceptional roads, towns and villages.
I discovered little corners of paradise and unusual places. I discovered the Ryker / Spyder groups and thus met a crowd of people, each more friendly and interesting than the last.
I recreated a new positive social circle around me.
I even found love in May 2022. My Ryker changed my life, but, above all, I finally discovered inner peace. June 2023, more than 30,000 km later, I took possession of my brand new Ryker 900 sport! Yes, I persist and sign, the Ryker is made for me! "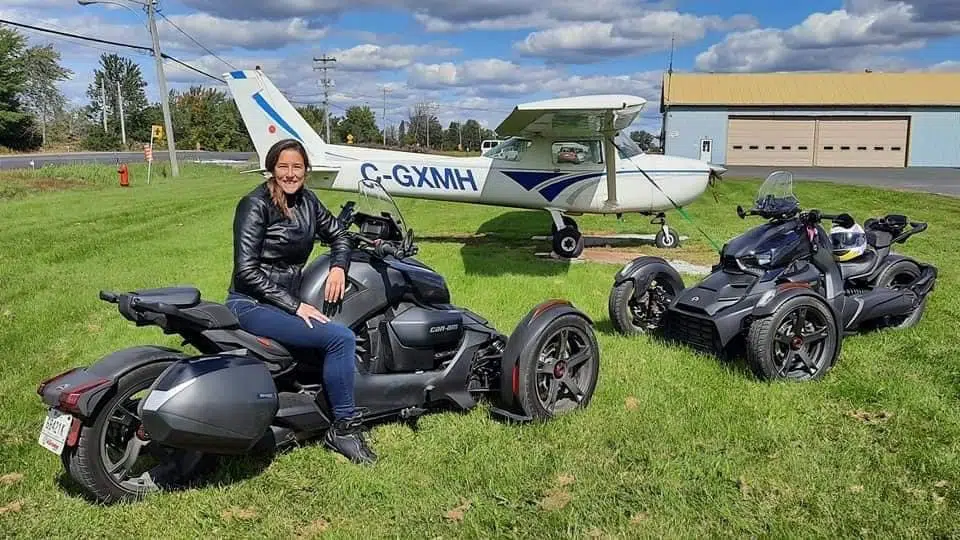 Céline Auclair: A passion that unites
 "I always wanted a motorcycle, all my young uncles had motorcycles and I envied them, I envied their freedom!! Life (and me) ensured that this project did not come to fruition (money, family, priorities etc.…)
If we're looking for a positive point about confinement for me it was my Ryker's impulse buy!! I have always been attracted to sporty type motorcycles, I like speed, acceleration and, sorry for Spyder owners but that didn't appeal to me.
I found it a bit smooth, comfortable and too relaxed and I concluded that three wheels were not for me until I saw the Ryker advert!! Bang!! Love at first sight, I spoke about it to my partner who didn't really pay attention to my desire because he thought I would get over it!
Two weeks later, I became the owner of my new vehicle! Since then I have spent my summers looking for places to visit, the roads are always more beautiful in Ryker and the people I meet all have the same passion as me even if we are all different. A passion that unites! I am currently finishing my 4th season.
P.S. My partner, who thought my "fad" would go away, bought one the following summer and now accompanies me on my travels. "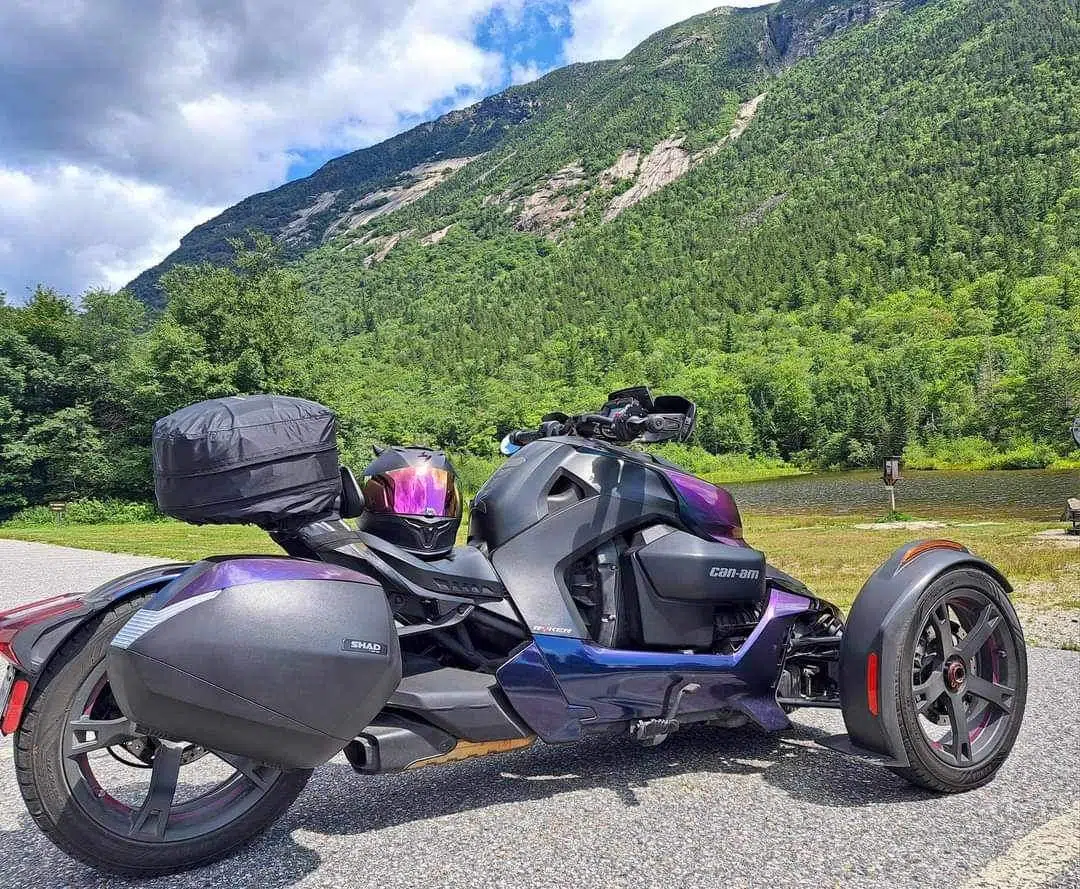 Sonia Gauvin: Off the beaten track
"My parents had Spyders for a few years, but I didn't like the seating position and the look of them. With the pandemic restricting us to self-isolating at home, we needed to get out and quickly….
The three-wheeler course was quicker, less expensive and no need for a chaperone to get out of the house. Three theoretical hours on zoom from the comfort of home, four hours of practice and we were on the road. The first year we drove all the little gravel roads around our house, which we couldn't have done with a Spyder. I decided to create the Ryker/Spyder Facebook group because all the other groups didn't sound like me.
Since my purchase:
More than 44,000 km traveled
I modify my Ryker myself (which you can't really do with a Spyder)
Several Sundays in Sanair on the drag strip
Can-Am gatherings at the Sorel Gibfest of more than 600 people
A Motorcycle Show, a BikeTattoo Show (where I burned a tire while participating in the outdoor show) and two Girls' Rides
I was at the head of the queue to bring the Guinness record convoy of 733 machines over 50km to Sorel
I'm looking forward to 2024!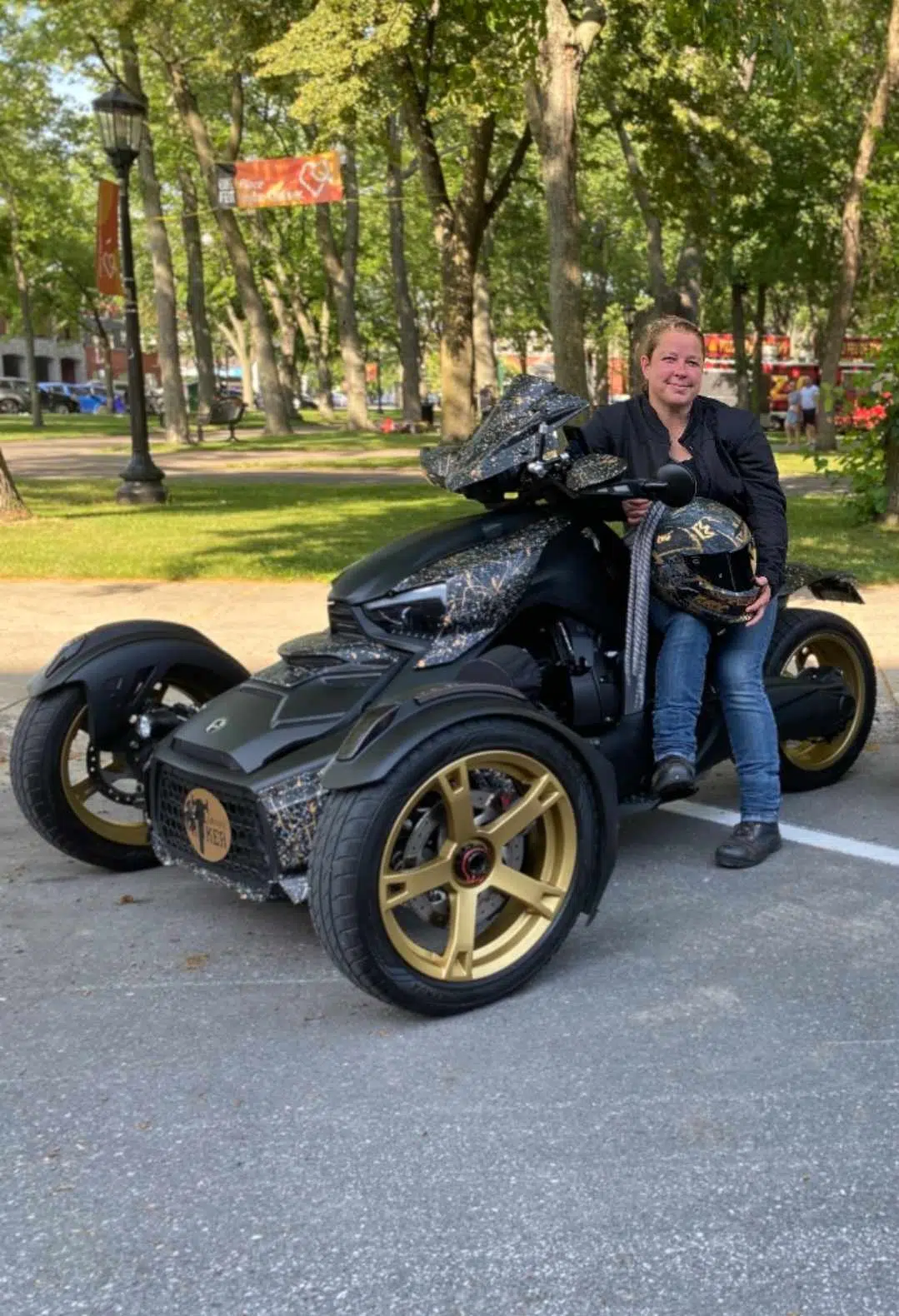 Heather Mackay: Pushing Your Limits
"My journey to my Ryker started with a side-by-side vehicle. I was scared and stressed, but after a few minutes I realized that I really liked it and that I was capable of it. I didn't need to be afraid. Naturally, I am fearful and I avoid activities when there is a high risk of injury. On the side-by-side, I felt free and strong. I took it at my own speed and I loved it.
In addition to my experience on the side-by-side, Facebook pages like "Women of On-Road" and "Chicks And Machines" helped me see other women who are pushing their limits. The Women's Ride at BRP also inspired me. That day, I was a passenger but I was convinced that I wanted and could drive a three-wheel vehicle.
My Ryker class as well as my personal walks made me live in the present moment. I feel free when I'm on my Ryker. I feel capable and I feel strong. I also had some great times riding with my partner who owns a Spyder. I was proud to not be just a passenger and to have pushed my limits. "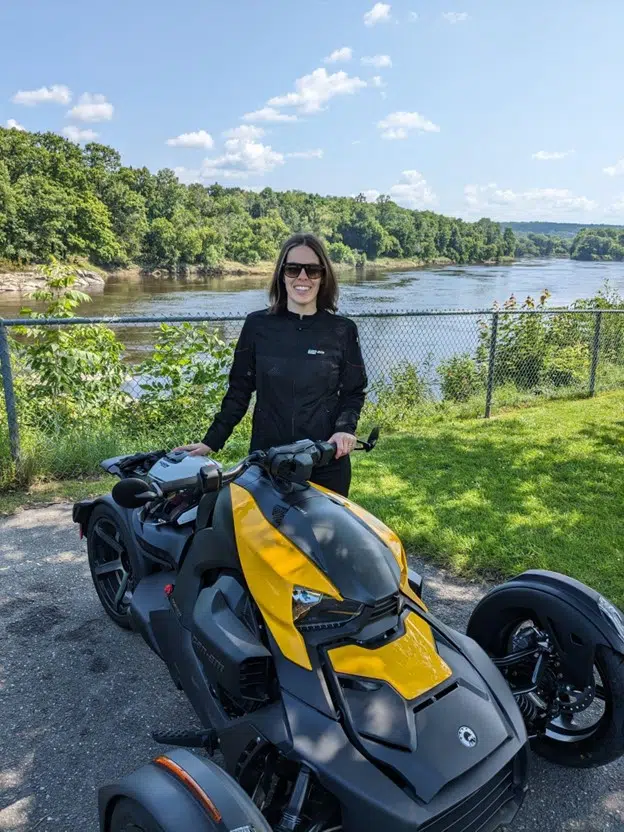 In conclusion
I have received dozens of stories like that!
All as beautiful as the other. For my part, my experience with the Ryker during my road trip to Tremblant convinced me that these vehicles are here to stay. I liked the ride, the handling and the stability.
Will I convert? I don't think so, I have a motorbike tattooed on my heart. This does not prevent me from knowing how to appreciate the other products available on the market. It doesn't matter what you ride, the important thing is how you feel when you do it, feeling good and confident.
If the testimonials that I share with you today have inspired and convinced you to make the leap to a Ryker, I invite you to go to a branch of the Contant Group to find out about this vehicle and all the advantages that it offers. linked. They are truly three-wheel experts.